Round Two, Whole30, Day 5
Guys, I don't know how to say this, and I don't want to sound all high and mighty Whole30, (and I could totally change my mind a few days from now) but the second time around is sooooo much easier! I almost forget I'm doing it. I haven't even really blogged about this round. Maybe doing the Whole30 the first time around really can be life changing. If you are new to my blog, or if you've never heard of Whole30, let me fill you in just a bit. I've been a WW member for years, but sometimes I like to mix things up a bit.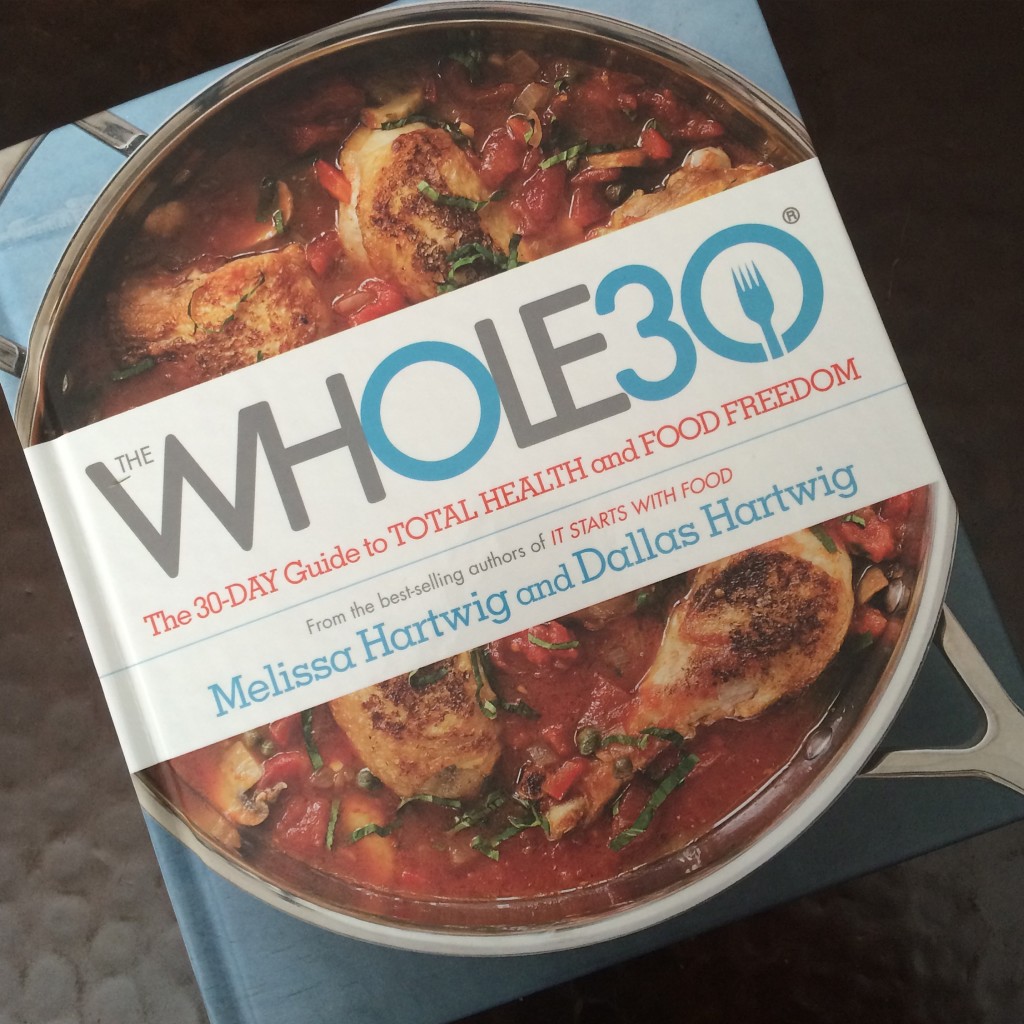 The Whole30 is a 30 day plan to eat whole foods, eliminate processed foods, and improve your overall health. After 30 days, you gradually reintroduce the foods that you have not been eating, and determine if they are foods that you want to add back into your diet based on how those foods make you feel.
For 30 days…..
No Dairy
No Grains
No Legumes (you can eat green beans, sugar snap peas and snow peas)
No Sugar
No Alcohol
No MSG or Sulfites
Do not try to recreate baked goods or dessert items with Whole30 approved foods.
Do not step on the scale for the 30 days.
Do not snack between meals. You can add a small meal or snack before or after workouts.
This means no lattes's, no frozen banana's made into ice cream, no pancakes made from banana's and eggs, no bottled salad dressing or ketchups that have added sugar, no honey, no cheese sauce or pasta or dinner rolls or garlic bread. Thats a lot of "No's".
For 30 days…
Eat Meat, Seafood, Eggs, Vegetables, Fruit, Nuts, Seeds and Oils.
Fill your plate half full of vegetables, eat protein at each meal, and try to limit fruits to two a day. No snacking.
This means you get to eat delicious meats, salmon, bacon, runny eggs on yummy hash dishes, banana's with almond butter, salad's filled with fruit and walnuts and topped with homemade dressings, Spaghetti Squash filled with homemade meat sauce, Steak! Thats a lot of really good food.
My husband and I did the Whole30 for the first time in October and we both really liked it. While we did enjoy some sweet treats and adult beverages over the holidays, our meals at home remained pretty much the same as they were while we were doing the Whole30.
Eating a diet of whole foods, and very little processed foods, has actually made meal planning easier for me. I'm choosing the meat and vegetables we want for our meal, then deciding how to change those up a bit so we don't get bored. I'm not thinking about bread options, pasta options, cheese options or dessert options. Maybe that sounds boring to some, but for me, it simplifies things. I'm keeping the fridge stocked with fresh veggies, seasonal fruits and the freezer is stocked with a variety of meats. We eat a lot of eggs and egg whites, which I love, so breakfast never gets dull for me.
I'm sure at some point I'll have Greek Yogurt and Fruit for breakfast or one of my Oatmeal Creations or a Sandwich or add Milk to my coffee, or Cheese to a casserole. But for now, I like the food that we are eating, and I like the way that I feel. Mike lost 18 pounds doing the first Whole30 and has now lost a total of 27 pounds. He looks great!
If you are doing the Whole30, I would love to know your thoughts?
Here are Thursday's eats….
Breakfast – 5 SP
Leftover Turkey Spaghetti with Zoodles and Spaghetti Squash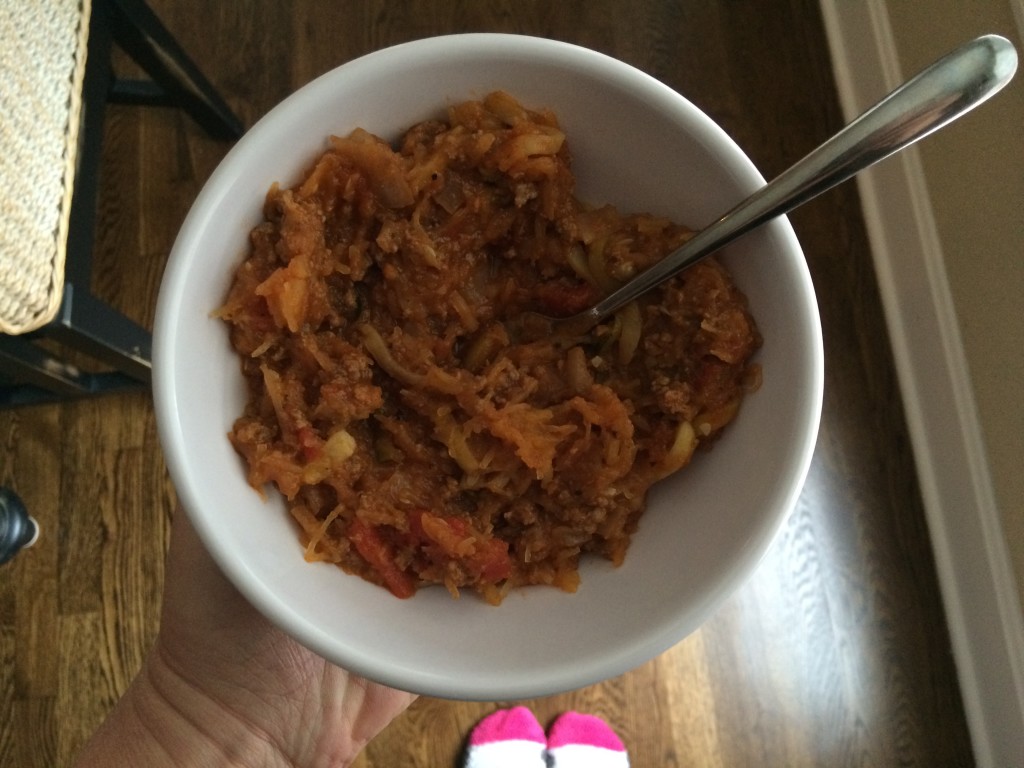 Lunch – 8 SP
1/2 Chicken Apple Sausage, Zucchini, Egg, Banana, 1 T. Almond Butter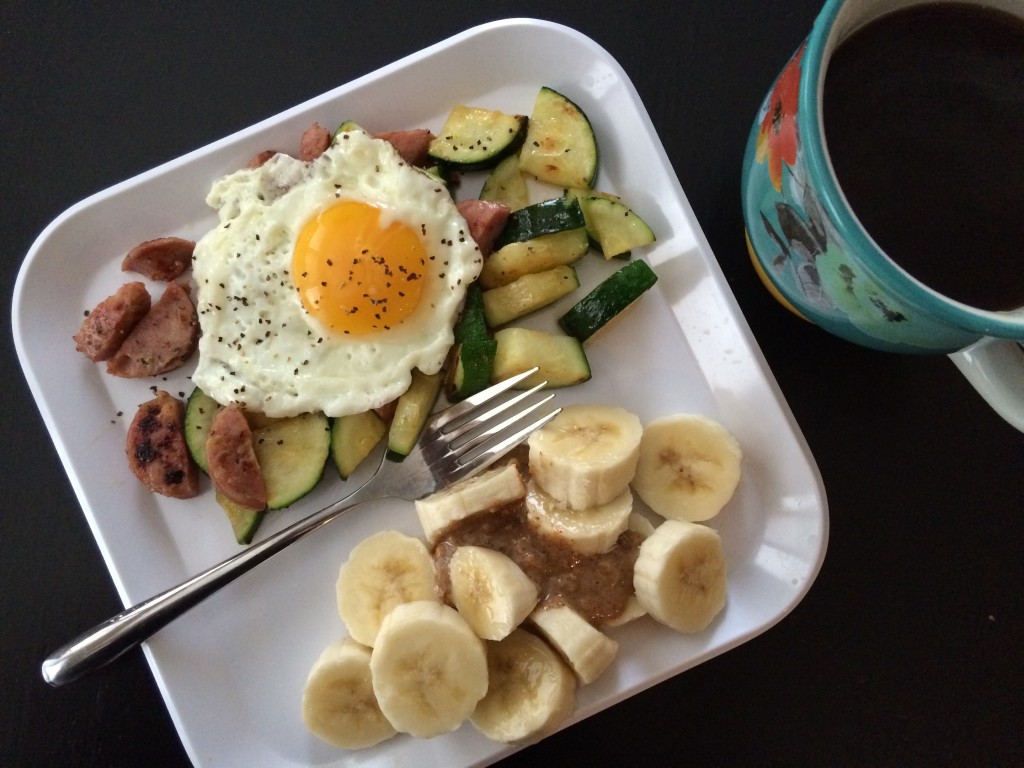 Snack – 8 SP
Sausage Egg Muffins (Recipe tomorrow!) and Berries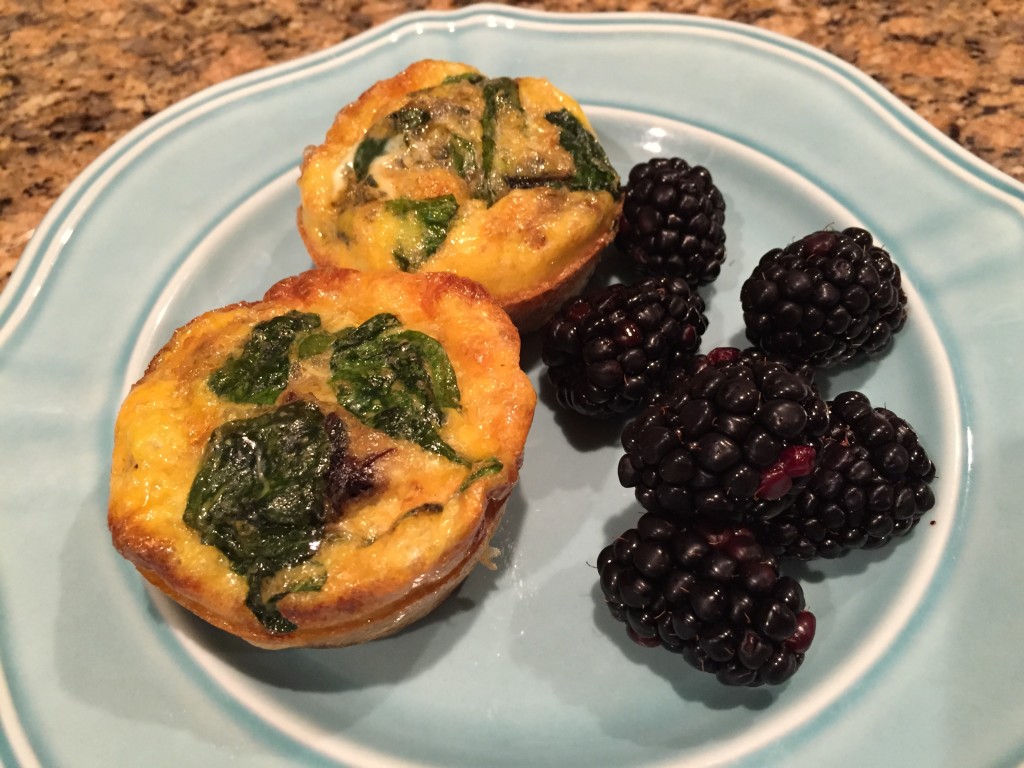 Dinner – 8 SP
Beef Tips in Gravy served over Cauliflower Rice
Here are my 2016 Goals
Make time each week to Meal Plan
Drink 100 ounces of water each day
Exercise 5 days a week
Three Meals and One Snack, Daily
Weight Watchers
I can eat 30 SmartPoints a day.
I have an allowance of 35 extra Weekly Points that I can dip into throughout the week if I choose.
My Weight Watcher Week Begins on Friday's
Breakfast = 5
Lunch = 8
Snack = 8
Dinner = 8
Total = 29
Exercise = Hot Yoga
How many ounces of water I drank for the day = 100
"If you keep good food in your fridge, you will eat good food."
Errick Mc Adams
"love the life you live, live the life you love"