I've been slowly prepping my Exercise Room Project for paint, and yesterday afternoon, I finally got some paint on the walls. We recently painted Mike's home office, and I really liked the color. I remembered yesterday that we had barely used any of the second gallon of paint, so I opened it up and got started. The paint covered great, so I didn't have to buy paint! Yay! More money to buy fun stuff for the walls! I'm terrible about accepting a bare wall.
Before I started painting, I went to a 10:00 am Jazzercise class, then I grabbed a Starbucks coffee. Just black coffee, but so good. Do you ever order a Pour Over? So fresh and yummy. Then I got in line for the car wash, along with everyone else in the city. It was the first sunny warmish day we've had in a while.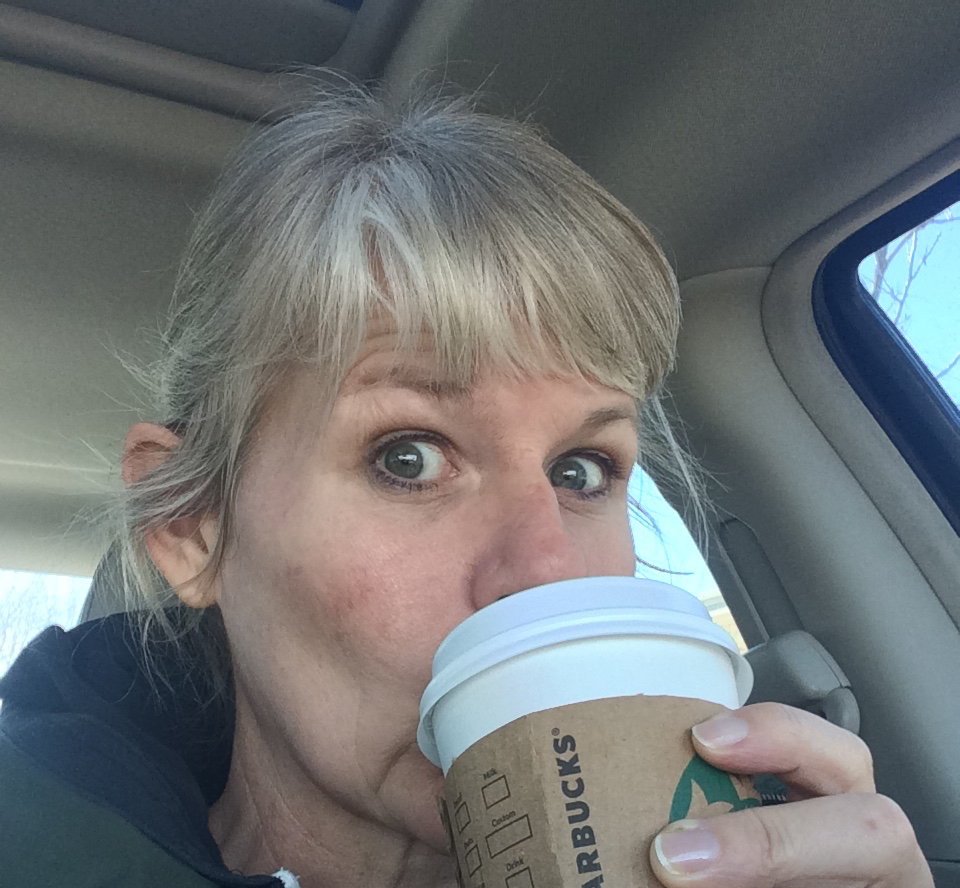 Except for forgetting to drink water most of the day, it was a pretty healthy day!
Here are yesterday's eats…..
Pre-Breakfast – 4 SP
I woke up super early and couldn't go back to sleep. My stomach was growling, probably because I had cauliflower only for dinner the night before, so I heated up one of the Egg Muffins (3 SmartPoints) that I made for Mike and had a teaspoon of Almond Butter on some fruit.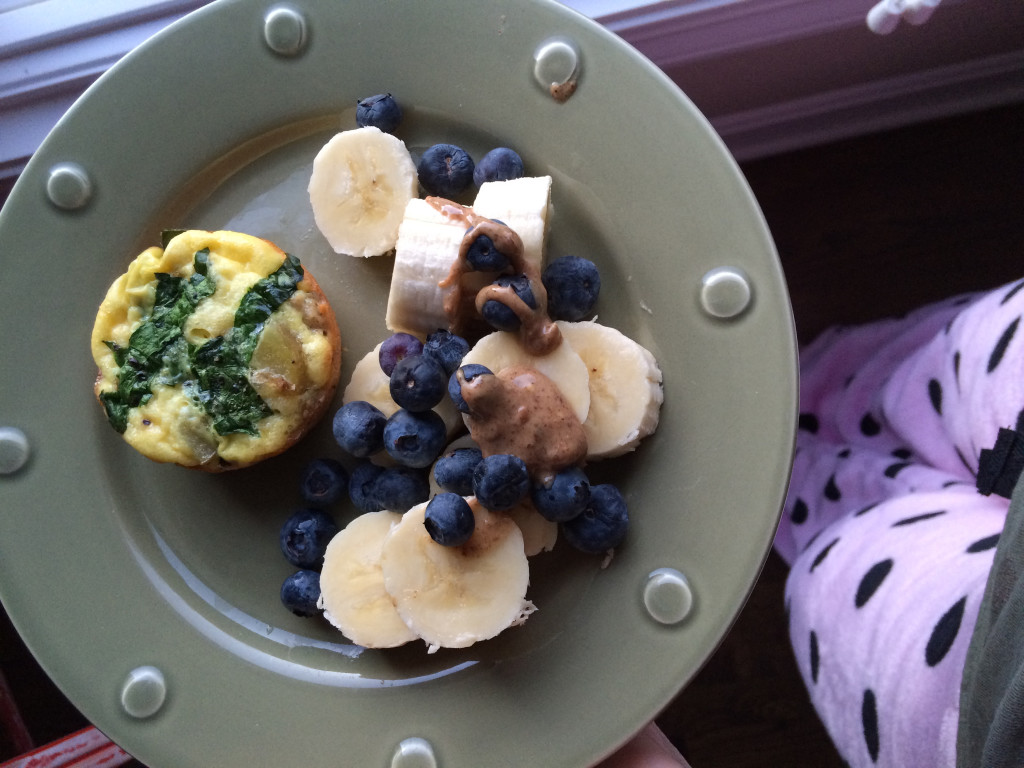 Breakfast – 4 SP
Before I went to Jazzercise, I decided I needed a little more fuel. Remember that weird Breakfast Bowl that I made the other day and I topped it with Blueberries and Almond Butter and Coconut? Well, I made that bowl again, but I topped this one with diced Warm Cinnamon Apples (using only the apples, cinnamon and water), 5g of Walnuts and 1 tsp of Maple Syrup. Again….yum.
One Smashed Banana, One Egg and a 1/2 tsp of Cinnamon mixed together and scrambled in the skillet. Top with your toppings of choice.
If any of you try this, please let me know your thoughts?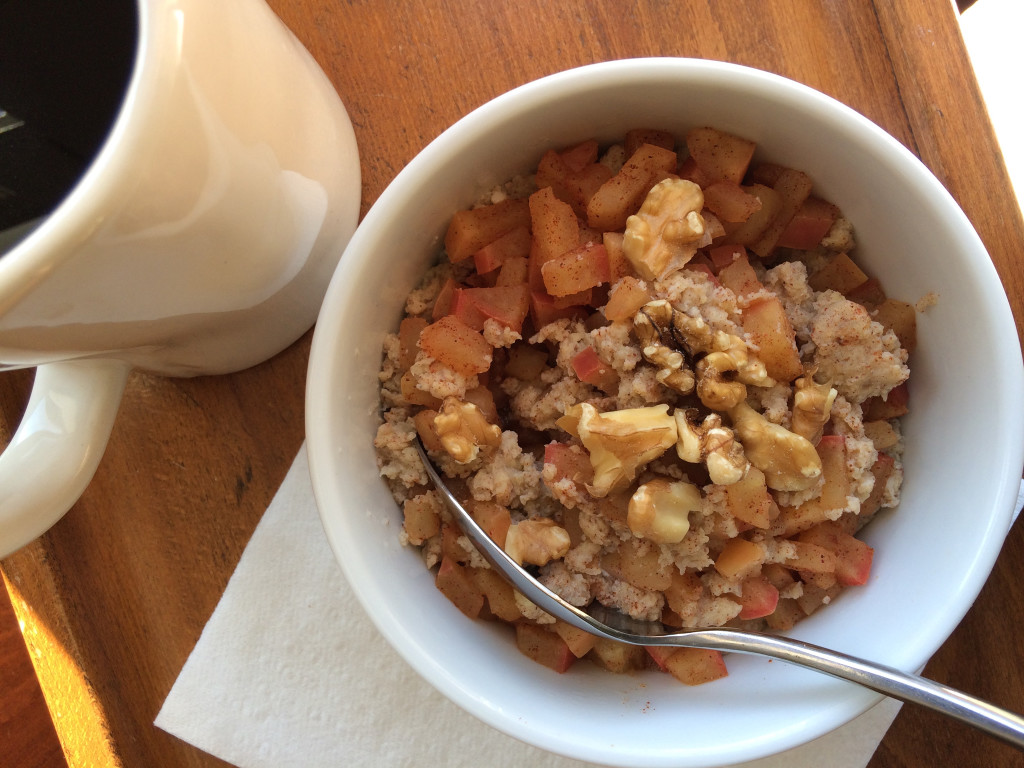 Lunch – 10 SP
My Favorite Salad of all time. Chicken, Bacon, Roasted Butternut Squash, Dried Cranberries, Diced Apple, Red Onion. The dressing is Maple Syrup, Apple Cider Vinegar, Olive Oil, Salt and Dijon Mustard. So good!
This came together in minutes because I did some prep for the week on Monday. The chicken was cooked, I pulled a slice of bacon out of the freezer, the squash was roasted. This was so easy! Click HERE for the full salad recipe.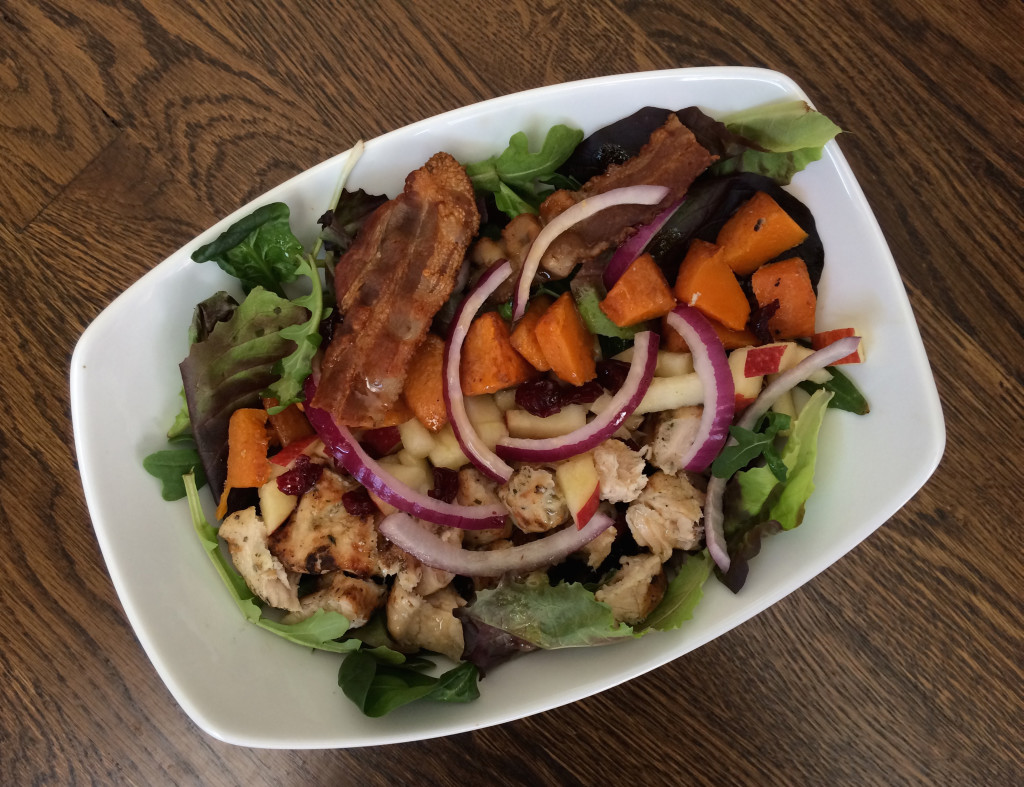 Dinner – 6 SP
Dinner also came together in just minutes, thanks to prep day. I tossed some rotisserie chicken, roasted butternut squash and cooked green beans (I cooked those in bacon fat on Monday, which added even more flavor to this skillet!) in the skillet and added a little Trader Joe's Organic Vegetable Broth, which I love added to anything. Dinner was simple, tasted great, and there was plenty for Mike to have leftovers for lunch today.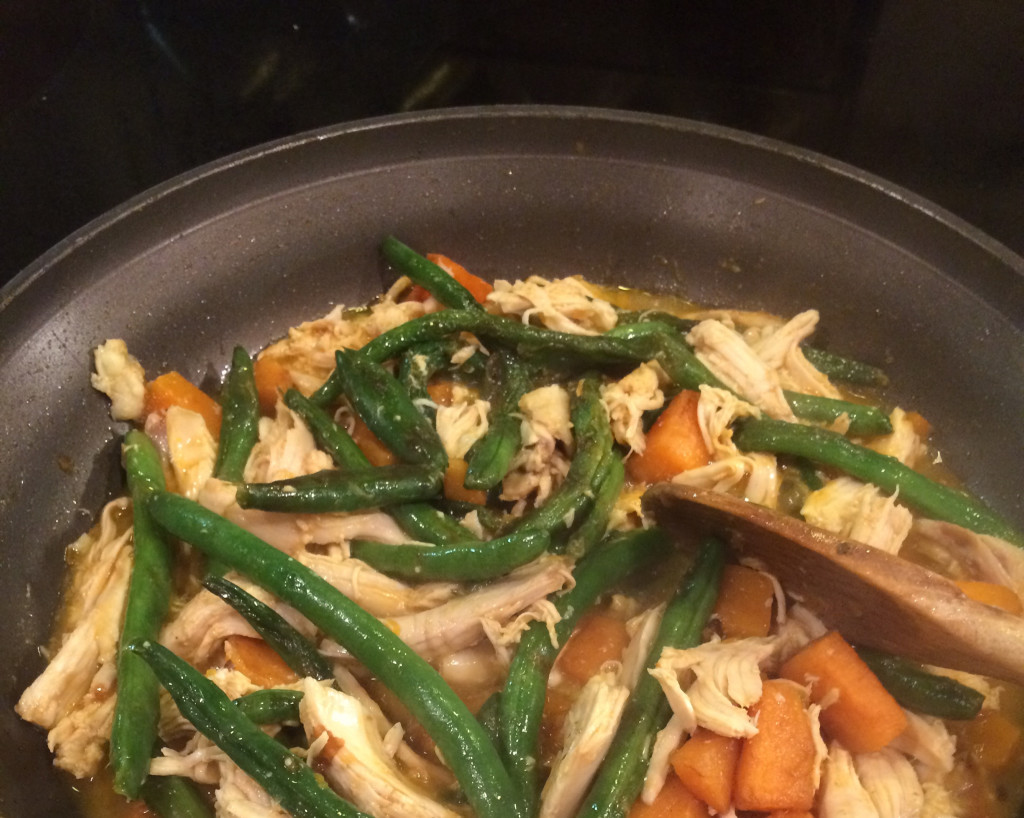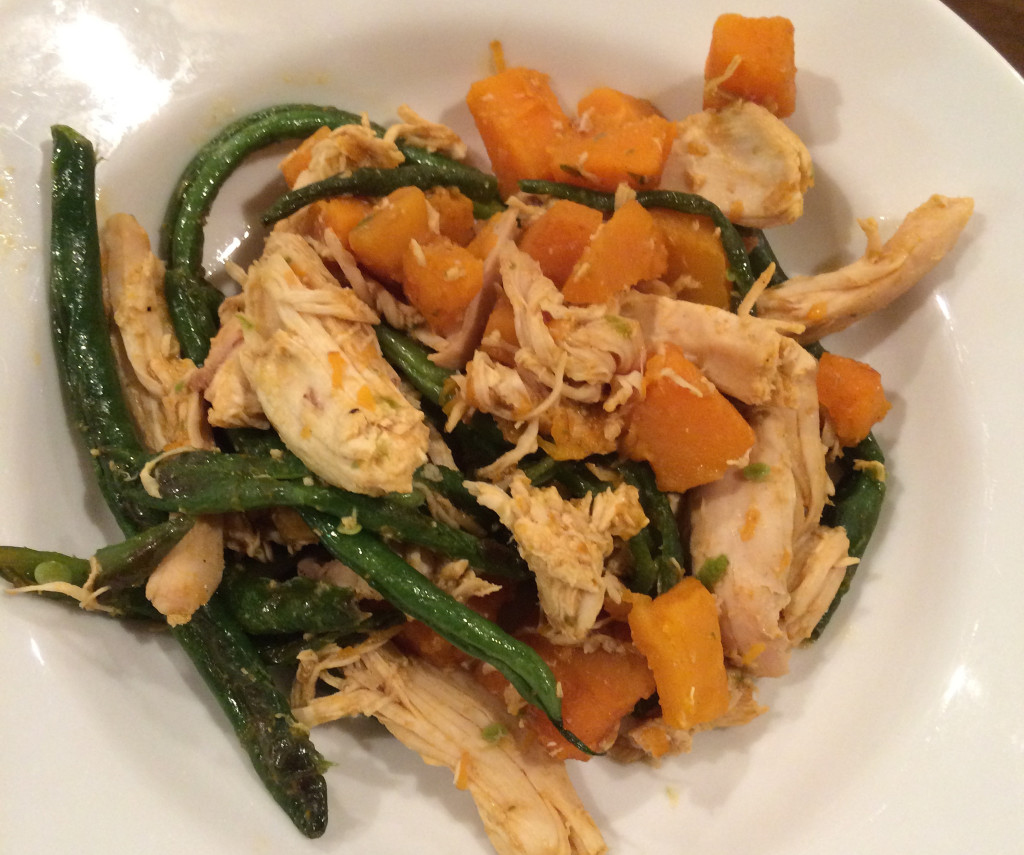 Here are my 2016 Goals
Make time each week to Meal Plan
Drink 100 ounces of water each day
Exercise 5 days a week
Three Meals and One Snack, Daily
I can eat 30 SmartPoints a day.
I have an allowance of 35 extra Weekly Points that I can dip into throughout the week if I choose.
My Weight Watcher Week Begins on Friday's
Pre-Breakfast = 4
Breakfast = 4
Lunch = 10
Dinner = 6
Total = 24
Exercise = Jazzercise
How many ounces of water I drank for the day = 60
Remaining Weekly SmartPoints = 11
I'm terrible at exercising in the morning, but I've been doing a good job of it this week, and it makes me feel so energetic throughout the day! I think it is the endorphins, but also for me mentally, the fact that I know I'm not spending the day procrastinating my exercise makes me feel great!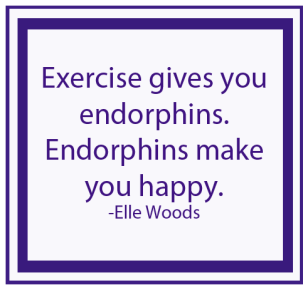 "love the life you live, live the life you love"