Yesterday was Day 2 of Whole30, and also day two of just go go go. Before we ate dinner, I showered and put on my pj's. After dinner, couch time for American Idol and KU Basketball, then bed later than I really wanted. Bed felt like clouds and I was zonked.
Dinner could not have been any easier. Cut up veggies in big chunks. Put a chicken on top and season. Bake.
This is my Roasted Chicken and Vegetables recipe, and I forgot how….
Easy it is to make.
How good it makes the house smell.
How delicious it taste!
This is a perfect Whole30 meal!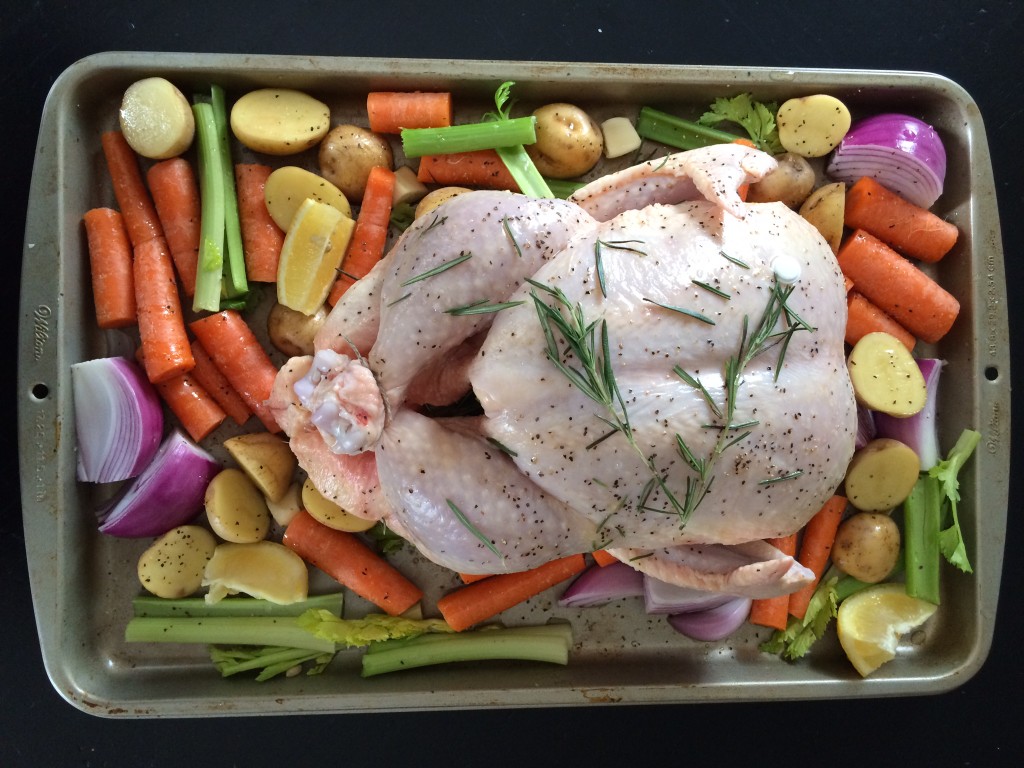 Ahhhhh….the smell makes me happy. Think….Grandma's house.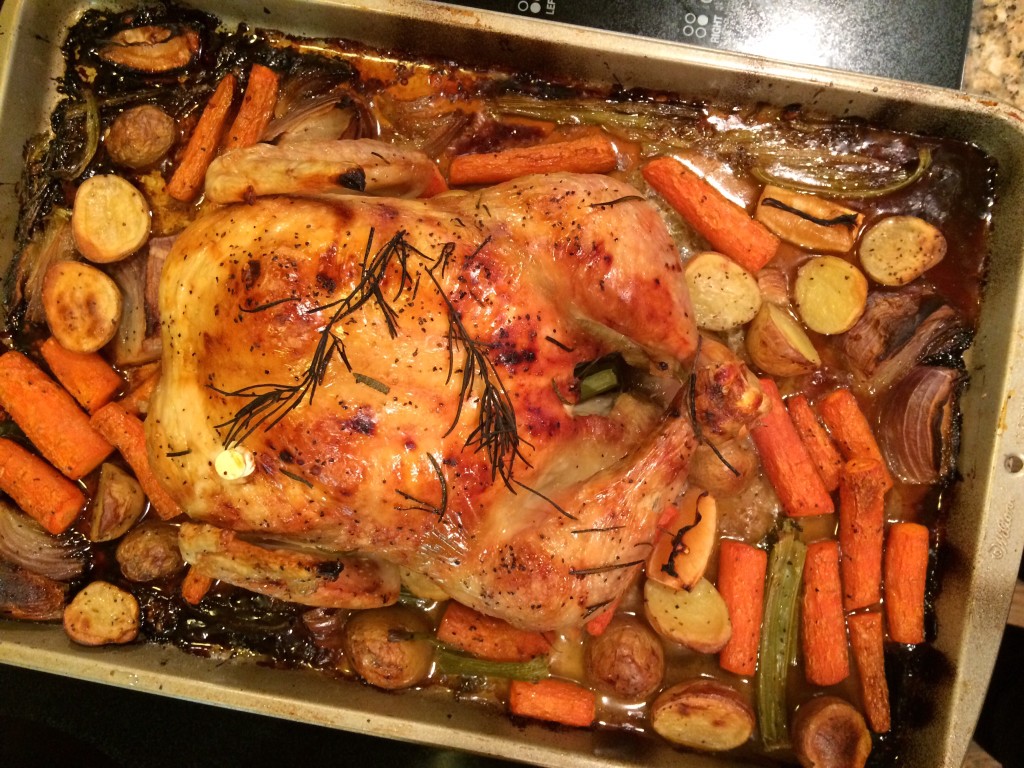 I like to put it on a platter and admire it.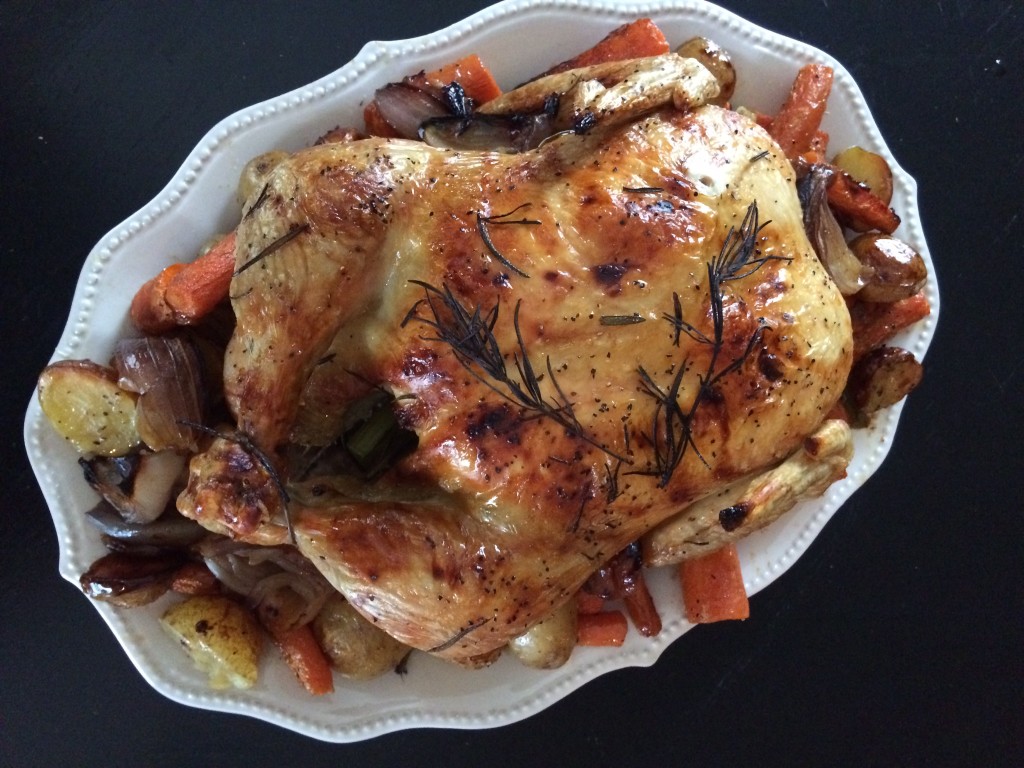 Enjoy all the beautiful views of this pretty bird.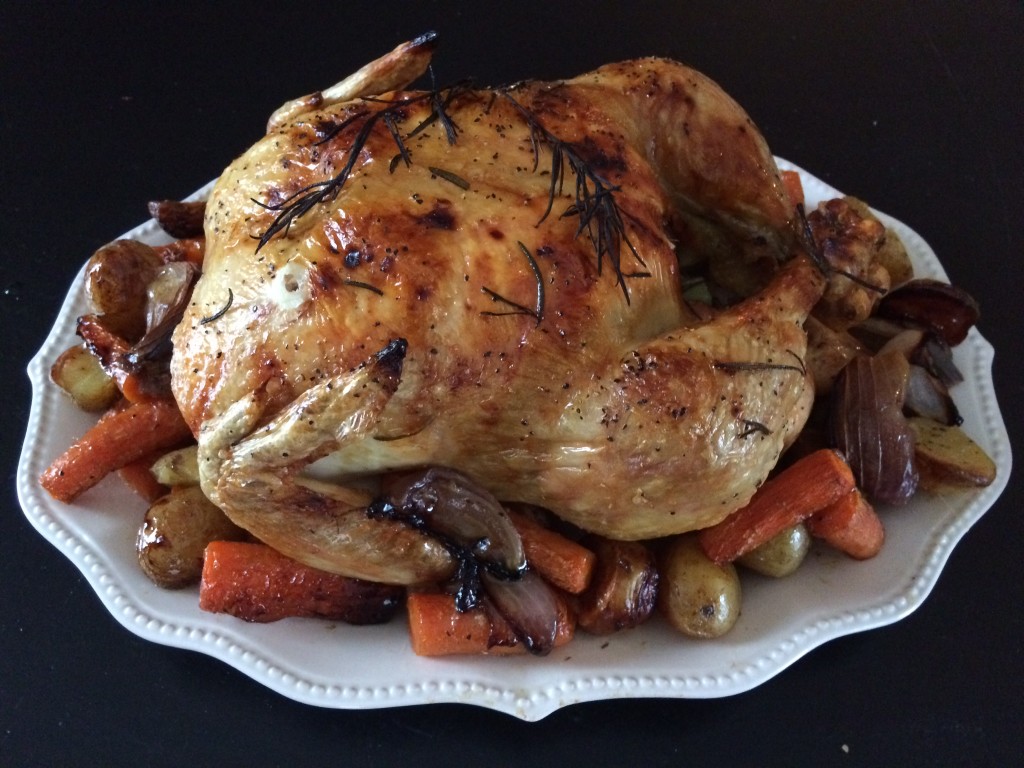 Guys….easiest dinner ever!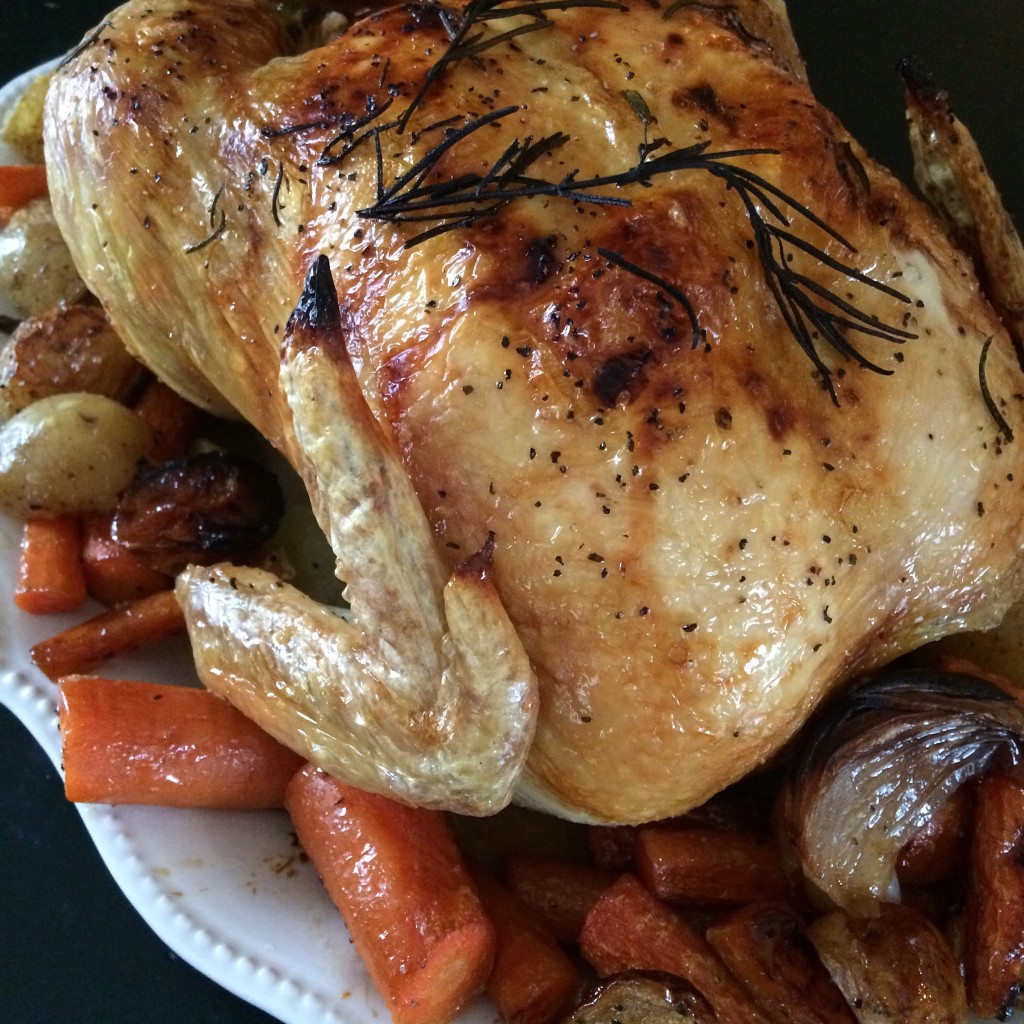 Here are the rest of yesterday's eats….
During Whole30, I'm eating four meals a day.
Breakfast – 8 SP
One Egg on a bed of Smashed Cooked Sweet Potatoes (I stirred those cooked smashed potatoes around in a skillet in a little bit of bacon fat, then added 1/2 slice of cooked crumbled bacon- You should totally try it!) with Strawberries and a half of a Banana.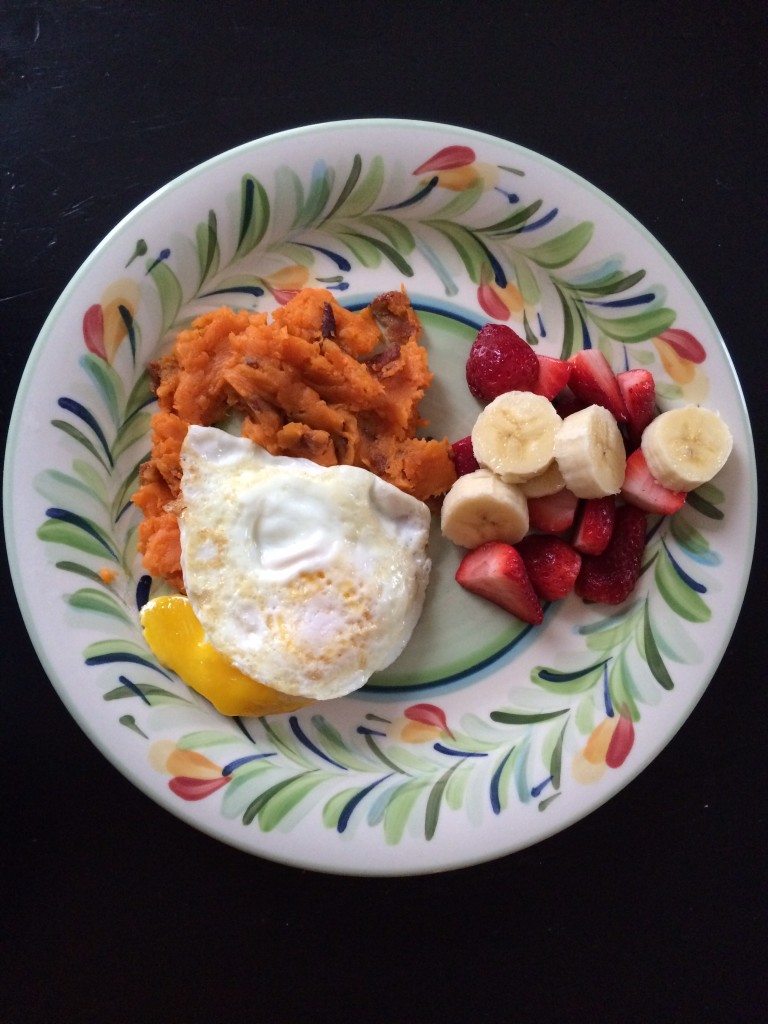 Lunch – 5 SP
Under those Cherry Tomatoes is some yummy Tuna Salad that I took to eat while working at the Food Truck.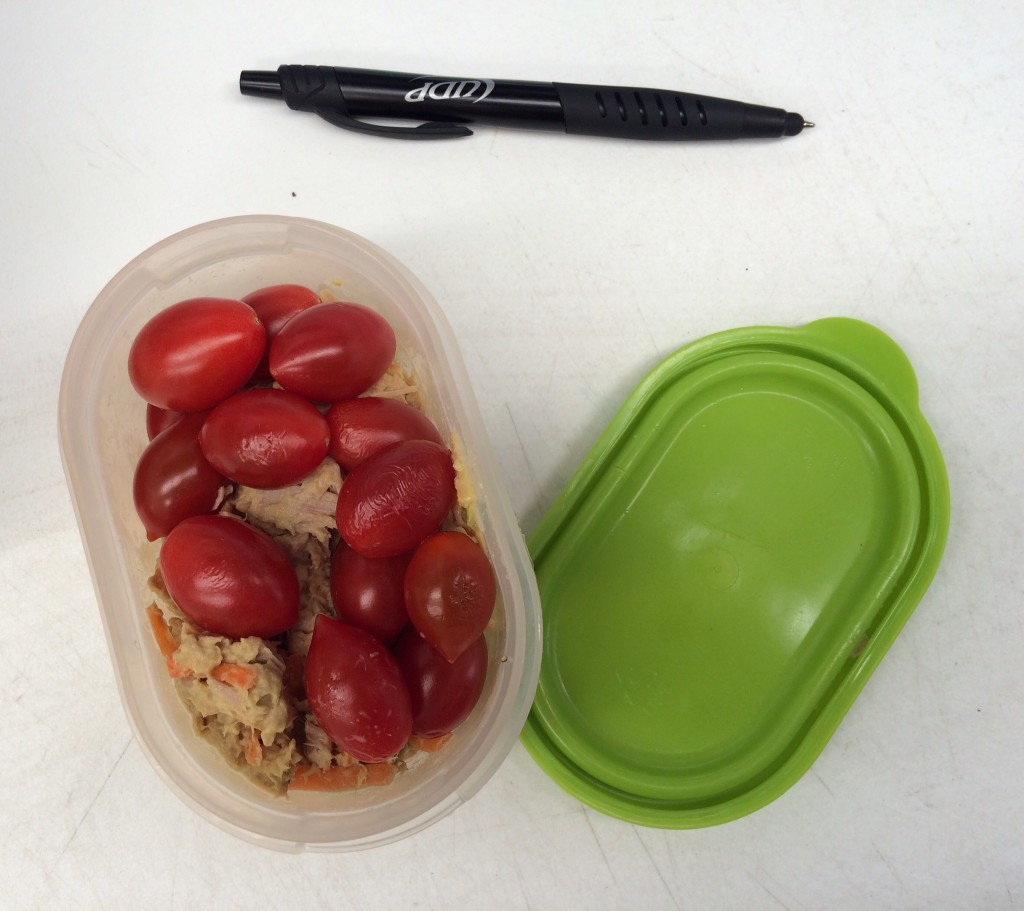 Afternoon Meal (that's what I'm calling it now) – 6 SP
Turkey Burger with Mustard and Pickles. Leftover Roasted Butternut Squash and Brussels Sprouts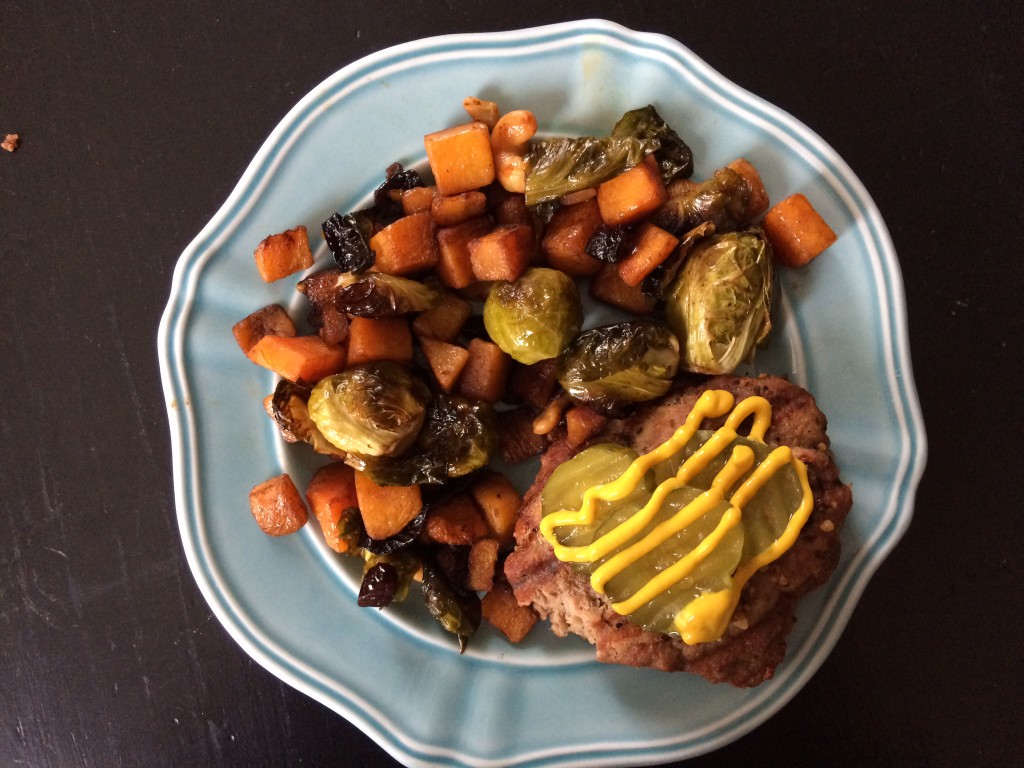 Dinner – 11 SP
Chicken, Potatoes, Carrots and Whipped Cauliflower with a dot of Ghee. Mmmmm…..ghee. (If you've not heard of it, it's Clarified Butter.)
For my Whole30 Whipped Cauliflower, I simply boil cauliflower florets for 8-10 minutes, drain well, add back to pan and mix with an immersion blender. Add just a little ghee and salt and pepper to taste.
These are my 2016 Goals
Make time each week to Meal Plan
Drink 100 ounces of water each day
Exercise 5 days a week
Three Meals and One Snack, Daily
I can eat 30 SmartPoints a day.
I have an allowance of 35 extra Weekly Points that I can dip into throughout the week if I choose.
My Weight Watcher Week Begins on Friday's
Breakfast = 8
Lunch = 5
Afternoon Meal = 6
Dinner = 11
Total = 30
Exercise = none
How many ounces of water I drank for the day = 70
Remaining Weekly SmartPoints = 0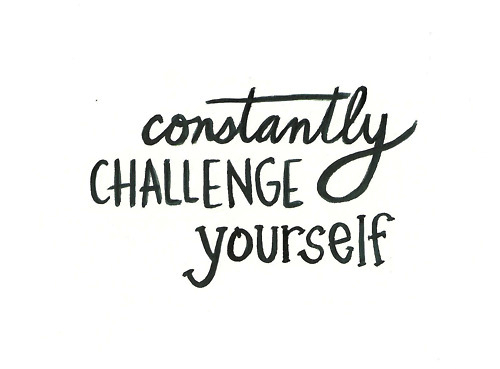 "love the life you live, live the life you love"