Whole30
I haven't blogged much about our Whole30 experience this time around.
The first time that we did the Whole30 back in October, we made so many changes in our routine and the foods that we were eating and not eating, that the first 10 days were really overwhelming. The planning, the shopping and the food prep seemed to take up a lot of time, and it was all very different from the way that we had been eating. I learned so many things in those 30 days that have made this time around much easier.
Routine: I try to find time each week to meal plan. When nothing sounds good, or I'm not in the mood to look at recipes, I turn to the list I've made of "Favorite Meals". All of the meals on my list are Whole30 compliant, and Mike and I both like them all.
Favorite New Foods: I've discovered new ways to prepare foods in a way that satisfy my tastebuds for some of the foods that are off limits during Whole30. I will now eat all of these foods, Whole30 or not.
Whipped Cauliflower. Even though we can have potatoes, we both love the taste of the whipped cauliflower.
Cauliflower Rice: I don't know if we will ever bring grains back into our diet. I don't miss them, and we both really like the cauliflower rice.
Sweets: Fruit with a little Almond Butter seems to be satisfying my sweet tooth, for now.
Smashed Avocado's: If I ate cheese on it before, I am probably eating some smashed avocado on it now, and I love it!
Sweet Potato Buns: I actually don't miss bread or toast. When I want a base to eat something on top of, I love a Sweet Potato Bun.
Roasted Plantains: We love a Salad, and these make a great cracker and chip replacement.
Butternut Squash: I'm not sure that it is replacing anything, but we both really like it and I'm glad we've discovered it!
Avoid Snacking: I am including an "Afternoon Meal" on most days, and that has really helped me to snack and graze less.
Twelve days in, I am feeling great!
I hope that if you are struggling through your first Whole30, some of these tips will be helpful!
Weekend Stuff
I have been looking for a cabinet for this wall for years. No joke. Bought a couple, returned them. When I saw this old metal cabinet in the West Bottoms a few weeks ago, I knew I had to have it. When I got home, I realized that it was too small to hang over the toilet alone, so it's been sitting. Yesterday, I decided to get it on the wall.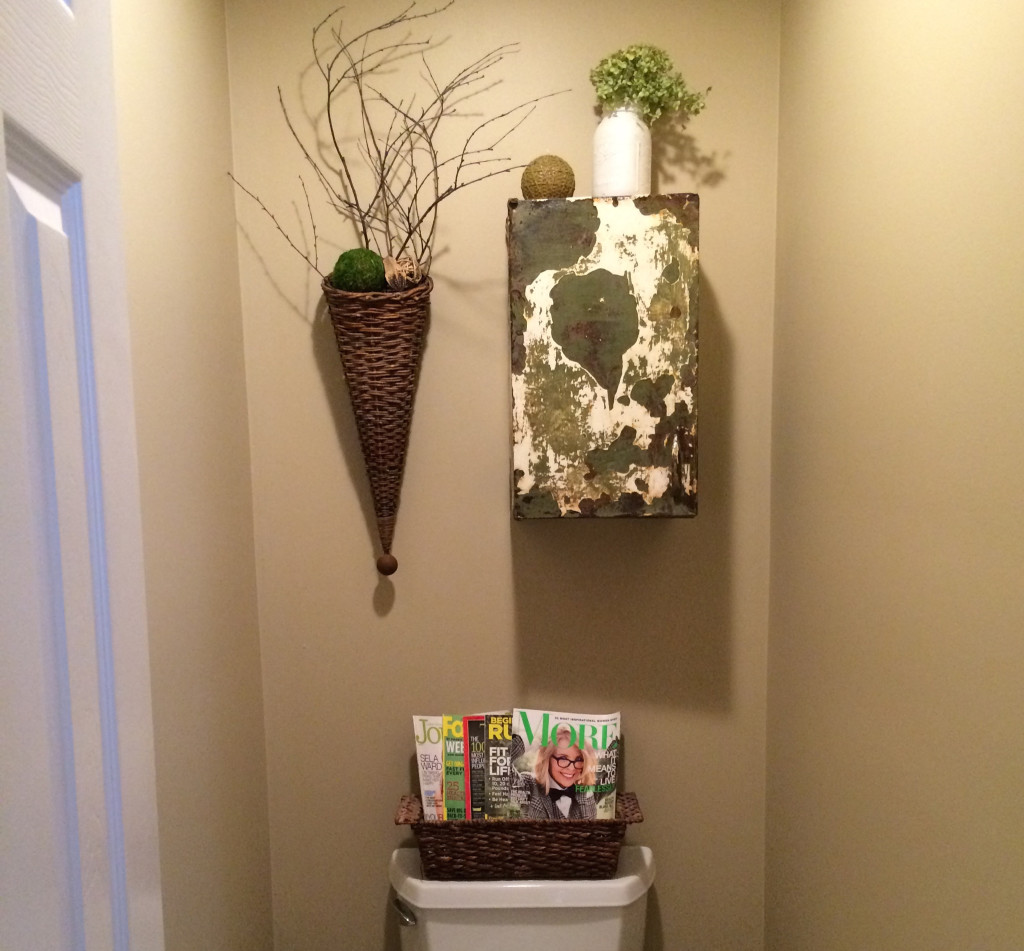 The basket in the above picture used to have my tampons and Lysol in it….I like the magazines much better.
I knew if I looked around the house long enough, I'd find something to hang with it.

So happy to be able to put these things behind a door now.

I was crazy busy all day Sunday. Mike went in to work for a bit, and I was doing all sorts of things. I've been Spring Cleaning (throwing things away….shhhh) in our garage off and on for a few days now. I took a trip to Lowe's and bought a variety of utility hooks. I came home and got the drill out, and got busy. I love organizing!!
I bought new cushions for the chairs out front. I bought ferns for the front porch (must water….must water…..must water) and I pulled a few weeds.
I made a menu for the week, I made a Target run and I washed my car. We ended the night watching the first KC Royals game of the season with the pups on the couch.
It's going to be a full week. I hope you all have had a great weekend!.
The vacation pounds are finally gone and Mike told me yesterday that my face showed it. Yay!
Here are yesterday's eats…
Breakfast – 7 SP
Breakfast at the coffee table, on my new tray.
1/2 oz cooked Pork Sausage using the Apple Fennel Breakfast Sausage recipe (minus the maple syrup) from paleomg..com and cooking it crumble style in the skillet instead of making patties.
I sautéed zucchini, red onion and cooked sweet potato in the skillet, then added in the sausage, then topped it with a soft boiled egg, which I am now in love with!
I warmed up some wild Blueberries, then topped those with Banana Slices and 2 tsp Almond Butter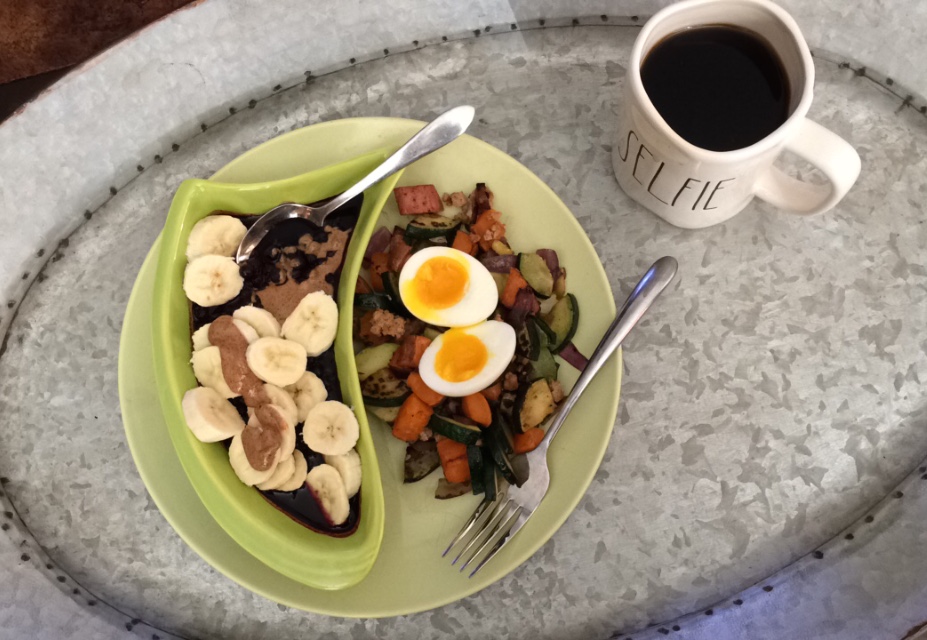 Lunch – 11 SP
Leftovers….Grilled Burger, Grilled Asparagus, Roasted Potatoes (I grilled a few burgers when I cooked our steaks the other night.)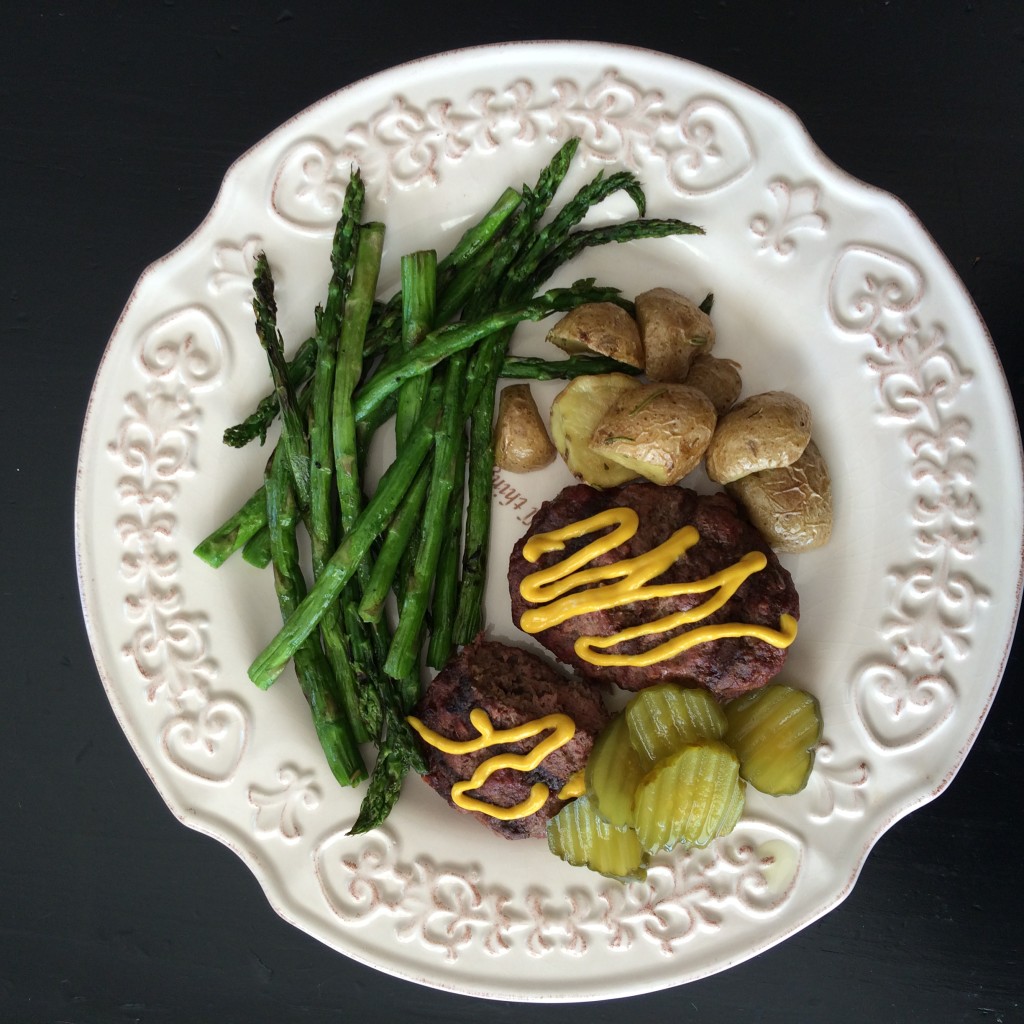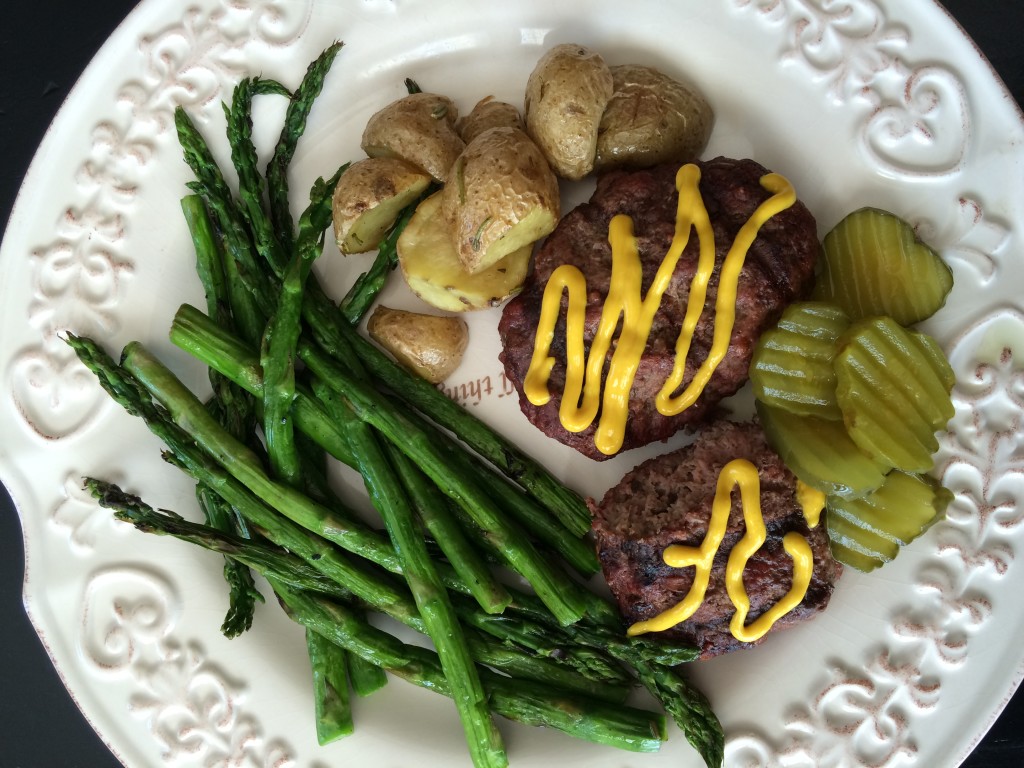 Dinner – 11 SP
We always love this Fall Chopped Salad from paleomg.com. No bacon on this one last night, and we skipped the Maple Syrup in the dressing to keep it Whole30.
These are my 2016 Goals
Make time each week to Meal Plan
Drink 100 ounces of water each day
Exercise 5 days a week
Three Meals and One Snack, Daily
I can eat 30 SmartPoints a day.
I have an allowance of 35 extra Weekly Points that I can dip into throughout the week if I choose.
My Weight Watcher Week Begins on Friday's
Breakfast = 7
Lunch = 11
Dinner = 11
Total = 29
Exercise = None, but I did work in the yard a bit and clean and organize the garage
How many ounces of water I drank for the day = 70
Remaining Weekly SmartPoints = 27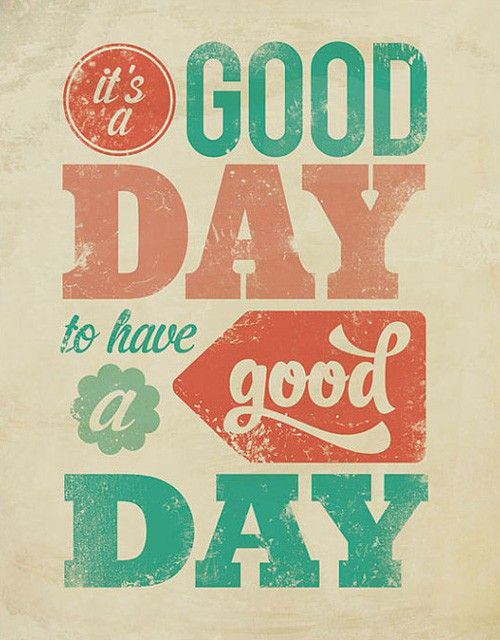 "love the life you live, live the life you love"