Food Truck Success
I worked Monday thru Friday last week at the Food Truck, and I stuck to the Whole30. Some days with ease, others, a little more challenging.
Thursday night I had Book Club. I ate dinner before I went, and drank water, coffee and hot tea while there. There is always lots of great food at Book Club, but there seemed to be an extra amount of yumminess on Thursday night. Dips and Chips and Pizza and Cookies and Cupcakes and Wine. I kept my focus on my girlfriends and the books and never took a bite, but I'm not saying it was easy. I did have a really great time laughing with the girls.
Friday, I went to my WW meeting, but had to leave just a few minutes early to make it to work in time to serve up lunch at the Food Truck. It was a great meeting and it is always great to see those girls, but there was one lady in particular that I wished I could have stuck around to give a hug to after the meeting. She was in from out of town, but has been to our meeting before. I believe she was visiting her daughter and grandchildren? She raised her hand towards the beginning of the meeting and asked for help. She said that she just couldn't stop eating and was really needing help and suggestions. I wanted to give her a hug so bad. Not only is it hard to ask for help sometimes, but she came to a meeting that was not her regular meeting, she sat in the front row, and she raised her hand and asked for help. Of course, so many of the lovely ladies in my meeting had all sorts of helpful advice for her. I hope she is having a great week and feeling stronger in her struggles, but I really wanted to hug her. It was confirmation of all of the wonderful ladies that I get to share my meeting with on Fridays.
Friday Happy Hour
After work, I had a few things to do to get ready for our Dallas trip, then I went to a friends for a short Happy Hour, where I again, drank coffee and passed on the yummy food, but not easily.
Saturday
Mike and I headed to Dallas on an early flight Saturday morning to visit Tess. Free Wifi and a cozy flight to see the kiddo.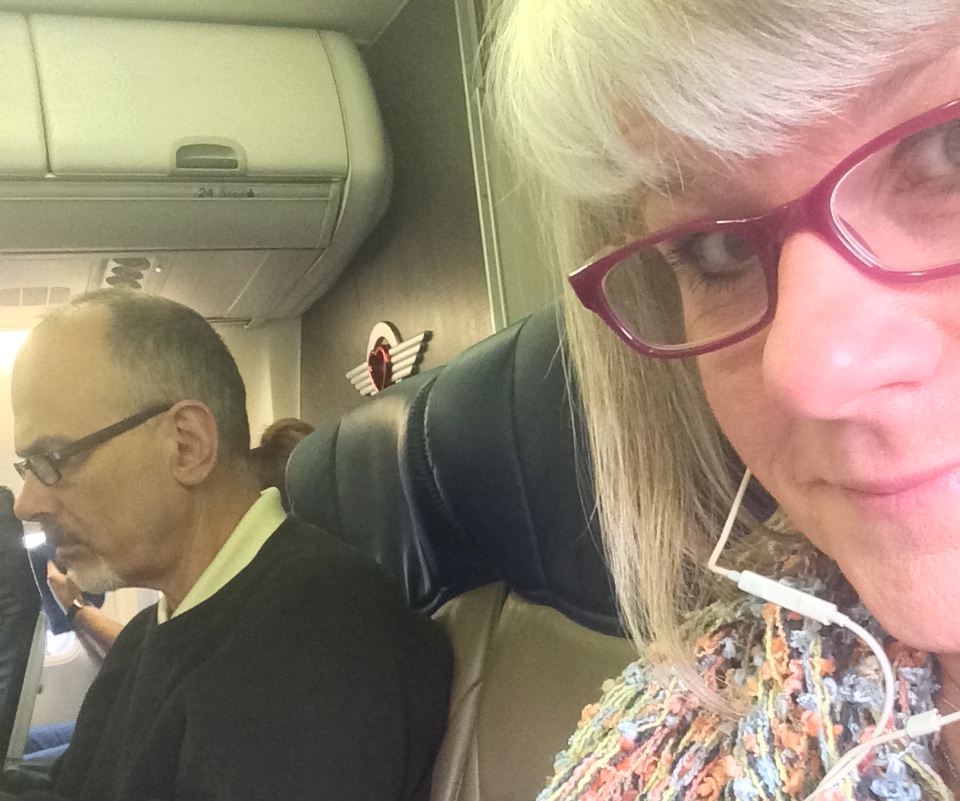 Loving the window seat.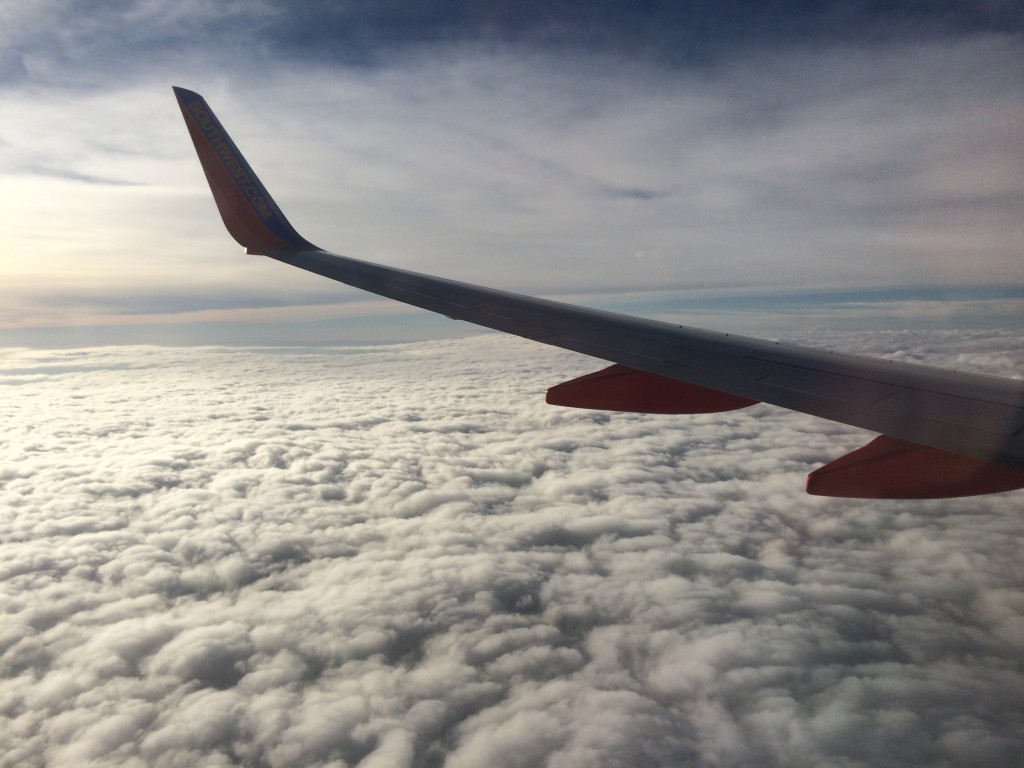 Mike has only been able to go with me one time since Tess moved there three years ago, so we were all looking forward to our weekend together. Tess picked us up and we went to her apartment to have breakfast and get caught up. After breakfast and a little chit chat, we went to Southwest Airlines for a little tour.
Check out the pilot and co-pilot.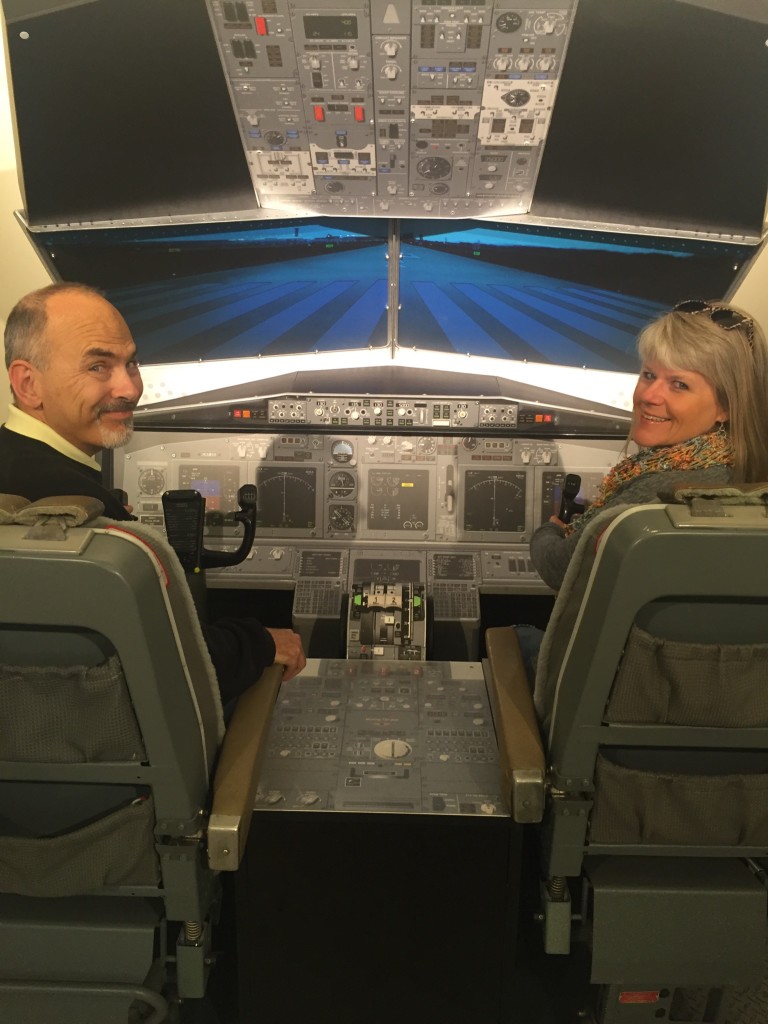 So many great photo opportunities! Just hanging out in an engine.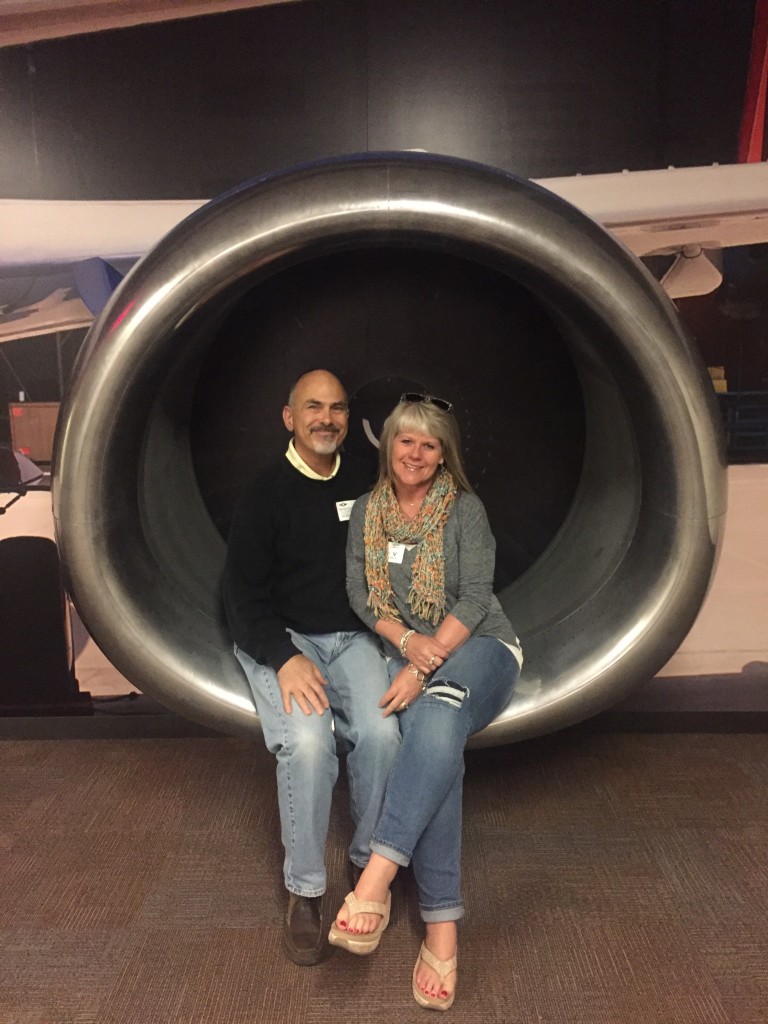 Mike's idea…..(not so funny later)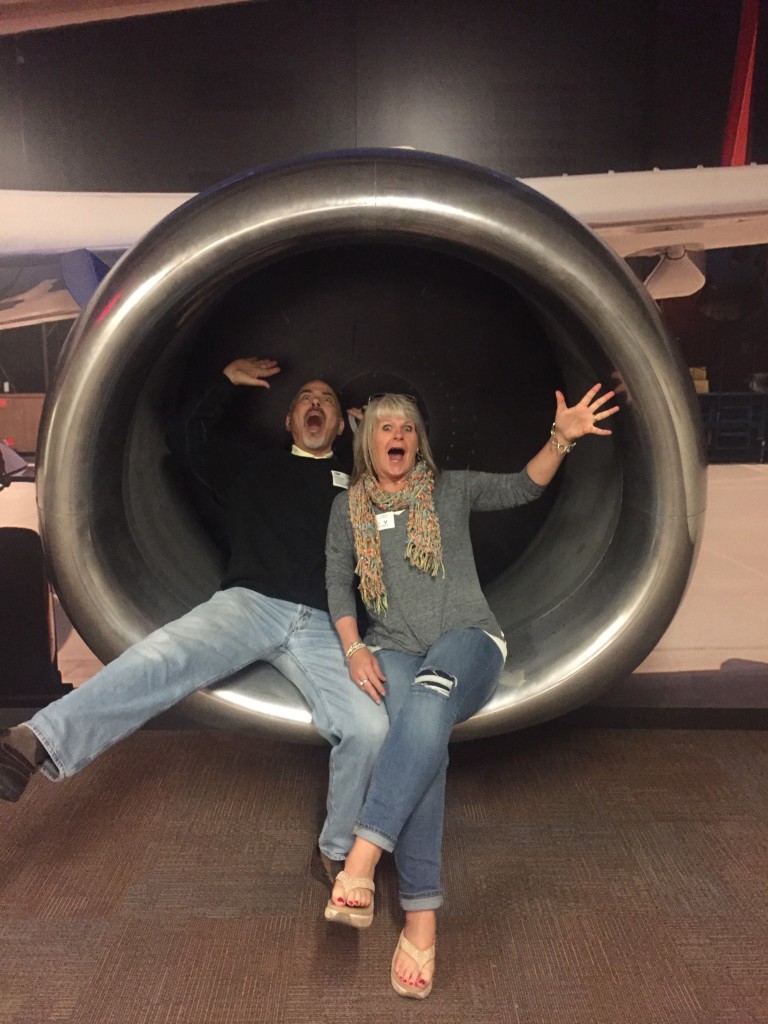 Okay, this cracked me up. Mike actually looks like a mannequin. Look at his hand. Dying! I look dead…or confused. Why is my mouth open?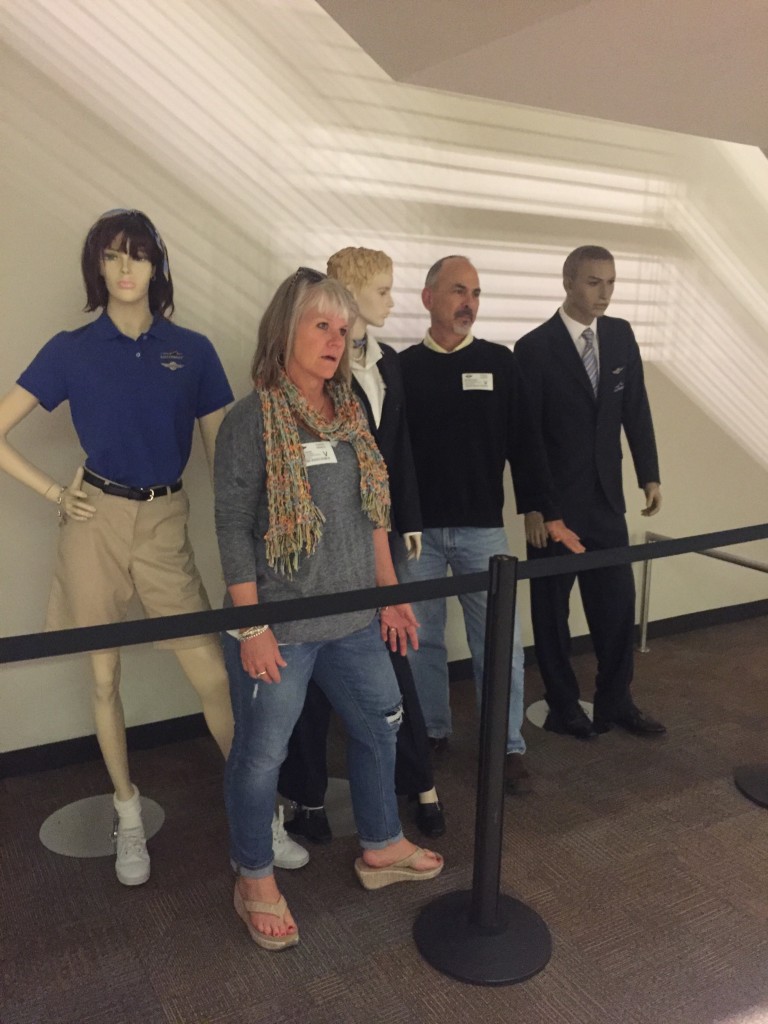 After our tour and silly photo's, we picked up Manuel and headed to a BBQ joint to meet his parents and sister….for the very first time!
They were all so sweet, just as expected. After lunch, we went back to Manuels apartment, where we played two rounds of LCR, then the longest game of UNO in history. It was a perfect game day. It was dreary and rainy and blah, and I couldn't think of a better way to spend the day getting to know everyone than with a great game day. It was a perfect afternoon.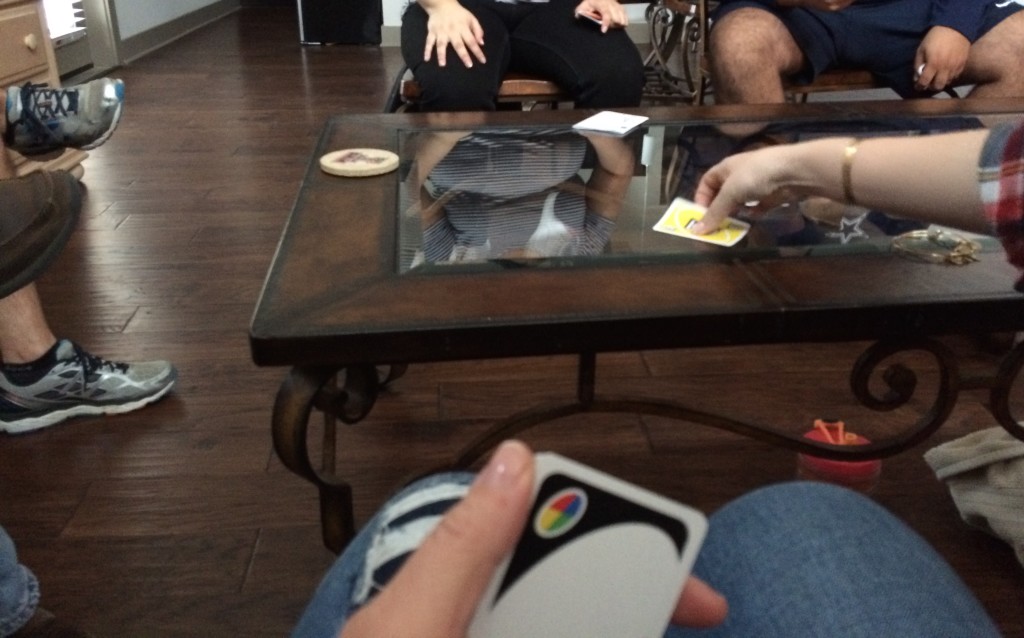 After our record breaking two hour game of UNO, and Tess getting the win, we were all starving and went out to dinner for the evening. It ended up being a really long, but fun day. When we got back to Tess' apartment, it was late and we went to bed. Slept like a rock!
Sunday morning, we picked up Manuel, then met his sister and parents at their church in downtown Dallas. After church, we went to their house where we grilled out, relaxed in the living room, played with the dog and all got to know each other a little bit better. We had such a great weekend. After hearing Tess talk about Manuel and his family so much, I already knew that we'd have a great time. We felt so welcomed. I'm so happy that Tess has them all in her life. I know that even though she is so far away, she is loved by many.
Airplane Adventures
Tess took Mike and I to the airport around 5:00 pm. Our flight was a little delayed due to weather, but finally at 8:30 pm we were on the plane and headed home. The flight is just over an hour, so it's an easy flight, usually. This flight was really rough and the weather up there wasn't so great. Flying has never really bothered me, and although turbulence can be a little bumpy, it just never seemed to bother me. This was somehow different. My phone and glasses flew off of my tray and Mike and I just looked at each other with that look in our eyes that said….This is a unusually rough flight. Then, the oxygen mask dropped down out of the ceiling. We were all just looking at each other. I said to the woman beside Mike, "Well that's never happened before". After I said that, the flight attendant announced that we all needed to immediately put our oxygen mask on. We did.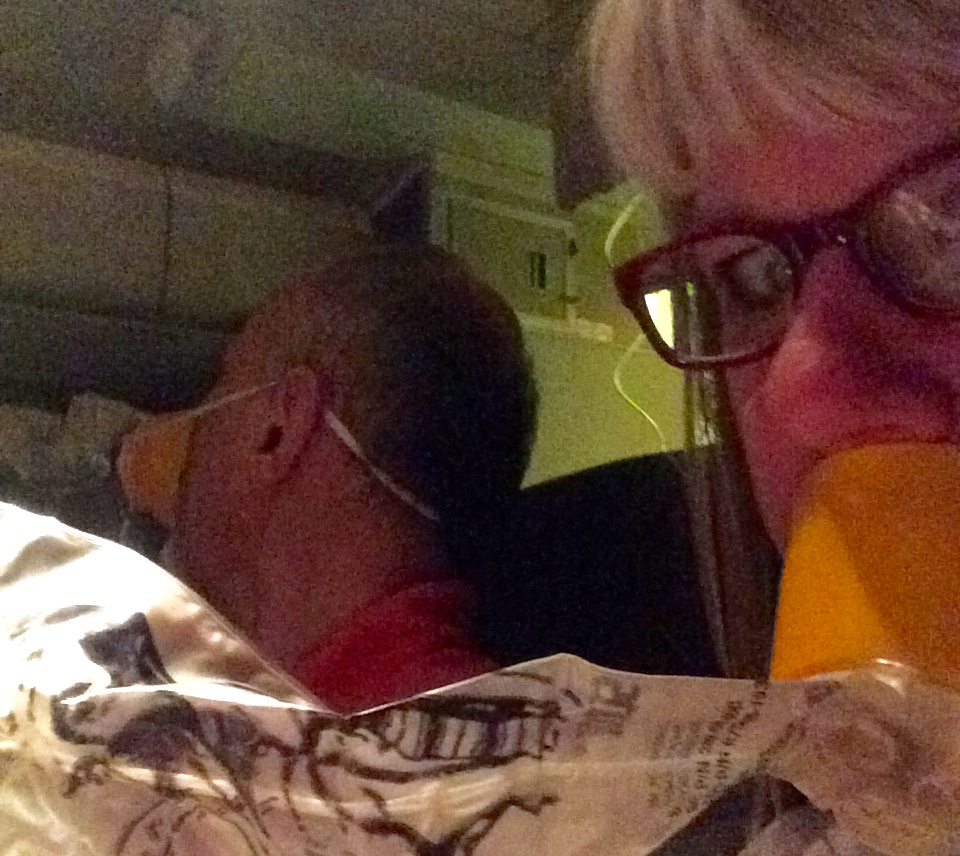 After an immediate descend, then what seemed liked eternity, the Pilot came on and told us that we had lost cabin pressure and we were making an emergency landing in Wichita, Kansas. We landed safely in Wichita, and remained there until 3:00 am. We were home and in bed by 4:30 am and it was a really long night.
Needless to say, we were happy to be home safe and sound. We had such a great weekend with Tess and Manuel and we were so happy to get to meet his family.
I did not end up sticking with the Whole30 over the weekend and I could have. I had a glass of wine on Saturday, and I had a bun with my burger at our cookout and a glass of wine at the airport on Sunday night, things I could have easily avoided.
I'm not dwelling on it at all, and will continue to do the Whole30.
The purpose of the Whole30 is to eat whole foods and feel the health benefits of that and change your relationship with food. I am feeling great and I am really doing a great job of not grazing and snacking, so for me, this has been a big success.
Here are Sunday's eats, but without a lot of pictures.
Breakfast
Raw Cashews, un-pictured Banana, un-pictured Apple and lot's of Coffee at the apartment before church.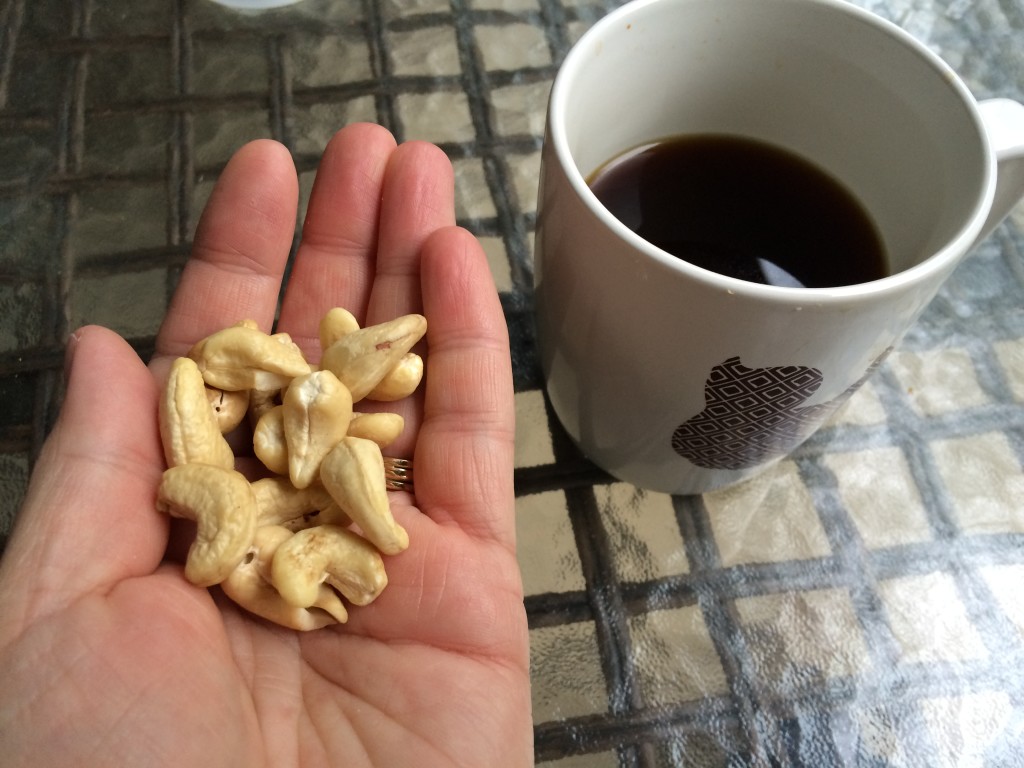 Lunch
Un-pictured
Chicken Breast, Sausage, Burger on a Bun, Green Beans and fruit
Dinner
Un-Pictured
We were at the airport and our flight was delayed. We cozied up in a booth overlooking the runway, where Mike ordered a Burger and Sweet Potato Fries, and I had a glass of wine.
These are my 2016 Goals
Make time each week to Meal Plan
Drink 100 ounces of water each day
Exercise 5 days a week
Three Meals and One Snack, Daily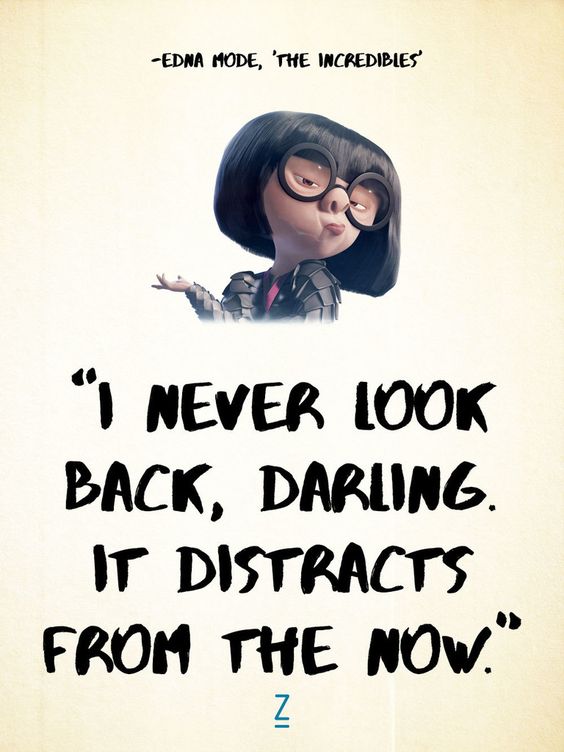 "love the life you live, live the life you love"