Sometimes, I goof.
The short version.
That Steak Salad that I raved about in yesterday's post? Well, I goofed and forgot to include the recipe for the marinade. I have revised that post to include the marinade recipe.
I did change the recipe just a bit from the original, and I have now posted the recipe, Flank Steak Marinade, here on the blog.
My apologies if anyone was super eager to make that salad (like my daughter was) and was perplexed as to where the marinade for the flank steak was.
My Day
Yesterday was one of the first days in what seems like forever, that I did not have a "to do" list, or any place that I needed to be. It was nice.
You know what I did do? I'm ridiculously excited. I planned a trip for Mike and I to go to NYC! Guys, I'm super stoked! I have been wanting the two of us to go to New York for a long time! I want to see a play on Broadway, I want to stay right smack in the middle of Times Square, I wanna eat some yummy New York food, I want to go to Museums, I want to go to coffee shops and people watch, I wanna walk the streets of New York City! I just wanna soak up as much of the city as we can, in four days.
I booked our flights and our hotel. Now for some planning of all of the things that we want to do! We're going in October! Yay!
I also got to have this little angel over last night.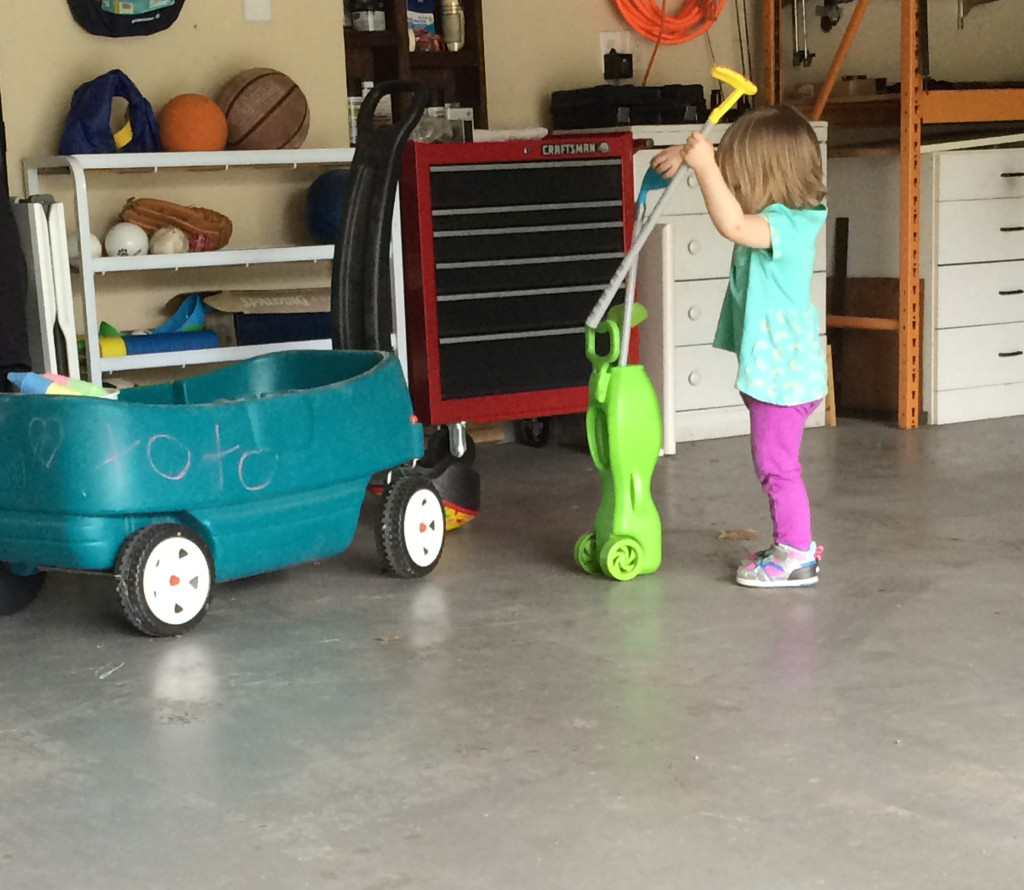 Um, please note the nice clean garage that allowed her all sorts of room for wagon pulling fun! It was a moment of pride for me.
Her mom got to go to the KC Royals game with her co-workers. Mom was spoiled in a suite at the stadium for the evening. She has a new job that she is loving, and they really seem to be taking great care of her! So happy for her!
My niece started moving in last night too, so we had all sorts of excitement going on here last night at our Empty Nester house.
Great day here yesterday. I hope you had a great day too!
Here are yesterday's eats…
Breakfast – 8 SP
Lots of veggies and a little Pancetta in an Egg White Omelet with a side of Avocado and Berries.
Lunch – 12 SP
Un-Pictured Plantains and this Big Salad with Chicken, Roasted Butternut Squash, Hard Boiled Egg Whites, (I sprinkled the yolk on my doggies dry food. I know. They might be spoiled), Red Onion, Roasted Beets and the Apple Maple Vinaigrette.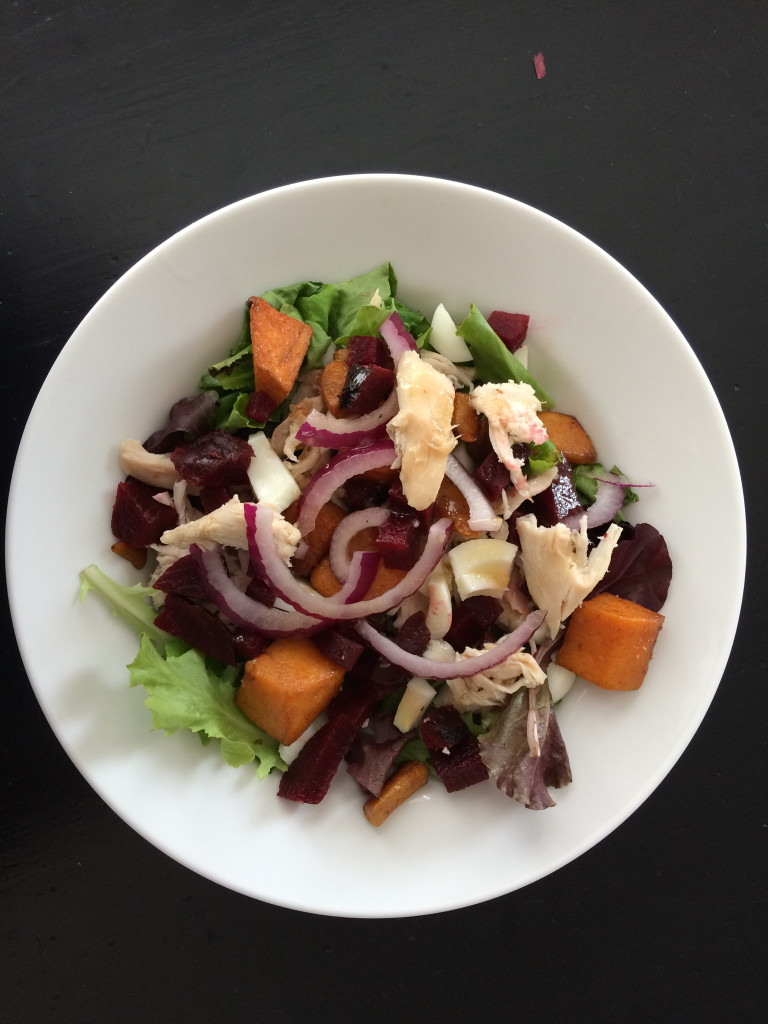 Dinner – 12 SP
Big Salad with leftover Steak, Roasted Butternut Squash, Tomatoes, Avocado, Red Onion and Homemade Creamy Garlic Dressing.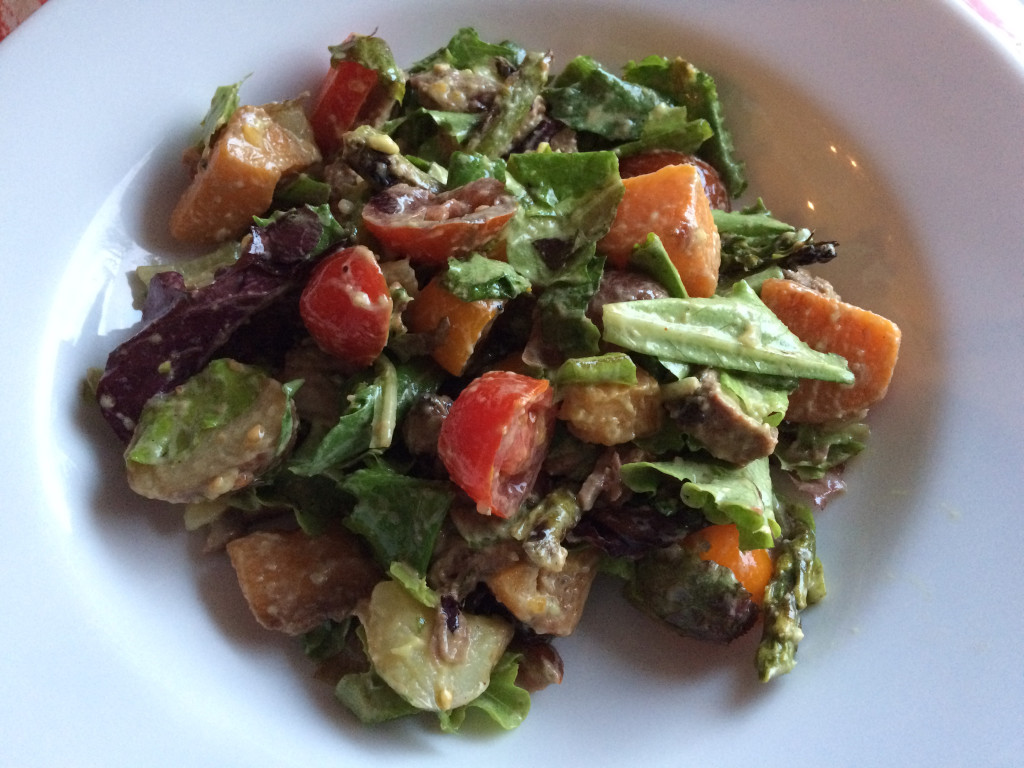 These are my 2016 Goals
Make time each week to Meal Plan
Drink 100 ounces of water each day
Exercise 5 days a week
Three Meals and One Snack, Daily
I can eat 30 SmartPoints a day.
I have an allowance of 35 extra Weekly Points that I can dip into throughout the week if I choose.
My Weight Watcher Week Begins on Friday's
Breakfast = 8
Lunch = 12
Dinner = 12
Total = 32
Exercise = 45 minute Walk
How many ounces of water I drank for the day = 70
Remaining Weekly SmartPoints = 18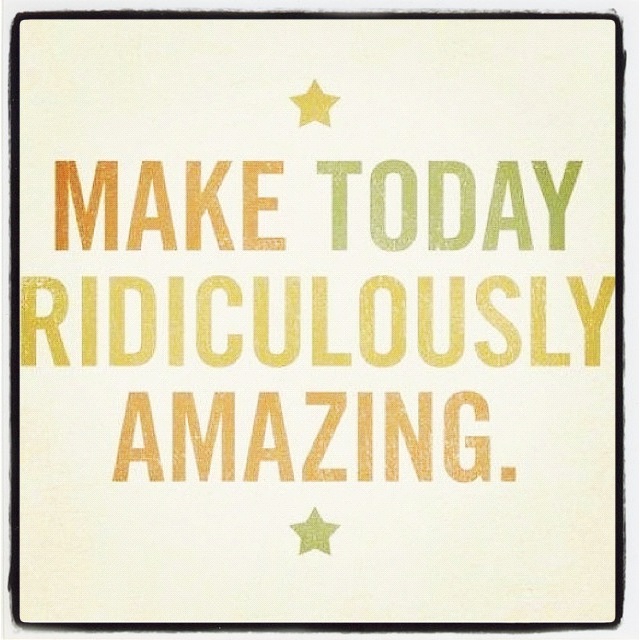 "love the life you live, live the life you love"