We had a super busy day working the Food Truck in the West Bottoms of Kansas City on First Friday yesterday. That, along with our regular Wednesday location, is one of our busiest lunches and we dish out some food!
Along with Burgers, Pork Taco's and Crawfish Mac and Cheese, we served up about 25 of these yummy Chicken Salad Sandwiches. Her Chicken Salad is to die for! Guys, seriously.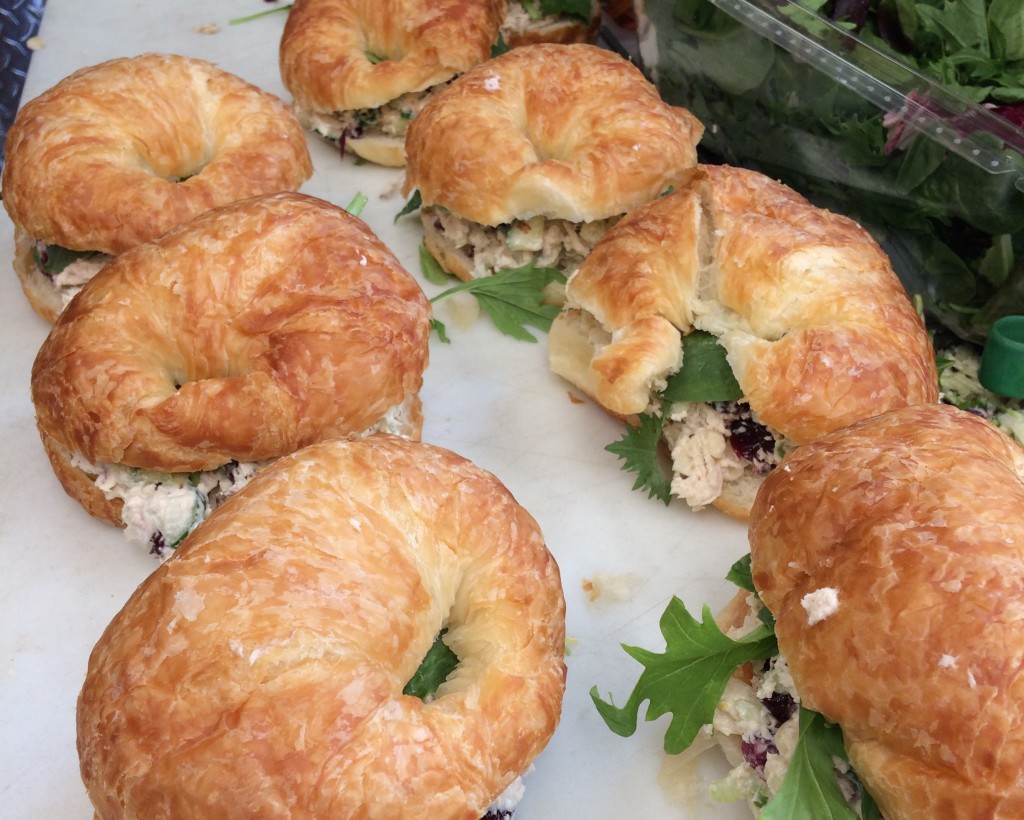 After about 5 hours on our feet, we went outside, sat in the shade (it reached about 88 degrees yesterday!) and drank some cold beer. (This is my friend, Renee. We've know each other for about 30 years. I think I've mentioned that before. Anywho, I've sucked her into the food truck fun, and were having a great t time working together.) She would KILL me for posting this picture! Shhh.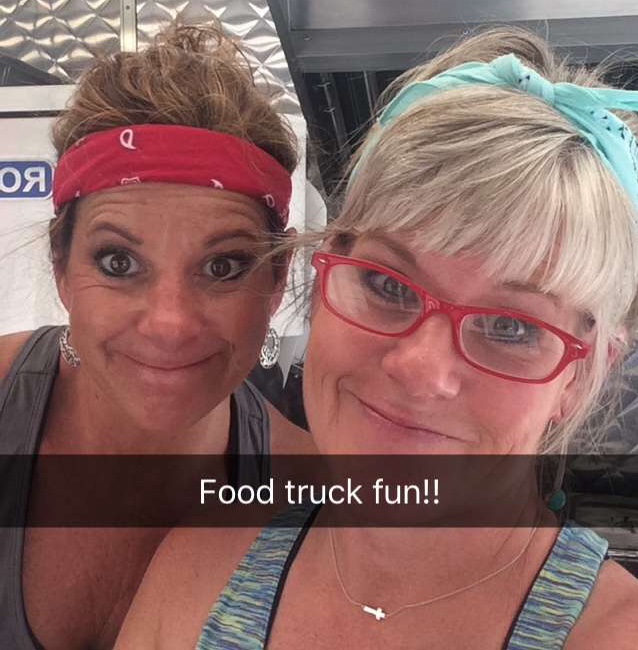 When I got home, look what was sitting in my kitchen window! My own little Herb Garden!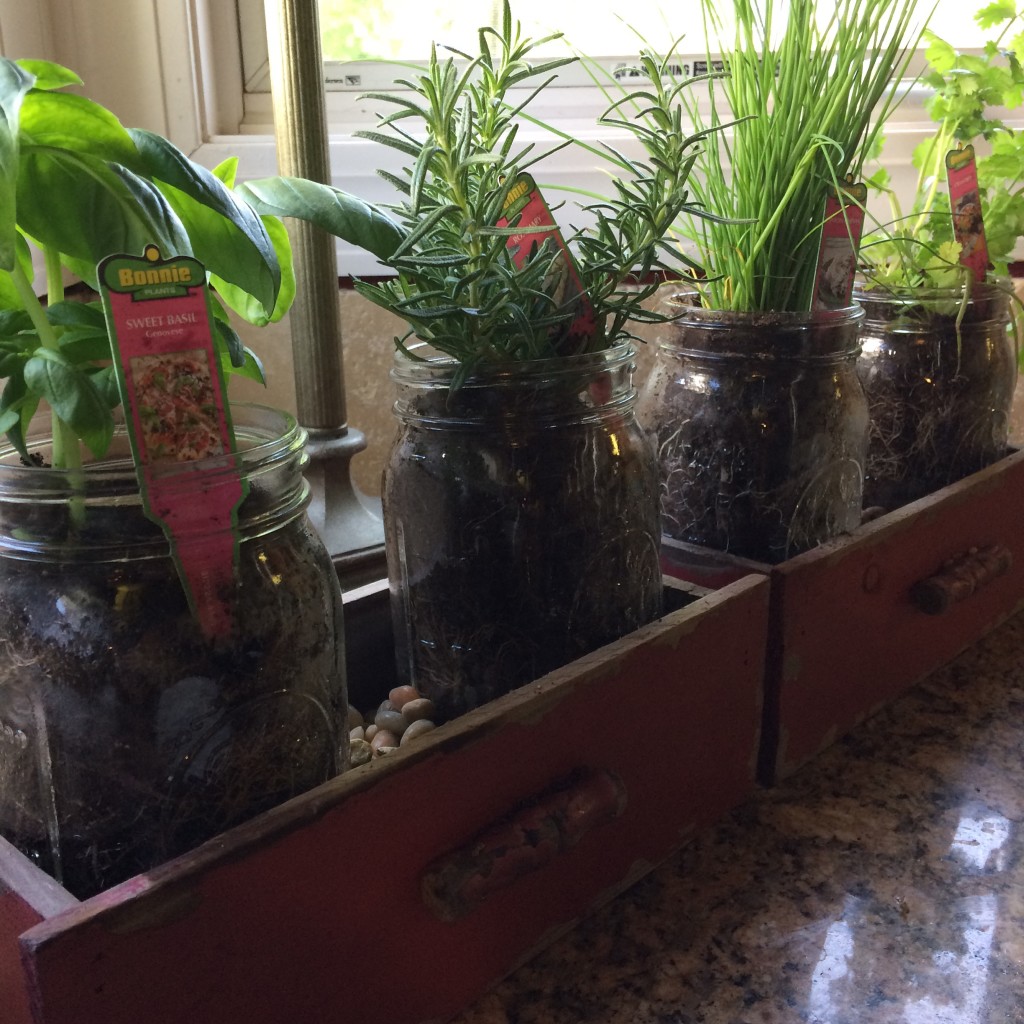 My daughter, Kate, (Charlottes mom) made this for me for Mother's Day, and delivered it while I was at work. I have been wanting one and I love it! Such a thoughtful gift! Hopefully I won't kill any of it. I suck in the plant department.
After working the food truck, the last thing that I wanted to do was to walk any miles at all, but because of my 100 Mile Walking Challenge, I grabbed the leash and Tucker, and off we went. I walked 3 Miles and I was so glad that I did!
This is serious walker face.
Last night was a quiet night and home, grilling on the deck.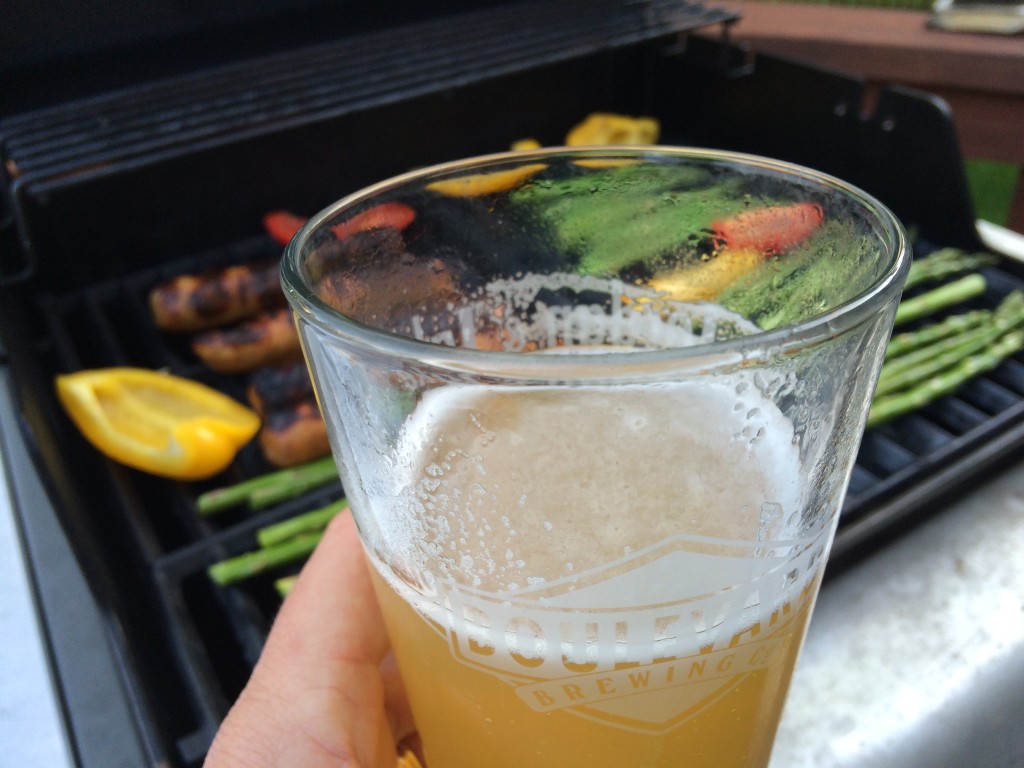 Today is a full day with lots going on. Flower shopping, errands to run, and I'm going to my mom's to help her paint her outside table and chairs. We have a Graduation Party tonight, and hopefully we are going out to dinner before that. I'm ready for a date night with the hubs.
Happy Weekend!
Here are yesterday's eats…..
Breakfast – 6 SP
(Such an ugly plate of food! My purple potatoes turned my Egg Whites a little blue!)
Scrambled Egg Whites with Purple Sweet Potatoes, Red Onions and Bell Peppers topped with a little smashed Avocado…with Berries.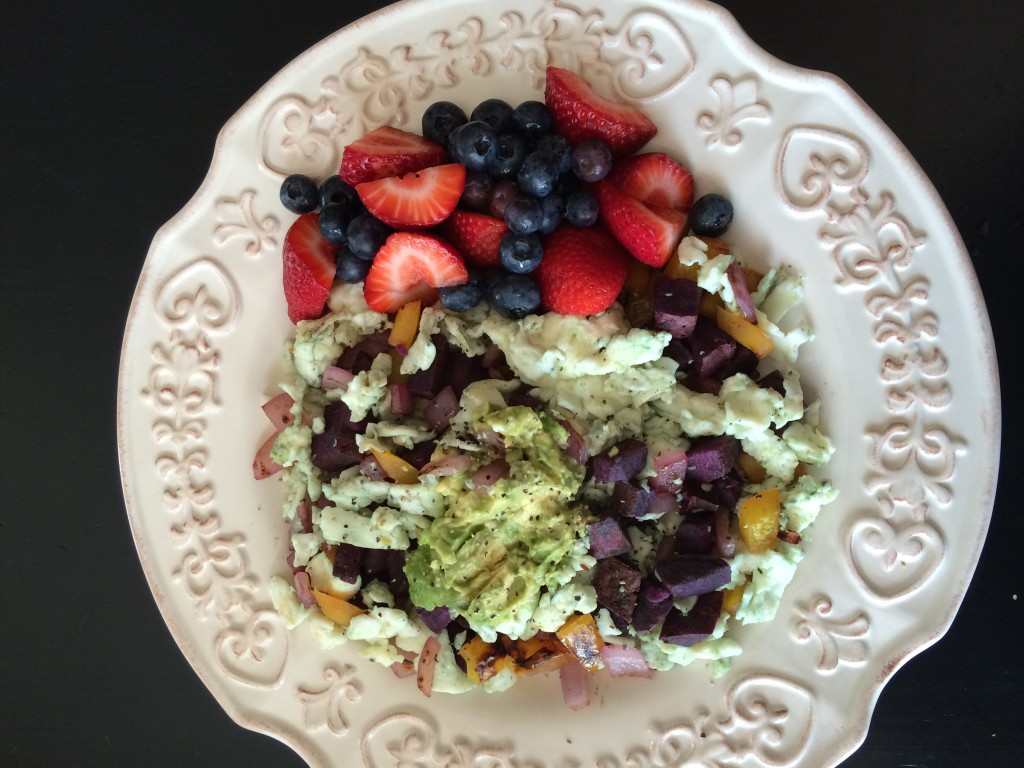 Lunch – 6 SP
Tuna Salad and a few Dill Pickles while at work. (12 oz can made with Mayo and Mustard and Pickle relish.)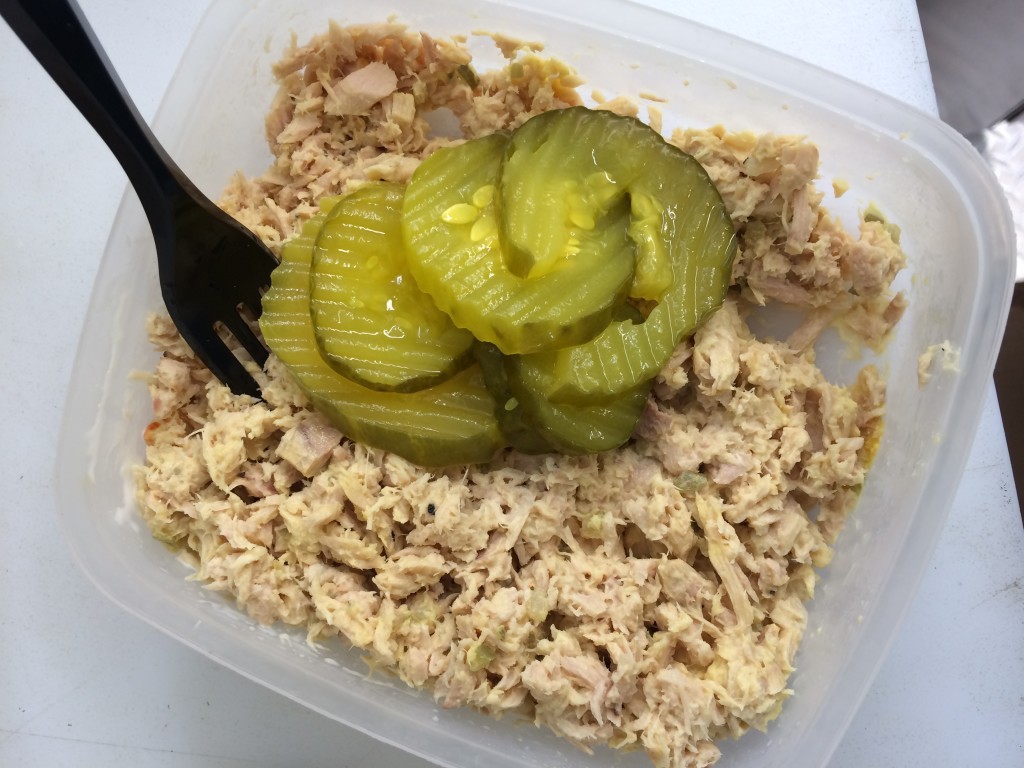 Beers – 10 SP
Dinner – 10 SP
Chicken Apple Sausage, Peppers and Asparagus, Pear and Walnut Salad with Goat Cheese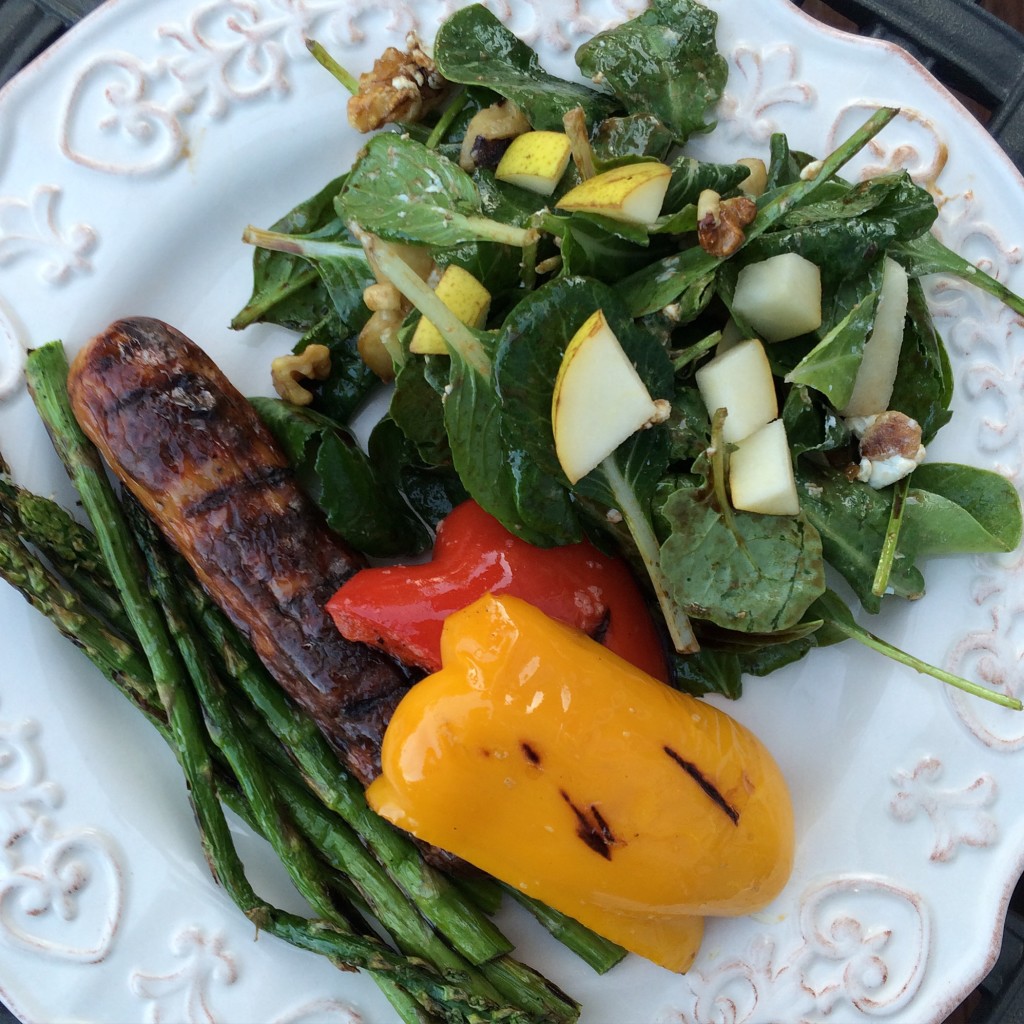 These are my 2016 Goals
Make time each week to Meal Plan
Drink 100 ounces of water each day
Exercise 5 days a week
Three Meals and One Snack, Daily
I can eat 30 SmartPoints a day.
I have an allowance of 35 extra Weekly Points that I can dip into throughout the week if I choose.
My Weight Watcher Week Begins on Friday's
Breakfast = 6
Lunch = 6
Beers = 10
Dinner = 10
Total = 32
Exercise = Walked 3 Miles
FitPoints Earned = 6
How many ounces of water I drank for the day = 70
Remaining Weekly SmartPoints = 33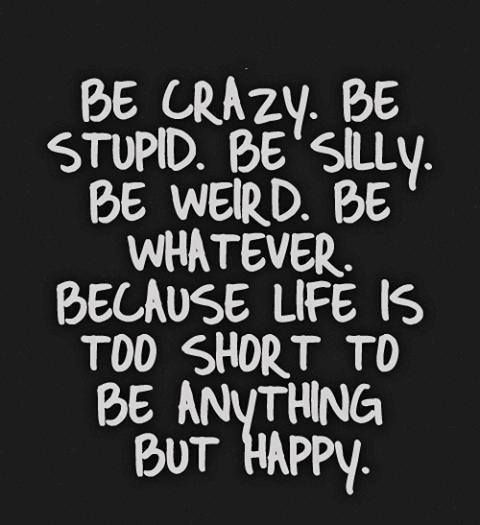 "love the life you live, live the life you love"