When I wake up, the first thing I think about is coffee on the deck while my pups do their business. After a quick cup yesterday, I knew I wanted to get out and about. I threw on some sweats and a hat and Mike and I were out the door before 8:00 in search of breakfast.
After breakfast and a little chat over coffee, we took a drive in the hubs new toy. We drove forever. I loved it. Cranked up tunes, top down (the car, not mine. I think that's illegal!) sunshine, and no place we really had to be. That doesn't happen much and we really need to allow it to happen more often. I love a drive with the music turned up and the wind blowing like crazy.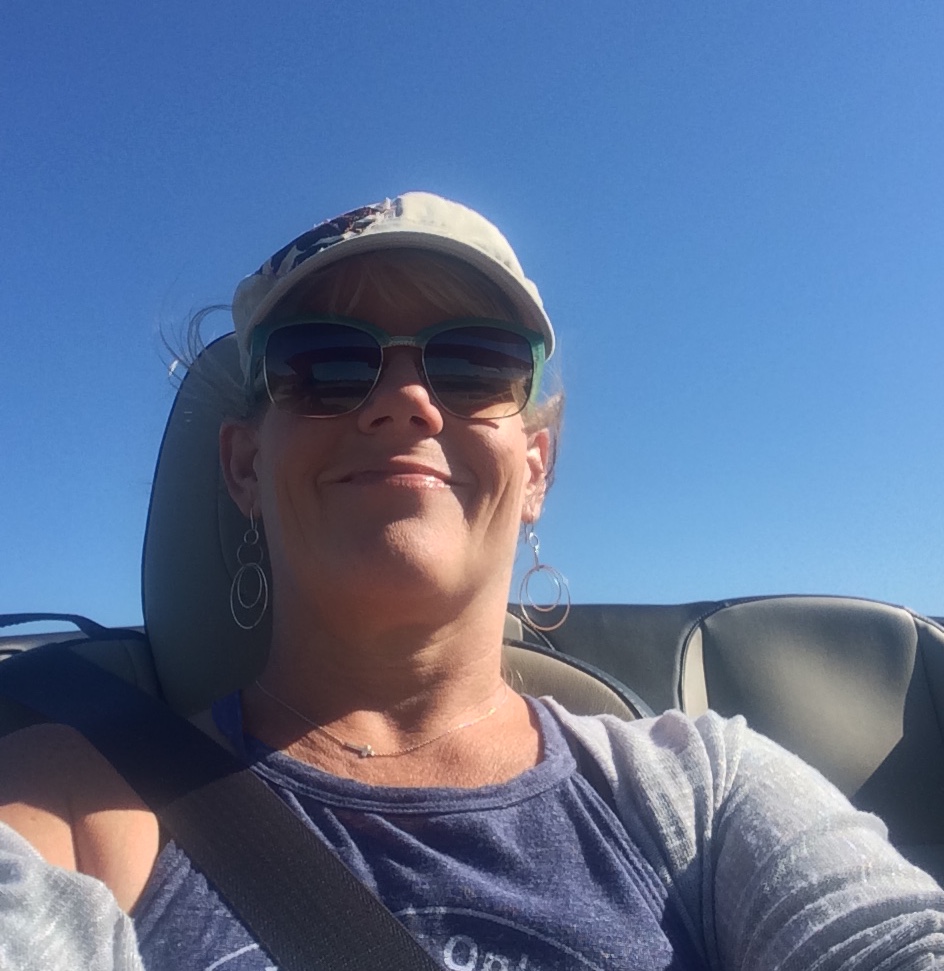 It's been something I've enjoyed since I first started driving as a teenager. Some weird liberating feeling comes over me with the music and the wind. I do that alone a lot, but I think Mike enjoyed it just as much as me yesterday.
After a nice long drive, we were back home. I got caught up on the blog while enjoying a beautiful and sunny afternoon on the deck. Tucker can't stand it when the computer is in my lap more than he is, so every once in a while, this happened.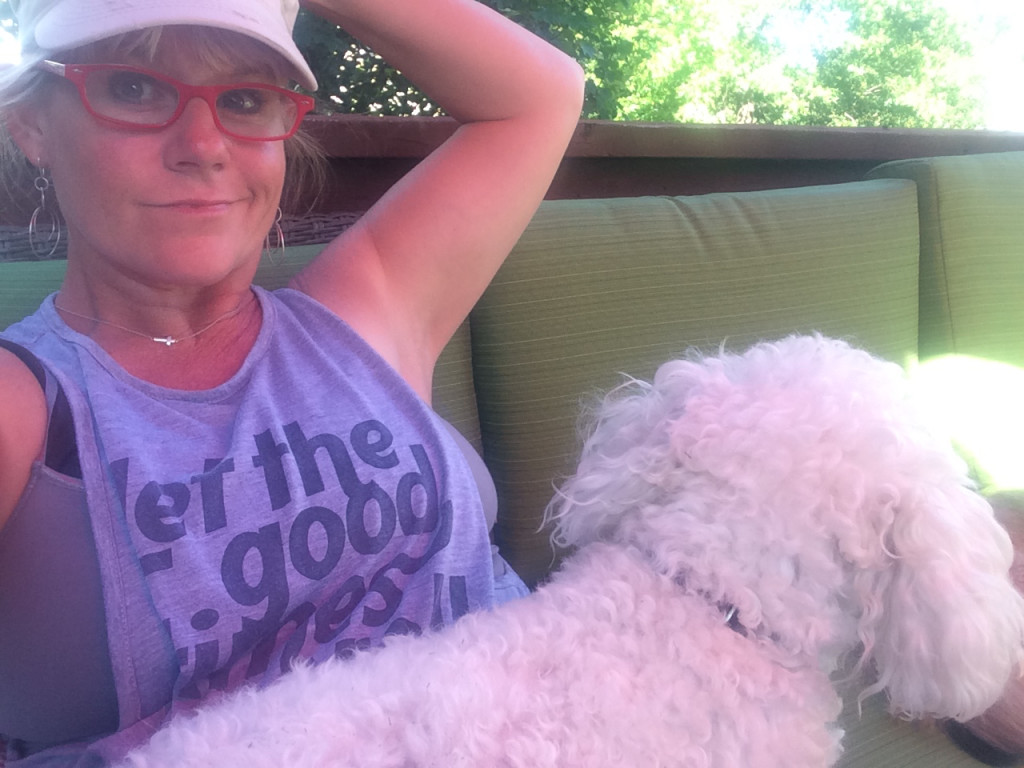 Mike piddled in the garage for the rest of the day. Like ALL afternoon! I thought I had it clean? I ain't got nothing on him. I never even thought to clean under those steps!! I worked really hard on this garage a few weeks back, but I will say that he finished it off nicely.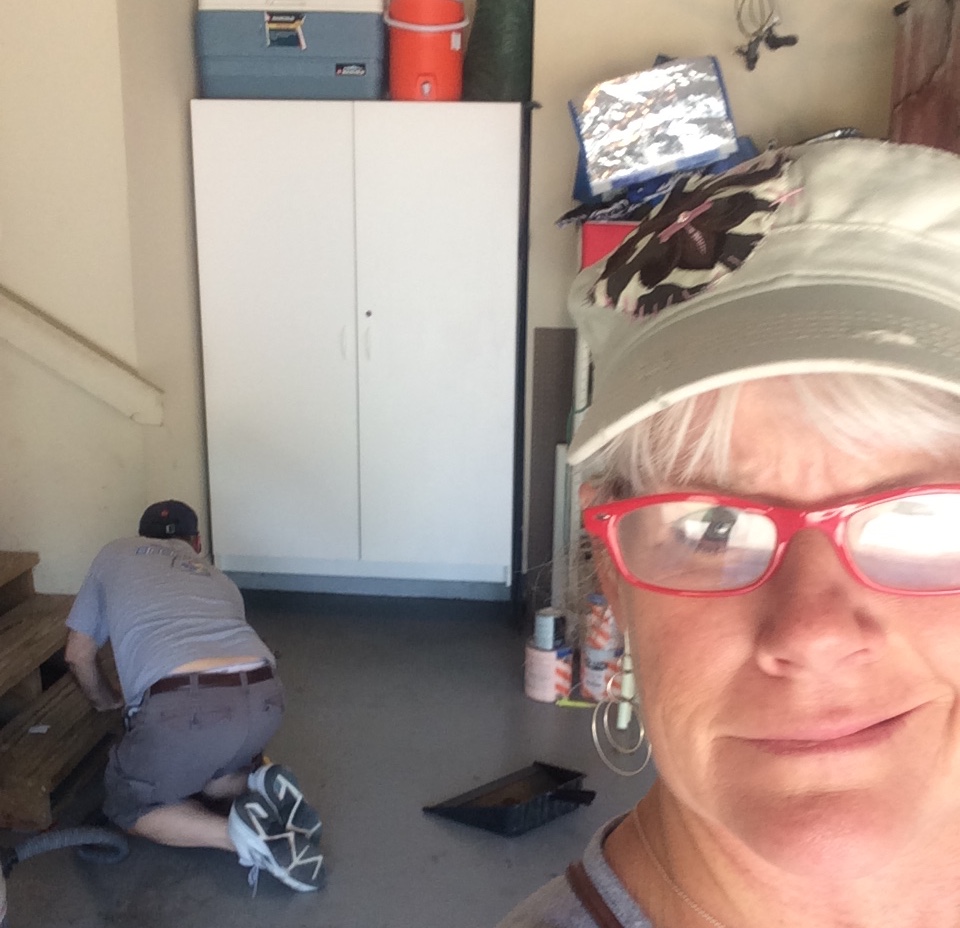 I love that he is doing something besides working now. He has talked about a "weekend car" for years, and it has finally given him something to think about besides work, even if it is just a drive or a day spent piddling in the garage. Such a good thing. Now if I can just get him back on the golf course.
I cooked up a few things yesterday and I'm going to try and keep our meals simple this week. Grilled meats, veggies and salads.
I roasted plenty of Sweet Potatoes. We have fresh tomatoes for a simple plate that is so good. I grilled up some Chicken Breast and a few Chicken Apple Sausages, Grilled some Zucchini and sautéed a few Sweet Onions and Bell Peppers.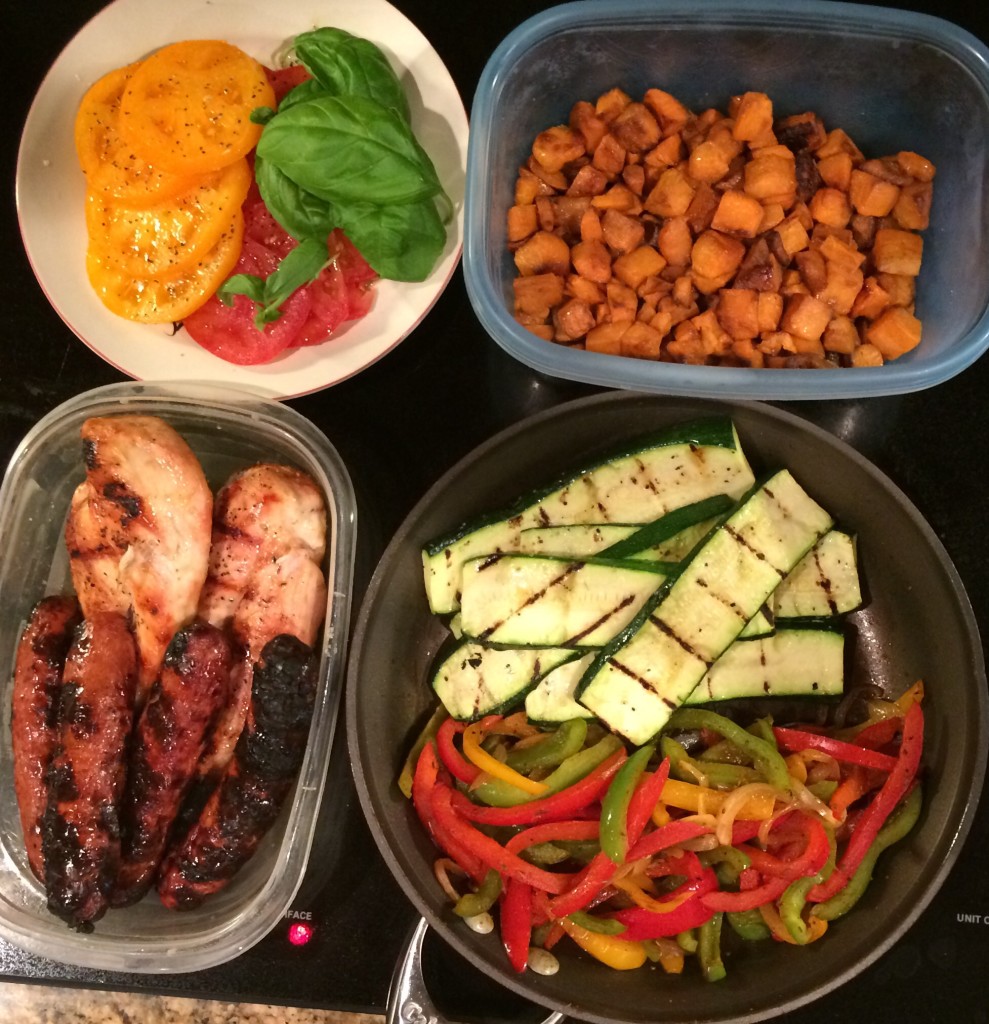 Okay, busy day planned today. I've even already walked this morning!
Here are yesterday's eats..
Breakfast – 15 SP
I always guess 15 Smartpoints on this meal at First Watch. I order the Bacon Avocado Tomato Hash with Poached Eggs, no Cheese and fruit, no English Muffin.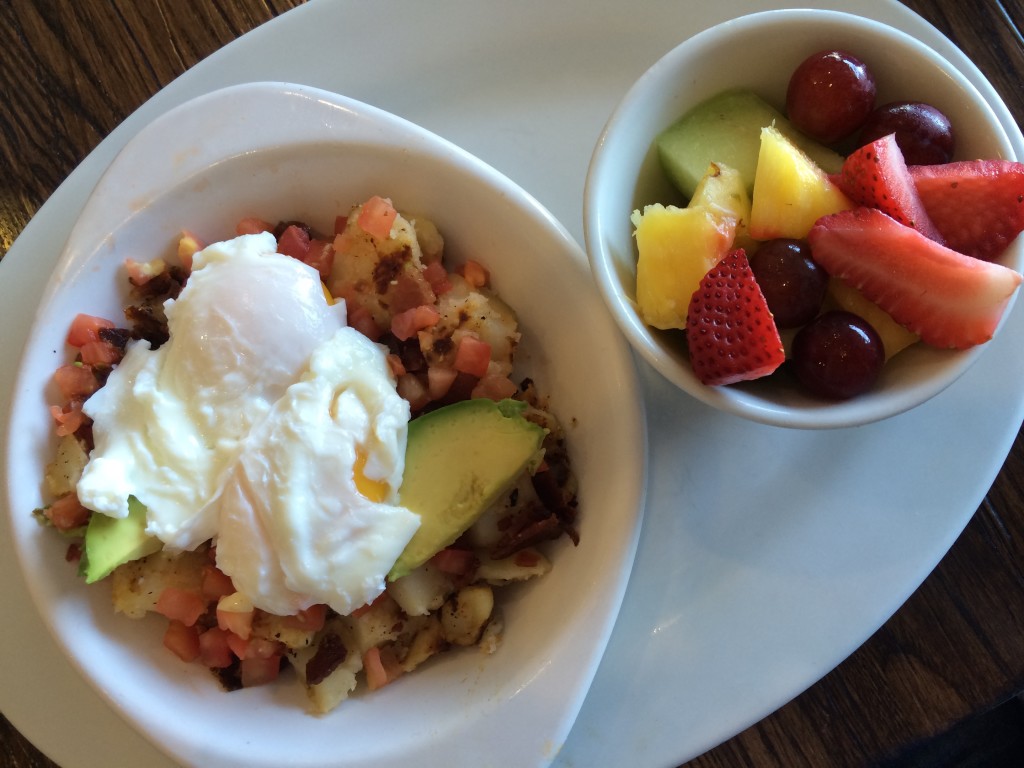 Lunch – 3 SP
BLT Wrap and a Pear with Cinnamon. This was messy, but tasty!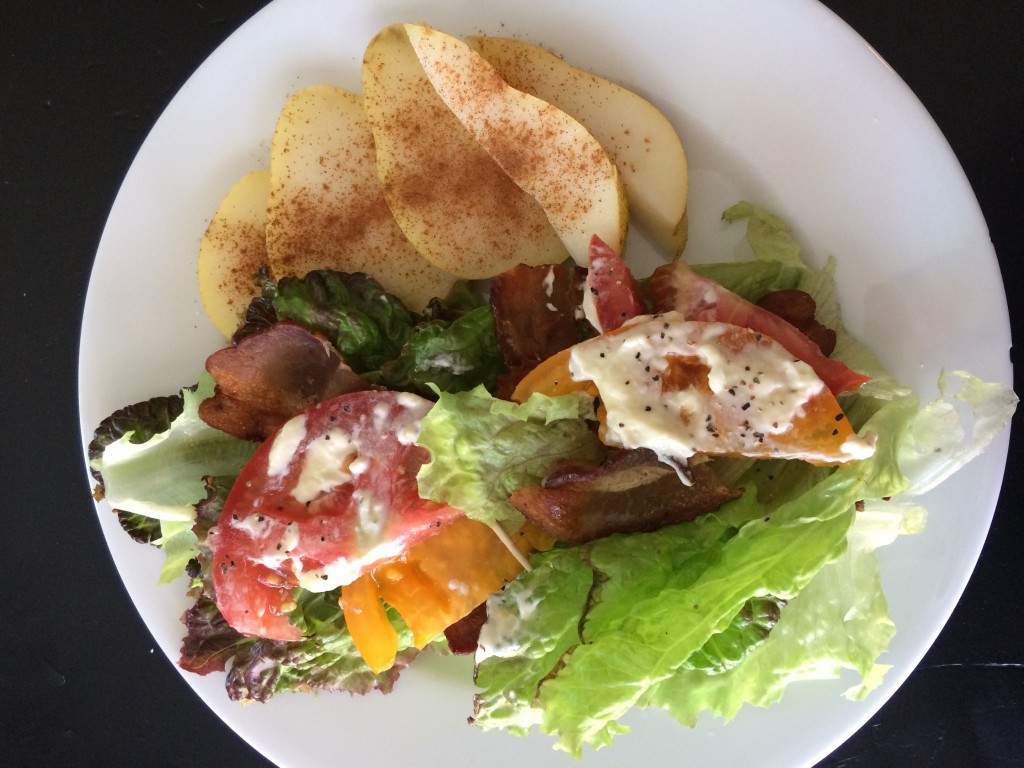 Dinner – 10 SP
Chicken Breast, 1/2 Grilled Chicken Apple Sausage, Peppers and Onions, Zucchini, Sweet Potatoes and Farmer's Market Tomatoes with S&P, Olive Oil and fresh Basil.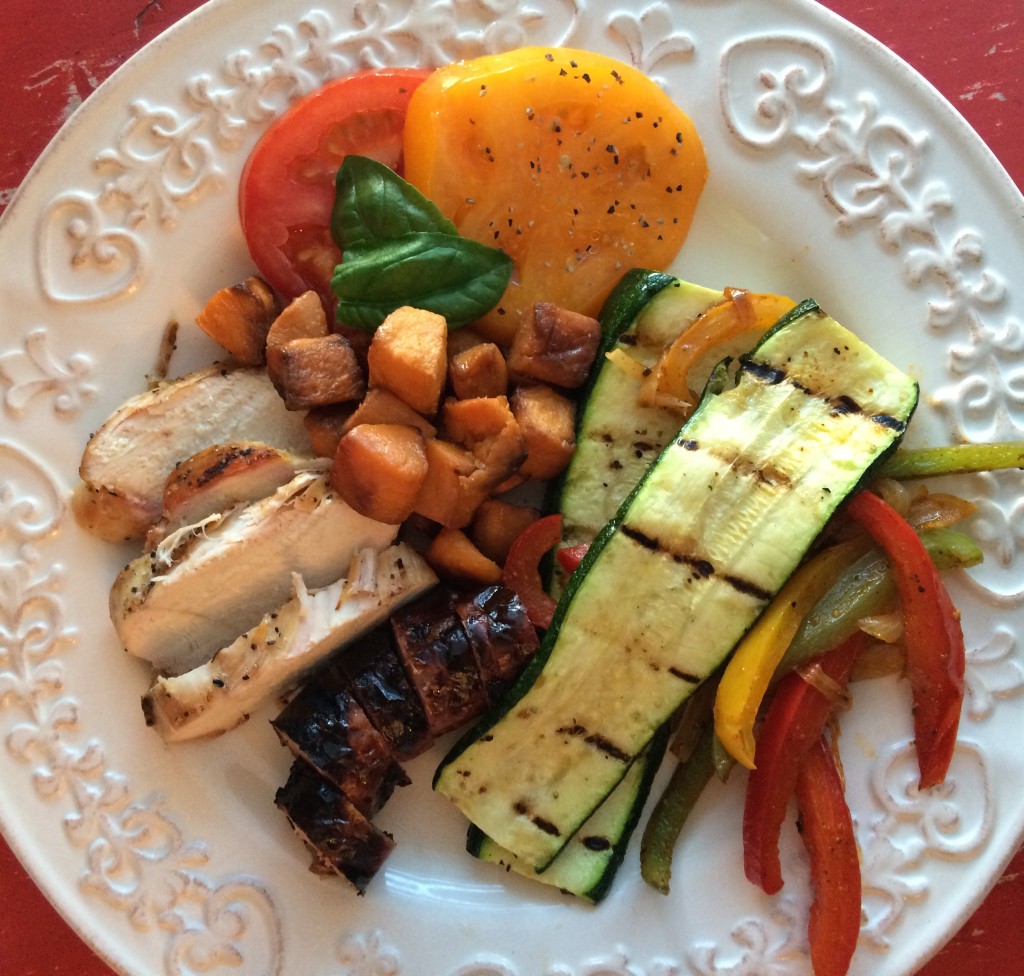 These are my 2016 Goals
Make time each week to Meal Plan
Drink 100 ounces of water each day
Exercise 5 days a week
Three Meals and One Snack, Daily
I can eat 30 SmartPoints a day.
I have an allowance of 35 extra Weekly Points that I can dip into throughout the week if I choose.
My Weight Watcher Week Begins on Friday's
Breakfast = 15
Lunch = 3
Dinner = 10
Total = 28
Exercise = Day off
FitPoints Earned = 0
FitPoints Earned This Week = 11
How many ounces of water I drank for the day = 80
Remaining Weekly SmartPoints = 0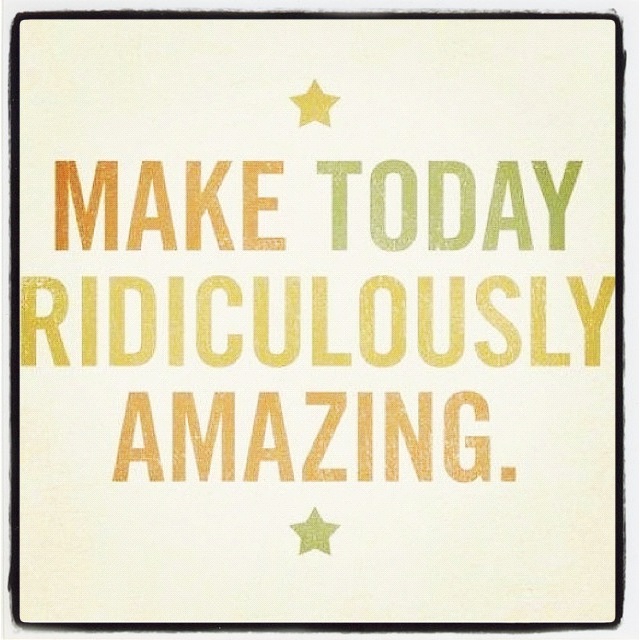 "love the life you live, live the life you love"