Yesterday was one of those crazy, busy, fun days.
I worked at the Food Truck, ran a few errands, and went to Hot Yoga at 6:30 pm. After Yoga, I respectfully changed out of my sweaty wet clothes and put on clean dry clothes (but did not shower) and hurried off to Wine Book Club. Everyone was chatty by the time I got there and we had a great time catching up with one another. I quit Book Club at the end of last year, and I keep forgetting that I decided to rejoin, so I'm not sure what books we were to read this quarter.
We were kicked out of Wine Book Club (dang it!) at 10:00 pm by the hostess due to an early morning flight that she had to catch. We moved to another house to continue our discussion. Within minutes of arriving at our second house, a dance party began and we danced until 12:30!
Best Book Club night ever!
Everyone should be in a Book Club!
I wasn't going to go over 30 Points on any day for the remainder of the week, then I drank at Wine Club. I'll just call it what it is.
I have however kept my plan to exercise for one hour, 5 days a week! I'm feeling good about having an overall healthy week.
Here is what I ate yesterday…
Breakfast – 9 SP
6 Scrambled Egg Whites with Pre-cooked Sweet Potatoes and a little Pre-Cooked Pork Sausage. I used the recipe for Apple Fennel Breakfast Sausage, but did not make the patties like the recipe suggest to do. I mixed all of the ingredients together, then cooked it in the skillet as crumbles so I can use as much or as little as I'd like throughout the week.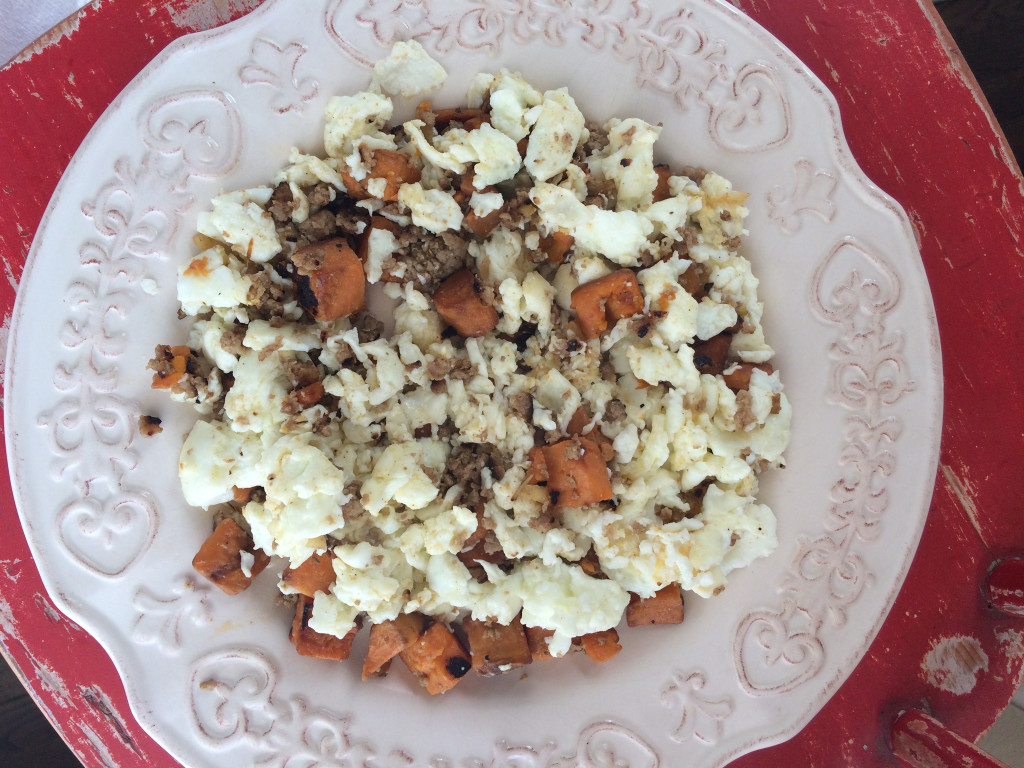 Lunch – 12 SP
My stomach ended up growling at the Food Truck, even though I had filled up on Egg Whites and Sausage.
I ate a Bunless Burger topped with Red Onions, Dill Pickles and Mustard on a bed of Greens.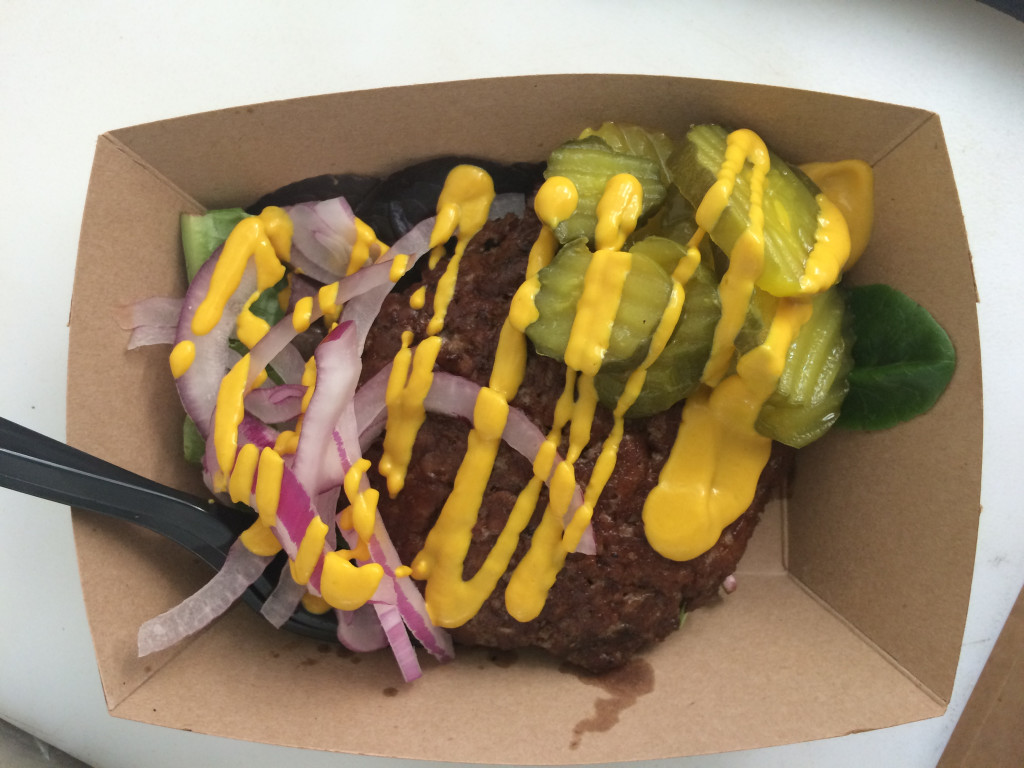 Afternoon Meal – 2 SP
One Frozen Banana and 1/4 C of Califia Farms Coconut Toasted Almondmilk blended, then topped with fresh Strawberries, Cocoa Nibs and Unsweetened Coconut Flakes. A yummy bowl of Ice Cream!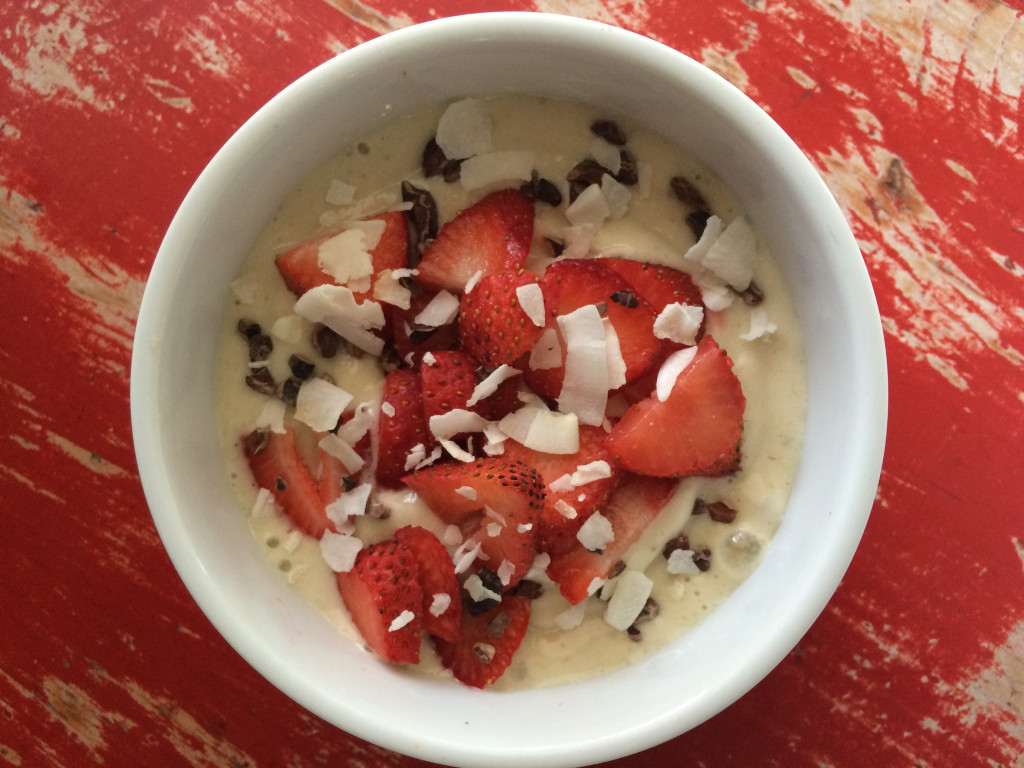 Dinner – 9 SP
Meal Prep earlier in the week has made meals this week so easy! I had the Chicken, the Potatoes and the Caulirice all cooked up and ready in the fridge.
Grilled Chicken Breast, Roasted Sweet Potato and Caulirice. I tossed a little bit of everything into the skillet to heat it up, seasoned with Montreal Steak Seasoning (which taste great on just about anything) and 1 tsp of ghee. So good.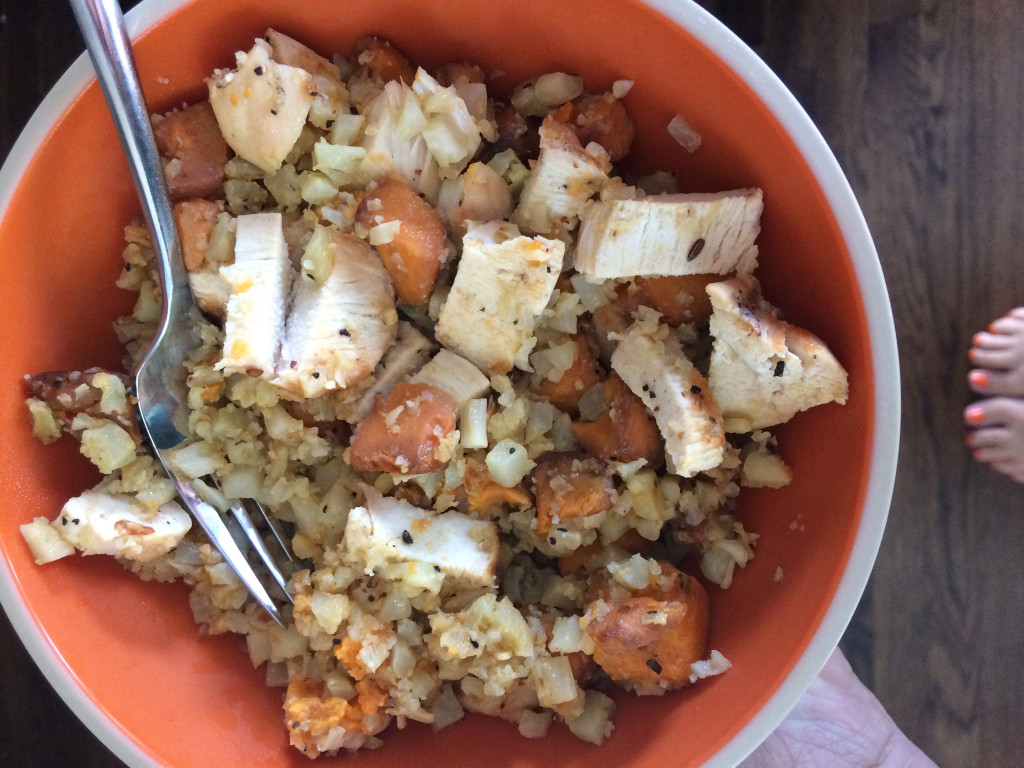 Book Club Wine – 14 SP
These are my 2016 Goals
Make time each week to Meal Plan
Drink 100 ounces of water each day
Exercise 5 days a week
Three Meals and One Snack, Daily
I can eat 30 SmartPoints a day.
I have an allowance of 35 extra Weekly Points that I can dip into throughout the week if I choose.
My Weight Watcher Week Begins on Friday's
Breakfast = 9
Lunch = 12
Afternoon Meal = 2
Dinner = 9
Wine = 14
Total = 46
Exercise = Hot Yoga
FitPoints Earned = 6
FitPoints Earned This Week = 36
How many ounces of water I drank for the day = 100+
Remaining Weekly SmartPoints = 0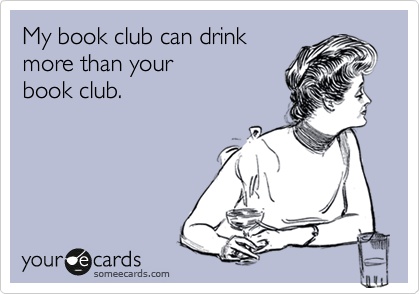 "love the life you live, live the life you love"