Pre-menopause or not, I've been in a really good mood since finding out that I got the job on Wednesday! I was nervous that it wasn't real until I got the email with the New Hire Paperwork, then I was giddy all over again. Thanks for all of your sweet and supportive comments!
It's been a good weekend with a nice mix of fun and chill time as well. This morning? Coffee and couch time while it rains.
We have a neighborhood bar that is a mile down the street with a great patio. Perfect for when we want to go out, but have no desire to go to far. The weather was perfect Friday night for listening to some live music outside, so we headed out for a date night. We hadn't heard the guy that was singing before, but we really liked him.
During the evening, he came over to us and introduced himself. Super nice. Then he asked me for my phone and took our picture! Cracked me up. He was great at interacting with the crowd and it made for a fun night. We stayed until he was done singing!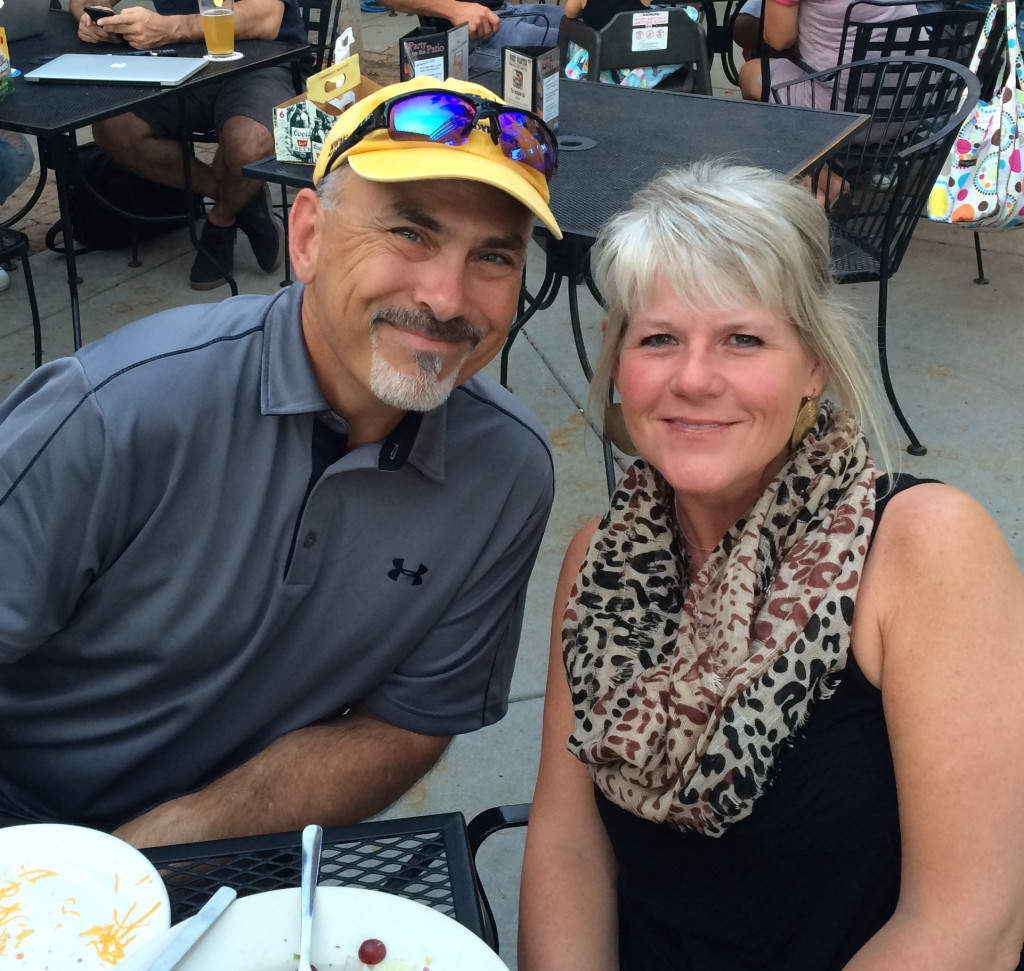 Great Music, Yummy Food, Cold Beer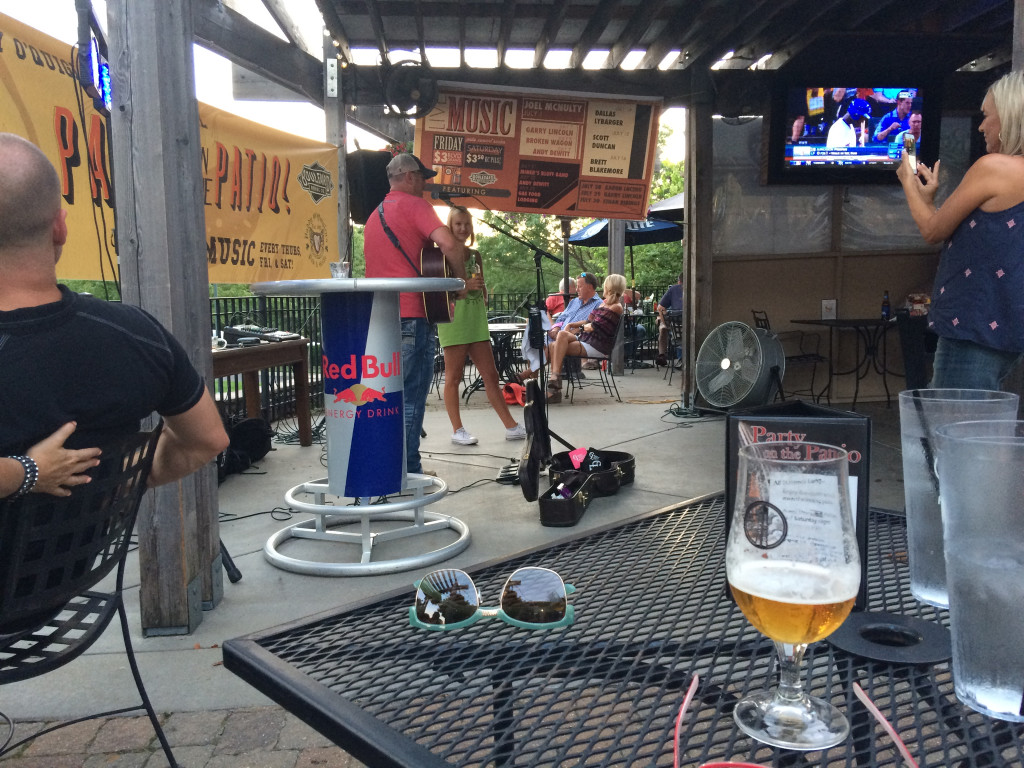 Saturday morning I went to my first Hot Yoga class in weeks! It felt great to be back. After Yoga, Mike and I went to the City Market, then met my mom and my nephew for coffee.
Last night was a quiet one at home.
I did a lot guessing on SmartPoints for the last two days. I think that sometimes you just have to make the healthy choice, choose the foods that you know that you like and give it your best guess.
Friday
Brunch – 13 SP
Brunch at First Watch after my WW meeting.
Egg White Omelette with Bacon and Avocado, (no cheese) Salsa, Potatoes and Fruit. I ate half of the potatoes.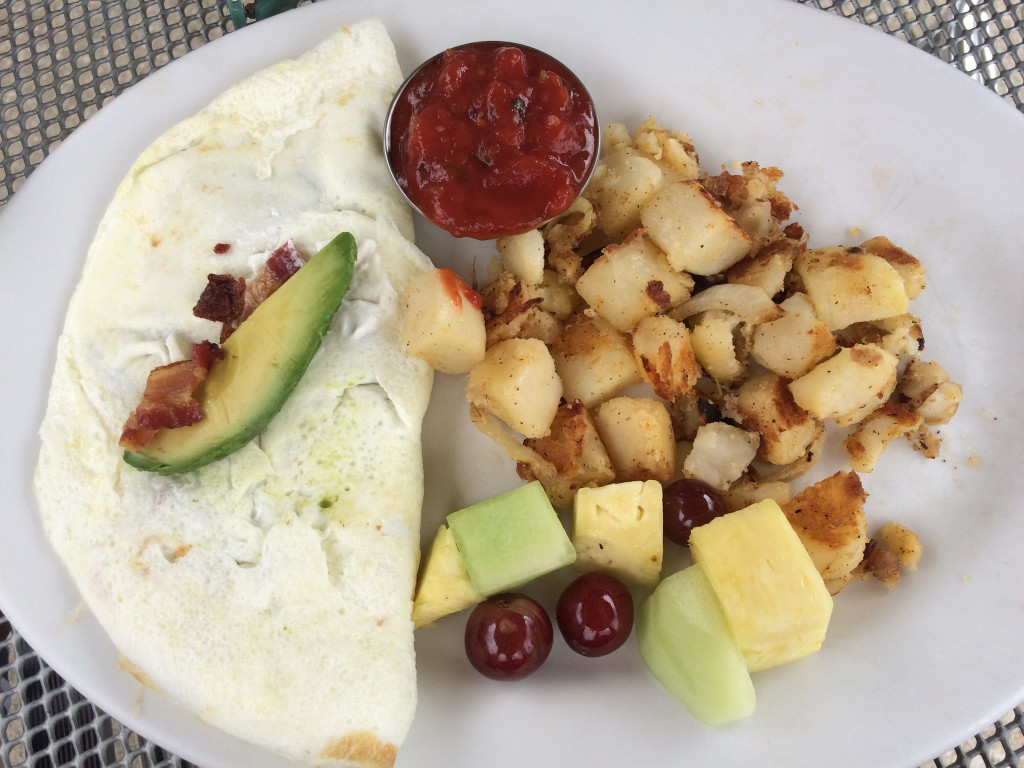 Dinner – 20 SP
2 IPA Beers, Grilled Chicken, Greens, Avocado, Sliced Almonds, Grapes, Red Onions and Balsamic Vinaigrette on the side. Mike had Sliders and Sweet Potato Fries and they looked and smelled DELISH!!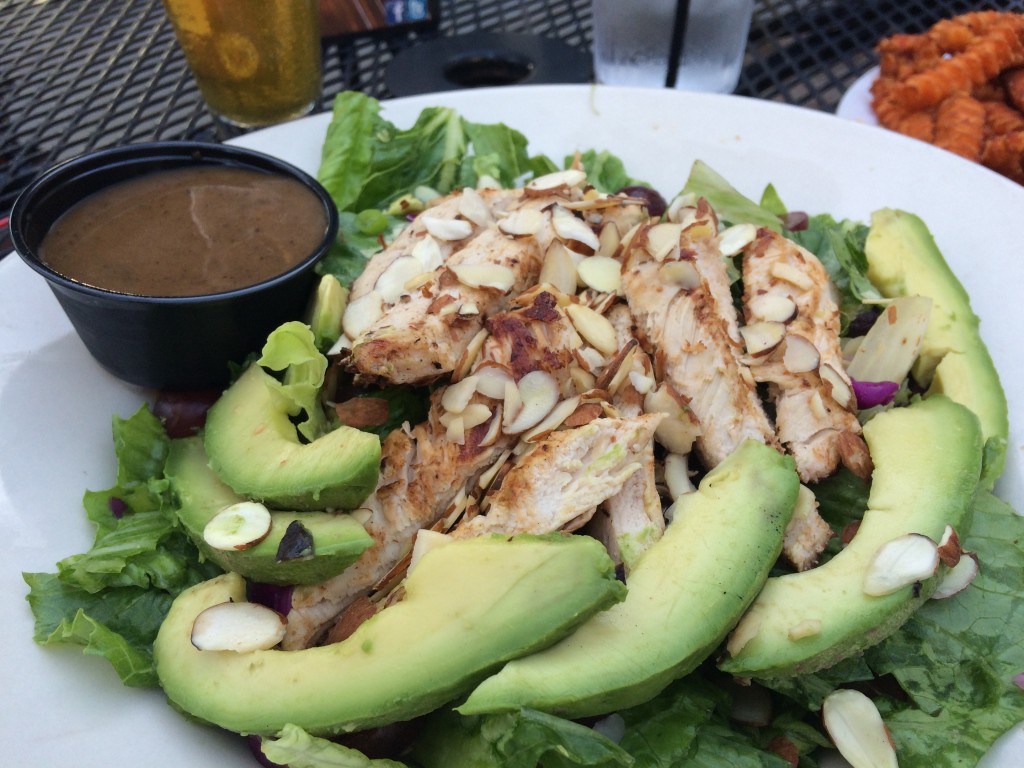 Saturday
Breakfast – 12 SP??
They have a El Salvadorian Food Tent at the City Market and I always see people with these plates of yummy looking food. We decided to give it a try. Mike and I shared this plate of Chorizo and Eggs, Rice and that Tortilla was stuffed with Cheese.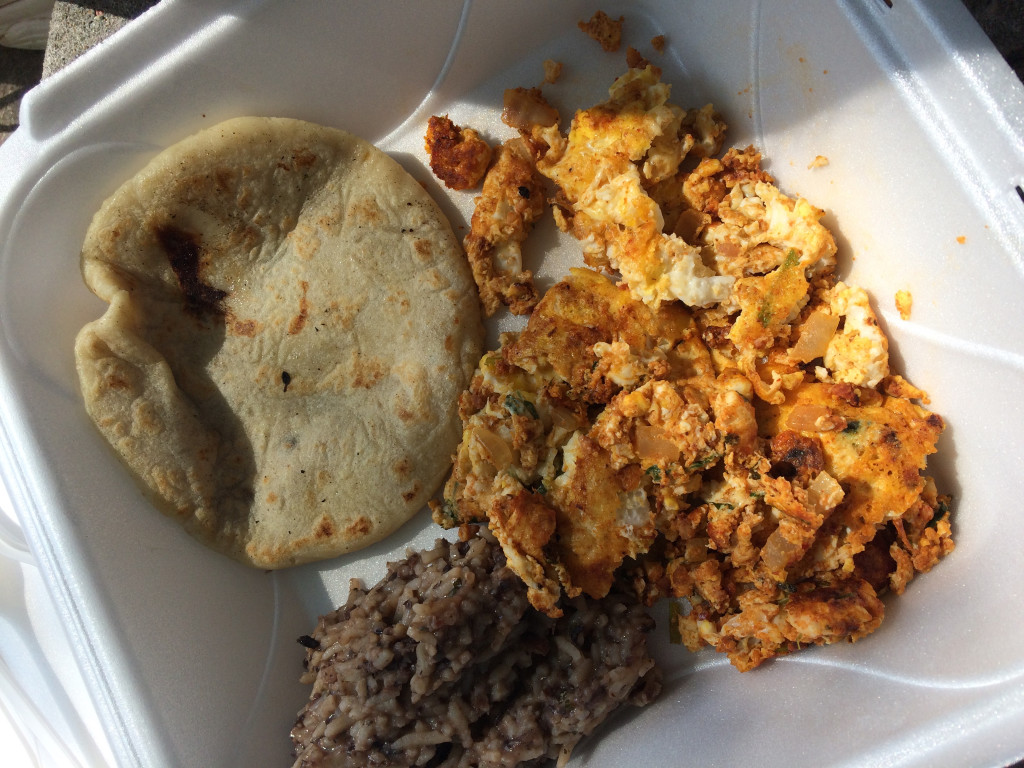 Lunch – 8 SP
Tuna Salad made with Red Onions, Tomatoes, Avocado, Lemon Infused Olive Oil and S&P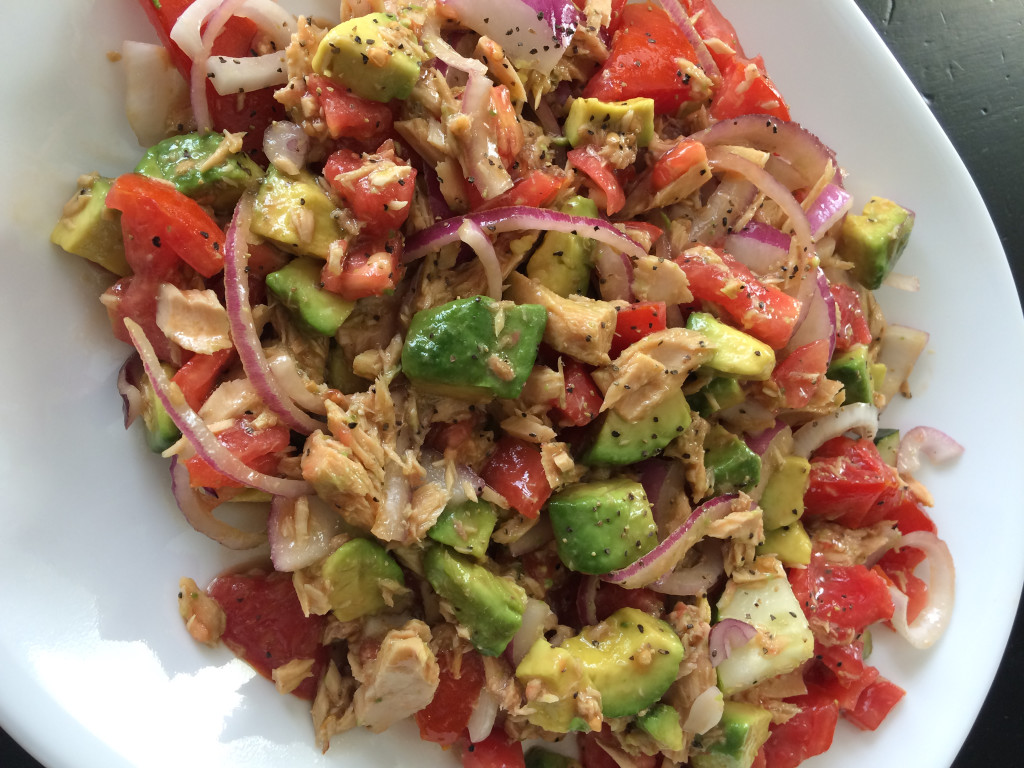 Dinner – 10 SP
Mike and I shared a Smorgasbord from the Whole Foods Salad Bar.
I went grocery shopping to buy food for dinner. It was much later than I realized, so I grabbed a few things off of the salad bar. I picked at these a bit, but wasn't super hungry.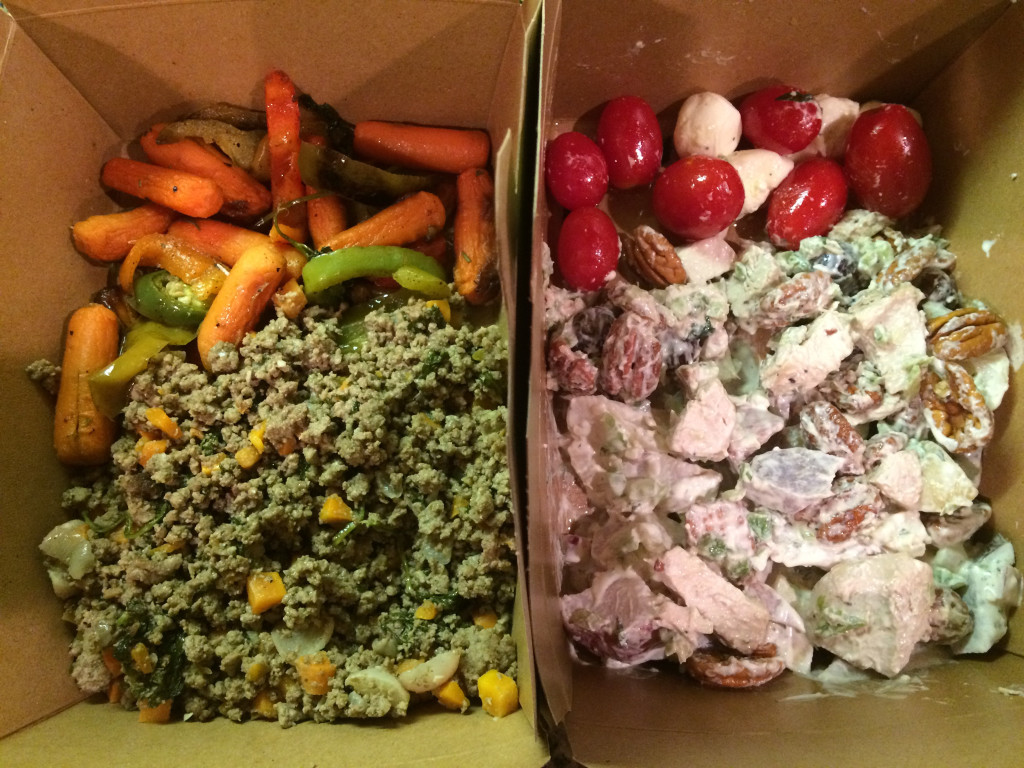 These are my 2016 Goals
Make time each week to Meal Plan
Drink 100 ounces of water each day
Exercise 5 days a week
Three Meals and One Snack, Daily
I can eat 30 SmartPoints a day.
I have an allowance of 35 extra Weekly Points that I can dip into throughout the week if I choose.
My Weight Watcher Week Begins on Friday's
Friday
Brunch = 13
Dinner = 20
Total = 33
Saturday
Breakfast = 8
Lunch = 12
Dinner = 10
Total = 30
Exercise = Friday – Yard Work. Saturday – Hot Yoga Class
FitPoints Earned = 5?
How many ounces of water I drank for the day = 110
Remaining Weekly SmartPoints = 32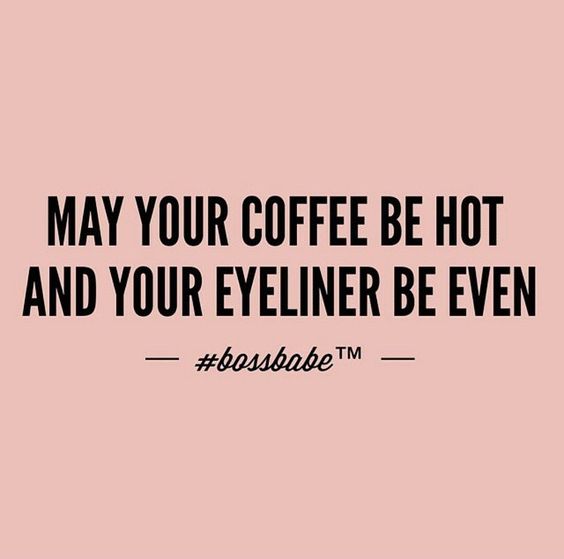 "love the life you live, live the life you love"