"Think of the Whole30 like pushing a "reset" button with your health, your habits and your relationship with food."
The Whole30
You can read my Whole30 Recap from last year to get a better understanding of what Whole30 really is.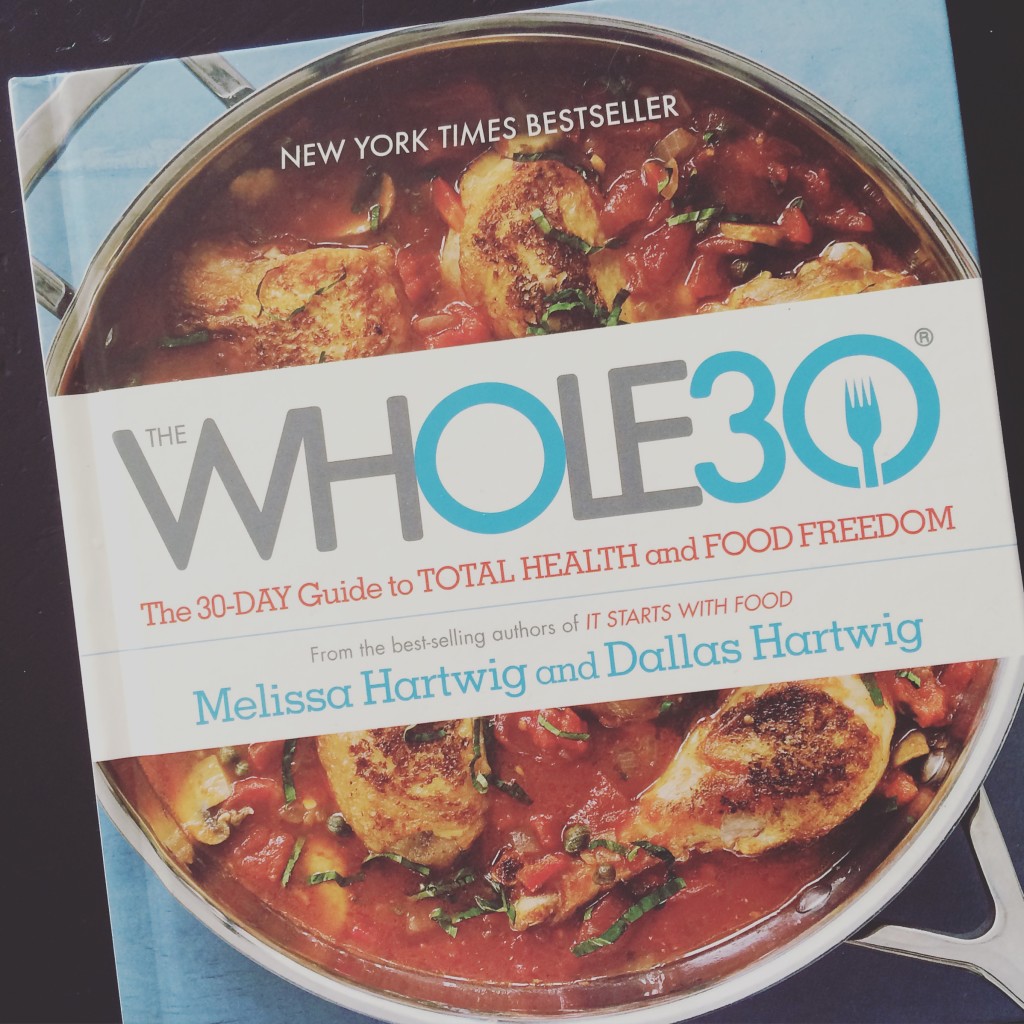 In a very brief nutshell, the Whole30 is 30 days of eliminating several foods from your diet, and not snacking in between meals. After 30 days, you may reintroduce foods (one food group at a time) and determine if those foods cause you any problems, then decide if you want to reintroduce that food back into your diet permanently.
There are a lot of No's on the Whole30.
NO….Grains, Dairy, Sugar (real or artificial, this includes honey and maple syrup), Legumes, do not recreate Baked Goods or Treats from Whole30 approved foods (pancakes, ice cream made from frozen banana's), NO Alcohol and NO snacking in between meals.
Why Whole30?
The first time that Mike and I did the Whole30 back in October, it was a bit overwhelming. Making your own mayonnaise, making your own salad dressing, making clarified butter, lots of chopping and dicing, constantly shopping, always cooking and doing a lot of dishes. Again….Why Whole30? After the first 10 days of the our first Whole30, I started to get into a routine, and it wasn't so bad. I loved the way that I was feeling, and I liked the structure. Check out my Whole30 Recap.
During my first Whole30 experience, I realized that I was feeling more restful, more energetic, after about 10 days of no sugar, I had no sugar cravings, and mentally, I felt really good about the decisions that I was making in my diet.
I also notice a reduction in inflammation in my shoulder that has a partial rotator cuff tear and otator cuff tendinitis.
After completing our first Whole30, Mike and I have been eating a mostly (but certainly not 100%) Paleo diet. A Paleo diet is all of the food that you eat while doing the Whole30, but you can have baked goods made from Paleo (or Whole30 approved) foods, you can snack in between meals, you can add honey and maple syrup back to your diet. I'm likely forgetting a few things, but that's the gist of it.
The Whole30 is not for everyone, and I realize that a lot of people do not like eliminating so many things from their diet. For me? The first time that I did it, it was more out of curiosity and it was a challenge. After realizing how good it made me feel, I knew that I would do it again.
I haven't counted points in forever! I haven't really followed any rules for myself for about the last two weeks. I like a routine and I like to track my food, so I'm mentally ready for this round of Whole30.
Yes, I admit, the most difficult part of doing the Whole30 for me, is the NO Alcohol. But…..I am getting much better at it, and I think my friends are used to it now. I am aware that some of them still roll their eyes though. I still think I'm funny sober, but I could be delusional.
Here is what I ate yesterday, and here is to a Happy and Healthy 30 days!
I'm counting points starting tomorrow!
Breakfast
I was chatting away with my niece and husband about our plans for the day, and forgot to take a picture! It was pretty too!
Un-Pictured Egg White Omelete filled with Pork Sausage and Potatoes with a side of Strawberries.
Lunch
Big Salad. Chicken, Potatoes, Egg, Bacon, Walnuts, Dried Cherries and Vinaigrette, followed with a beer.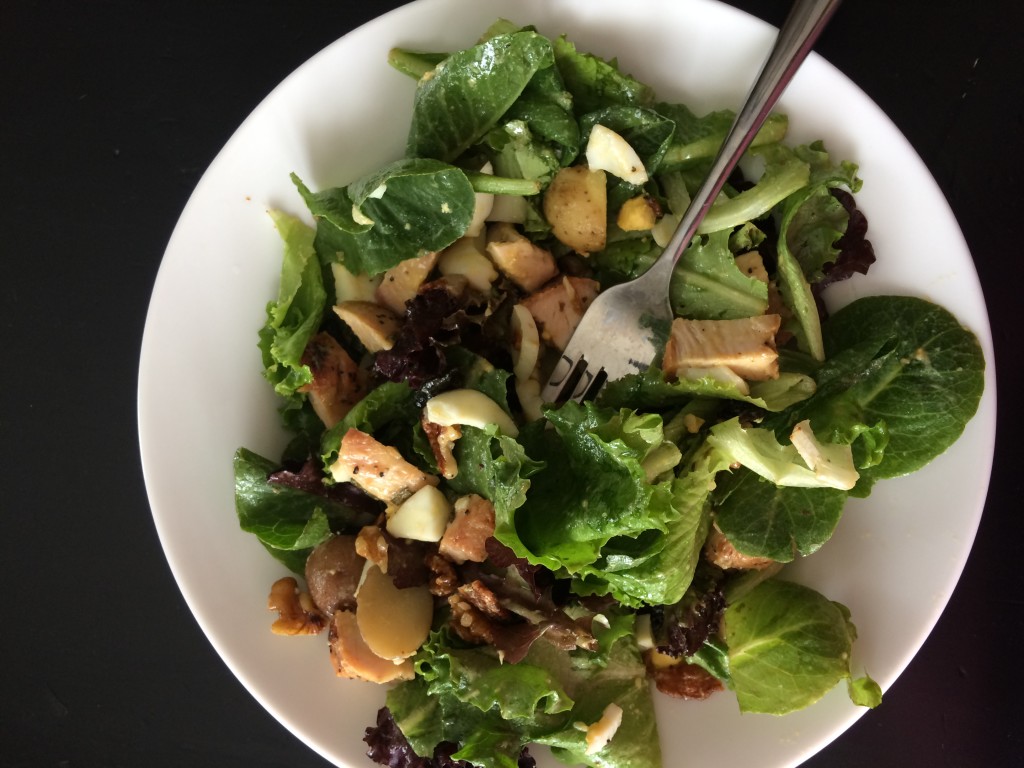 Dinner – 10 SP
Chicken Apple Sausage, Sweet Potato Fries with homemade Avocado Mayo (from the Whole30 book), Tomatoes with Balsamic Vinegar and fresh Basil, Grilled Asparagus and a beer. 🙂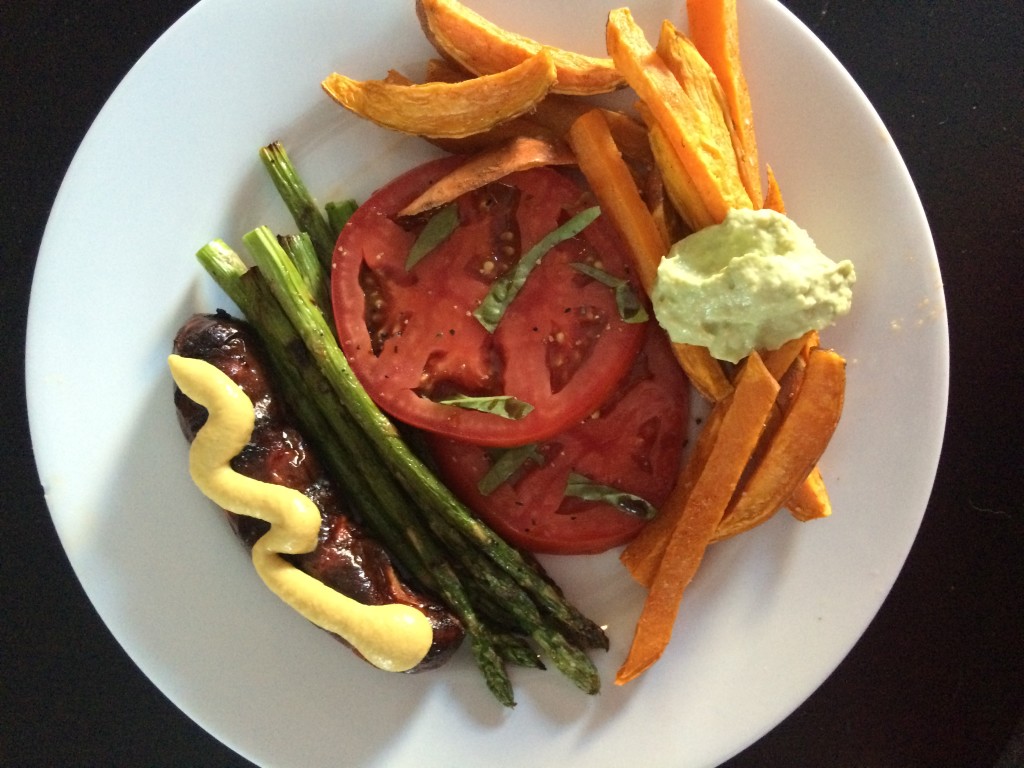 These are my 2016 Goals
Make time each week to Meal Plan
Drink 100 ounces of water each day
Exercise 5 days a week
Three Meals and One Snack, Daily
Exercise = Walked 40 minutes
FitPoints Earned = 4
How many ounces of water I drank for the day = 60?? Need to get back to my water bottle!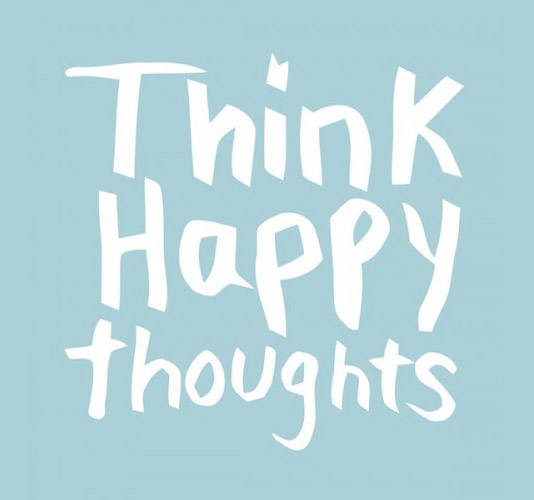 "love the life you live, live the life you love"