Between not blogging, very little cooking, no activity and not working at the food truck, I've had no routine whatsoever for the last two weeks. As much as I do like to change things up a bit to keep life exciting, I really do appreciate a routine. Having a routine puts structure and organization in my life, and those two things help to keep me in my happy place. Getting out of my routine for a long period of time starts to make me feel overwhelmed, then I kind of lose myself.
Yesterday I got myself back into a routine, and at the end of the day, I was feeling more like Julie.
I focused on my "To Do List" and avoided any TV news. I got out of the house and ran a few errands. I spent the afternoon doing food prep for the week. I walked 2 miles on the treadmill and did some light stretching. We ate great and I drank over 100 ounces of water. After dinner, I took a long bath, then did about 20 minutes of Yoga before climbing into bed and falling asleep shortly after 9:00. I slept until after 7:00 this morning! You could say that I'm rested.
Having a plan and getting back into my daily routine felt good yesterday, and today will be much of the same.
I hope you all have a great day!
Here are yesterday's eats
Breakfast – 6 SP
When I make Taco Meat, I always cook up 2 pounds even though it's just me and the hubs. I could eat leftover Taco Meat a gazzilion different ways.
For our first day back at eating from the Whole30 plan, we had no eggs.
Leftovers. Taco Meat, Roasted Butternut Squash and Caulirice all on a bed of greens with some fruit and black coffee. Perfect Whole30 meal.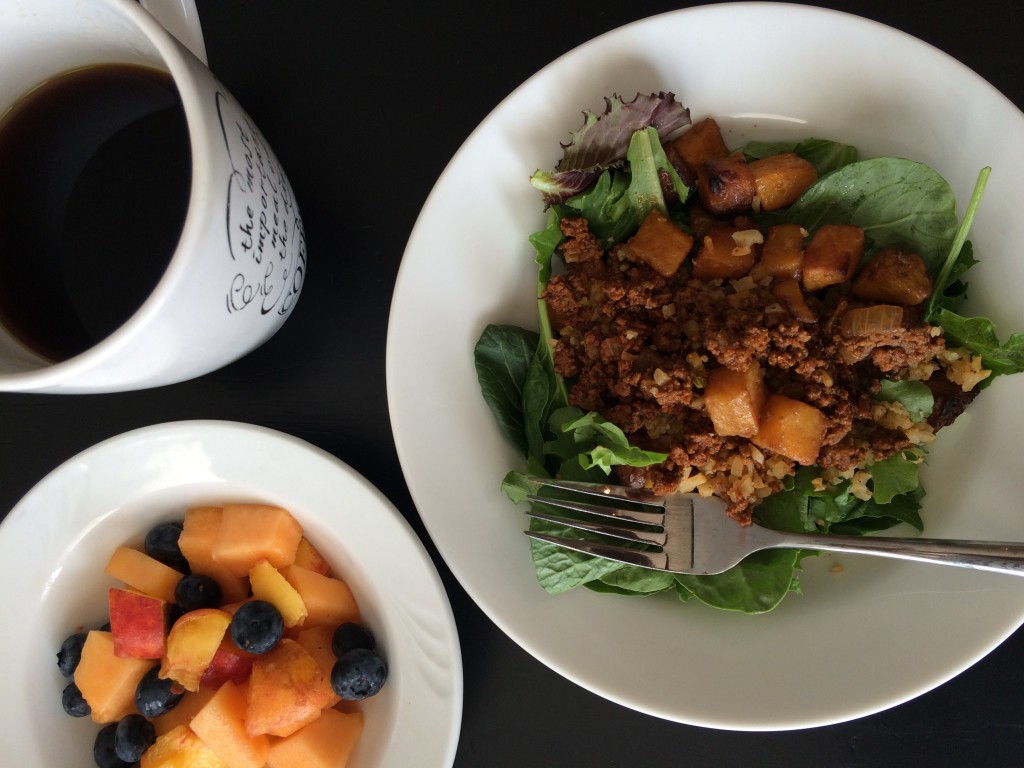 Lunch – 6 SP
I sautéed a half of a bag of Broccoli slaw in Olive Oil Cooking Spray, then added to that leftover Caulirice, leftover Roasted Butternut Squash and leftover Taco Meat. Give it all a good stir and heat it up! Lunch is served!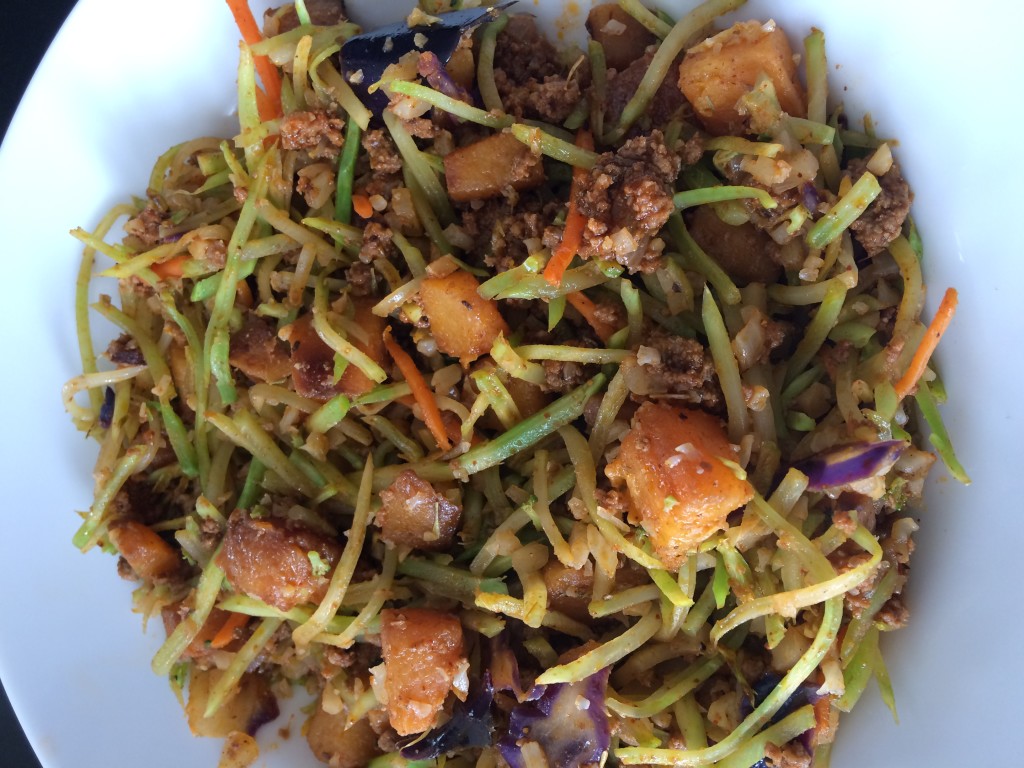 Dinner – 8 SP
Chicken Cacciatore from the Whole30 Book. I doubled this recipe. There are a lot of ingredients in this dish, but it comes together all in one skillet fairly quickly which makes for easy clean up! And…it's pretty. Un-pictured Strawberries and Blueberries too.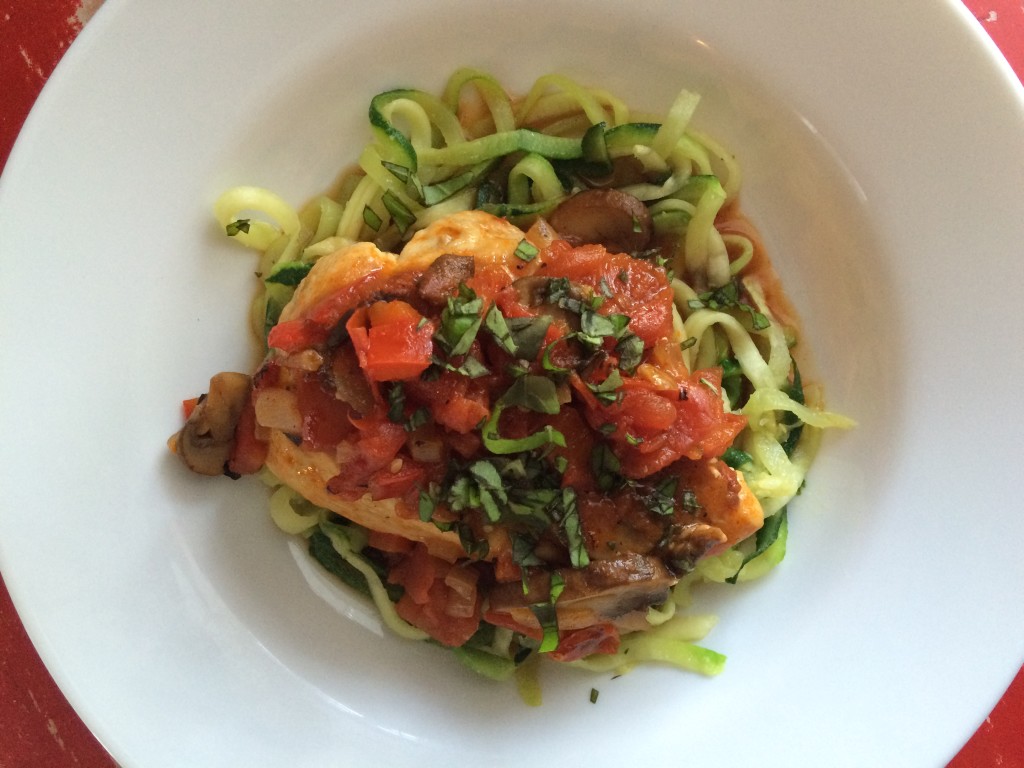 These are my 2016 Goals
Make time each week to Meal Plan
Drink 100 ounces of water each day
Exercise 5 days a week
Three Meals and One Snack, Daily
I can eat 30 SmartPoints a day.
I have an allowance of 35 extra Weekly Points that I can dip into throughout the week if I choose.
My Weight Watcher Week Begins on Friday's
Breakfast = 6
Lunch = 6
Dinner = 8
Total = 20
Exercise = Walked 2 slow miles, Yoga stretching
FitPoints Earned = 4
How many ounces of water I drank for the day = 100+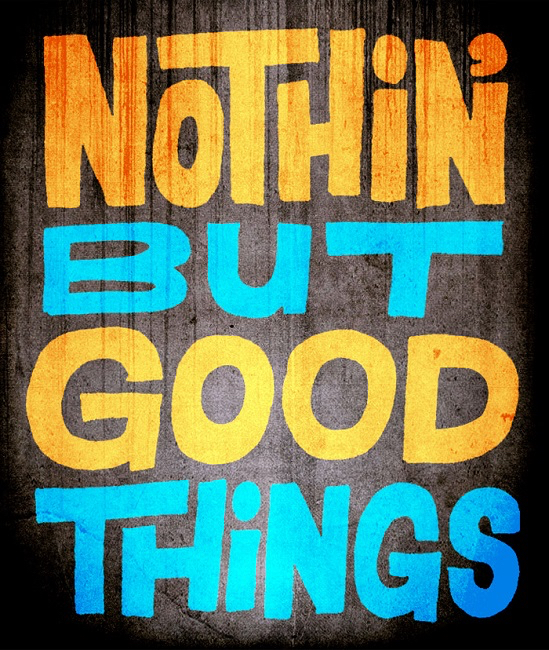 "love the life you live, live the life you love"