Oh my gosh, my mood is all over the place lately. I don't know what the heck is going on, but Monday through Thursday went really well, and I was feeling like Julie.
Friday? Crazy lady. Look at me and my eyes instantly filled up with tears. I went to WW on Friday morning. It was an awesome meeting! We talked about Food, Fitness and Fulfillment with putting Fulfillment first. It was such a great meeting and so many people had so many great things to say. Sometimes those meetings can be kind of deep for me and really hit on some emotions. It can be great therapy for me at times. I chatted with a few of my WW buddies after the meeting, and basically cried while speaking to whomever I was speaking to.
I had a Dr. appointment scheduled for Friday afternoon because my back is still sore. No spasms, just sore. My dad has a kidney disease and because of that, I try to be cautious and have things checked out if I think there might be an issue. My chiropractor said that my pain was around where my kidneys are, so having that looked at further seemed like the smart thing to do. For whatever reason, I cried all the way to the Dr. office. Crazy lady I say. Crazy. When they called me up to the desk, they told me that my appointment was scheduled for next Friday. Yep. I just stared at the lady and started crying. I walked out and cried all the way to the car. What the ??????
Anyhow, I ran errands, bought groceries and went home. I decided to keep myself busy, so I grabbed cleaning supplies and headed down to our basement and cranked up the tunes. It is a game room that I decorated like a bar? Stuff all over the walls. Random things fill up the three window sills and I have things hanging all over. It needed a good top to bottom cleaning. It was much cooler in the basement than anywhere else that I could think of spending any time, so I spent the next three hours dusting every single item in the basement and I vacuumed every square inch! I got every dust bunny that existed and every dead bug. Why are there so many dead bugs in basements? After all of my cleaning, I opened a beer, put my feet up and admired my clean basement.
Mike joined me and we ended up playing three games of pool and three games of foosball. I felt better.
My food, water consumption and exercise has been awesome this week, but in drinking the beer, I can't say that I am doing a perfect Whole30, or Whole15, or whatever it is that I am doing. I am eating great. That I do know.
I had gained a few pounds over the two weeks of not doing a darned thing, and they came off this week, so I'm back at the weight that my body seems to love best. 172.
Yesterday morning, Mike and I rolled out of bed early and got busy doing things outside before it got too hot. I spent two hours mowing, edging, pulling weeds, watering flowers and trimming the bushes in the back yard. Mike waxed his car. We both likely lost two pounds by simply sweating. After a cold shower, I made a Quiche that I had been wanting to make for weeks. It was a hit.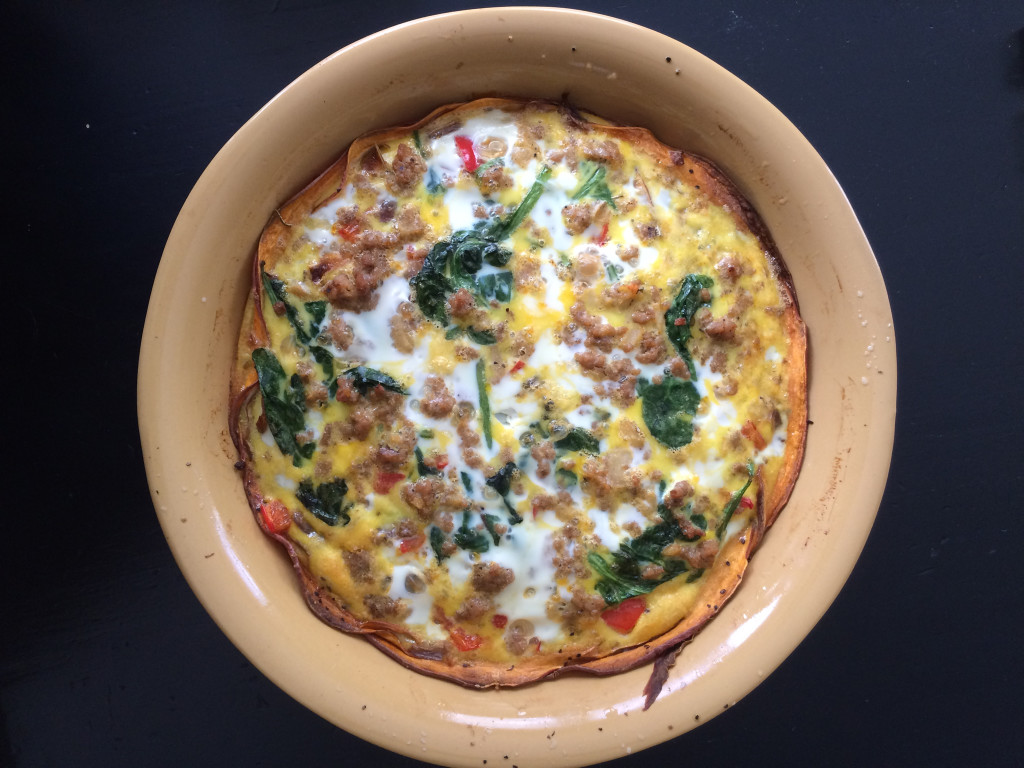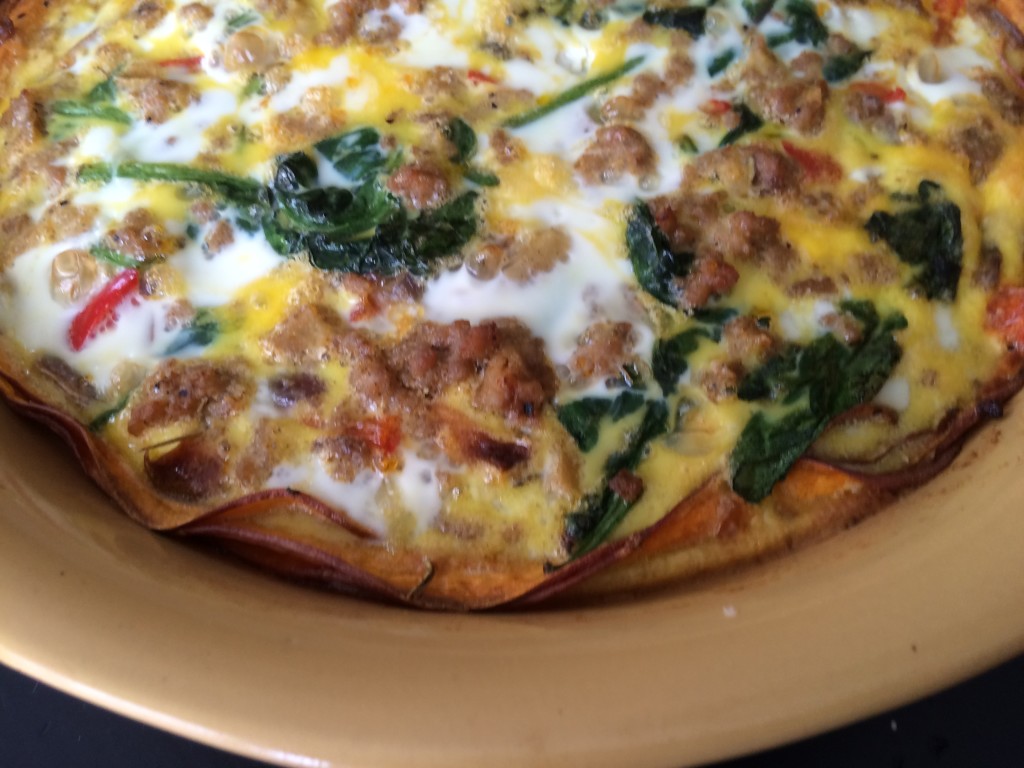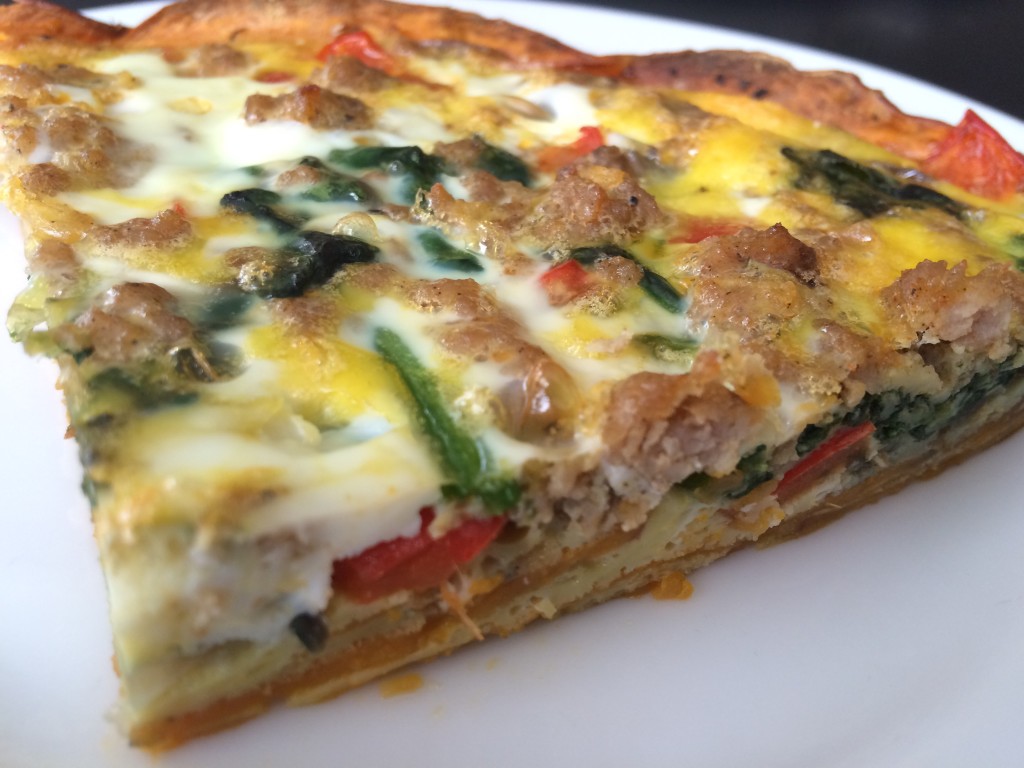 I had decided to do to the living room what I had done in the basement. Lots of knick knacks to dust. Ugh. Mike had more car detailing to do. He has been detailing his car for like six weeks!! I'm not even kidding. I think he is doing mine next!
In the middle of cleaning, a girlfriend of mine surprised me and stopped by. When she walked up to the door, she had a variety of beers that she had just picked up. Needless to say, we all took a beer break and enjoyed a Pear Beer. It was tasty and refreshing and it was a great surprise visit! After our break, back to cleaning.
Last night I made scallops for the first time, and dinner was the second meal of the day that was a hit.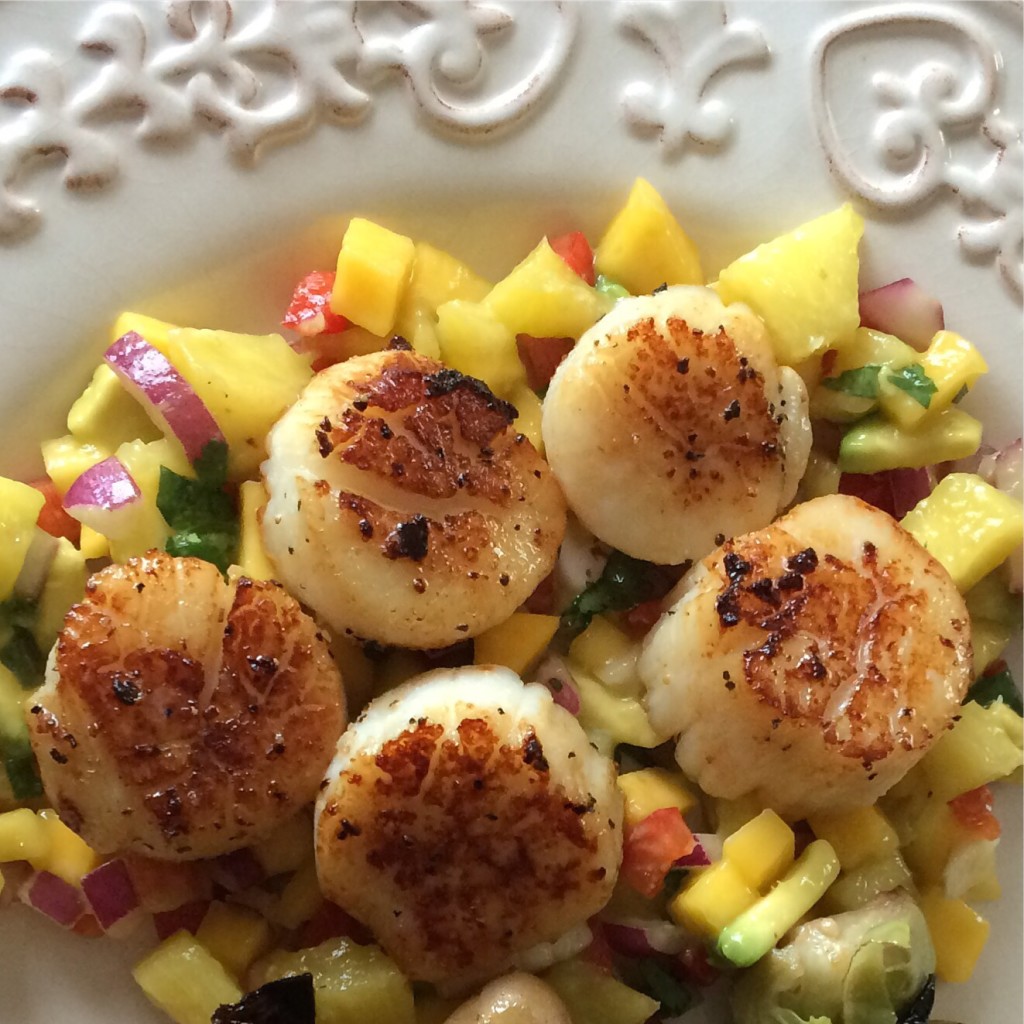 So like I said, my food and exercise have been on point this week and I have my snacking under control. I have been getting in enough protein at each meal that I haven't been hungry in between meals. I'm feeling really good about where I am with my food, now if I can just get my emotions in check.
I plan to go to a Yoga Stretch and Relax class tonight, and that should feel good both mentally and physically.
I hope that you all are having a great weekend!
Here is what I ate the last two days.
Friday
Breakfast – 0 SP
Un-Pictured Banana and Black Coffee
Lunch – 15 SP
After my WW meeting, I had some time to kill before my Dr. appointment, so I went out to eat at First Watch.
Avocado Bacon Hash topped with Poached Eggs, No Cheese, Fruit.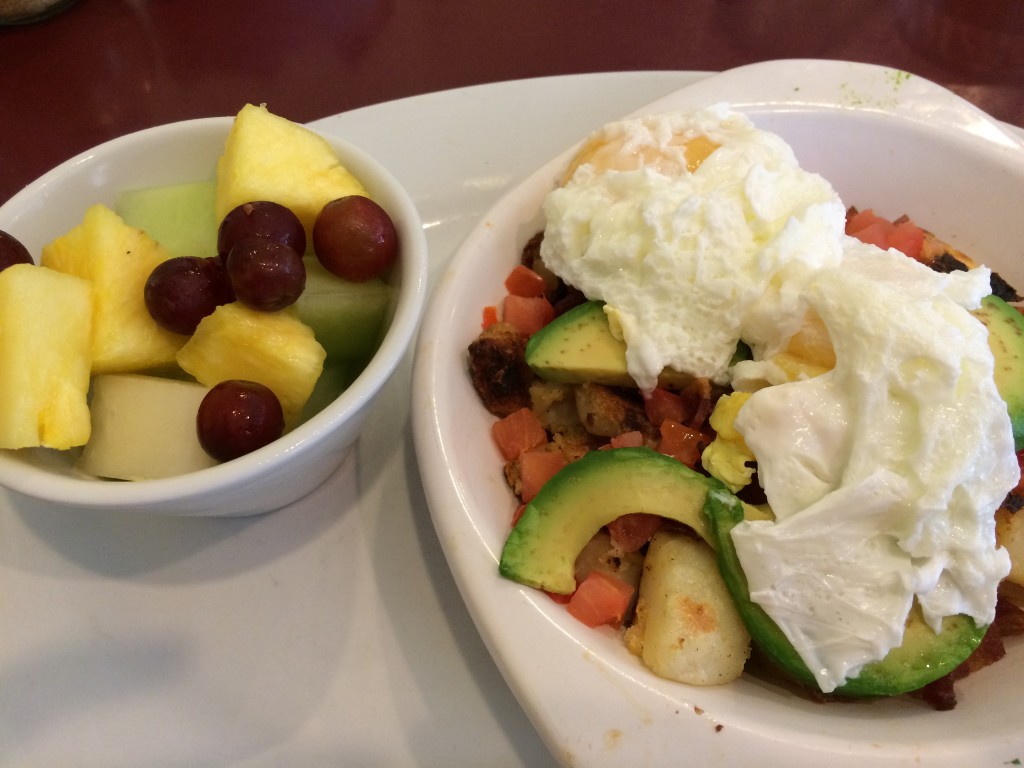 Beer – 10 SP
Dinner – 12 SP
It is a super sloppy salad, but this was after playing pool and foosball and we just wanted to eat!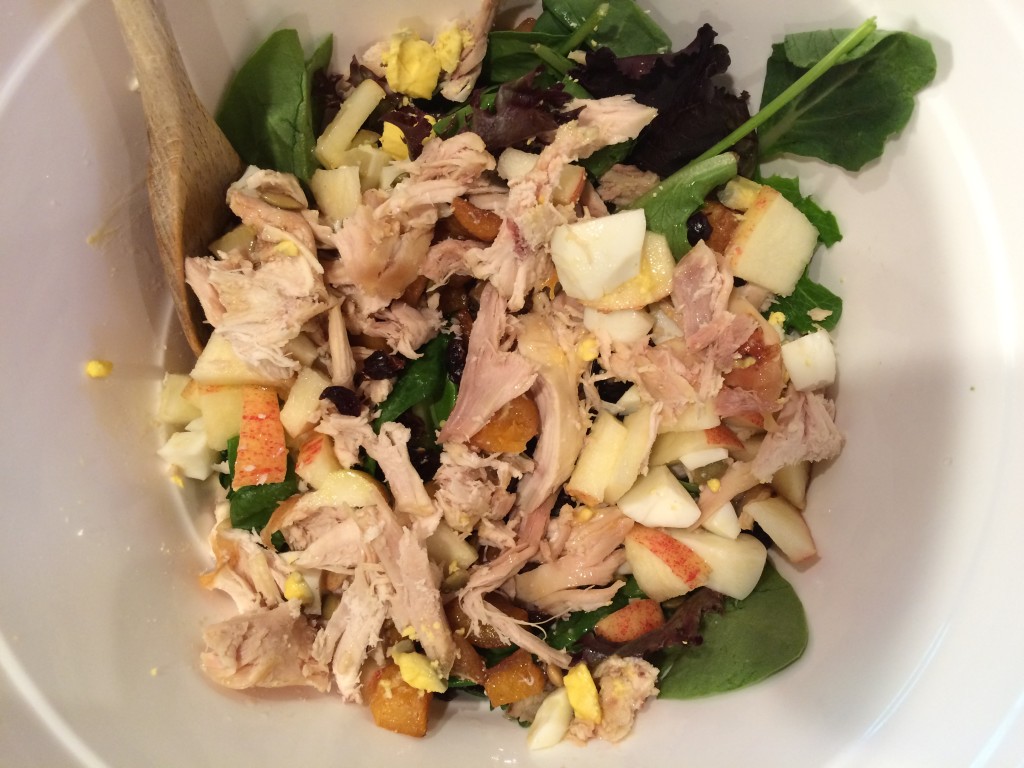 Saturday
Breakfast – 7 SP
Sweet Potato Crust Quiche with Berries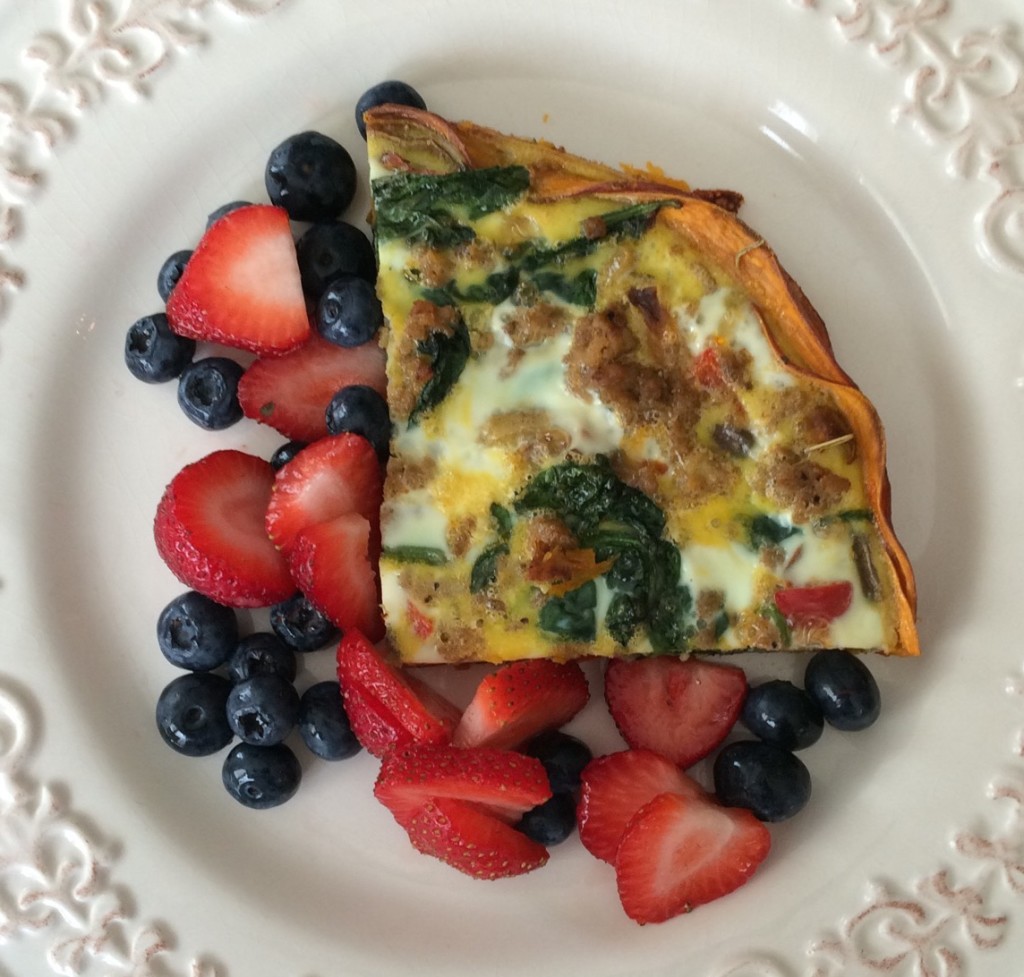 Beer – 10 SP
Dinner – 13 SP
Pineapple Mango Avocado Salsa with Sea Scallops from Trina over at Paleo Newbie, Roasted Brussels Sprouts and Boiled Potatoes. These scallops were delish!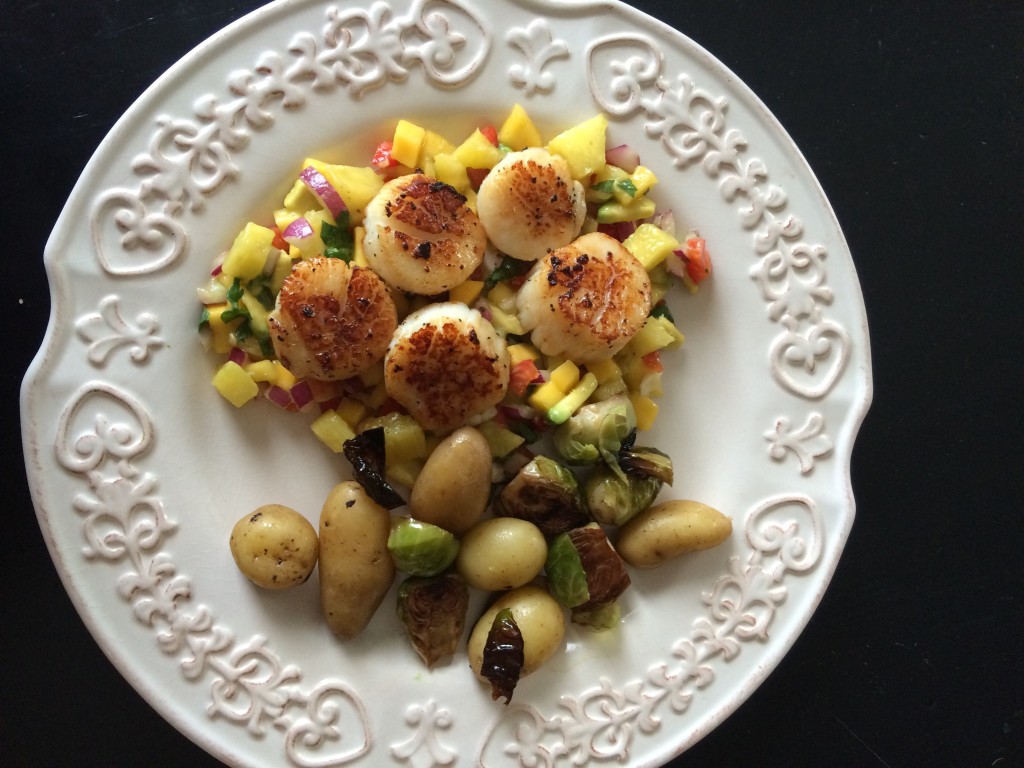 These are my 2016 Goals
Make time each week to Meal Plan
Drink 100 ounces of water each day
Exercise 5 days a week
Three Meals and One Snack, Daily
I can eat 30 SmartPoints a day.
I have an allowance of 35 extra Weekly Points that I can dip into throughout the week if I choose.
My Weight Watcher Week Begins on Friday's
Exercise = Saturday…Yard Work
FitPoints Earned = 5?
How many ounces of water I drank for the day = 100+
Remaining Weekly SmartPoints = 28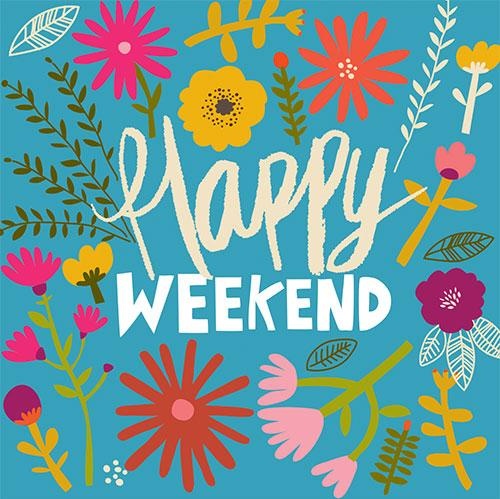 "love the life you live, live the life you love"