I had a ton of Titles for this post.
The Longest Yet Happiest Weekend Ever!
Will She Ever Get Tired?
Who Needs an Exercise Class When You Have a Toddler?
How Does a Two Year Old Have So Much Energy?
I Can't Believe We Did All That!
How Is It Possible To Parent More Than One Toddler?
Such a fun filled weekend. When I sat down last night and thought about the weekend, I really couldn't believe all that we got in and how relaxed I was all weekend with our two year old granddaughter here. She came on Friday night around 5:00 and we spent the evening watching the Olympics and playing. We ate dinner a bit late and went to bed without a bath. No biggie. Super relaxed and having a good time.
Saturday morning, I left Papa and Char and I went to my 8:00 am Yoga Class. After Yoga, I cooked breakfast, then Char and I were off to the City Market. I wanted to spend some time outside before it got too hot out!
She loved the Market and I loved watching her play. The weather was perfect outside and there was an awesome band playing Beachy type music. Char took it all in and apparently loves to people watch just as much as I do!
All attitude while watching the band.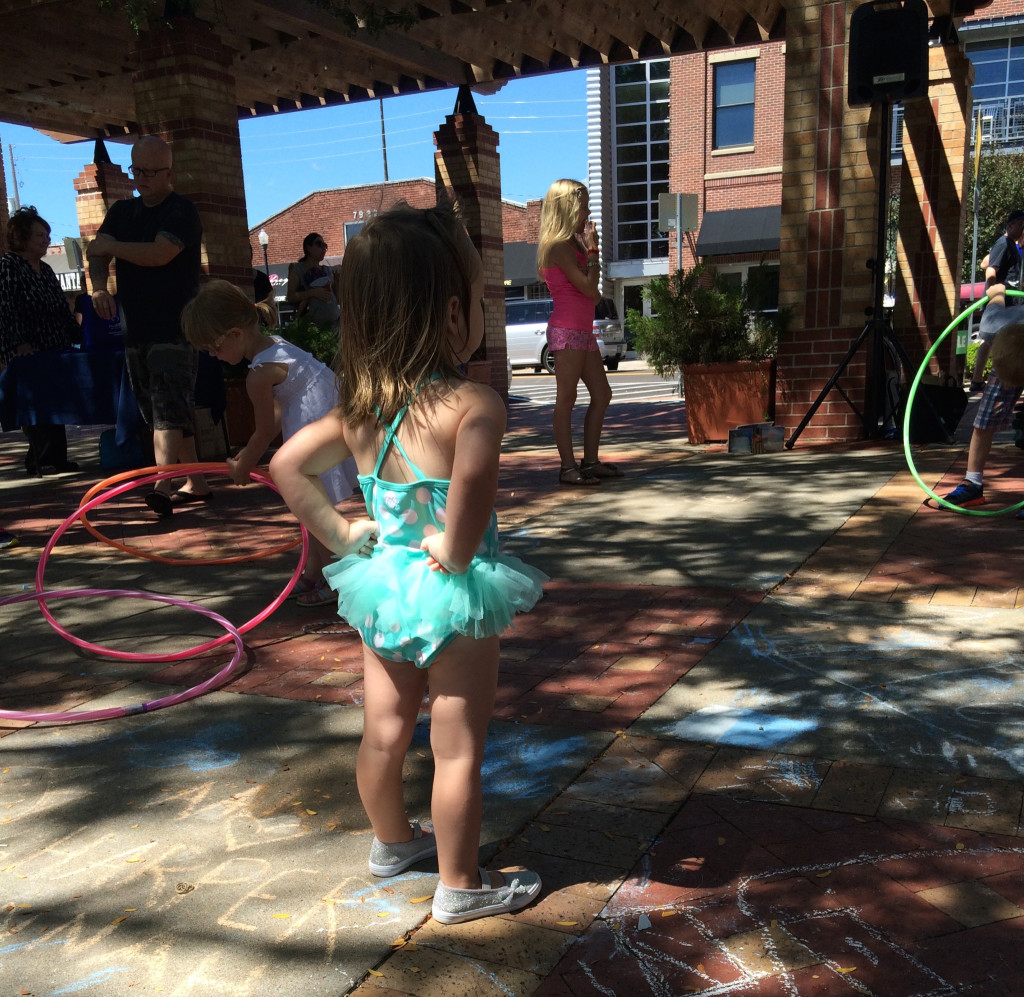 When I'm there by myself, I wish I had a kid with me to play in the fountain. Well, we did that Saturday!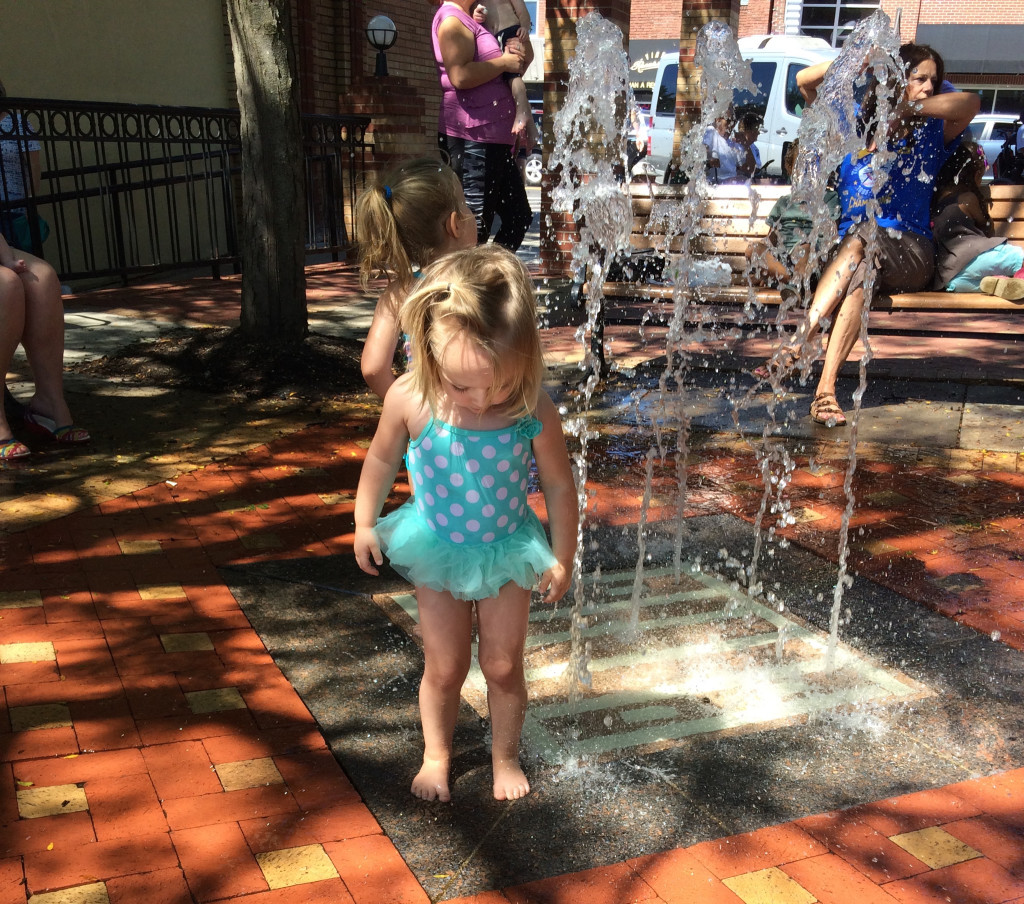 Eventually she was right in the middle and completely wet and happy!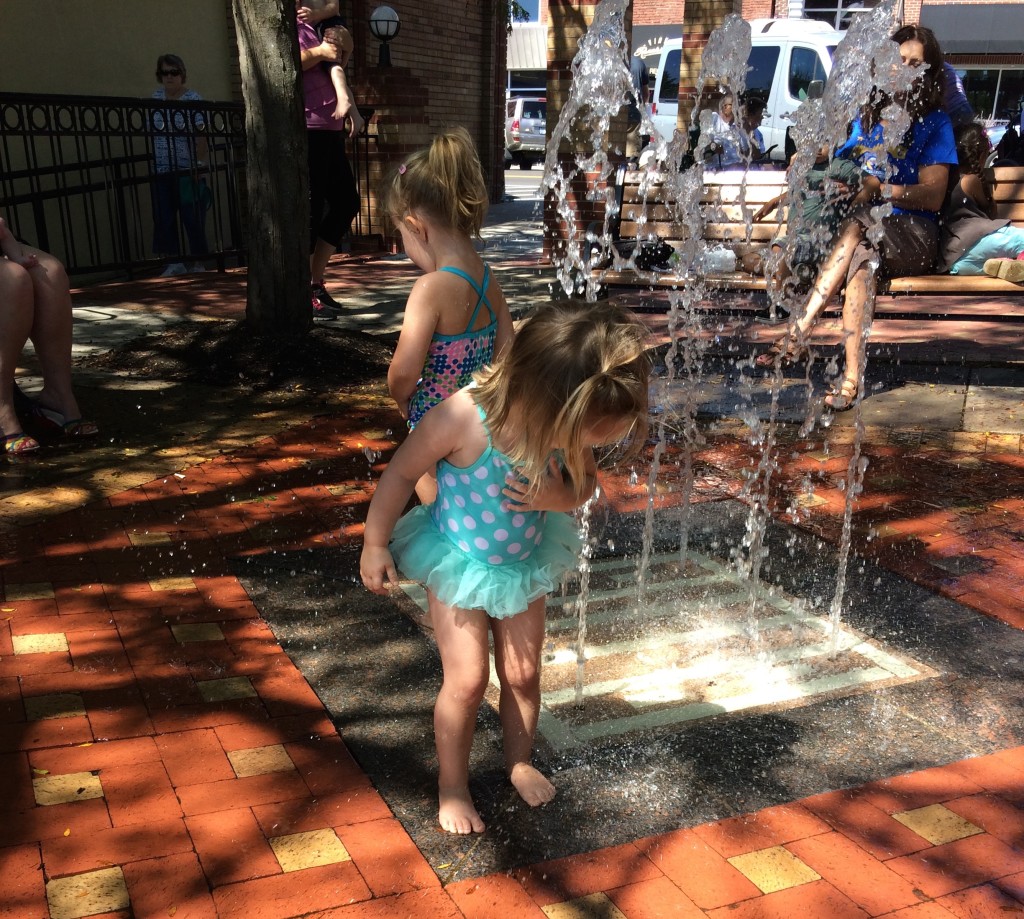 On the way home, she took a 5 minute nap. Dang it when they wake up when you take them out of the car! She was chipper though and we played Barbies and read books for the rest of the afternoon. Papa even took her for a wagon ride while I pondered dinner.
I eventually convinced her that a shower was more fun than a bath and we hopped in the shower. I showed her that if i stood on the drain long enough, it was just like a bath, and that seemed to satisfy her request for a bath. When all of the hot water was gone, we got out and ate dinner. Mike and Char and I were all in bed and asleep by 9:00.
When I woke up at 7:30 on Sunday, I had my coffee and decided I could get in another Hot Yoga class before anyone woke up. I was out the door. When I got home, all was good and I was greeted with hugs like she hadn't seen me in ten years. So much love in that little body!
I cooked breakfast, then Mike's parents came over for a visit and hugs. They hadnt been gone but 20 minutes when my mom called and said that she was coming over. She got to our house just in time to watch Char take a two hour nap on the couch. It was a good chat with my mom and I was happy to just sit for a bit.
After nap time, Char's mom came to pick her up. Mom had a much needed adult weekend at the Lake!
After 48 hours of Char, I cooked up a few things for dinner. When I went out to light the grill, it seemed fairly comfortable outside, so I cracked open a beer and put my feet up while I grilled up some Flank Steak.
After dinner, I decided that it felt pretty great outside, so I mowed! I finished just before dark and was glad that I didn't save that for today.
Not only did I get my Yoga in while Char was here, I was able to cook, clean, do laundry, visit with two sets of grandparents, relax on the deck and mow the yard. It was seriously the longest, yet most productive and stress free weekend that I've had in a long time. I felt rested, accomplished, happy and ready for the week!
I'm not sure if it was because both days started off with a Yoga Class, or the fact that Char is about as close to perfect as a kid can get, all I know is that last night, I went to bed fulfilled.
Here are the weekend eats…
Saturday
Breakfast – 8 SP
Sweet Potato Hash with lots of veggies, topped with Eggs and Thinly Sliced Avocado and a couple of berries.
Lunch – 6 SP
Leftover Taco Meat and lots of veggies and thinly sliced Avocado.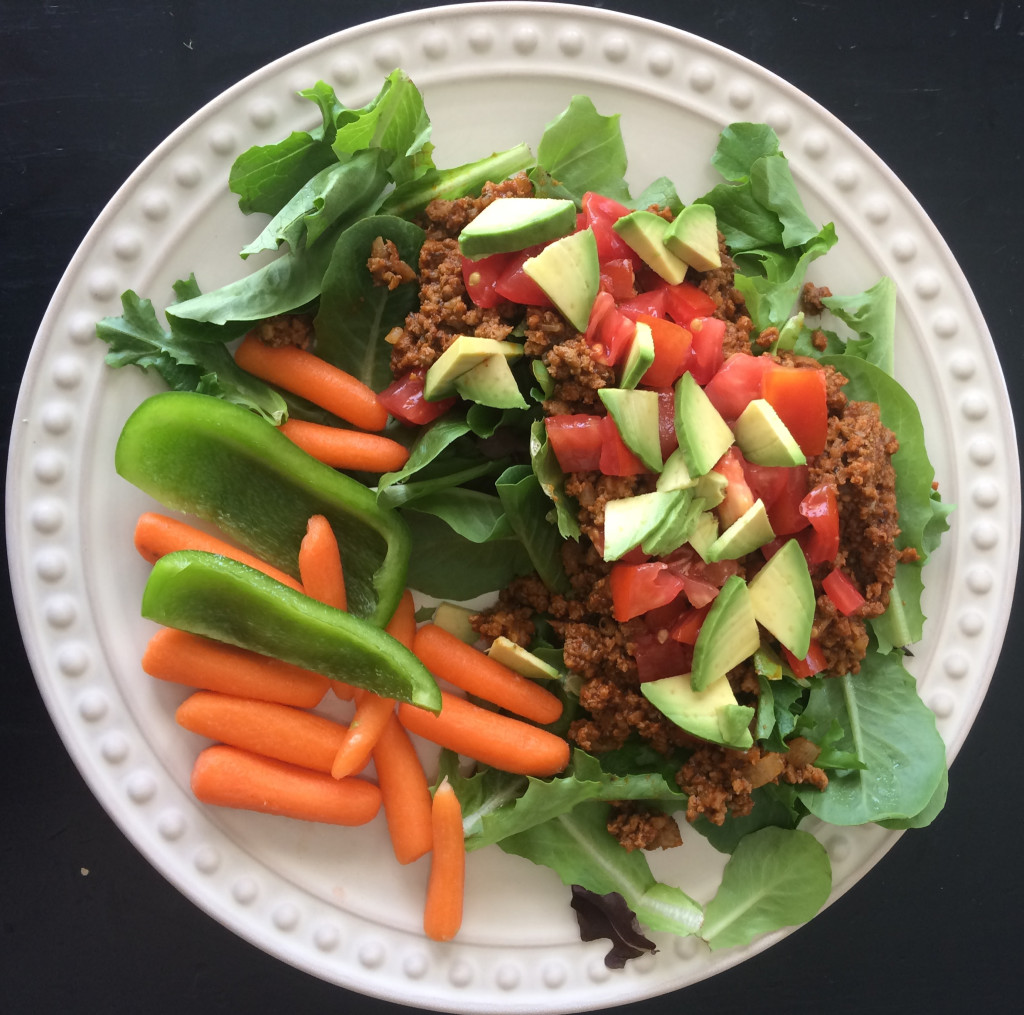 Dinner – 12 SP
This salad has become a staple and it always taste great. I change it up depending on what I have on hand.
The original recipe calls for…
Chicken, Bacon, Hard Boiled Egg, Roasted Butternut Squash, Diced Apple, Red Onion, Dried Cranberries, Pecans and homemade dressing. I think when I add everything in it is 14 SmartPoints, depending on how much Chicken and Bacon I add.
Yesterday, I left the cranberries and pecans off of mine, but added extra chicken. Mike likes his without the Red Onion. I usually make two bowls, based on what we have and what we each like, then measure out the dressing and give it a good stir and shake.
I LOVE THIS SALAD!!! So does the hubs.
Fall Chopped Salad with Apple Maple Vinaigrette
Sunday
Brunch – 14 SP
Leftover Taco Turkey Meat with lots of sautéed Zero Point veggies, a few cooked Sweet Potato Chunks, a slice of crumbled cooked Bacon, all topped with an Egg and Avocado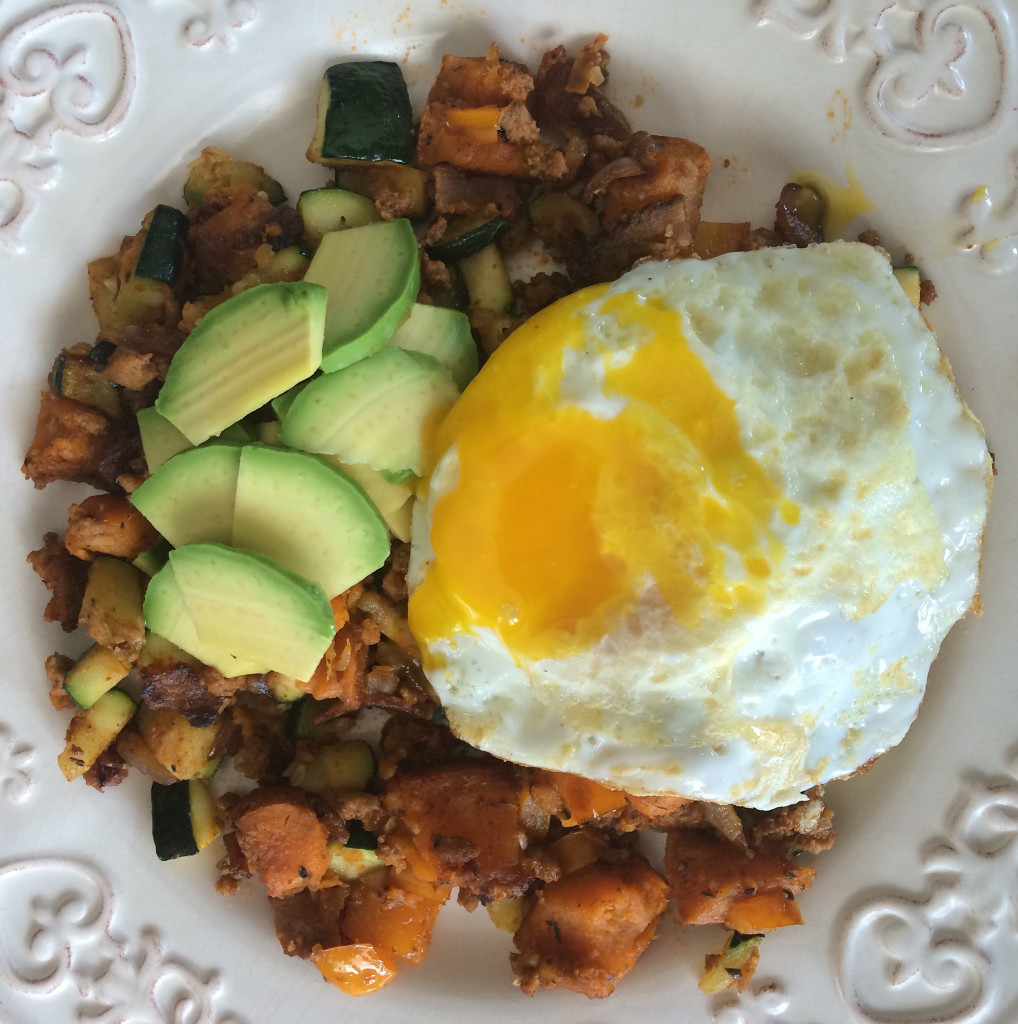 Drinks – 10 SP
Two Beers on the deck while grilling.
Dinner – 12 SP
I forgot to take a picture of my plate!!
Flank Steak, Boiled New Potatoes and Roasted Brussels Sprouts with Grapes and Toasted Almonds and Bacon.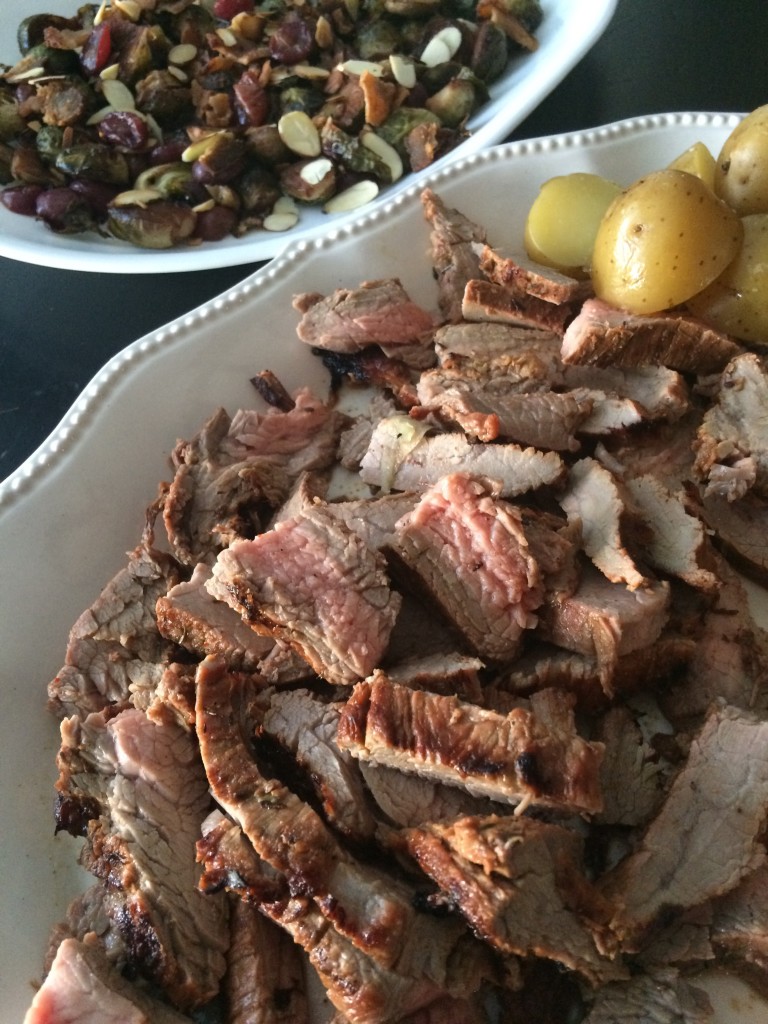 Dessert – 2 SP
Frozen Banana blended with 1/2 Fresh Peach, then topped with 1/2 Fresh Peach, Cinnamon and Toasted Almonds.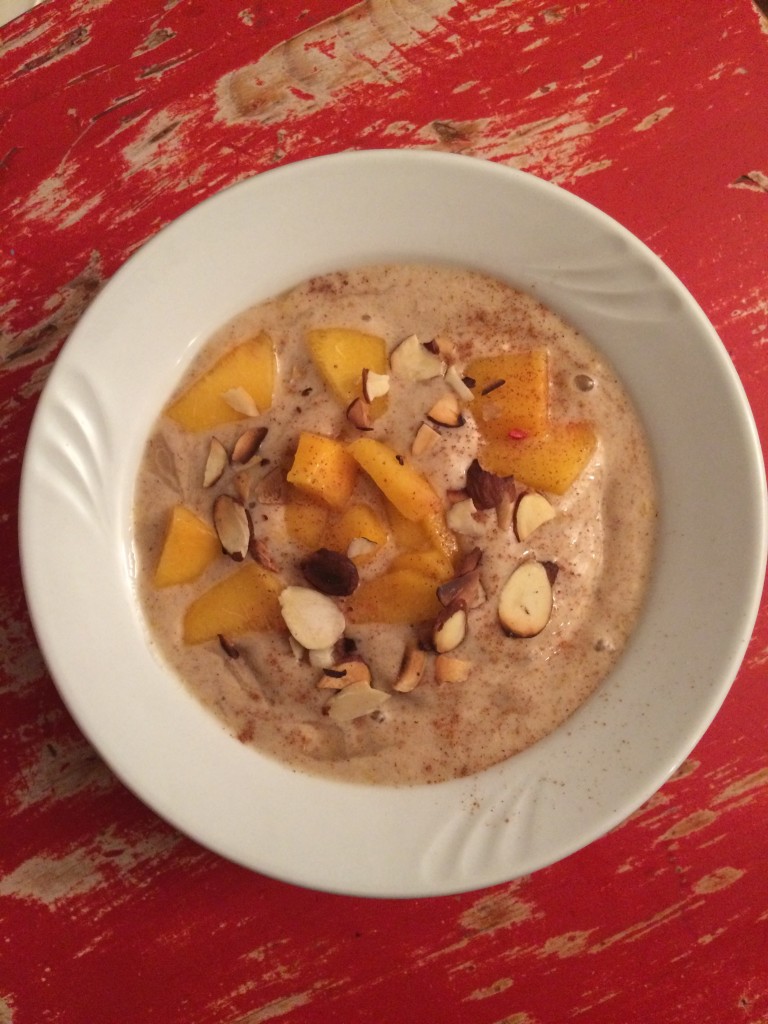 These are my 2016 Goals
Make time each week to Meal Plan
Drink 100 ounces of water each day
Exercise 5 days a week
Three Meals and One Snack, Daily
I can eat 30 SmartPoints a day.
I have an allowance of 35 extra Weekly Points that I can dip into throughout the week if I choose.
My Weight Watcher Week Begins on Friday's
Saturday
Breakfast = 8
Lunch = 6
Dinner = 12
Total = 26
Sunday
Brunch = 14
Beer = 10
Dinner = 12
Dessert = 2
Total = 38
Exercise = Saturday – Hot Yoga, Sunday – Hot Yoga and mowed the yard
FitPoints Earned = 18
How many ounces of water I drank for the day = 80 on Saturday, 90 on Sunday
Remaining Weekly SmartPoints = 20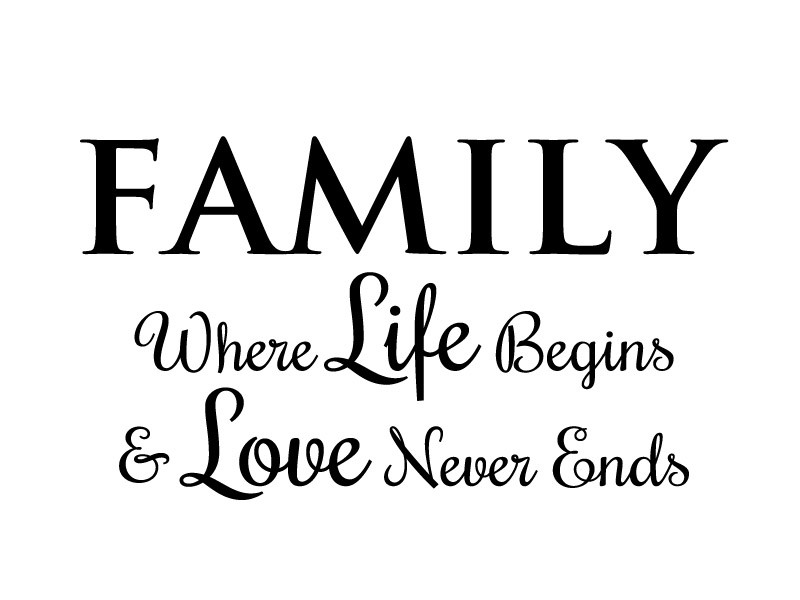 "love the life you live, live the life you love"