A spontaneous trip to Nashville recently came up, and I knew that going to Vegas the weekend before would make going to Nashville this past weekend, highly unlikely. Well, we went anyhow and we had a blast!
We left early Thursday morning and arrived at our hotel in Nashville just in time for brunch.
Some of our friends arrived Thursday evening, and others Friday evening. We had zero plans, we all flew by the seat of our pants for the entire weekend, and it was perfect!
We were able to get on the Sunday afternoon flight home which left us plenty of time for breakfast in Nashville with our friends without hurrying, and plenty of time to get some laundry in and grocery shop when we got home yesterday afternoon.
I have learned that when I take a trip, whether it is for a long weekend, or an entire week, I never try to track my points. I find it too difficult to guess on food that I don't know the points on. I don't enjoy myself as much, and I just end up feeling bad about myself when I think that I may have had too many points.
Here is what I do like to do now and what seems to work for me.
Get in as much water as possible.
Get in some activity and walk whenever possible.
Make the best choice possible, but order something that I know that I will enjoy.
Remind myself that it is okay to leave food on my plate, even on vacation. (It's hard! It's like throwing money away!)
Share something with Mike, or give him what I don't plan to eat.
I like to weigh myself the morning after we get home, just to know where I'm at and what the damage might be. Sometimes it isn't as bad as I think that it is going to be!
Get right back into my routine when I get home.
Thursday afternoon, before the rest of the gang got to town, Mike and I went boot shopping for him. The guy has been talking about buying some cowboys boots forever. Honestly, I never thought that it would happen.
Have you been to Nashville? There are boot stores everywhere! These big boots are everywhere too!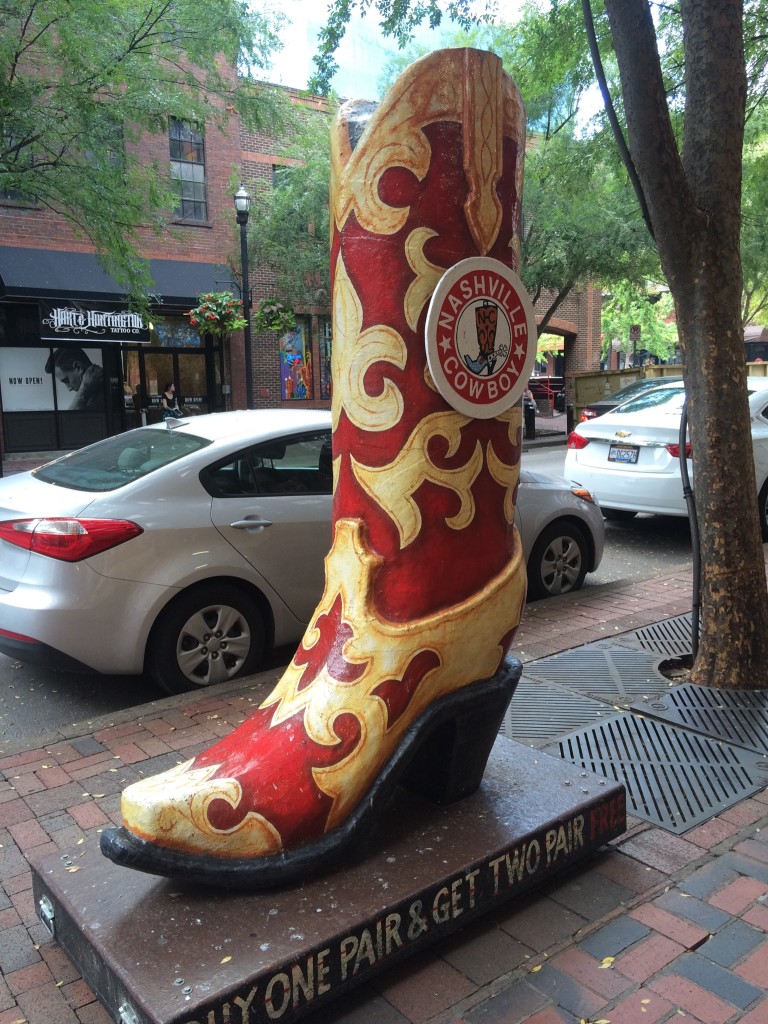 Boots…..Boots….Boots!!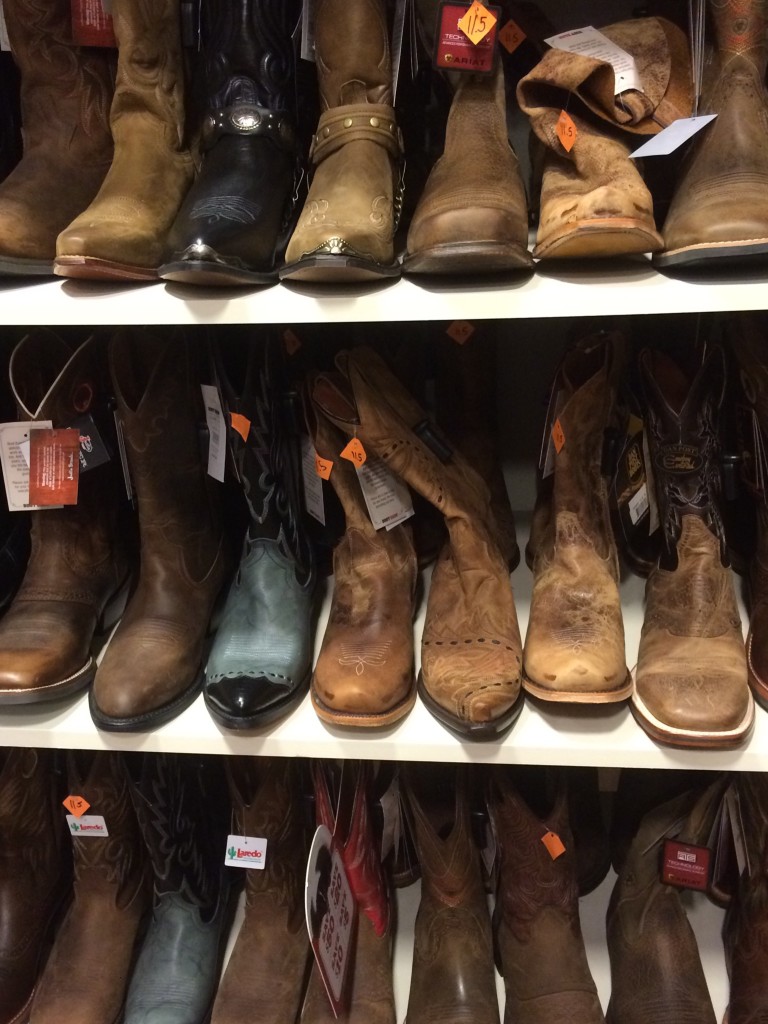 We looked in several stores for just the right pair. Like…..we shopped a LOT!!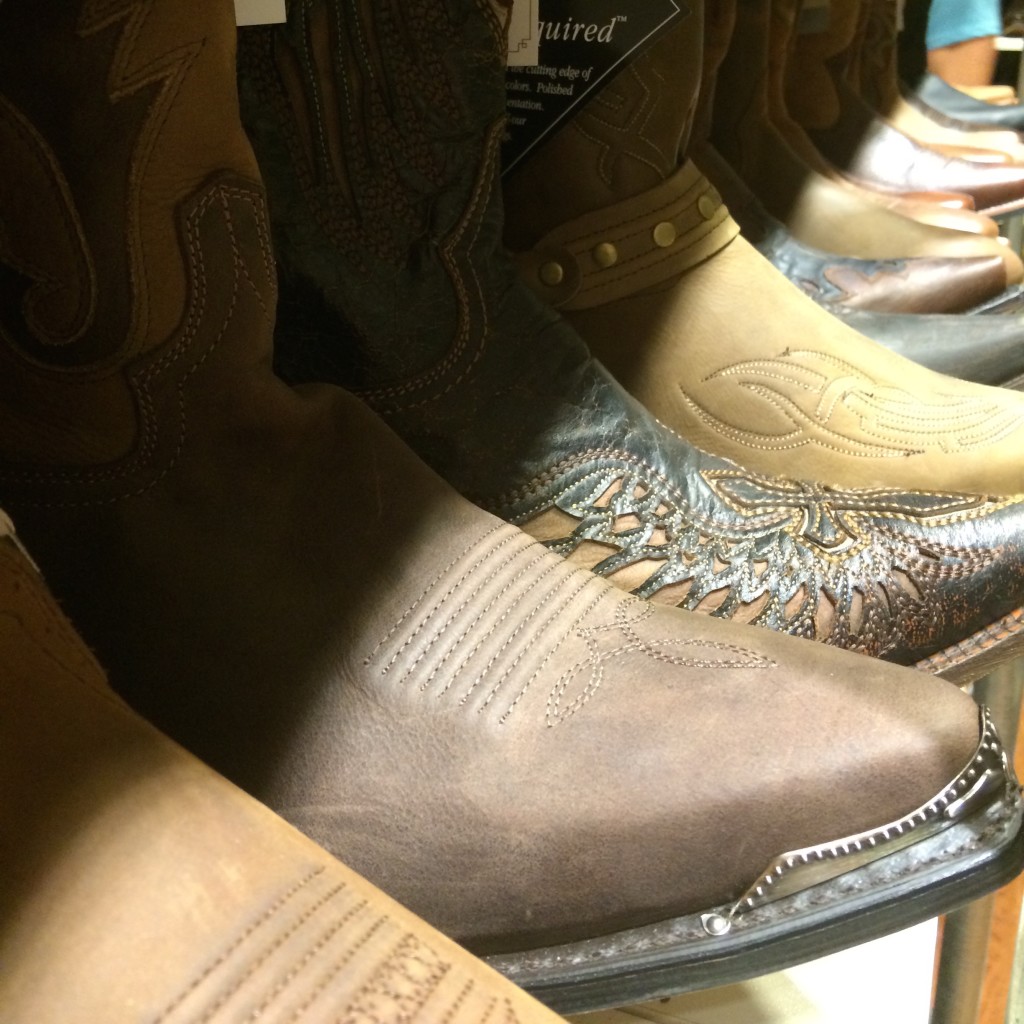 Giggle Giggle. You guys….Mike bought some boots and I don't have one single picture of them, but I do have this.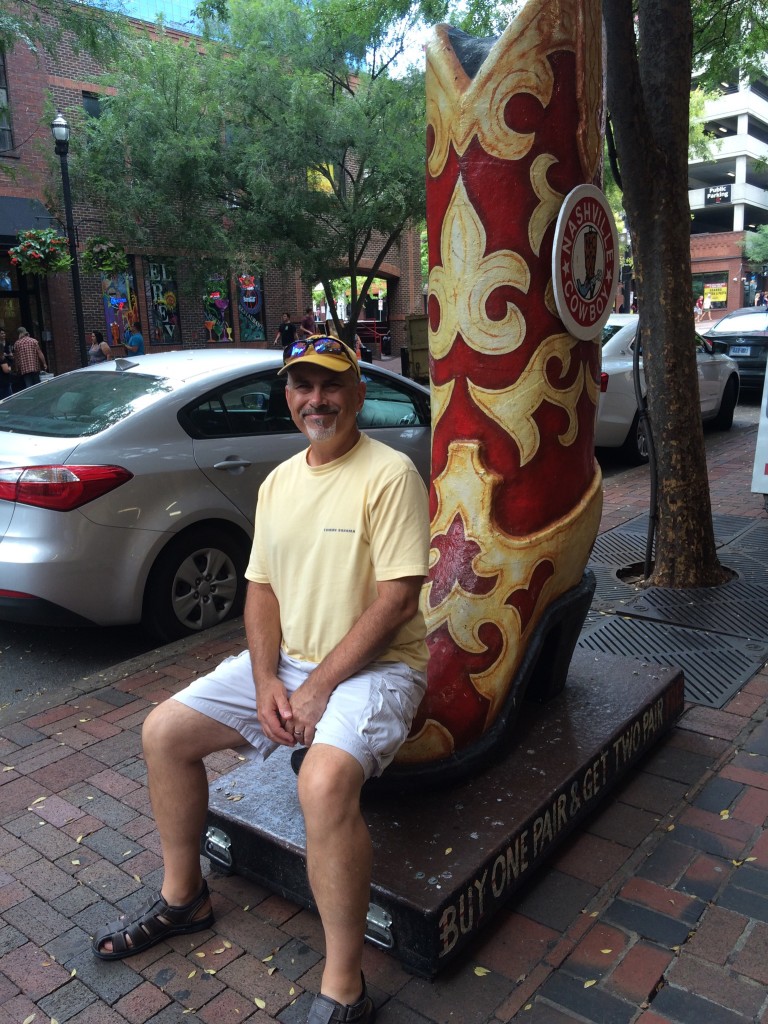 If you haven't been to Nashville, you never really know what you are going to see driving down the road. A Party Wagon/Trailer?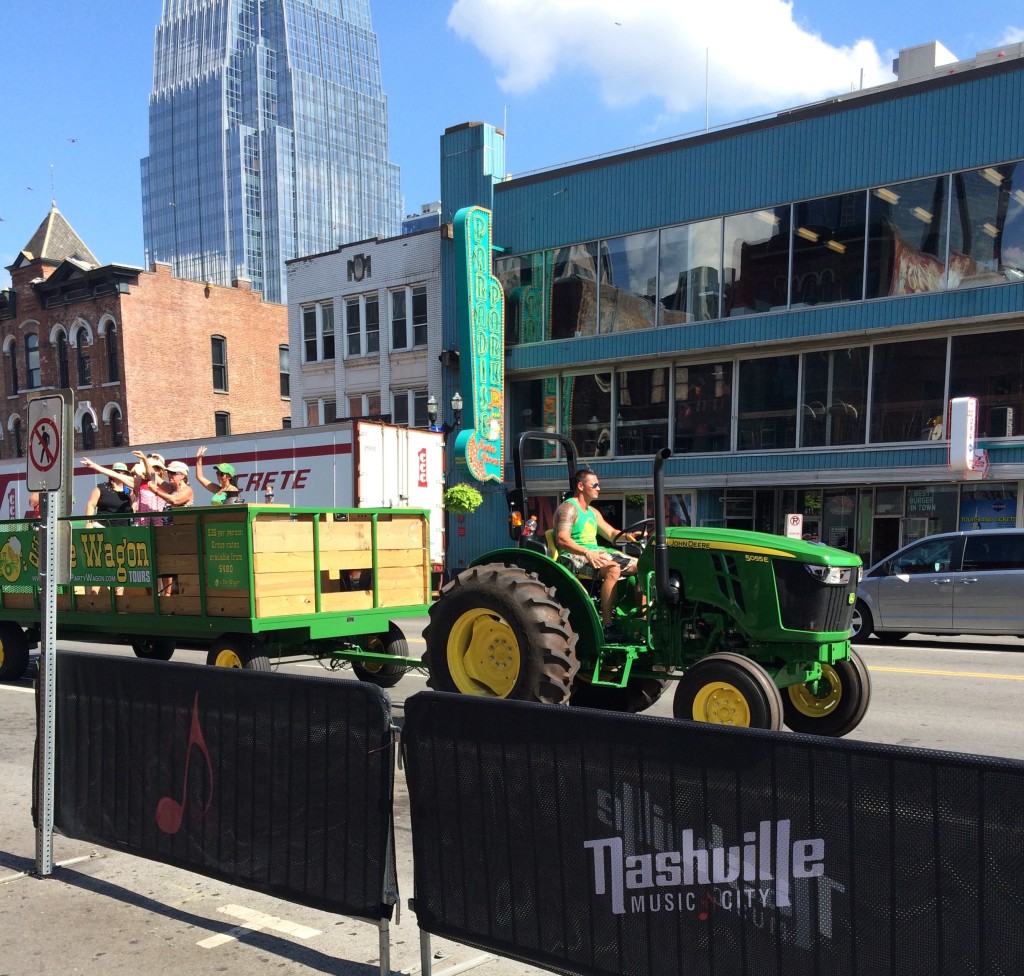 These are new to me. Need a ride? It's free too! They just like to be tipped.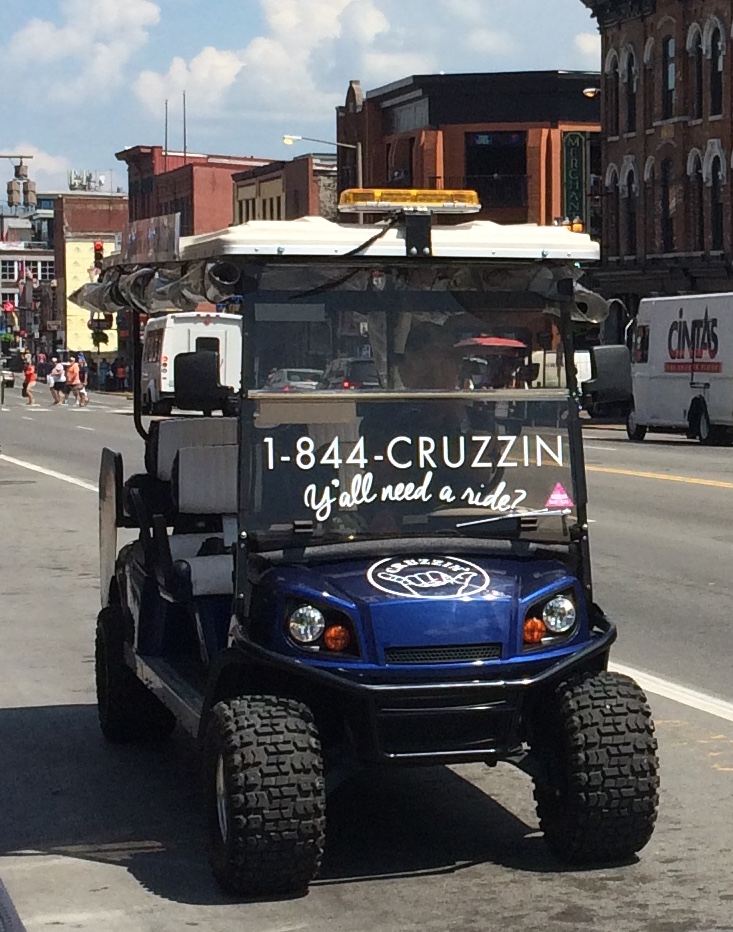 Speaking of tipping! I forget about this every time, and really, I don't get it, but I tip and I made friends with Tammy. It made Tammy happy when my friends walked in and called her by name. 🙂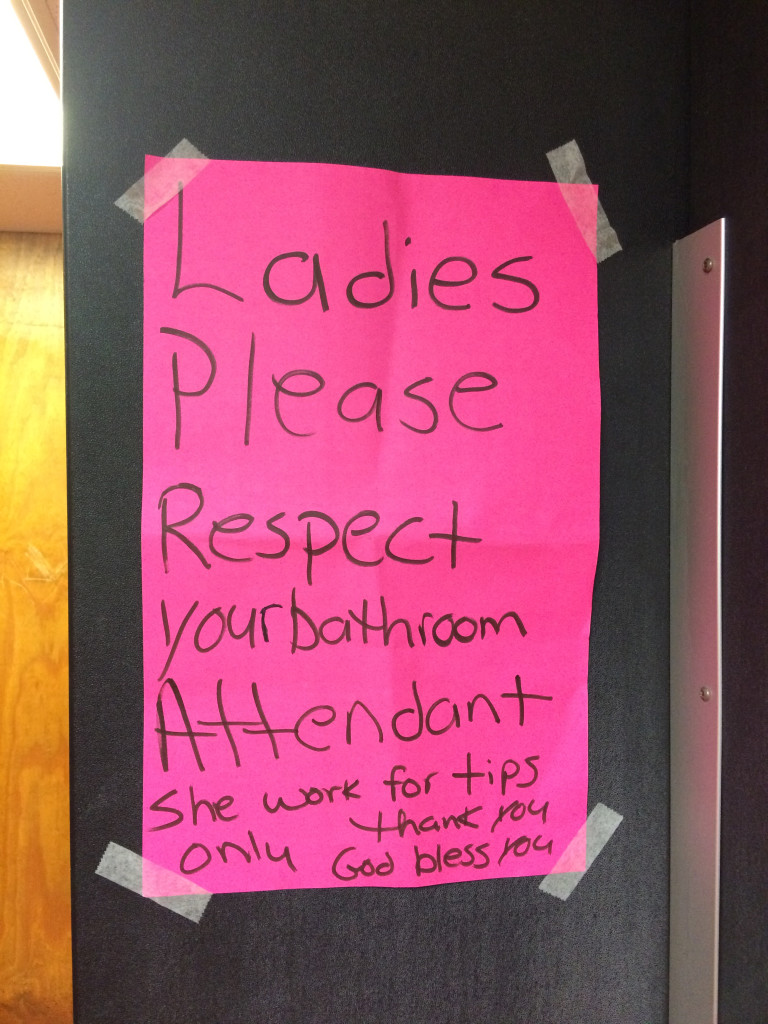 After a successful shopping spree and a new pair of boots, we stopped in a few bars for a cold beer and some good music. The Whiskey Bent Saloon seemed to be a favorite of ours all weekend.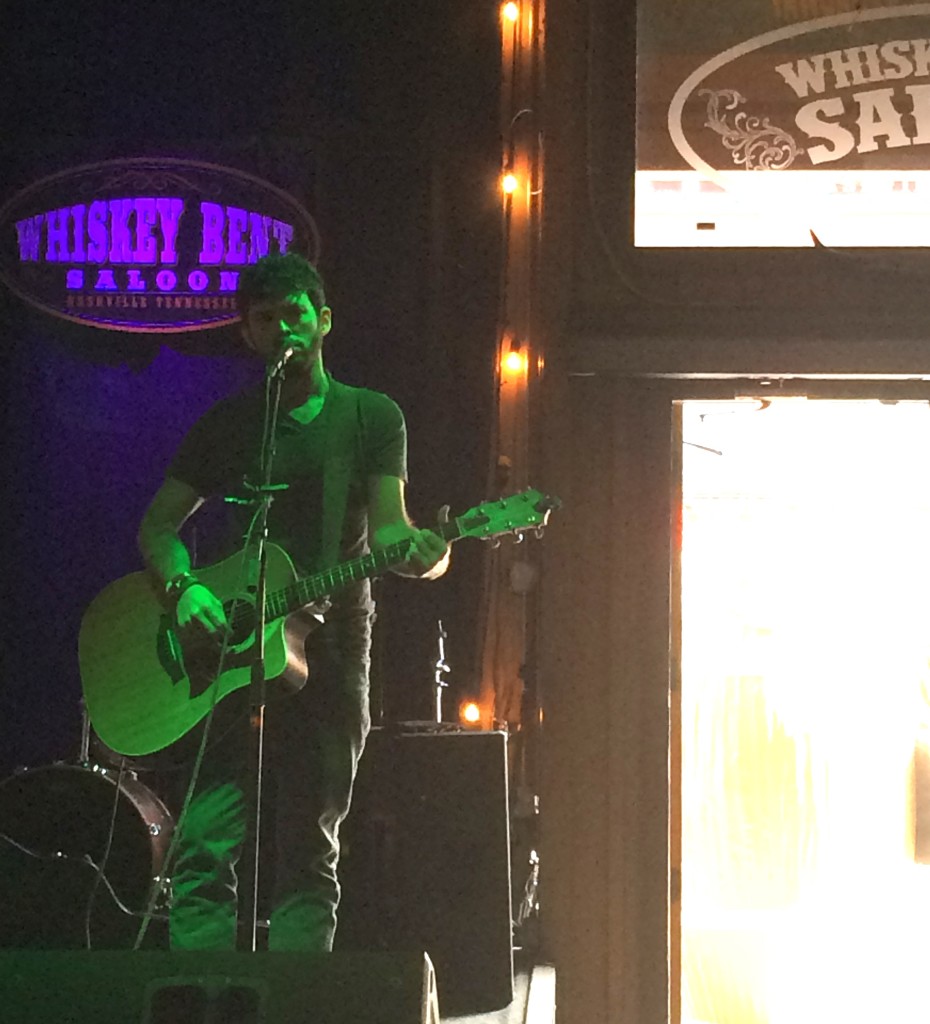 We decided to stop at Merchants for dinner. At this point, I was still making good food choices and drinking lots of water.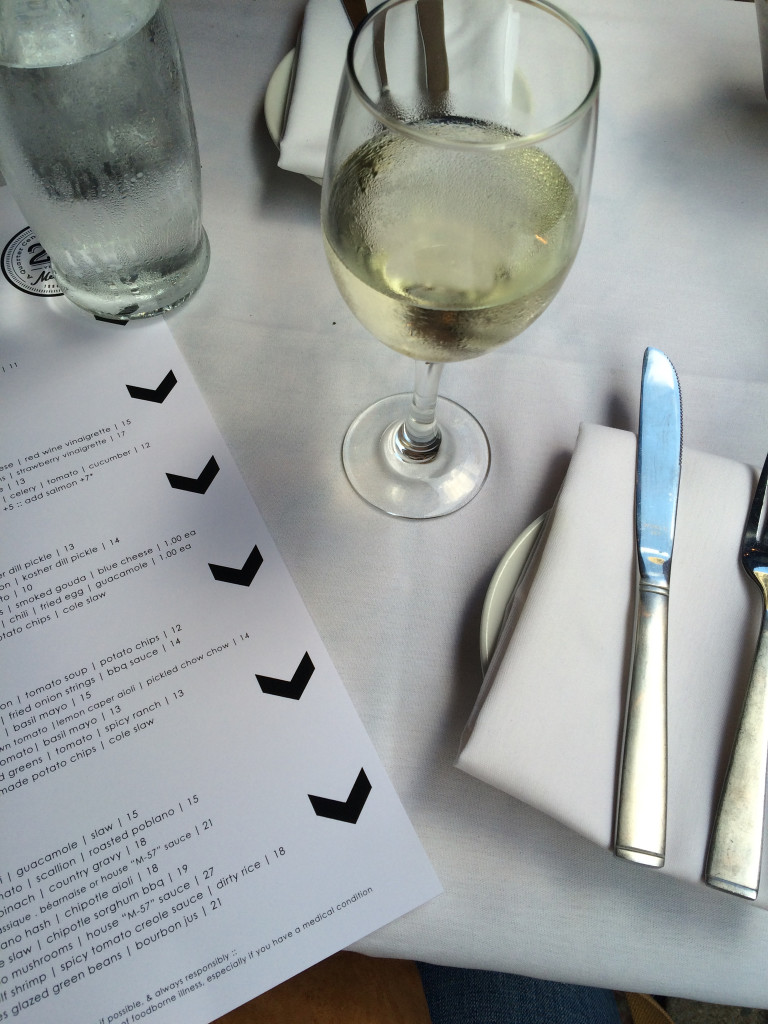 Fish Taco's and Sweet Potato Fries….with wine. Mmmmmmm.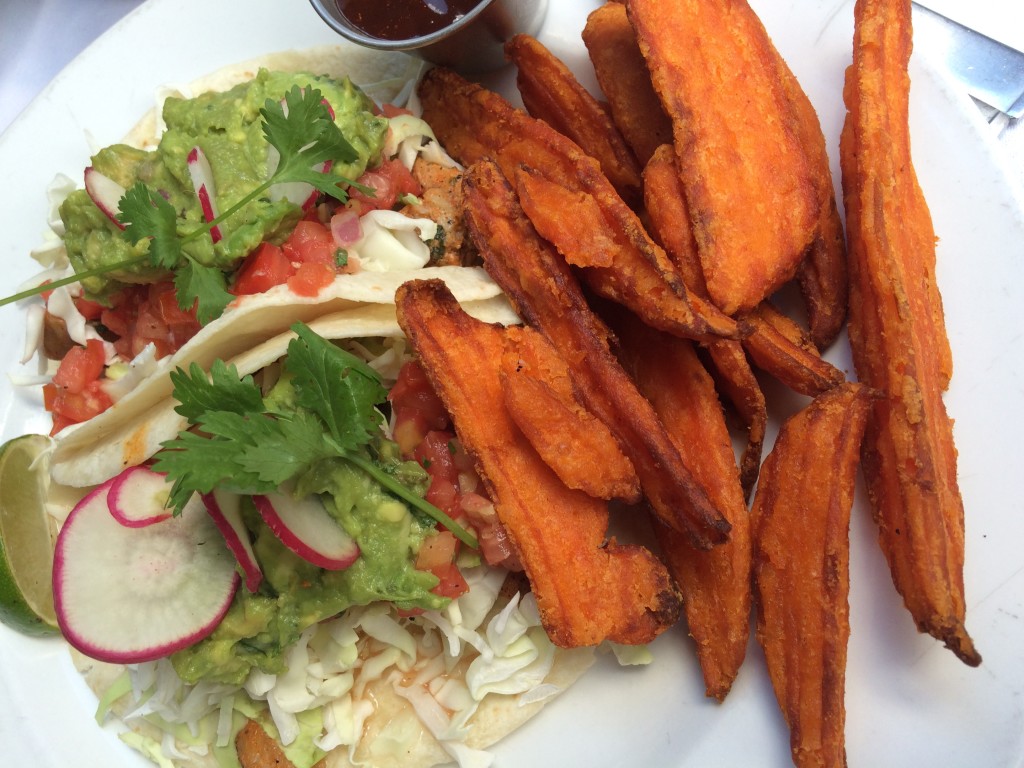 Finally, our friends made it!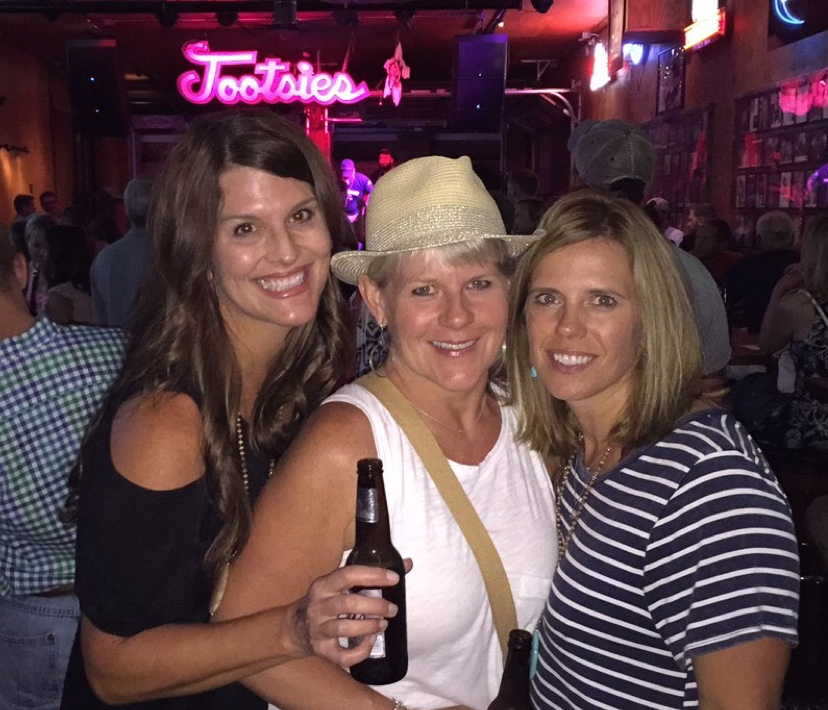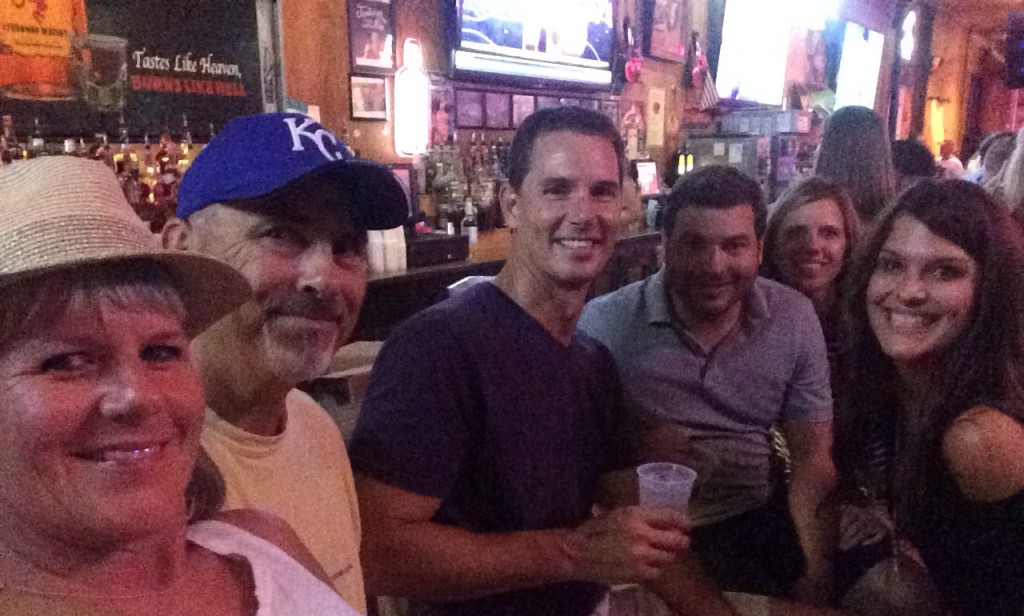 Mike and I made it back to the room at a reasonable hour and rested up for the weekend.
We all had a pretty chill Friday morning eating breakfast together, then Mike and I headed out for a walk along the river.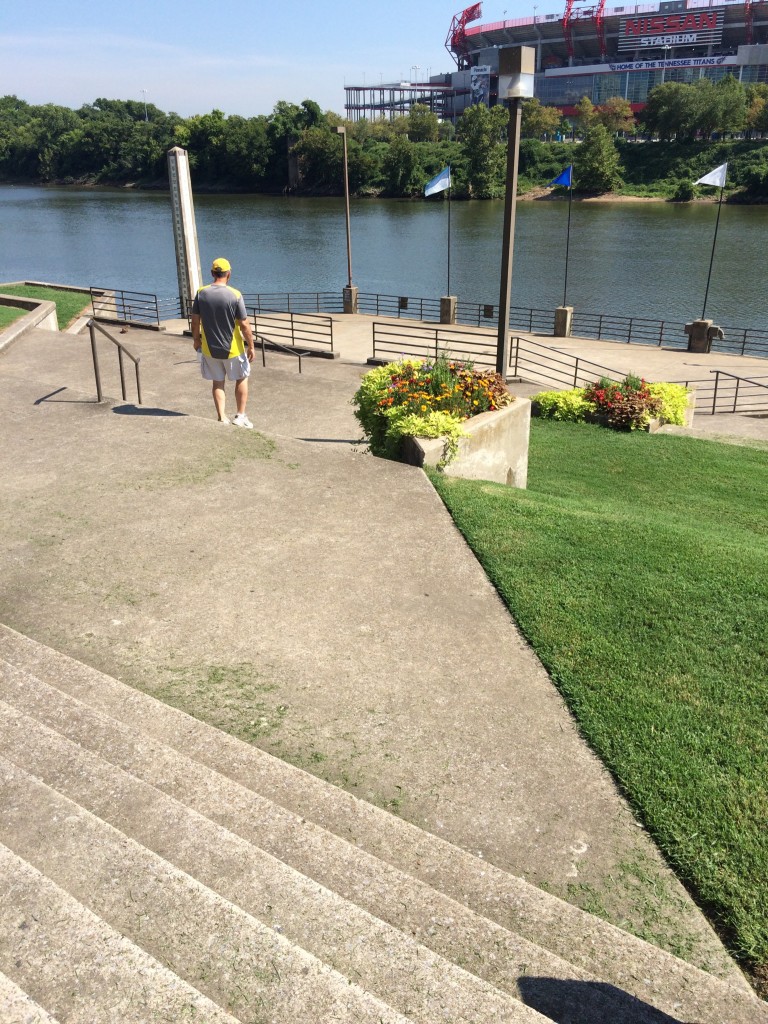 We were heading towards that big pedestrian bridge above Mike's head in this picture. Ya like my hair wings??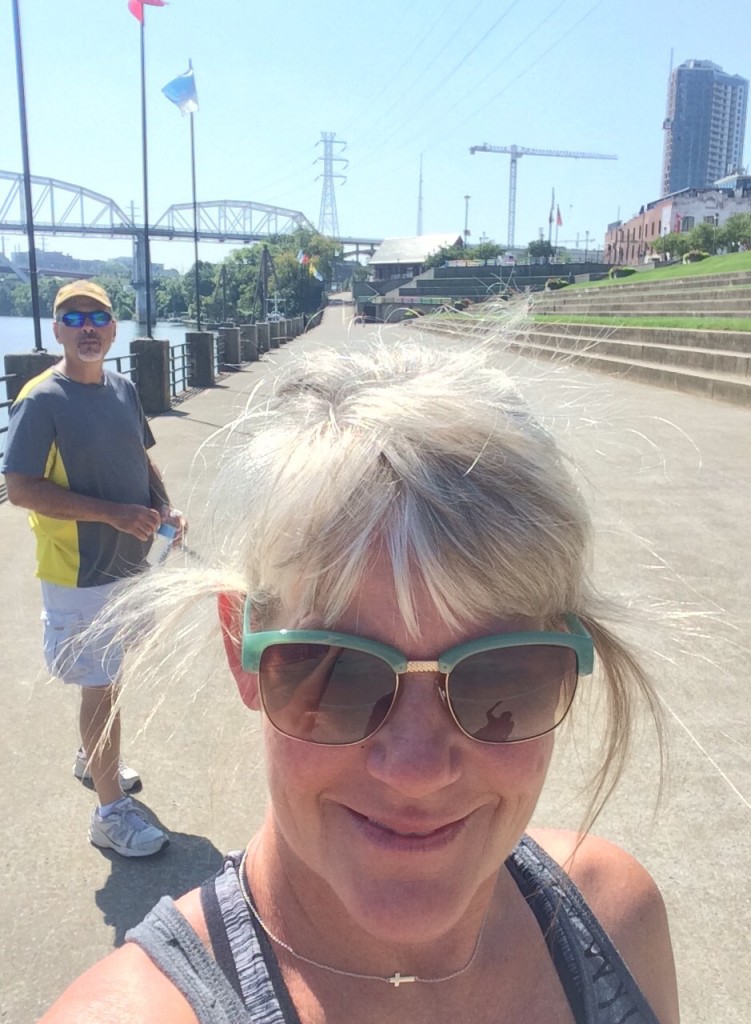 Just a few sights of Nashville.
This sculpture always makes my stomach squeamish. Feels like a roller coaster that just shoots into the sky!!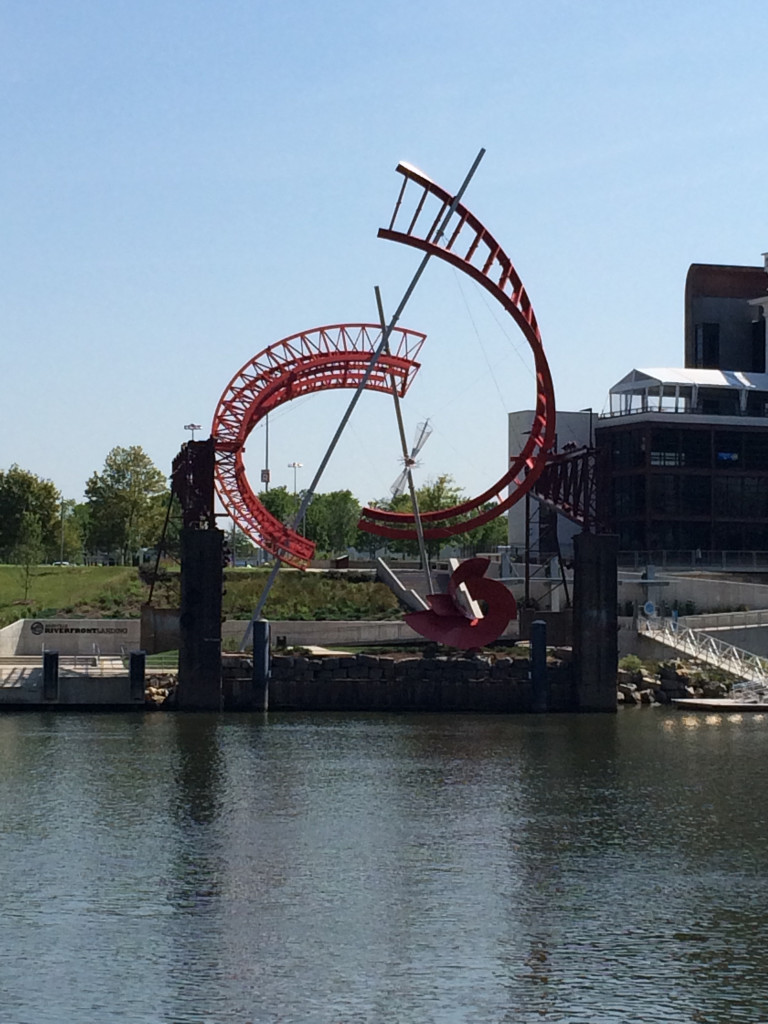 I think it's pretty dang cool though.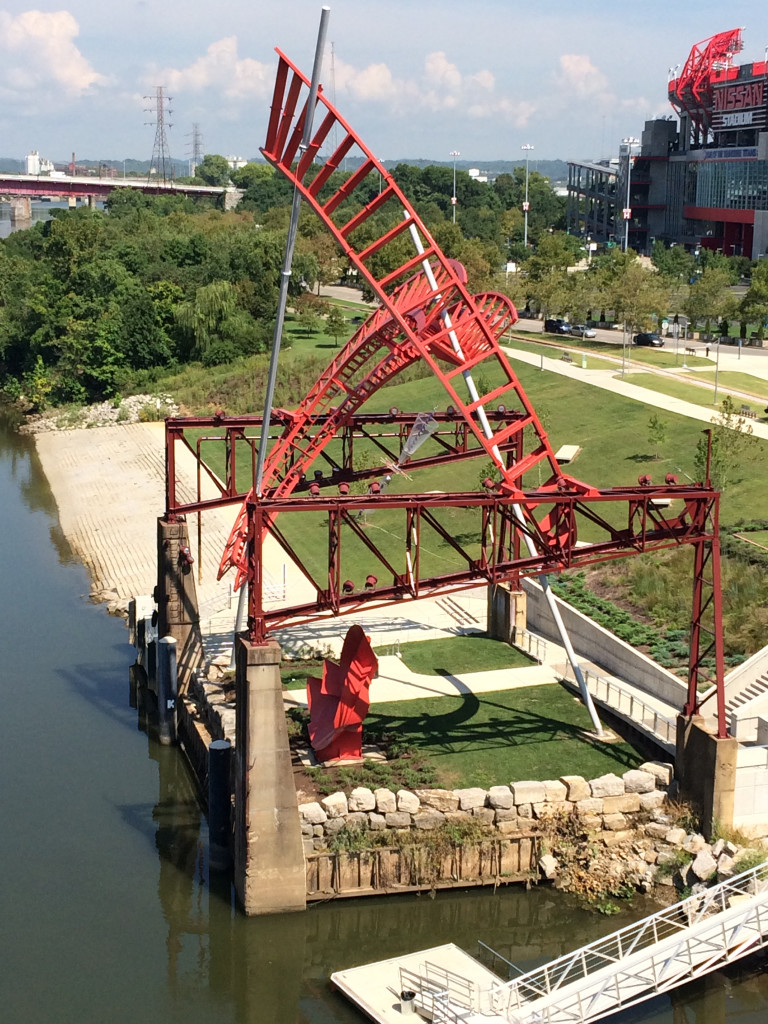 Now we're on the pedestrian bridge!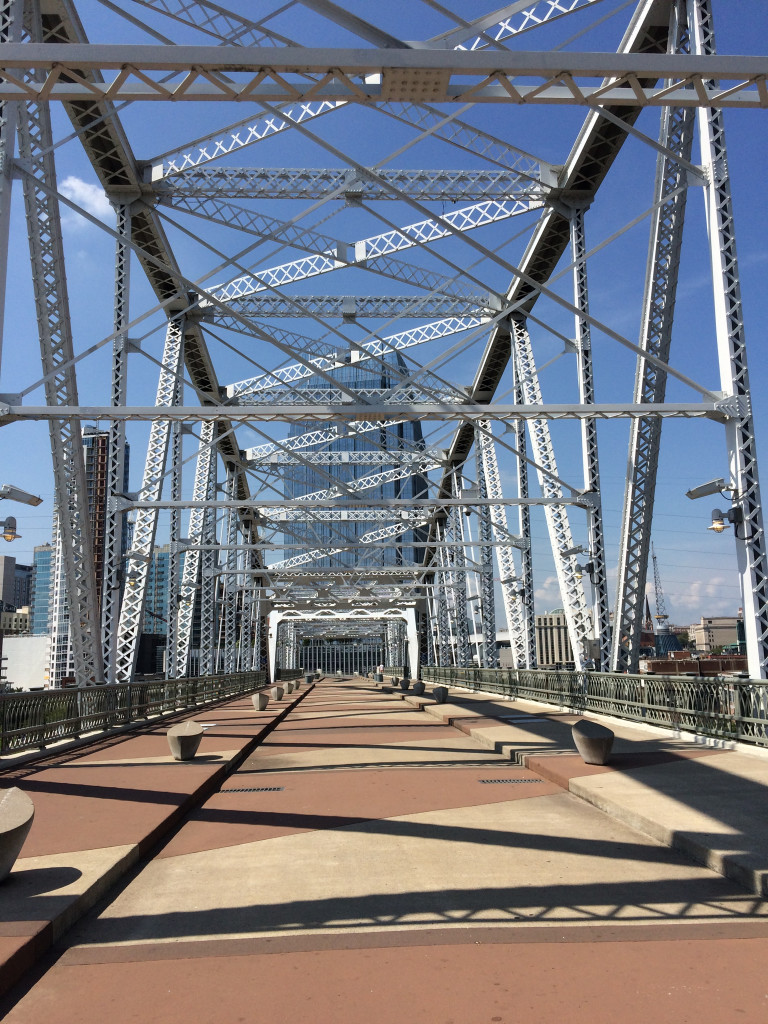 Not a bad view…..
By now we had worked up a good sweat and we were headed back to our hotel to clean up and check in with everyone. As we were walking to the hotel, we passed by Rippy's, where we saw a girl singing that we had heard for just a couple of songs on Thursday afternoon. We had hoped to find her again over the weekend. This is a great corner location with all of the doors open and it was early enough that there were all sorts of open tables. We stopped in for what we thought might be a cold cup of water and two songs. On the second song, Mike ordered a beer.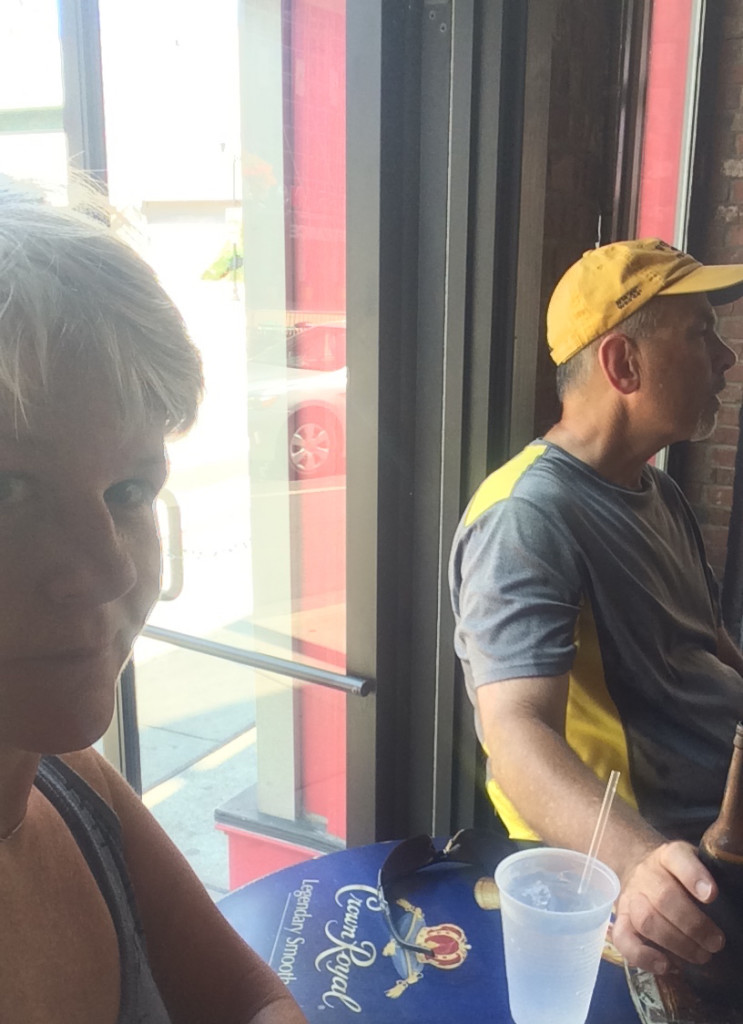 Um, okay, I guess we'll stay! There was another girl and a guy singing with her and all three of them were really good!! We hated to leave!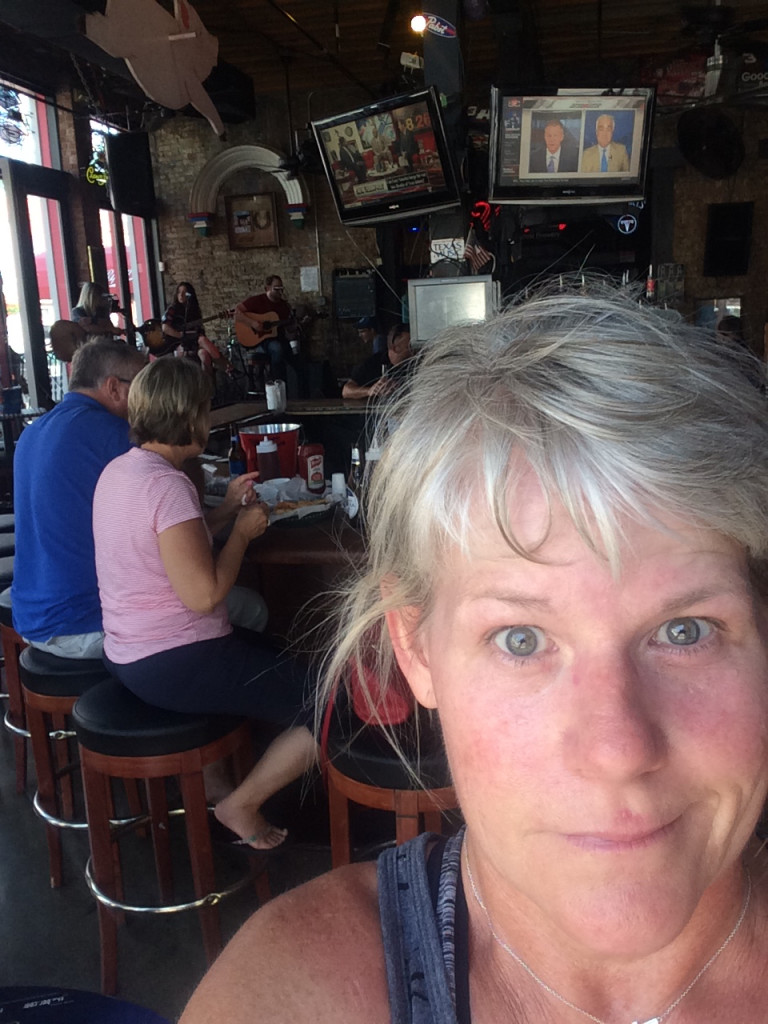 Soon, the bar was filling up and we were having a great time, sweaty and all. Our friends met us there and it was one of my favorite parts of the weekend, even though I was a sweaty mess.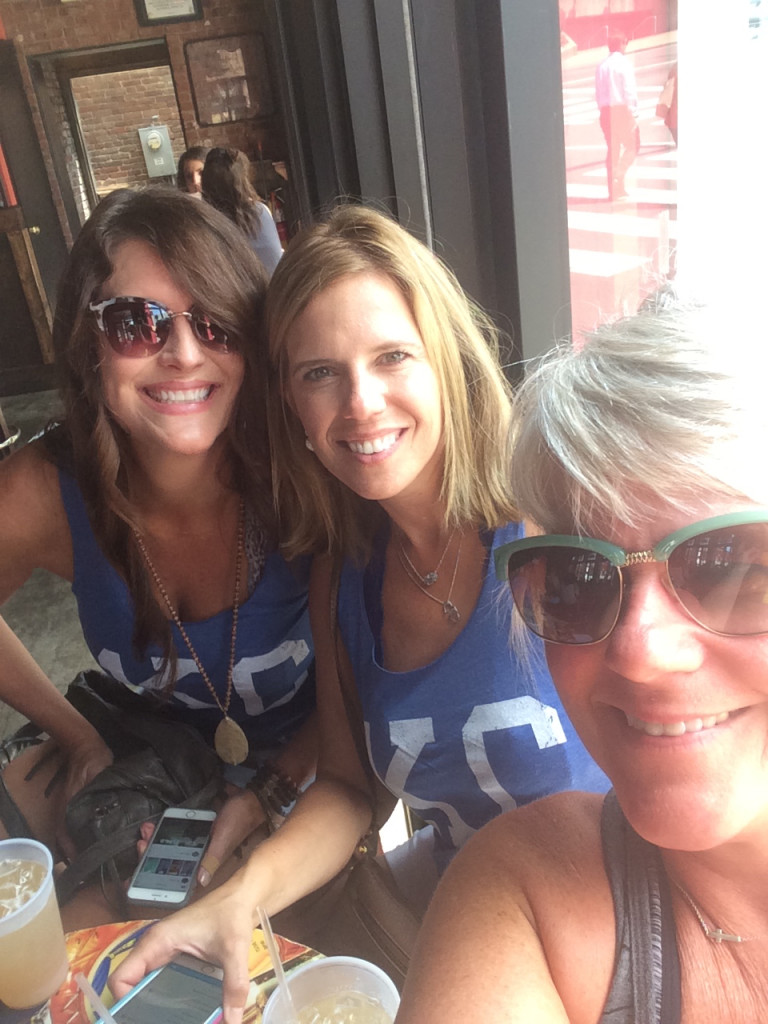 Finally, Mike and I decided to get cleaned up and then we met back up with everyone at the same spot. Keeping hydrated!! I swear that most of those are empty water cups!!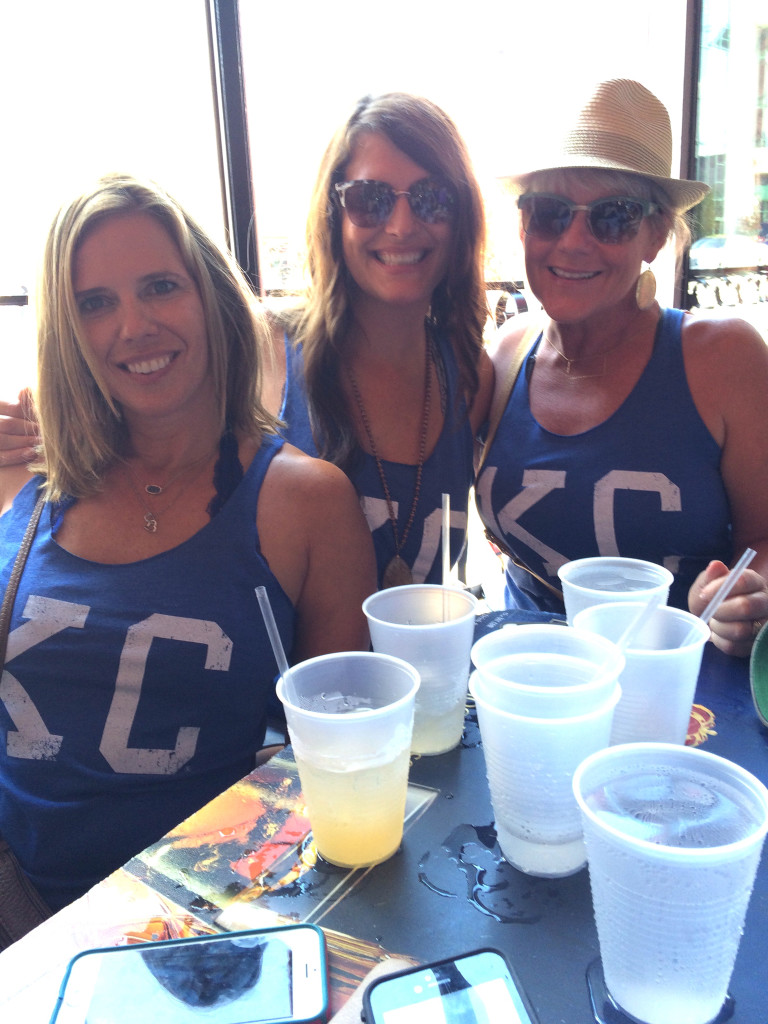 We met all sorts of KC peeps by wearing these shirts! We also got a few snarky comments. Too funny. Such a great afternoon!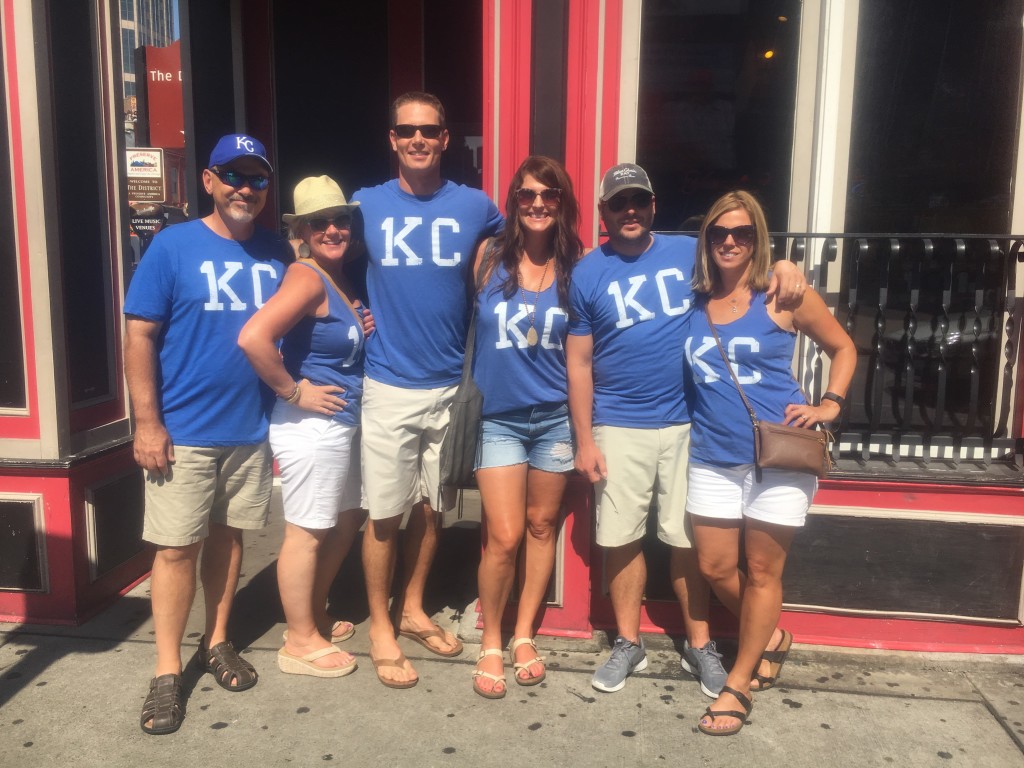 And…..it was easy to find our boys in a crowd.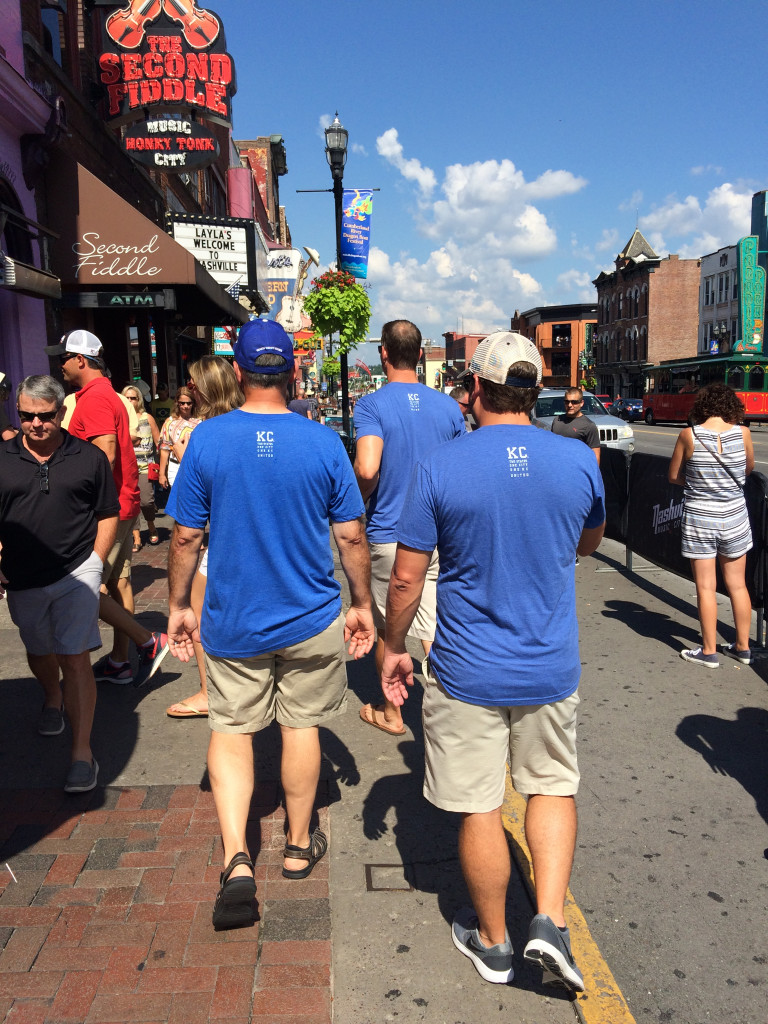 My food choices in the begging of the day were better than they were by the end of the day. This is lunch on Friday.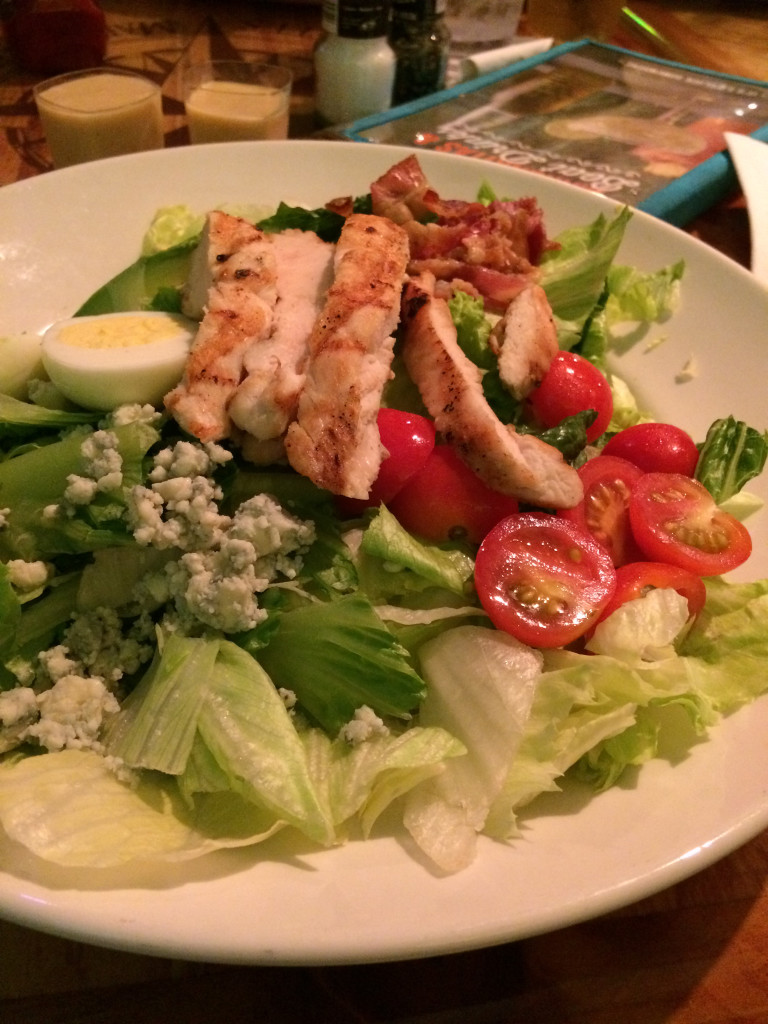 By evening, the rest of our group showed up and we had a great time!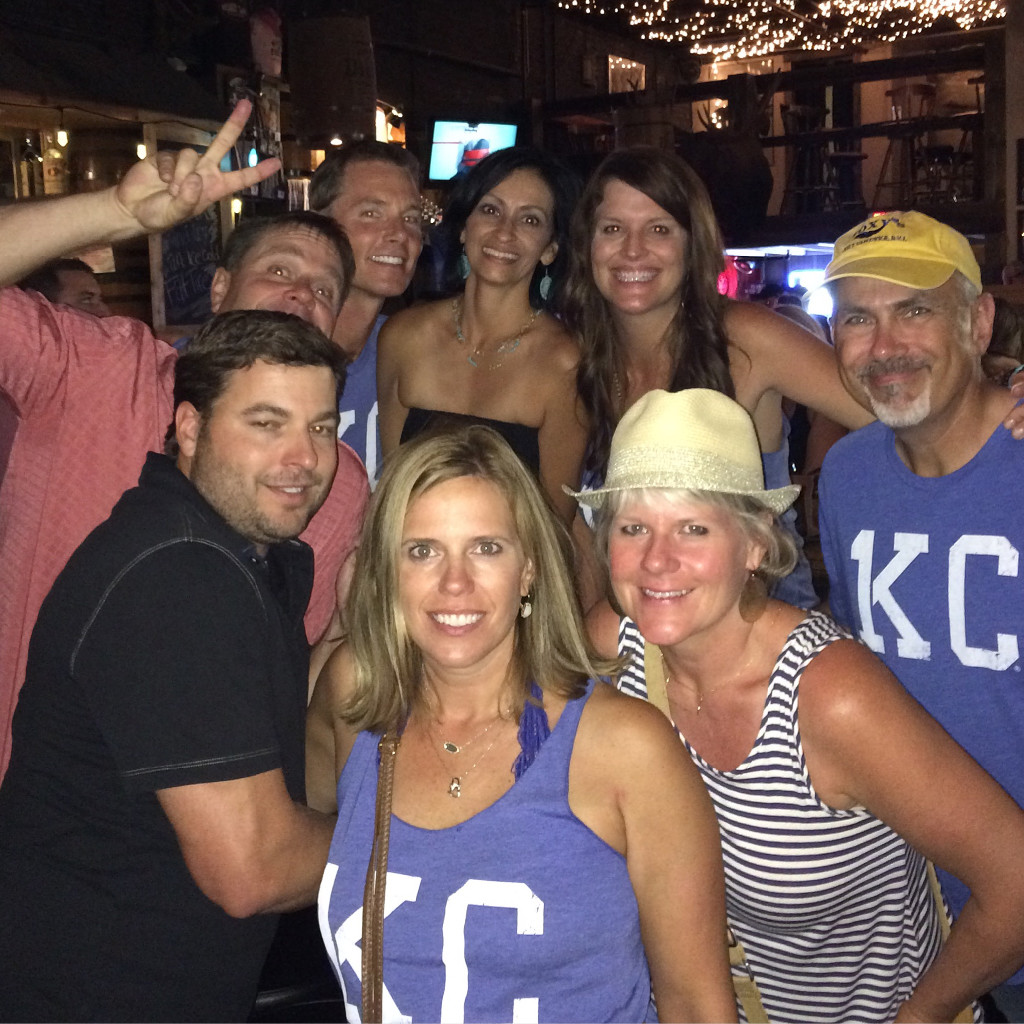 Nashville has become a big hot spot for Bachelor and Bachelorette parties. We were surrounded by twenty somethings everywhere. We fit right in. I'm certain of it!
This cracked me up! She carried her fiances head around on a big stick! Her friends were all following her through the bar and one of them was carrying one of those big plastic containers of Cheese Balls! Dying.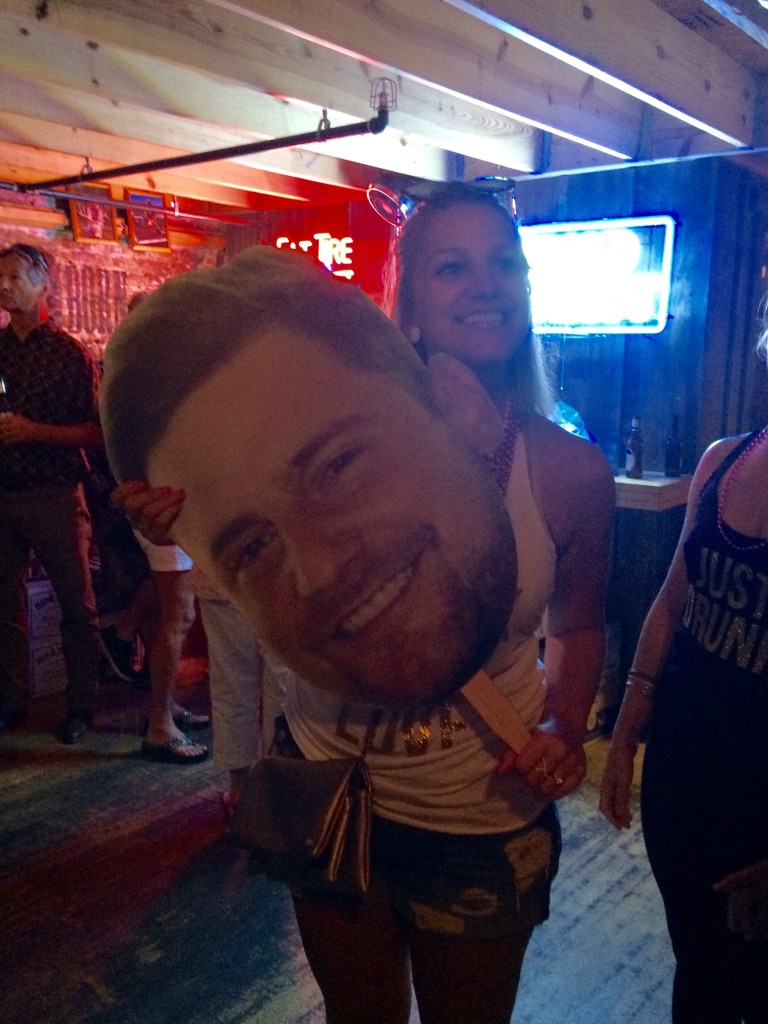 It is common in Nashville for the band to say….."Okay everybody, it's time for a Holler and Swaller"…which means you put your drink in the air, and at the same time, every one hollers, then ya take a drink. It's required that you participate. (Okay, not really. Actually….really.) One of our friends bought this shirt. I kinda love it.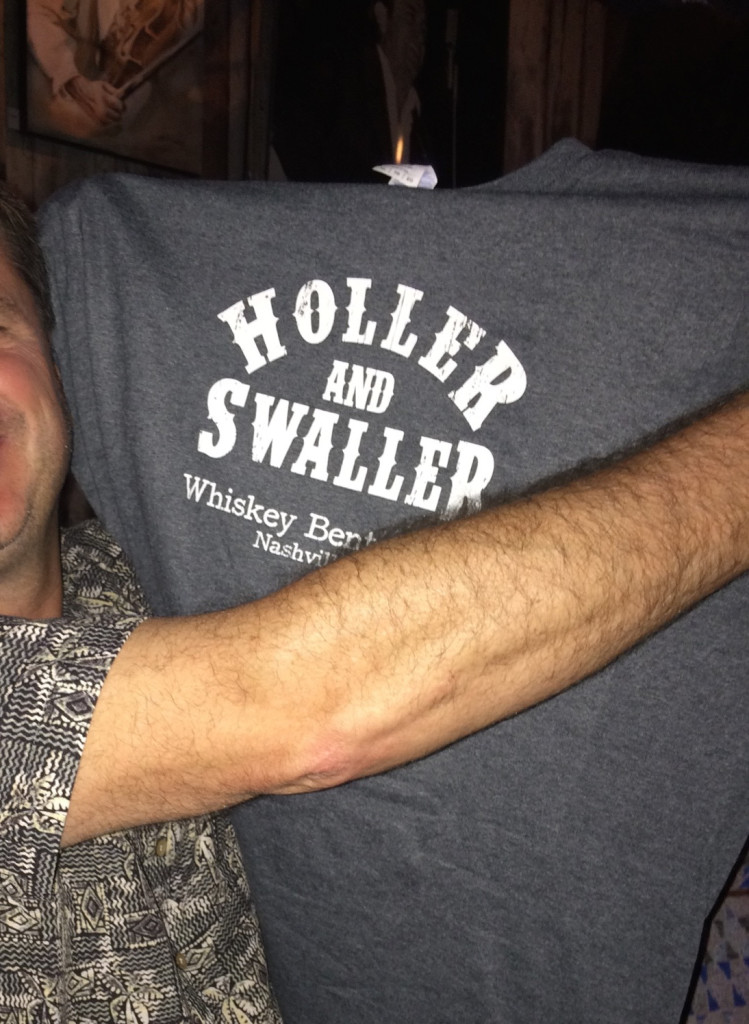 At 2:00 a.m., we went to Paradise Park. It's just what you do at 2:00 a.m. in Nashville. Whether you are 21 or 50! Wait….I actually don't remember seeing anyone our age in line at Paradise Park? Well, all the cool kids go here, so we went.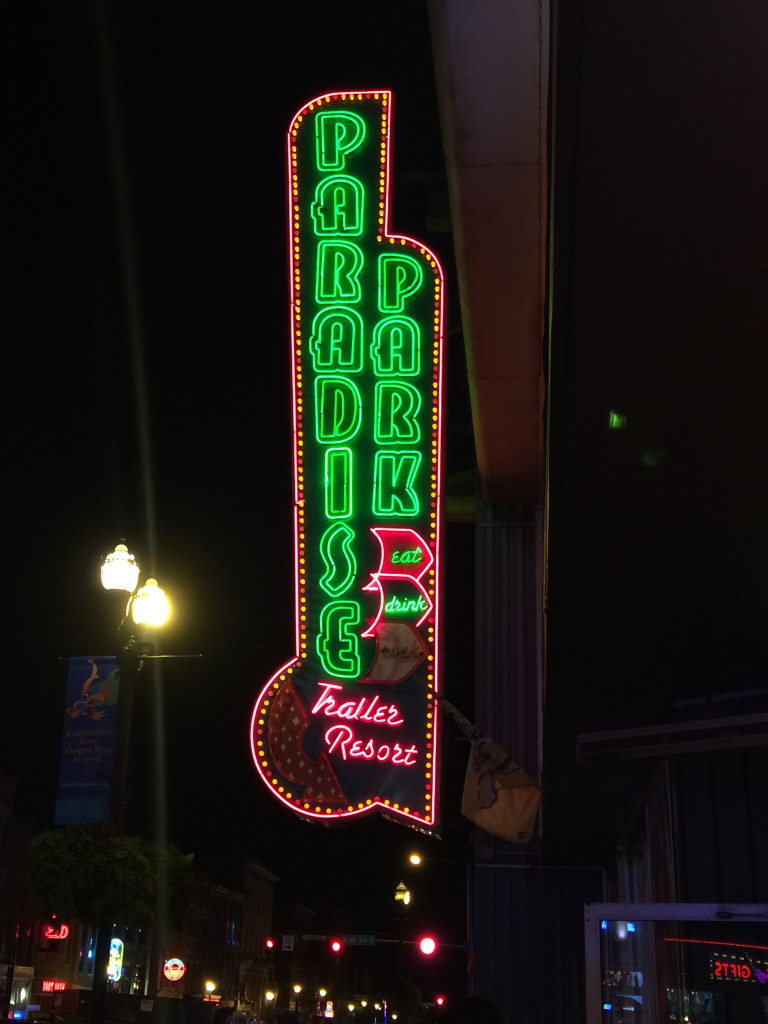 usu
And this is why. You guys…..amazing.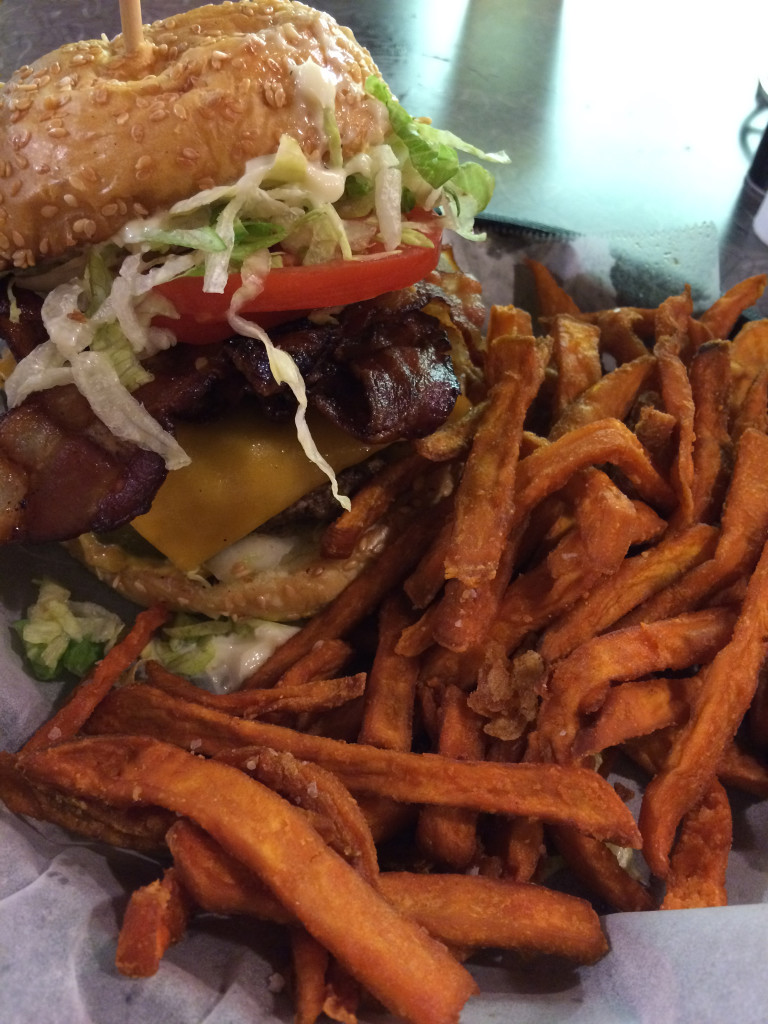 Lets just say, it was a really good day…..and night. This is in the elevator on the way to our rooms. Yes, it is 3:07 a.m.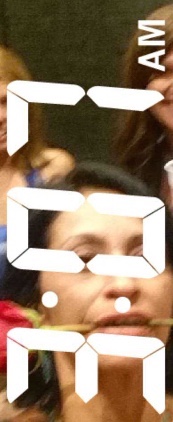 Saturday morning wasn't as rough as I thought that it was going to be. We all met for breakfast and I ordered this big ass breakfast burrito and drank a lot of coffee. I even left some on my plate! (Not much, but the point here is that I did leave some on my plate!)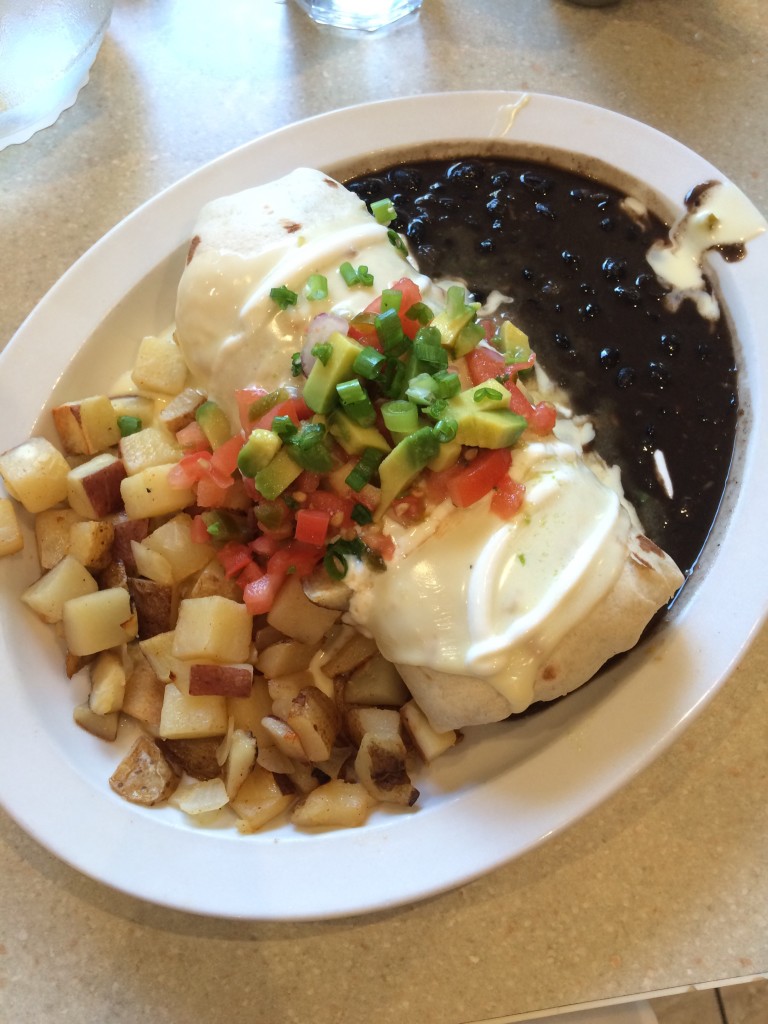 Saturday, more music and fun. Lots of laughs, lots of dancing, lots of sing alongs. I love Nashville.
This was an afternoon of shared appetizers, beverages and lots of singing at this table right here. I loved this day! (So did Mike.)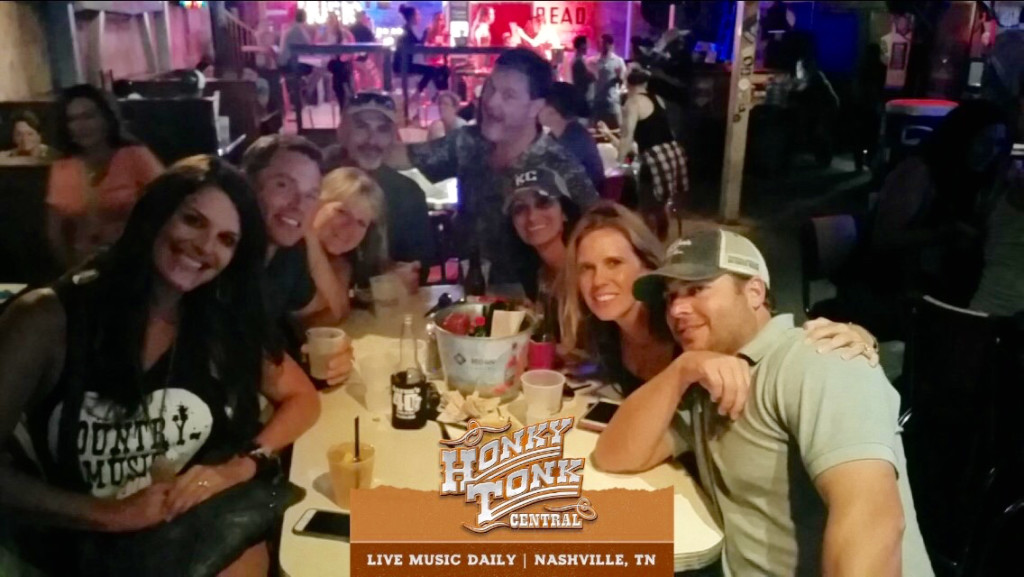 This guy had a really good time this weekend, and that makes this girl really happy.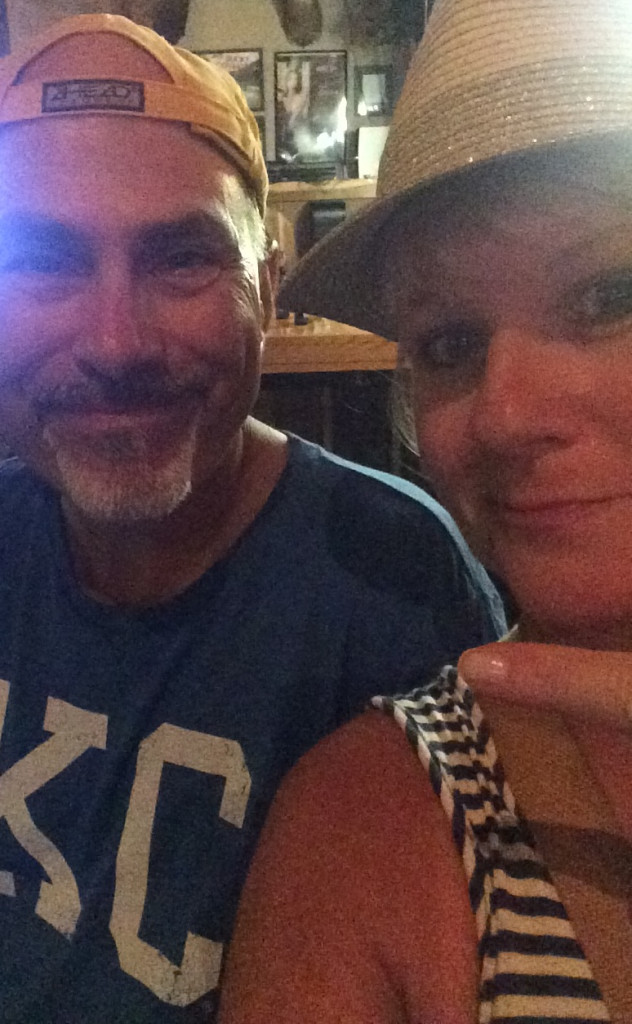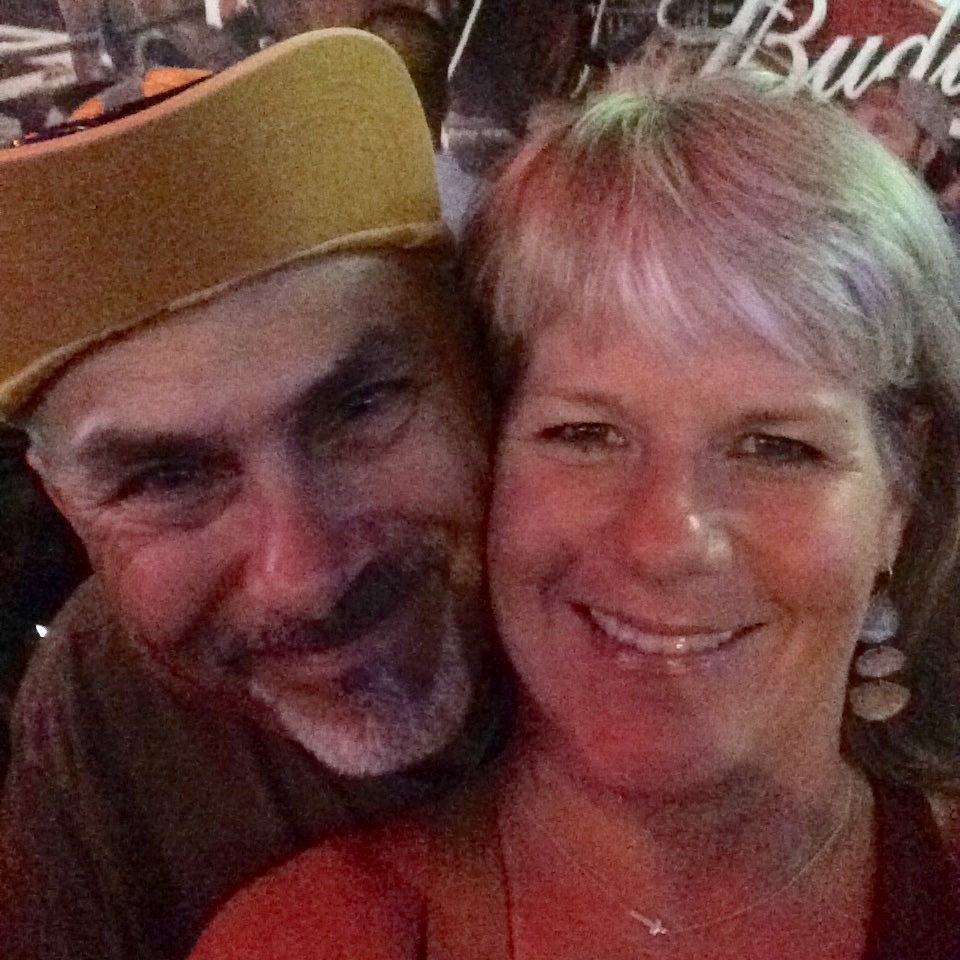 Guess where we went at the end of the night? Yep. Got there at 1:00 a.m. to beat the 2:00 a.m. crowd!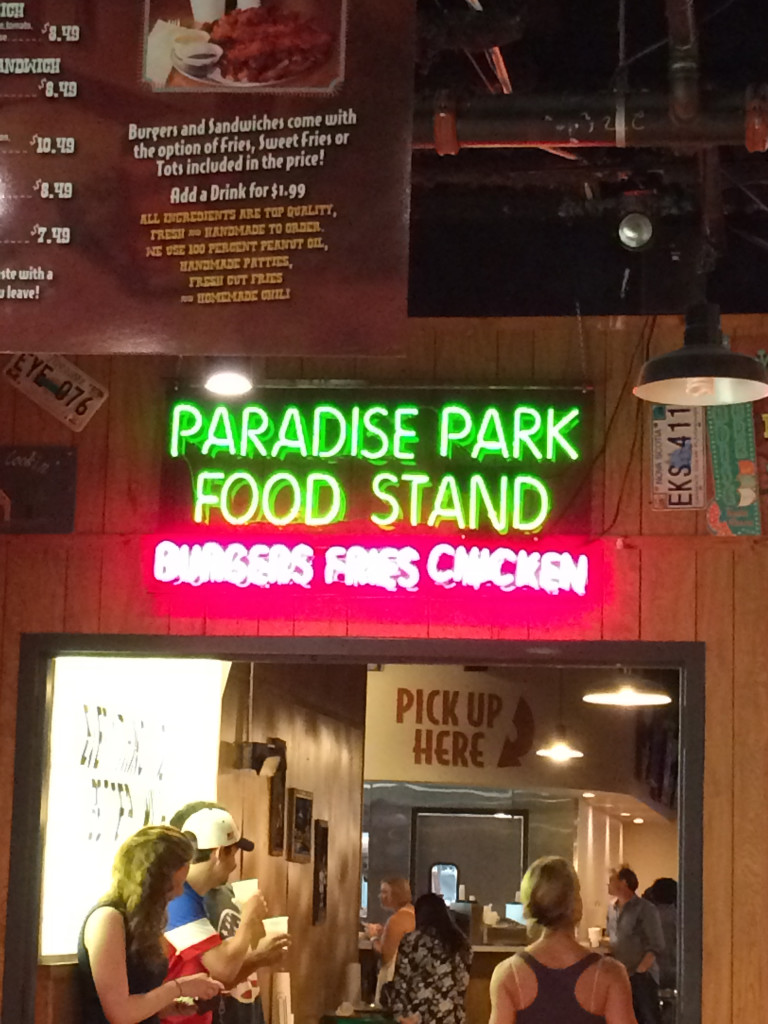 Sliders this time.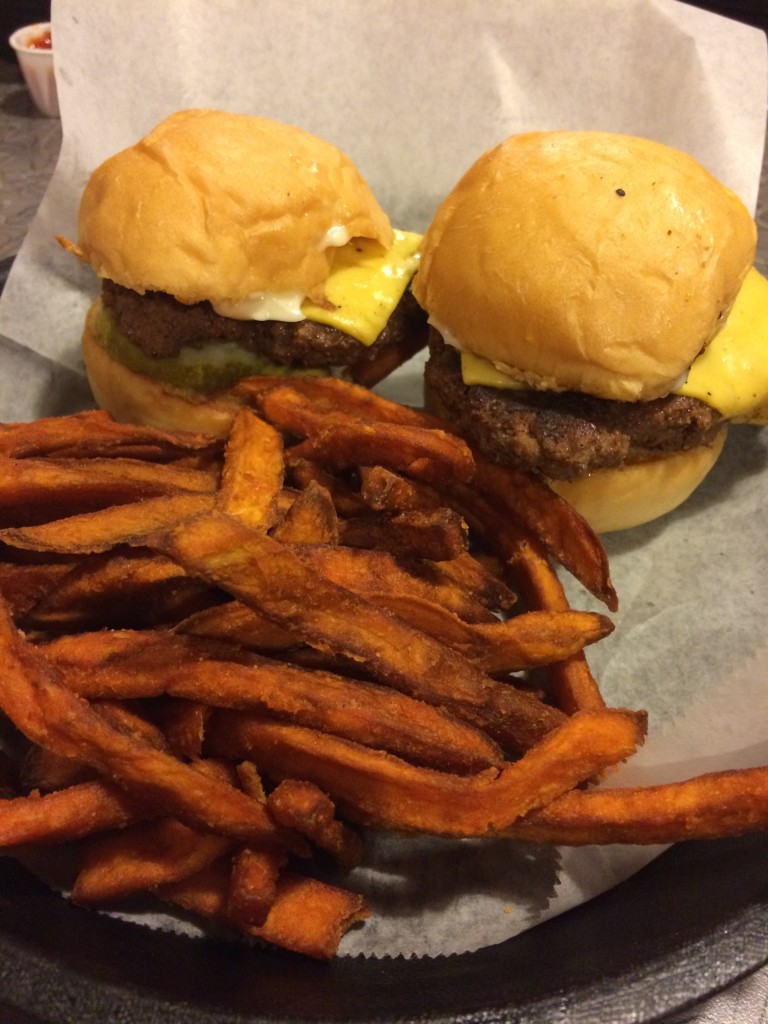 After three days on my feet, salty foods and adult beverages, these are my toes and kankles before getting in bed on Saturday night. This is actually normal for me on vacation. Hot, huh?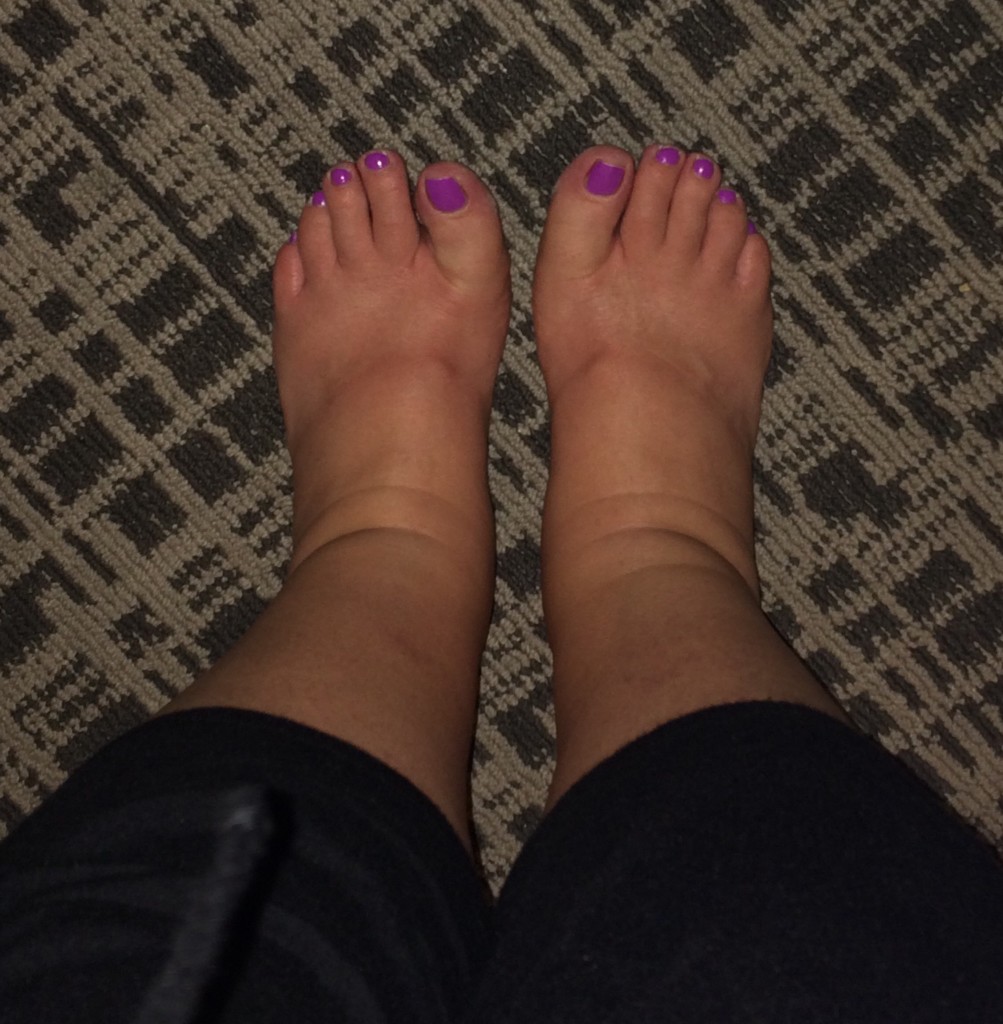 You are welcome.
This is my face Saturday morning. Again. You are welcome.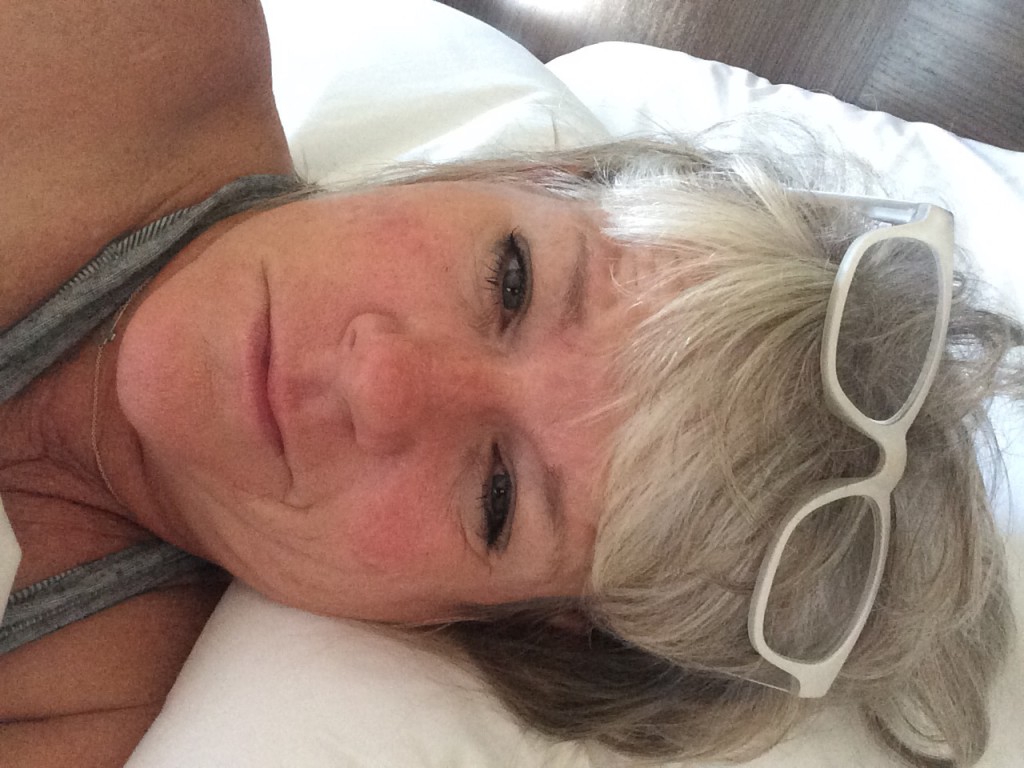 I'm just playing. I rolled out of bed, and we were out the door to meet our friends for coffee and breakfast. More food!
I just wanted bread, so I ordered pancakes and fruit. I shared my pancakes with Mike. He was eyeballing them before I had my first bite.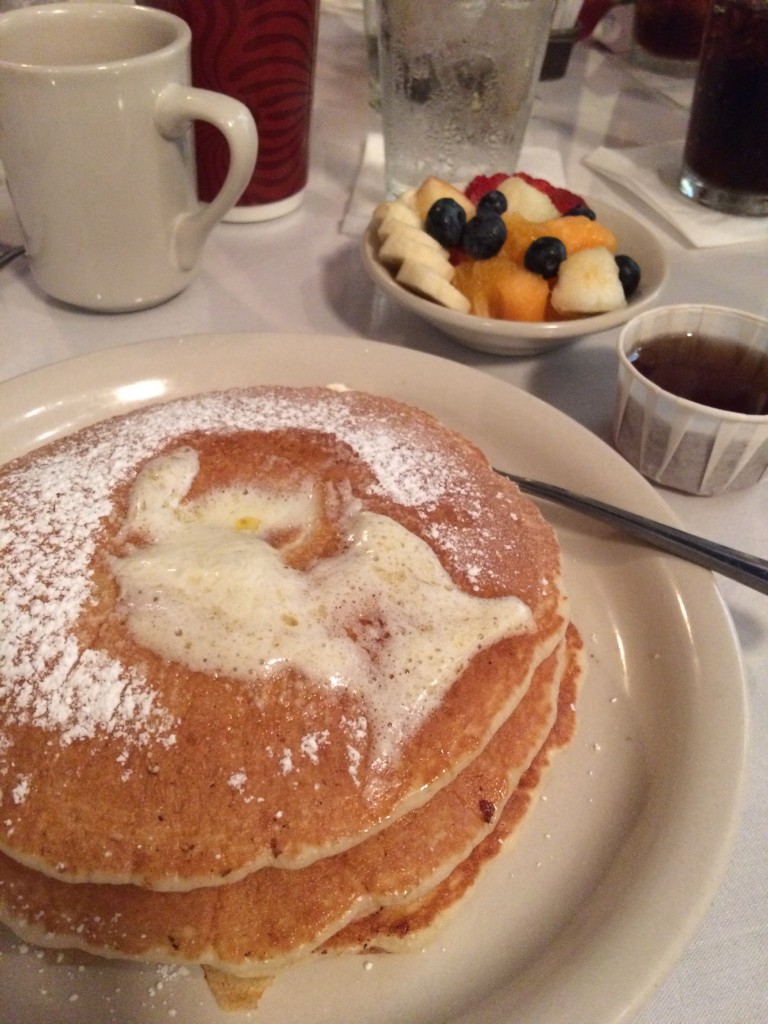 We headed back to the room to pack up. We were able to get on the flight with our friends, and they even saved us seats in the exit row! Extra leg space for my kankles!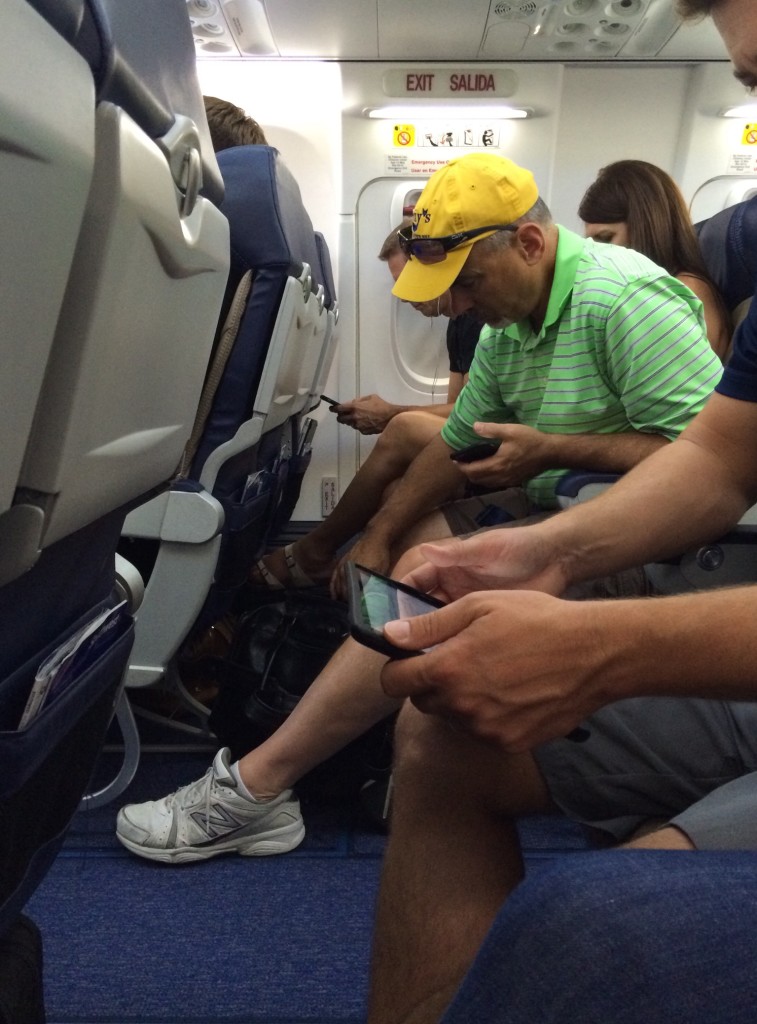 Back home in plenty of time to prepare for the week!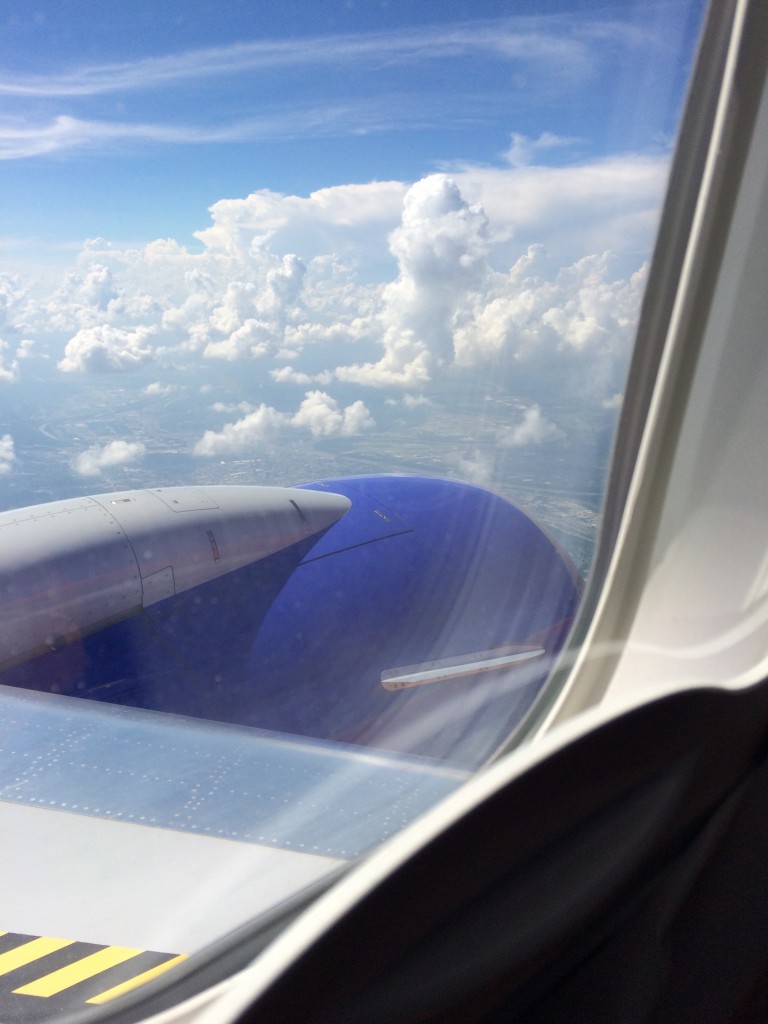 We had a great time with friends. It's been a full and fun month, and now it's time to do some serious Weight Watchering!
I did step on the scale this morning, and it was what I expected it to be. A few days of counting points, making healthy choices, drinking water and exercising, and I'll be right back where I was before we left. Do what works for you.
I hope you all had a great weekend and a Happy Monday!
"love the life you live, live the life you love"