You guys…..I'm just being silly, however….I did enjoy a full day yesterday that involved blogging in the morning, working at the Food Truck yesterday afternoon, then working at a Weight Watcher meeting last night. I have loved being able to blog and work at the food truck over these last few years, but being able to add Weight Watcher Leader to my week, somehow makes me feel complete. I feel very fortunate to have the jobs that I have. Each one brings a different happiness and excitement to my week.
I love my blog because it has become such a part of my routine and it helps to keep me accountable.
I LOVE working at the Food Truck. Being at that order window chatting away with the customers and handing out tasty food, makes me happy. I have a great time with my co-workers, and I never thought that a job would be so darned much fun!
Finally being in training to become a Weight Watcher Leader has so much meaning behind it for me, I'm not sure I can find the words to express how I feel about it. Fulfilled is at the top of the list.
I need to change up the blog just a little bit due to schedule and time allotment. (I'm a Working Woman!) I'll explain more tomorrow the small blog changes that I am making. You probably won't even notice the difference, but I feel the need to explain myself…..on pretty much everything. lol
Here are yesterday's eats….
Breakfast – 7 SP
Oatmeal had become somewhat of a trigger food for me with all of the things that i was adding to it. I am trying to bring it back into my diet once a week or so, and only use smashed banana (or other fruit) to sweeten it with. It is my hope that staying away from sugar and artificial sweeteners on a regular basis will help me to continue to not have cravings, but still enjoy some oatmeal once in a while. I am also going to try just a half of a serving, and add in some protein instead of just having a big bowl of oatmeal.
Half serving of Oatmeal mixed with one smashed Banana, topped with warm Blueberries and Almond Butter. 5 Scrambled Egg Whites for protein with a little Avocado.
Half of a serving satisfied my tastebuds just fine!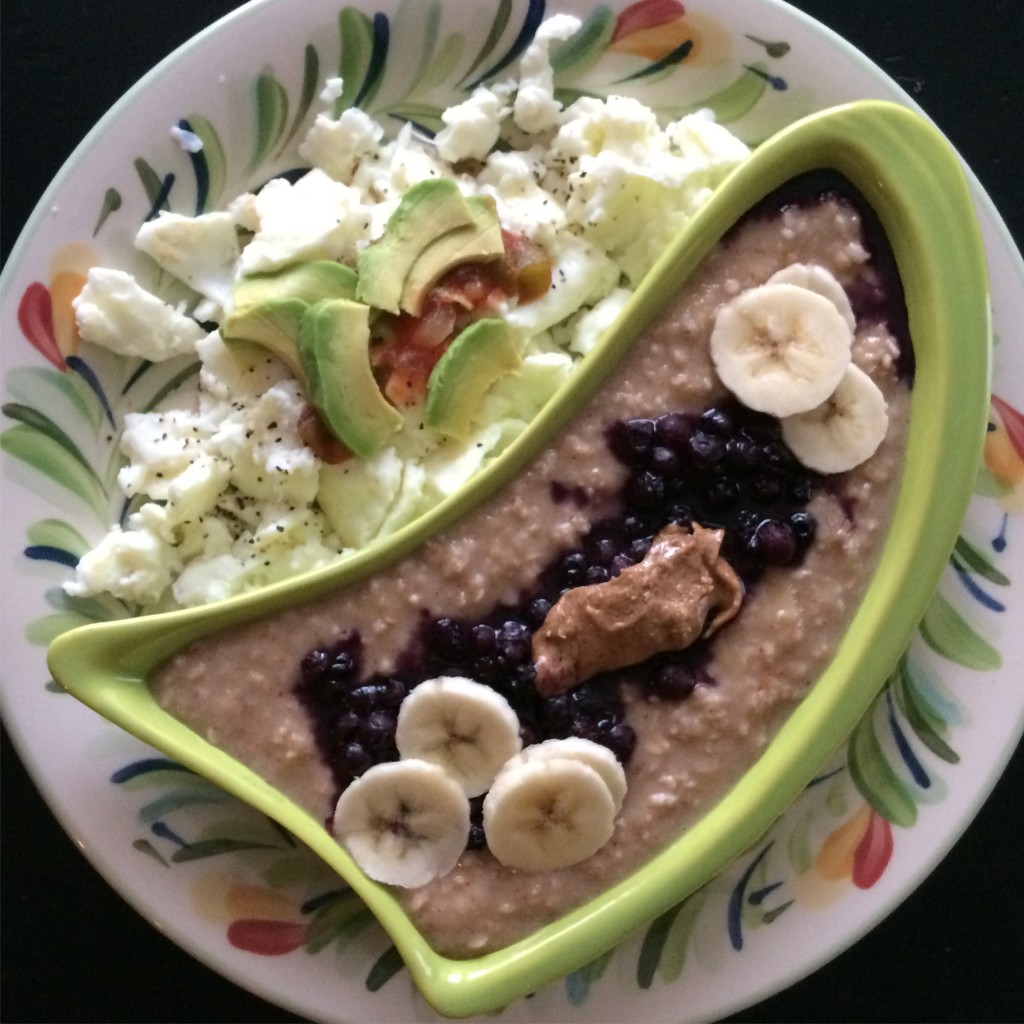 Lunch – 12 SP
Un-pictured bites at the Food Truck and this Chicken Sausage that I brought from home inside a flour tortilla with mustard, and an Apple.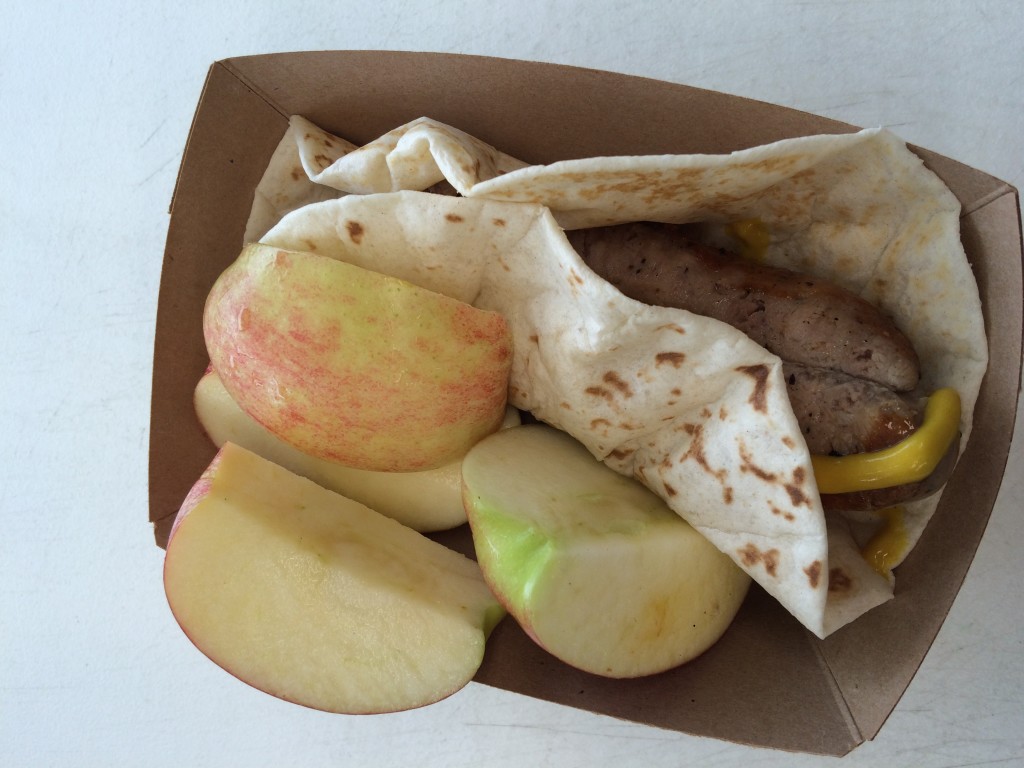 Dinner – 9 SP
More Skillet! Love this stuff! (Bonus…If you have everything prepared in advance, the only dishes to wash are the skillet and plates!!)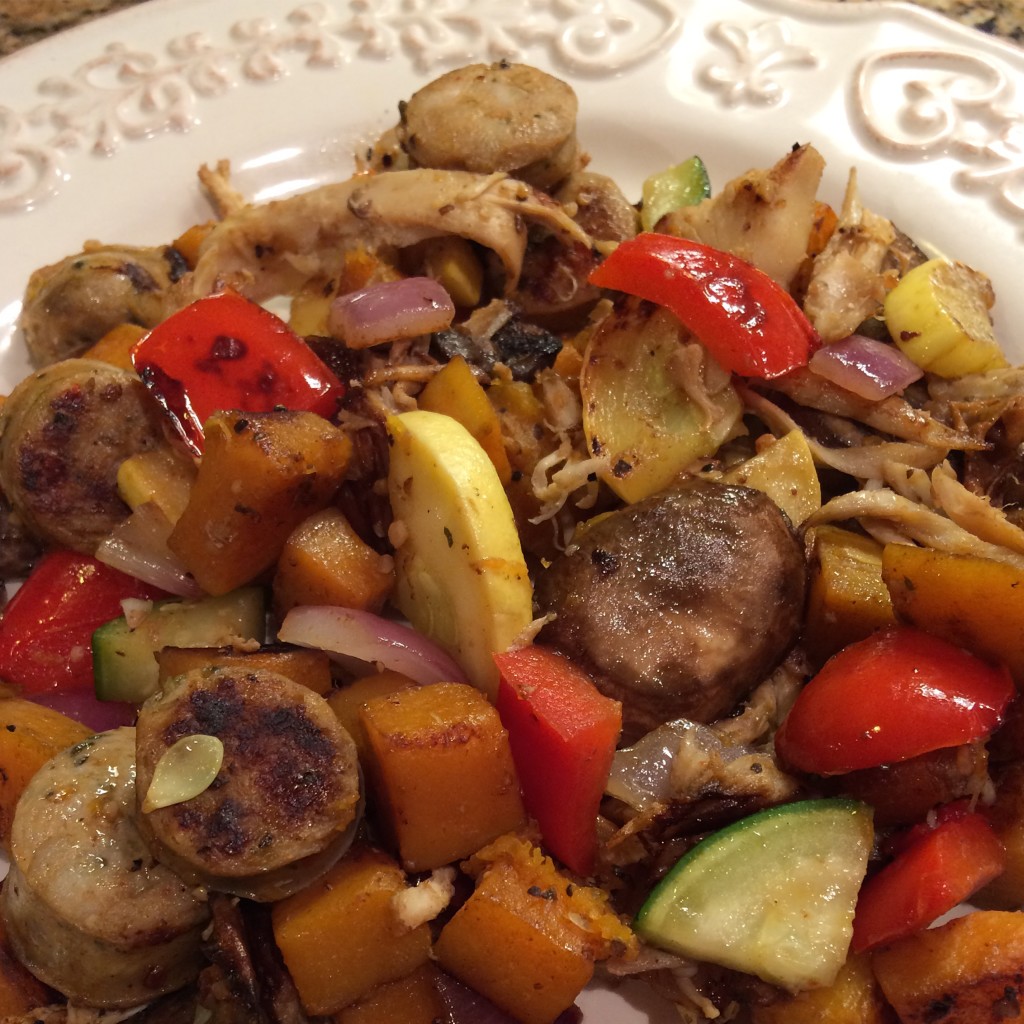 These are my 2016 Goals
Make time each week to Meal Plan
Drink 100 ounces of water each day
Exercise 5 days a week
Three Meals and One Snack, Daily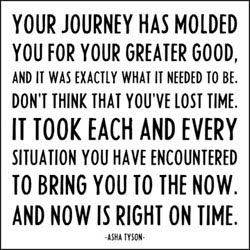 "love the life you live, live the life you love"