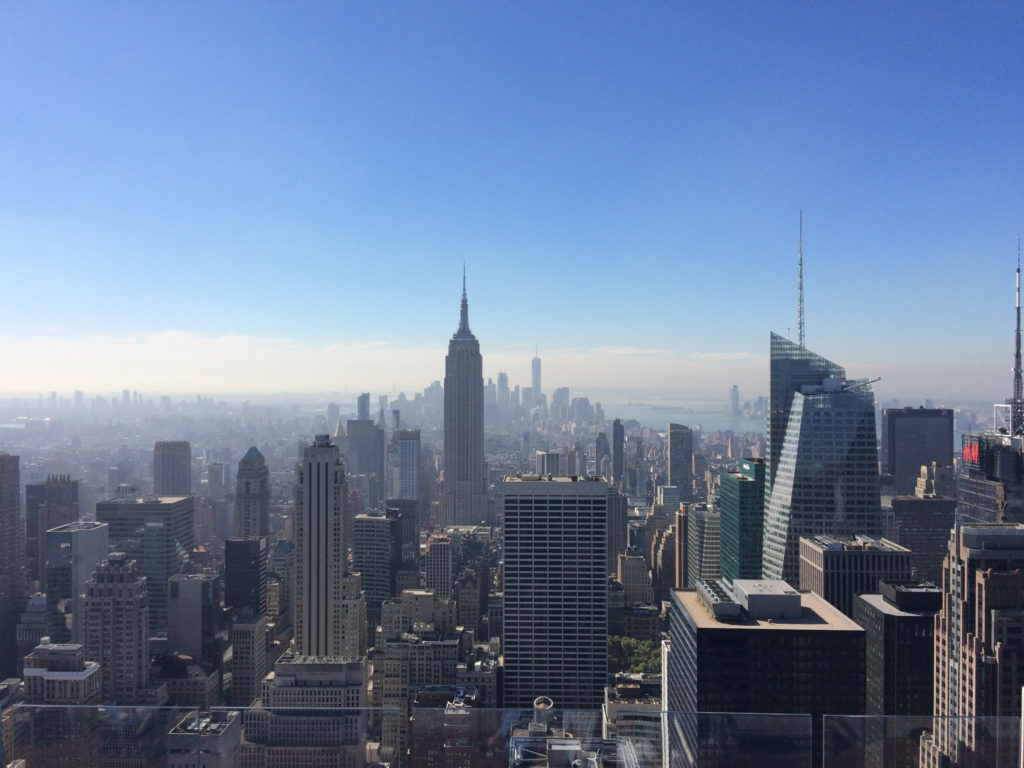 This trip truly could not have gone any better. We met so many incredibly nice and interesting people. We kept our trip relaxed and let each day simply happen. We saw a lot more than we expected to see, and we can't wait to go back and do some more exploring of New York City. This was the first trip that we had taken with just the two of us since we have been married. We decided that we should try to do that more often!
I mentioned in my last post that a friend of mine has a son that lives in New York. He sent me a lot of information that included restaurants, places to people watch and the best mode of transportation based on the area that we were staying in. We took him up on a lot of his suggestions and we were so happy that we did. Thank you Hersh!
We checked into our hotel just a little early on Tuesday, and our room wasn't ready yet. We checked our bags with the hotel and went out on a walk to find a cold beer. We had hoped to meet a lot of locals on our trip and learn about the city and the people that live there. We did just that.
Our first stop, Dave's Tavern on 9th street.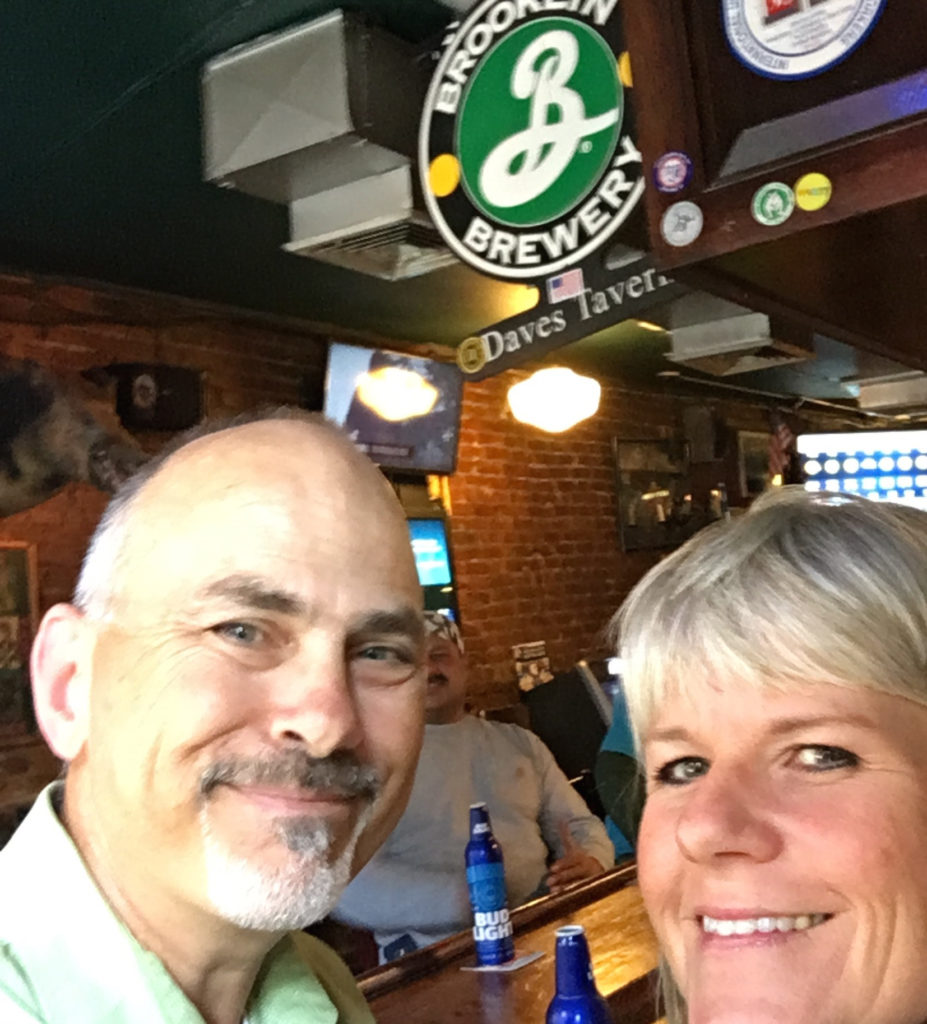 This bar was a common place for the iron workers to stop at and have a beer before getting on the bus to head home for the night. There were only about 8 guys in the place, and Mike and I. The bartender filled us in on where to go and what to see and welcomed us to New York. She recommended a Thai restaurant down the street for dinner.
We headed back to the hotel to finally check in, only to find out that our room was still not ready. They gave us a complimentary bottle of wine, apologized and sent us to the Lobby for their complimentary Happy Hour. After an hour, we were Happy, but wanting to check in, and the room was still not ready. When the room was finally ready, we were happier, and to make up for our wait and late check in, they gave us one night for FREE!! Hello vacation!! (Our hotel wasn't exactly cheap!) We decided that we were now VERY happy, and that we were going to have a great time in New York.
The view from our room.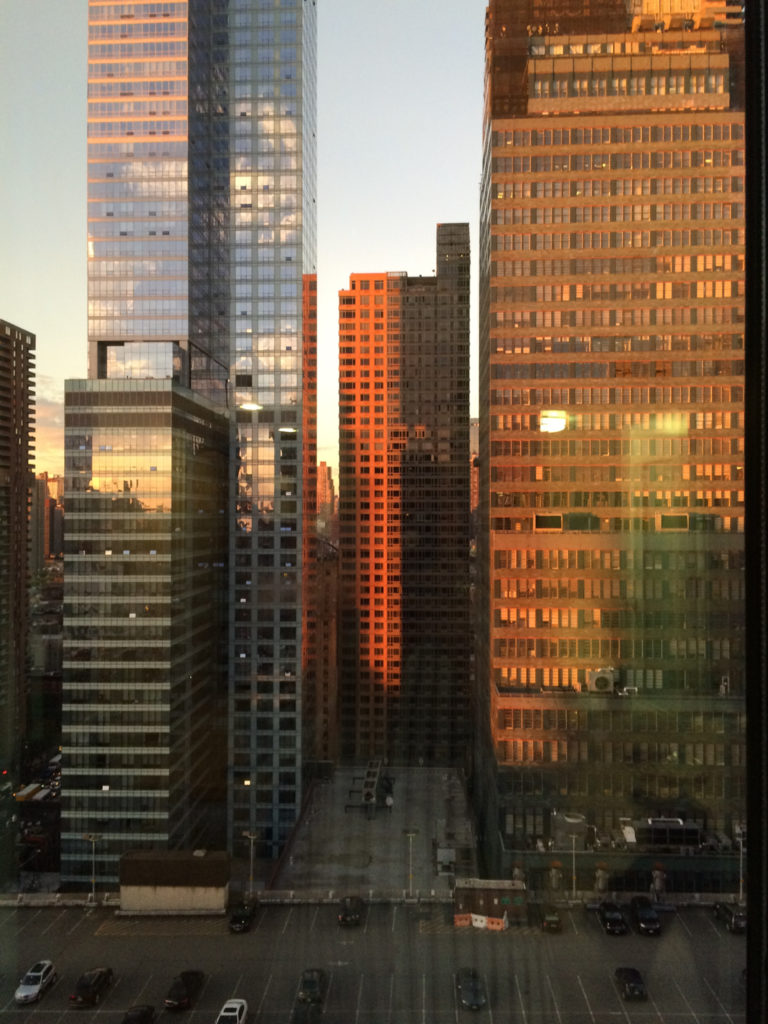 Dinner at Room Service, the Thai place, was awesome and so was the couple that was seated beside us! Great food, great conversation.
Hello Pad Thai. I ate my entire meal with my chopsticks!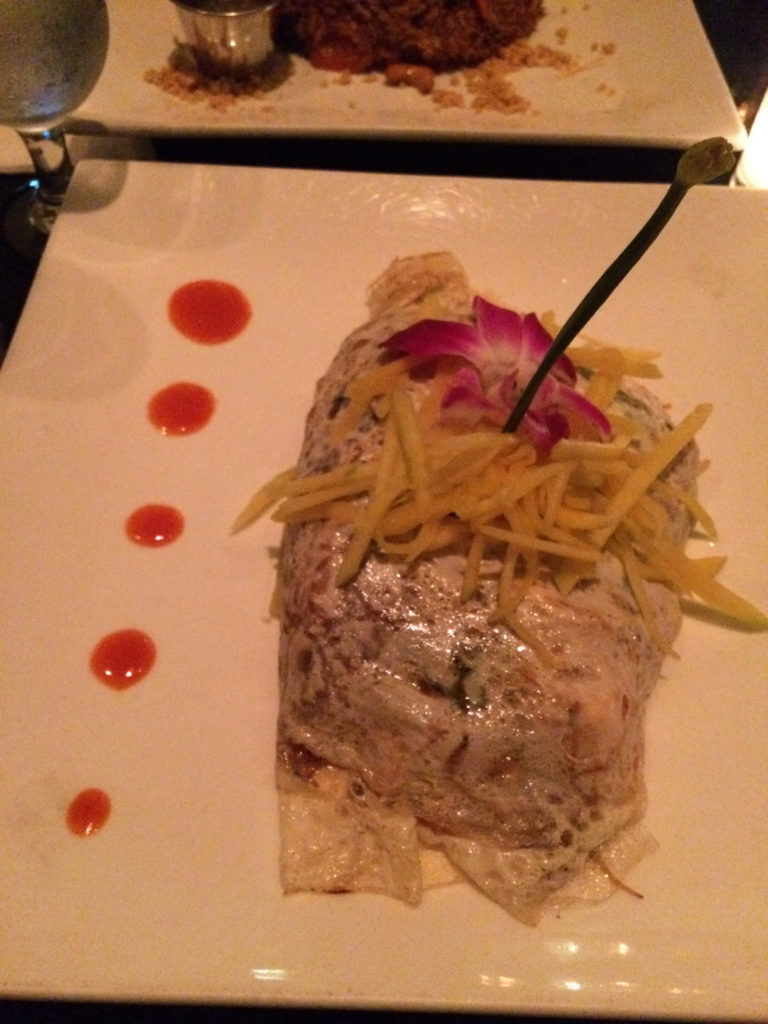 We chose a hotel in Times Square, and for us, that ended up being a great location.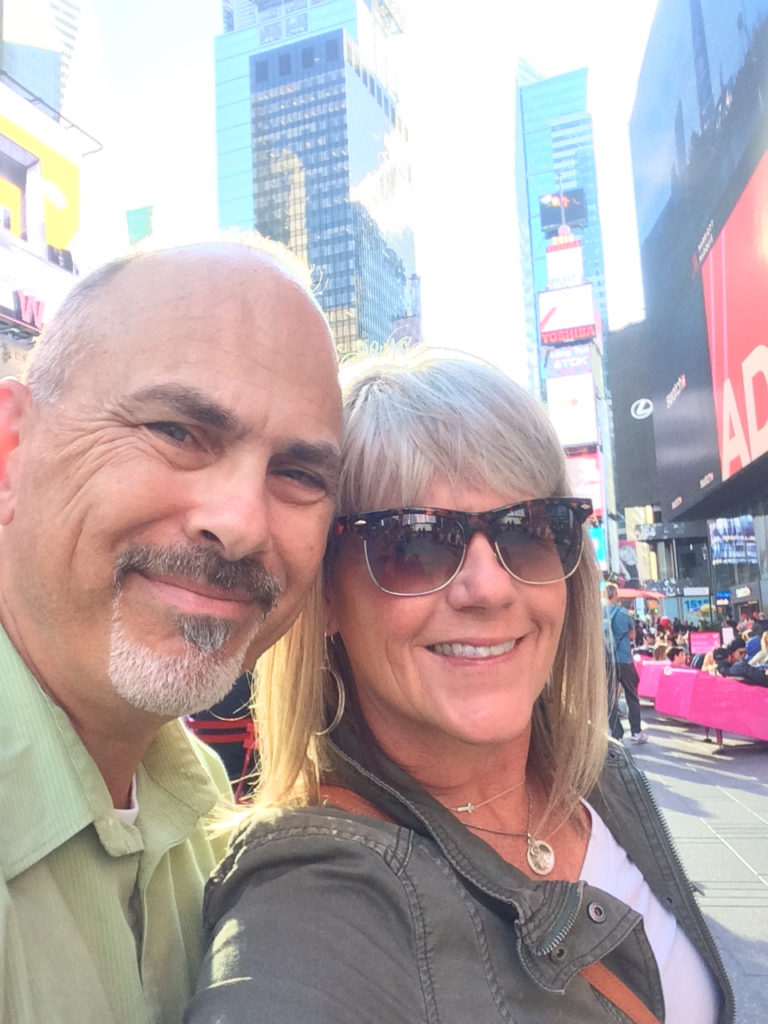 Wednesday was our first full day, and as much as we ended up doing, the day never felt rushed. We enjoyed breakfast at the hotel, then put on our comfy shoes and headed out for the day. Comfy shoes are very important!!
We knew that we wanted to see the 911 Memorial and Museum, so we headed that way. It was an emotional morning to say the least.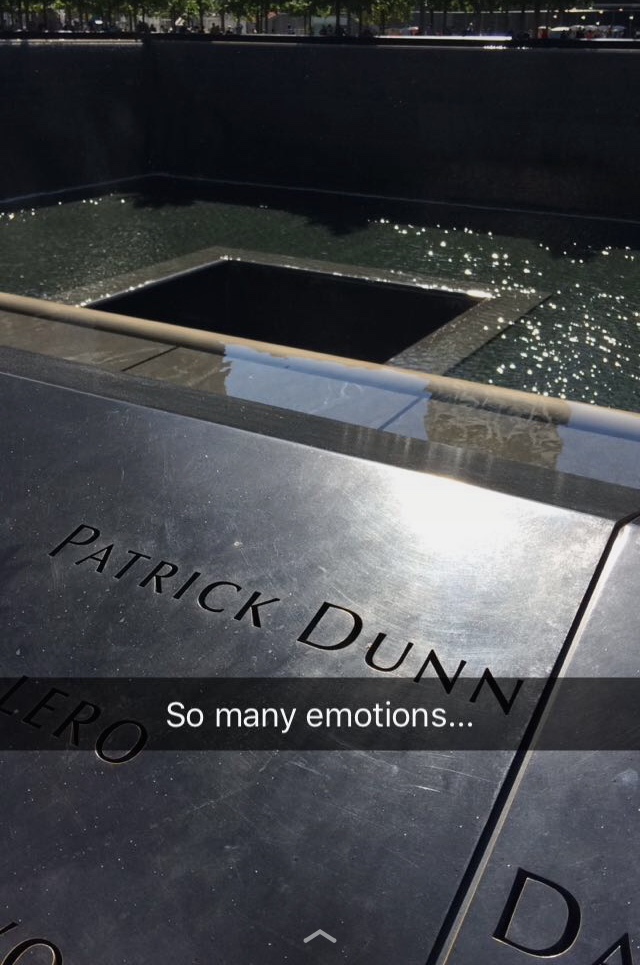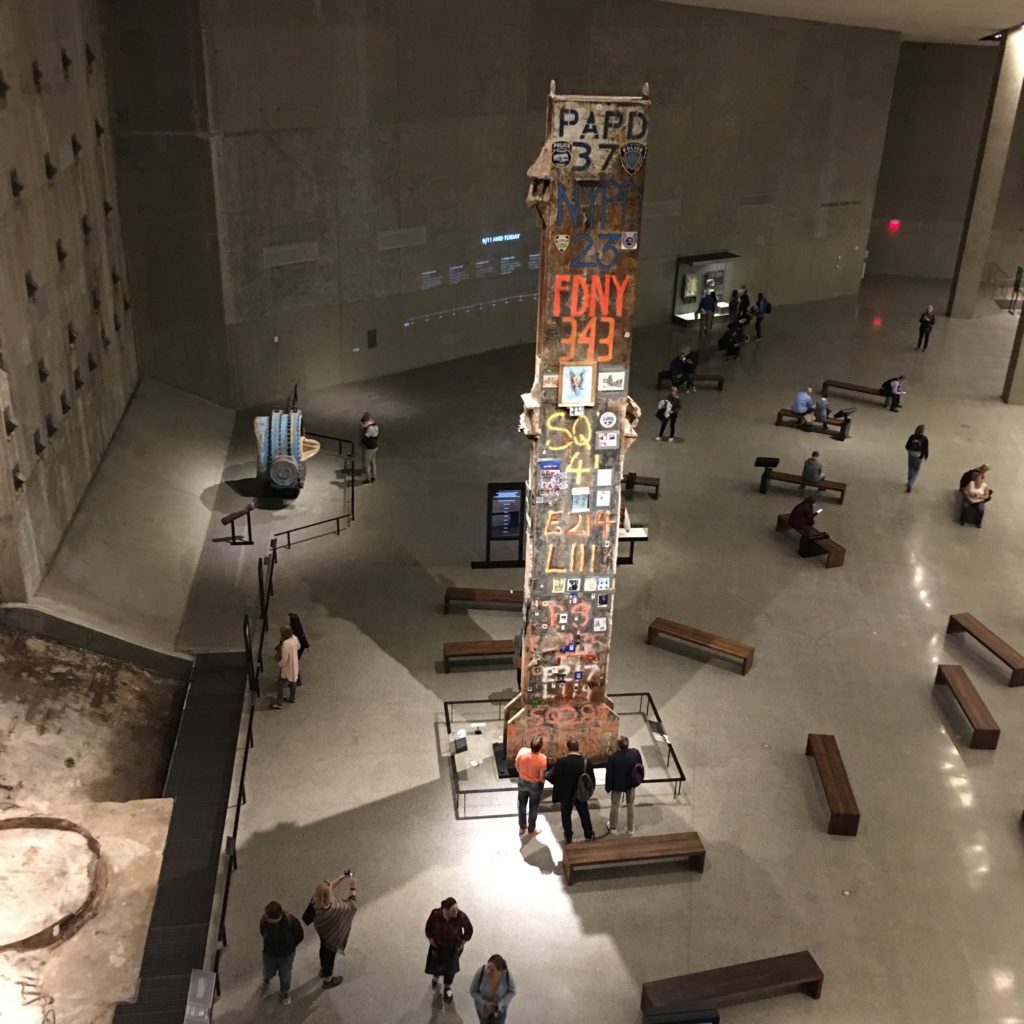 One World Trade Center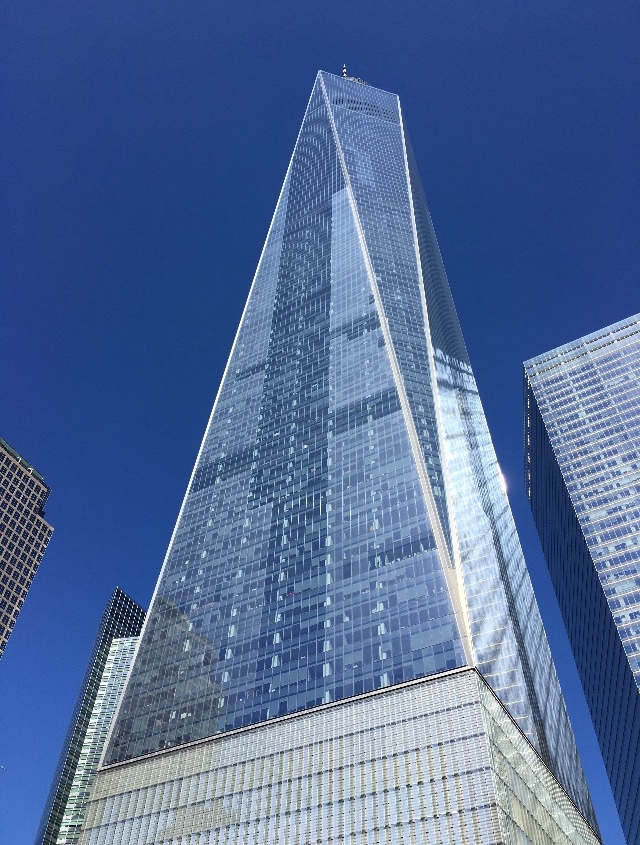 Then we walked towards the Statue of Liberty in search of a ferry.
It was a perfect day to be on the water.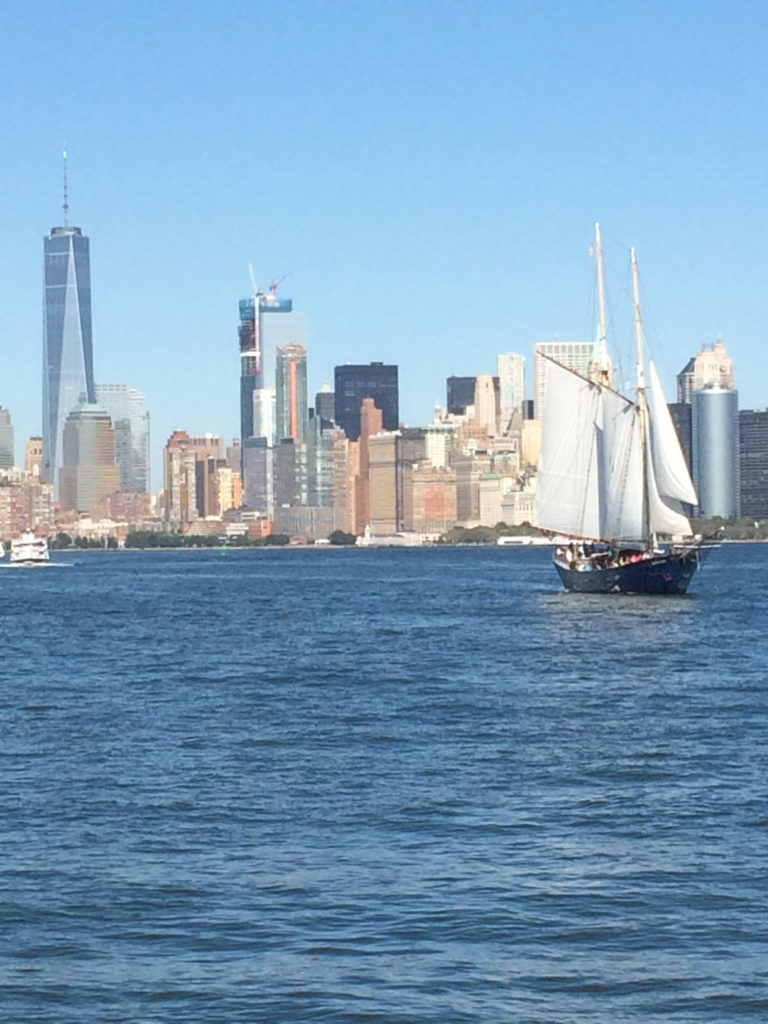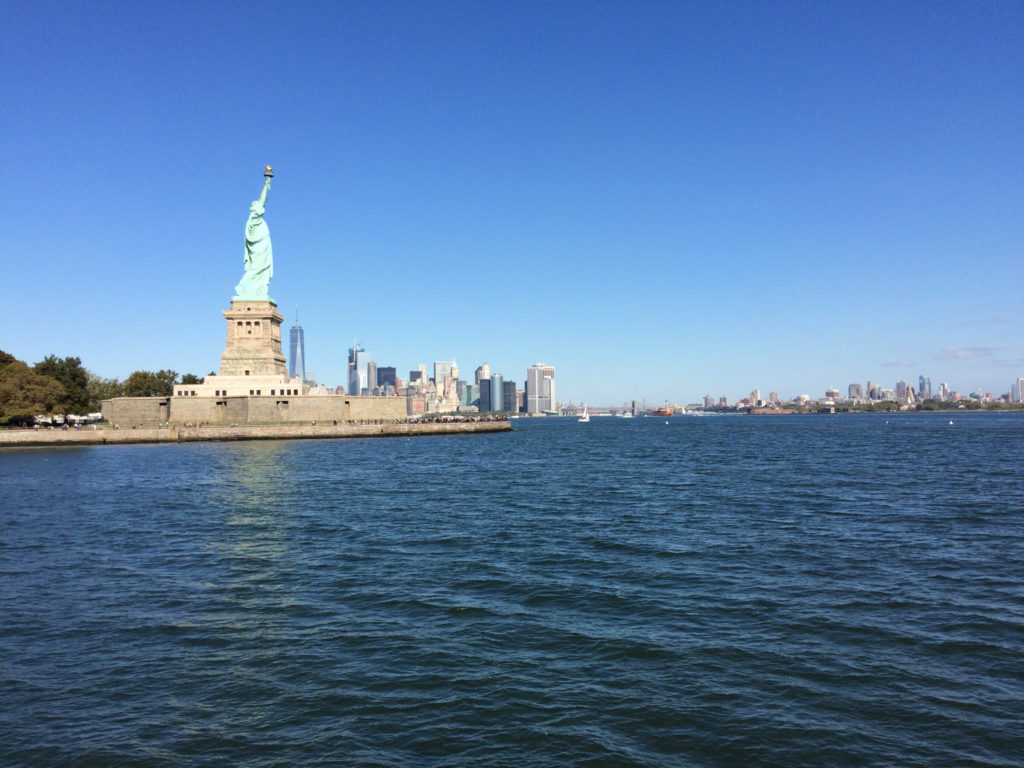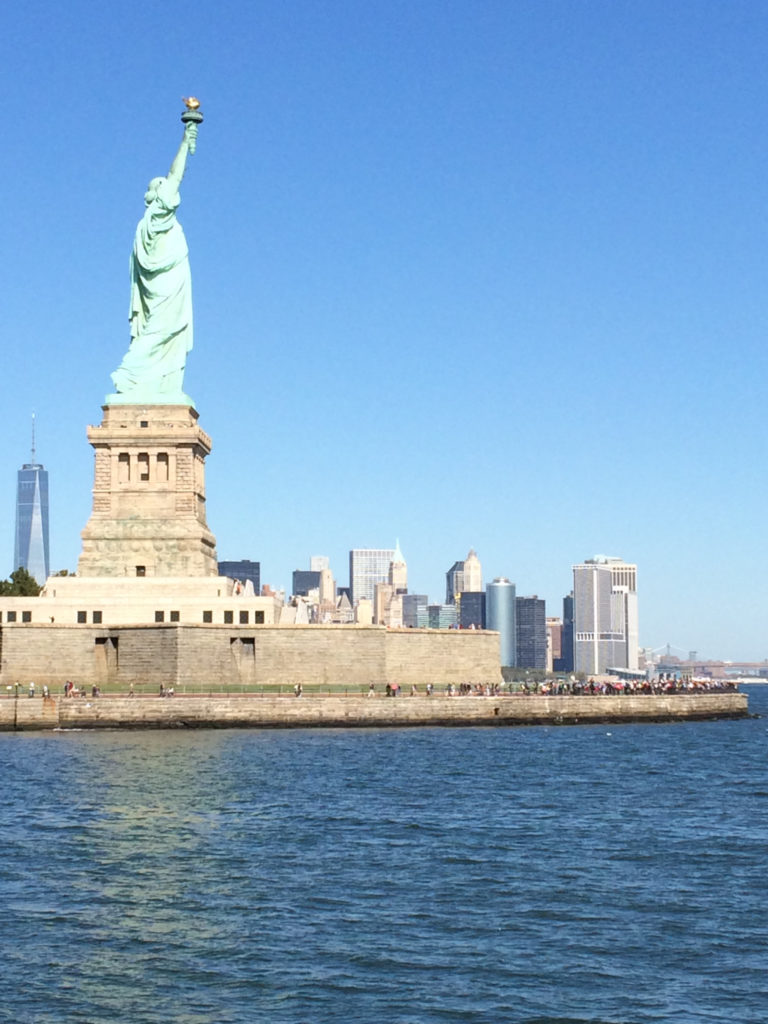 She is a beauty!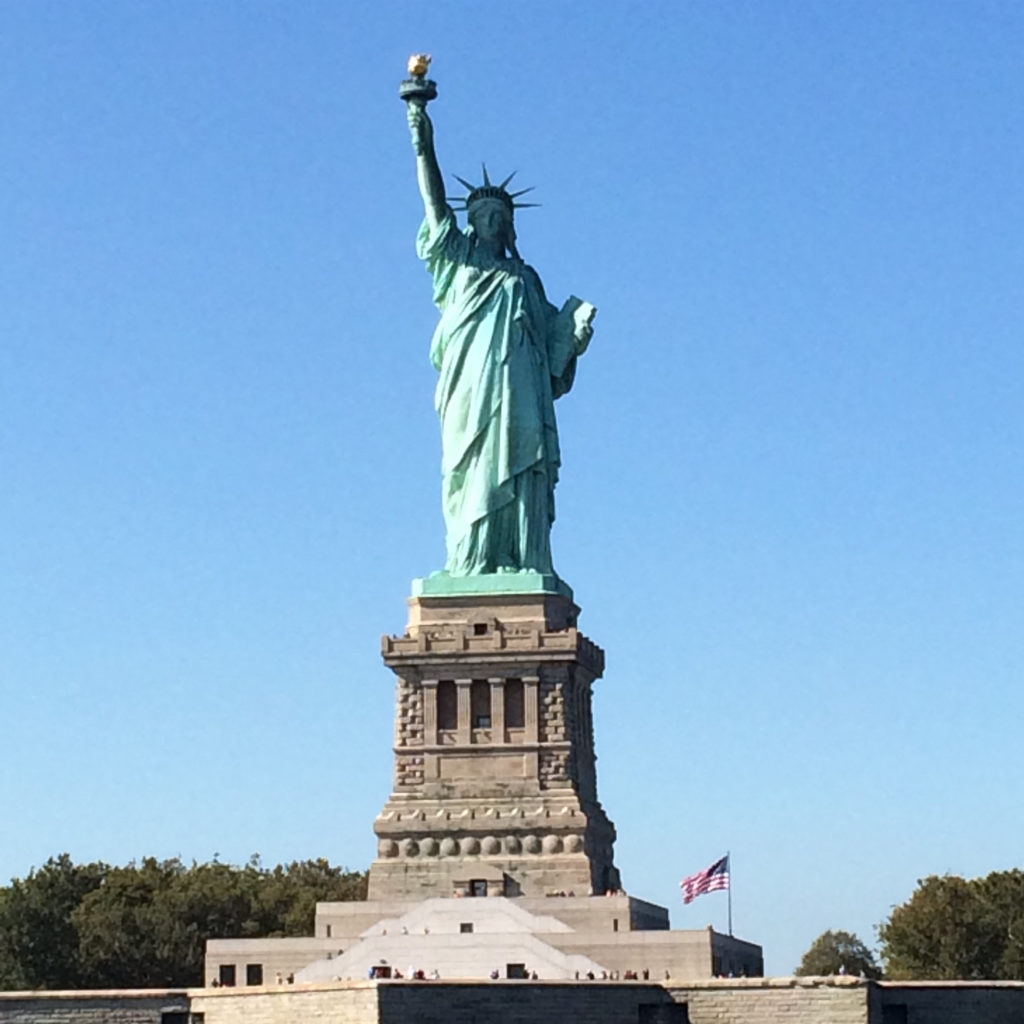 Have you heard of Stone Street? We were thirsty and hungry, so we headed to this cute little street to satisfy our needs. It is one of the oldest streets in New York City, and it is lined with restaurants. There are no cars on the street, but plenty of tables and chairs. We settled on the Stone Street Tavern where I started things off with a Pumpkin Beer.
That likely doesn't surprise any of you. Does it?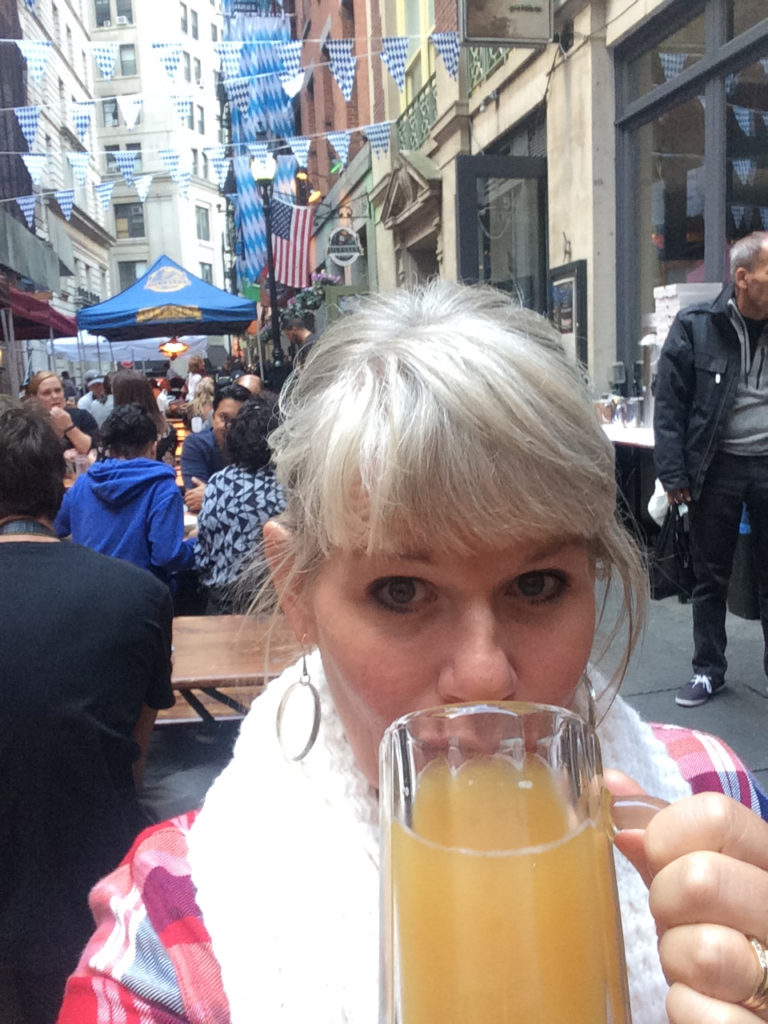 I ordered the Sliders and Mike ordered the Fish Taco's. Both were delicious. My Sweet Potato Fries had a balsamic glaze…..Uh, YUM!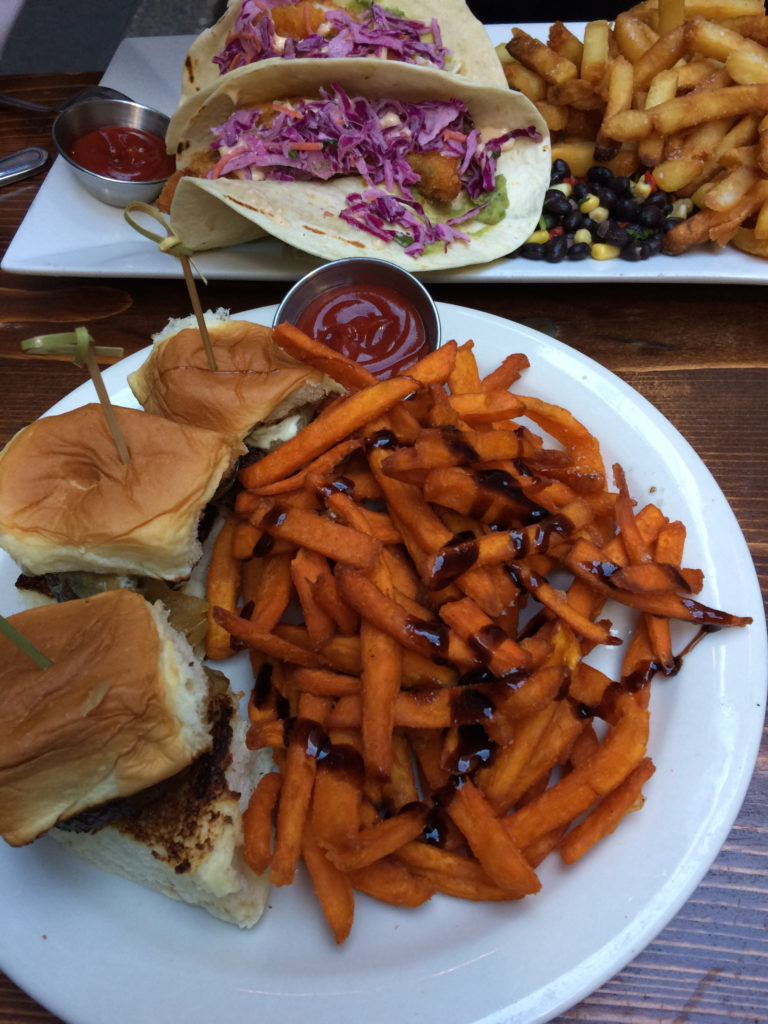 Our waiter was Mikey, and I loved his story of how he came to America, and I wanted to take him home with us, but my Mike said no.
Then, off to a pub by our hotel to watch the Wild Card game and chat with more locals.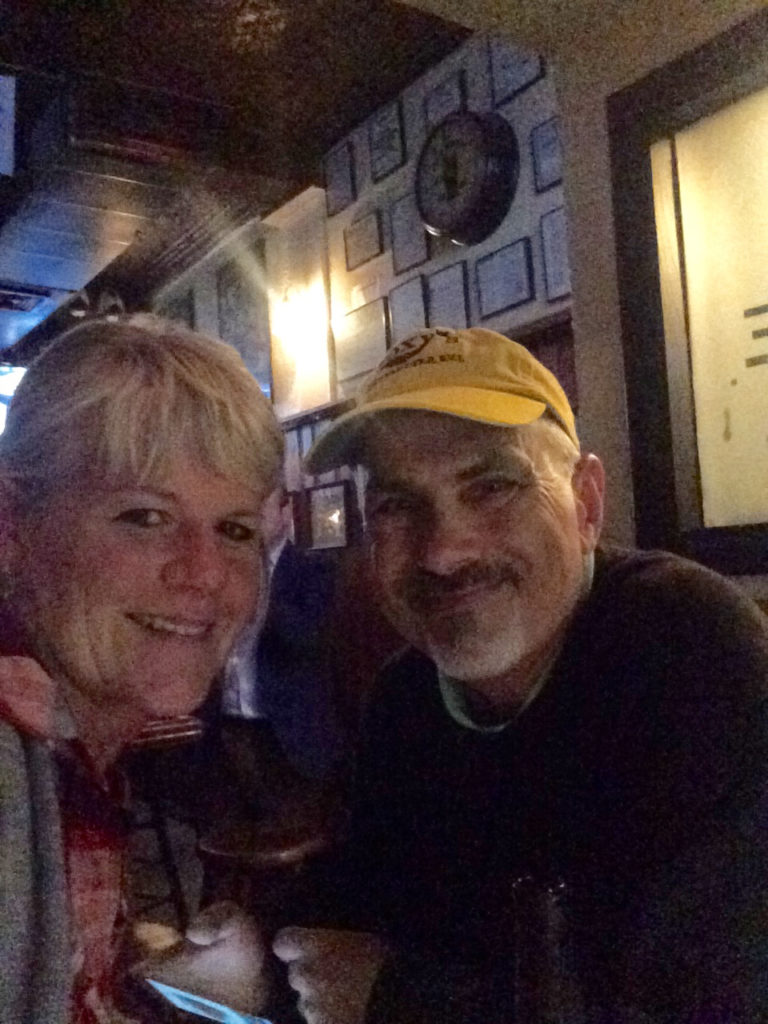 On the way back to the hotel, we discovered this pizza place on the corner. $1 a slice.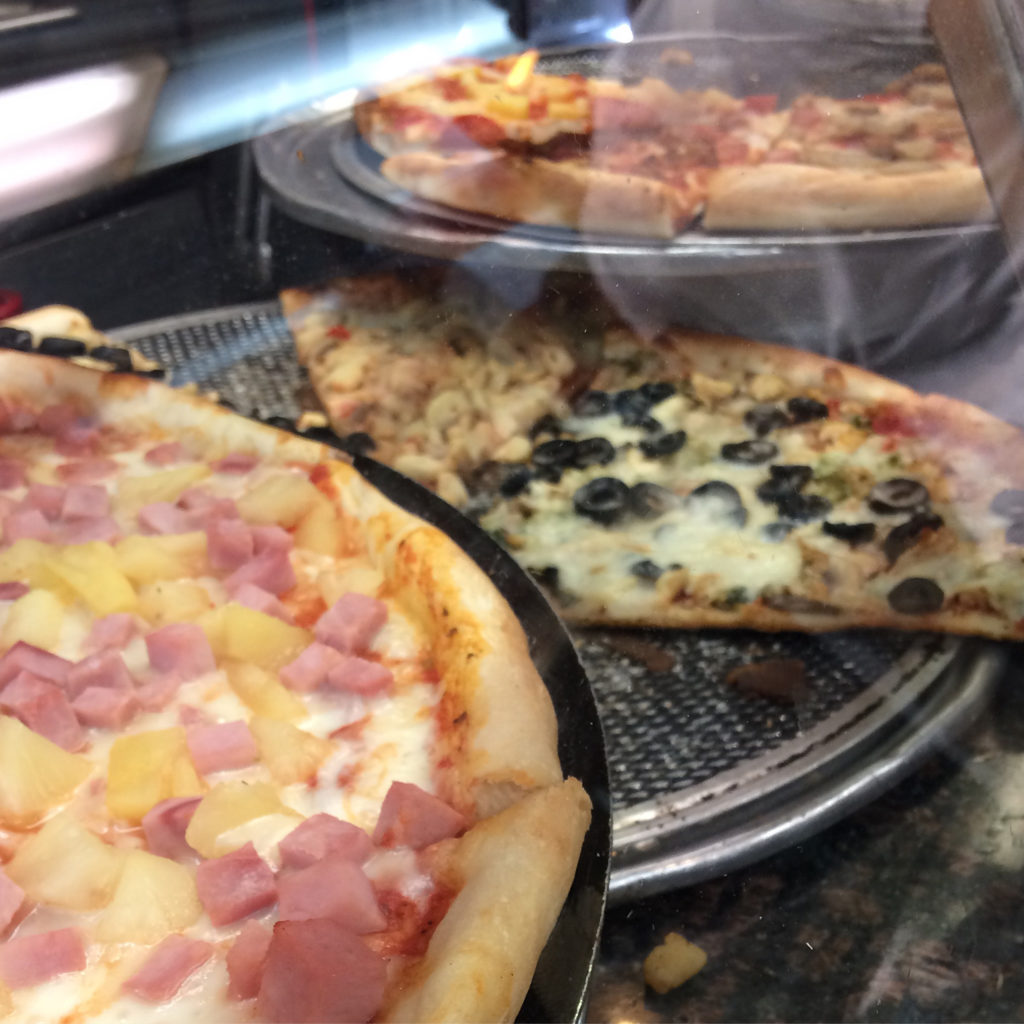 We each got a slice and stood at the street corner at a tiny table and drooled all over ourselves while several others did the same. We were very happy.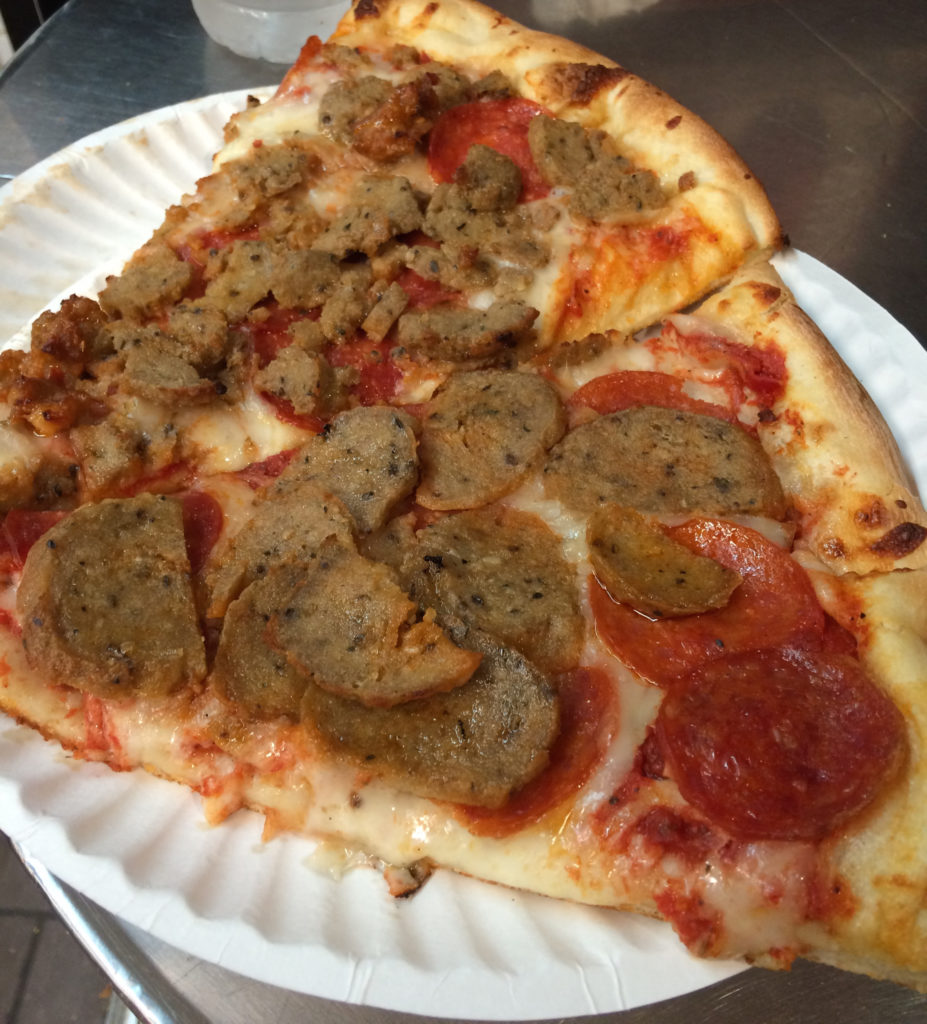 We knew that we'd be back.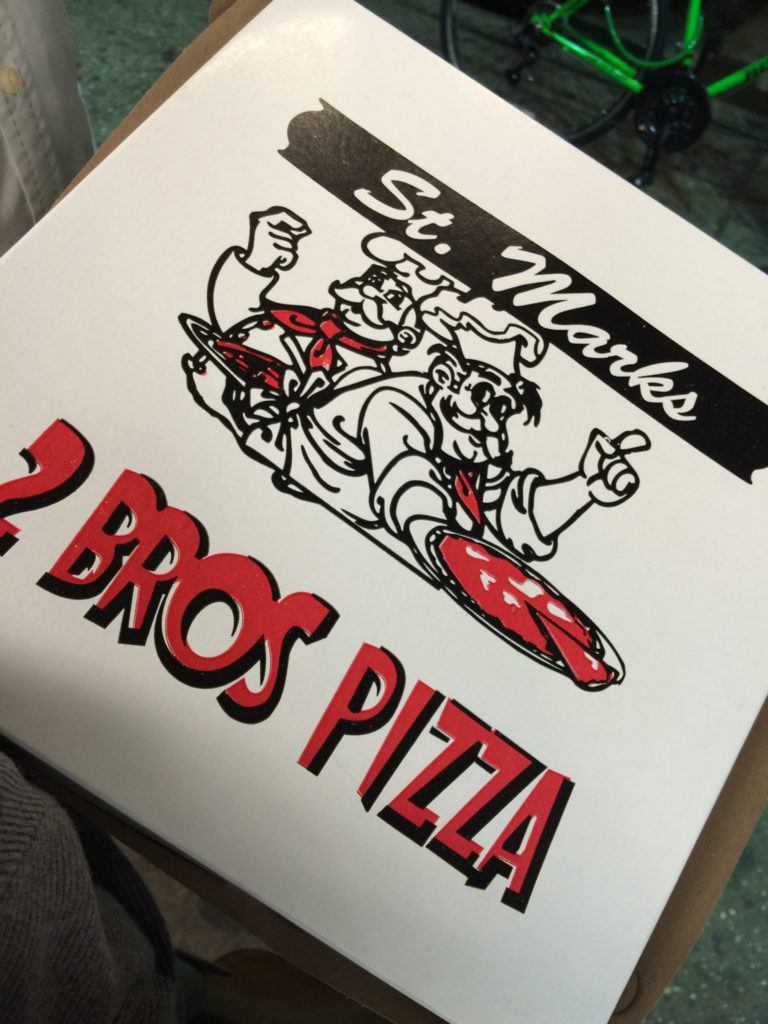 Thursday, we were up and out of the hotel by 6:00 am. I was on a Good Morning America mission!
I am so glad we did this. It was such a silly thing that I wanted to do, but I've watched that show for years, and I just wanted to stand outside of the studio and see what it was like.
Michael Strahan waved at a group of us waving at him outside the window, and it made my day!
After my GMA excitement, we found a little diner on 9th street and had breakfast.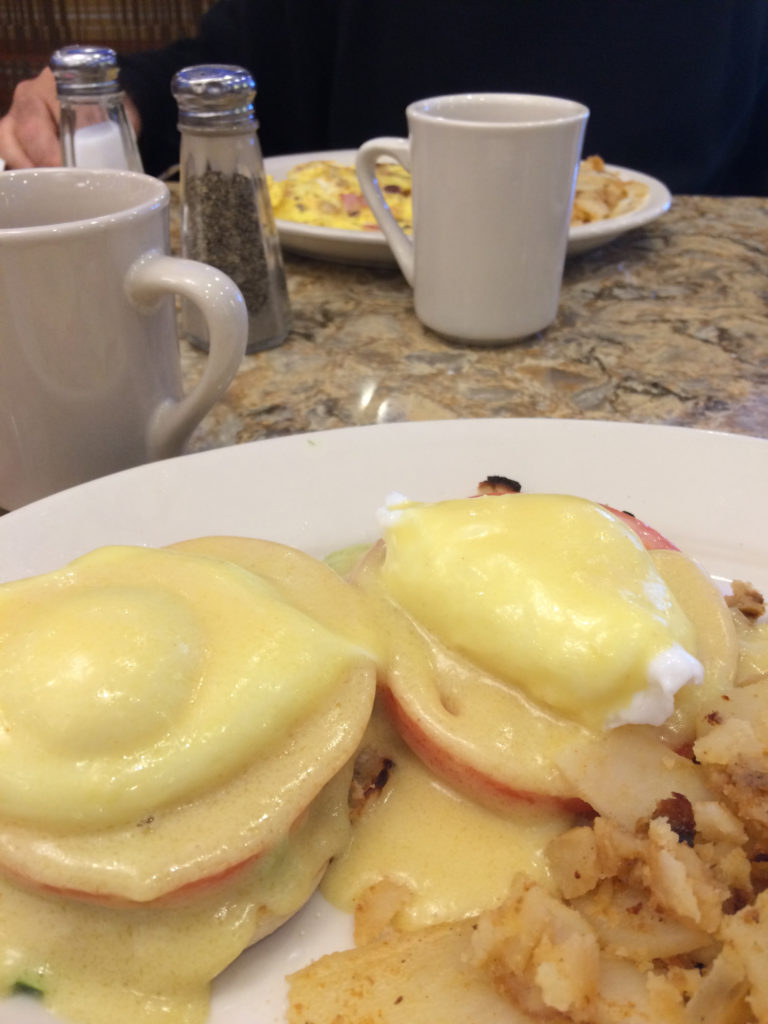 After breakfast, we walked from Times Square to the Metropolitan Museum of Art in Central Park. The weather was beautiful, so the walk was great and we knew that we were getting to see so much more of the city by walking.
I loved Central Park.
The Carousel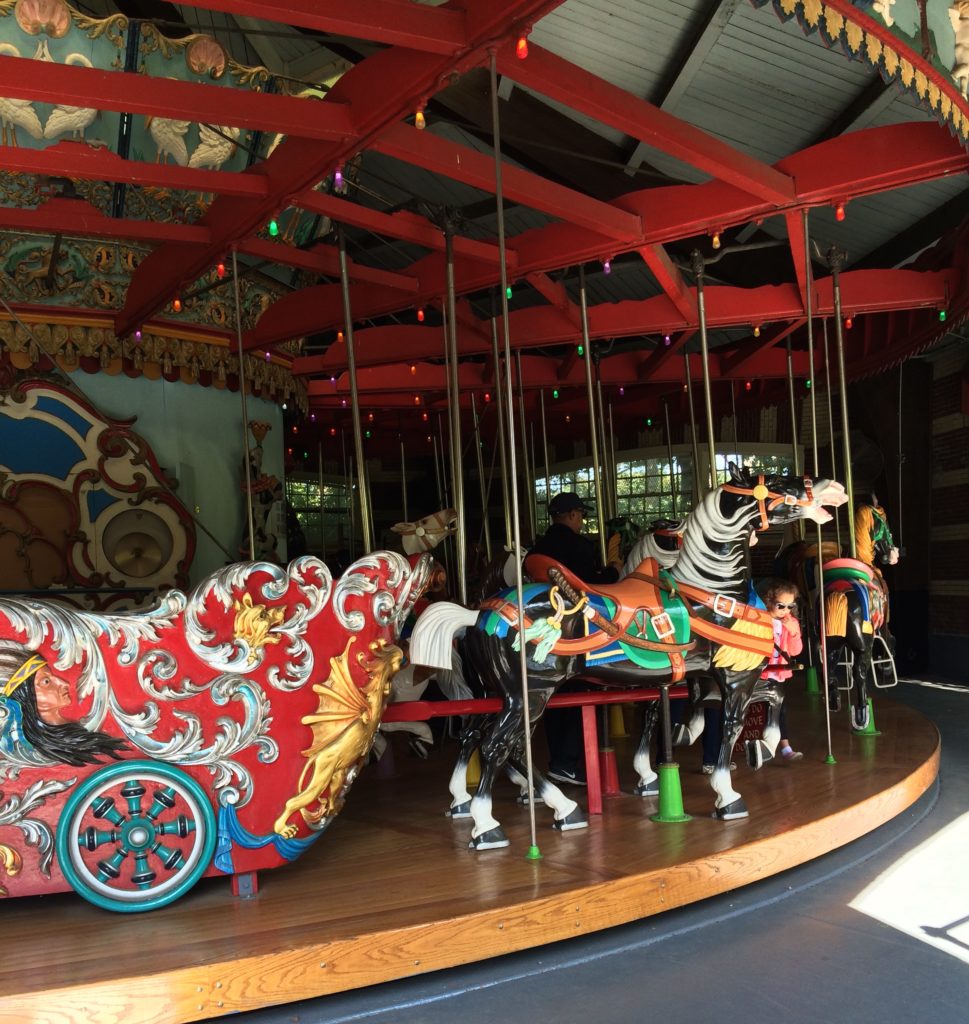 The John Lennon Memorial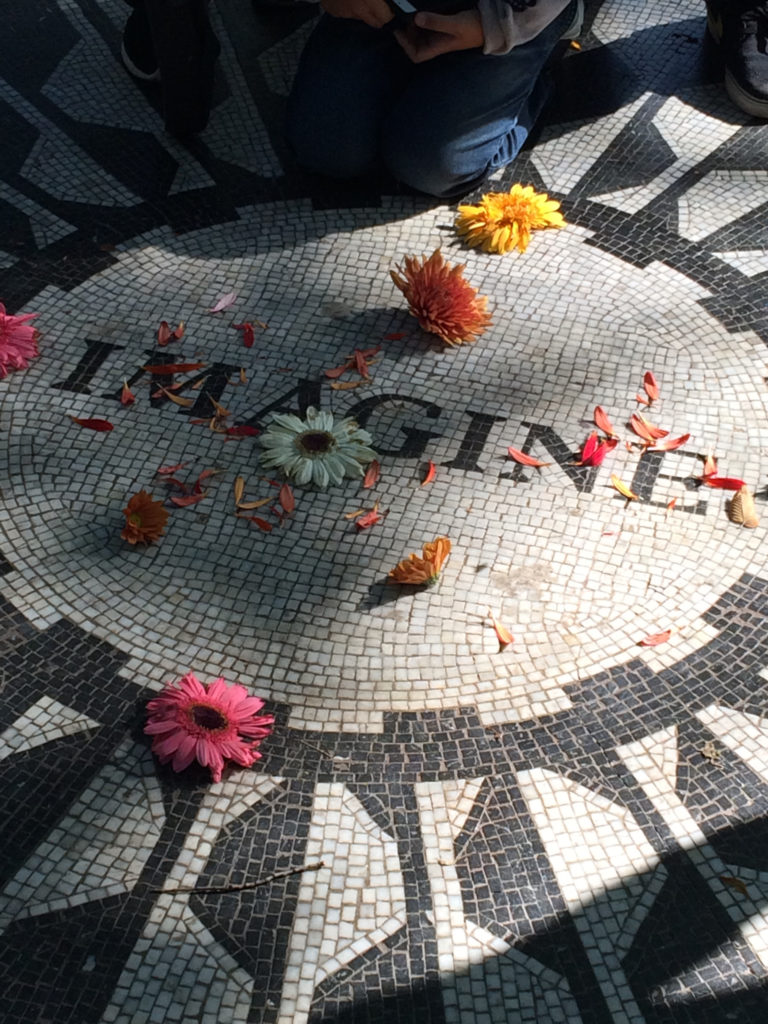 Did you watch the show Friends? Remember the fountain in the begining of the show?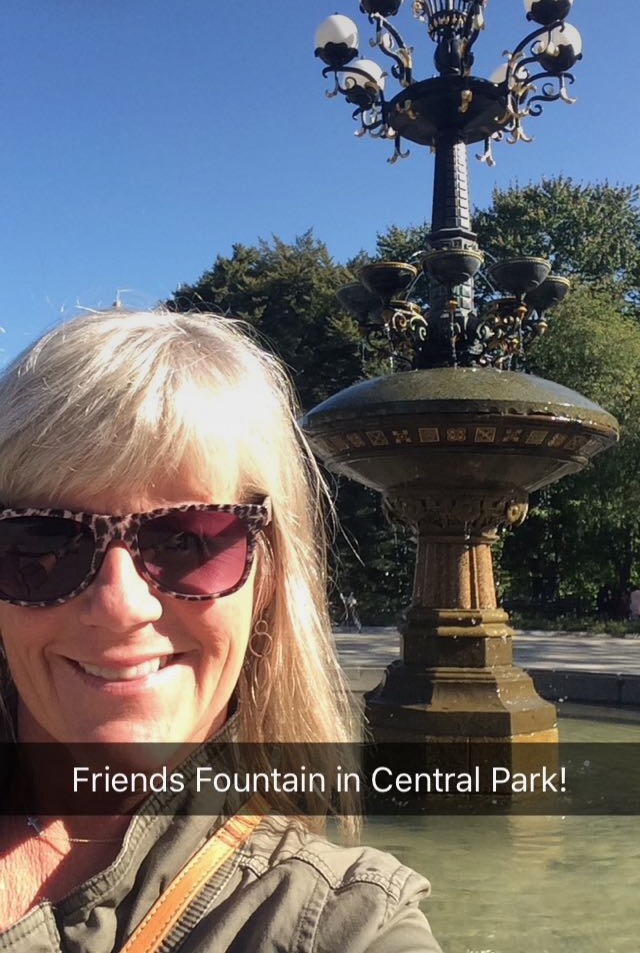 After a long walk through the park, we went to the MET. You guys….it is HUGE!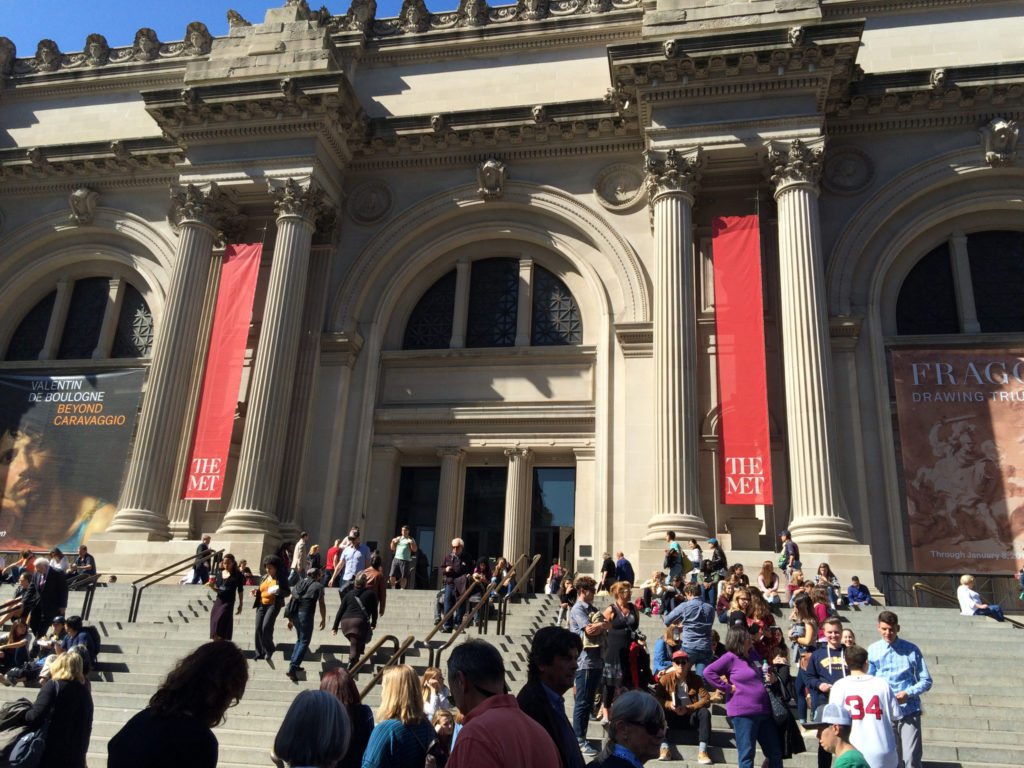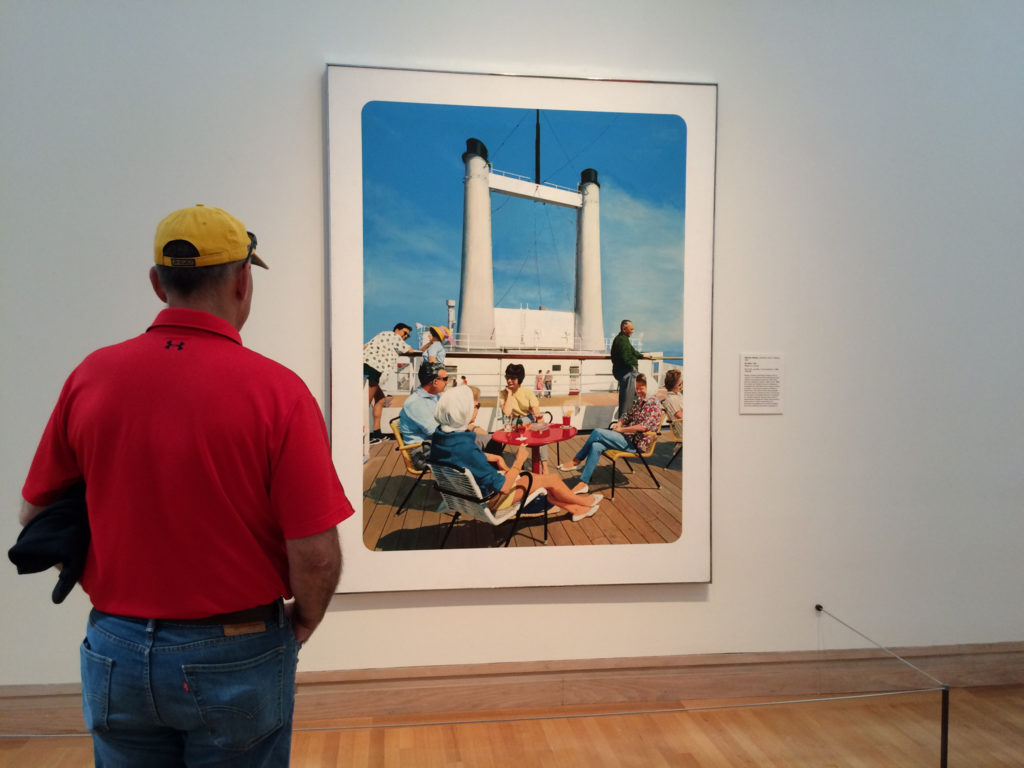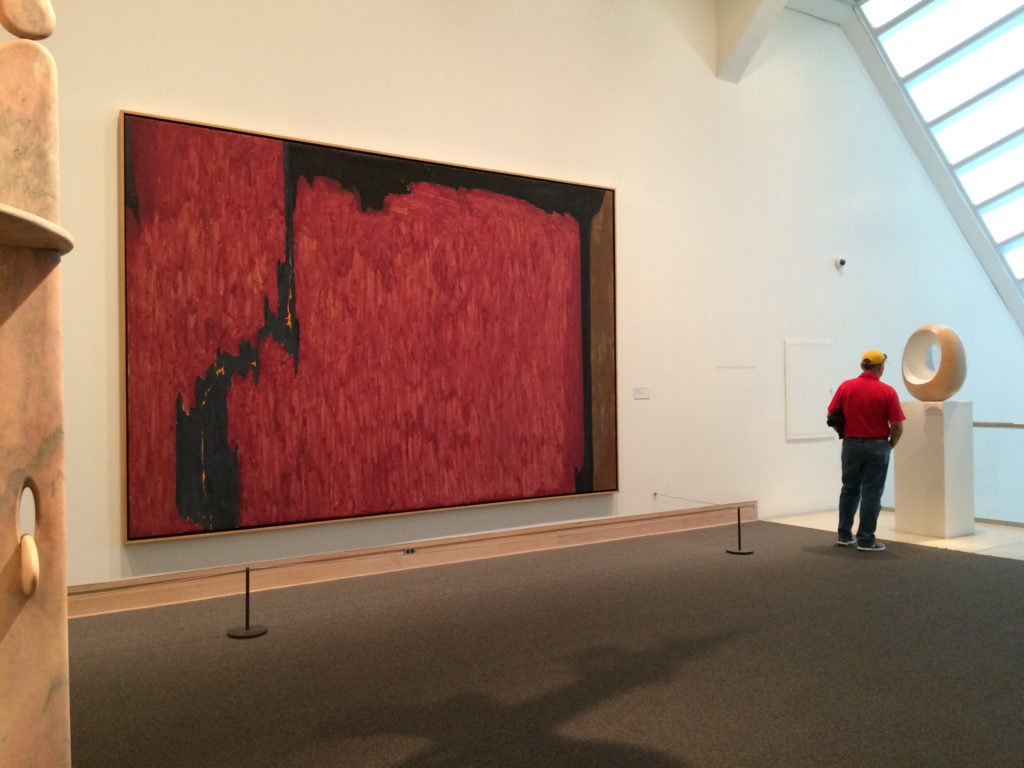 I love to look at contemporary art.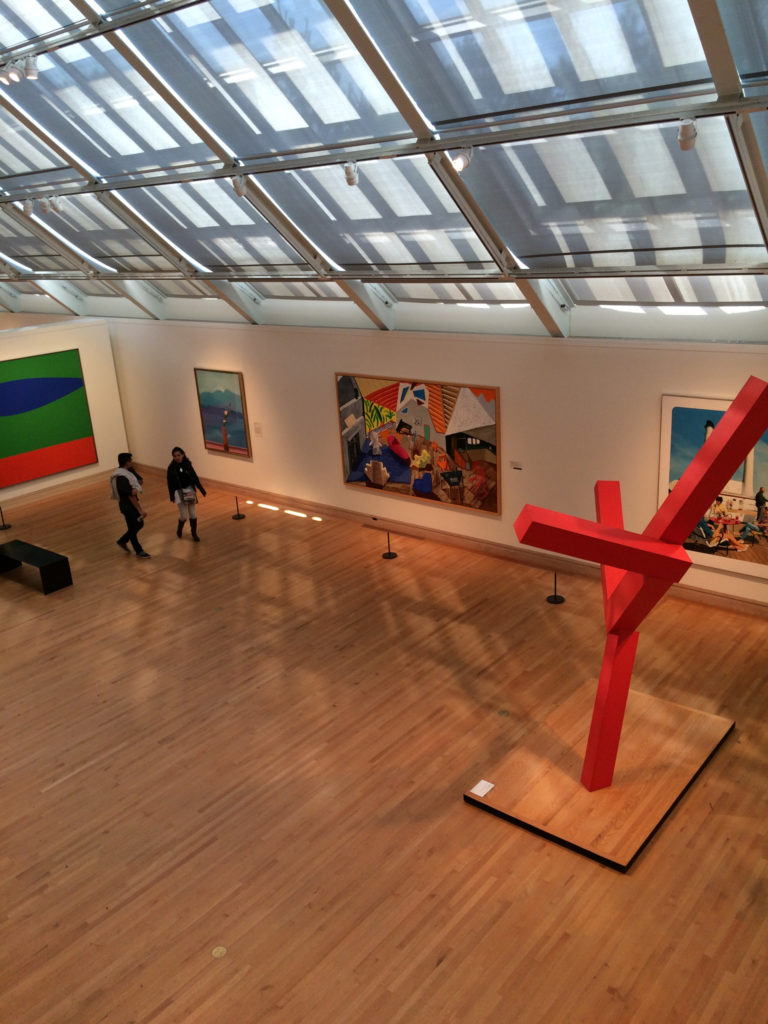 This is the view of the street when you walk out of the MET.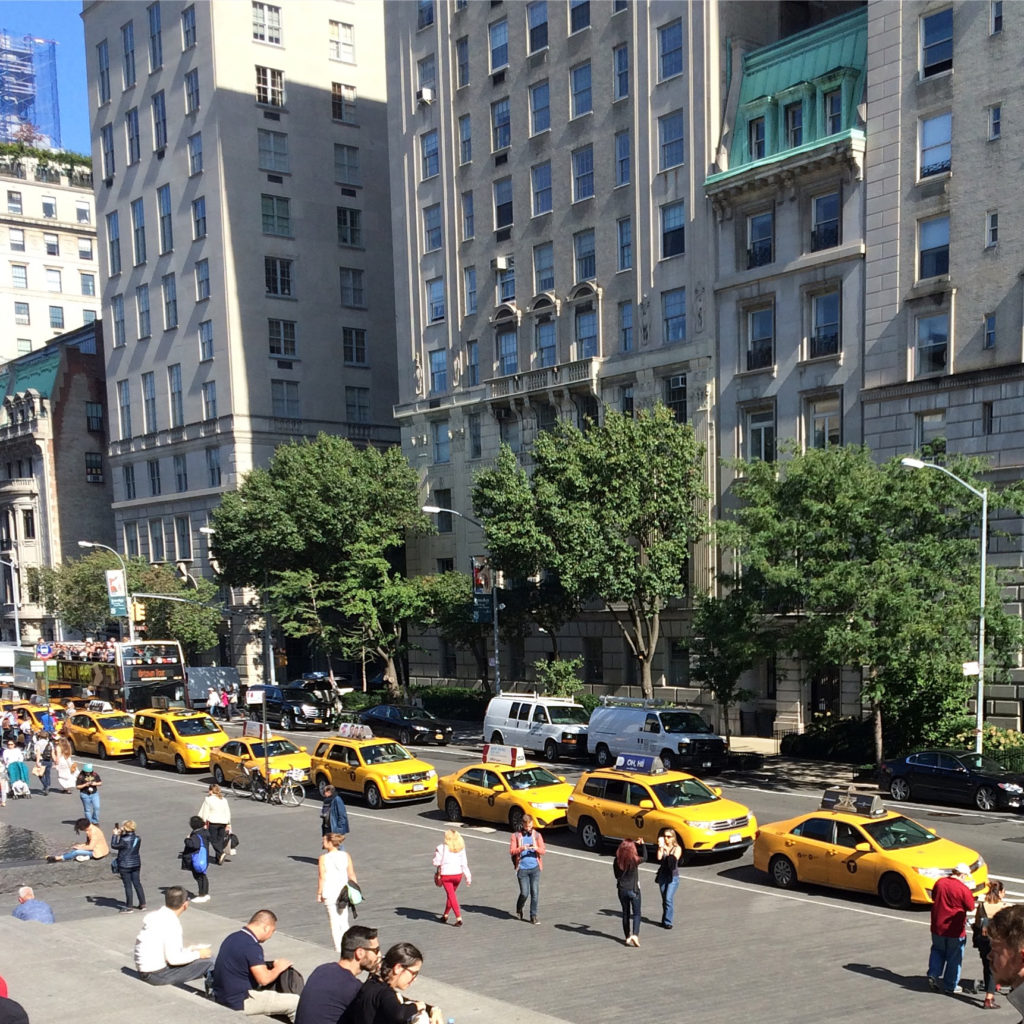 Folks just like to hang out on the steps here, so we joined them. We had now been on our feet for several hours.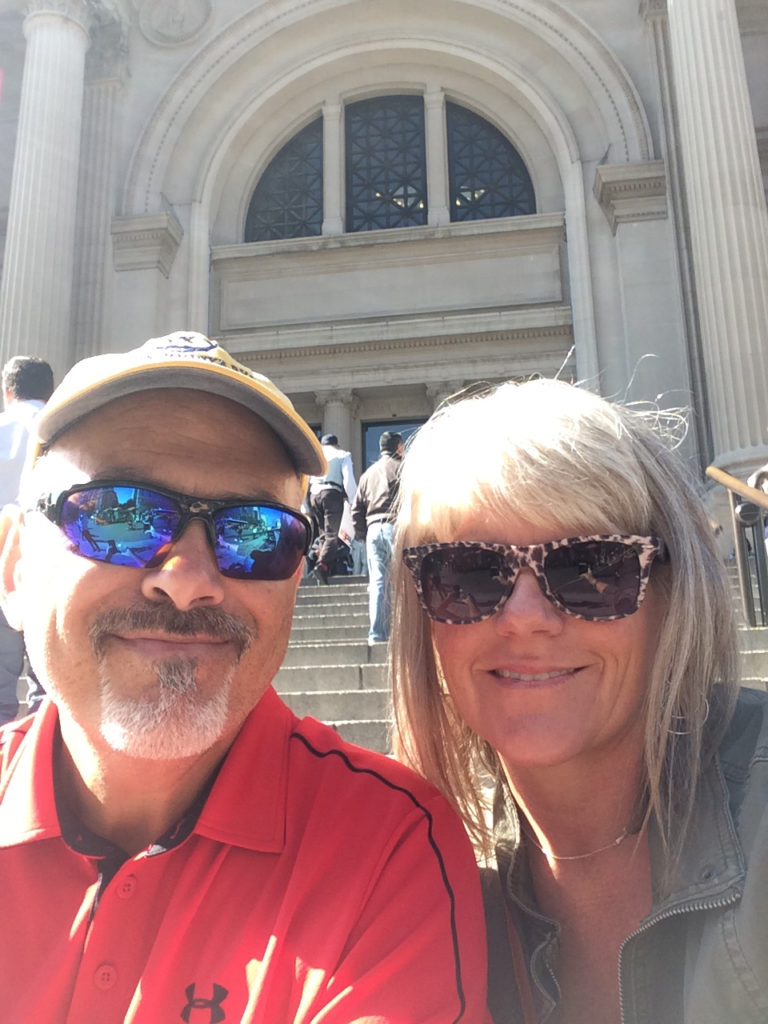 I loved this day, but my feet were tired. Happy Hour back close to our hotel.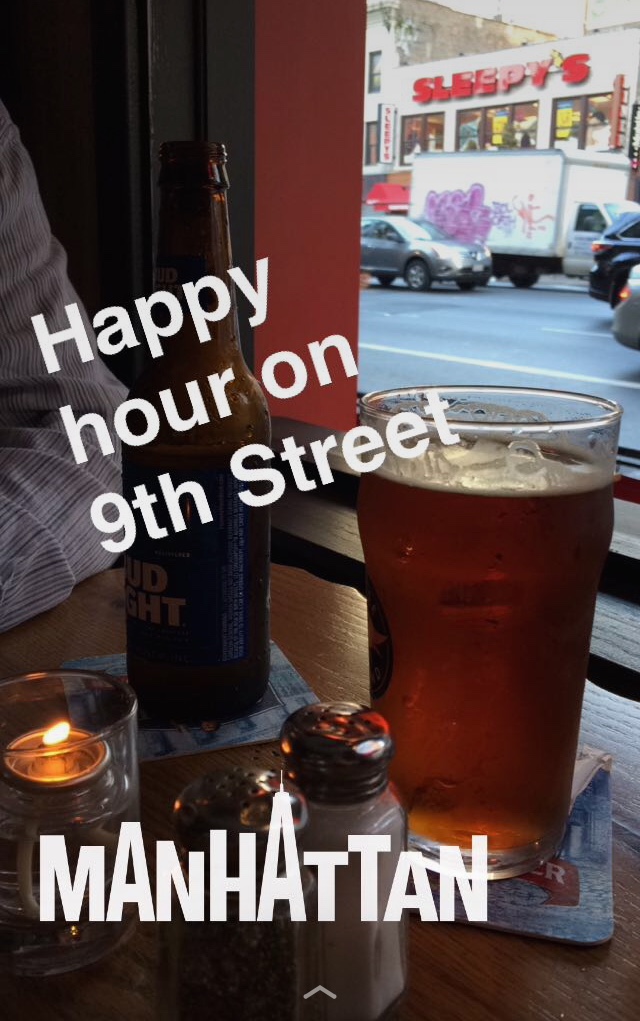 We decided on Italian for dinner. Lucky us. This is Anna. She is the owner of Mama Mia's. She and her husband moved from Italy to New York in 1971 and opened their restaurant. Obviously, it was a success. She was a sweetie and I want her sauce recipe!!! She chatted with us forever and was a doll.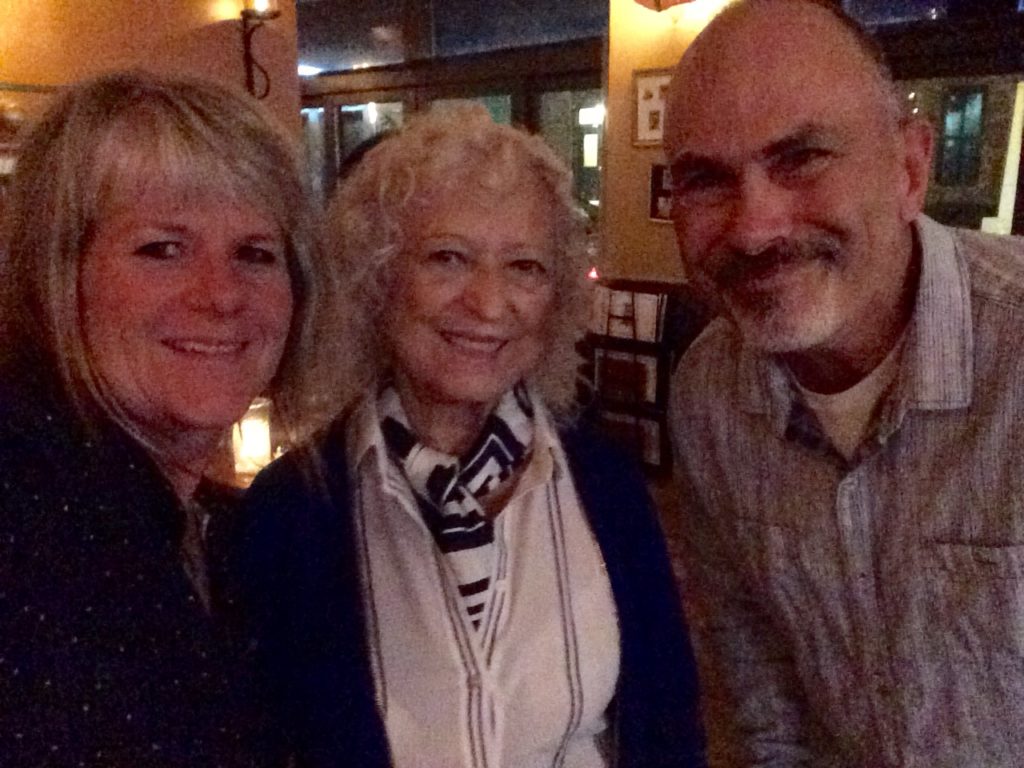 Friday morning, we decided to pick a destination with a view of the city. We decided to go to the Top of the Rock.
I was a fan of the Tonight Show with Johnny Carson, and I still watch with Jimmy Fallon, so it was fun to be outside of the studio at Rockefeller Center.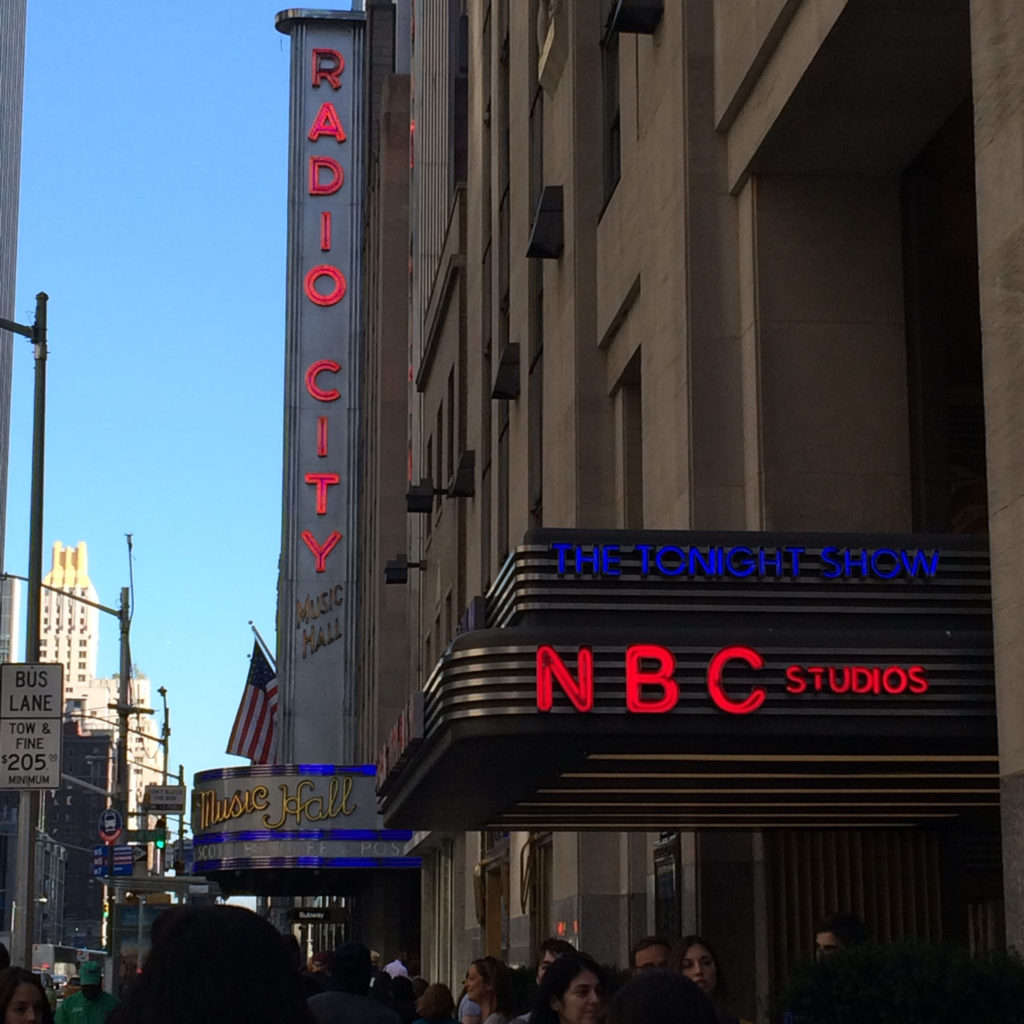 Now to the top for an amazing view!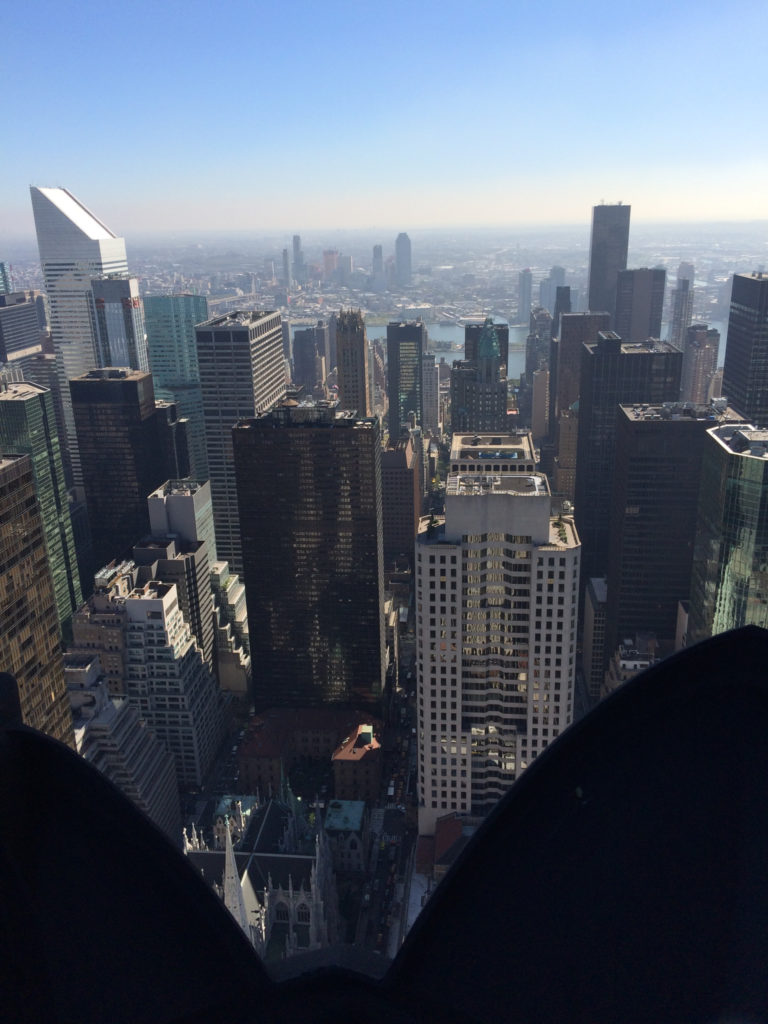 All that green? Central Park. We were looking down on it when we realized just how far we had walked the day that we walked to the park!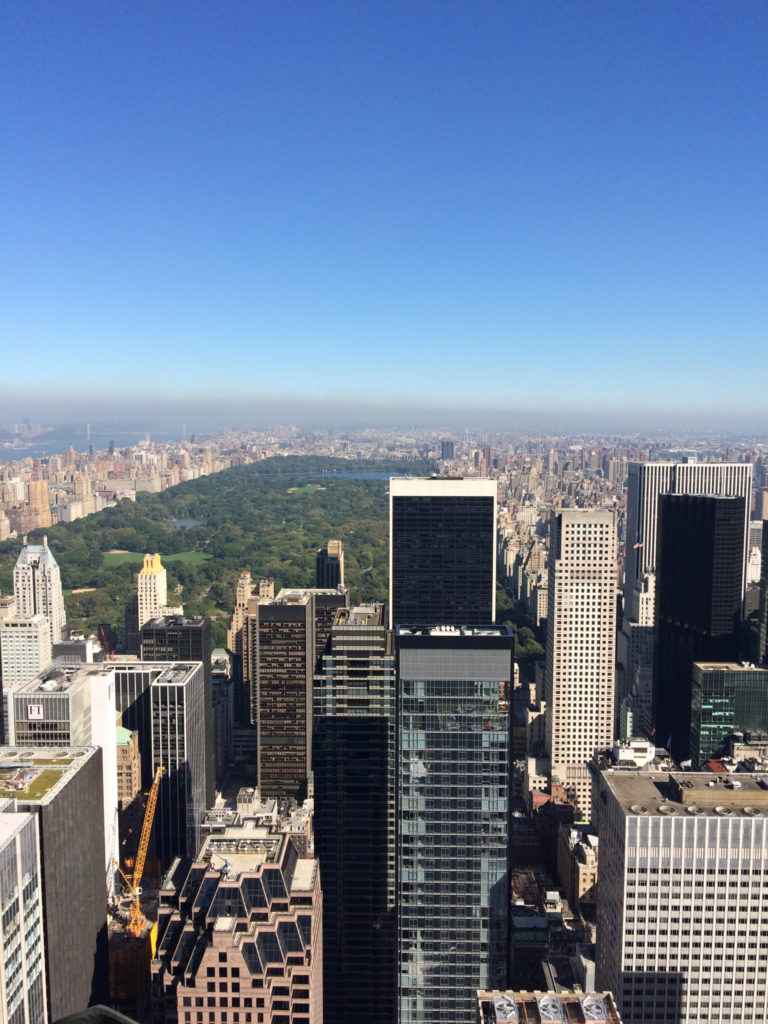 I still can not get over how many buildings and people are there!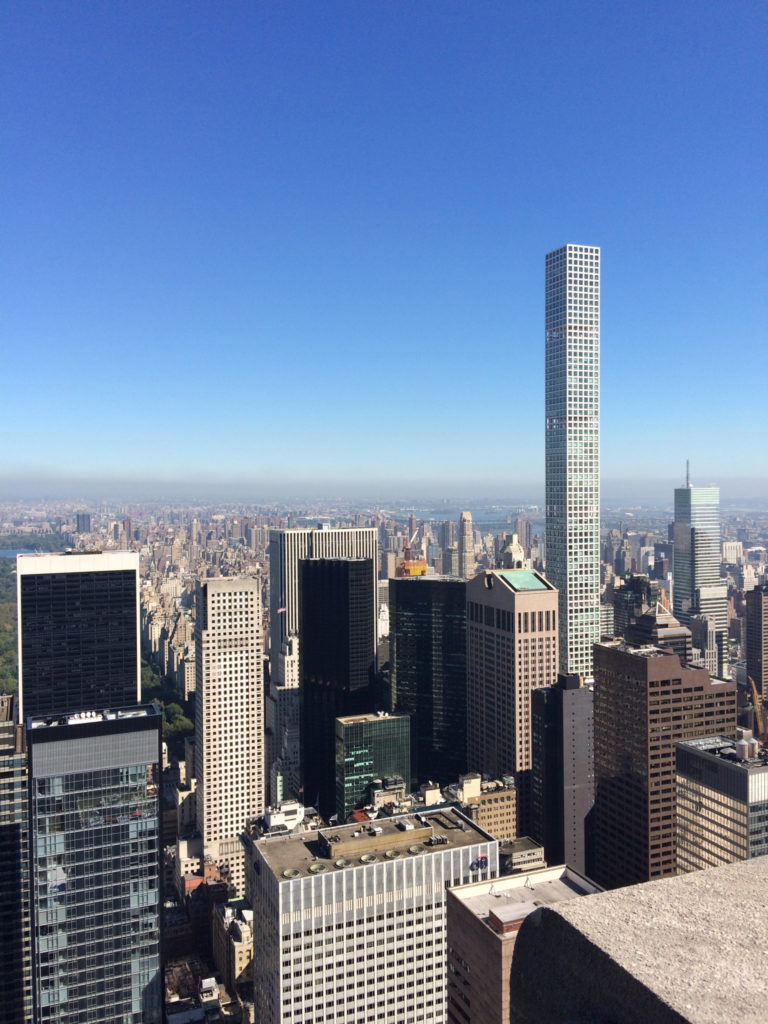 While looking out over the city from the Top of the Rock, I saw a building that I knew had to be St. Patrick's Cathedral.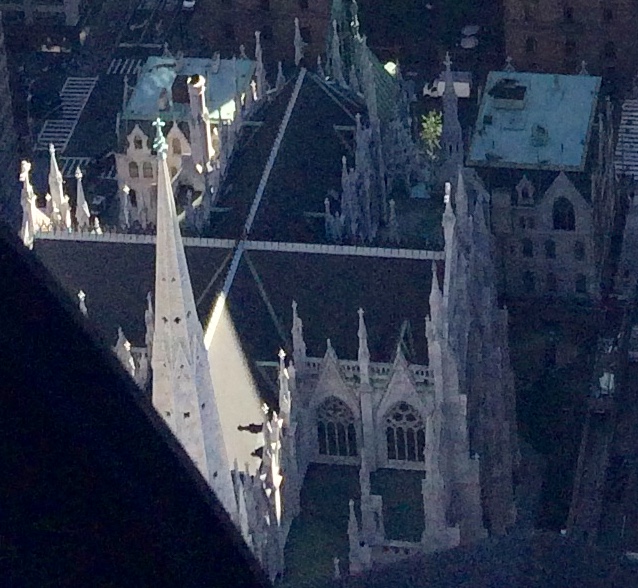 That became our next destination.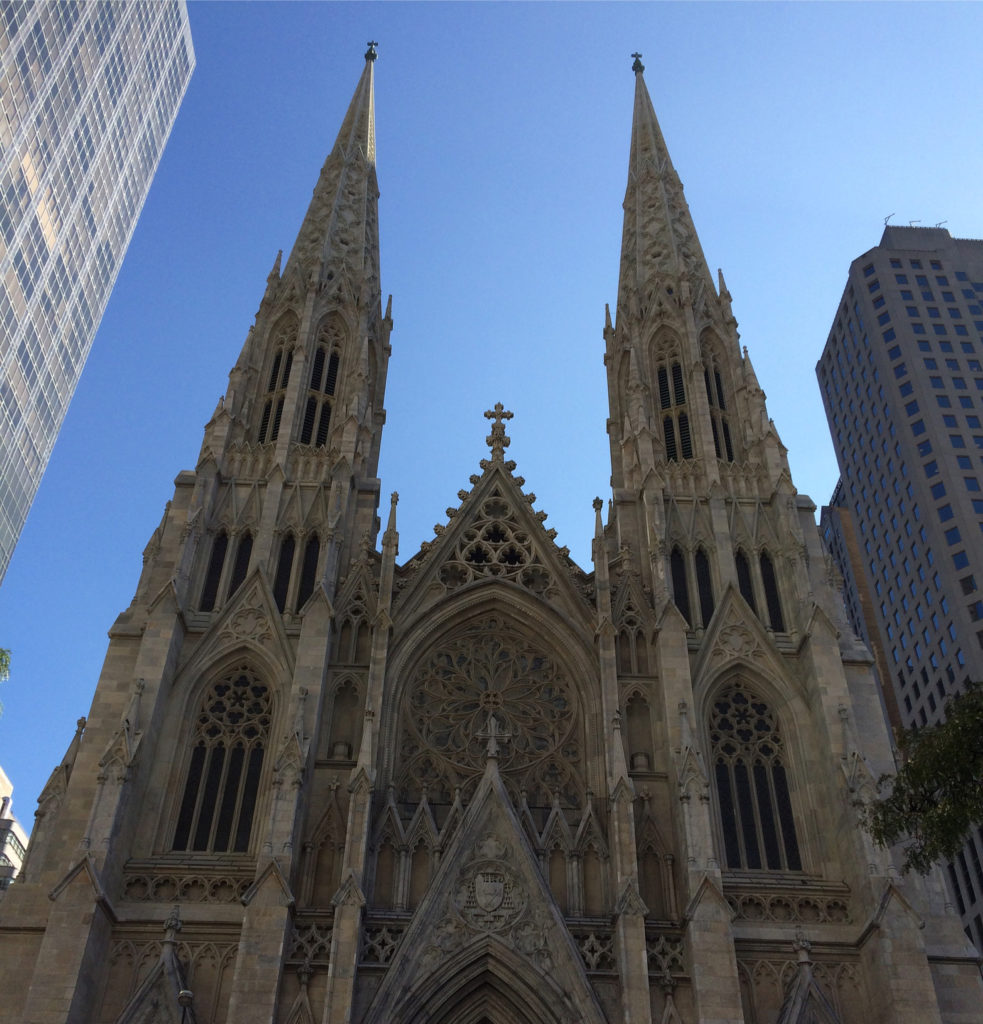 They were in the middle of Mass, and they still allow visitors to come inside.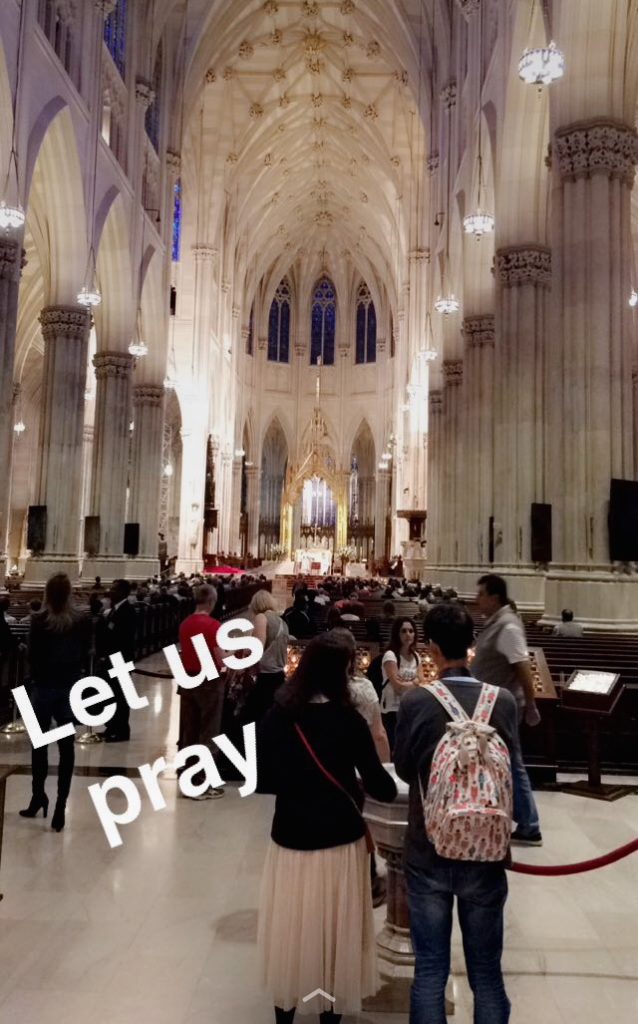 It was beautiful.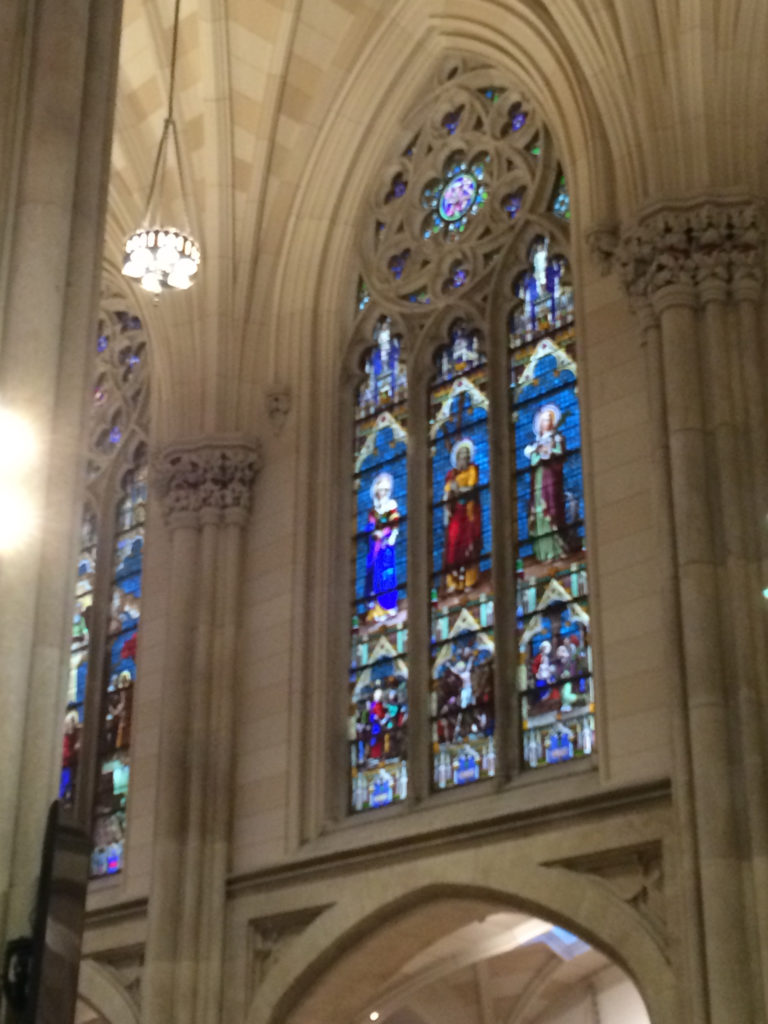 Inside and out.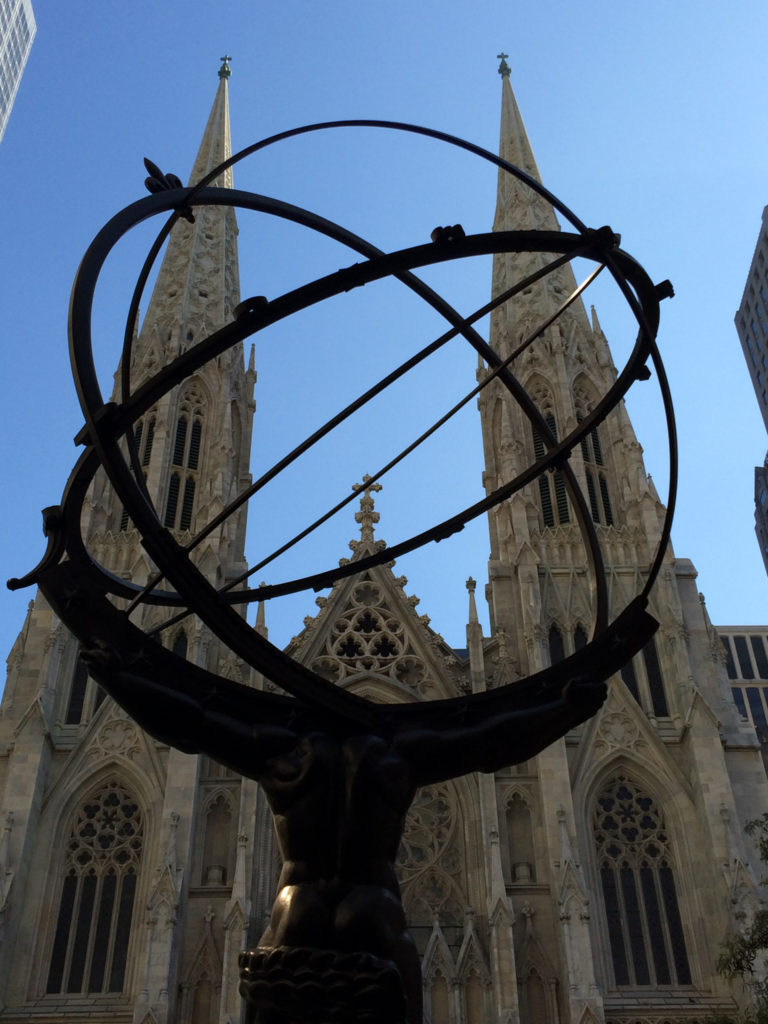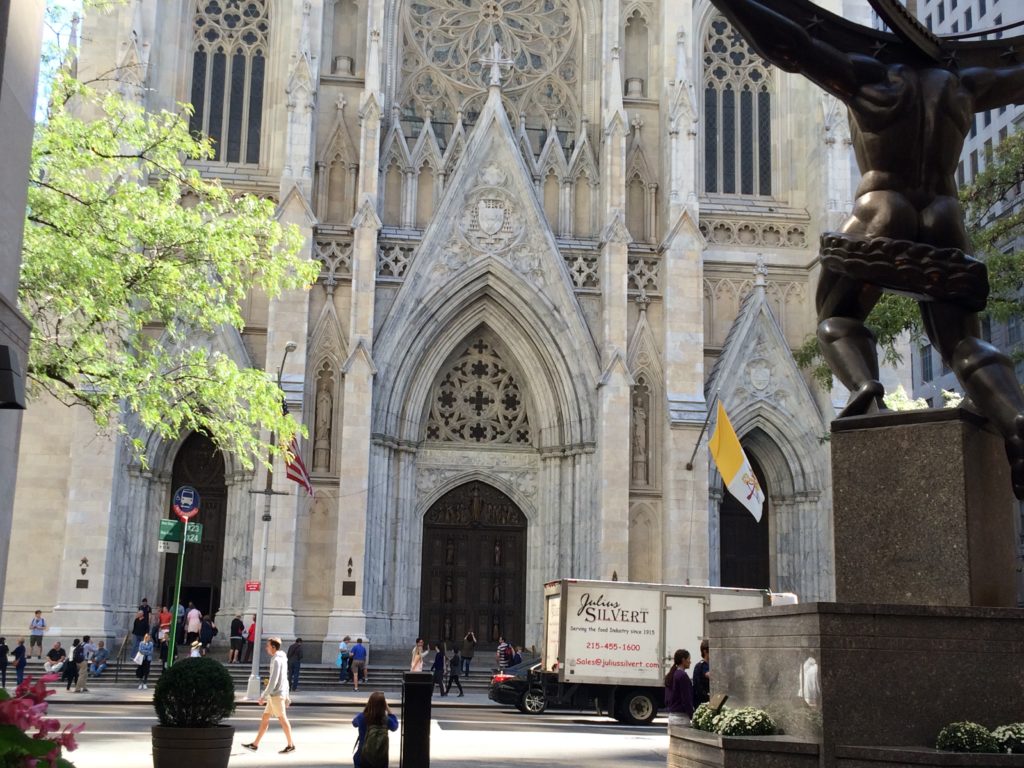 Where to next? Brooklyn, to walk over the Brooklyn Bridge.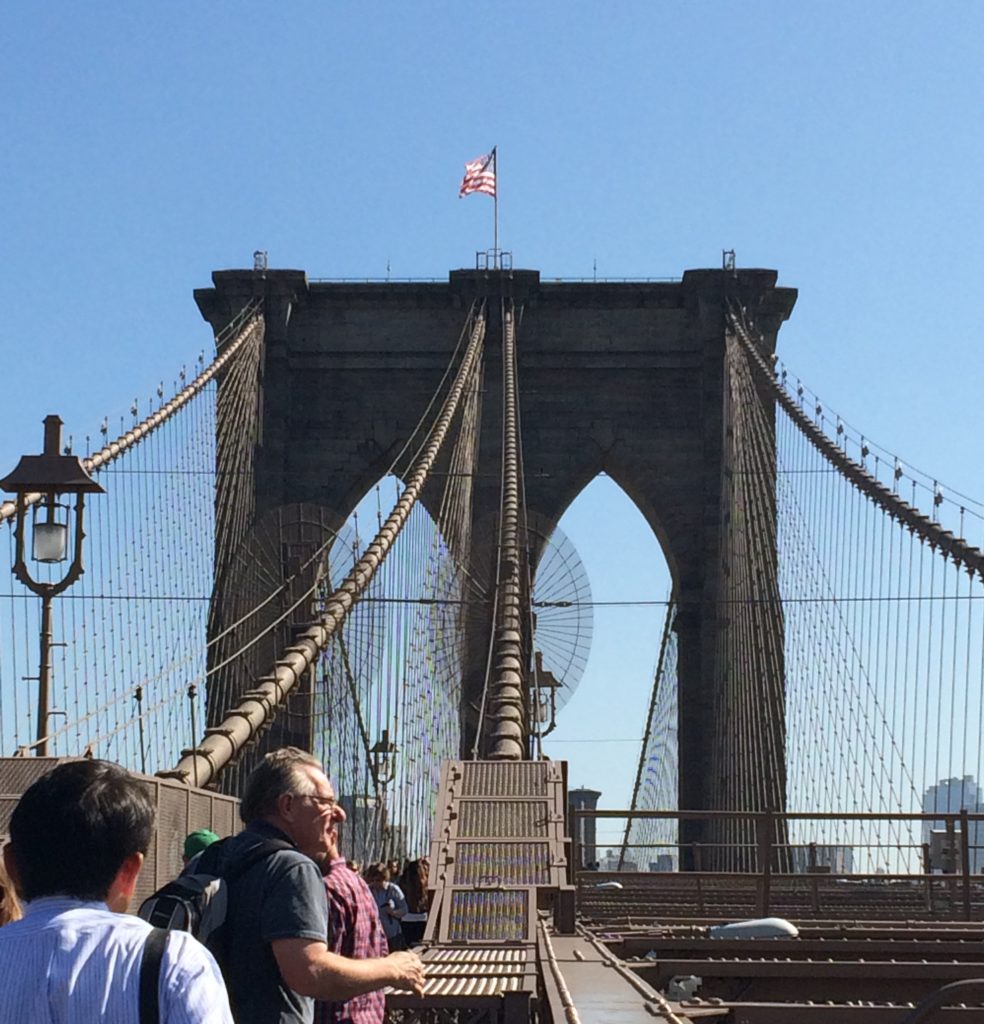 That was a good long walk!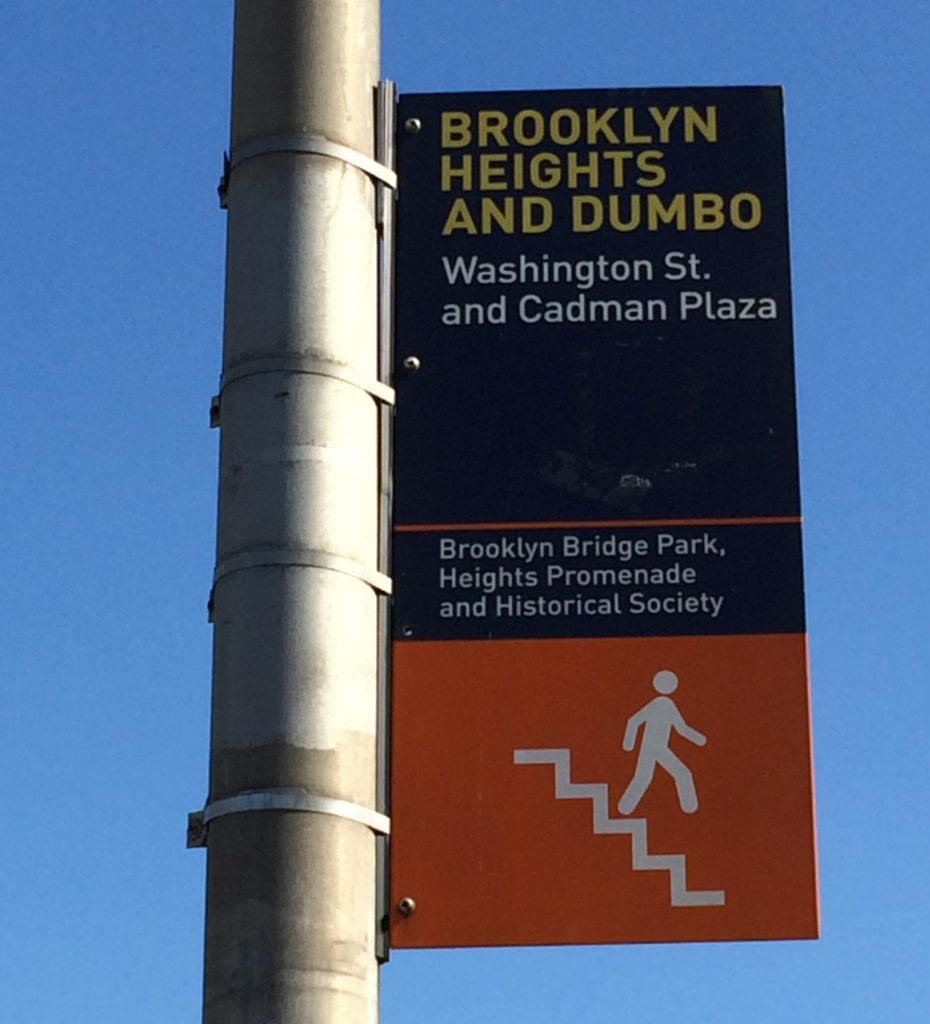 You know that made us thirsty!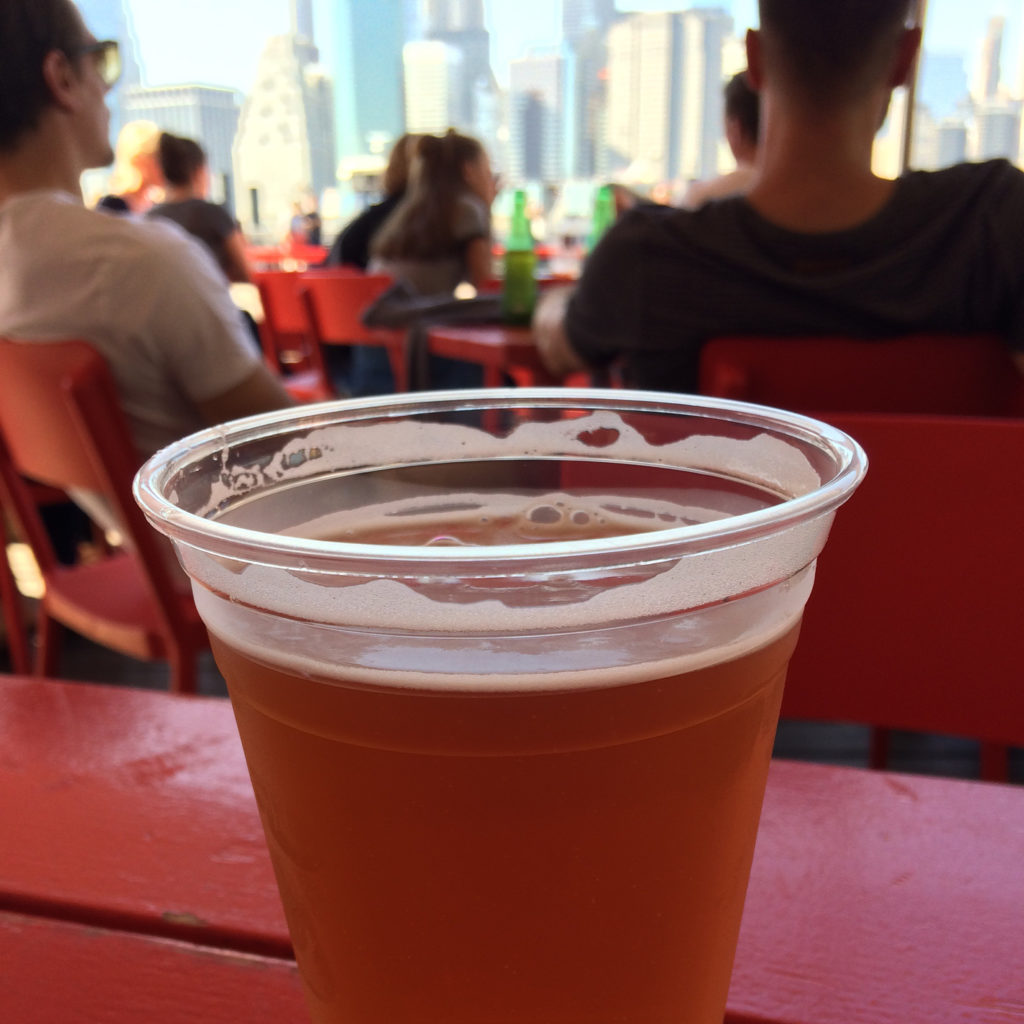 We found a little place by the water where we could watch the Ferry's come and go and have a whole new view of the city.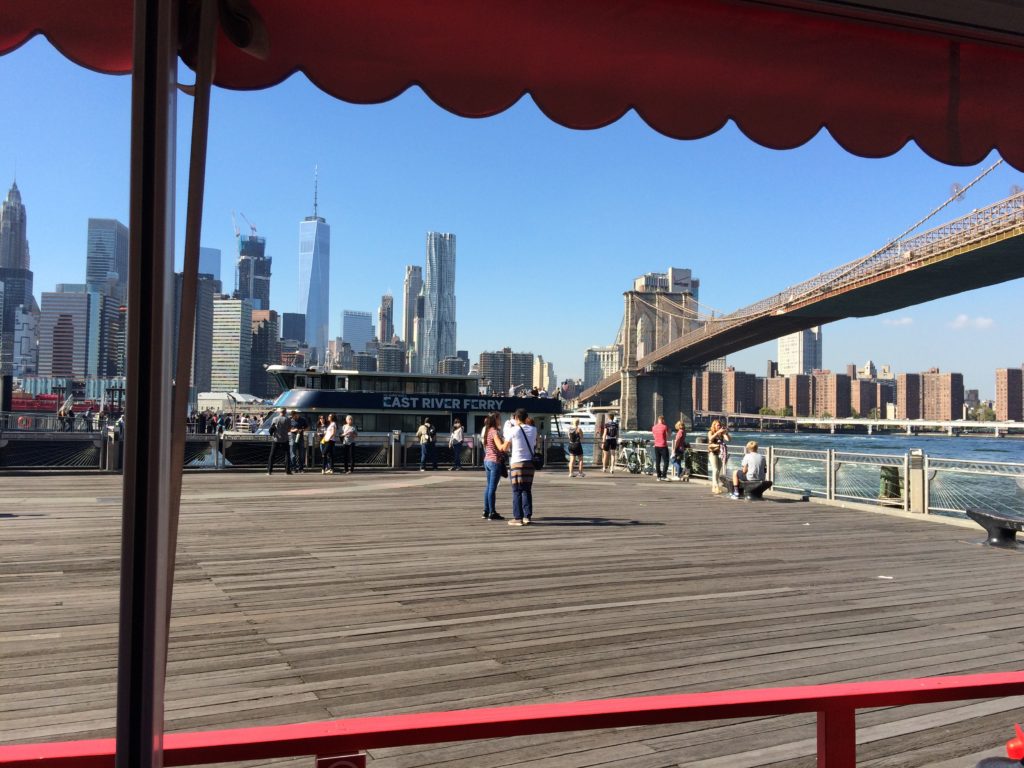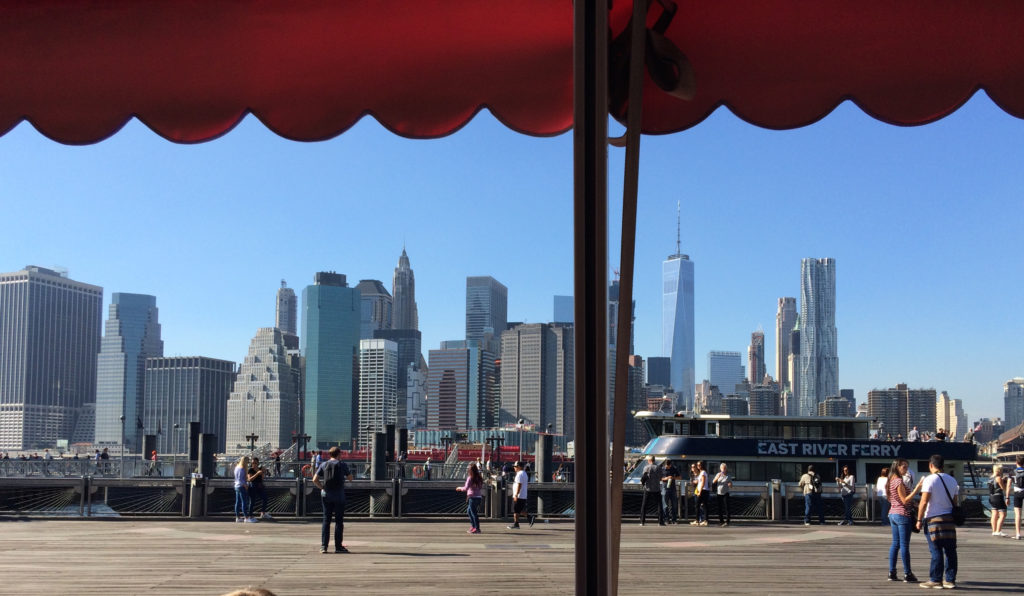 While there, we ordered a snack. It was a quesadilla….in a burrito. It was tasty, it was tiny and it was expensive!!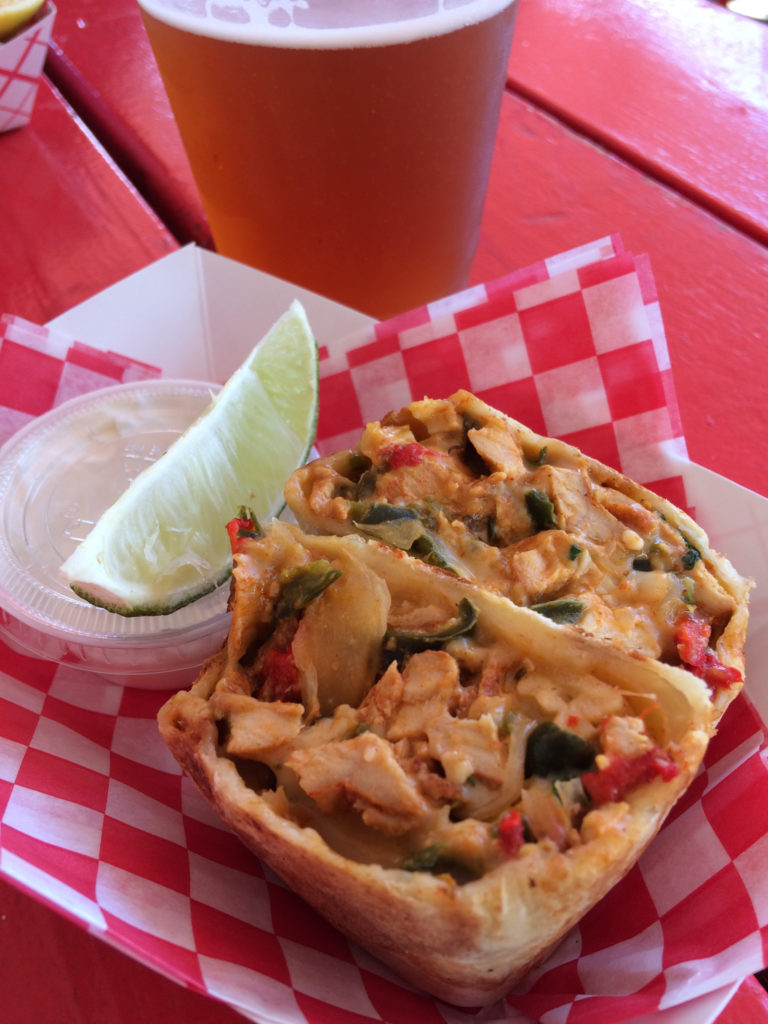 After a full day, we were both ready for a nap. We were going to see a play on Broadway later and we needed some rest!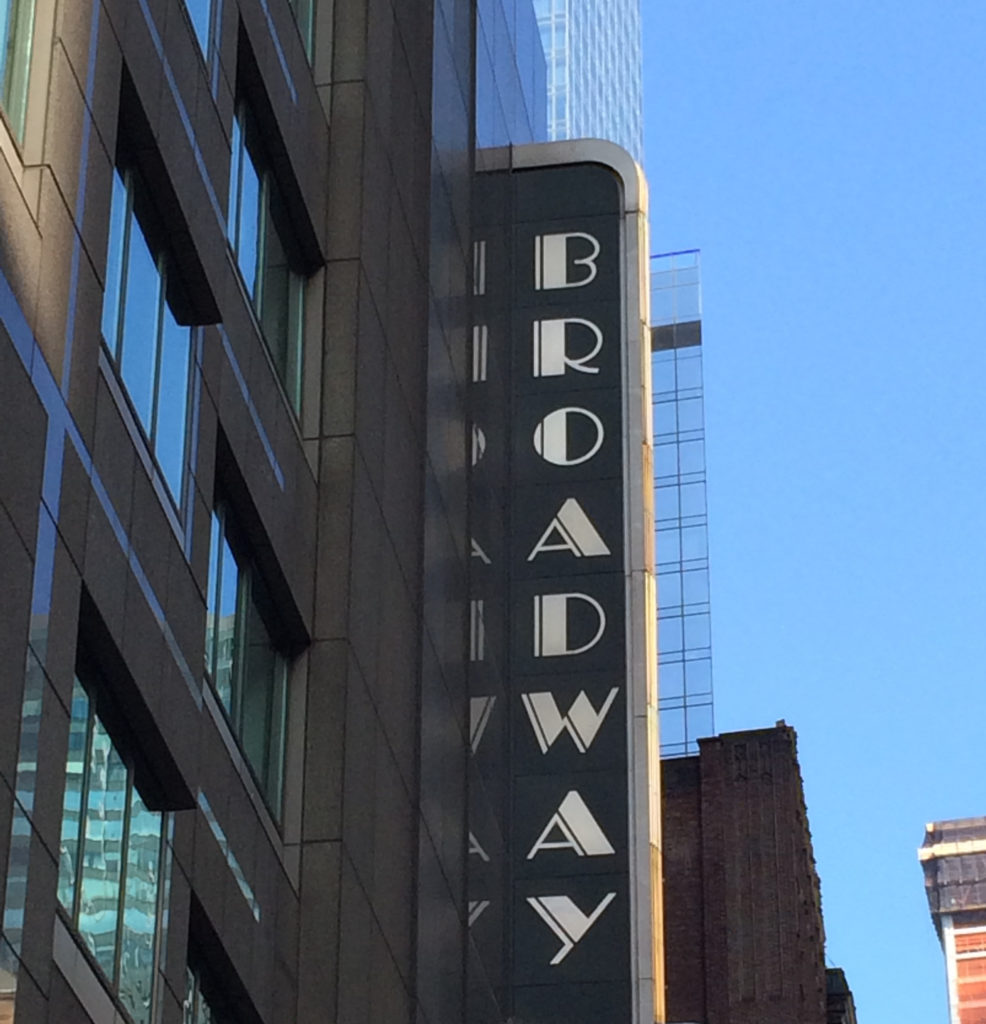 We both loved it!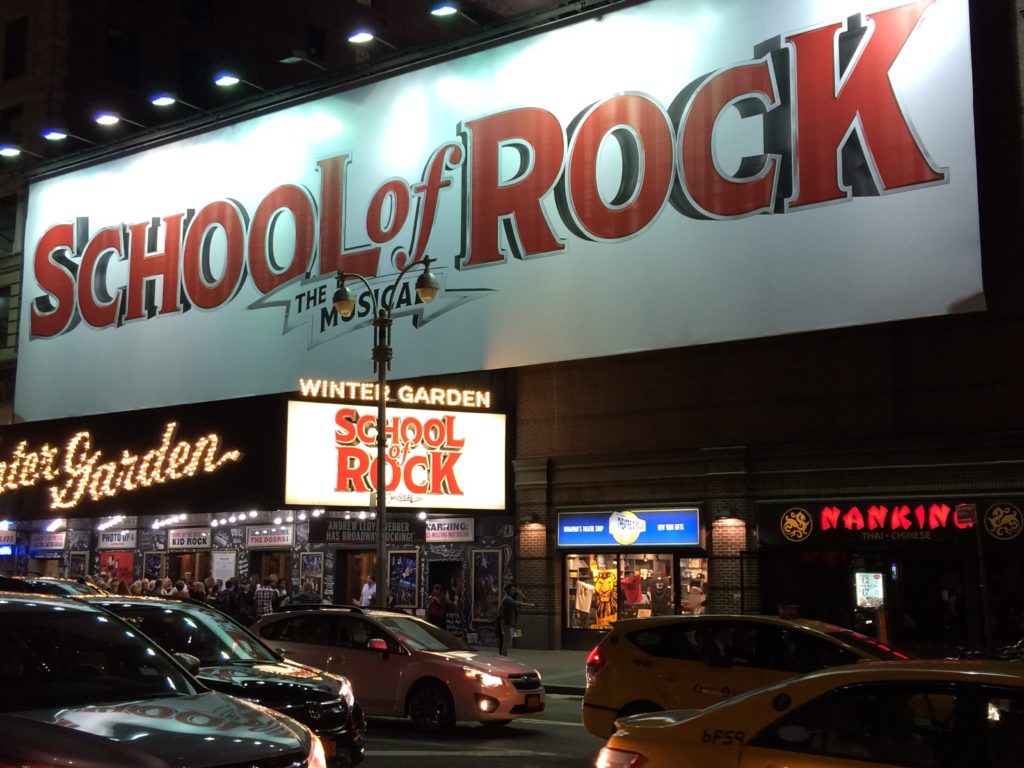 After the show, we decided to enjoy our last night with a late dinner. Pizza! This was a ginormous piece of Grilled Veggie Pizza and I want to eat it again, like right this second.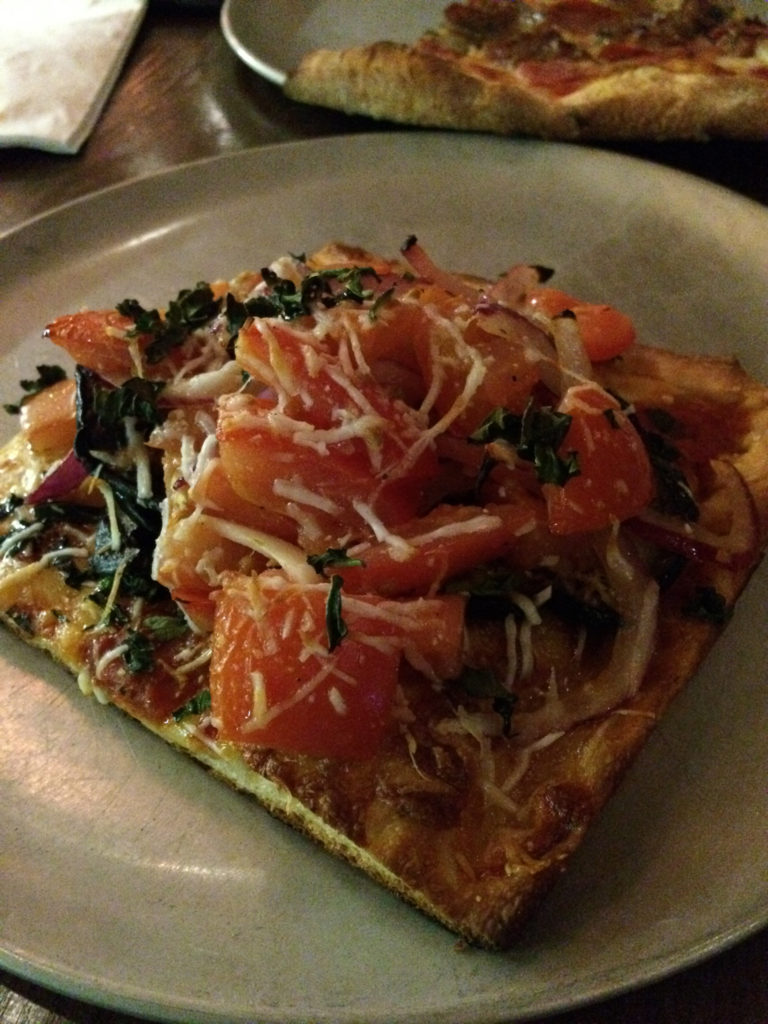 Look how high those tomatoes are piled up there!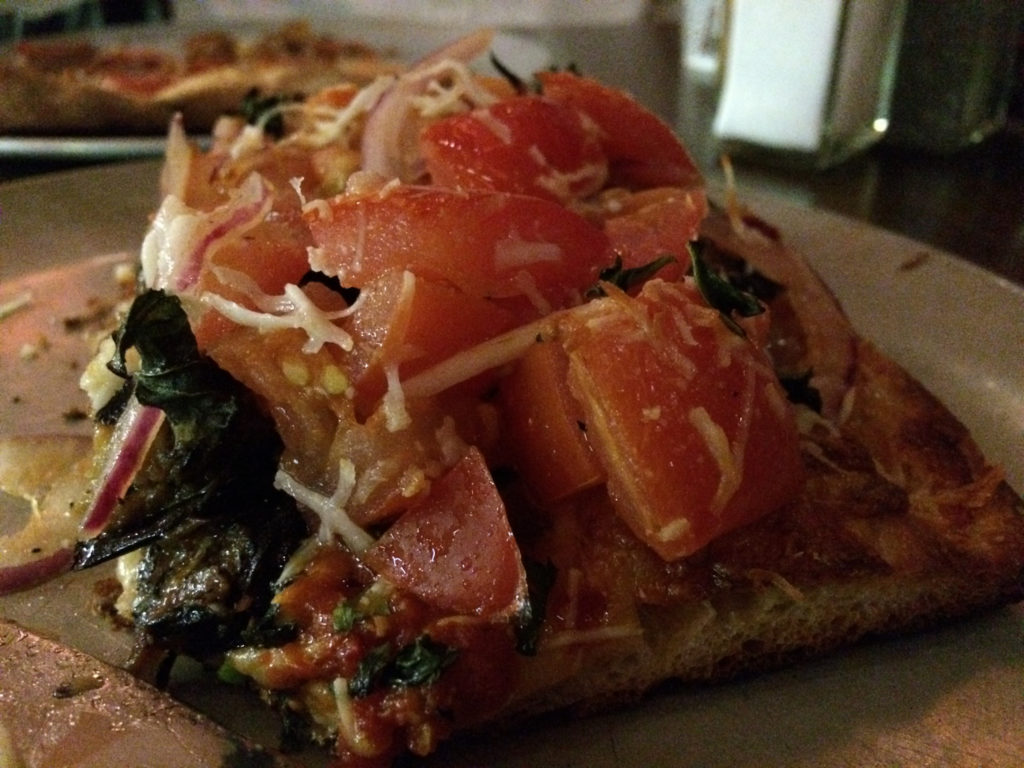 Then we went back to our corner for a $1 slice and took it to the room. Pizza in bed. In New York. Could this day be any better?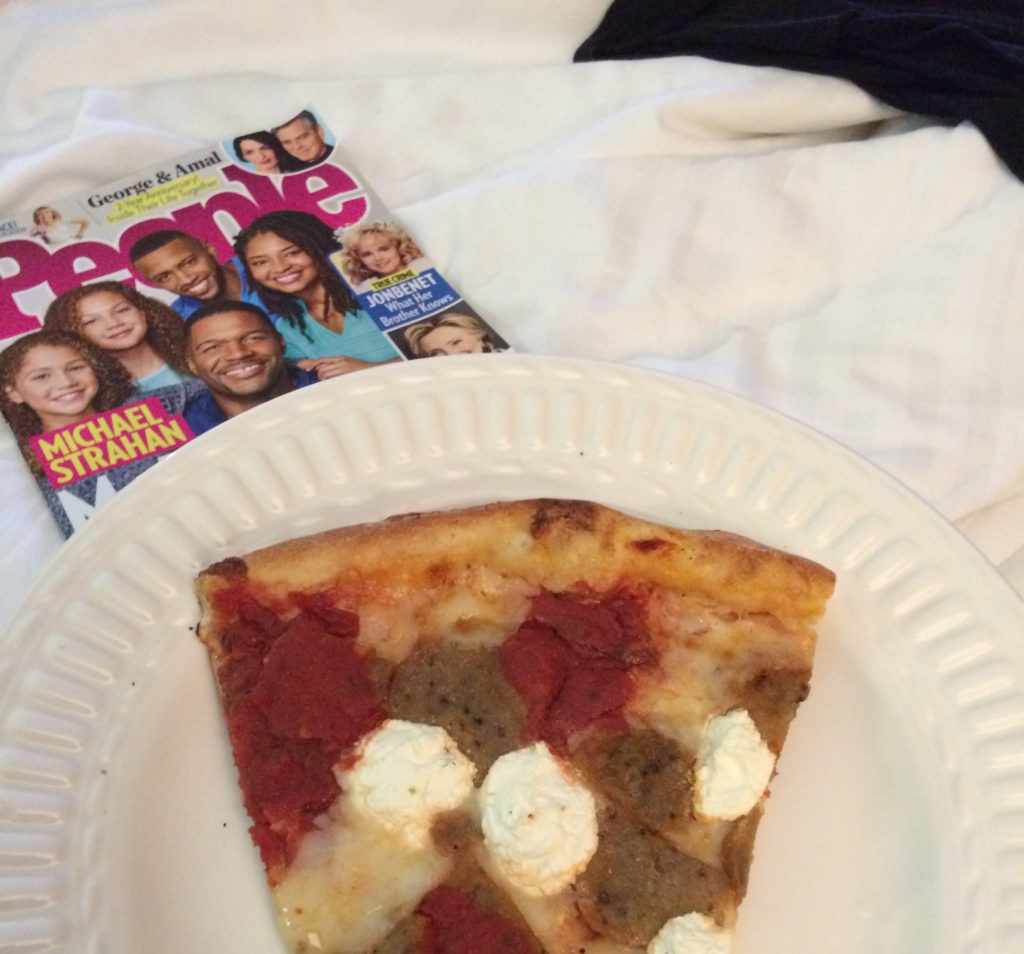 Saturday was our last morning, and we decided to spend it in Little Italy.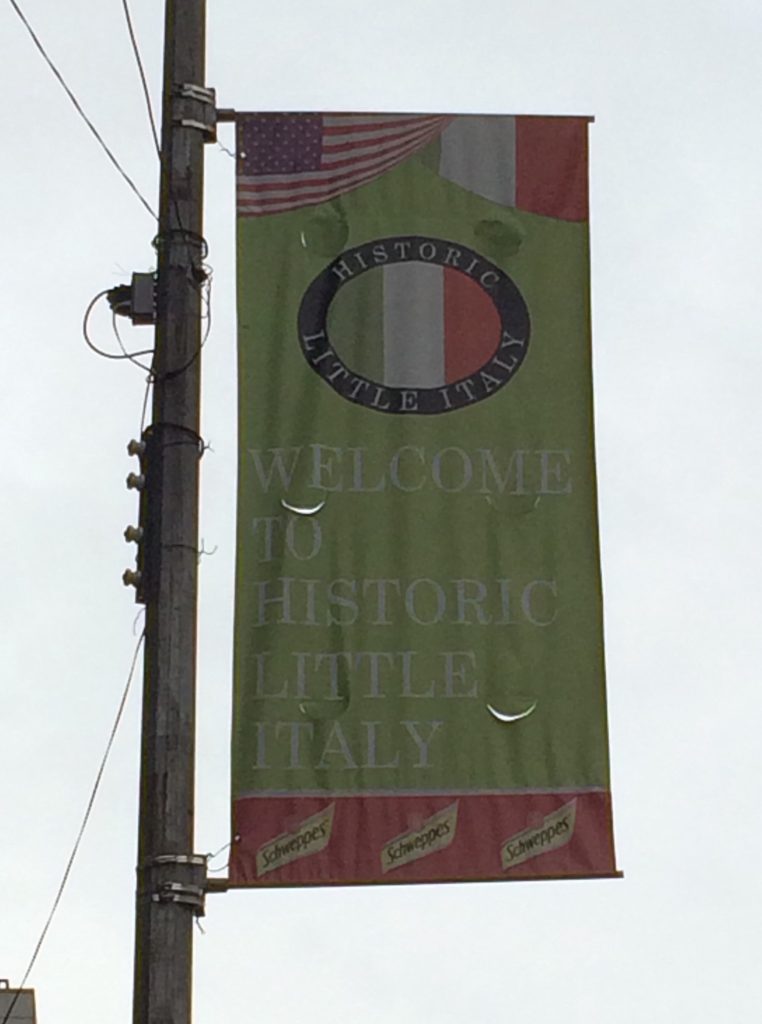 Little Italy is now really little! One block, three blocks long. There were not a lot of places to pick from for breakfast, but we were determined to eat in Little Italy. We found a corner spot and went inside where we found a perfect table in the corner with windows on both walls. We sipped on coffee and watched people walking by, guessing on who we thought were the tourist, and who we thought were the locals.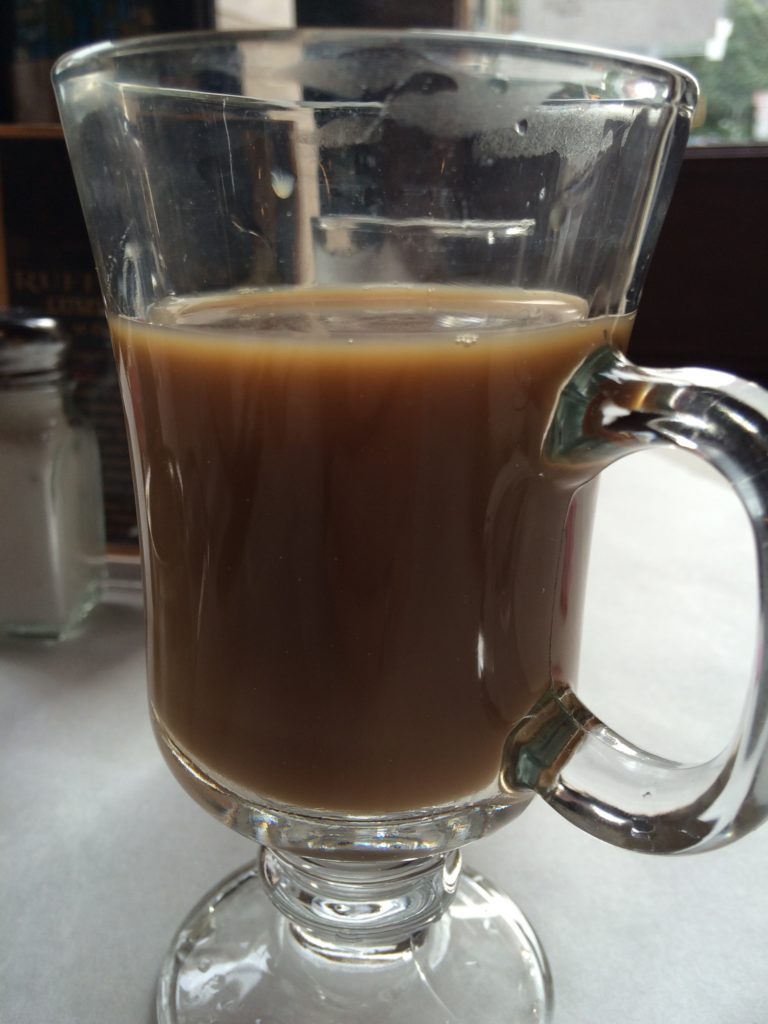 It was the best breakfast that we had eaten in New York. I had the Stuffed French Toast (homemade bread) with Berries and Mascarpone. Um, yes please!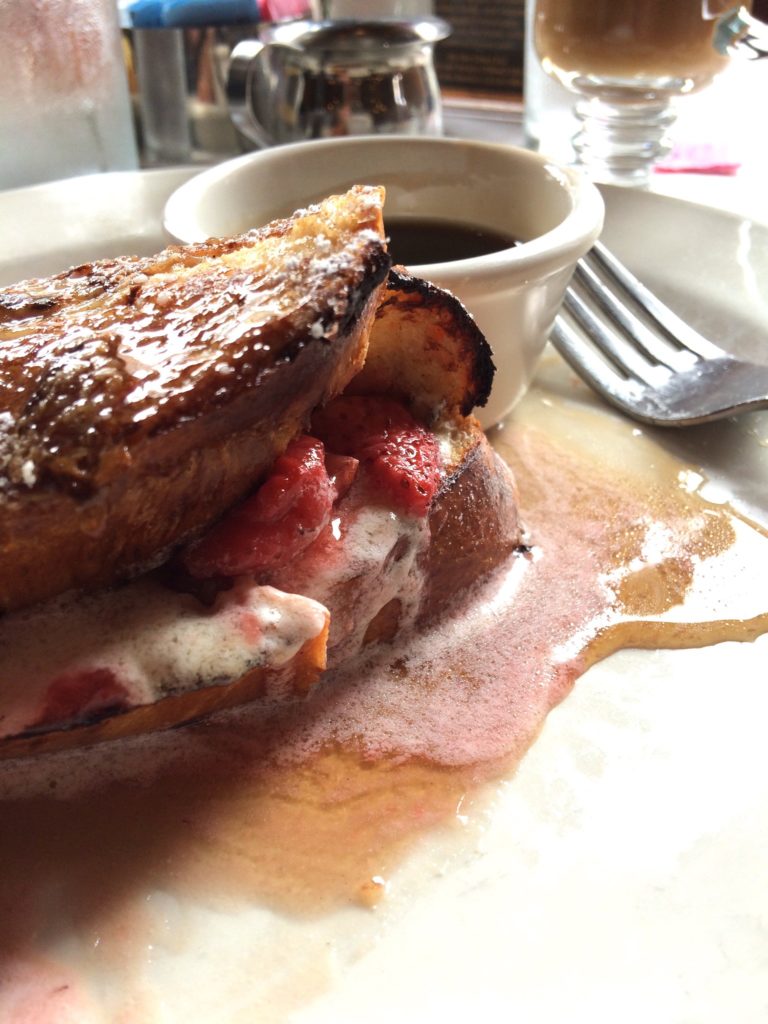 After breakfast, a short walk down the main street of Little Italy and just a few blocks of China Town before we had to head back towards the hotel so we could check out and head to the airport.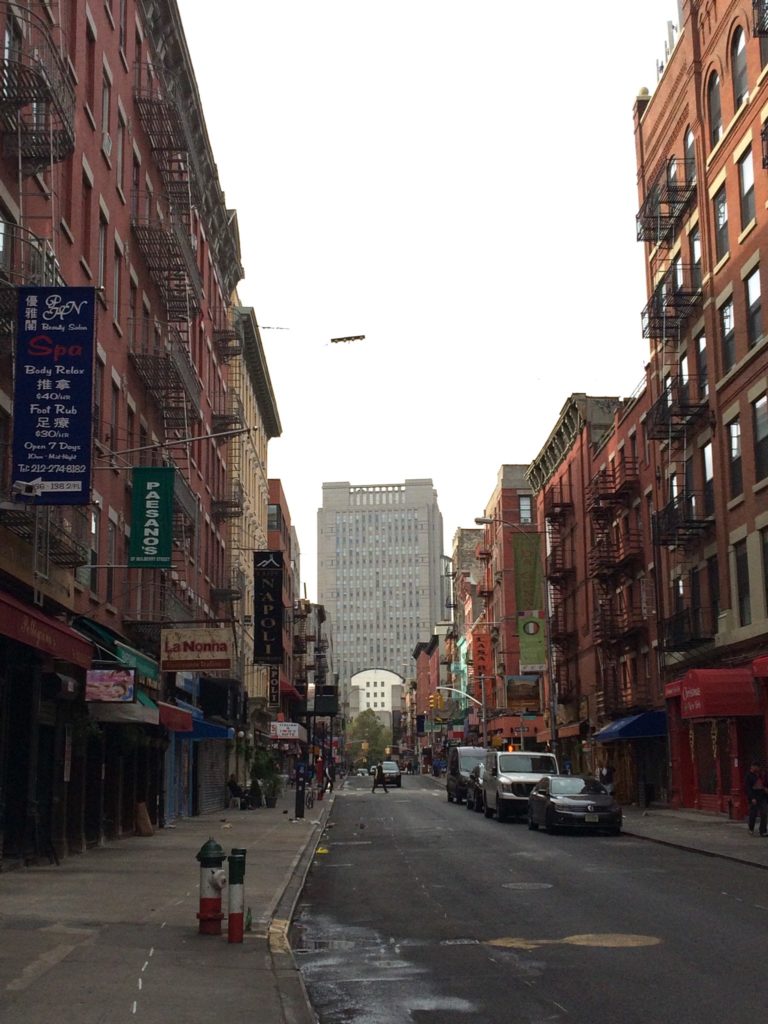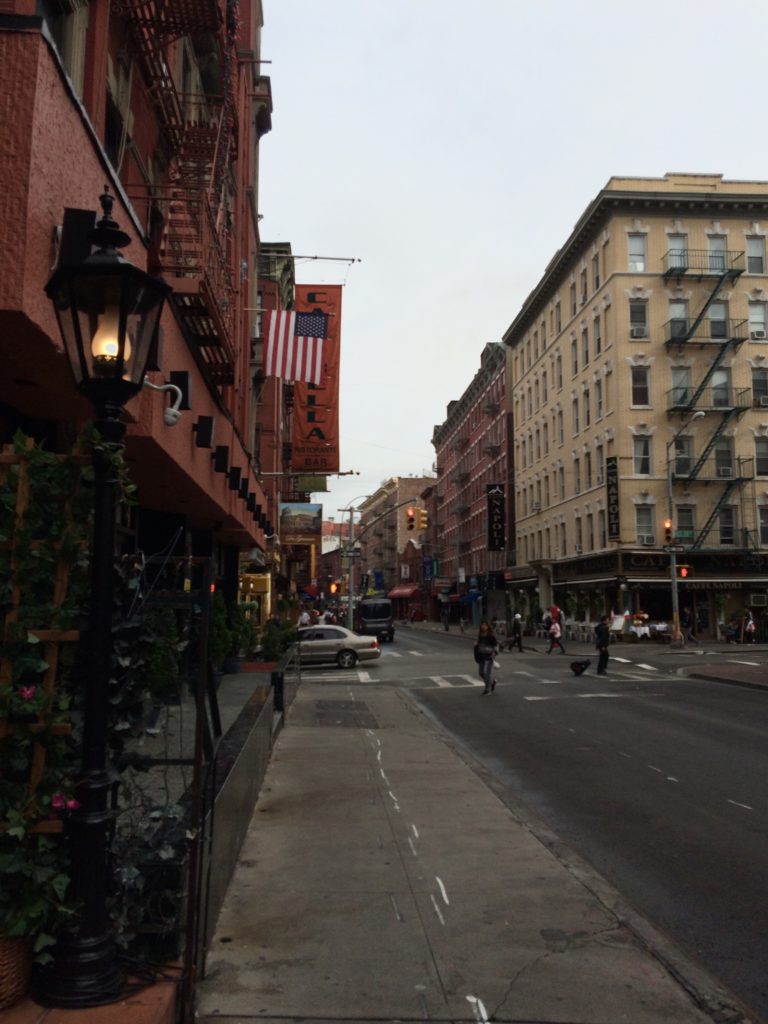 I realize now that there are a lot of different ways to do this trip. We decided early on that we wanted this trip to feel relaxed, not rushed. I wasn't even sure if that was possible in New York. We agreed that there was a lot to see, and we knew that we wouldn't be able to see it all, so we would be happy with what we did get to see and then make a list of what we wanted to see and do for our next trip. Yes, there will be one. We loved it there.
I pondered back and forth whether to buy a City Pass and plan a lot of tours, or just wing it and let each day happen. For us, the city pass would have felt like we were too much on a schedule and obligated to see it all, so we chose not to buy one.
We did not do any guided tours at any of the sites that we visited. We wanted to be able to stroll along and be on our own schedule. We would certainly have learned more about the city, but we were happy doing our own thing.
We spent a little more money on transportation around the city than we needed to, but we really enjoyed using Uber and chatting with the drivers. We had planned to get on the subway at least one time for the experience of it, but it never did happen.
We loved the city. We loved the people. We were very fortunate with the weather, and we can not wait to go back!
No matter how you decide to see New York…..wear comfy shoes!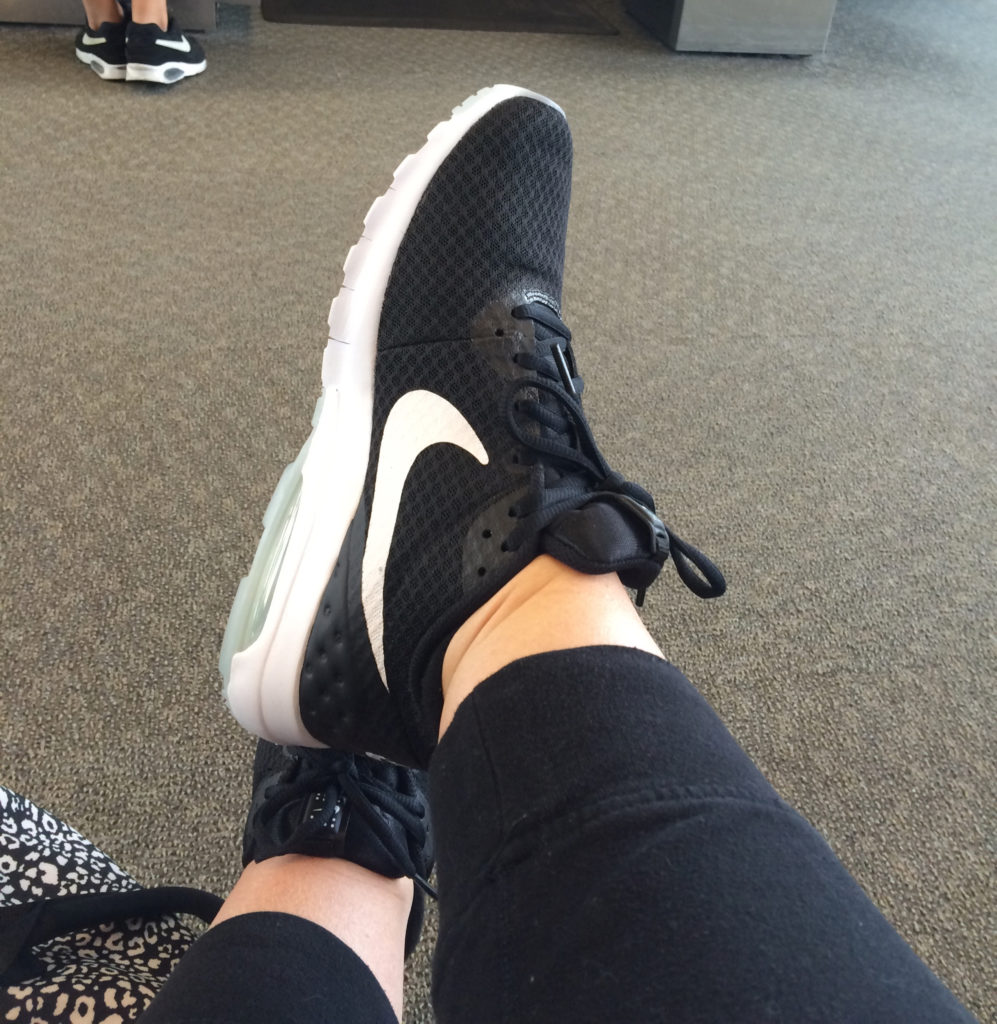 It always feels good to be home.
"love the life you live, live the life you love"