It's been a heck of a few days and each time I would sit down to get a blog post written, something came up or I just wasn't feeling great.
I got an antibiotic on Thursday for a possible sinus infection. My head feels better, but still not great, and I finally got out for a walk with a friend on Sunday, my first exercise in a week!
Mike's birthday is on Halloween, and we had all sorts of little fun things planned over the weekend, then only ended up doing a few of those things. Boo hiss hiss.
Yesterday, I was feeling pretty good and I really wanted Mike to have a nice birthday, so I tried to fill his day with Tricks and Treats and birthday surprises. He could not have thanked me any more last night for a great birthday, so mission accomplished.
This morning we had no power from about 4:00 am to 9:00, so it seemed to me a good opportunity to go out for breakfast. My favorite meal! Mike agreed, so off we went. I am working a WW meeting this afternoon, then hope to get in a good walk or a Yoga class tonight.
I'll hit a few highlights of the last few days, then I'm off to work!
Friday
Since I wasn't feeling great, I decided to skip my WW meeting and stay home.
I bought a box of the Pumpkin Spice Coffee Creations at one of my Weight Watcher meetings and I am loving this Pumpkin Spice Coffee Creation of my own! Add one packet of WW Pumpkin Spice Coffee Creations to a cup of Dunkin Donuts Pumpkin Spice Coffee, top with Frothy Skim Milk and a dash of Pumpkin Pie Spice. Yum! Pumpkin Spice in a cup!
That's a lot of Pumpkin Spice Yumminess for just One Weight Watcher SmartPoint!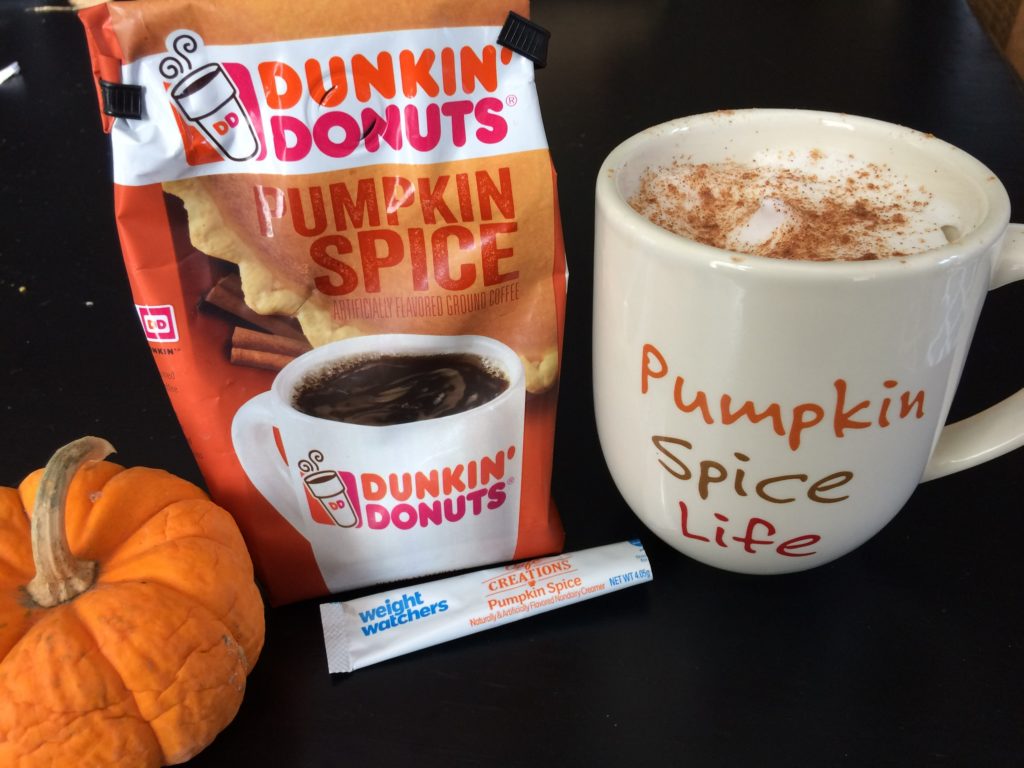 I did run a few errands in the afternoon on Friday, and while I was out, I decided to vote early, which was funny, because my daughter had decided to do the same thing in Dallas, and neither of us knew that we were going to do that.
Her first time voting was on an absentee ballot, so she was a little excited on Friday. This is as political as I will get. lol
Friday we had dinner out and I kept it simple with Blackened Salmon, Broccoli, Asparagus and of course, a Beer, cuz it's Friday.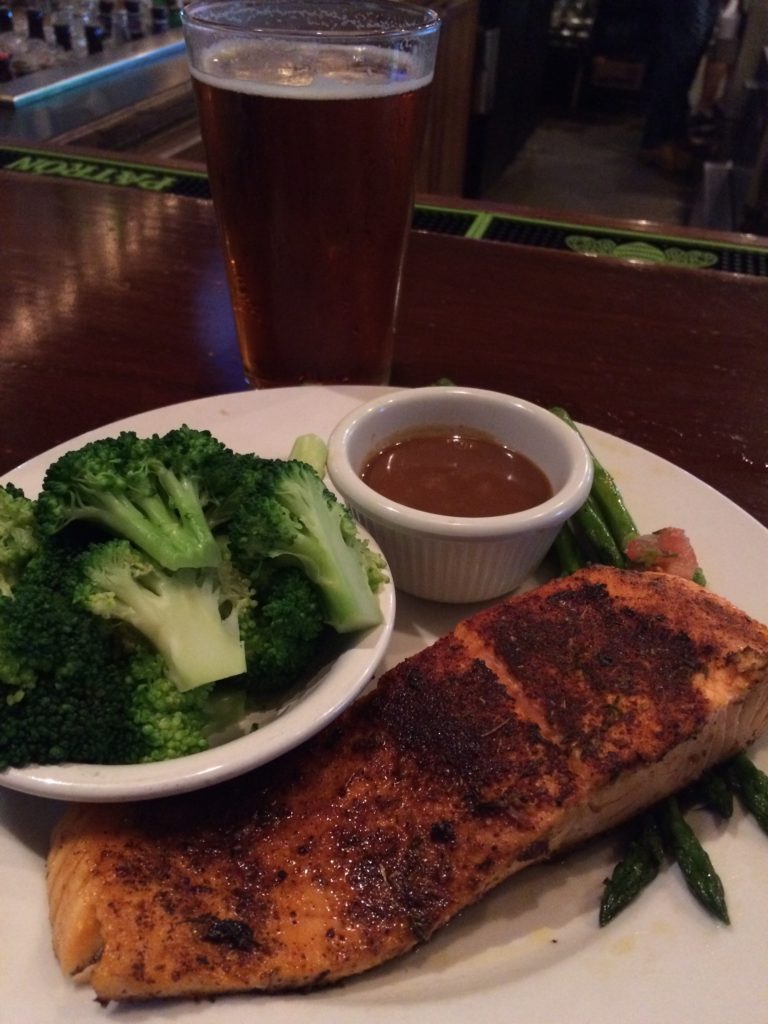 Saturday I made a yummy coffee for the road, we put the top down, and headed out on over an hour drive to watch our grandson play in his Super Bowl game!
Look at me. Mike is one lucky guy, huh?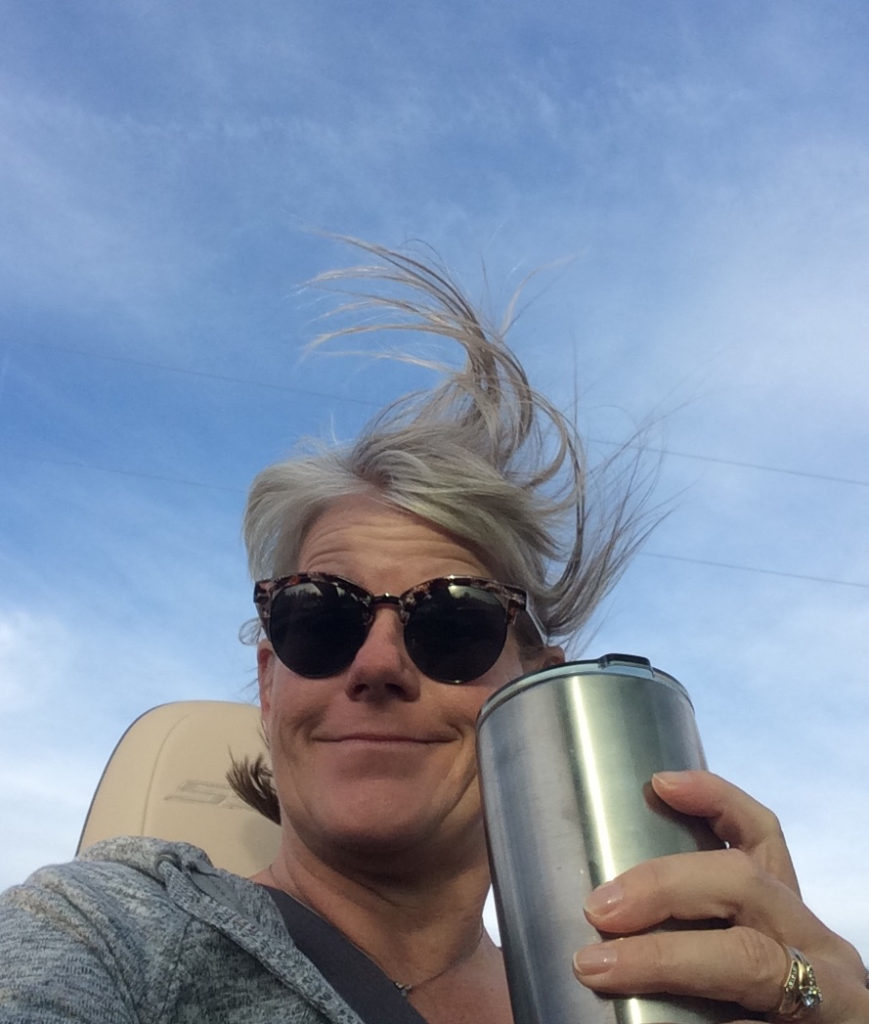 They were undefeated this year, but they just couldn't score enough for a win on Saturday. The opposing team was a good helmet taller than all of them!
That is our grandson in the blue carrying the ball! He is a great little athlete and says that football is by far his favorite.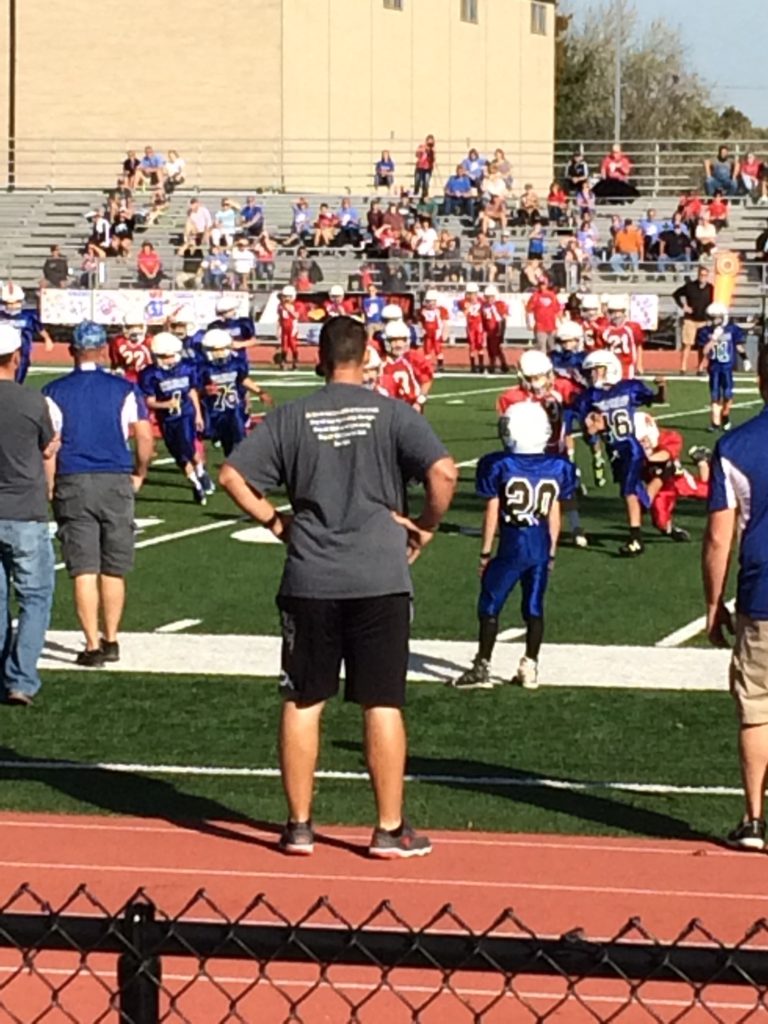 And Gigi (that's me, Gigi) gets an action shot of our stud!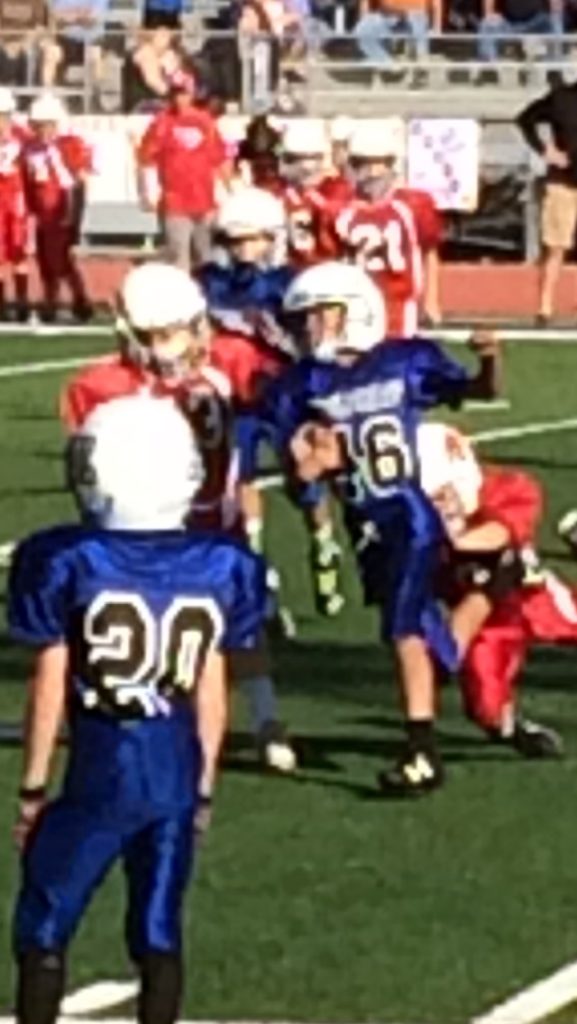 For lunch, i found these at Whole Foods. The one on the right is all veggie with a Peanut Sauce. It's pretty dang tasty!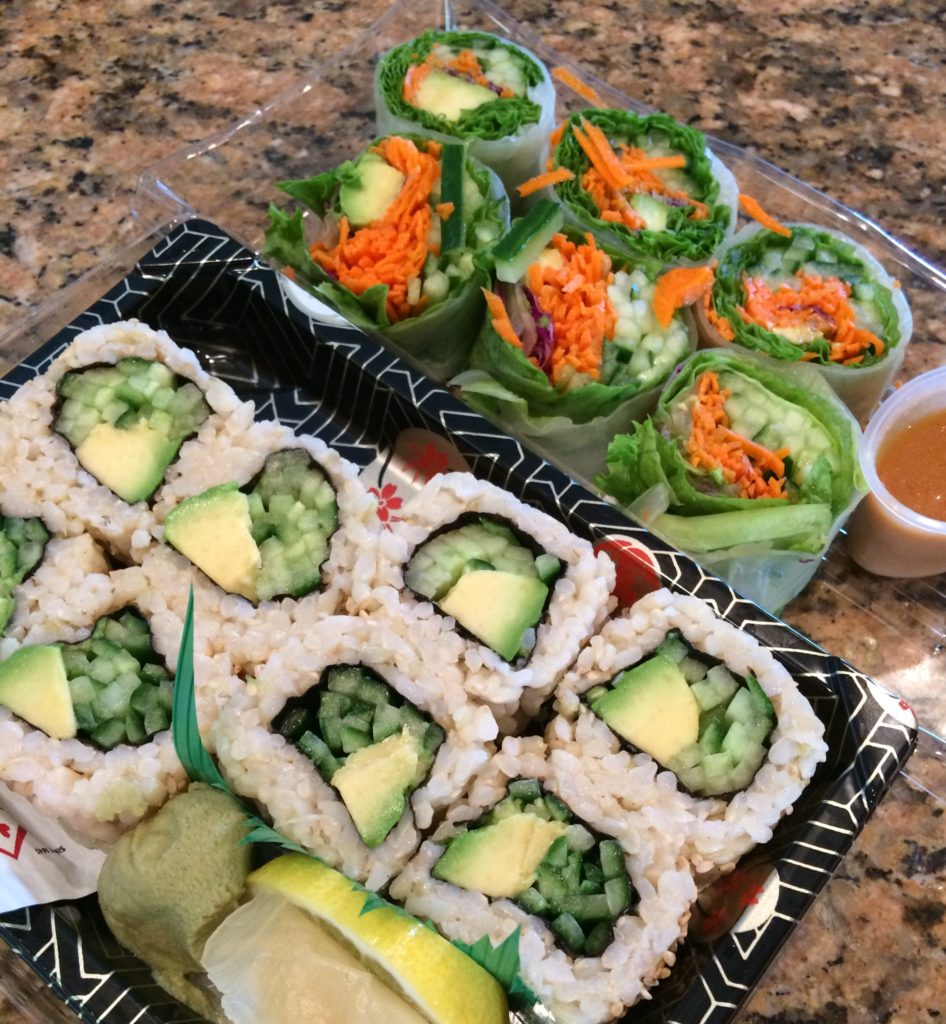 For dinner, I spent the evening grilling and roasting. I like those kind of evenings.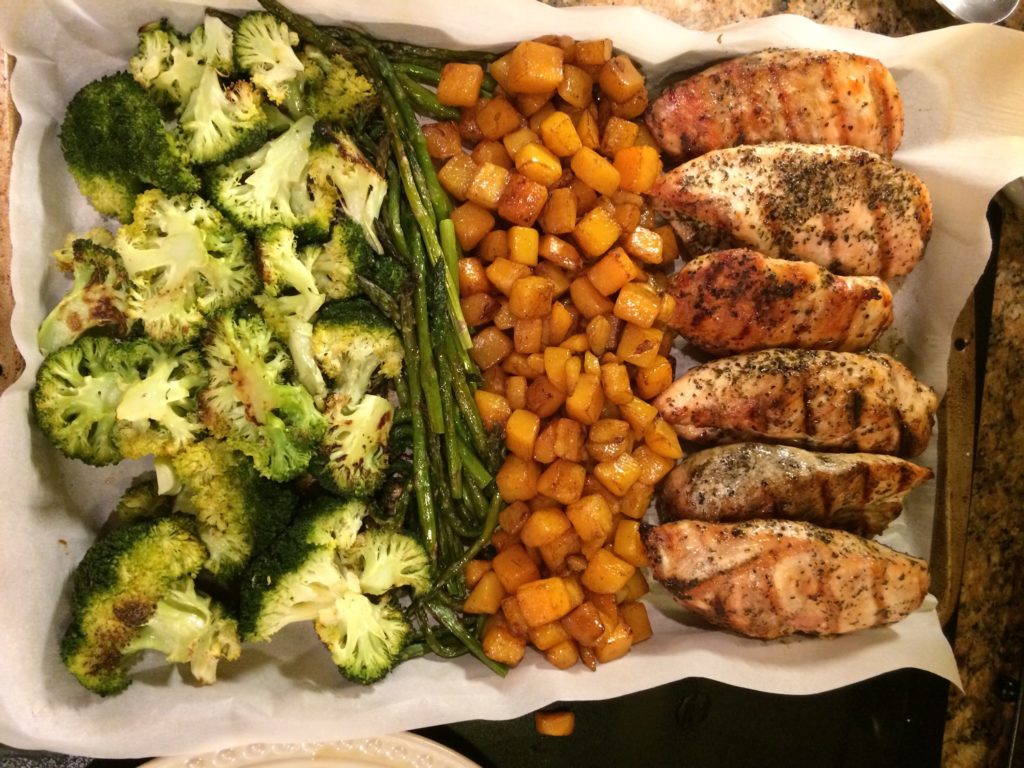 Just a bunch of wholesome yumminess. Chicken, Butternut Squash, Asparagus and Broccoli.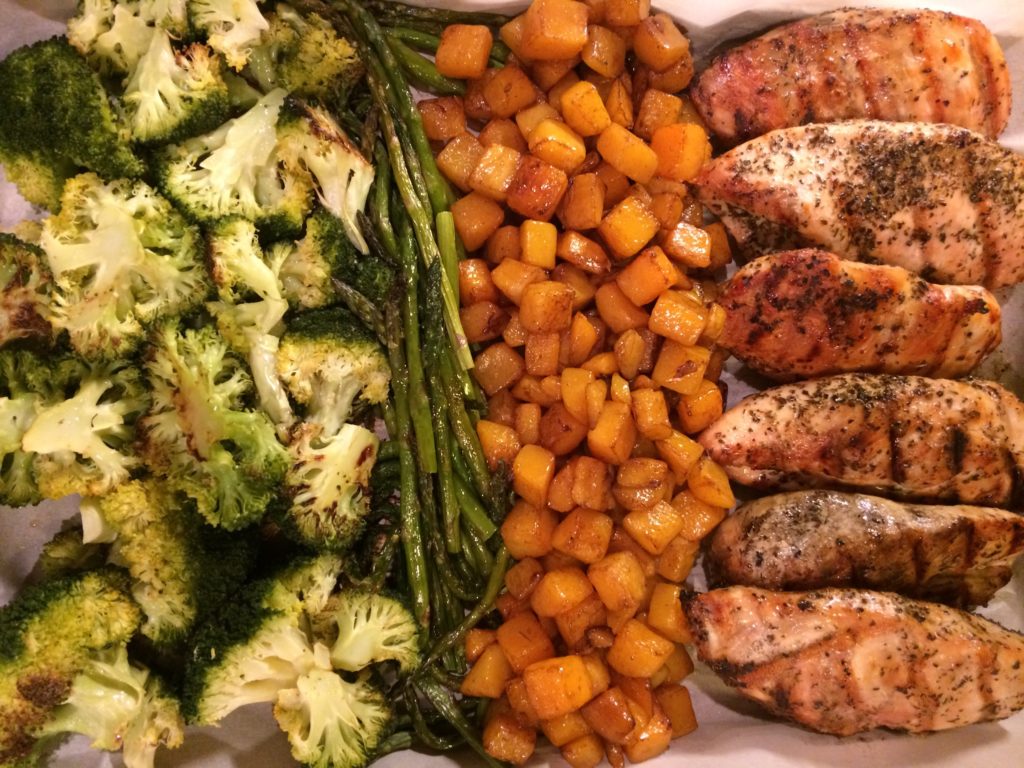 Sunday was a pretty quiet morning at home.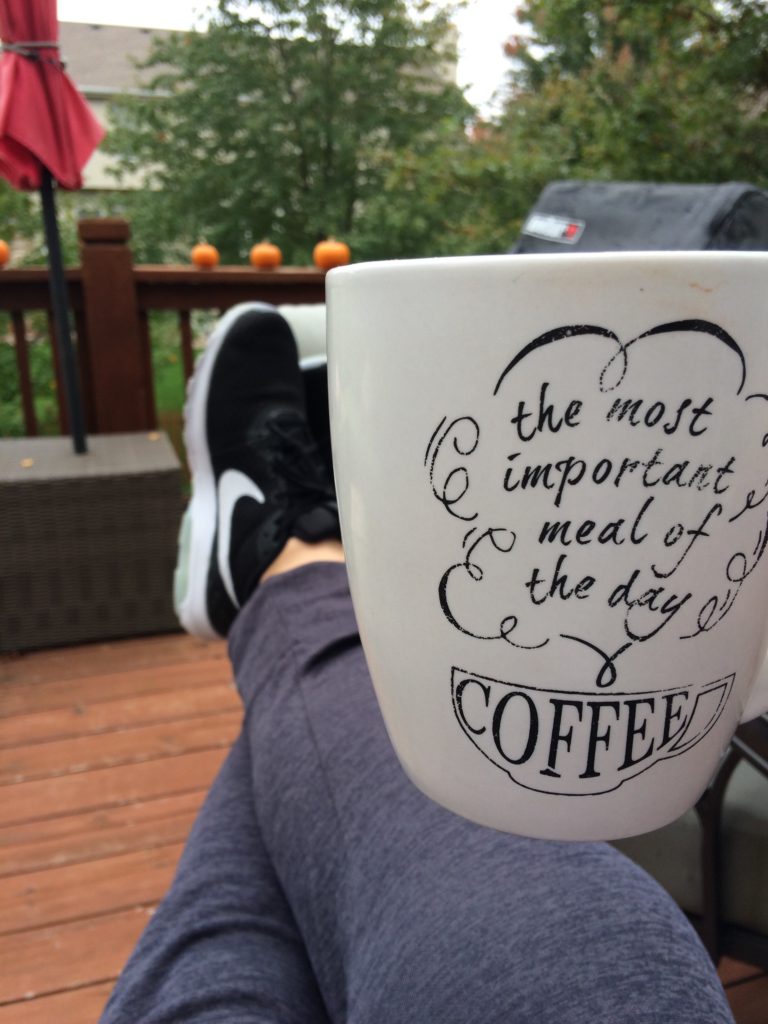 Then we watched our Chiefs win. Go KC!
Me and the pups got in a walk, then I tossed a few leftovers together for dinner and added in some Baked Sweet Potato Fries.
On Monday, I wanted the hubs to have a nice birthday, so I filled his day with a couple of different birthday cards, text messages, food and fun.
We don't usually do gifts, but I got him an Echo Dot? It looks like a hockey puck. You say, "Alexa, what time is it?" and this damn hockey puck answers you! You can say "Alexa, play me some Garth Brooks", and she does! Let me just say that Mike liked his present and he spent the rest of the day talking to Alexa, his new friend. Mike talks to Siri more than anyone I know, so I knew he would love this, and he did.
I offered to cook, but he wanted his favorite breakfast….UGH! McDonalds Breakfast Burrito. I also stopped at Starbucks to get him a Latte and a Birthday Cake Pop, which he loved!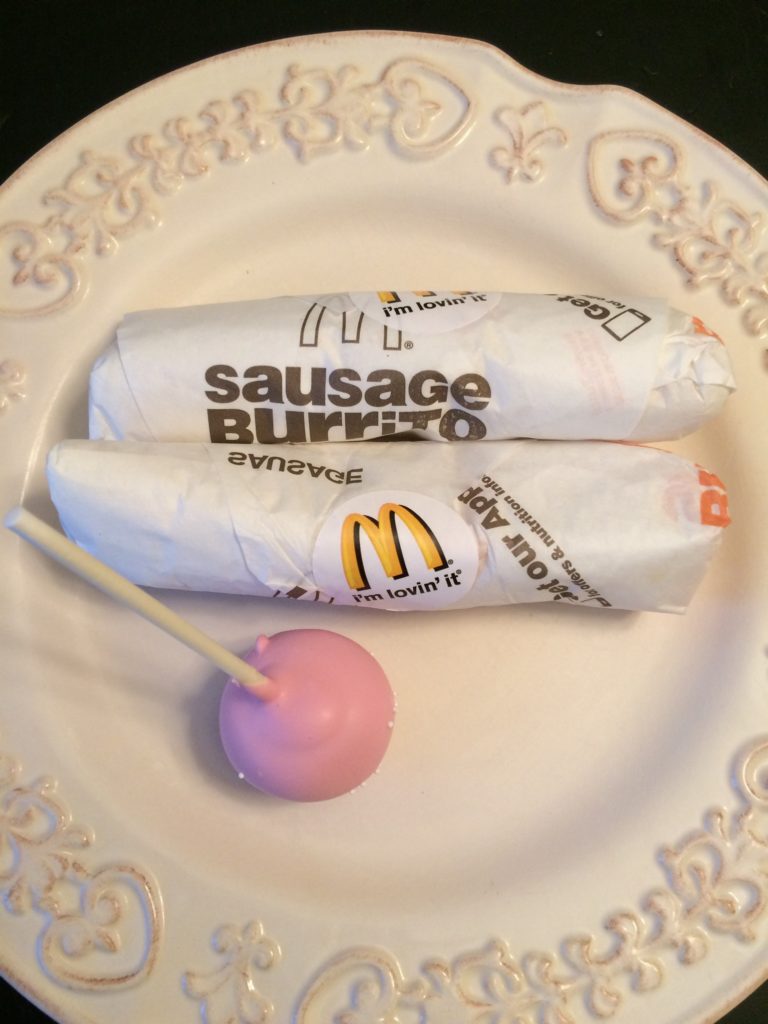 I worked the food truck yesterday and I took a few mask along so we could have a little fun with the customers. We sent Mike this picture with a Happy Birthday message.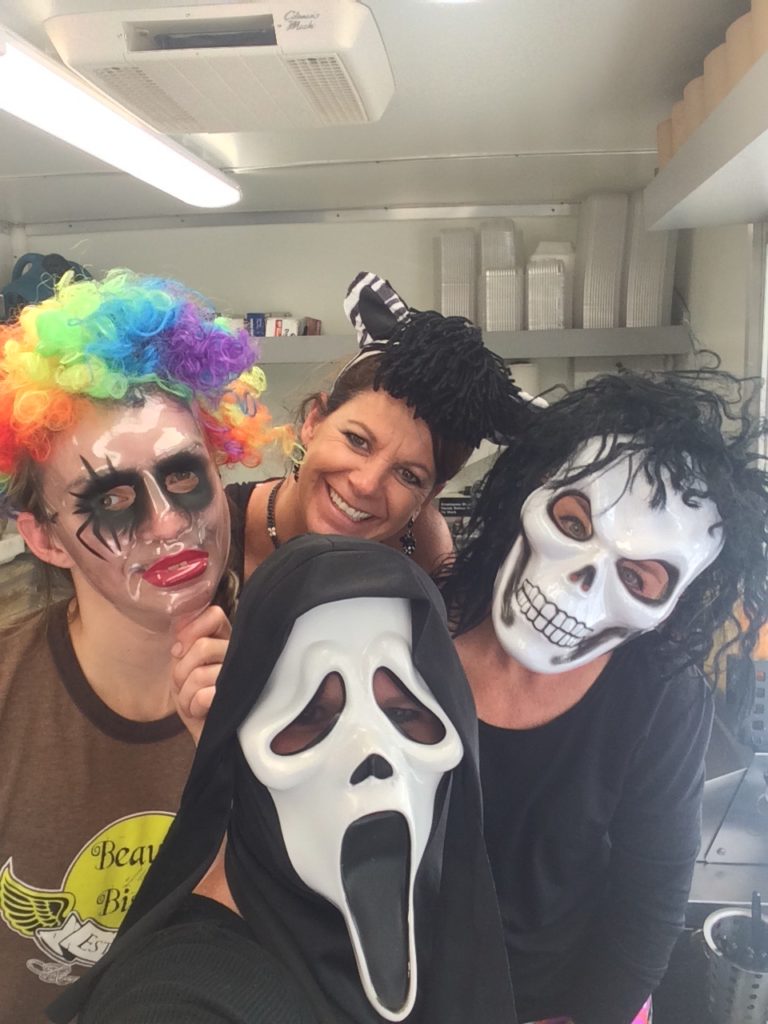 We ended our day with dinner at PF Chang's on the County Club Plaza and his birthday was a success!
Happy 56th! You make the 50's look pretty darned good!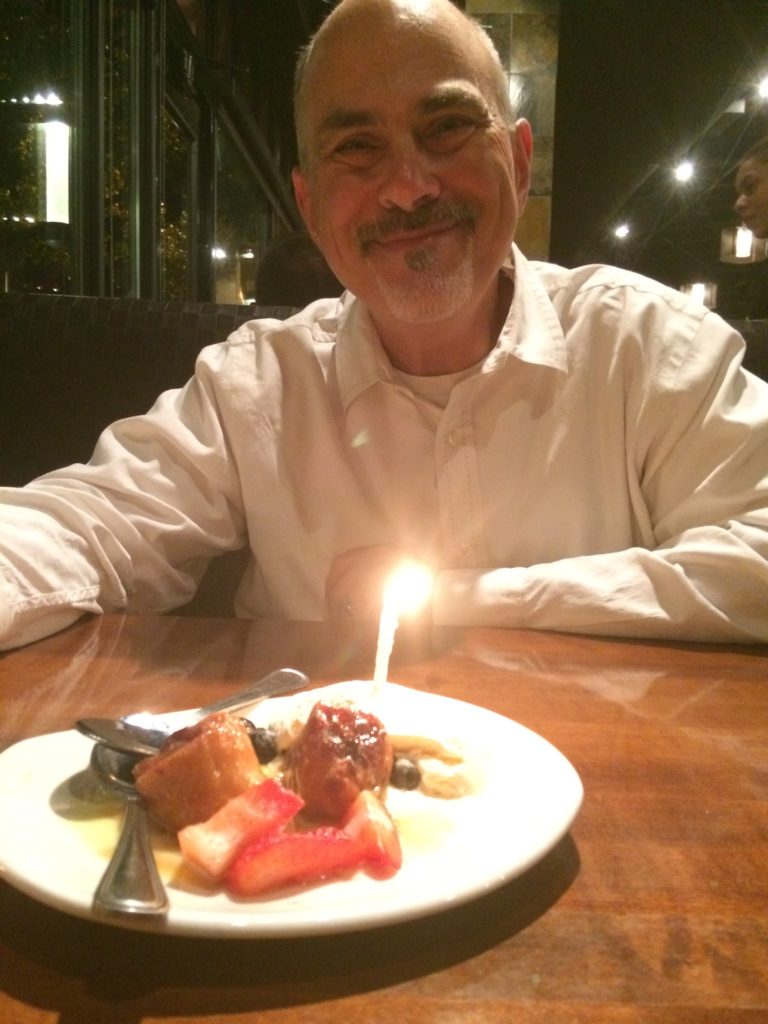 My goal was to be at 169 by November 1st. I still weigh 172! I'm giving myself another month.
If at the end of November, I am still lingering at 172, I will accept that my body is comfortable there, and that will be my new goal weight.
Okay, while typing this up, a bird flew in my back door and it totally freaked me out! I opened all of the doors and ran outside. Now, I am back in the house, but I have no idea if the bird flew out of the house or not. If I go upstairs to find a bird flying around, I may pass out.
Wish me luck!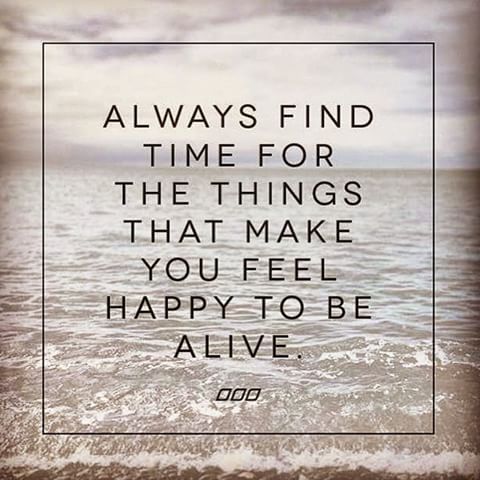 "love the life you live, live the life you love"