I picked up my daughter and her boyfriend at the airport at midnight on Wednesday. I'm not really sure how they both were able to pull this off, but they are going to be here until the 27th! That's 11 days with me!!
Besides working the food truck and a few WW meetings, here is what is going on for the next 11 days.
Two Baby Showers for one of our friends. Tess was in her wedding, so I am really happy that she is able to be here for the showers.
My 50th! (You know that I'm taking full advantage of as many days to celebrate as possible) One birthday celebration is a family day at Top Golf with all the kids and grandkids. I have a birthday breakfast planned with a few close loved ones, another birthday get together with a very small group of close friends. On my birthday night, dinner out….somewhere. That outta do it. Ya think?
We have an annual Thanksgiving Eve party at a friends house.
Thanksgiving at the In-Laws, then dessert at my moms.
The day after Thanksgiving, a family sleepover here with all of our kids and grandkids so we can put the tree up together, watch Christmas movies and play games. I'm hoping it's a new tradition! Breakfast casseroles and hot chocolate the next morning.
I know that we have a lot planned, but we also are going to work in some nice down time with long walks, couch time and football games, yoga and coffee chats.
I'll keep you posted.
Tess and I are actually snuggled up in my bed right now. I love that when she is here, she likes to come crawl into my bed in the mornings.
There are going to be a lot of food and beverage challenges over these next 11 days. I plan to make the best choices possible, drink lots of water and stay active.
Here are yesterday's eats. I made good choices, didn't count points.
Breakfast
Tess and I were chatting away and I forgot to take a picture!
Un-Pictured Sweet Potato Hash topped with scrambled egg whites.
Lunch
Tess and Manuel and I were out doing a little shopping, then we grabbed lunch out.
Salmon Salad. Simple, yet delicious. I ordered the dressing on the side, but the tomatoes were marinated and the salmon was cooked to perfection, so I didn't even need the dressing.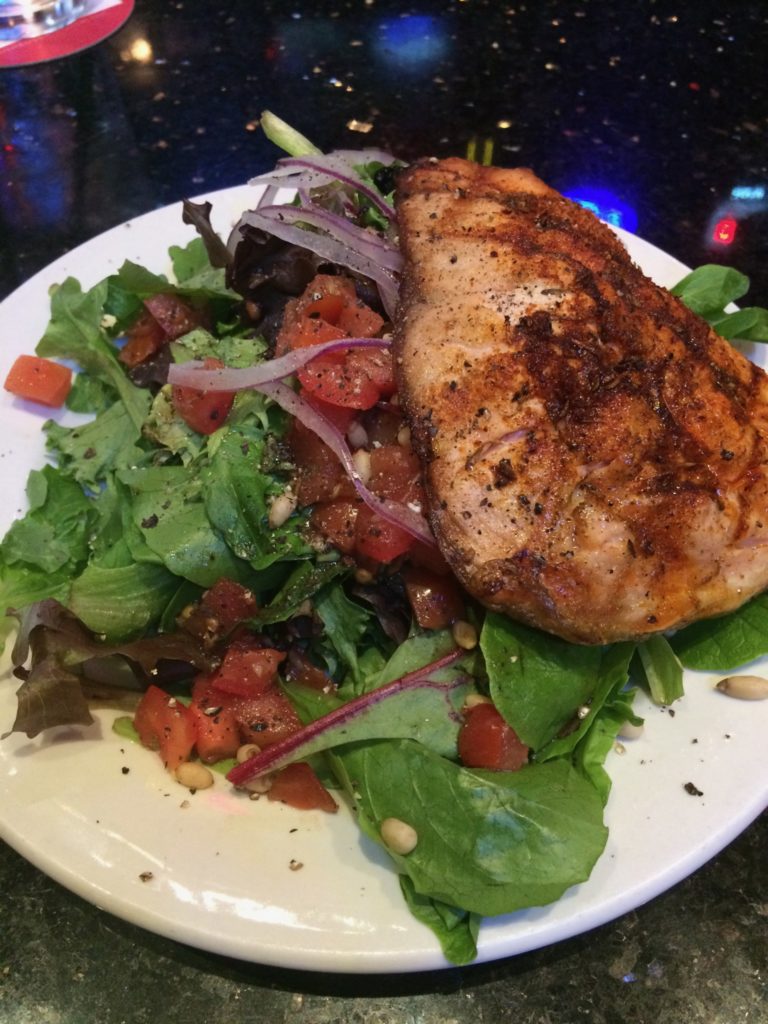 Dinner
I had no idea what the day had in store, and I hadn't planned dinner, so Mike and Tess and Manuel and I all grabbed a bite out at our little neighborhood bar and grill.
I was in a salmon mood yesterday.
Blackened Salmon Caesar Salad. Again, dressing on the side and I ended up using less than a Tablespoon.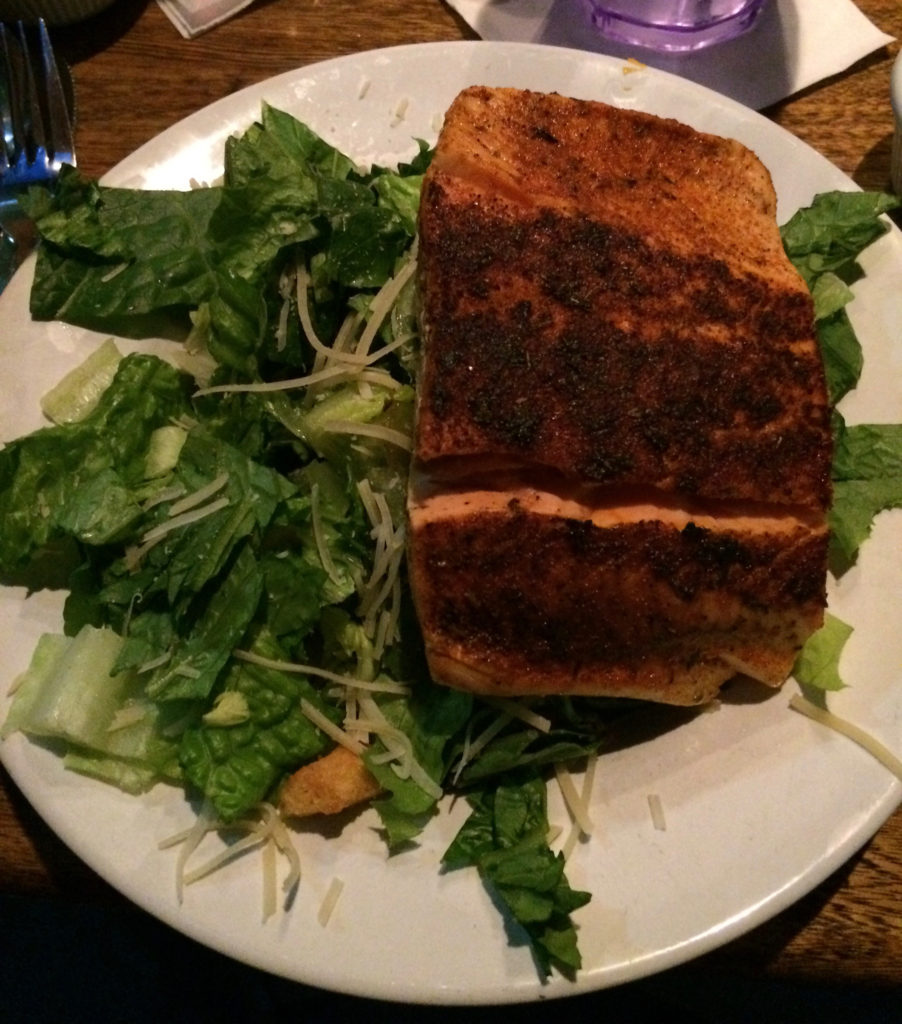 With so many things planned over the next several days, I'll try to blog, but I don't want to take a lot of time away from the fam.
Thanks for being such great readers.
You guys are awesome. Thank you so much for taking the time to comment on the blog and send me emails. Those comments and emails mean so much to me. I'm so happy to be able to connect with so many of you through the blog.
I keep it real, and that seems to be the connection.
Have a wonderful weekend!
Hugs to all of you!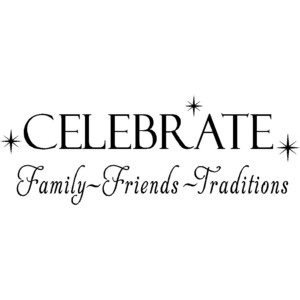 "love the life you live, live the life you love"