These last four days have been filled with Christmas shopping, Christmas shopping and then some more Christmas shopping. With our family Christmas this weekend, I've made a list, I've checked it twice, nobody's naughty, I think they're all nice.
Each Christmas season, I tell myself that I will simplify things for myself the following year when preparing for Christmas. Although I have discovered a few things that make the holidays less stressful, I always end up doing more than I know that I need to do.
Looking for ways to feel less stressed this year?
Here is what I'm doing so I can enjoy more time spent with family and friends and less time yelling at Mike. That guy takes the brunt of my stress.
If you need to say "no", or you want to say "no", then by all means say "no". Your health and well being likely depend on it!
If sending out Christmas cards is causing you stress, remember that it is okay if you don't get them out this year. Send out Happy New Year cards, or skip it all together without apologies or guilt.
Will less decorating ease your mind? You are likely the only one that notices how much decorating you do. (My big one this year.) Do less this year if it will make the Holiday more enjoyable for you.
Do you feel the need to continue several family traditions? Pick one and make it really special.
Are you cooking for an army? Cook less items and ask friends and family to bring something if you are hosting. I'm sure most will be happy to bring something.
I did less this year. I'm not sending out Christmas cards, (I posted the picture that I would have used on Facebook and Instagram.) I put up less decorations. I bought a new artificial tree that went up in about two seconds, I've downsized my menu for our family Christmas here on Saturday and we will still have plenty of yummy food and I bought less gifts for our kids and grandkids. I'm not quite guilt free on that last one yet. They may not even notice.
If you have any other ideas on how to lower the stress of the Holiday season, I'd love to know your tips!
Along with shopping, the last four days have included some great impromptu get togethers with friends. I have not made the best choices in the food and beverage department.
Thursday we watched the Chiefs game with some friends here, and while I planned some great low point food, we had some high calorie Holiday beverages.
Friday, I went to a small Happy Hour with some girlfriends, and while I didn't drink much, the snacks overwhelmed me and I know that I ate too much.
Saturday, Mike and I went to our friends house, where I had drinks and too many snacks.
Sunday, I spent the afternoon with a few girlfriends, and while I made good food choices, I drank wine and really should have passed on the wine. I'm certain that all of my weeklies are gone! If you are a WW member, then you know what that means. If you're not, well it basically means that I didn't have any points available to be indulging all weekend.
Monday was much better, but I'll be honest. I had no evening plans, so dinner was a cinch and there was no beer or wine to tempt me.
Remember when I fell on my knees on the concrete when I fell down the deck stairs several weeks ago? Well, I went to the doctor for a third round of antibiotics (I think I have a chronic sinus infection. I'm going to an ENT on Friday.) on December 1st and when I showed her my knee, she said I needed to stay off it for a while. With the weather being a tad chilly, I've made all sorts of excuses to lack on walking, so I've been getting no activity for the last several days. With a lack of activity and the extra food and beverage, I'm not feeling like my best self.
Yesterday I made better choices and I'm going to Hot Yoga this morning.
I know that this next week is going to be very challenging when it comes to food and drink, and I do NOT want to say no to friends because I'm concerned about my food and drink choices, but I have got to make better choices. December is definitely my most challenging month.
In order for me to do better, I have GOT to plan, track and blog everything that I am eating every day and I have to get in activity.
I am picking up Tess and Manuel from the airport Wednesday night and they will be here until Sunday. Tess and I promised each other to do a great job of supporting each other and staying on track. (We can talk each other into a beer and a snack in a heartbeat!!)
I hope you all are having a wonderful December! Mine has been busy and although I haven't made the best choices, I'm feeling really happy and looking forward to the next several days.
What month is your most challenging month when it comes to food and drink?? I'd love to know!
Here are yesterday's eats…
Breakfast – 6 SP
Egg White Omelet with a little Cheese, topped with Avocado, 1/2 Serving Oatmeal with chopped Apple and Cinnamon.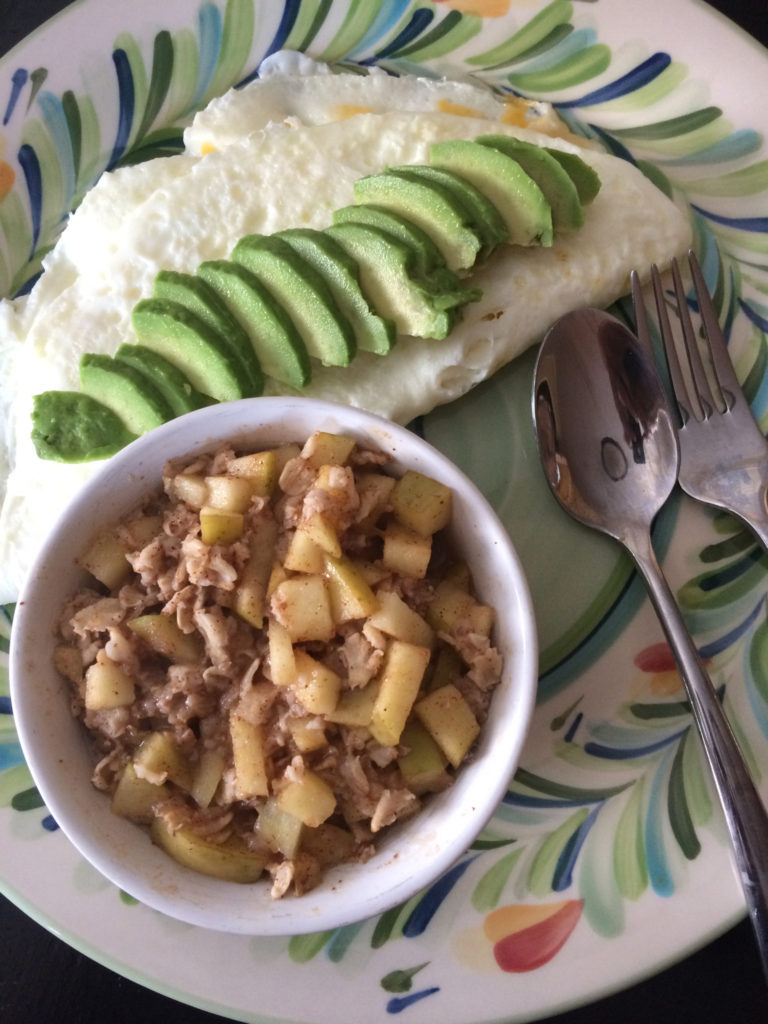 Snack – 0 SP
Grapes. I LOVE these grapes.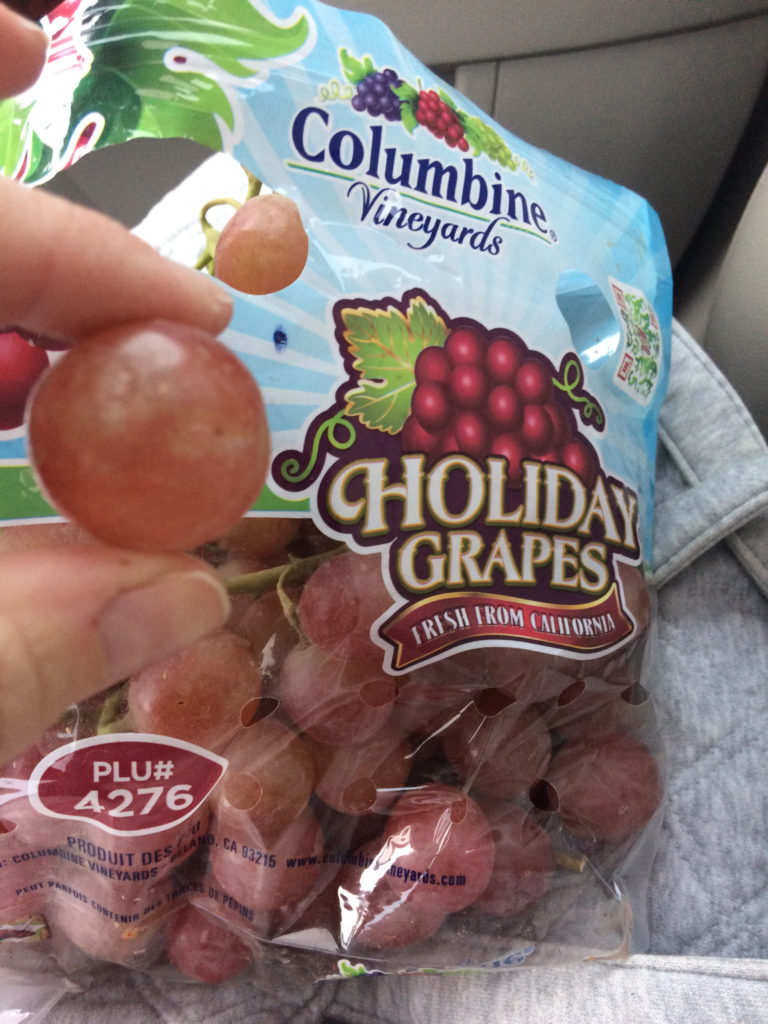 Lunch – 8 SP
Chipotle while shopping. I ordered this Bowl with no Beans, no Rice, double the Chicken (pay the up charge) doubled the Fajita Veggies, Light Cheese, Tomatoes and Lettuce.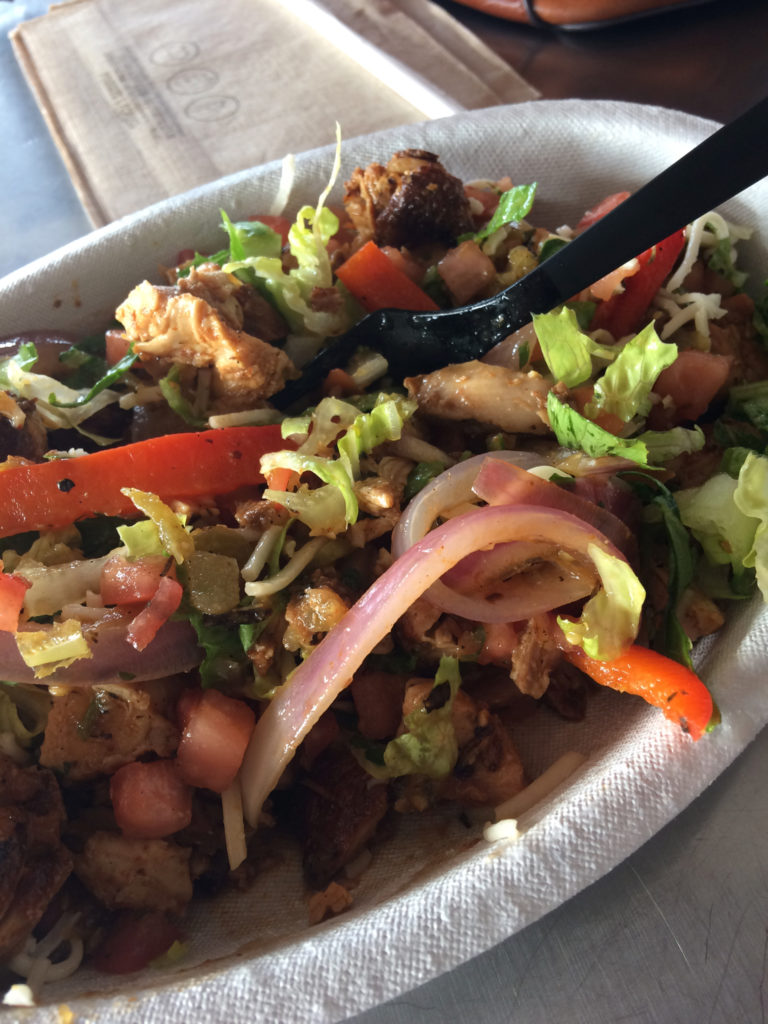 Dinner – 10 SP
My favorite Fall Salad, but without the Butternut Squash and Bacon.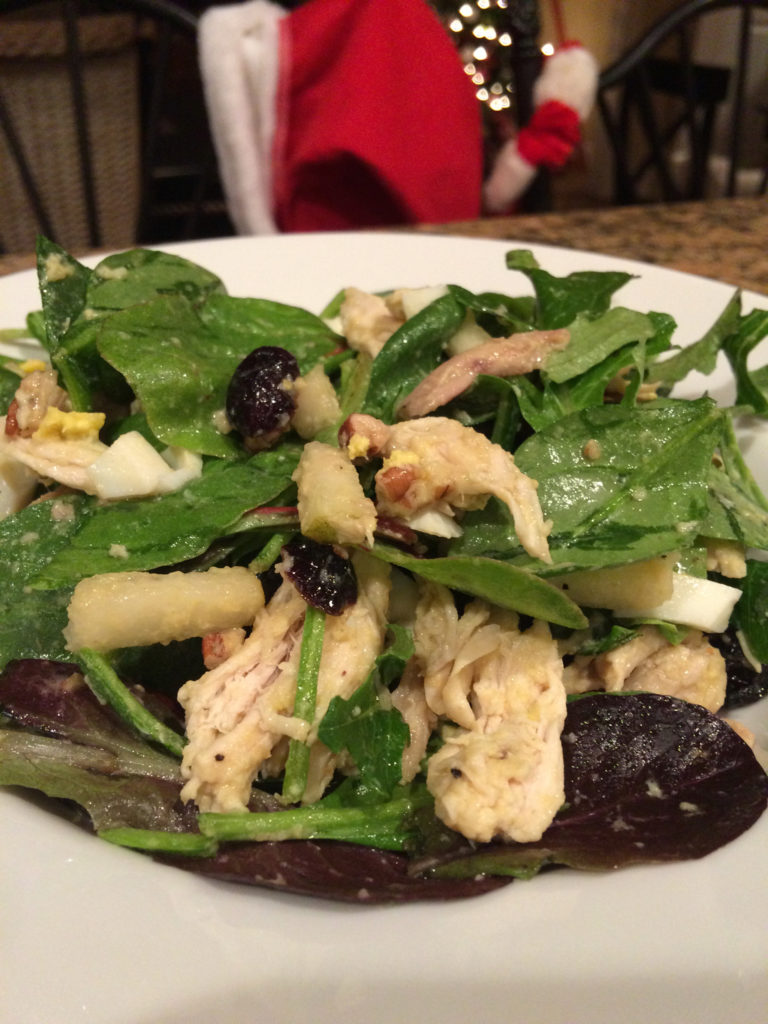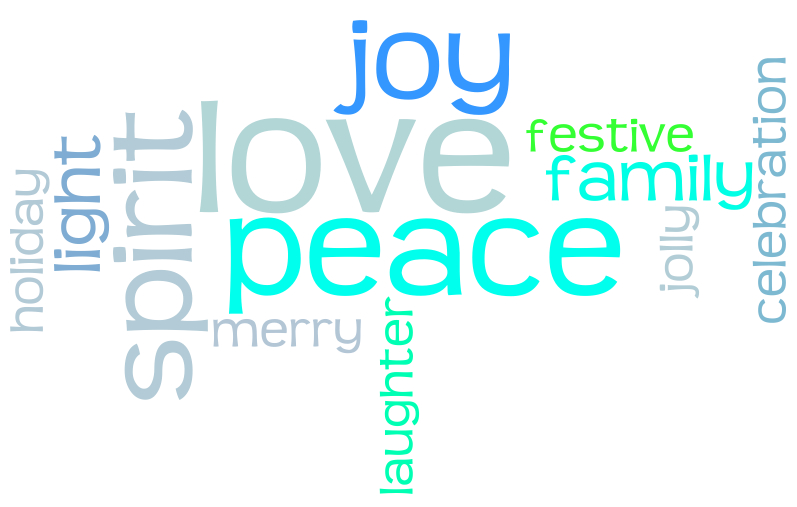 "love the life you live, live the life you love"