(I wrote this post on Saturday morning.)
I'm sitting in a First Watch (my "go to" breakfast spot) blogging from my phone, which I've never done before.
I worked two WW meetings this morning and I left my house around 7:00 am. I loved working this morning and taking my thoughts off of this past week.
Last Sunday, my daughter unexpectedly came in from Dallas for just a few hours to see an ailing elderly family member. It was an emotional day and it has been an emotional week keeping updated, not really knowing what will happen over the next several days. Everyone is staying strong, but admittedly it has been a difficult week.
On Friday night I received a phone call of yet another ailing elderly family member. Her only family is myself and my mom and she lives alone about 45 minutes away.
When I finish my breakfast, I'm picking my mom up and we're on the road to go visit her and help her make some difficult decisions, or possible make decisions for her. It seems as though it is time to make some decisions for her future that she is in denial about, so it's going to be a difficult and sad day.
My stomach was in knots Friday night and I could not sleep thinking about all of the scenarios and possible options for today's decisions. Where do we take her? How do we get her there? What do we do with her apartment? What do we do with her personal items? What if she says no? What about her dog? So many questions we do not know the answers to. So many decisions to make and unsure of how to make them.
Mike went to pick up dinner, and I grabbed a beer out of the fridge. I had decided to take a break from alcohol during the month of January, and I haven't had any, but I wanted a beer. I drank half of a beer, decided that was not how I wanted to deal with stress, then dumped the other half out and took a long shower.
Last Sunday when Tess came to town, Mike and I found ourselves sitting in a bar waiting to see if she would get on the flight home that she was hoping to get on. I really wanted a glass of wine to relax while we waited and my thoughts wandered about the next several days, but instead I ate a salad and sipped on coffee.
Several nights this week I've thought that a glass of wine would relax me, but I knew that wasn't how I wanted to make my body relax, so I resorted to hot showers and talking things out with Mike.
This week will be emotional, no doubt.
I'll blog more about the weekend, but I did make it to Yoga yesterday and plan to do so again today to help me relax and keep my thoughts in order.
Here are Friday's eats..
Breakfast – 10 SP
Sweet Potato, Prosciutto, Egg White, Peppers, Avocado and Berries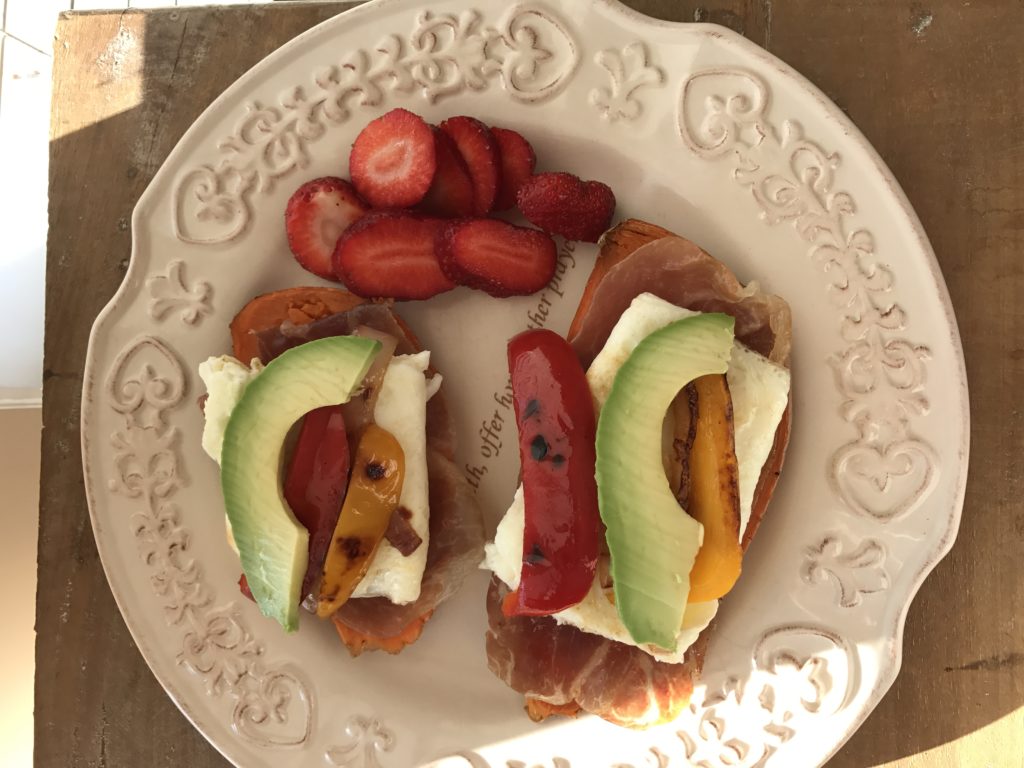 Lunch – 6 SP
Mixed Greens, Roasted Butternut Squash, Chicken and Homemade Vinaigrette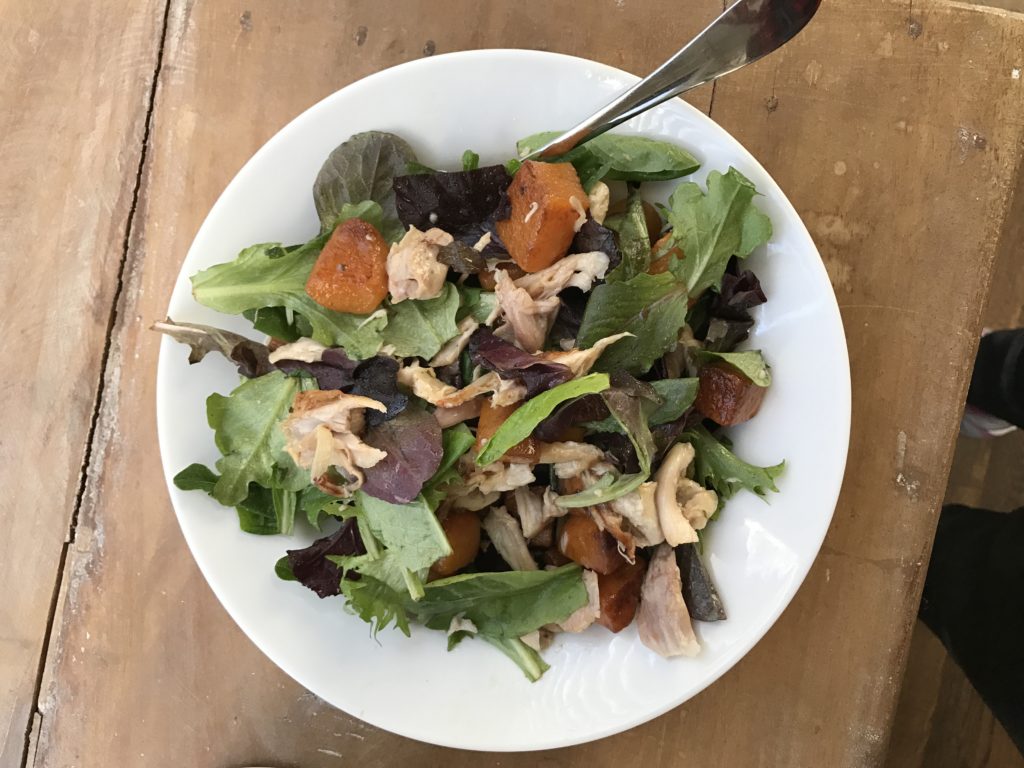 Snack – 11 SP
Un-Pictured 1/2 Bottleof beer, 2 Medjool Dates
Dinner – 8 SP
Grilled Chicen Salad with Cheese and Avocado and Salsa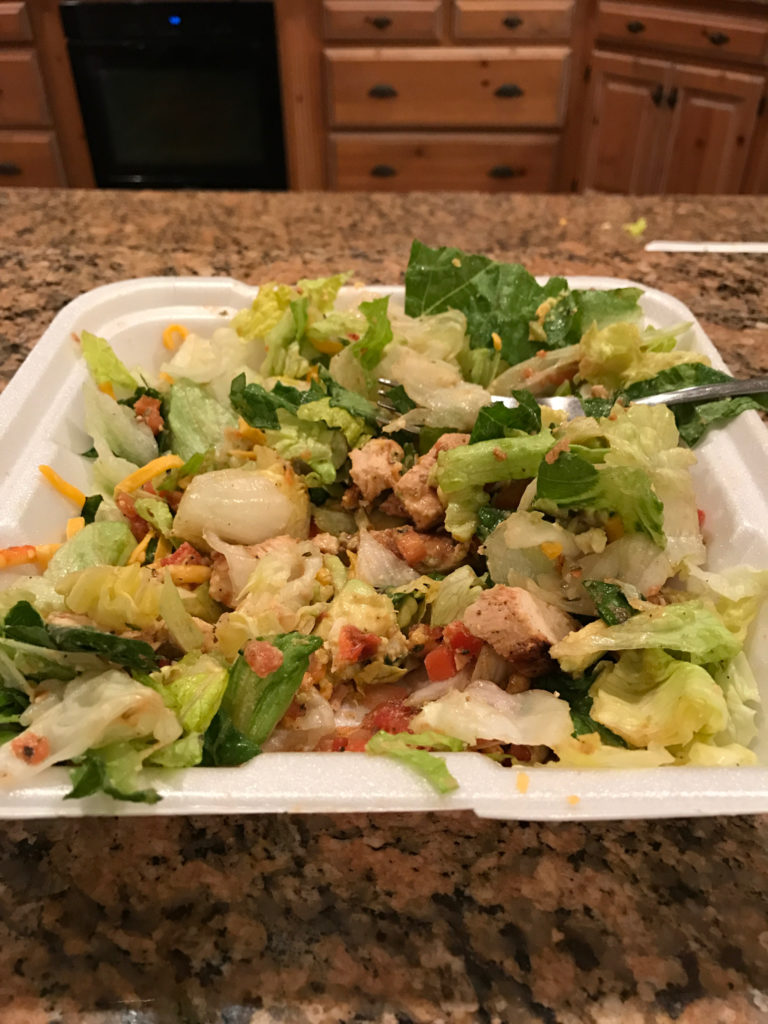 Daily SmartPoints Total = 35
2017 Goals
Make time each week to Meal Plan
Drink 100 ounces of water each day
Exercise 5 days a week
Eat three meals and one snack daily
FOUR 100 Mile Walking Challenges this year!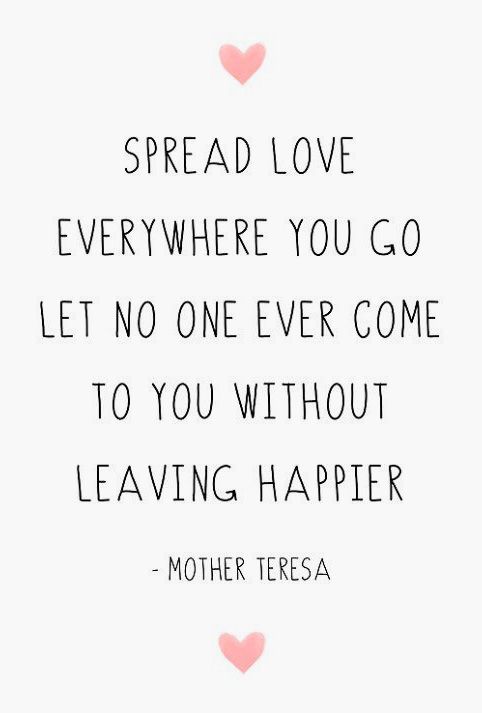 "love the life you live, live the life you love"