You all are the best. Thank you so much for your comments, text messages and emails of encouragement over the last few days.
Over the last several days, I have found myself saying this over and over. This is Life. And it really is. It's just the difficult part.
Saturday, my mom and I went to visit my moms cousin, who lives about 45 minutes away and doesn't drive. My mom doesn't like to drive and driving too far gives her major anxiety. That has made visits to see her cousin few and far between. Of course I feel guilty because I know that me driving us there is the only way that we will all see each other. My moms cousin doesn't hear very well and I don't think her hearing aids have ever worked too great, so phone conversations are difficult. We've tried letter writing and that hasn't gone well either.
The last time that we went to visit her, (several months ago) her apartment appeared to be clean and she had a few close friends that were taking turns getting her to the grocery store, doctor's appointments and keeping her active socially. We left her apartment feeling like she had a good support system in her friends and neighbors.
Since that visit, her health has declined and her friends and support group are exhausted from taking care of her. They called my mom this weekend to say that they were limited now on how much they could help. I think they are actually older than she is. It's time to make a change in her living situation, and she is not willing.
After seeing her living conditions, it is clear that she needs help in her home, or needs to be in an assisted living facility.
We talked for several hours and she finally agreed that a change needed to be made. Her biggest concern is her dog. She has a 15 year old dog that truly is her best friend. I honestly don't know what to do. We have discovered that some facilities will take dogs, but I don't think her financial situation and insurance will allow for a facility like that.
We left her Saturday with the agreement that we would look into some assisted living facilities that we liked, then we would come pick her up and we would visit them together and move forward on some decision making in the very near future.
On Monday, she called 911 and was taken to the hospital, but they said that they had no reason to keep her. From there, she agreed to be transported to a nursing home for an evaluation. The hospital tried hard to get her admitted to a facility closer to us, but with no luck. Mike and I hopped in the car and drove the 45 minutes to the nursing home so when she got there, she would feel a little more at ease. We got her settled in. Her dog is staying with one of her friends, and she will be at this facility for anywhere from 3 to 10 days for evaluation. We will still have to make decisions after this evaluation on where to go, who will keep the dog and deal with her apartment and personal belongings. My biggest concern now is that she is comfortable and that the employees at the nursing home are kind to her. She has some dementia, but she totally knows what is going on and has no desire to live in any type of assisted living or nursing home. Who would? Right? I am praying for a loving staff that makes her feel good and gives her a little TLC. Hopefully she will have a good experience where she is and that will make future decisions a bit easier for all of us.
The nursing home called me last night to see if we could make an arrangement for her dog to come visit her. They said that they would allow it. We're working on it.
This is Life
…………………….
I am so glad that Tess was able to come in town several days ago. She was visiting her grandpa (my ex-father in law). His body was failing him, but his mind was 100%! He knew exactly who we were when we walked in the room. Tess held his hand and they talked for just over an hour. He would close his eyes for a bit, then open them, look right at her, and ask her a question about what is going on in her life right now. He asked about her boyfriend, her job and even her new apartment. He asked me about my parents, by name, and told me to tell them hello. He told Tess several times how happy he was that she had come to see him. We gave him hugs and kisses and told him good bye. It was emotional knowing that it was likely the last time that we would see him and knowing that he was hurting. He passed away Monday afternoon and is now at peace.
I am so happy that Tess was able to hop on a plane and come see her grandpa. So much peace in knowing that she was able to see him and that he knew that she was there.
This is Life
…………………….
I'm not gonna lie. The last week has been emotional and I'm an emotional girl. I did go to Yoga on Sunday morning and I always feel at ease when I leave there.
Mike and I took our grandsons to the Harlem Globetrotters on Sunday afternoon and it was a great escape.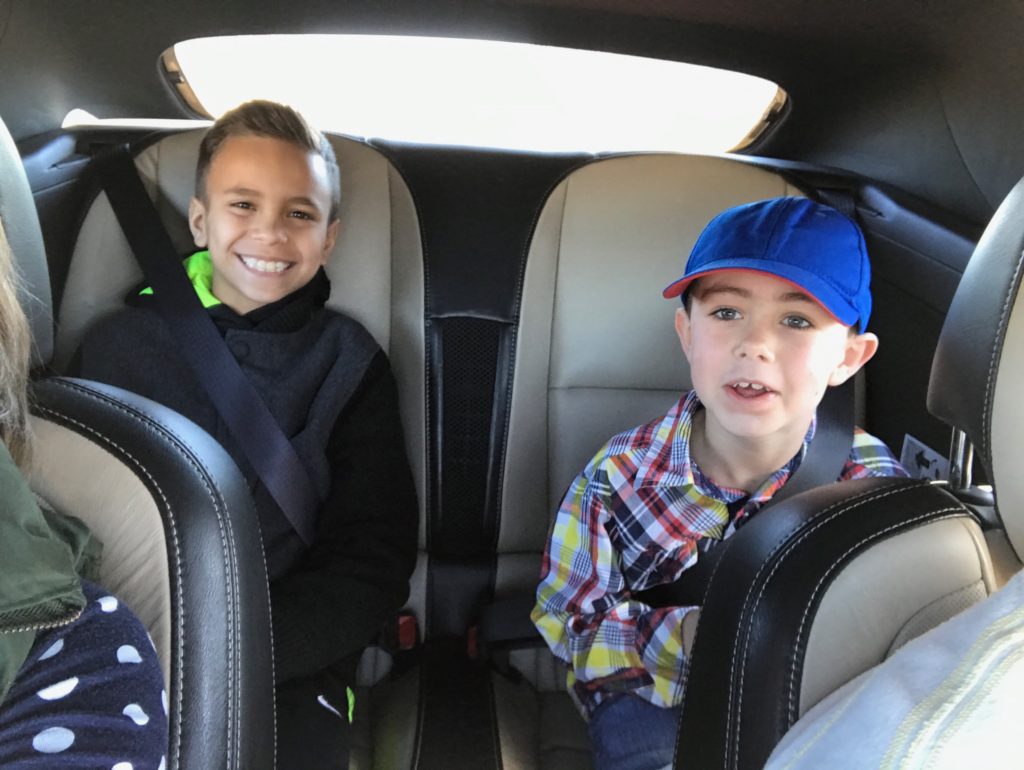 This is the best of seven that I took! HA! HA!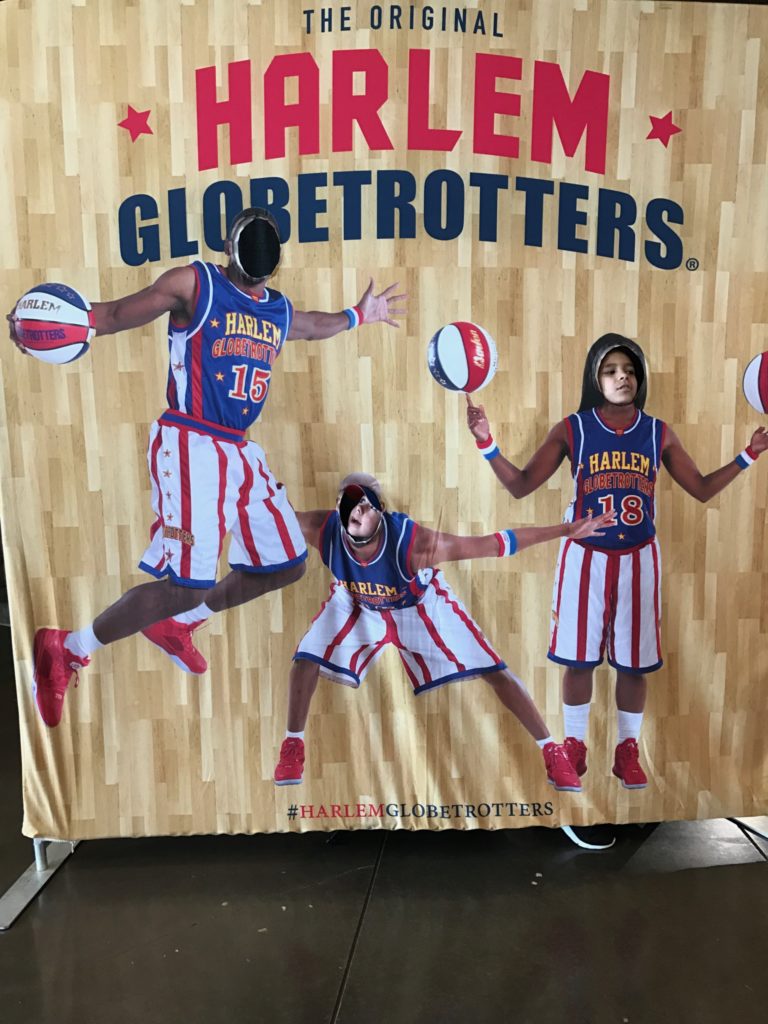 I hadn't been in years, but always entertaining.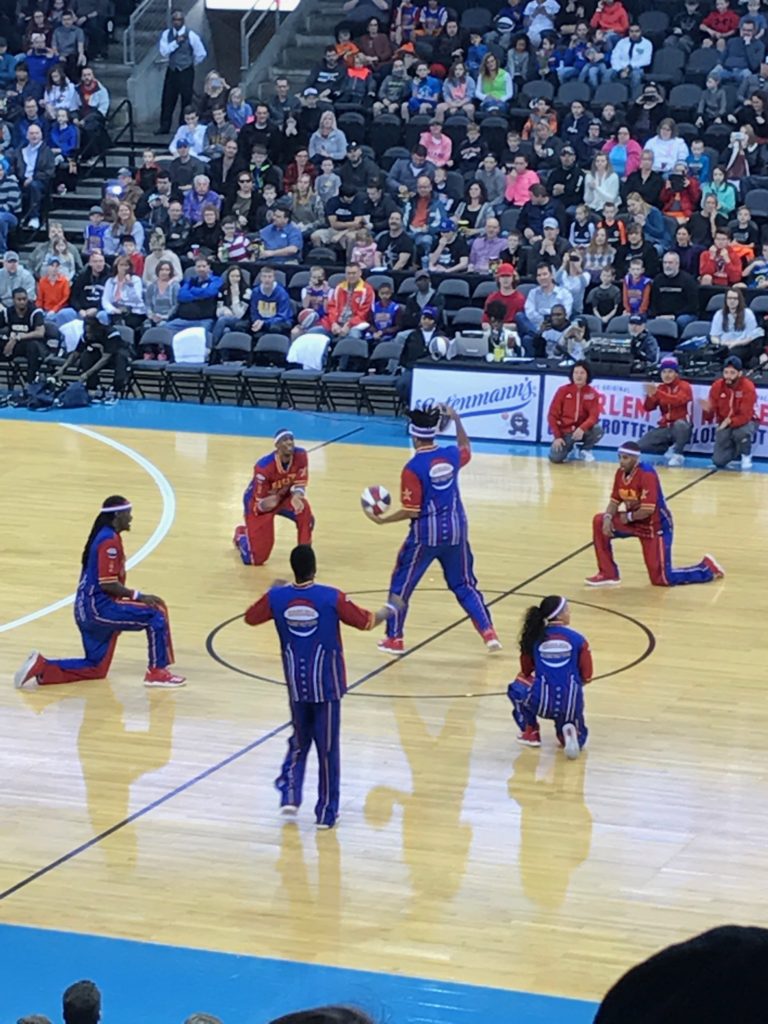 After the game they let everyone on the court to collect autographs. We got several and the boys had a blast.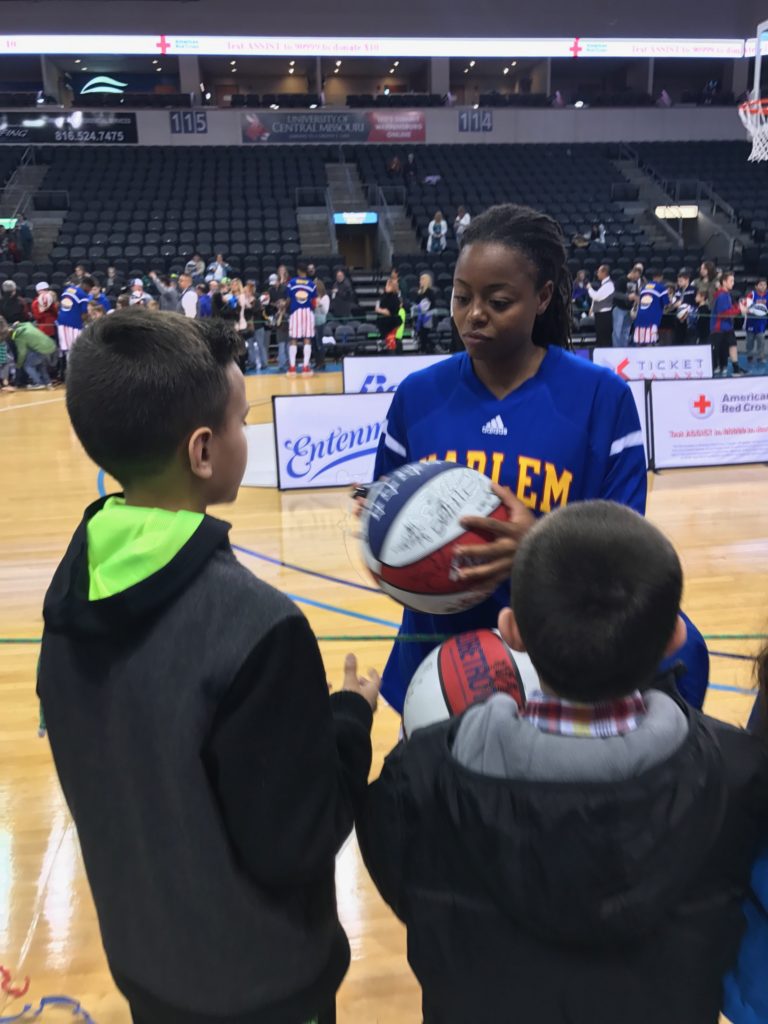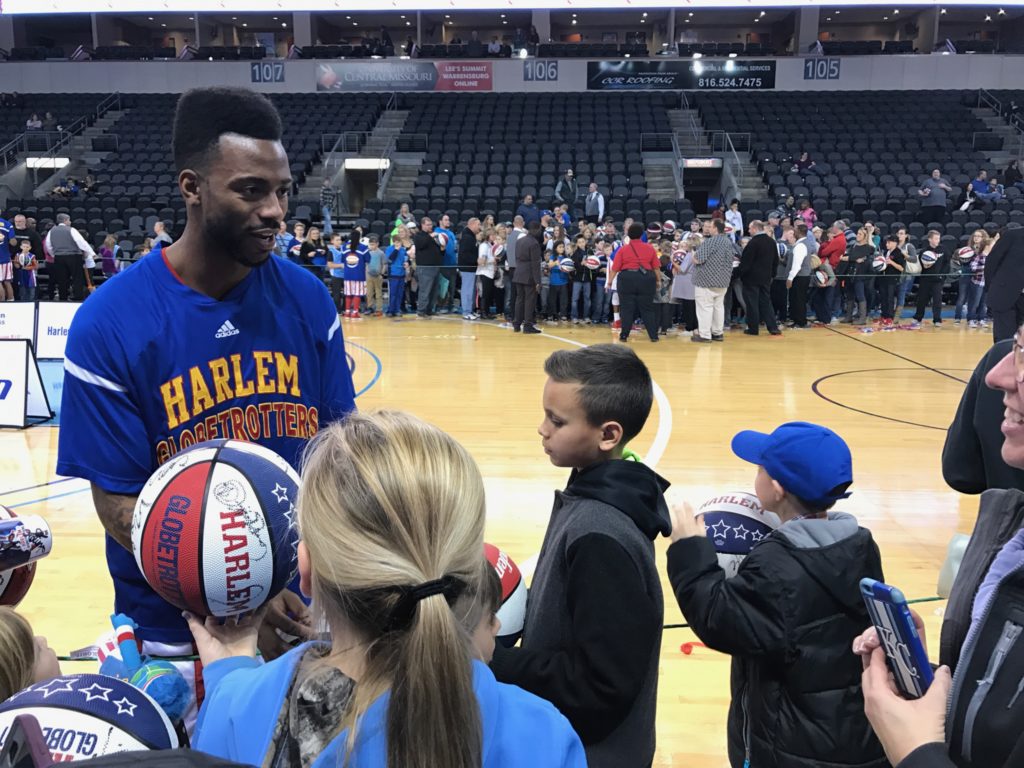 It seems as though we wore them out. Such a fun afternoon. Thankfully, This is Life too!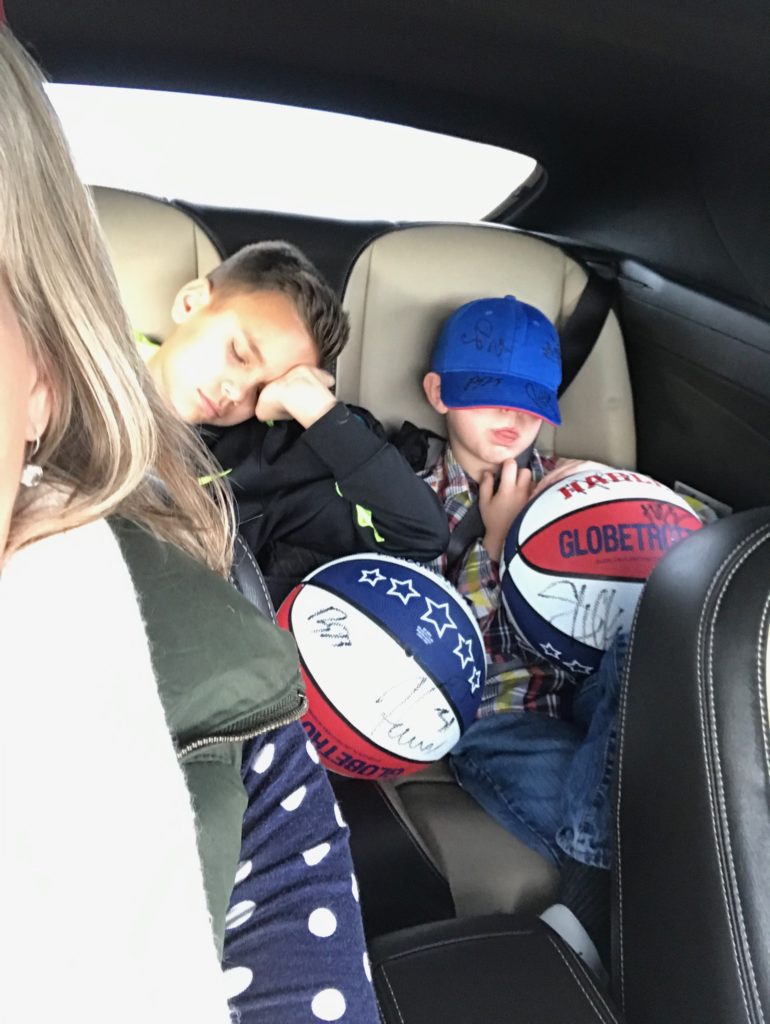 After the game we went out for Mexican food and Mike and I both passed on the chips and espinaca while the boys devoured it.
I WANTED A BEER AND CHIPS AND CHEESE!!!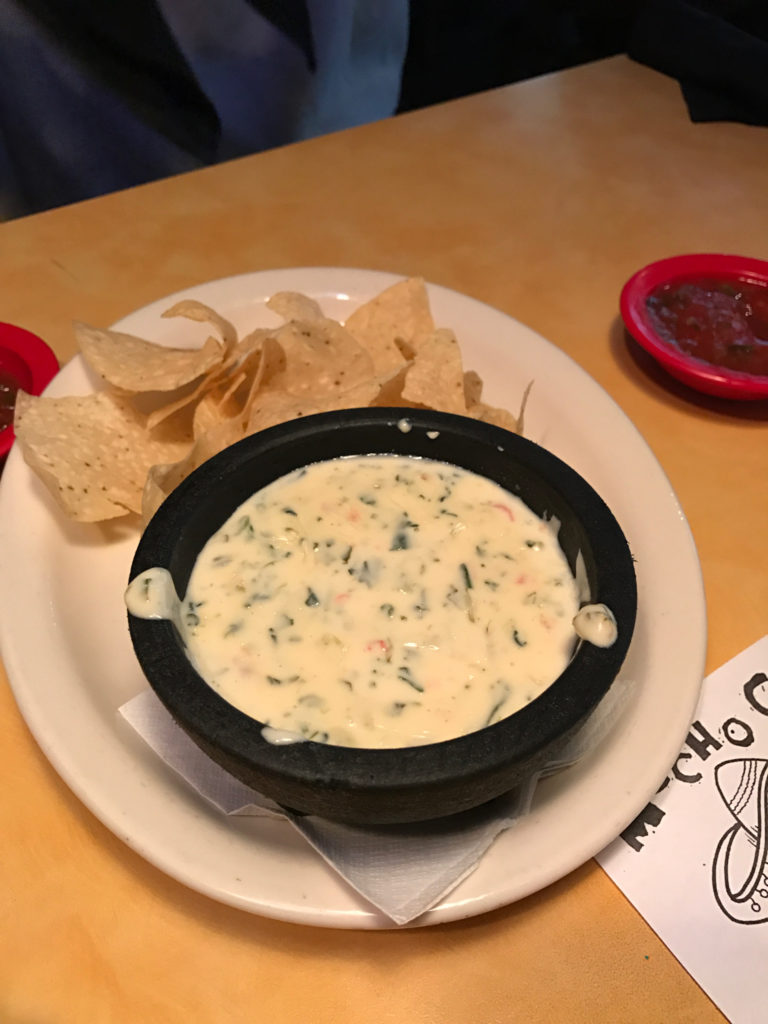 I had my shrimp fajita's with no beans, no rice, extra peppers and onions, and I stole the kids guac right off of their plates! Dinner was delicious. I also had lots of water and coffee.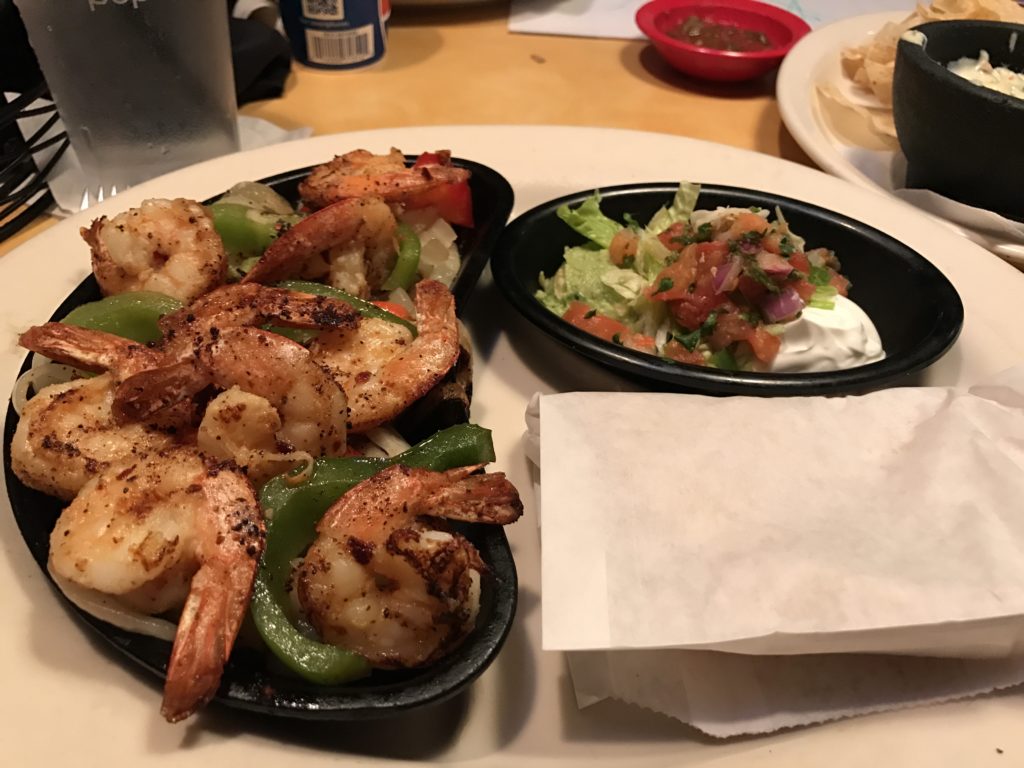 Monday morning I had several things to get done at home and a few errands to run. This is when I received the call from the hospital saying that my moms cousin had called 911 and was there. I was also told that at some point that day she could be transferred to a nursing home if she would be willing. There was nothing I could do until I heard from them later in the day.
This is Life
I came home and ate my lunch that I had grabbed while I was out. A Chipotle Bowl with some Trader Joe Plantains.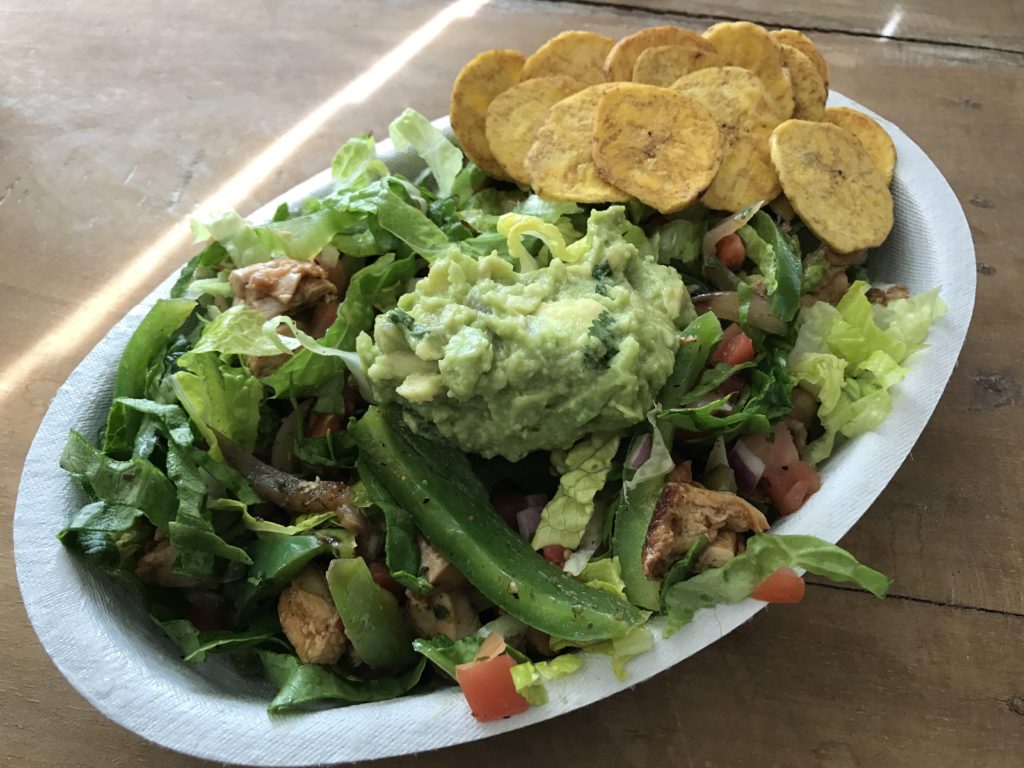 After lunch I walked for about 80 minutes with a friend. It was beautiful outside and it felt good to walk and have my friend lend me her ear. During our walk, I mentioned that my chest felt tight, and I assumed that it was stress related.
Towards the end of our walk, I got the call from the hospital and knew that Mike and I would be going to a nursing home that evening to get my moms cousin settled in. Shortly after that call, I received the call that my ex-father in law had passed.
While driving to the nursing home on Monday night, I started coughing and my chest was burning? By the time we got home, I felt like complete crap. I went to the doctor yesterday and tested positive for the flu. Ugh. The timing could not be worse. I've never had Tamiflu, but it is expensive!!!
We leave for our annual Mexico trip with friends on the 11th. Mike's doctor gave him a prescription for Tamiflu as a preventative.
Tess is coming in tomorrow. I am so thankful that Tess has a job that allows her to hop on a plane for free. The visitation for her grandpa is on Sunday and the funeral is Monday. I don't want to be contagious and I want to be able to go with Tess. I spent yesterday in bed and plan to do the same today.
I had to find subs for work for Monday night due to the nursing home visit and yesterday afternoon due to the flu. I had just accepted some awesome Leader subbing opportunities that I had to turn right around and say no to due to the flu.
I really am not sure where we go from here with my moms cousin. It's a day by day thing right now.
This is Life.
…………………….
I've tracked my food, counted points and took pictures, but time hasn't allowed for a blog post each day. I ended the month feeling really good about my choices.
For the month, I passed on the alcohol and limited other foods such as sugar and processed foods. I tried to keep my diet to whole foods eating mostly fruits, veggies, lean meats, eggs and healthy oils.
These blue dots are all of the days that I ate within my healthy zone according to WW guidelines and Smartpoints. I'm feeling really good about this months food choices!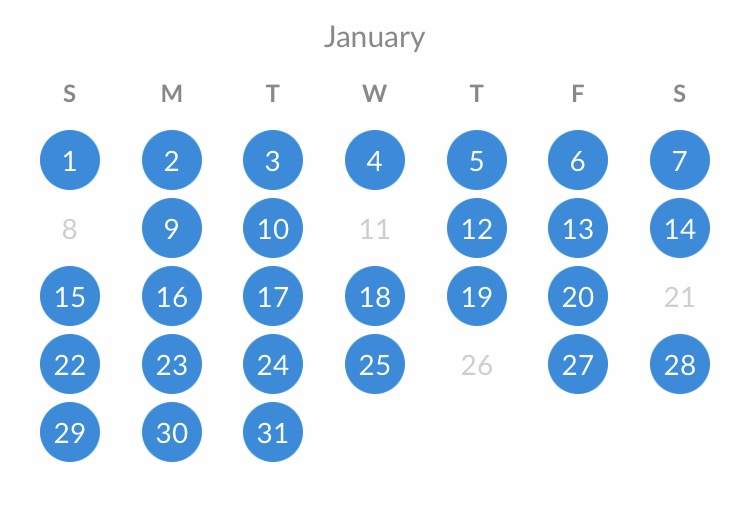 I finally had to put those delicious fresh dates in the freezer. They were becoming too tempting. Later, I discovered that a frozen date is amazing!! Dang it. Now they are in the basement freezer.
I counted and tracked every date that I ate. Tracking them prevented a date binge.
My favorite way to eat them is cut in half, with 1 tsp Almond Butter and a cup of hot tea. I count this snack as 5 SmartPoints.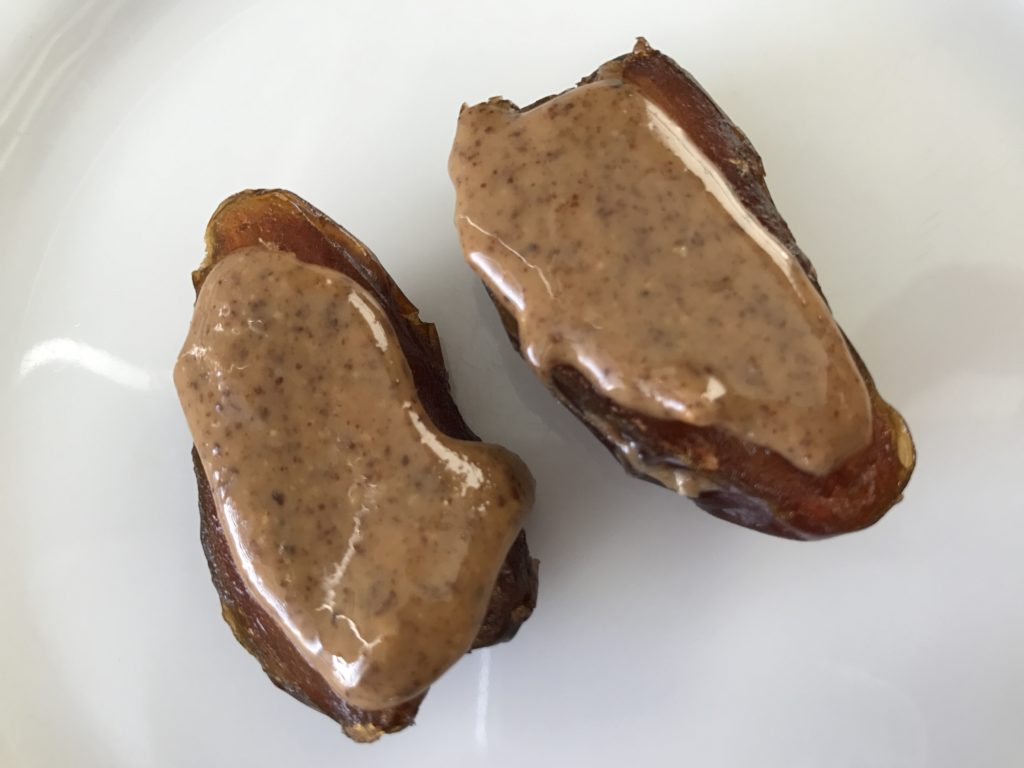 Mike and I have been eating out more with all that has been going on, and I've been trying to eat more of a variety of foods, but make smart choices as well.
Saturday night we went to Houlihan's and I ordered the lettuce wraps. I had a taste of the wontons on one wrap and only had about 1 tsp of the sauce. These were tasty. I also ordered a dry baked potato on the side. I actually like a dry baked potato. Weird, I know. I was hungry and worried the lettuce wraps wouldn't fill me up.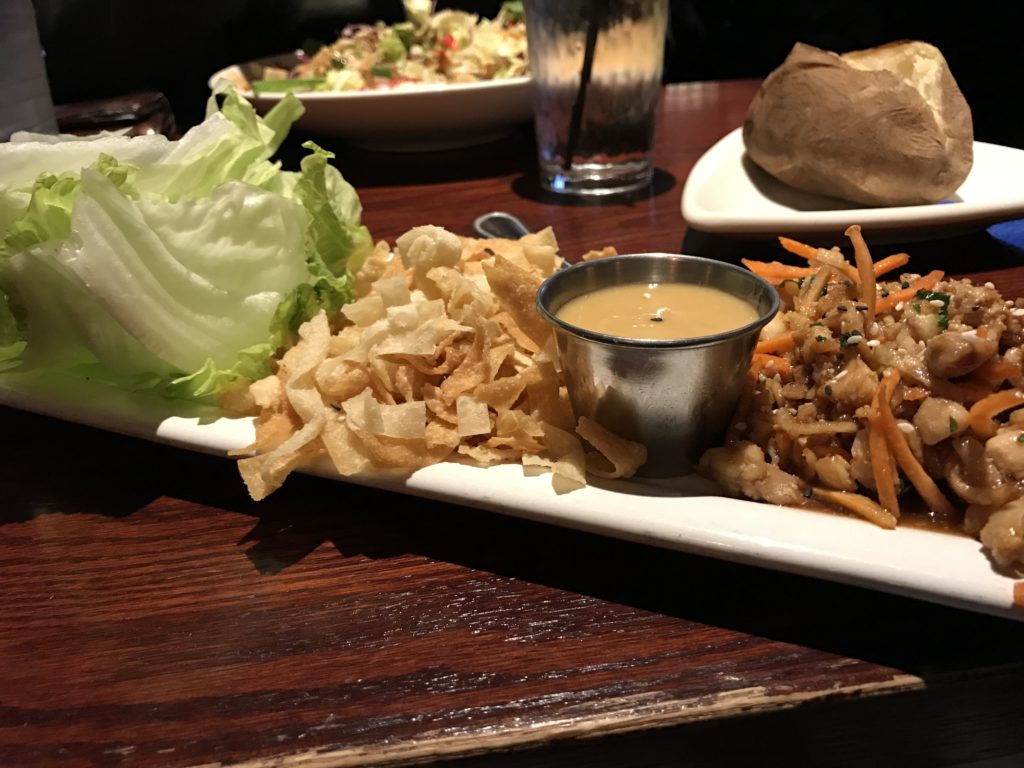 While trying to add in a bigger variety of foods because I know that we have been eating a lot of the same foods. I still made an omelet, but added spinach and mushrooms to this one. Roasted butternut squash one the side. Looks ugly, tasted great.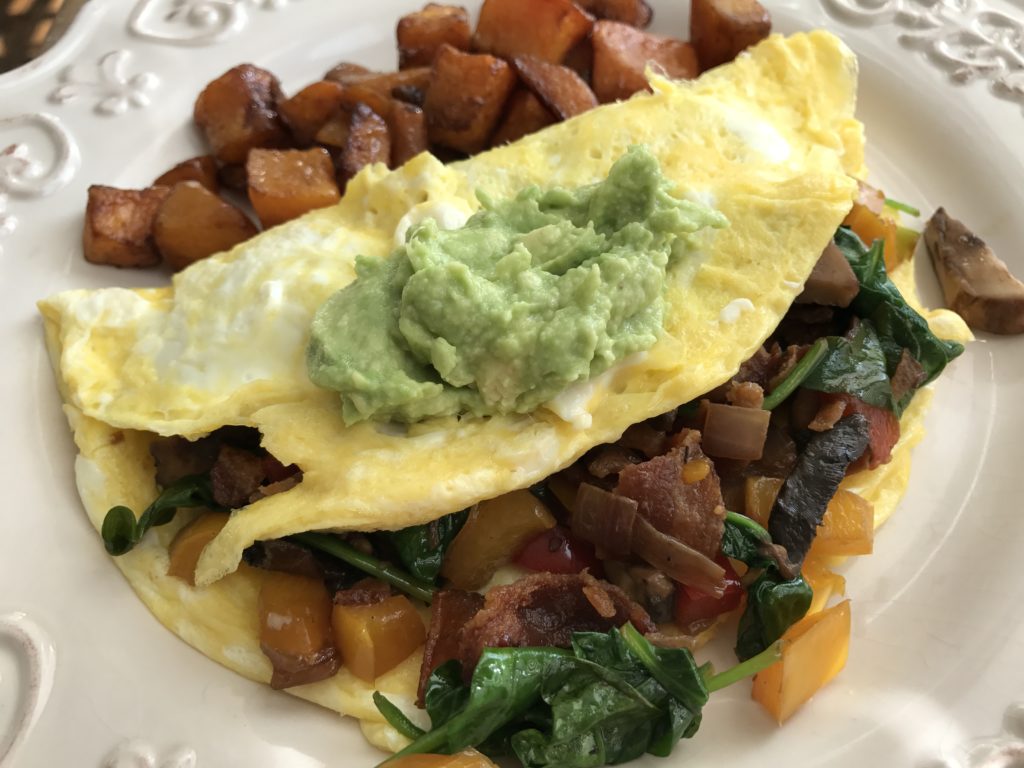 Those are the food highlights I suppose.
Resting today, lots of fluids. There really isn't time for this sick thing!!
This is Life.
2017 Goals
Make time each week to Meal Plan
Drink 100 ounces of water each day
Exercise 5 days a week
Eat three meals and one snack daily
FOUR 100 Mile Walking Challenges this year!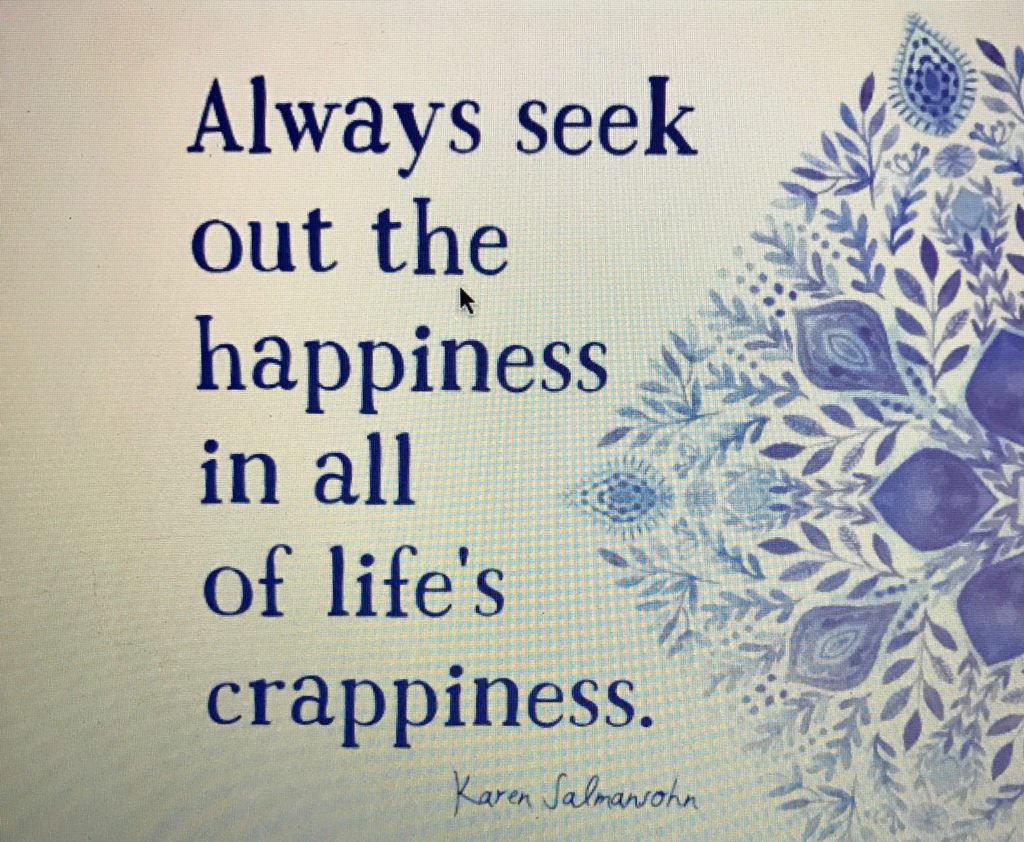 "love the life you live, live the life you love"