Happy Monday to you all! I know the weather is doing some crazy things in different parts of the country. I hope you were lucky enough to enjoy some unseasonably warm weather. If you are in that deep and crazy snow, I hope you are staying warm and safe and have a stocked fridge and pantry!
Here in KC, where we would typically have snow or ice on the ground, messy roads, cold temps and lots of time spent inside making soups and chili, we had a beautiful weekend that was sunny with temps in the 70's. We had the windows opened, the dogs lounged on the deck, I grilled out and we took the convertible for a drive. It was good for the mood, that's for sure.
On Saturday I picked up my mom and we went to visit Ann at the nursing home. Her spirits were good and since the weather was so great, we had a great plan for the day. We drove to the town where her apartment is and met two of her friends at Sonic. We were able to sit outside and have lunch and her friends brought her dog, Gidget.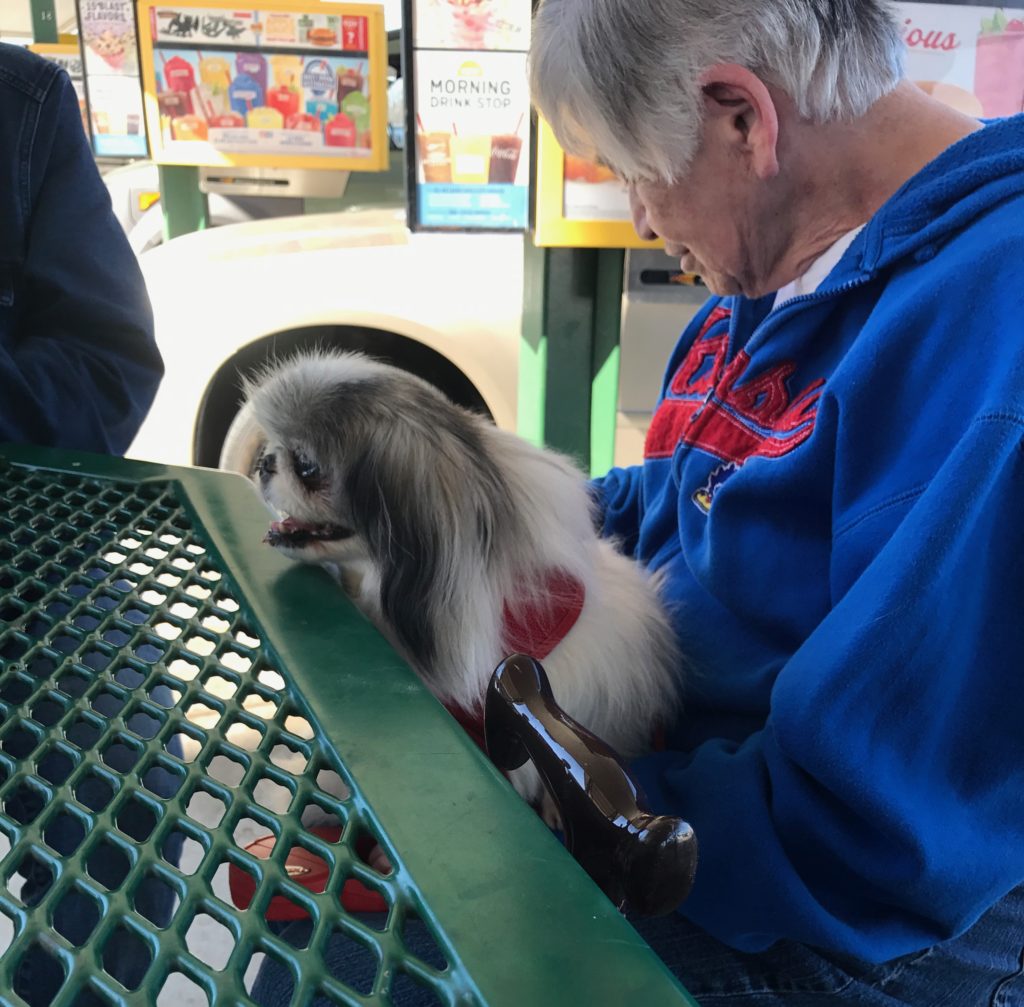 Her friends have been awesome to her over the years and have done so much for her. They offered to temporarily take the dog while decisions were being made. They told us on Saturday that the dog was doing great and they have decided to keep her for Ann. Prayers just keep getting answered, they really do. One of the biggest concern was what to do with the dog and how would Ann be able to see her dog. I'm so grateful that she has such caring friends. After lunch, we all went to her apartment, grabbed a few more personal things to take with her, then back to the nursing home to hang pictures and personalize her space just a bit. It was a long day, but we left her smiling at the door with plans to get back to visit within the next few days. Now if we can just find a place closer to us where the employees are just as nice as the place that she is now.
When I pulled in the driveway at home, Mike was on a ladder cleaning windows. He had removed every screen on every window on the house. He washed every window, inside and out. He did the first floor on Saturday, and the second floor on Sunday. Now he's popping Advil like crazy, but with the new light paint color and the clean windows, things really look bright and cheery.
I've had fun changing up the house a bit lately. Giving the hallways a fresh coat of paint has made everything feel so fresh and clean. Of course, now we are looking around the house and looking at all of the other things that we would like to do. We really need new carpet upstairs. You guys, that carpet is 17 years old! We'd like some new light fixtures on the main level just to update. We desperately need two new chairs in the living room. The dogs have really done a number on them. (I have small blankets on the seat cushions covering up the holes!!! I am now finding filling on the floor!) I have no idea why or when they decided that destroying the chairs was okay.
But….for now. I love my new clean walls.
I have been rearranging things like crazy and it has given the house a bit of a different feel. I like it.
The entry before. Cozy and full.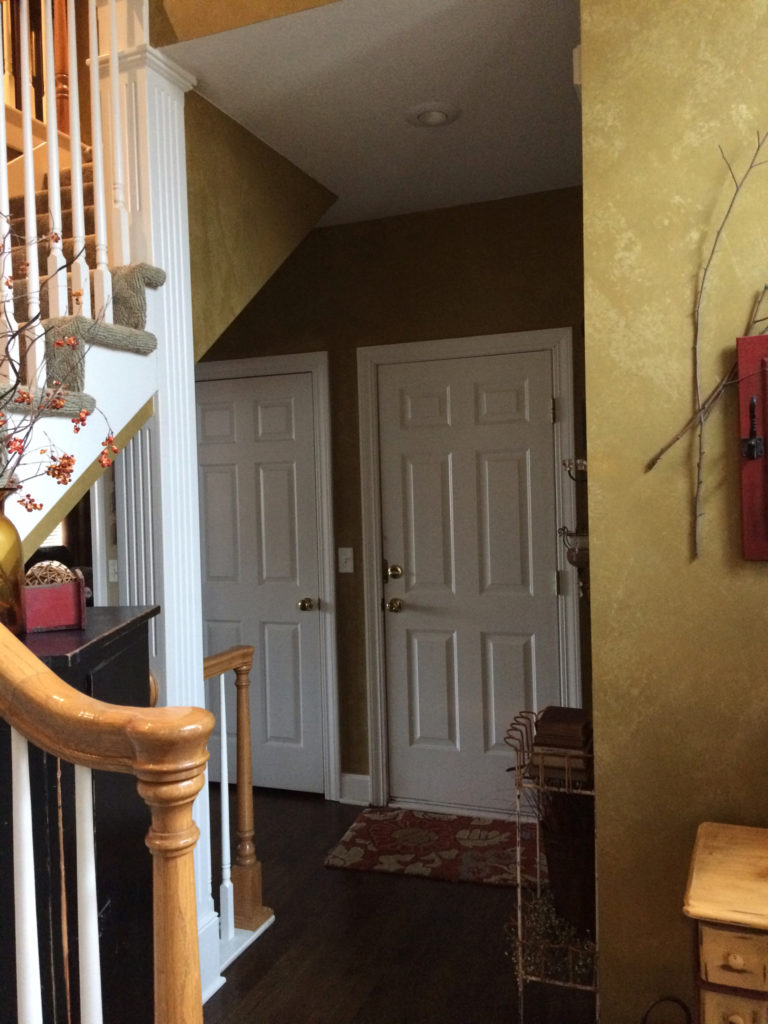 The entry at Christmas! I know, right??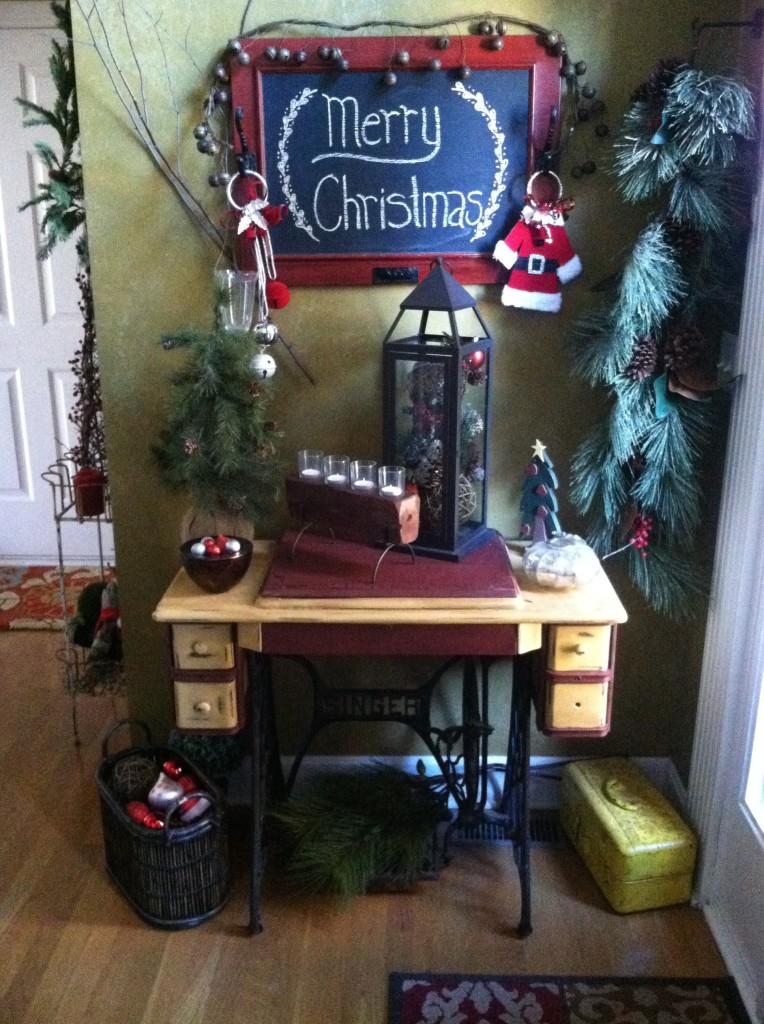 Today. Even the dog is confused.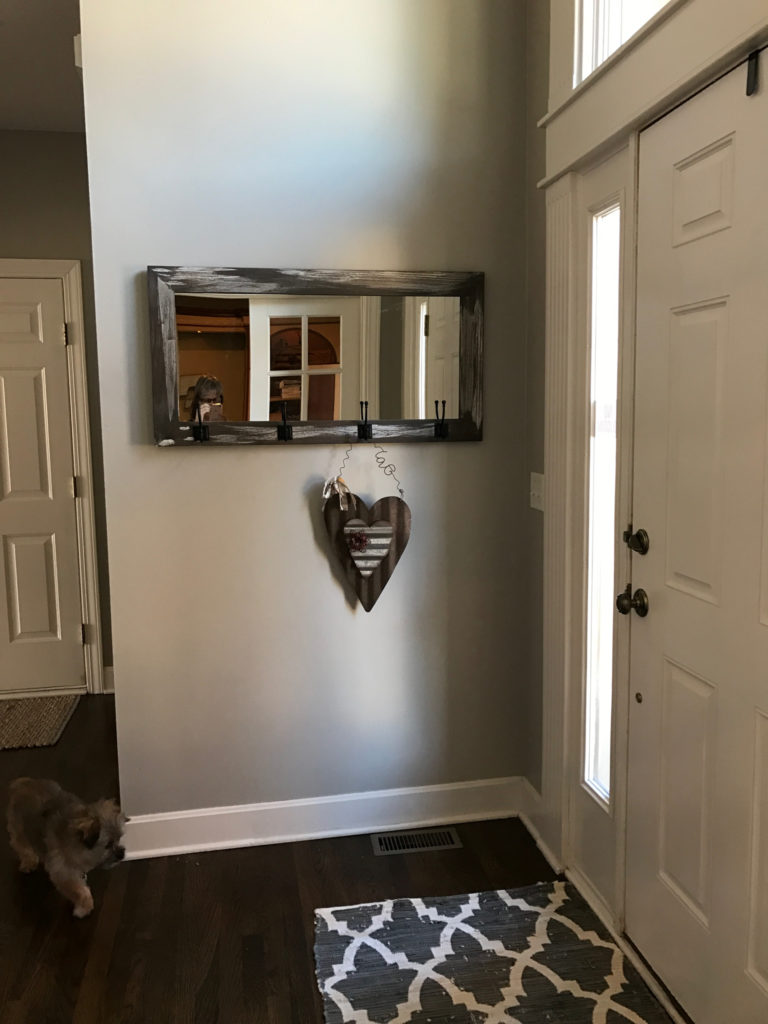 My Hobby Lobby find. I have thought for a long time that it would be nice to have guest walk in and be able to hang a coat right there!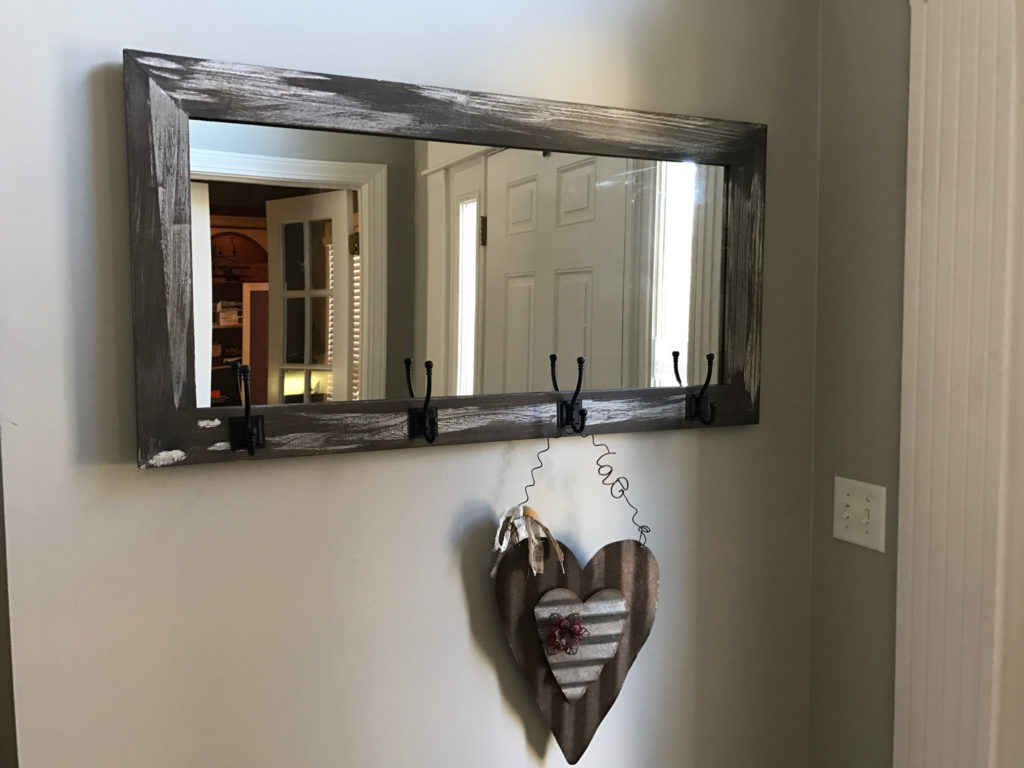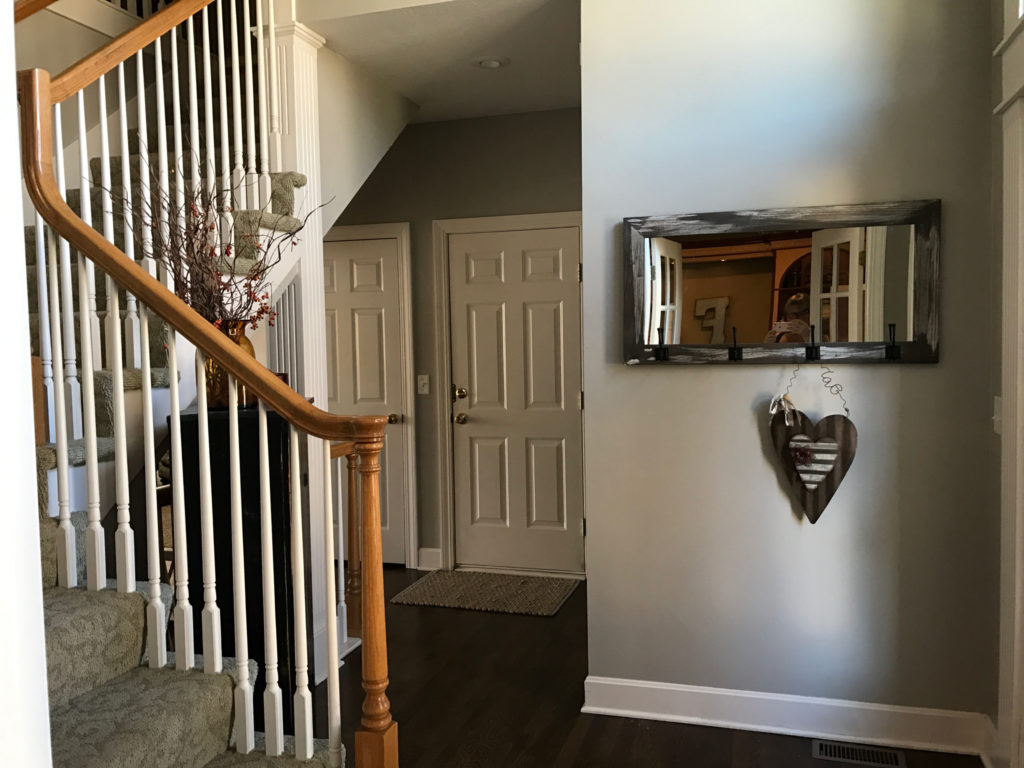 I bought this piece in the West Bottoms in Kansas City at the vintage shops. I love this piece. Lots of storage too. It's full of candles.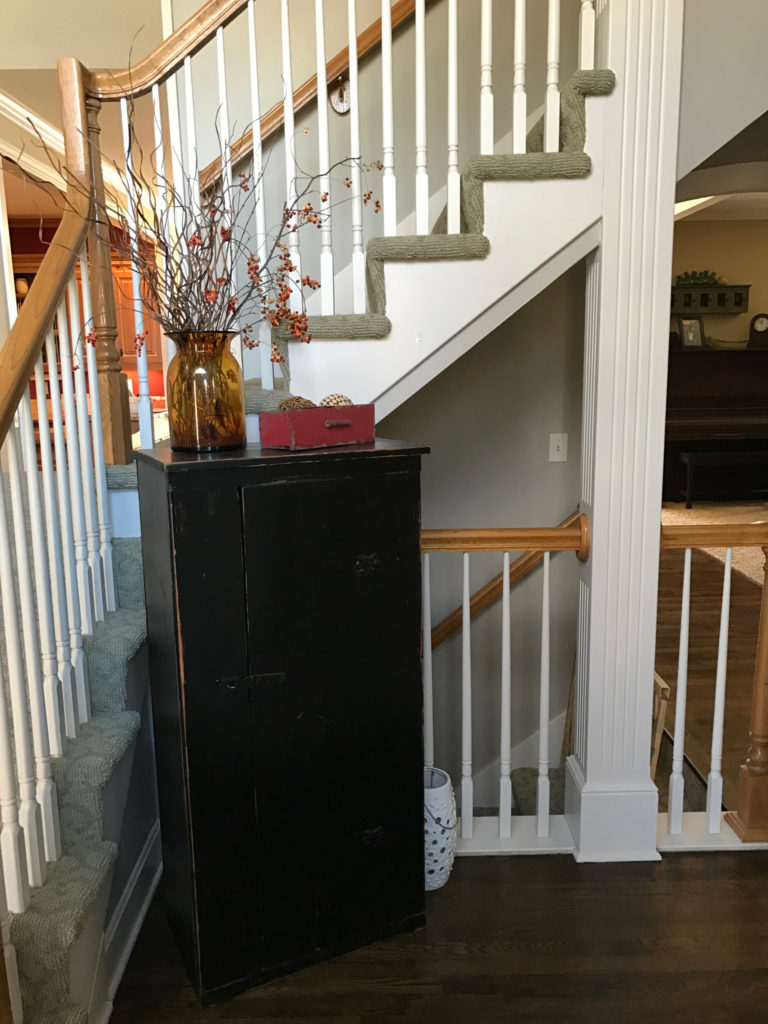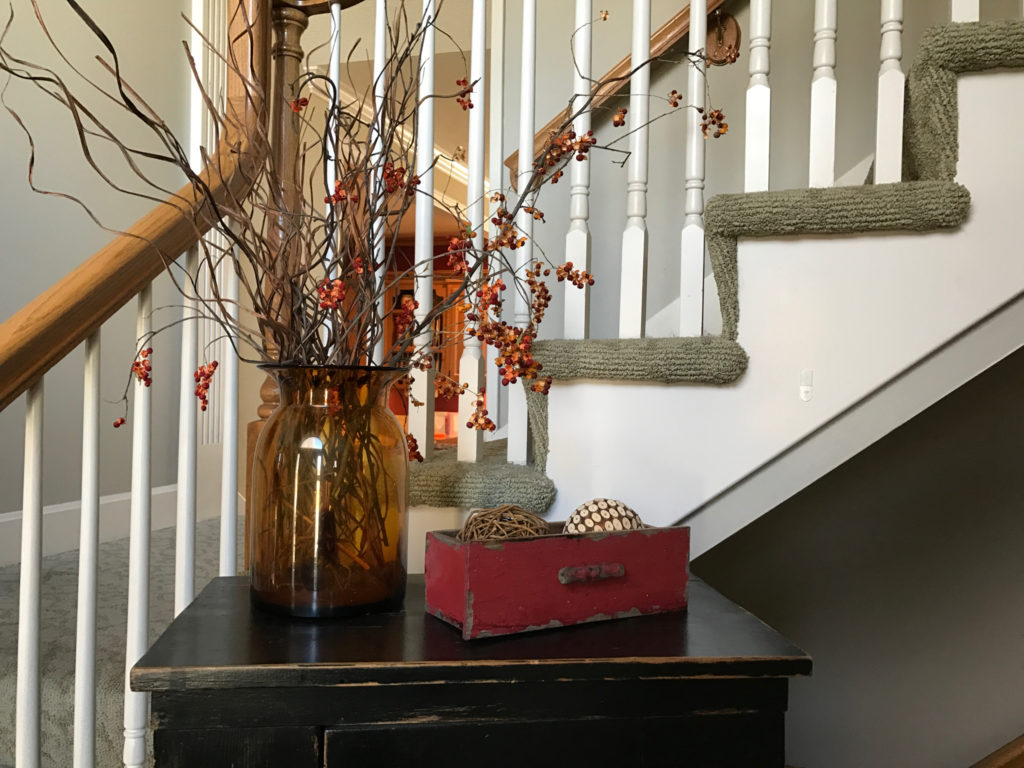 My busy little hallway.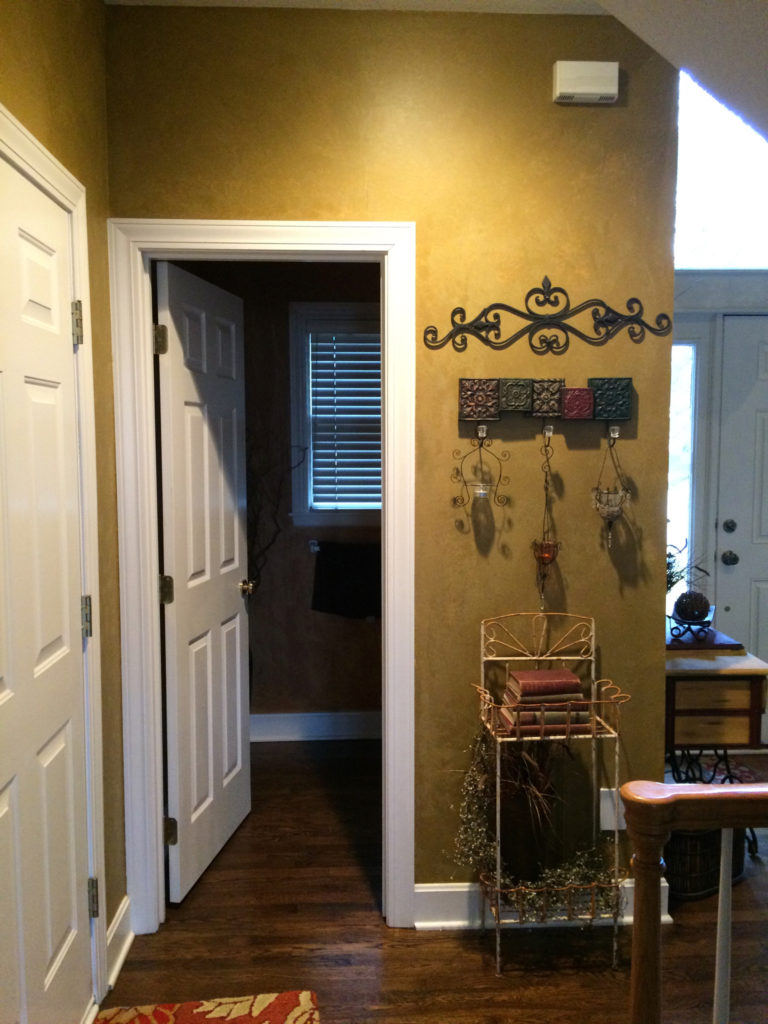 I really want the perfect piece for this wall since everyone will see it as they leave our house. I'm going to be super patient and enjoy the simplicity of the clean wall while I shop for the perfect piece!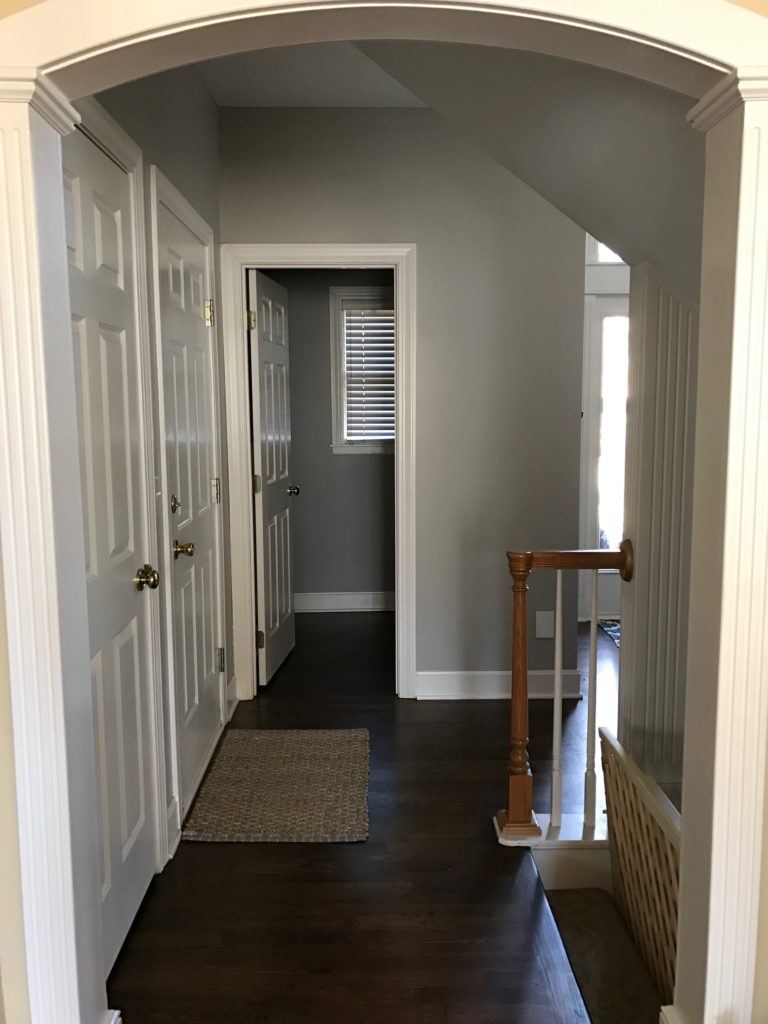 The powder room. It was a dark gold before with a dark brown glaze that I played with years ago. This room looks so different.
I found this mirror at World Market and I absolutely love it! I hope to find an equally cool new towel bar since I took the plain white one off of the wall before the painters came.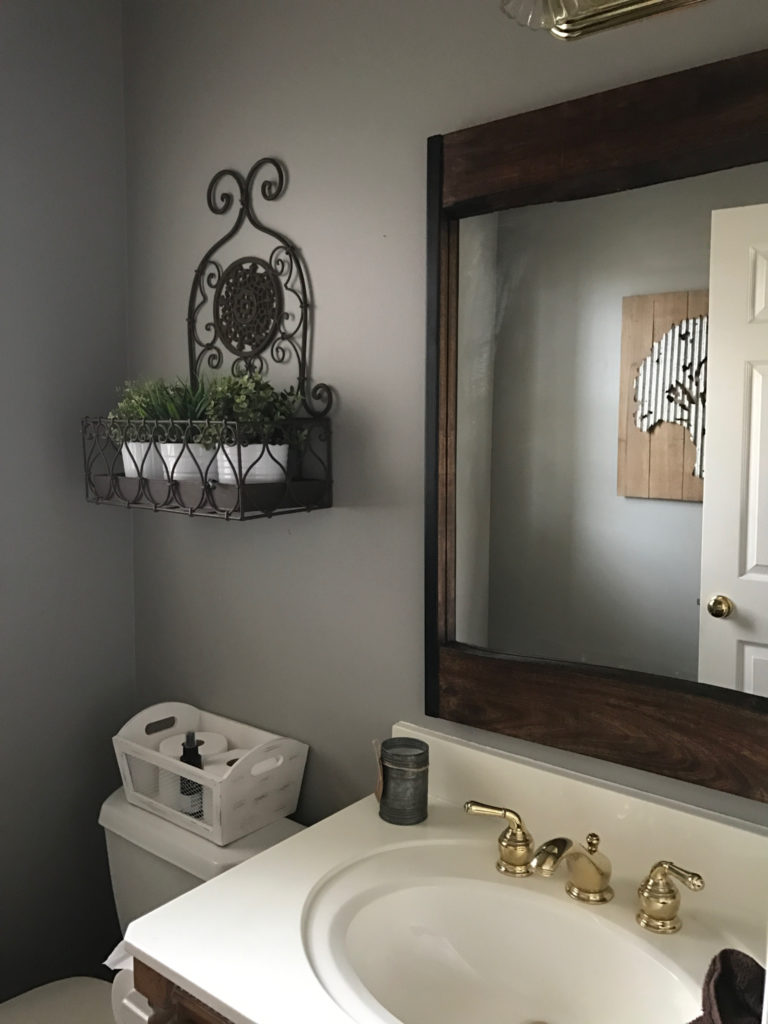 I found this at Hobby Lobby. Half price! $22! Perfect for that little wall in the bathroom without being too much!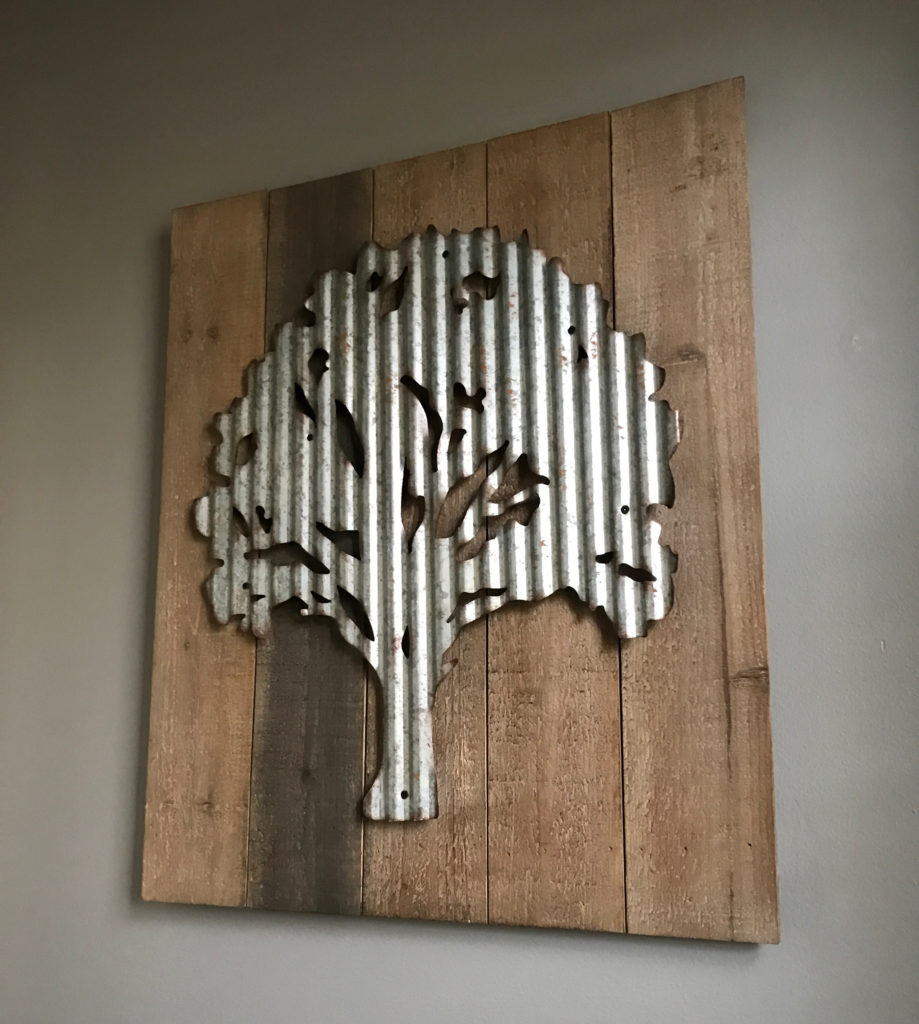 Before. Upstairs hallway coming out of our bedroom.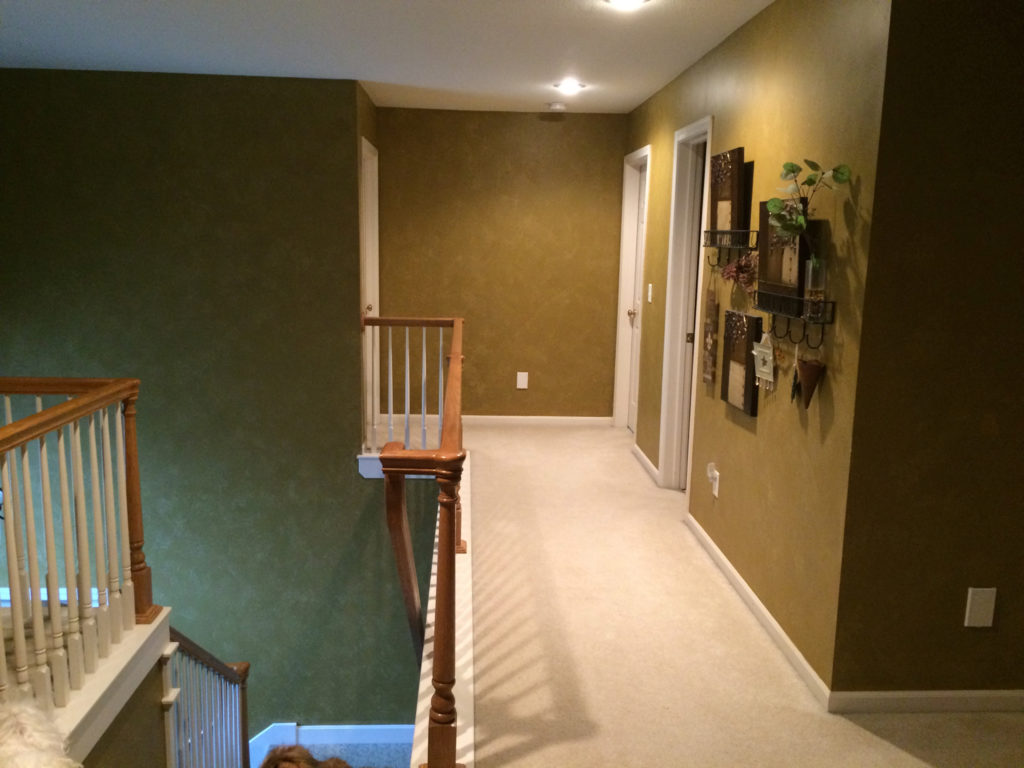 Today. That mirror is old and huge and ridiculously heavy and while I don't actually love it hanging there, I hate to go buy a mirror that really only Mike and I will see, when we already have one that we can use. The Grandfather clock belonged to my grandma, and it's a keeper!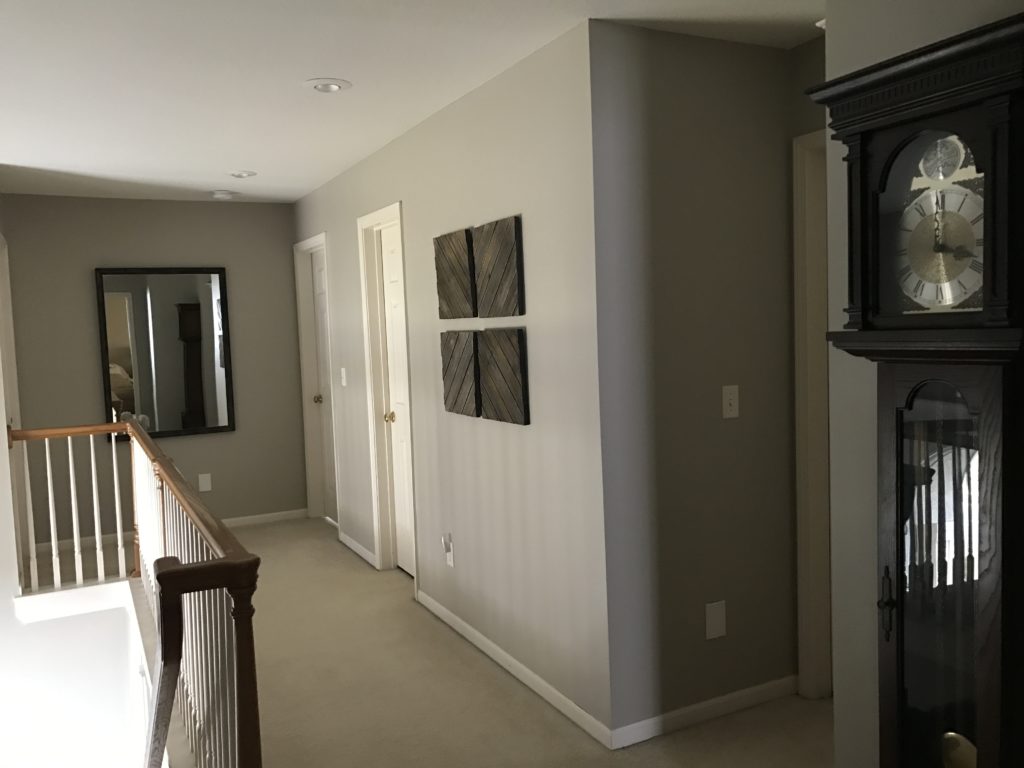 Before.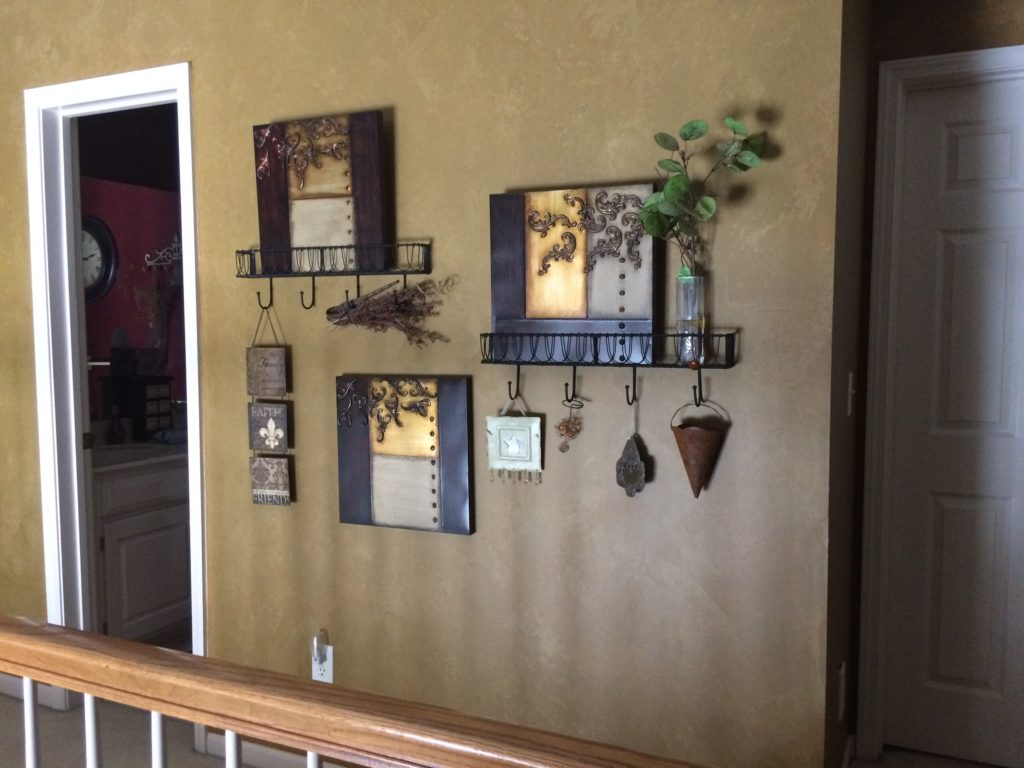 Today.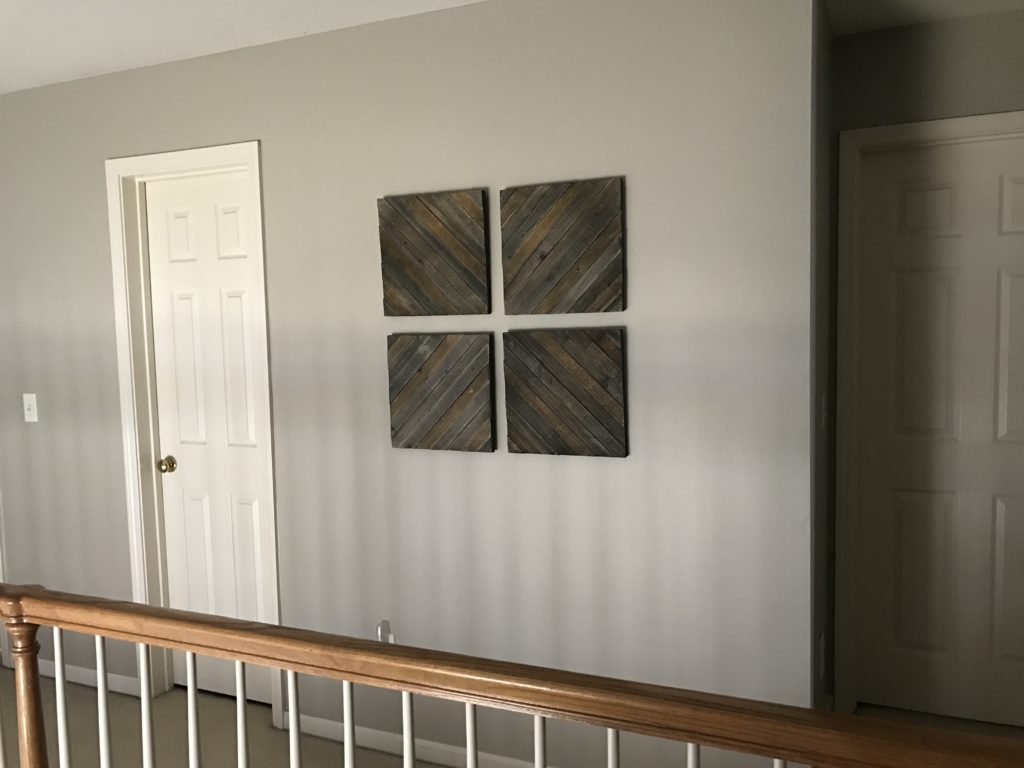 I found these at Target. I love the natural wood and the gray in them. I also thought the brown color would look great with the banister, since it seems as though we will not be going darker on those for a while. I kinda like em light.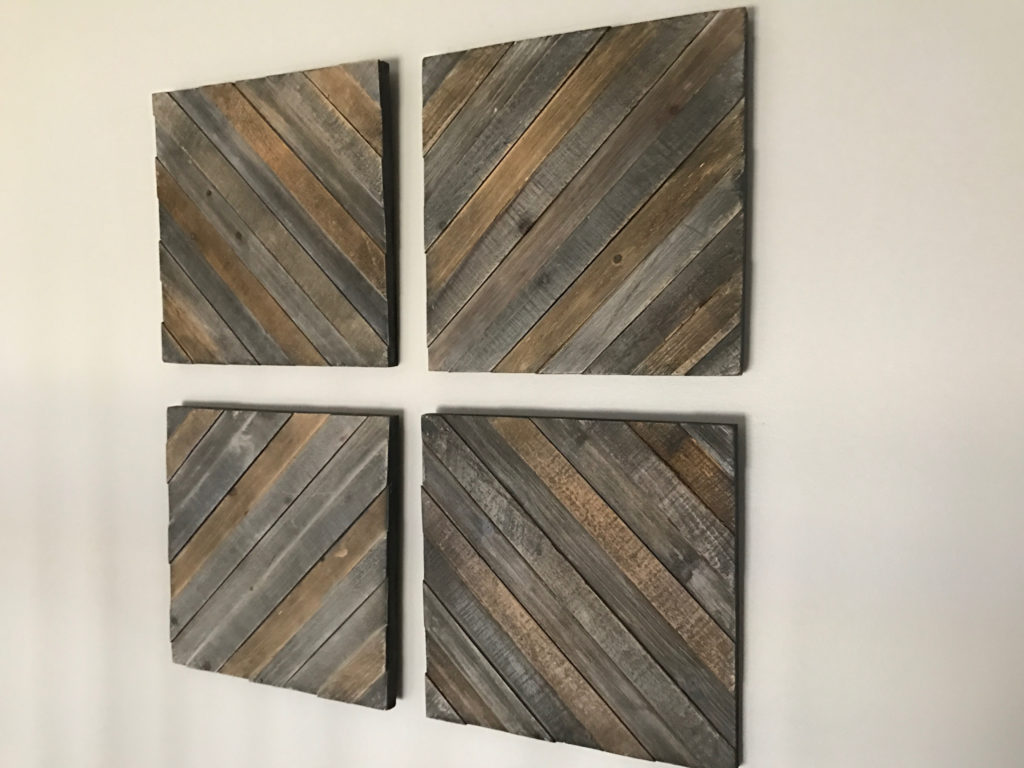 The cedar chest? It's a family piece. I can't let go of it. I've had it in different bedrooms at the end of the bed, but it's home is here for now. This hallway is kind of big and I like the way this feels there.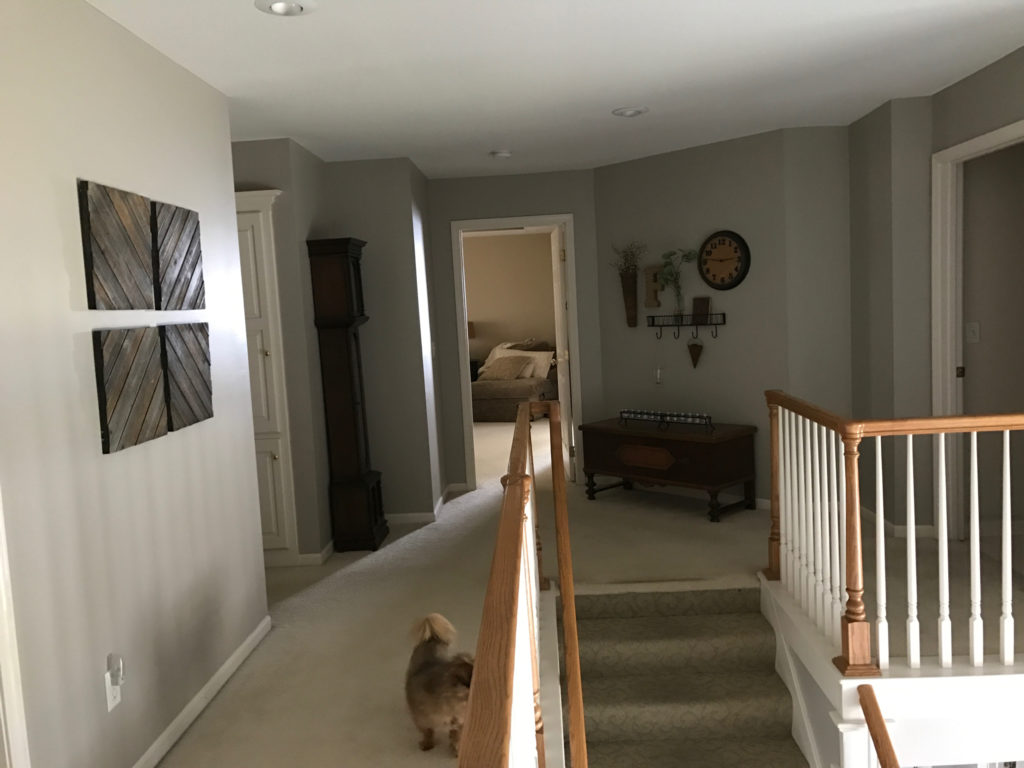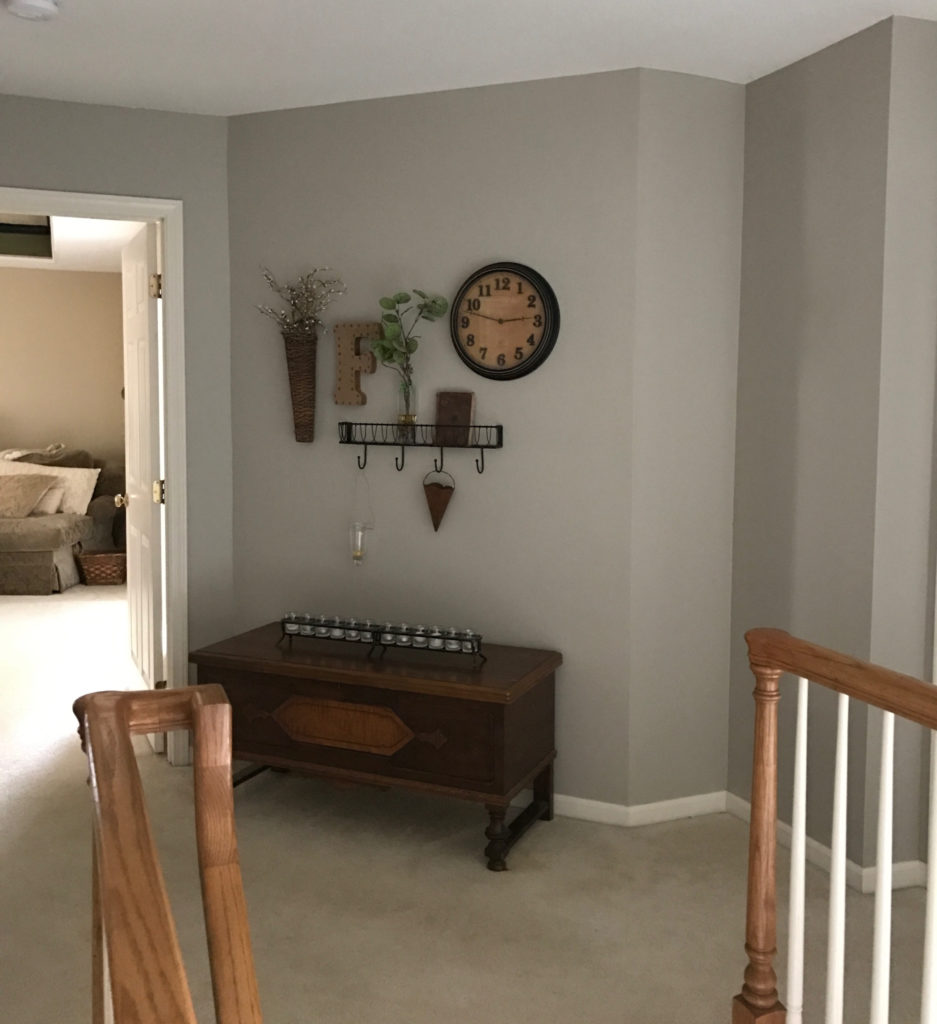 This is the only busy wall I've done. Not too busy, right?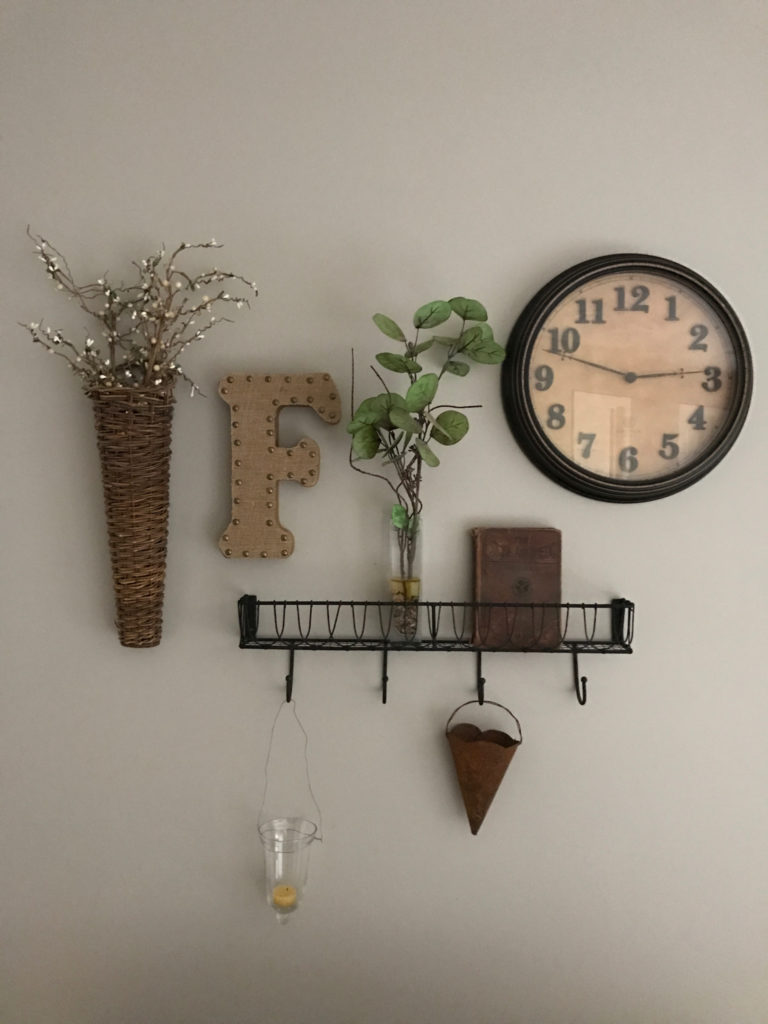 Upstairs still. Different view.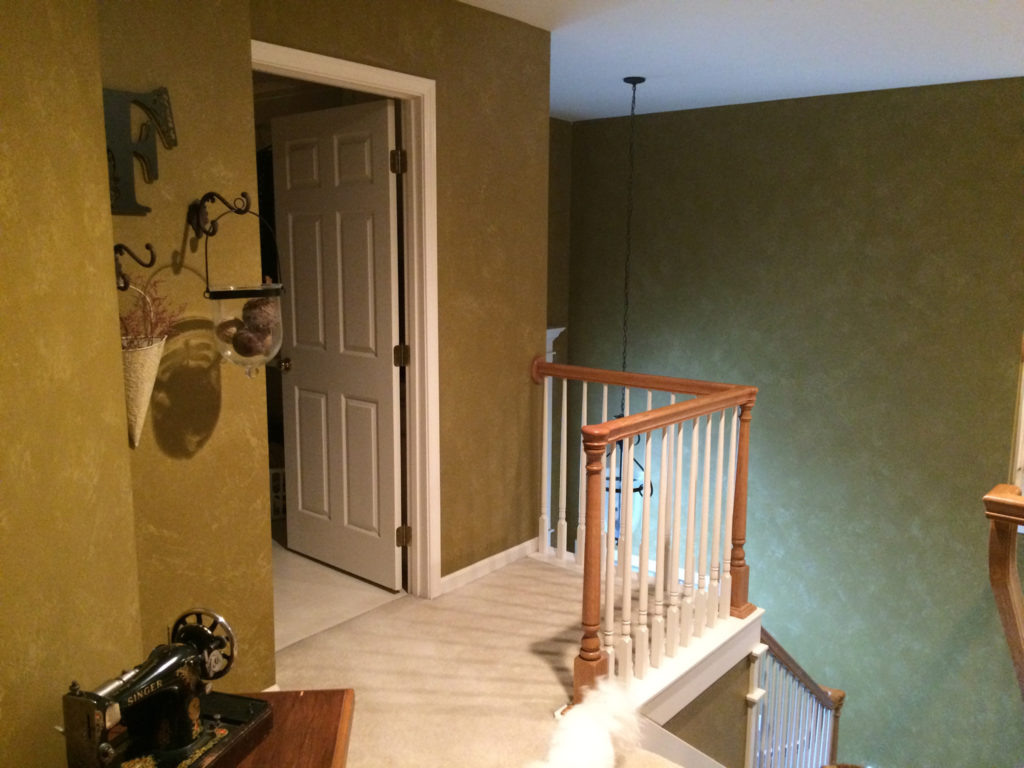 Clean and simple. (I could get used to this simple thing.)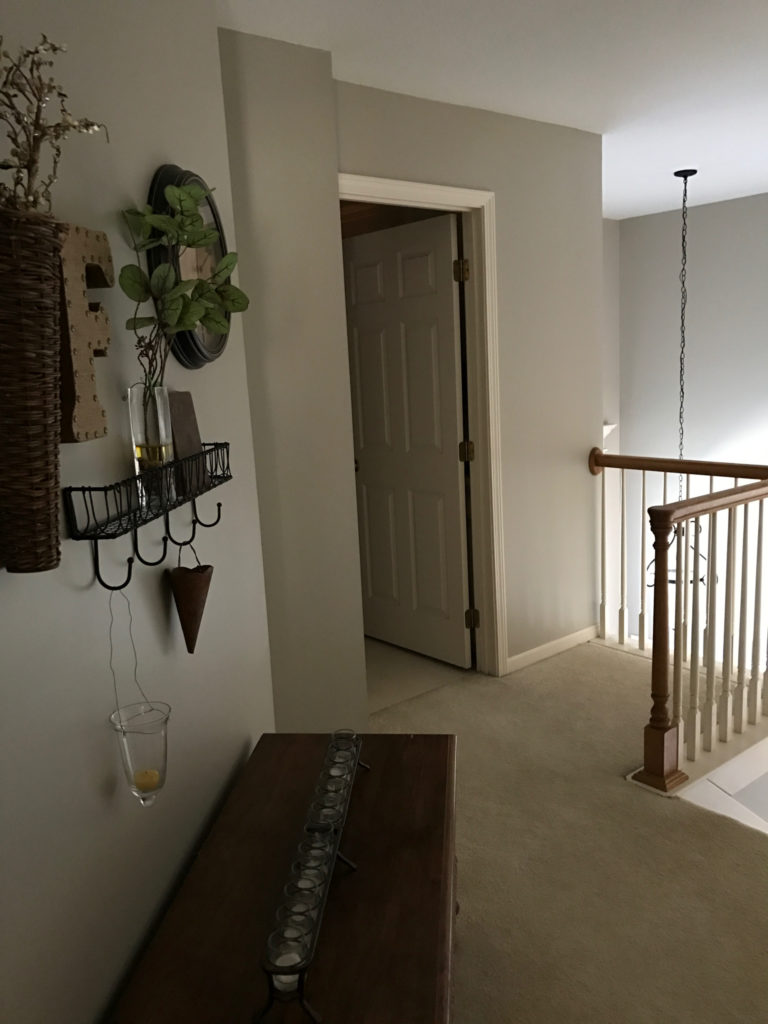 I've been moving things around like crazy to just to switch it up a bit. My mom used to (actually still does) rearrange furniture ALL the time! It's just what we do I guess. I get bored. I like change. Sometimes moving things around can give them a whole new life!
This sewing machine belonged to my grandma. My brother had it in a garage sale a few years back for 10 bucks. I just about punched him in the face when I saw it in his sale! (I'm being dramatic.) I brought it home and experimented with Annie Sloan Chalk Paint for the first time. I think it's cute, but wish I would have picked different colors now. This has been in our entry for a couple of years now. I want the entry to look completely different and I am limited on where I can put this sewing machine. Tess suggested I try here. We're going to try this for a while since I moved the piece that used to be here. I think I need a gigantic round mirror over it with a really cool finish? One day. Maybe.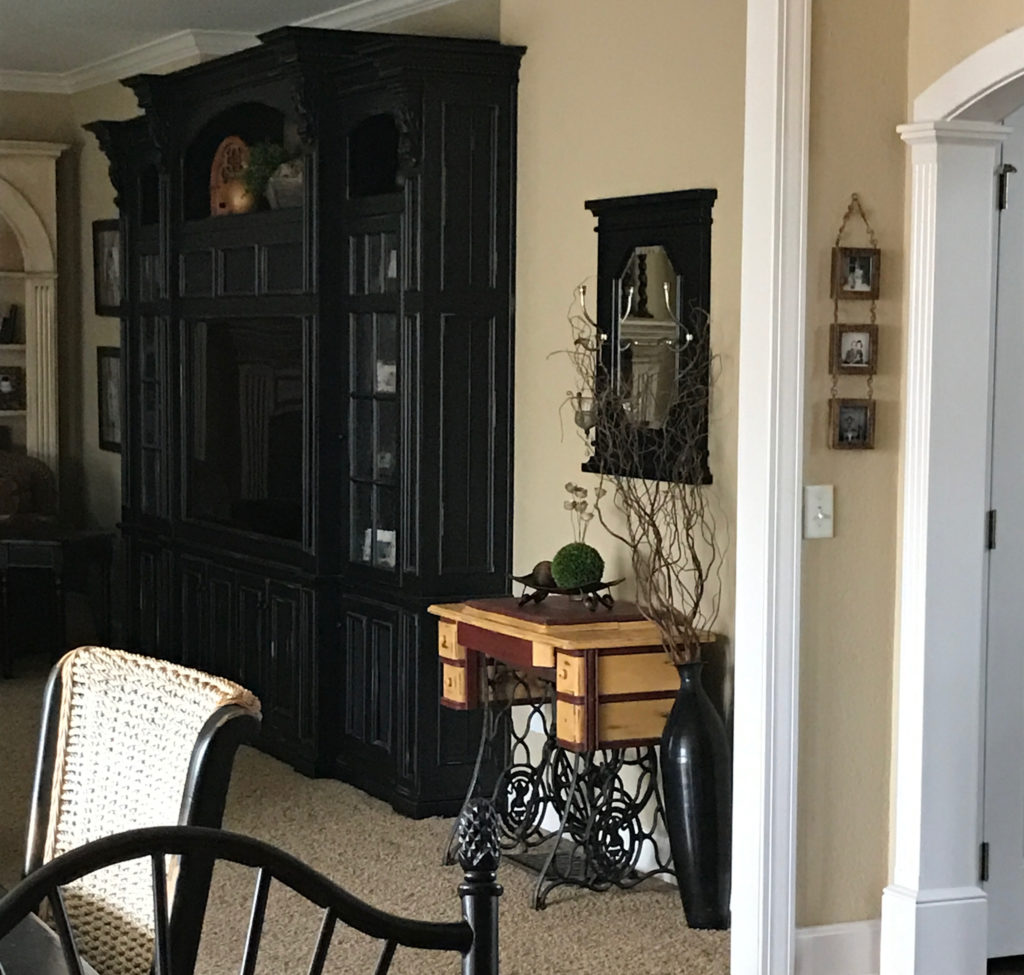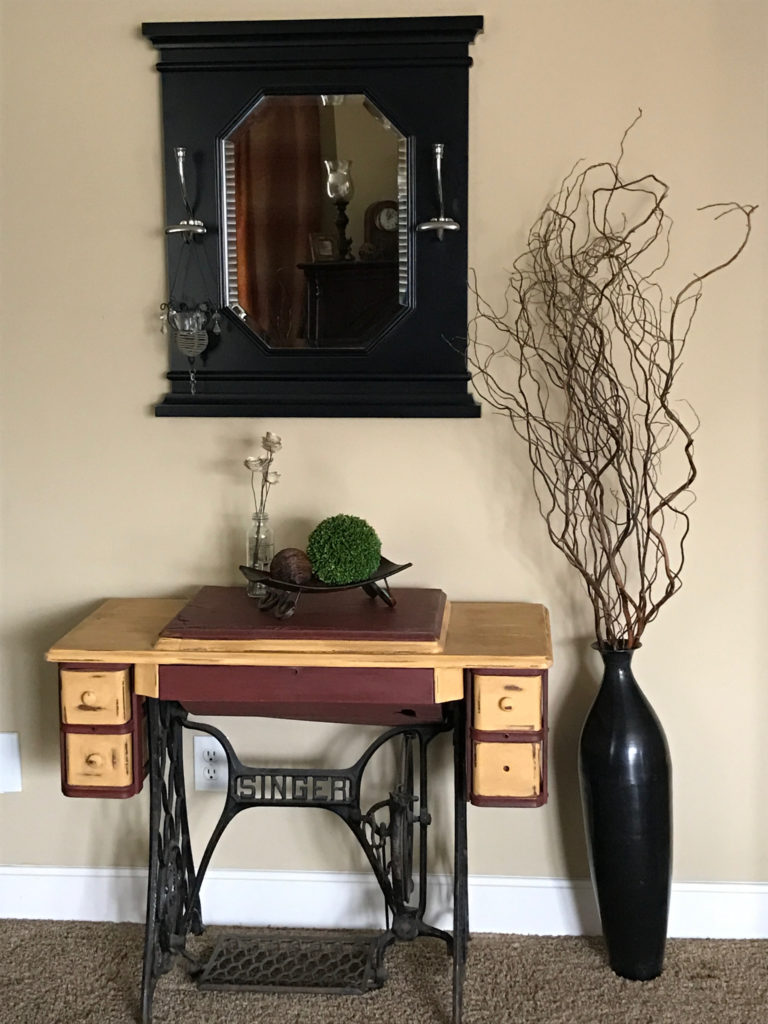 This is the piece that was where the sewing machine now sits in the living room. Mike and I bought this at Hobby Lobby over 17 years ago for $150? We have never had anything sitting in front of these windows and we both really like this here! When I Google Farmhouse Modern decor, I see all sorts of pieces like this for big bucks!! Feeling pretty happy with our 17 year old Hobby Lobby purchase.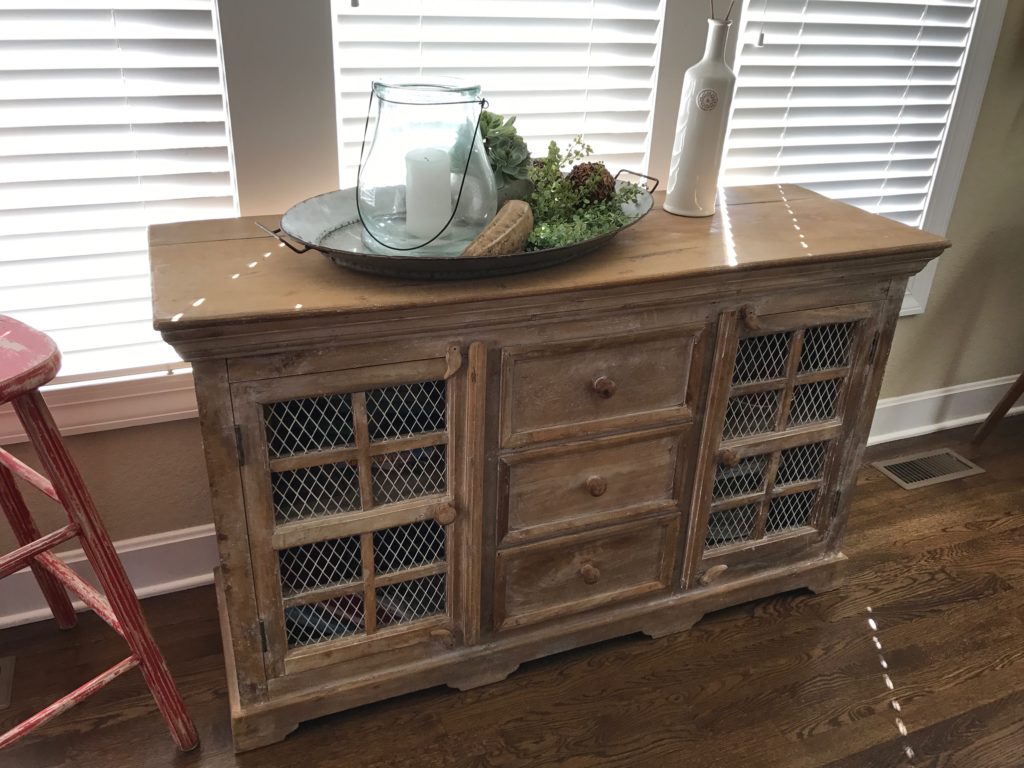 This little iron piece is another of my West Bottoms vintage finds. It was sitting in my busy hallway by the powder room, and now it has a new home here by the red chair that yes, I also bought in the West Bottoms.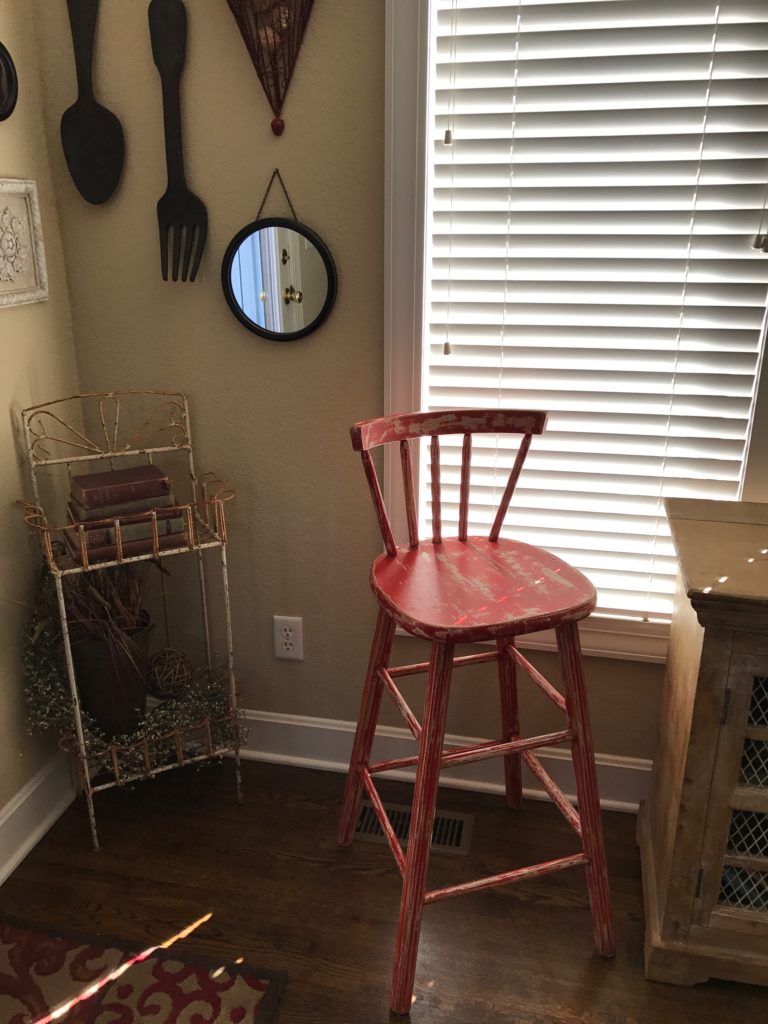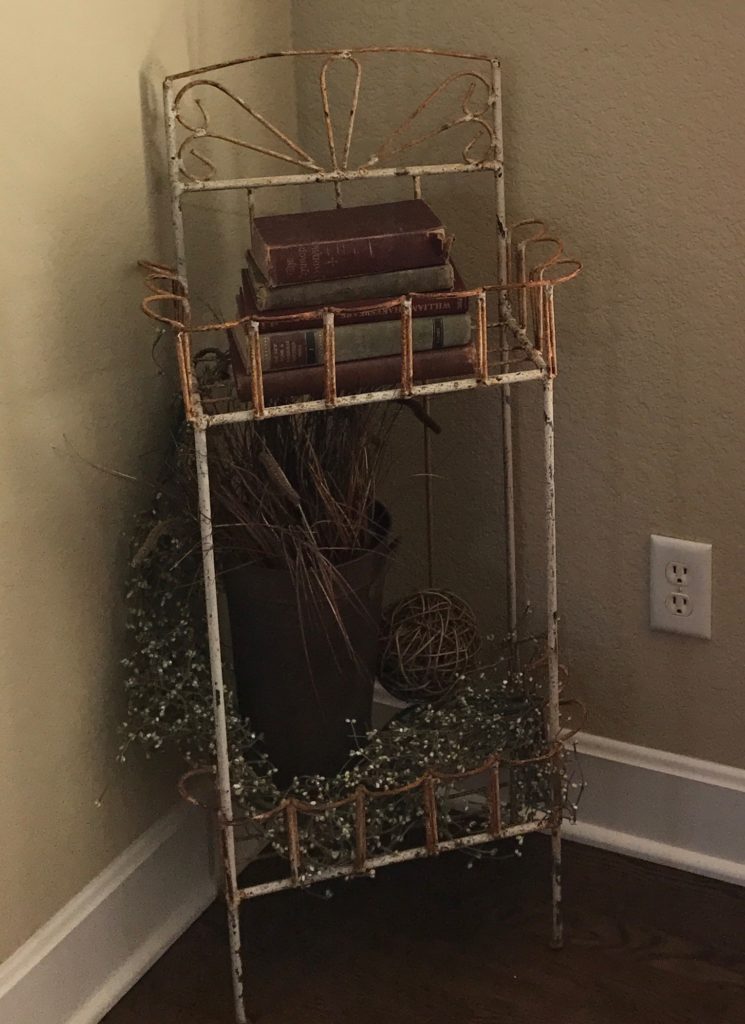 My desire to change the look of the house up came from that piece on the mantel. I found it in the West Bottoms (Of course I didi!) at one of the vintage shops just before Christmas. I set it up there as a Christmas Tree for the holidays, but decided to keep it around. I like the raw wood and the gray/grey color. Now I can't decide how I want to spell gray/grey?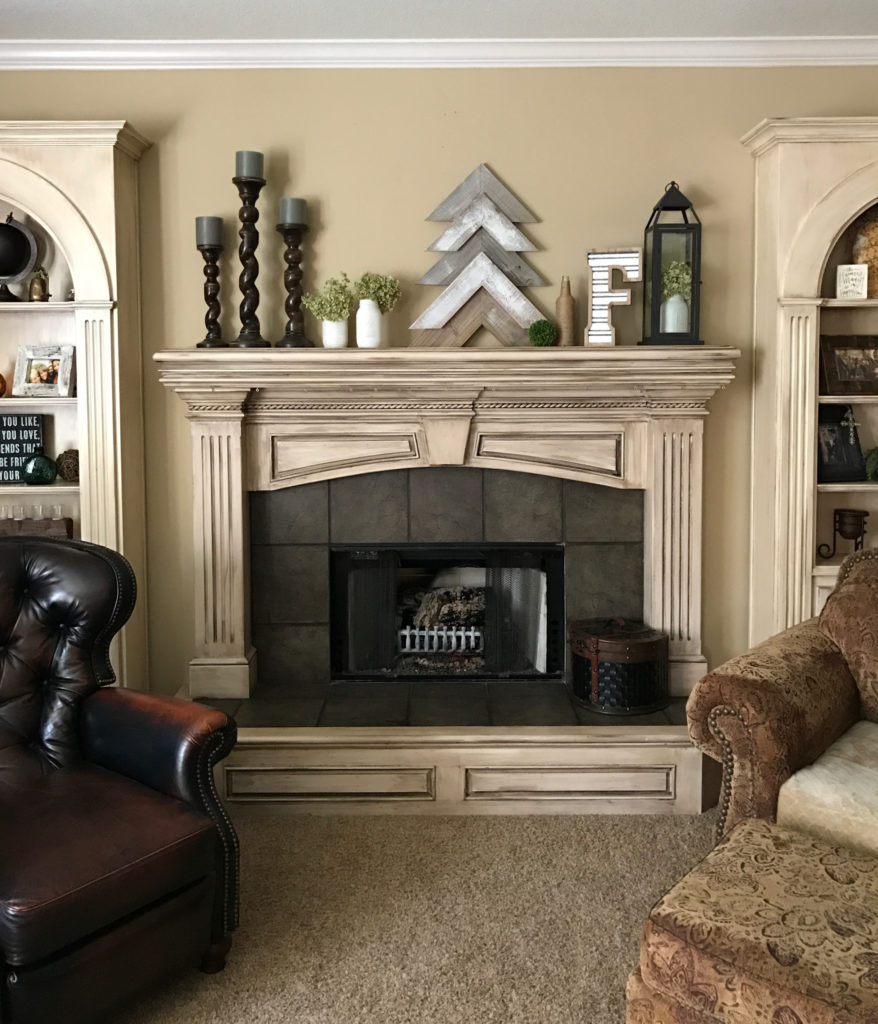 My friend decorated the mantel after the holidays and at first I wasn't sure, but now I love it.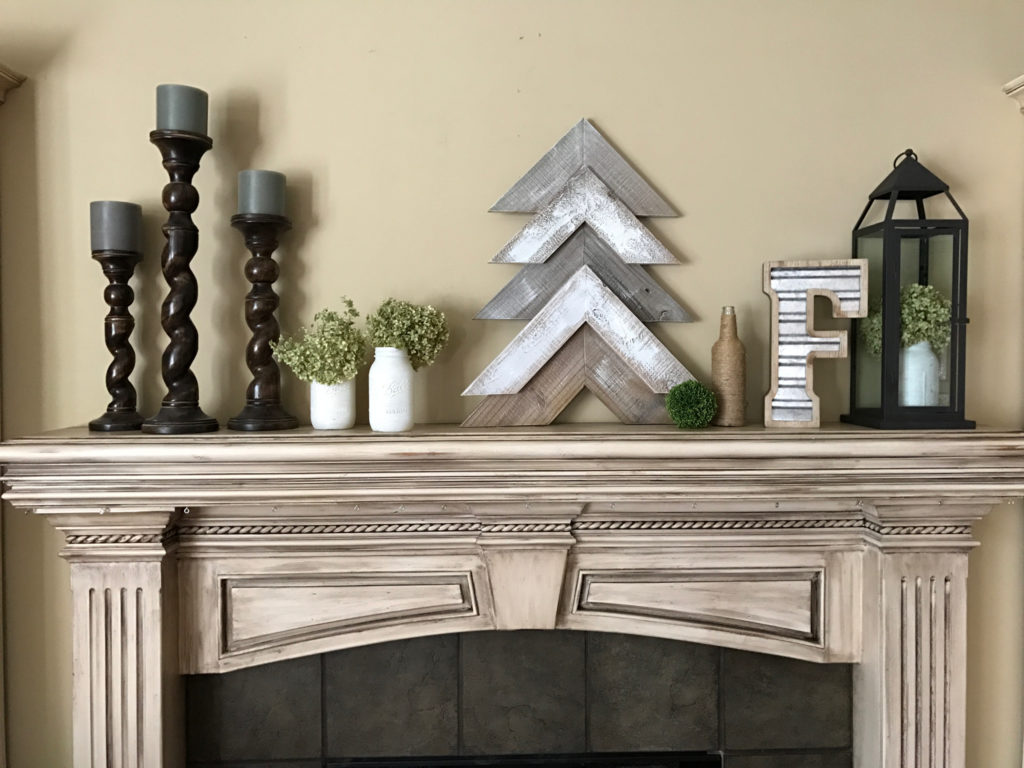 Mike and I are both ready for a new Kitchen wall color, but until we decide what that color is, (I think I want white walls?? Light cream, almost white?) I'm simplifying and rearranging a bit. I found that cute little shelf on the right at Target and that's my look I'm going for right now. It's a keeper for sure.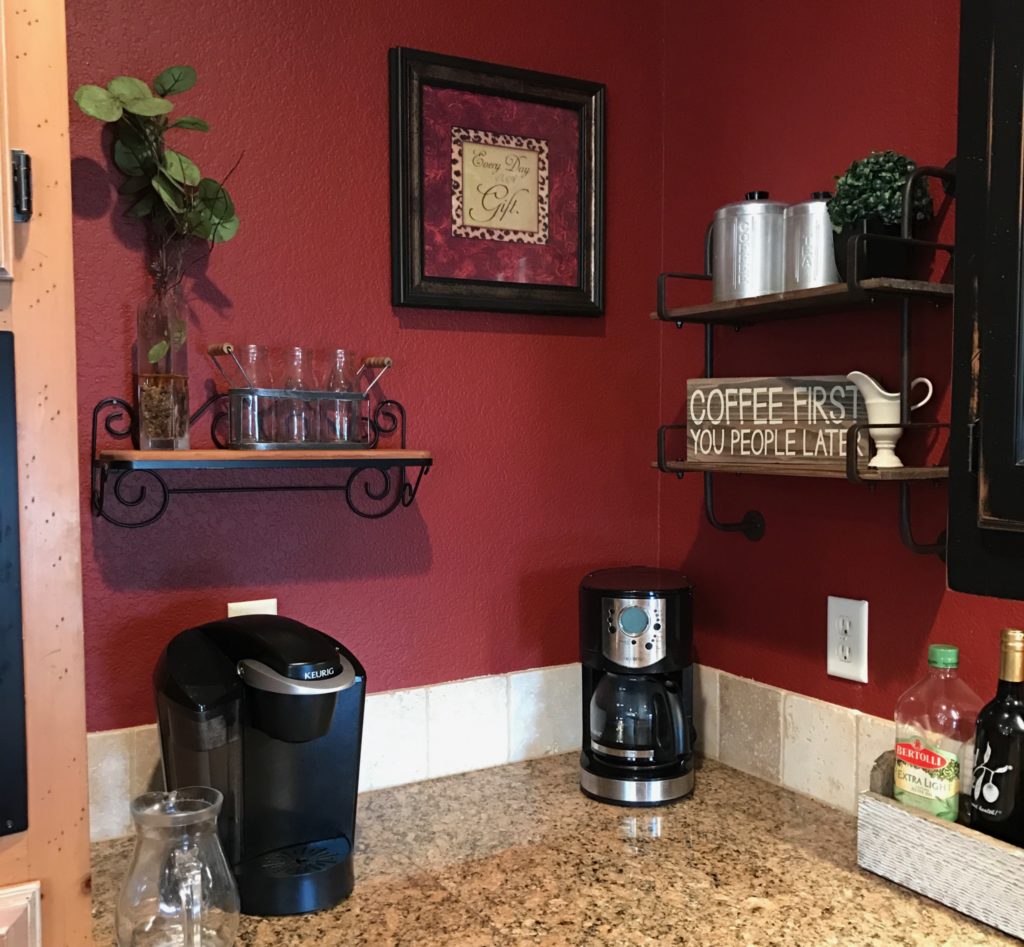 I bought the Flour, Sugar, Coffee and Tea Cannisters in the west bottoms too! I am simplifying here though, so Flour and Sugar are in the pantry for now.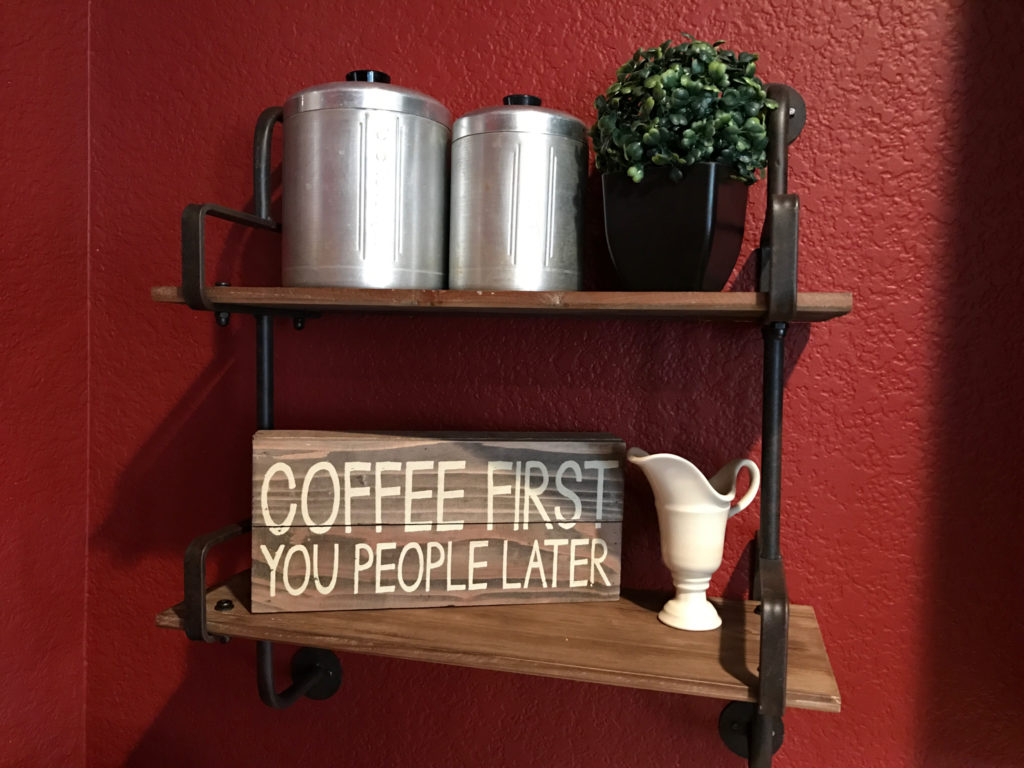 That's all of the new wall hangings for now.
Since I started feeling not so great, the only foods that really sound good are cold fruit and pancakes or waffles. Cooking dinner doesn't sound appealing at all and I have no taste buds for vegetables. I eat vegetables all the time! I gotta get a grip on these taste buds and just cook up something that I know that I will like, whether it sounds good to me or not. We have been eating take out and going out to eat way too much. I finally made it to the store yesterday, but my grocery shopping was me strolling through the store waiting for something to sound good. Nothing ever did. I stocked up on fruit, grabbed some meat and bought just a few veggies.
I said I would track the other day and count points and do all that great stuff, then I didn't. When I got home Saturday from our rather long day, all I wanted to do was sit on the deck and have a drink. So I did.
Thanks for being such great readers and friends.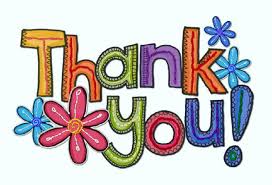 "love the life you live, live the life you love"