It was a great Easter Sunday yesterday.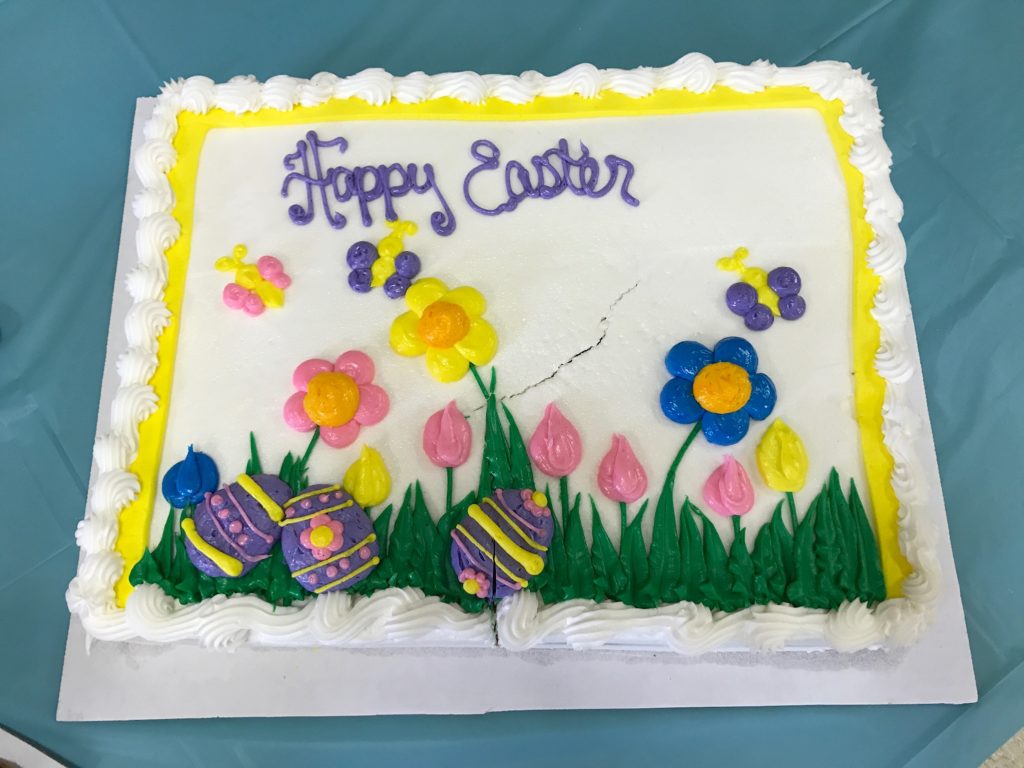 My mother in law is one of nine children. There were six boys and three girls. They grew up on a farm in Eastern Kansas. I never did get to meet Mike's grandpa, but I had the opportunity to meet Mike's grandma before she passed away several years ago. I also had the opportunity to meet the three uncles that have now passed.
As you can imagine, with nine children and now four generations later, the family has really grown and each year for Easter, the family has dinner together.
Easter was always at the family farm, and I remember taking our kids and being able to be a part of that.
The family has grown so much over the years, it's just too much for Aunt Lucille (who now lives on the family farm), so the family meets at a community center and really, it's a great place for a family get together.
Each year, one of Mike's cousins brings her camera and offers to take family photo's.
There is always one picture of the original siblings and their spouses. One of the brother's was not able to make it yesterday.
The three women in the middle are the sisters and the two men on the left are their brothers. The other three are spouses. My father in law is on the right. He is ecstatic about taking these pictures.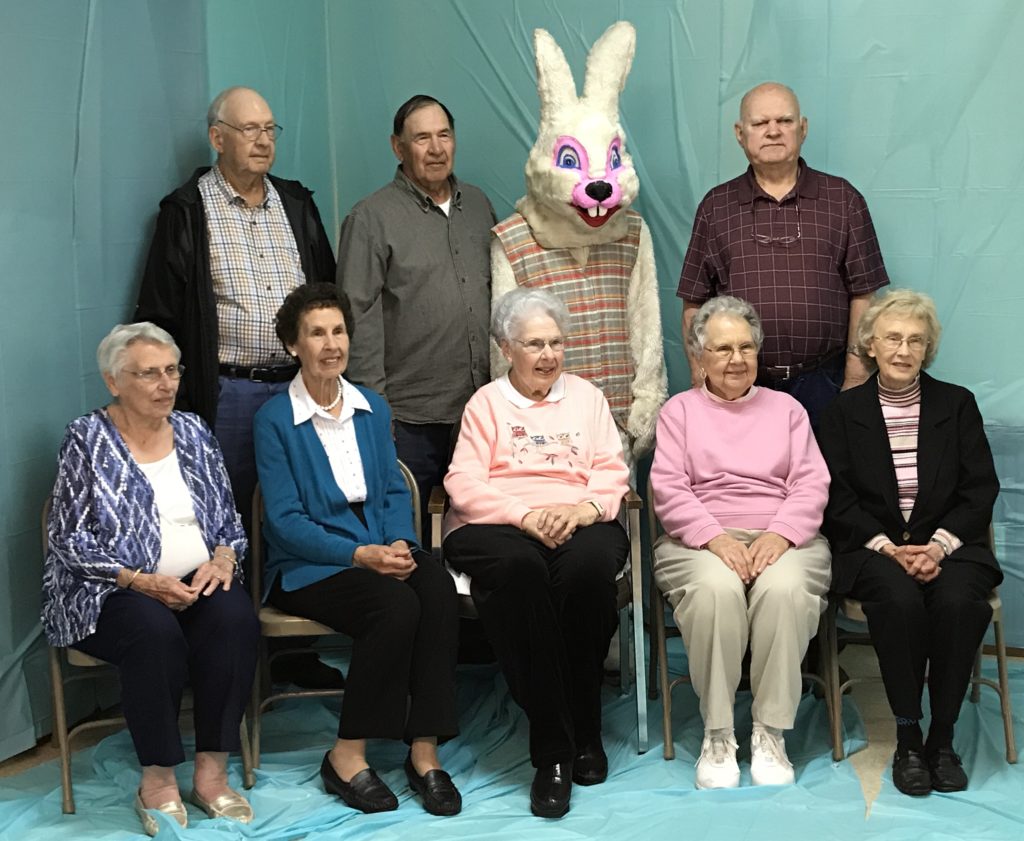 We also sang to my Father In Law and celebrated his 80th Birthday! (It's not until September, but big birthdays are always celebrated at Easter.)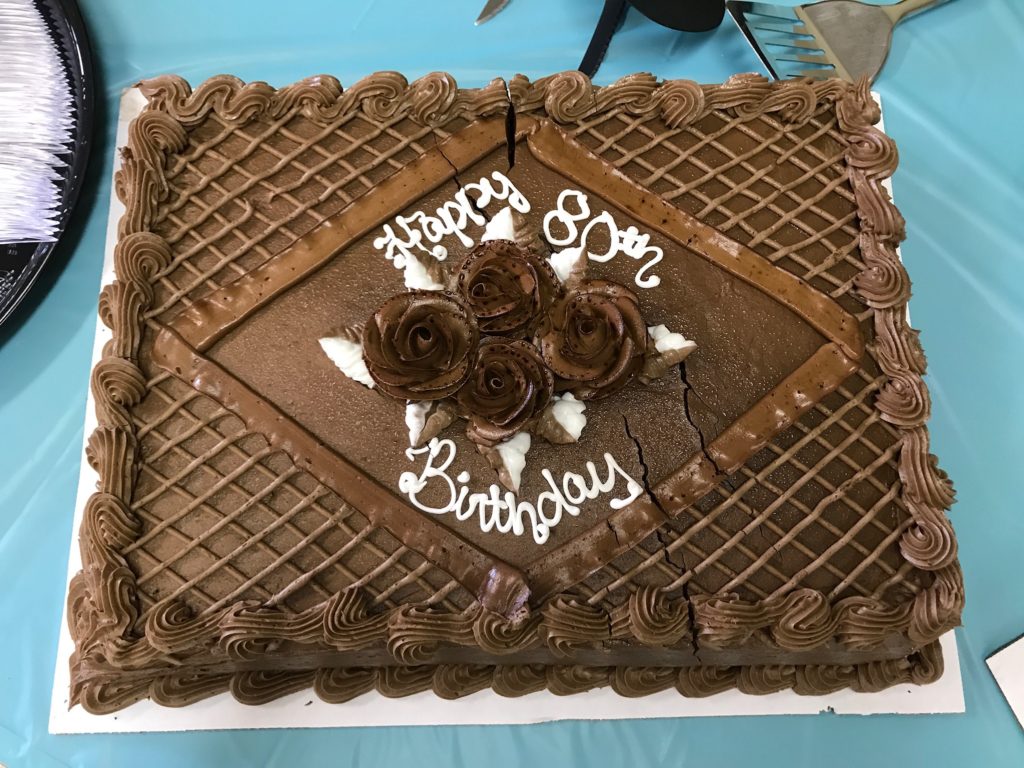 My In Laws with the Easter Bunny.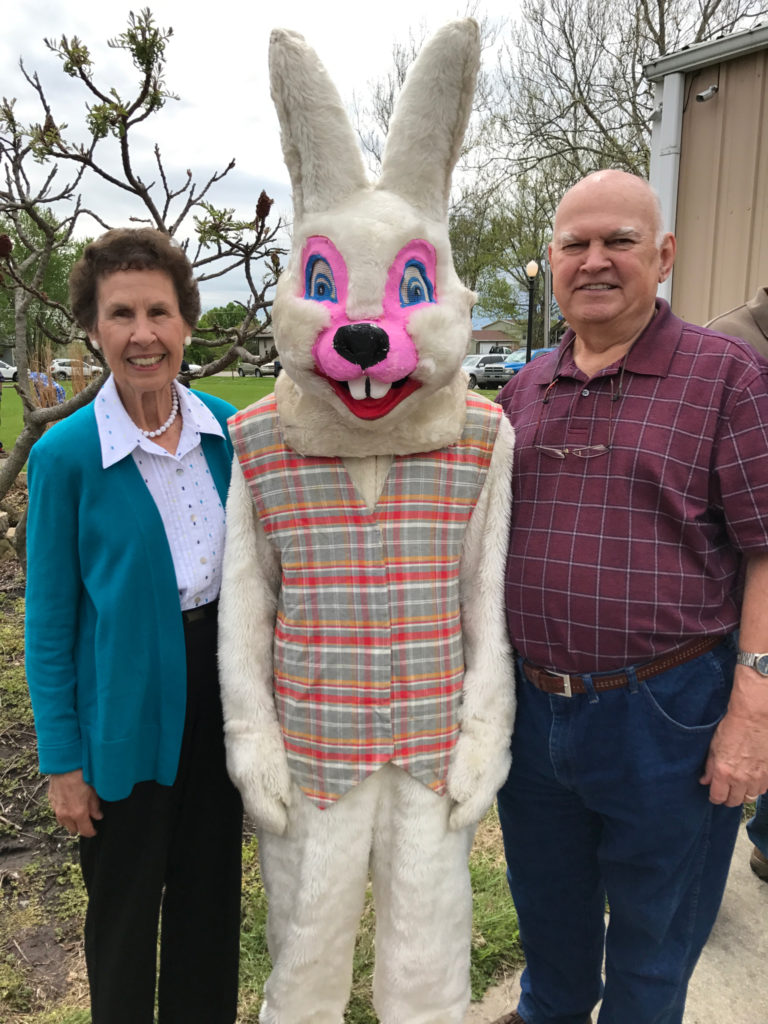 This bunny costume may be older than these Easter Celebrations. Some of the kids are afraid of it. lol.
Meat and drinks are provided by the hosting family and everyone else brings a side dish. There is always tons of food.
It's about a 90 minute drive for us, so I always take something that travels well.
I took a 5 pound bowl of fresh fruit! Thanks to the little ones, this was almost all gone!
The crock pots were lined up filled with a variety of family favorites.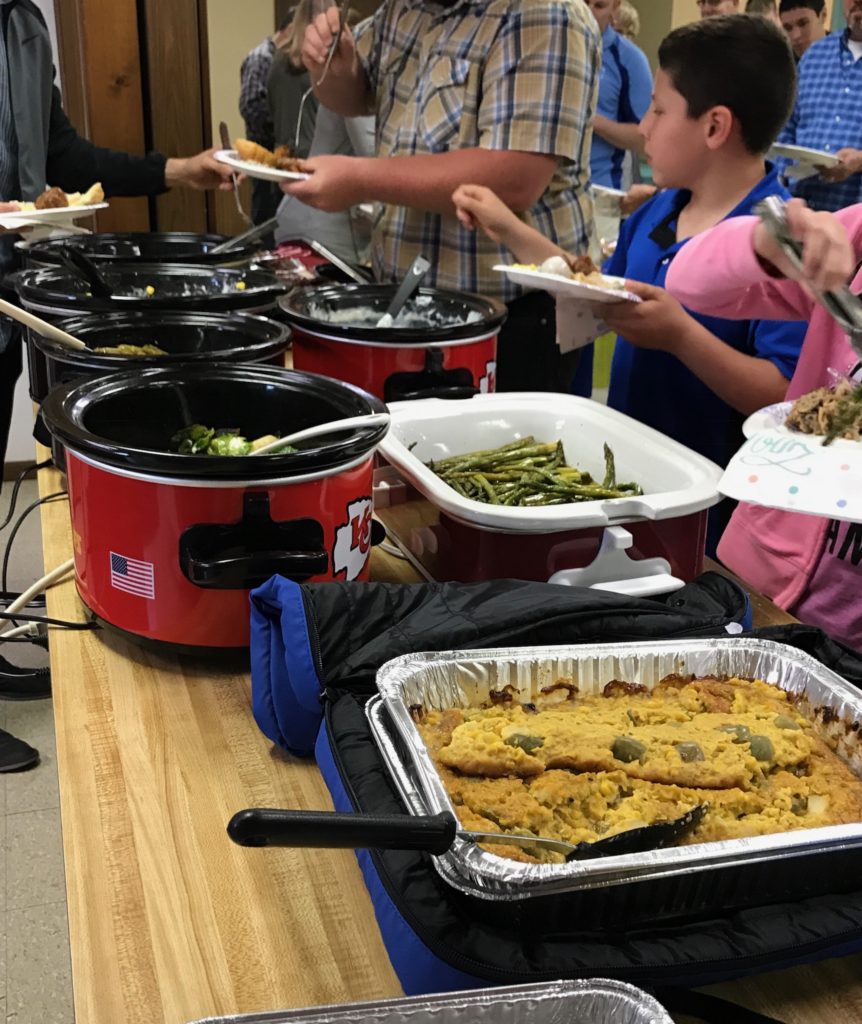 The little ones and their parents go first. I tried to find a kid, but they were all taken.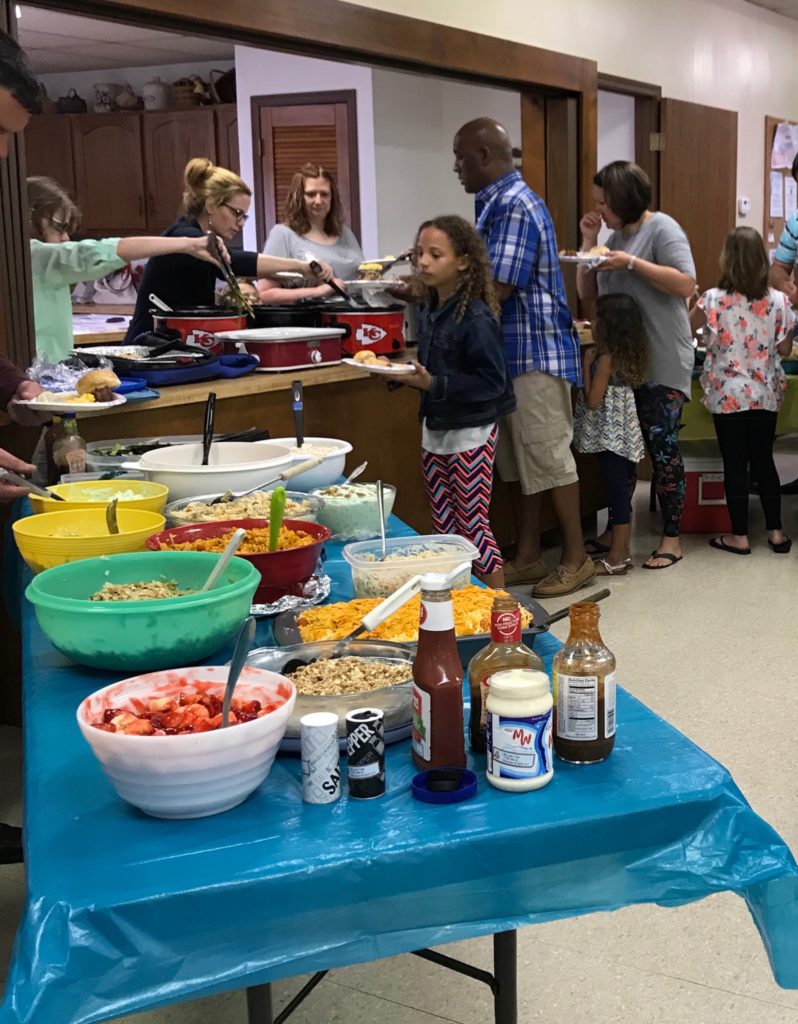 The salad table had a yummy variety.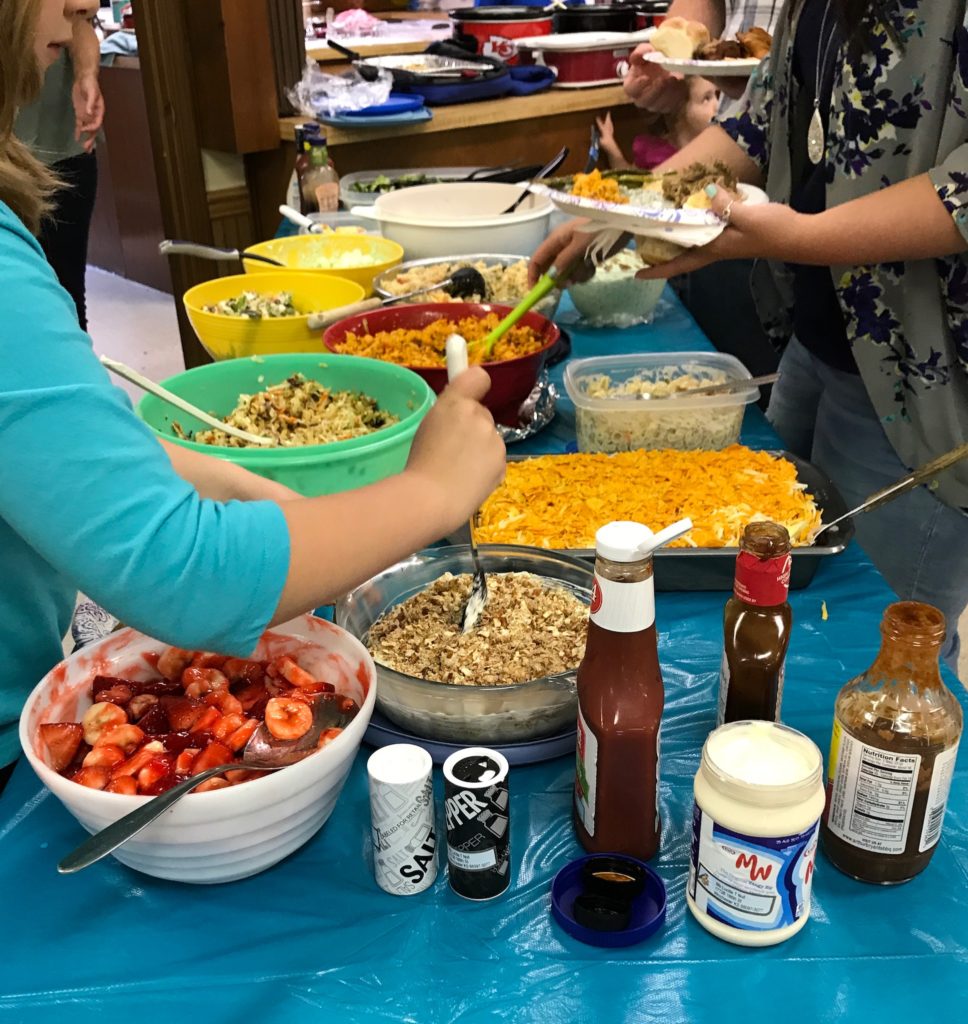 Not only did we have two large sheet cakes, there was an entire dessert table!
The Coconut Cake is a favorite for several, and that was my choice!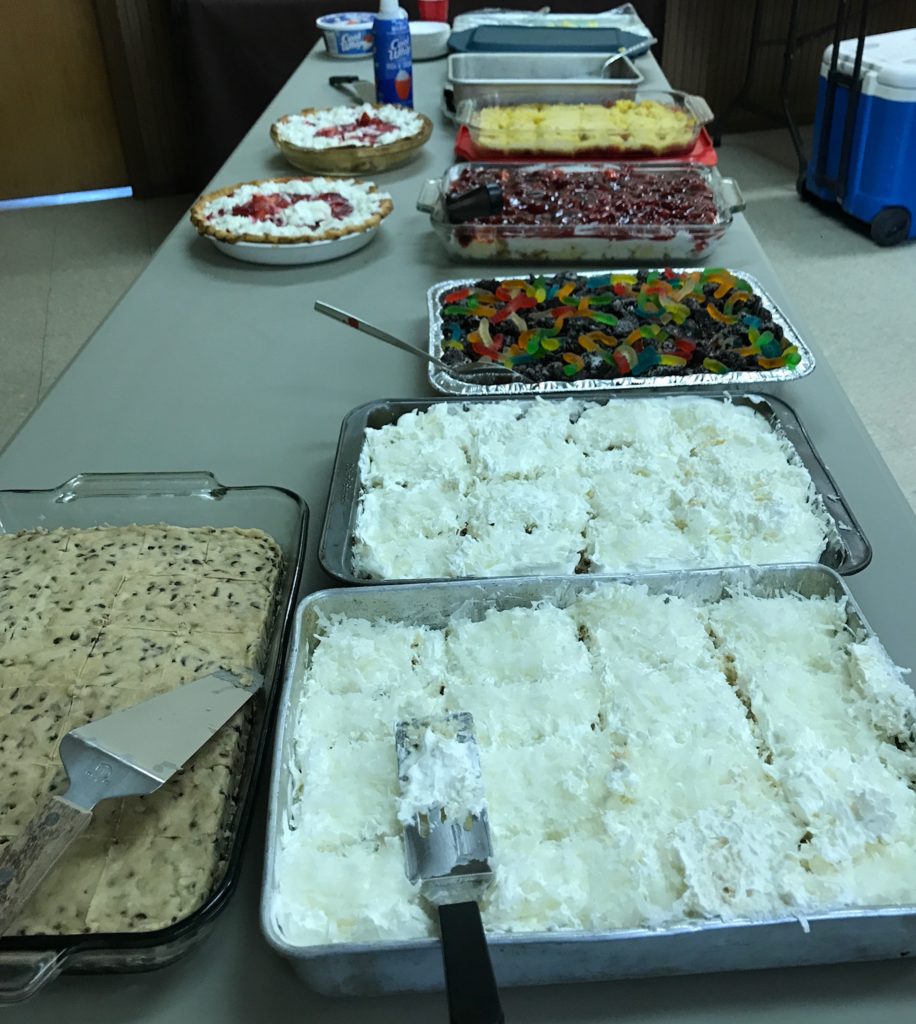 For meals like this, I do not count points. I take small servings of the things that I know that I will like and I enjoy my meal. I ate an egg white omelet and fruit for breakfast so that I wouldn't be starving as I went through the line. I consider yesterday a success!
After dinner, the kids all go outside with baskets to discover the Easter Bunny is there and that there is candy scattered all over in the grass!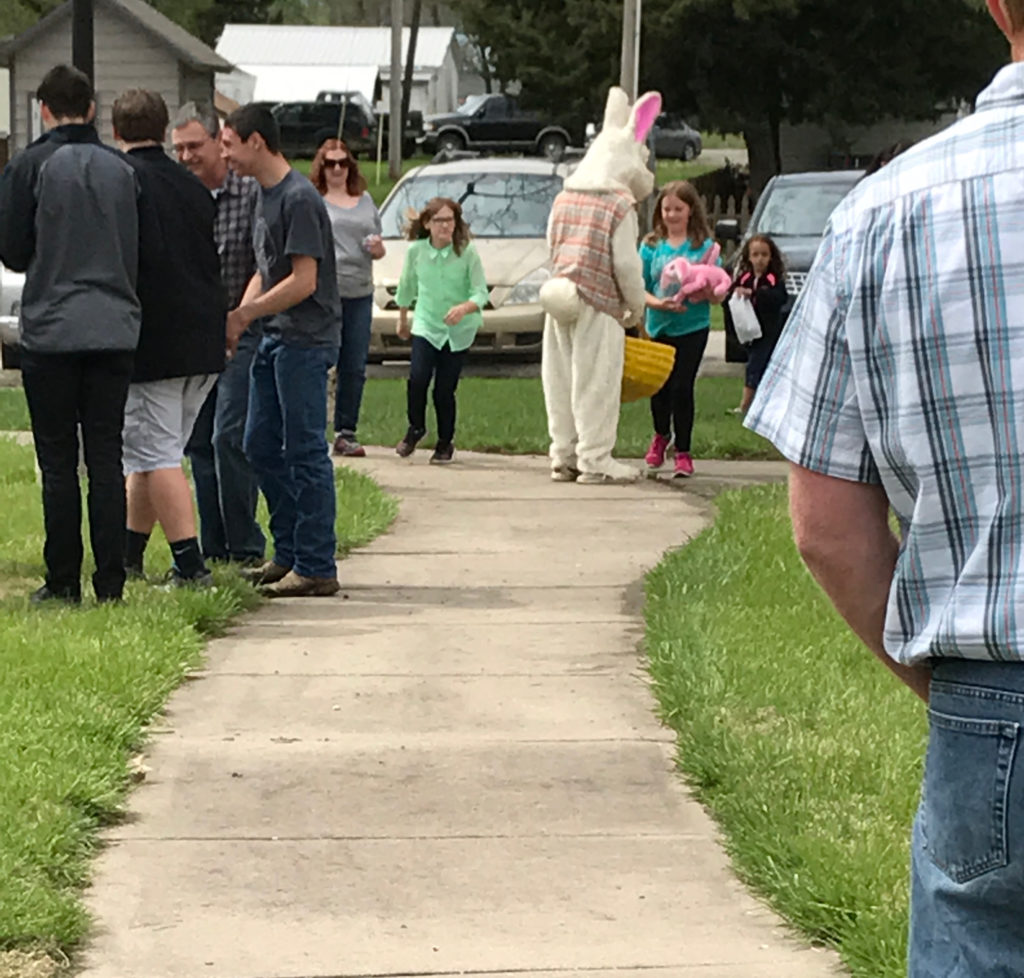 It's always a great time to catch up with Mike's family and the time flies by.
I am really hoping that all of our kids and grand kids will be able to go next year. It's a lot to ask, but it would be so nice for Mike's parents to get to show off the family. It really is one of the best parts of the get together, watching the older generation getting to introduce new girlfriends/boyfriends, finances and of course, show off all of the new babies.
We came home around 5:00 and were ready for a nap.
Later in the evening (although we did not color eggs, I had several boiled) I made an Egg Salad, which somehow seemed an appropriate light dinner for the evening, and vegged on the couch for the rest of the night.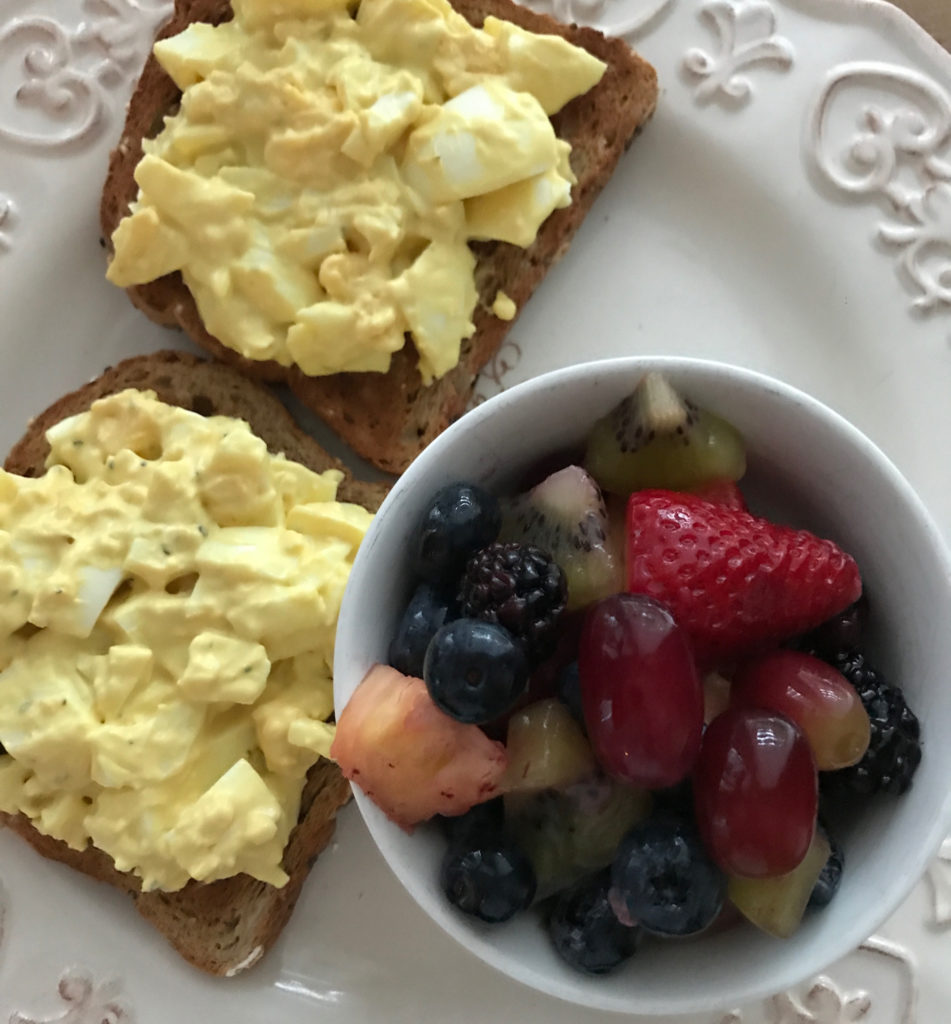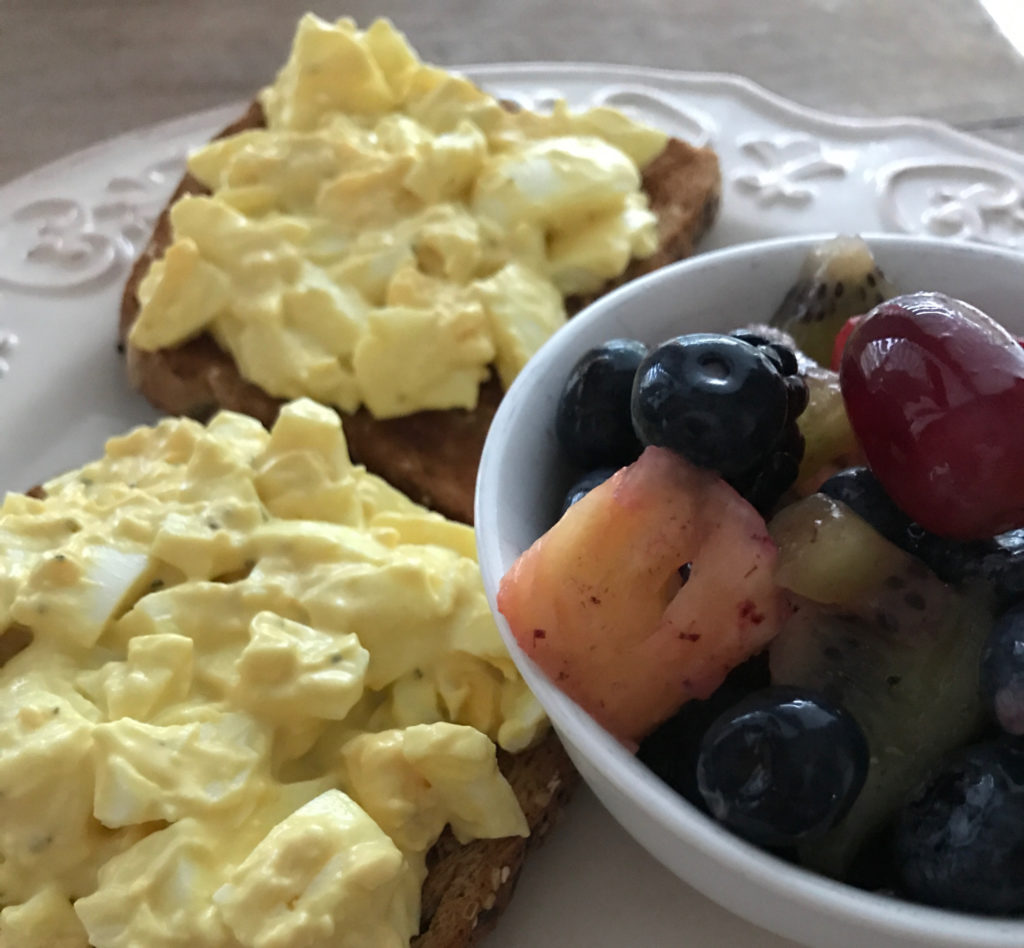 I forgot to mention that on Saturday, I ended the day with over 10,000 steps, and this was just by staying busy! Yay!
I'm having fun playing with the app on my phone and checking out all that the fitbit has to offer!
Really to go for 12,000 steps this week.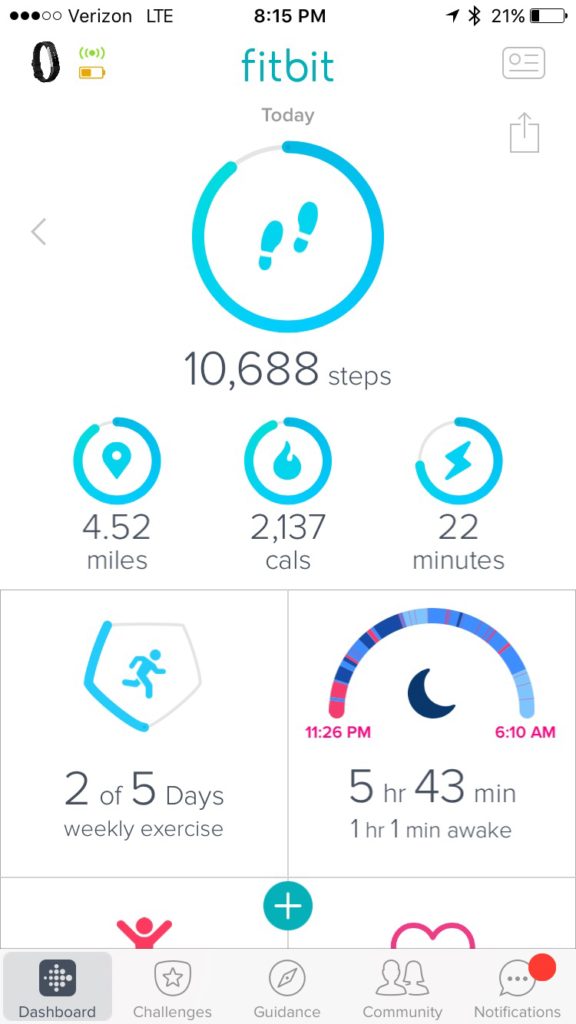 This is the latest picture of Wrenley, our new grand daughter. One month old already! She is just precious.
I hope the extended family gets to meet her and the others next year!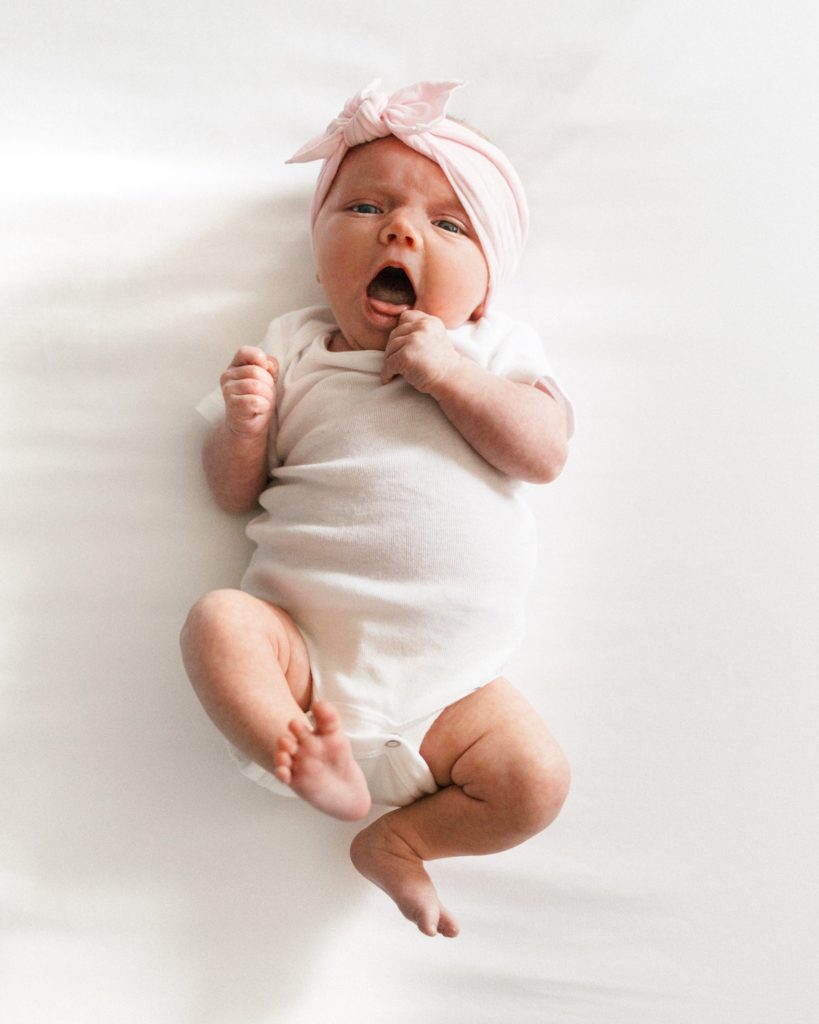 2017 Goals
Make time each week to Meal Plan
Drink 100 ounces of water each day
Exercise 5 days a week
Eat three meals and one snack daily
FOUR 100 Mile Walking Challenges this year!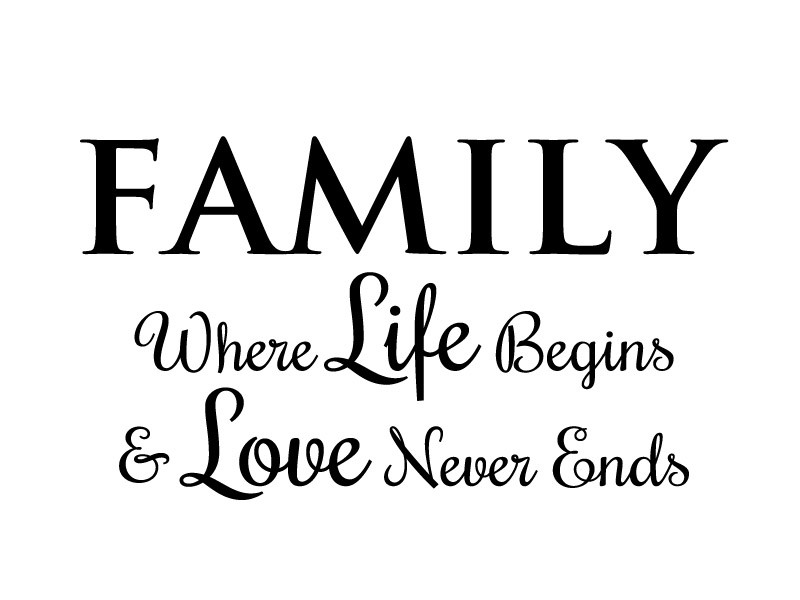 "love the life you live, live the life you love"