I have lived in the same city for my entire life and so has my husband. Neither of us has ever had a job to take us away, and I suppose that neither of us has ever had the desire to move away.
Both of our parents live here too and I would imagine that we will always call Kansas our home. (Unless of course, one of the kids ends up on a beach somewhere and begs us to move closer to them. Then…maybe.)
Tess was the first of our four children to move when she took her job with Southwest Airlines in Dallas a few years ago. We have handled the move well and we are able to take advantage of free flights and get to see each other fairly often.
One of our other daughters, Anne, and her husband moved to Oklahoma this weekend. Her husband accepted a job, they sold their house, and everything just kind of fell together in these last few weeks.
Mike and I drove down to help unload the moving truck on Saturday. Along with our two grandkids, (who were so good and worked so hard) Anne's mother and father in law, and sister in law and her husband were there to hep too. We had 8 adults and two kids to do some serious unpacking!
They found a brand new house that would allow them to rent with an option to buy and it is SUPER cute!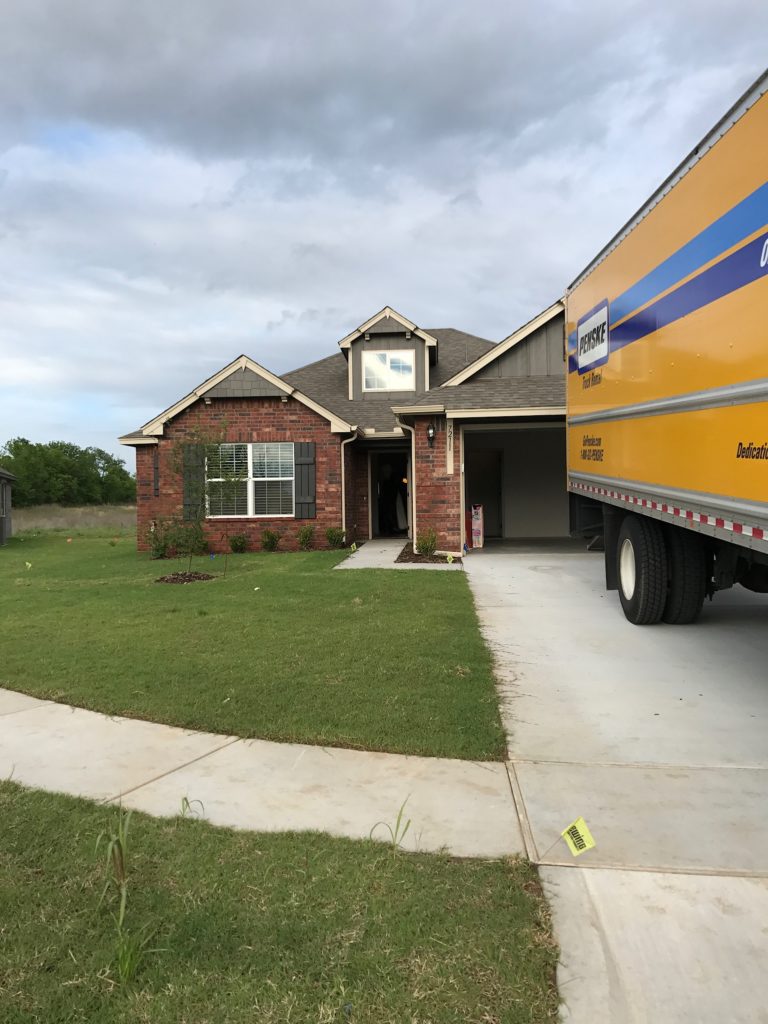 The whole house is painted with light grey walls and a darker grey on the doors and trim, so you know that I was in LOVE with it!
Oh, we also had a baby helping us out! That is Anne's 10 month old niece helping us out too! Adorable.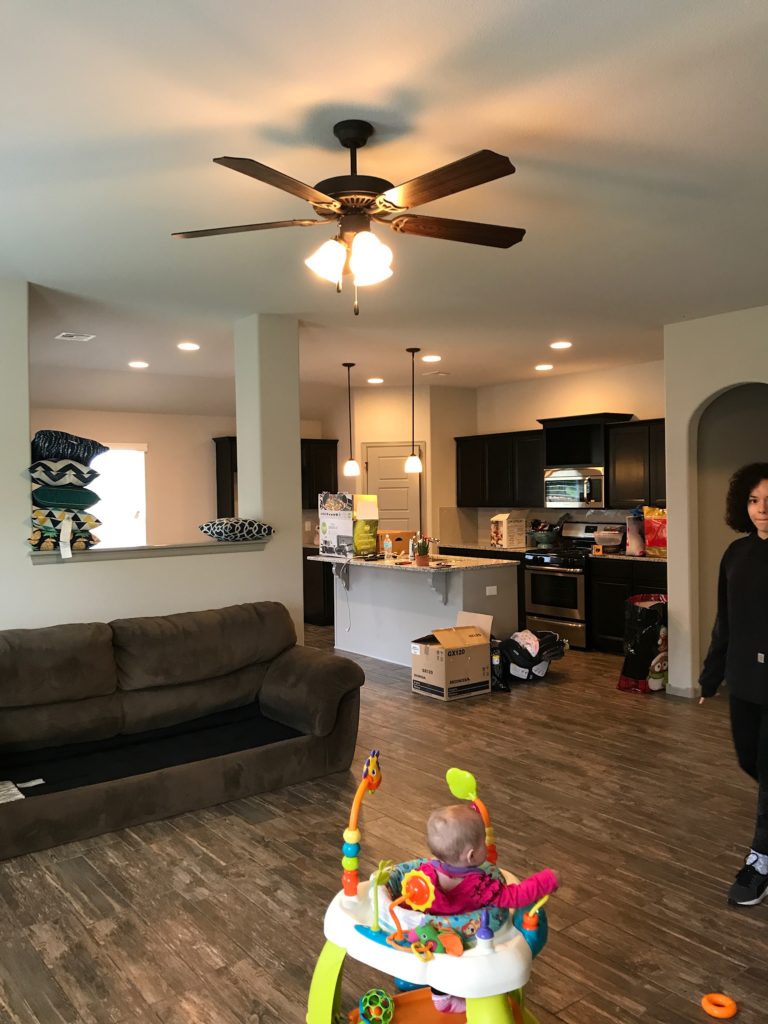 The grand kids seemed to like that we were there and it was nice to be able to help them set up their beds and see what they thought about their new house, new bedrooms and moving in general.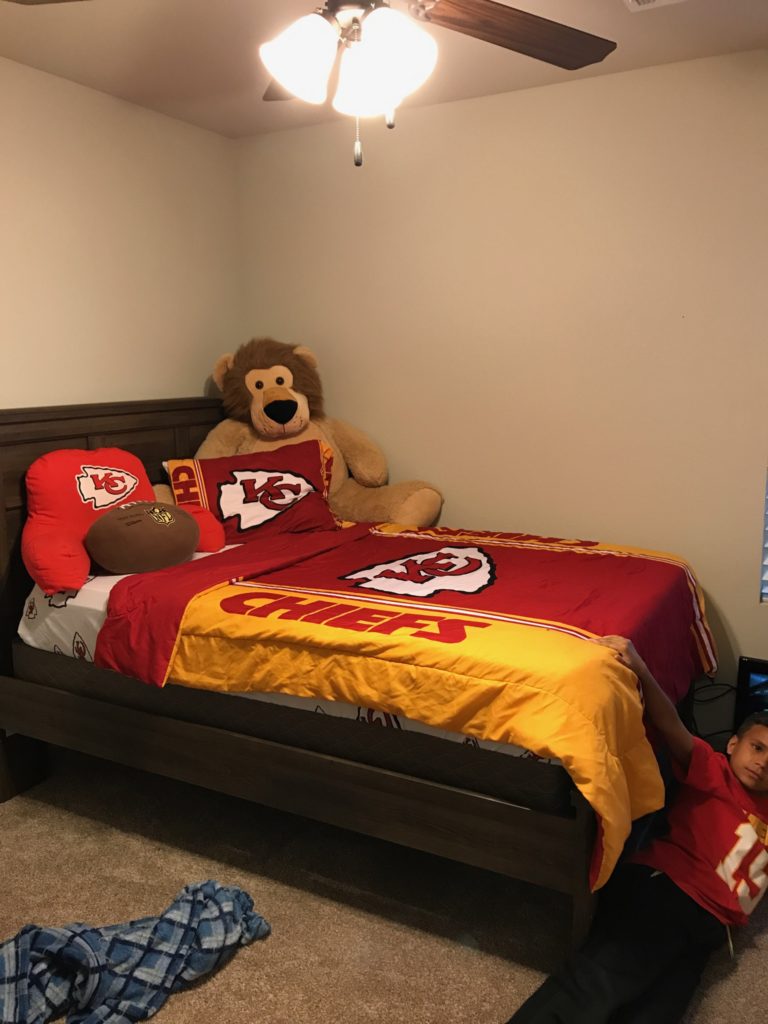 We took air mattresses and pillows and we all slept over. Anne tucking her dad in on the couch!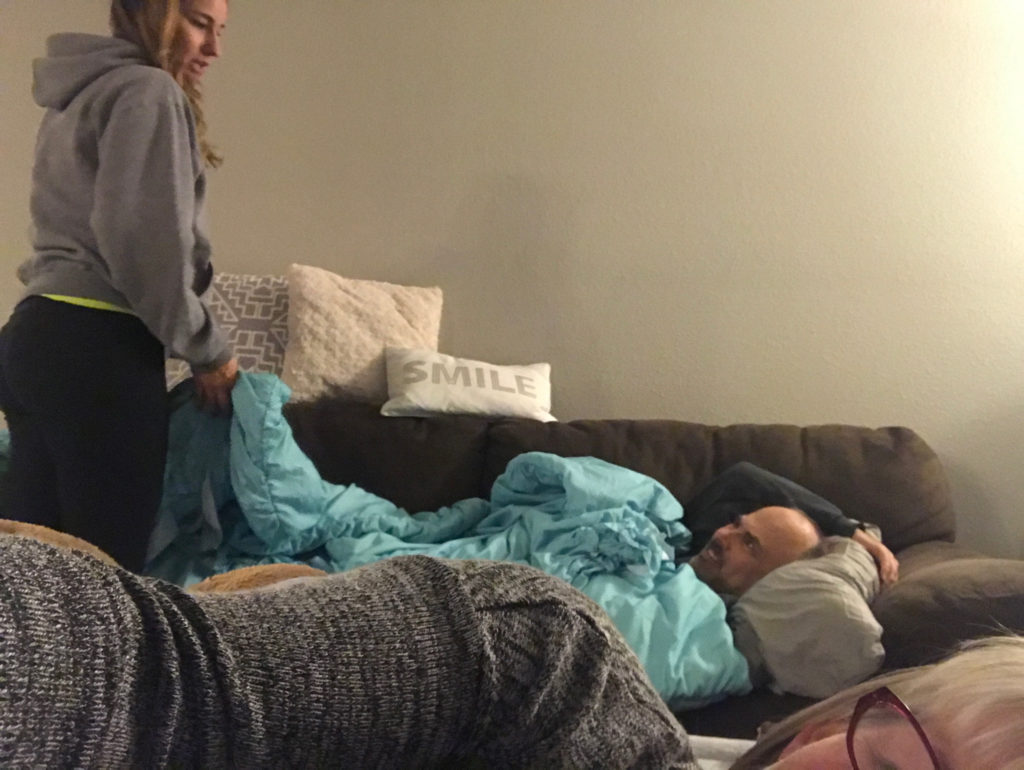 I love the floor plan and the master closet is every girls dream.
On Sunday we were able to get all sorts of things done, have a late lunch together, then hit the road for the short 3 1/2 hour drive home.
We are so happy for Anne and her husband and the two kids, but know it will be a huge adjustment for all of them. She is due with baby number three in August!
It will be a bit of an adjustment for our other daughter Kate and her kids too. They shared a backyard fence with Anne and the kids played together all the time. Kate took 3 year old Char over to see Aunt Anne's empty house last night and I guess it really did a number on her. I would imagine that is really hard for a three year old to comprehend?
I'm sure that all will be fine and the move will be great for Anne and her family, but it will be an adjustment for many for certain.
The good news is, they now basically live between us and Tess, so we're thinking of planning trips to all meet at Anne's house for a great big family sleep over!
I packed snacks for the drive down. We worked at unloading until finally stopping and going to dinner around 9:00 pm. We went to Red Robin and while there were salad options, I was craving a burger, so I went for it.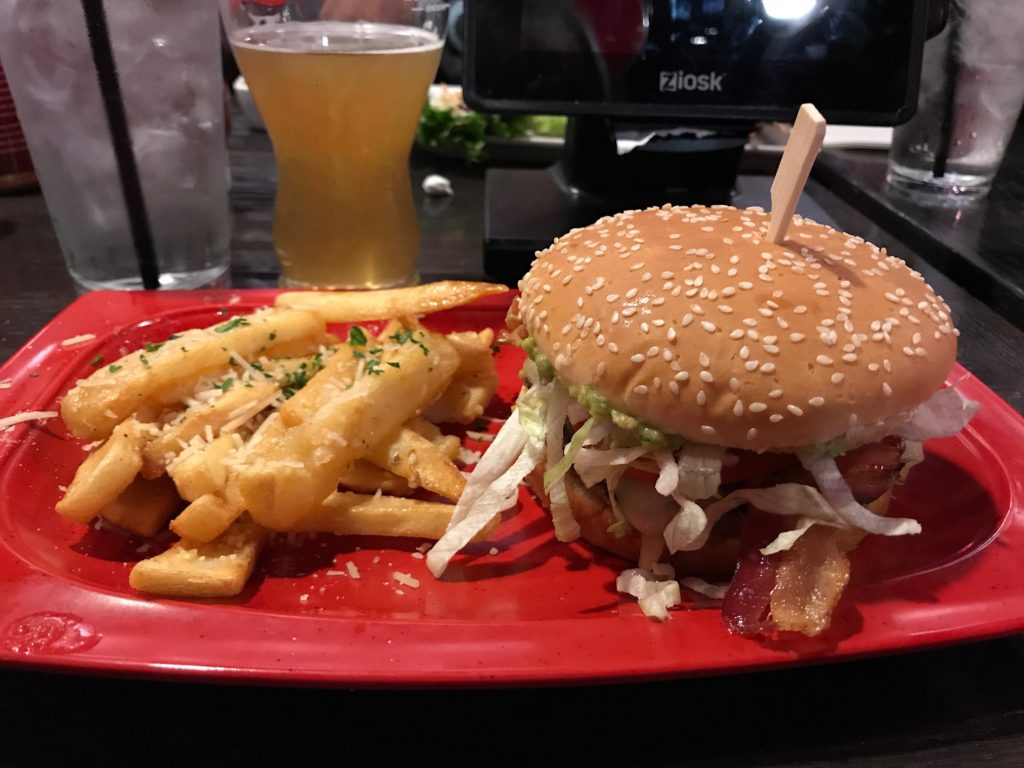 Sunday I woke up early and went to the store. We hadn't unpacked the coffee pot or any kitchen items yet, so I grabbed lots of fruit, mini bagels, granola bars and coffee creamer at Walmart, then went to Starbucks and ordered 8 cups of black coffee. It seemed to be perfect and we all got started working shortly after.
Late in the afternoon, we had the house in pretty good shape and we all went out for Mexican food. It was now after 2:00 and I think everyone was done.
I ordered Chicken Taco's on Corn Tortilla's and ate WAY too many chips.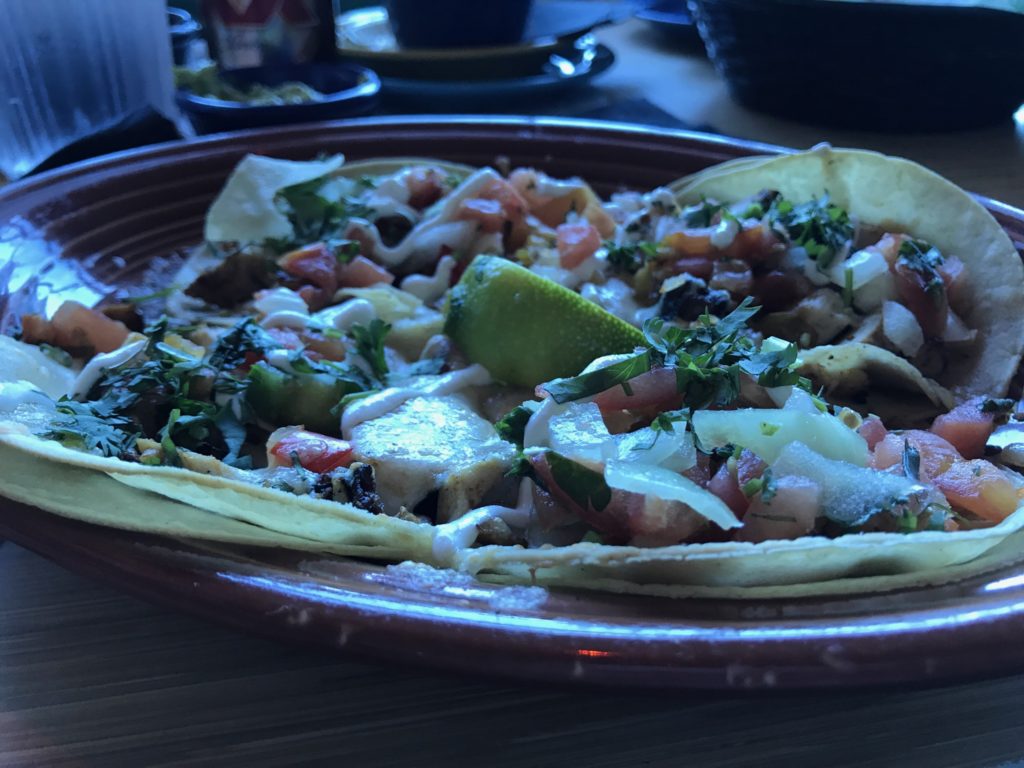 After a late lunch, we all said goodbye in the parking lot. Anne's husband was going back to the new house and Anne and the kids were coming back to stay with her in laws for a few weeks so the kids can finish up school.
It was a great weekend and we are happy for them to be able to take on some new opportunities,
Okay, that's my weekend update!
I've got some steps to get in and some grocery shopping to do! I hope that you all had a great weekend!
Happy Monday!
2017 Goals
Make time each week to Meal Plan
Drink 100 ounces of water each day
Exercise 5 days a week
Eat three meals and one snack daily
FOUR 100 Mile Walking Challenges this year!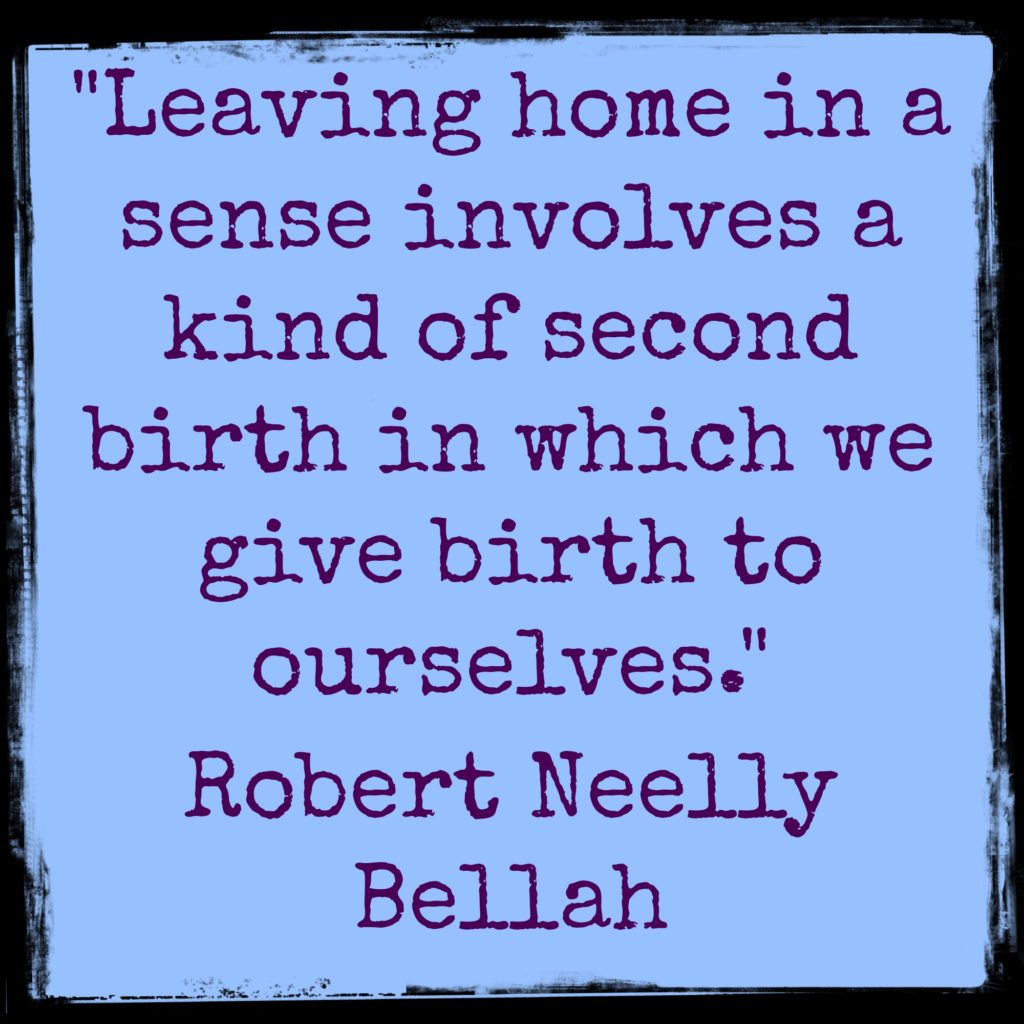 "love the life you live, live the life you love"