I've got some new readers, so business first.
Thanks so much for stopping by the blog. I'm really glad that you're here!
I tend to ramble on and on and make lots of spelling and grammar errors, so I apologize in advance.
I was so going to post everyday in May, but family came first this weekend. Instead of posting a blog on Saturday morning, we were taking turns holding this guy!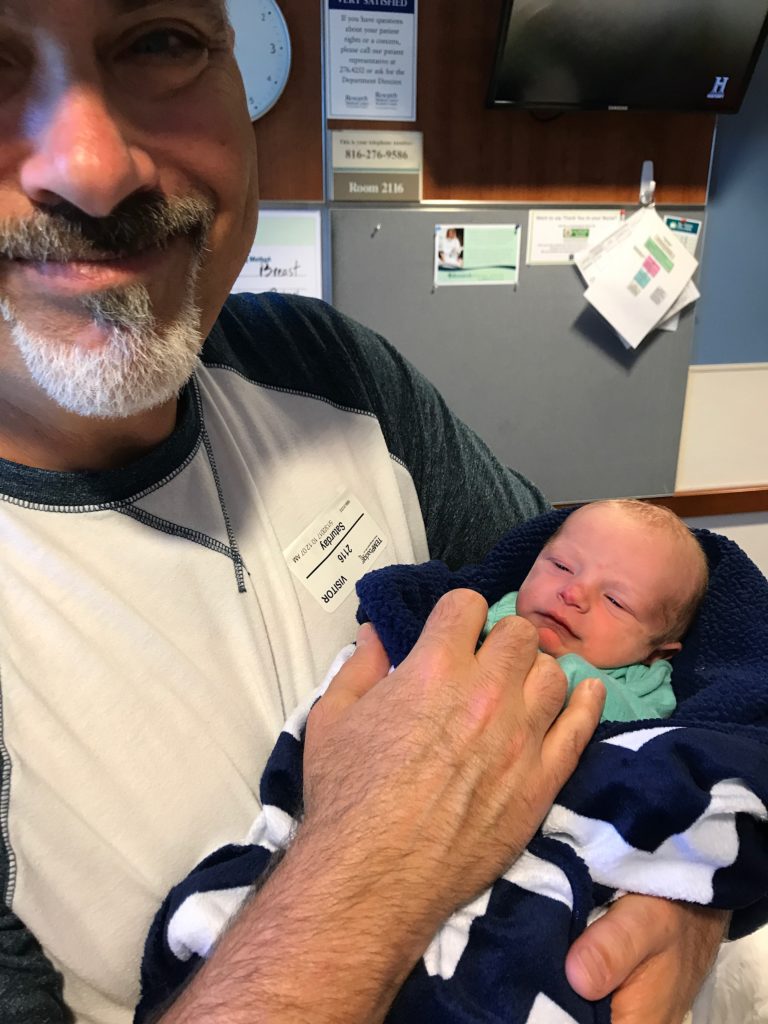 Mom (our daughter Kate) went to the hospital at 12:45 am Saturday morning and Sawyer was here at 2:15 am! Quick and easy for mom. I knew when the phone rang in the wee hours of the morning, we had a baby on the way or he was already here. I could hear him crying when I answered the phone. This is grand baby number six. He is just adorable.
Meet Sawyer Graye. 6 lbs even.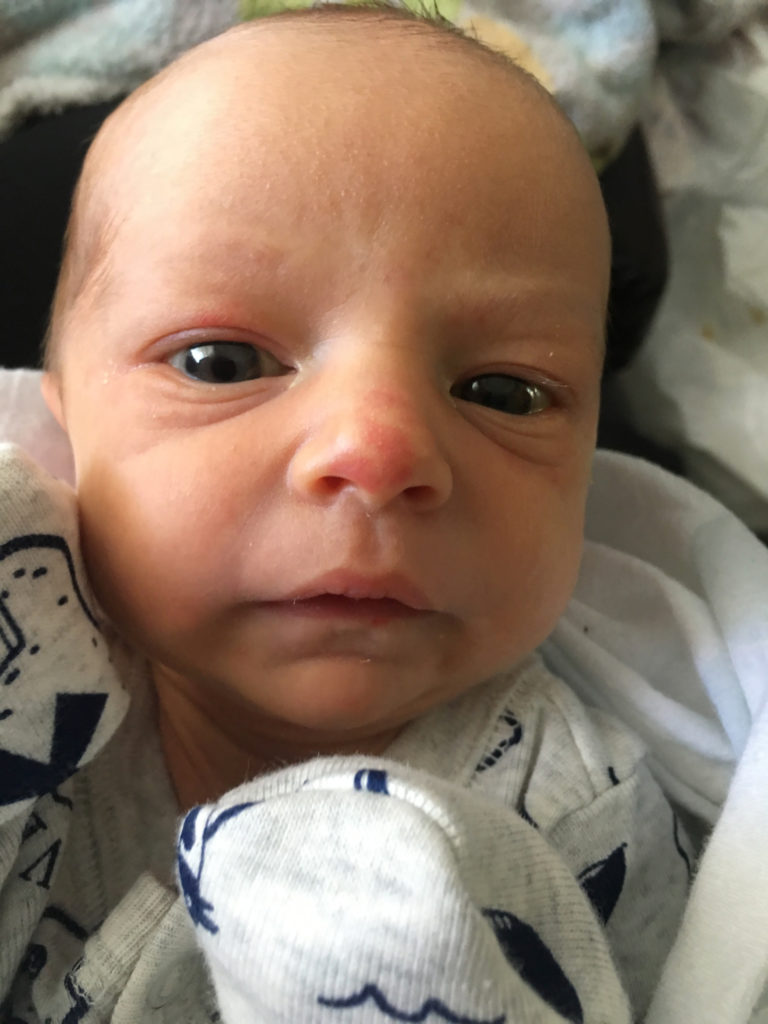 Here is a picture taken over the weekend of grand baby number five, Wrenley. She is two months old already!
lol. I have no idea why this is so small, and I'm dumb, so I can't seem to make this picture bigger!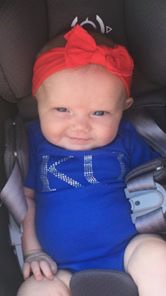 We didn't stay at the hospital as long as we would have liked to on Saturday morning. We had some celebrating of another kind to do!
We had tickets to see Garth Brooks! Since the concert was close to our wedding anniversary, we decided that we would get a hotel room downtown and make a "staycation" out of it. If you read the blog regularly, then you know I appreciate a staycation. (You know, stay in your own city and do things people do when they're on vacation!) We checked into the hotel early and headed out to enjoy the outside. We were in the Kansas City Power and Light area of downtown, and it consist of lots of places to eat and lots of places to enjoy a beverage and play and people watch. The place was packed early! I thought I was being so organized by checking in and being out and about at 4:00 pm for a 7:30 concert! There seemed to be several graduation parties happening. Hadn't thought of that.
We did find a great spot on a patio to sit and ended up having a few friends join us. The weather was great, the chit chat was great, when the waiter spilled an entire beer (not even a drink we had ordered) down Mike's side of his shirt and jeans, Mike handled things like a champ and all the pre concert time spent playing outside and seeing friends was great!
Garth was awesome! I swear that guy is so genuine and sings with so much passion. I cried. Like what the heck? I'm pretty sure that I've never cried at a concert before, but I did.
I sent our friends a text with this picture telling them that we got moved to the floor! She knows me too well and didn't buy it.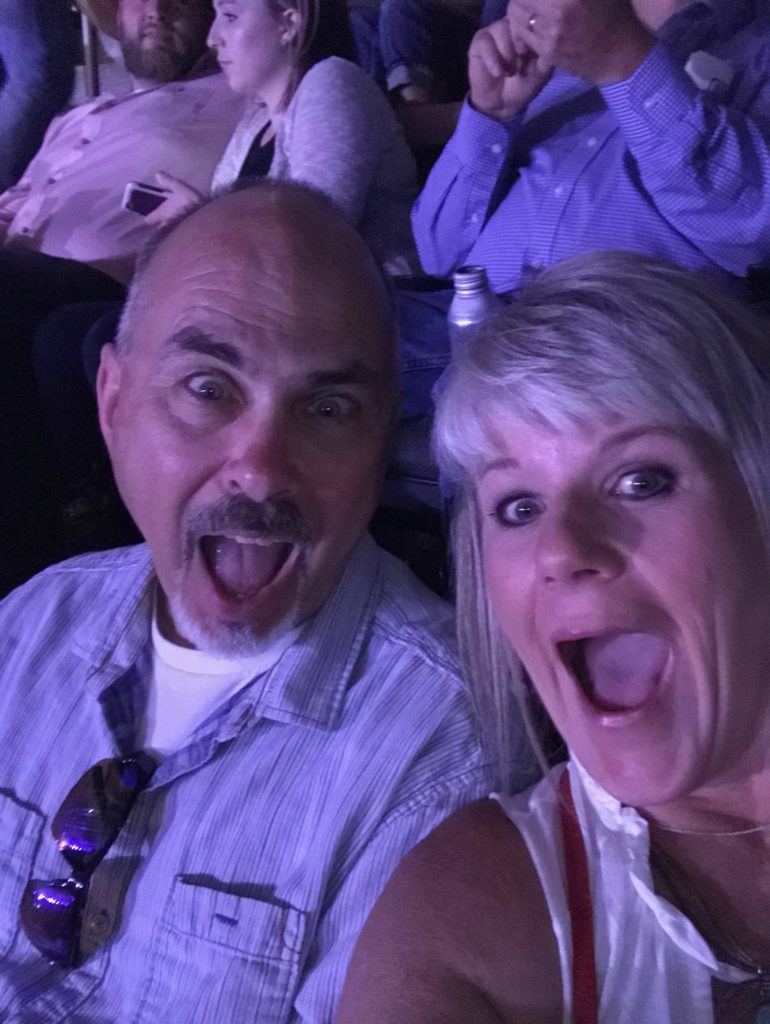 We were like up in the roof! Didn't matter. So. Much. Fun.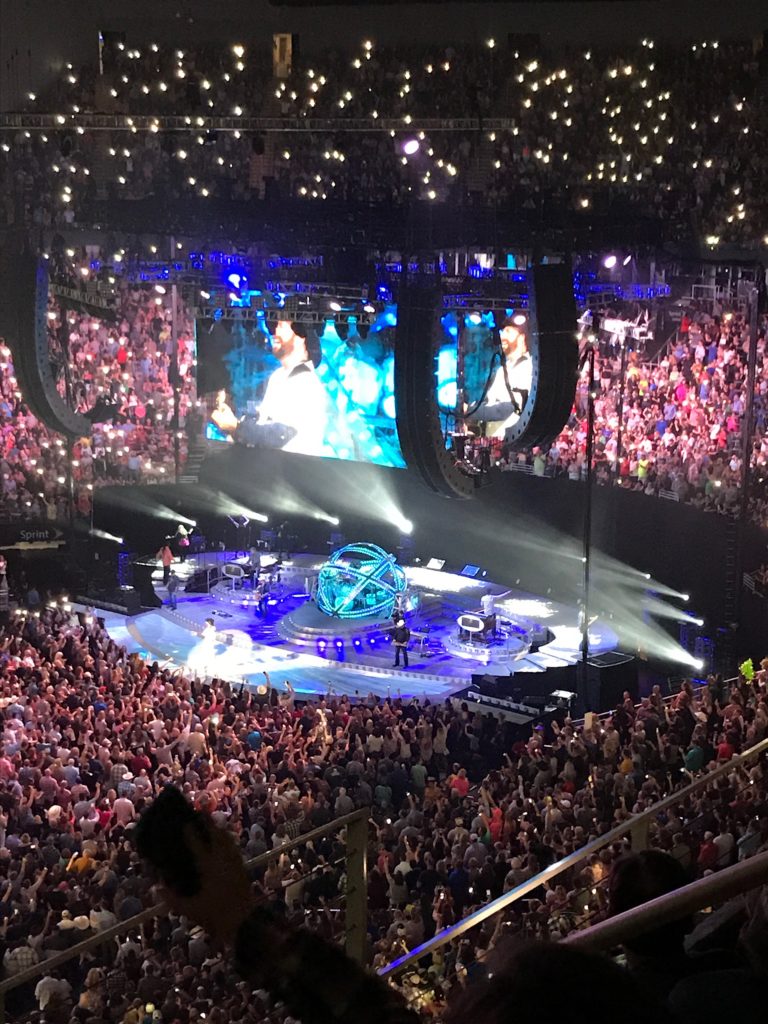 The lady beside me was super emotional through the whole concert, so I kept giving her hugs.
We were happy.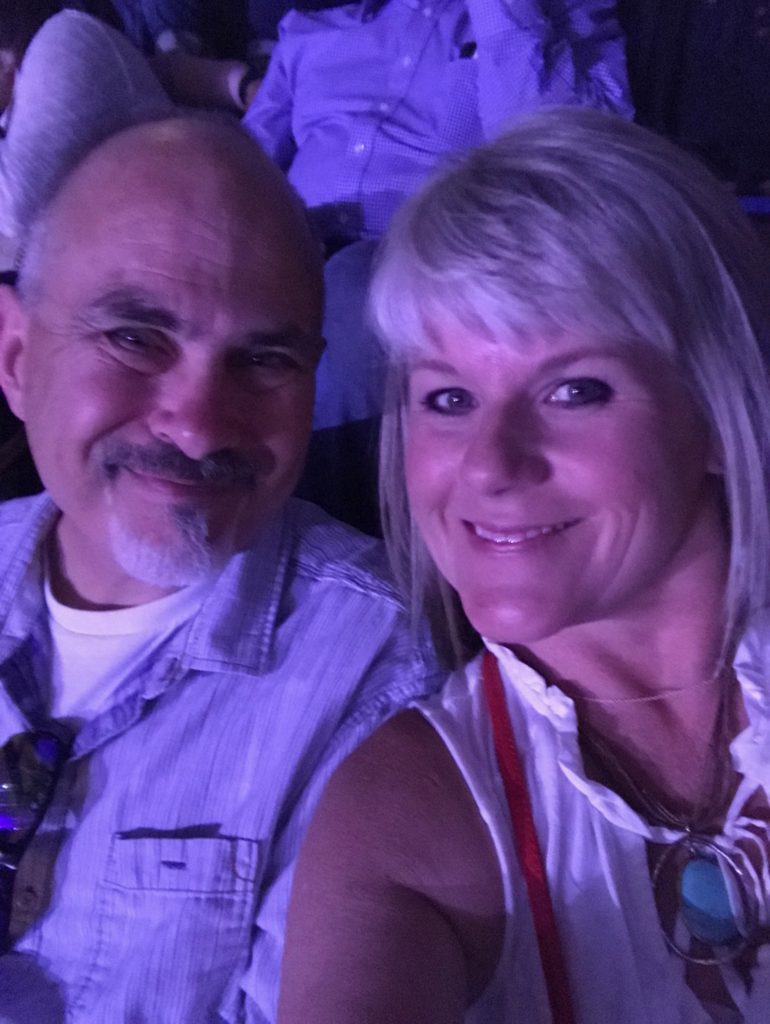 As we left the concert at 12:30 (the time FLEW by!) we realized that we never ate dinner! We had a few drinks and a few bites of Calamari, but we were both hungry. We stopped at a bar that was still serving food and had dinner at 1:00 a.m. STAYCATION!!!
Sunday morning we slept in and checked out at around 10:00. Then more downtown fun with breakfast on a patio.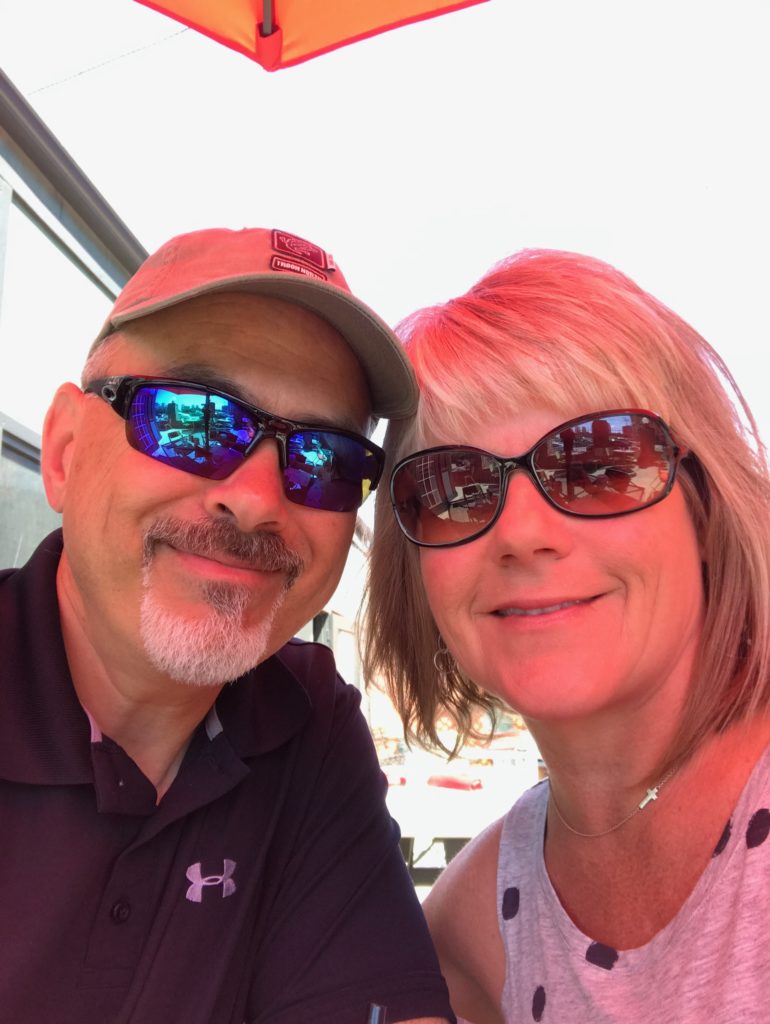 After breakfast, we went to visit each of our moms and wish them a Happy Mothers Day. By the time we got home it was after 5:00.
Busy weekend, relaxing evening, short walk and early to bed for me.
Monday was a full day of errands and "to do's" that didn't get done over the weekend.
We've made a habit of meeting at our neighborhood spot (Sunset Grill) for dinner on Monday nights when I get done working as a receptionist at a WW meeting. It's kind of a nice way to wind down the day and we always see people we know there.
One of the reasons that I really didn't want to miss a day of blogging this month was so that I wouldn't take any days off of tracking.
I tracked everything these last few days!
Here are the weekend eats along with Monday's.
Friday
Breakfast – 5 SP
Two Mama Lupe's Low Carb Tortilla's filled with a Veggie and Egg White Scramble and a Laughing cow Cheese Wedge with Salsa and berries.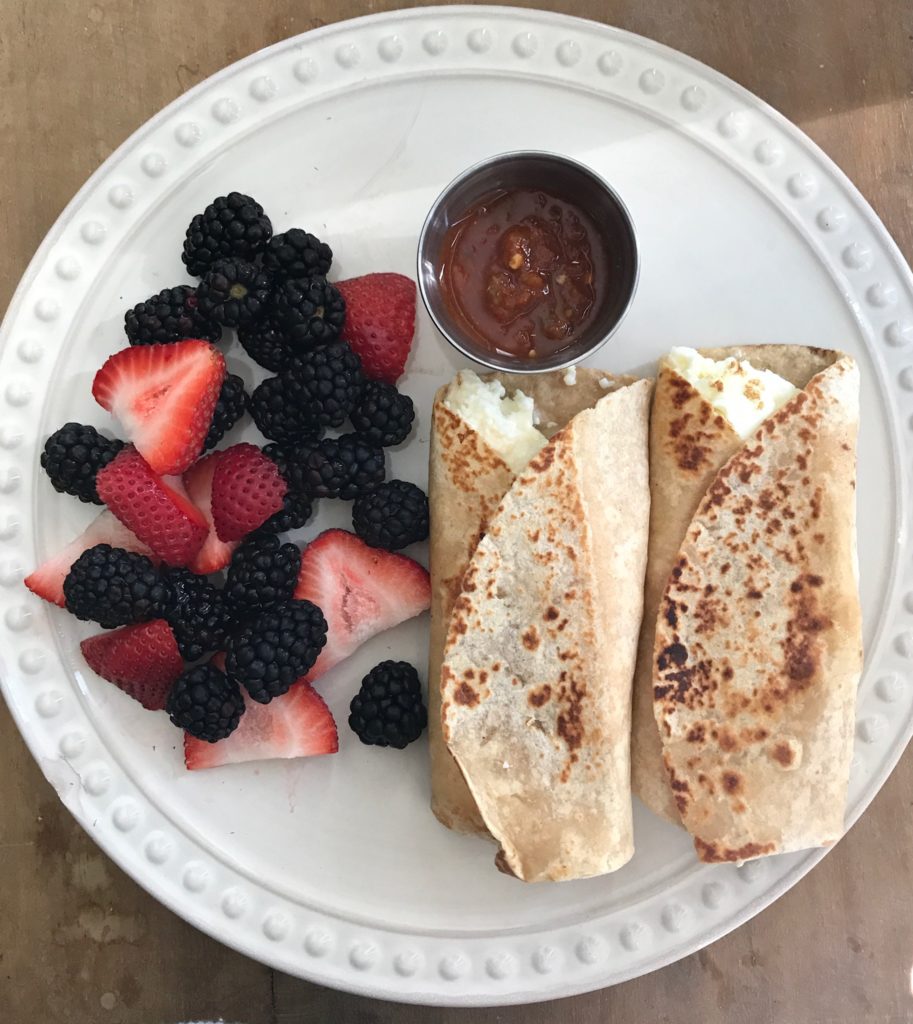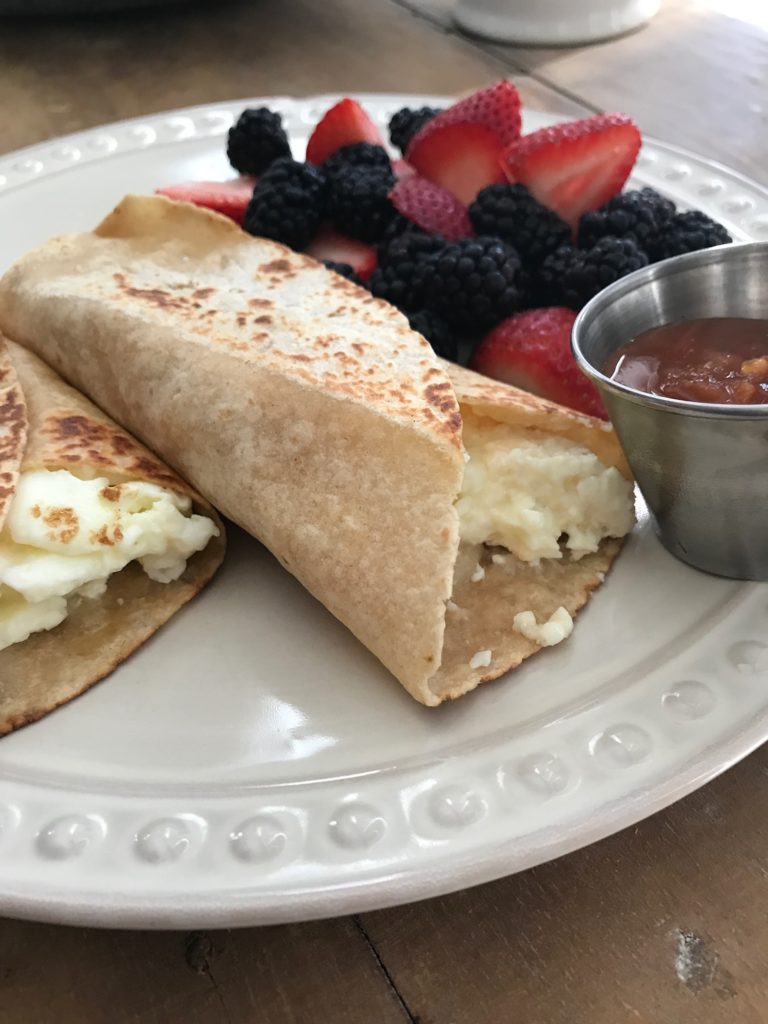 Lunch – 3 SP
I took these leftovers along with an apple to eat while working at the Food Truck. No food truck food for me this week!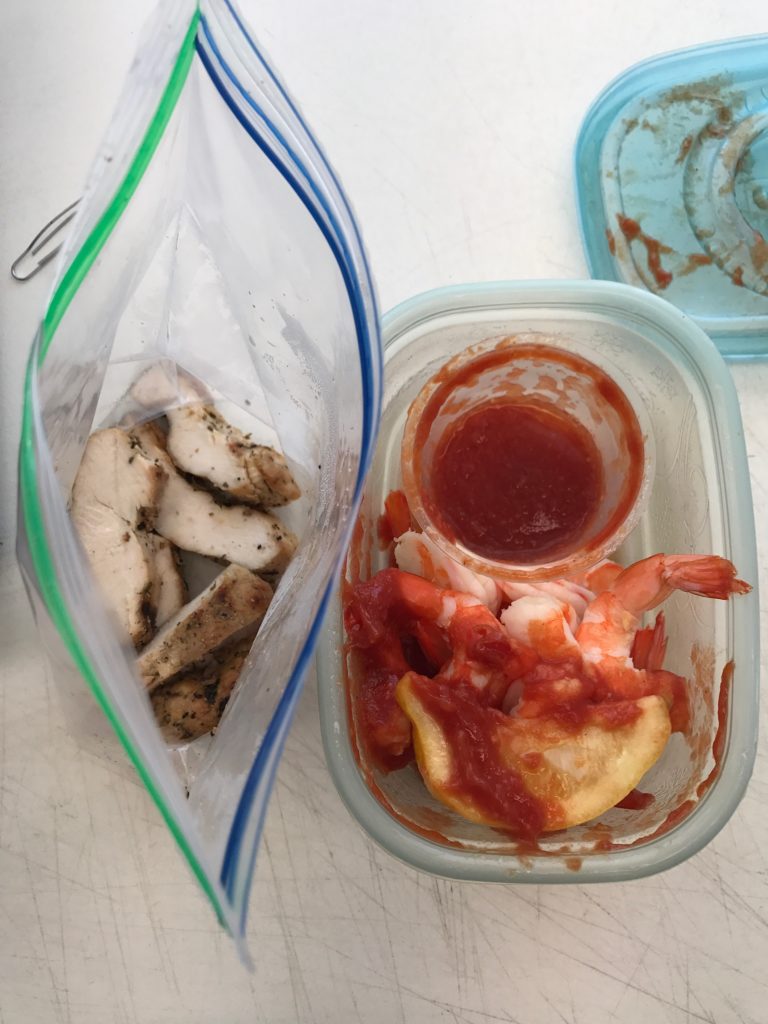 Dinner – 17 SP
Un pictured Beer's with friends on a patio and then home to grill up these Chicken Brats and Peppers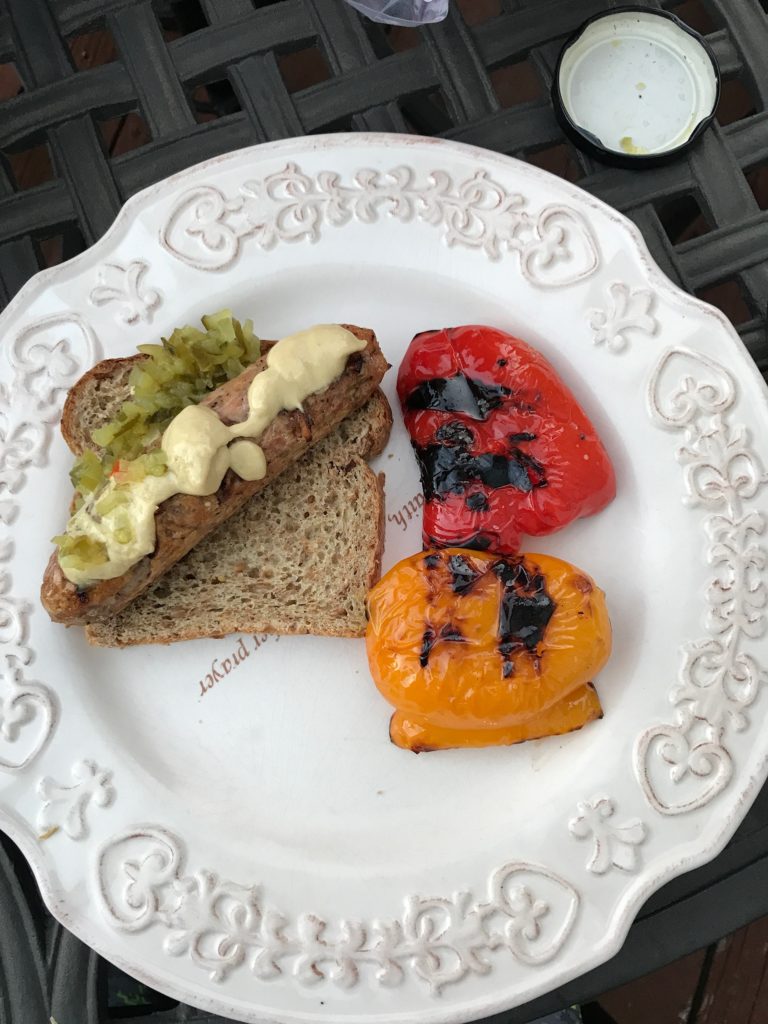 One more link wrapped in a grilled pepper!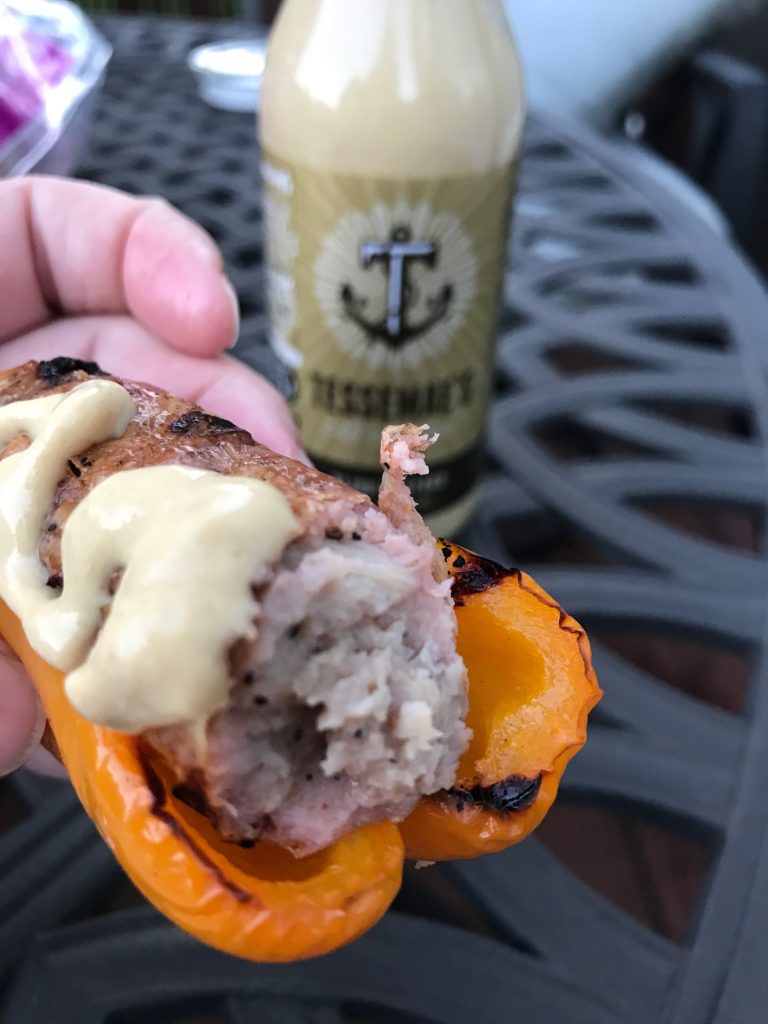 Total = 25 SmartPoints
Saturday
Breakfast – 9 SP
Big Ass Waffle topped with 1 T. Pure Maple Syrup, 1 T. of Nut Butter, Warm Blueberries and Banana Slices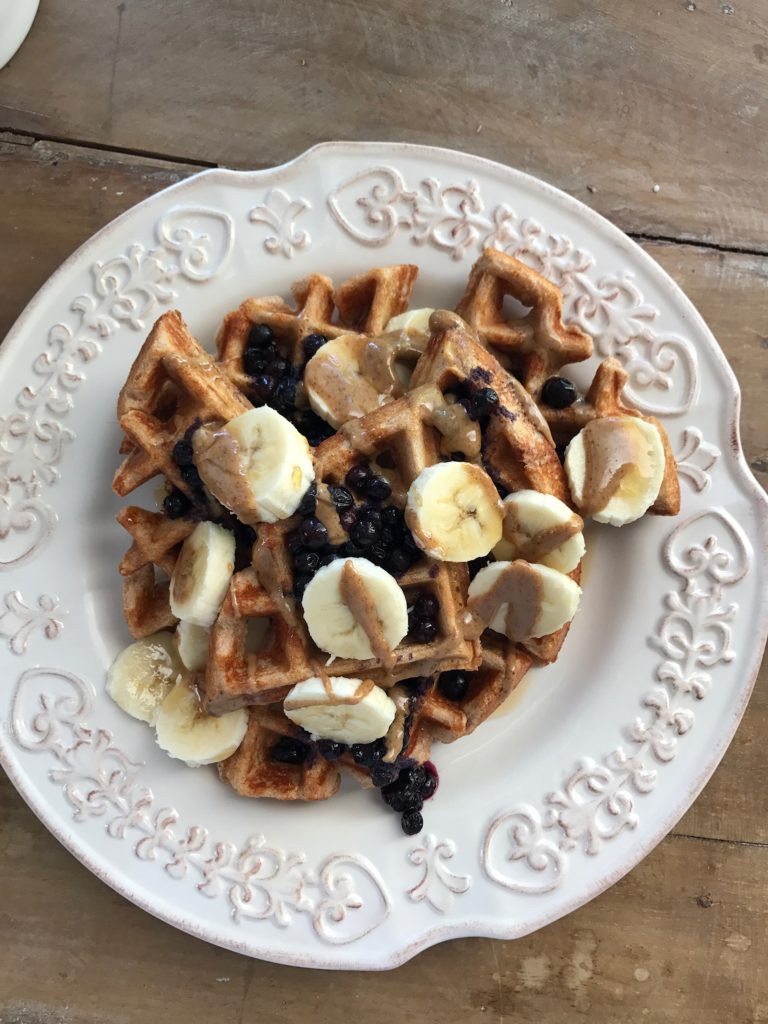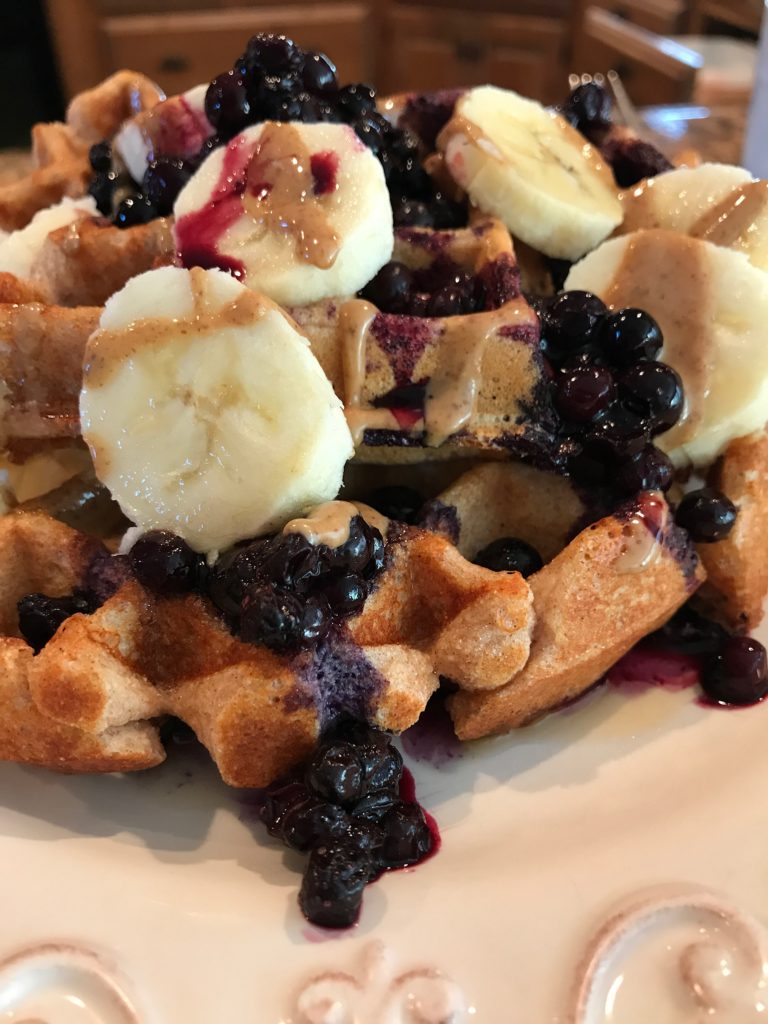 Lunch – 8 SP
This RXBar (new flavor! Yum!) for 7 SP and an Apple with 1 tsp Nut Butter for 1 SmartPoint and a LaCroix Lime for zero SmartPoints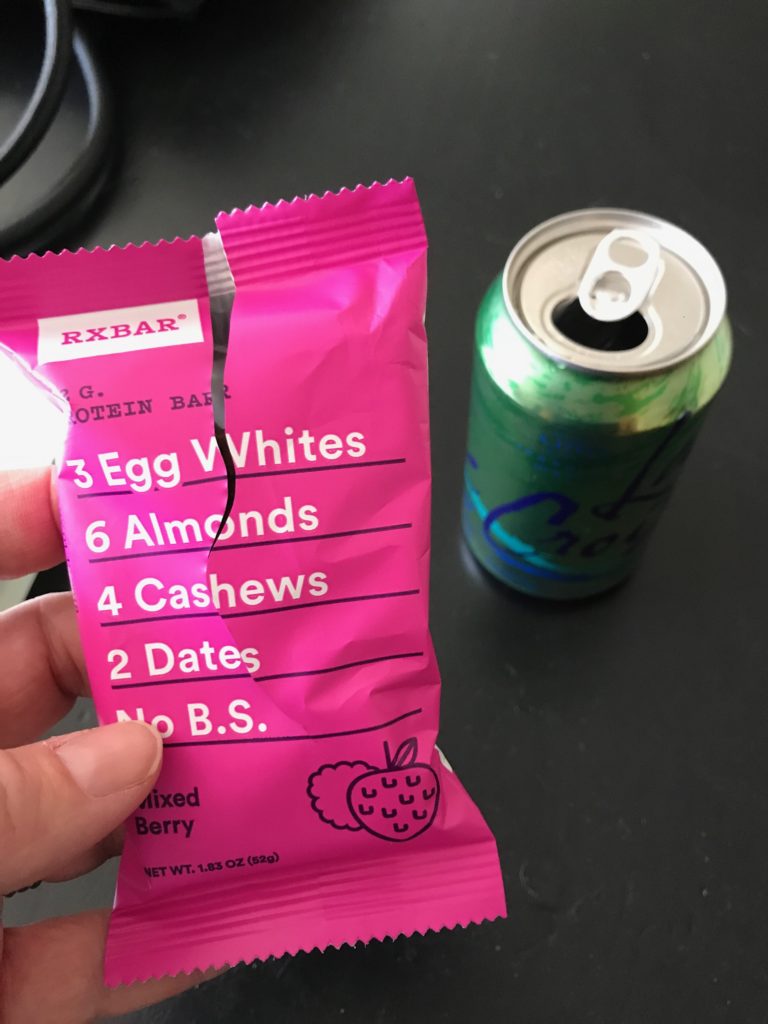 Dinner – 35
Un pictured wine and a few bites of Calamari before the concert and one beer at the concert.
Dinner at 1:00 am was a cup of coffee and this flatbread veggie pizza.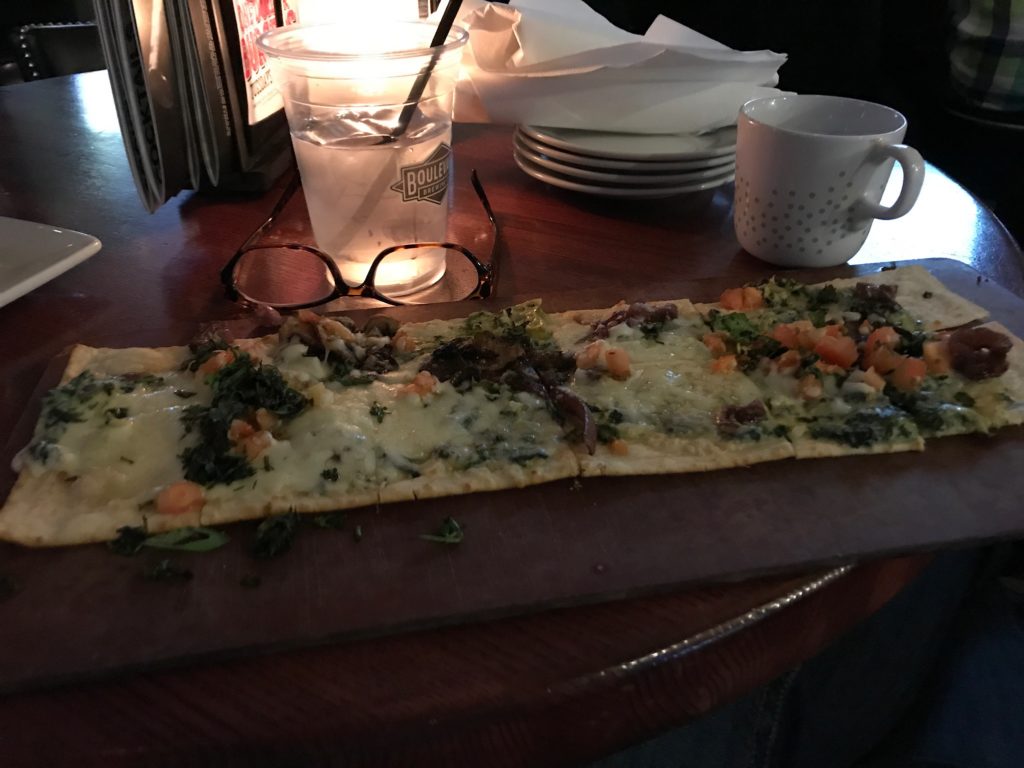 Total = 52
Sunday
Brunch – 17 SP
I didn't eat all of this, and I had to guess on points….but it was yummy!
Kind of like Breakfast Nachos?
Corn Chips covered in some yummy spicy sauce with Chicken and Queso Blanco with Scrambled Eggs on the side.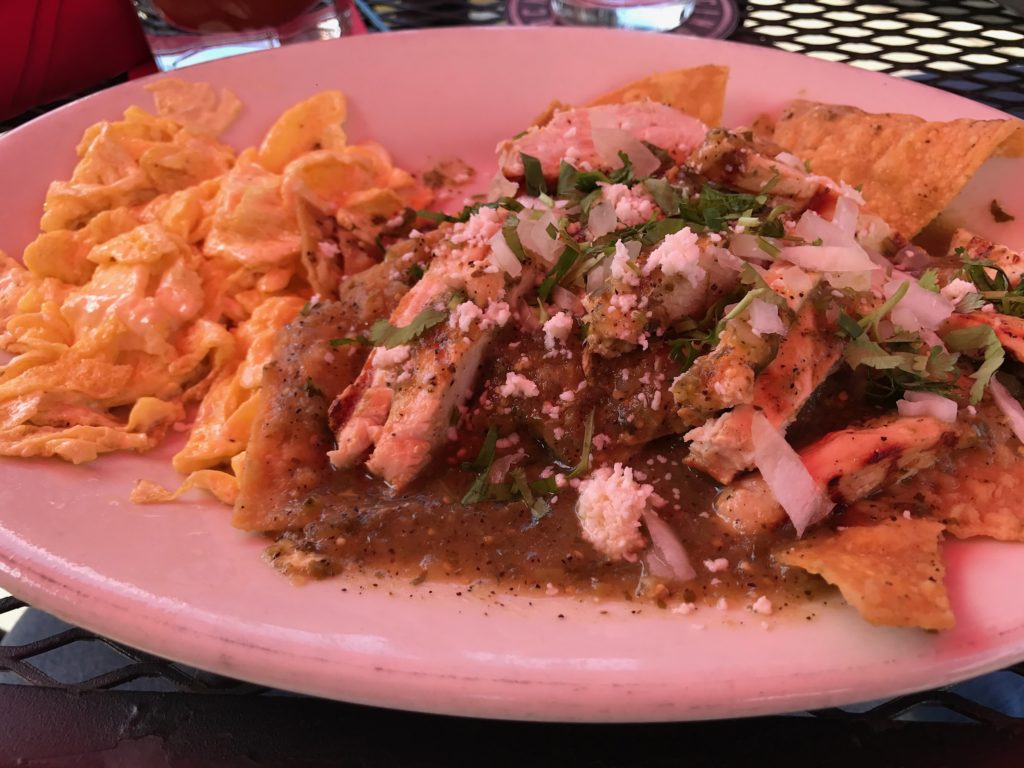 Dinner – 12 SP
Trader Joe's Palette Super Green Salad with added Grilled Chicken
Did not care for it.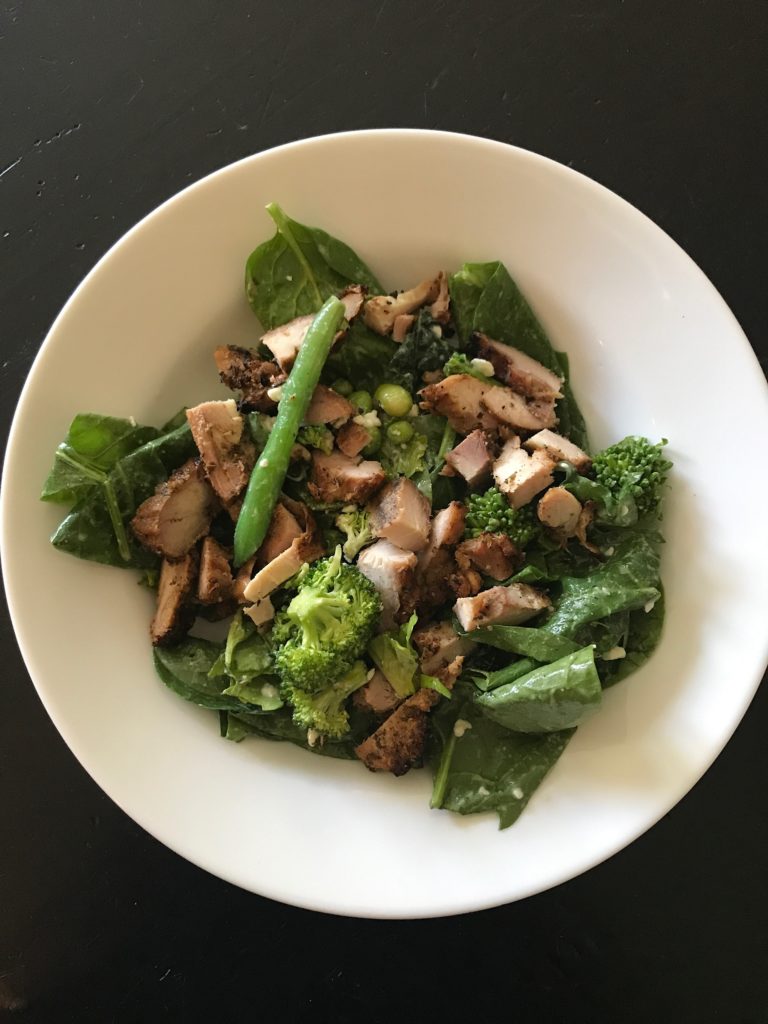 Added a leftover grilled Chicken Brat on a slice of bread with relish and mustard. (Bread – 4 SP, Brat – 2 SP)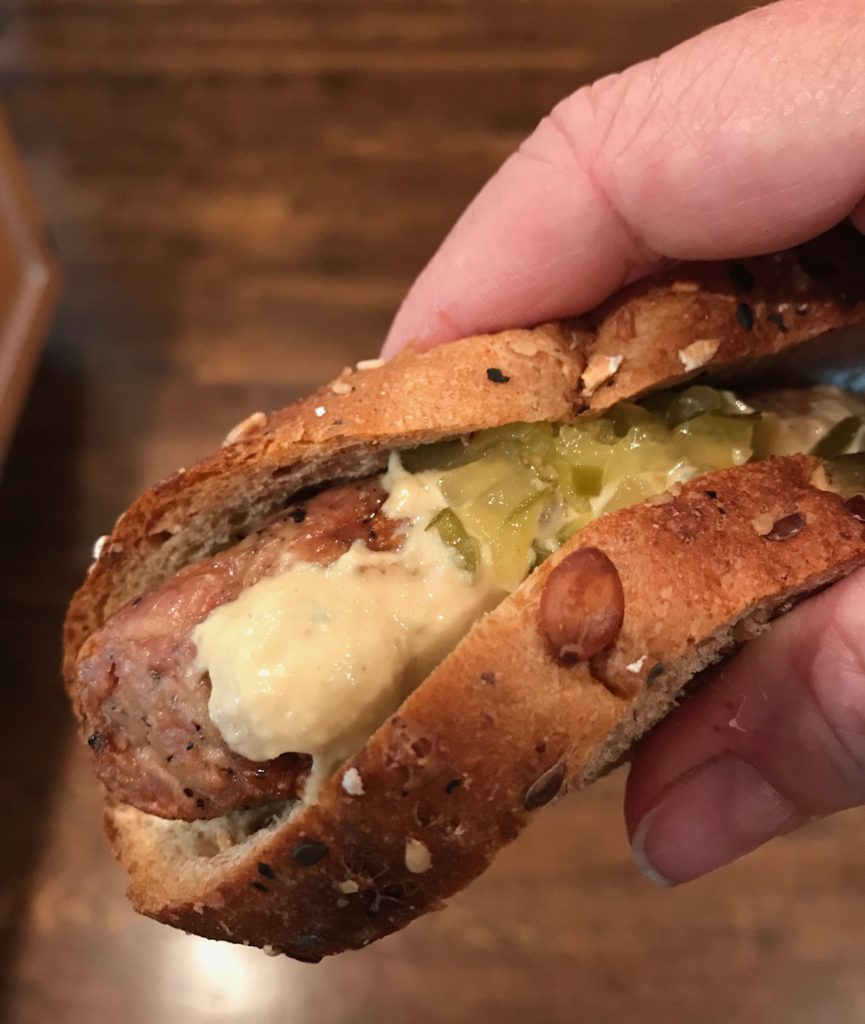 Total = 29
Monday
Breakfast – 7 SP
Trader Joe's Sprouted 7 Grain Bread (1 Slice = 1 SmartPoint….2 Slices = 3 SmartPoints) with smashed Avocado (40 g) and Scrambled Egg Whites,
Strawberries and 1 tsp Trader Joe's Mixed Nut Butter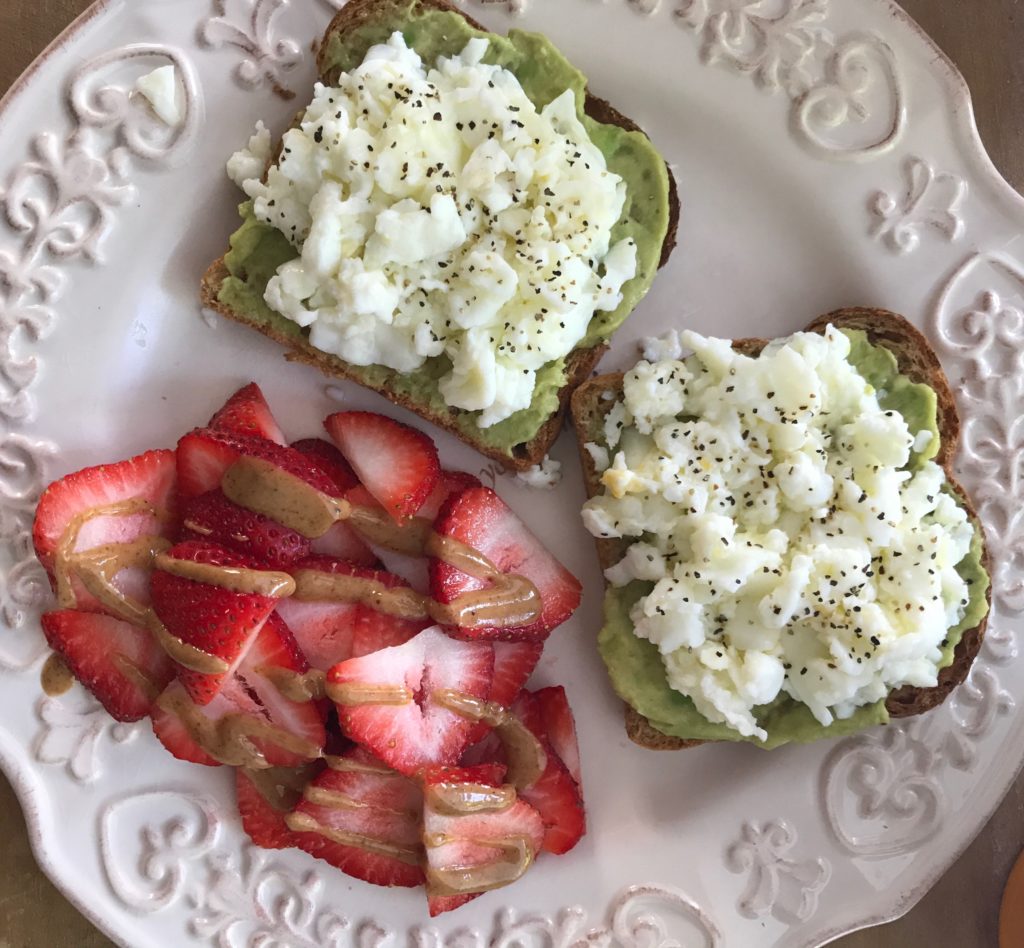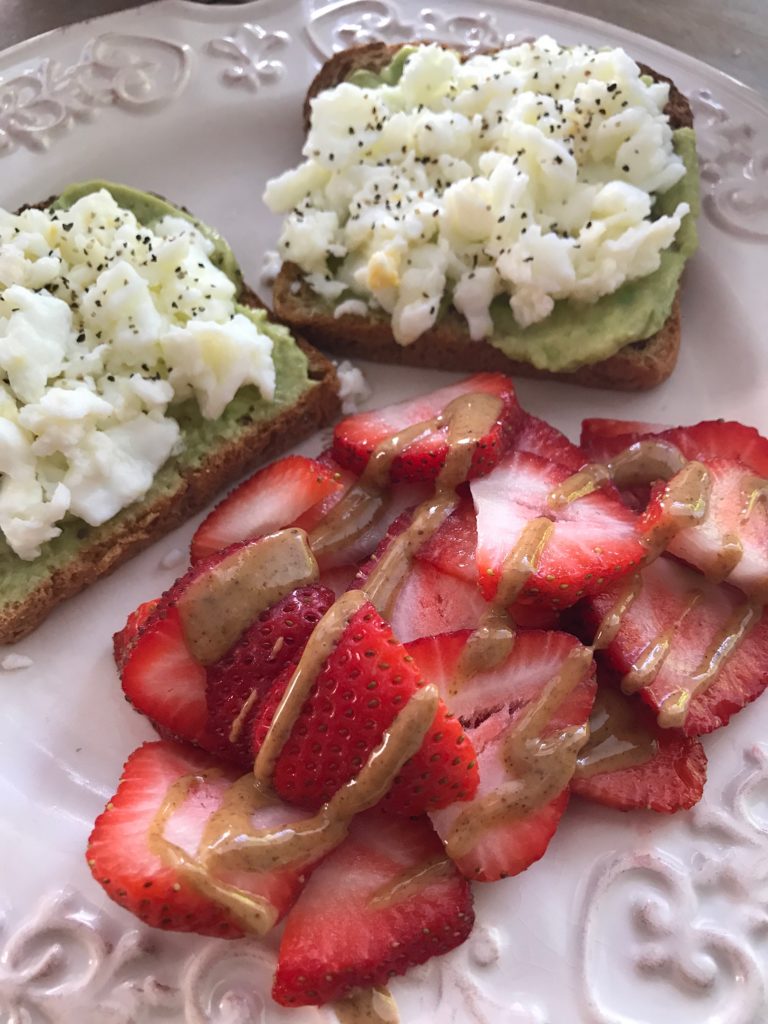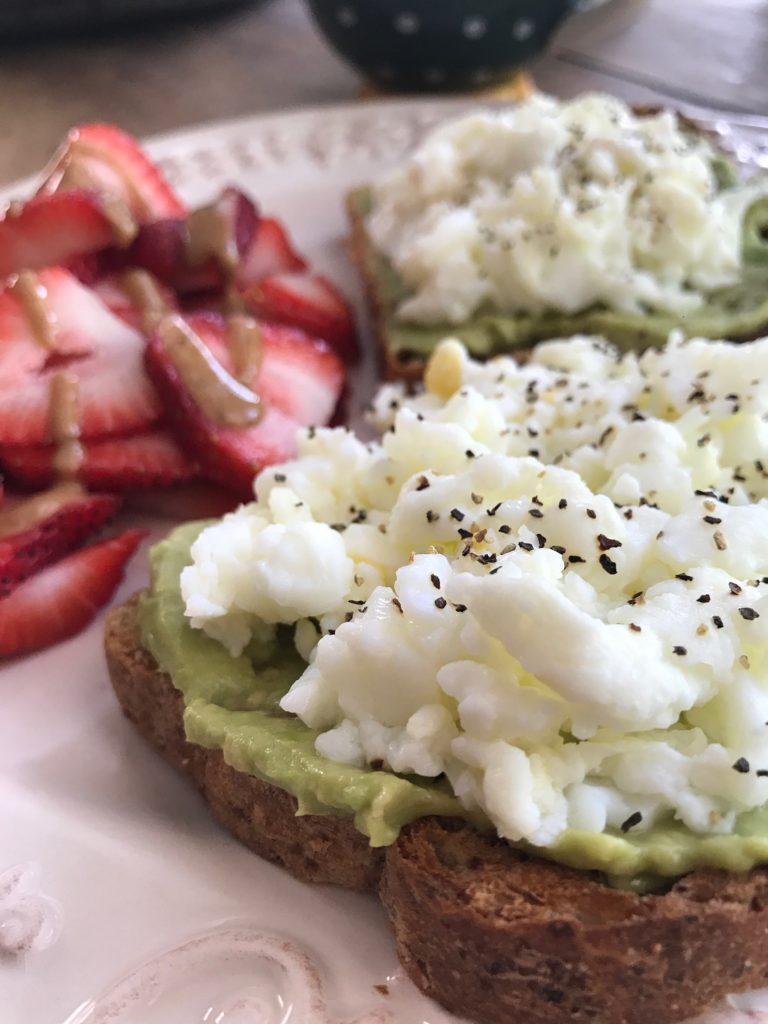 Lunch – 7 SP
Whole Foods Salad Bar. All Zero SmartPoints Veggies with Sweet Potato, Rotisserie Chicken, Balsamic Vinegar and Olive Oil.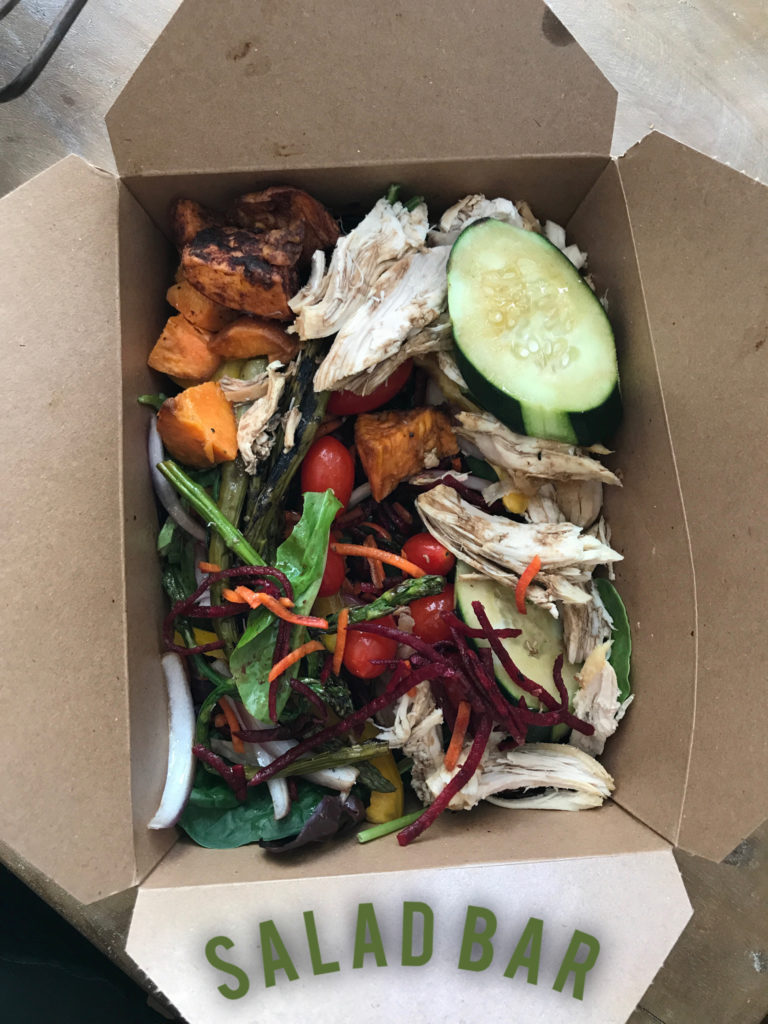 Snack – 5 SP
Needed a pick me up while doing some paperwork!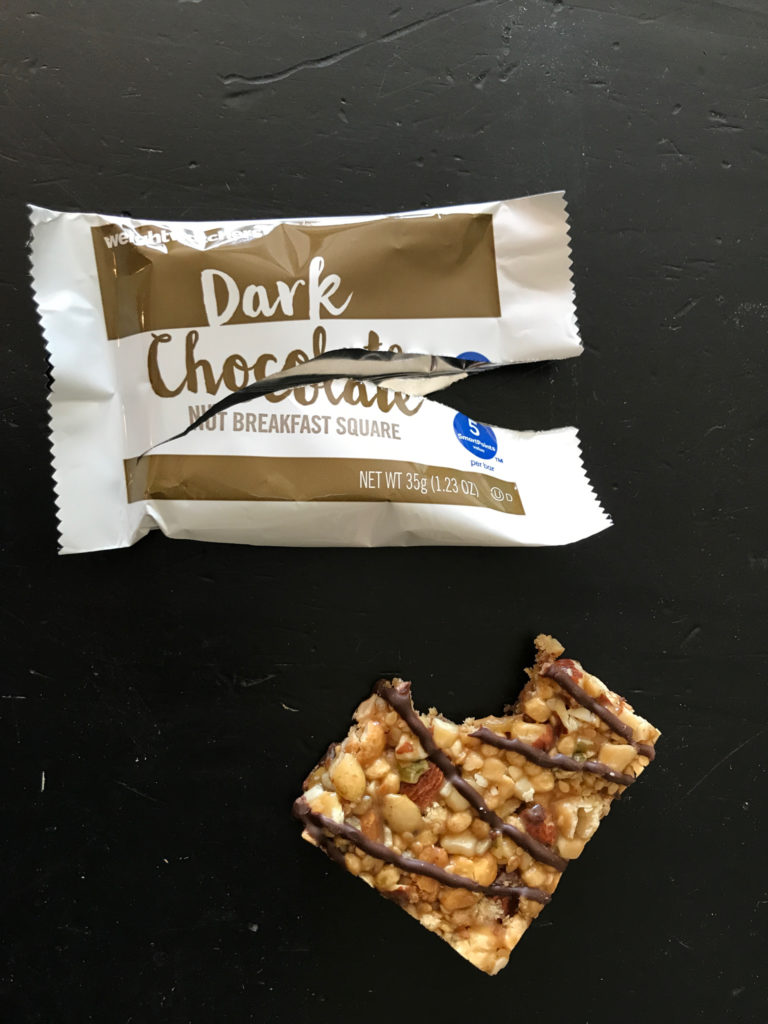 Dinner – 14 SP
When we eat out at our little neighborhood spot, I have a few items that I pick from and feel like I can give a pretty accurate guess on SmartPoints.
I order this salad with Grilled Chicken (not the fried that is on the menu), no Cheese (just saving some points here for a small glass of wine) Avocado Ranch dressing on the side, and a side of Salsa.
I only use about 1 T. of the Ranch and stir in the Salsa for a nice creamy dressing. There is also a diced egg in there somewhere.
One Glass of Red Wine. (I am my grandmother's granddaughter. She had a cocktail everyday at 5:00. I just wanna be her.)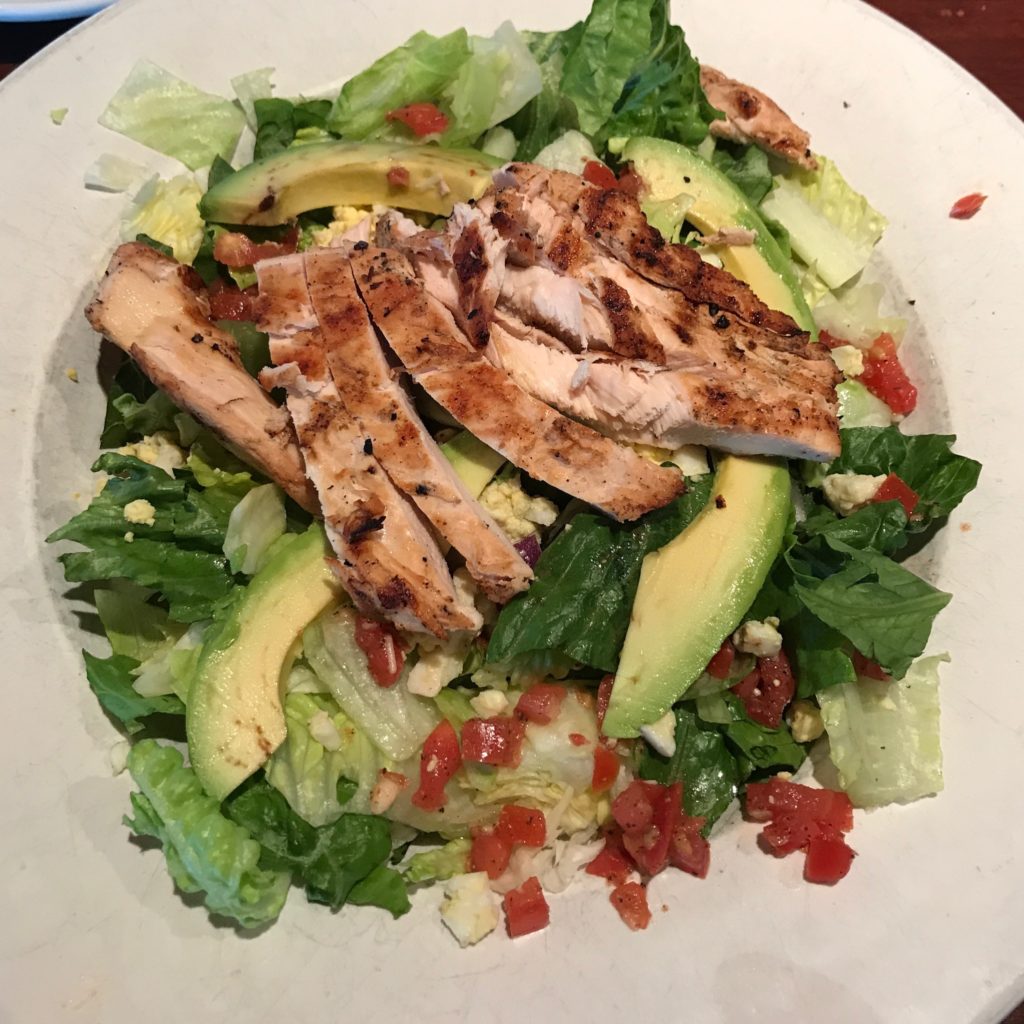 Total – 33
2017 Goals
Make time each week to Meal Plan
Drink 100 ounces of water each day
Exercise 5 days a week
Eat three meals and one snack daily
FOUR 100 Mile Walking Challenges this year!
I found this gift bag at a Christian Bookstore yesterday while shopping for a Baptism gift for our grand daughter. Isn't it the cutest??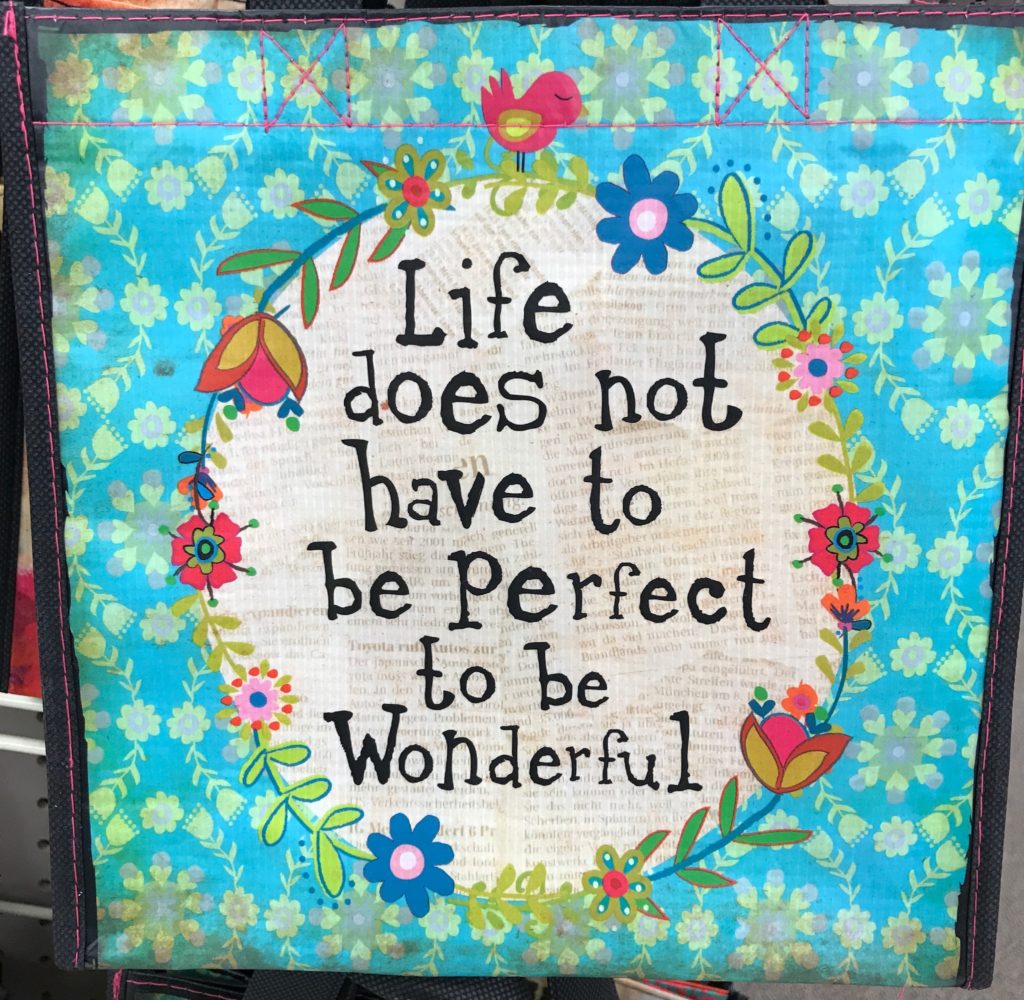 "love the life you live, live the life you love"