Such a great long weekend. Everything that I hoped that it would be.
I picked up my daughter Tess and her boyfriend Manuel at the airport early Friday morning. We spent Friday morning and afternoon relaxing and getting caught up. Our phone chats are always good, but those in person convo's curled up on the couch or sitting on the deck with a cup of joe are always so much better.
Friday night was a family get together that included two month old granddaughter, Wrenley and two week old grandson, Sawyer.
Wrenley is so big already!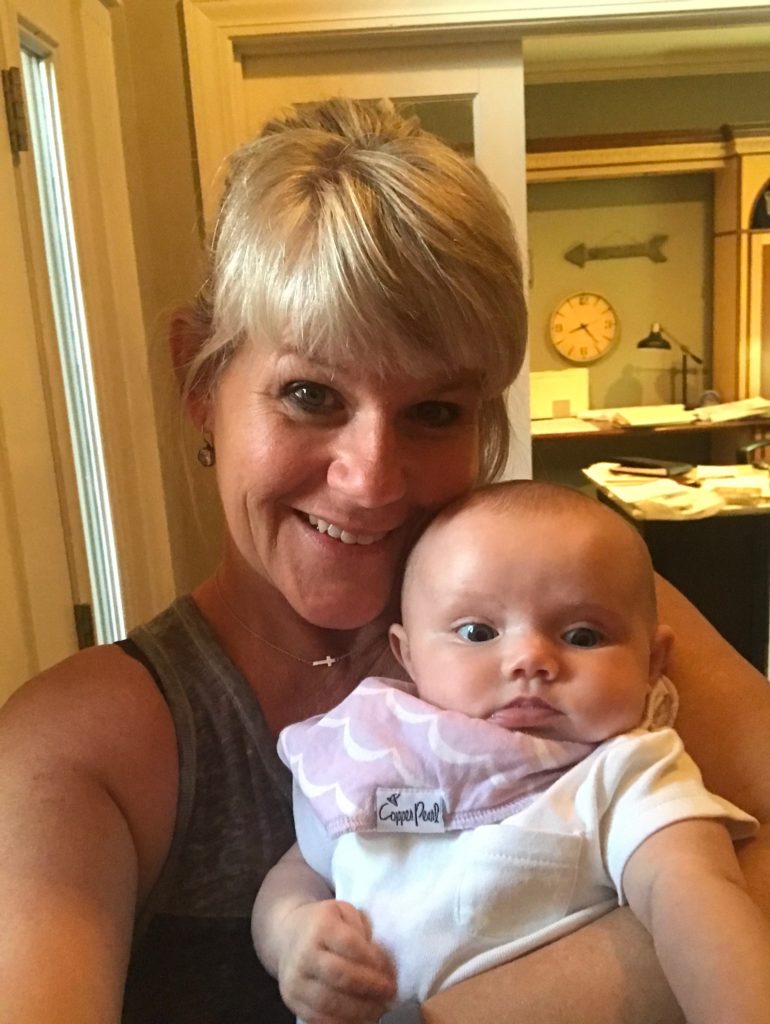 Sawyer is just a little newbie still. So sweet.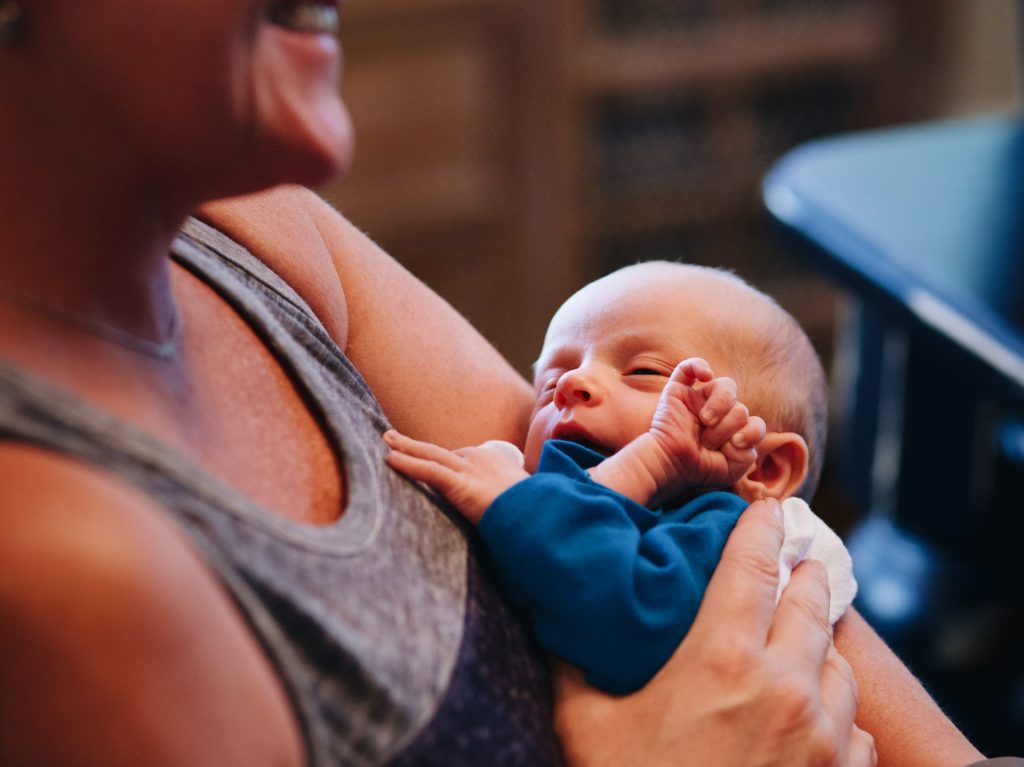 The evening was spent holding and kissing babies. Who needs anything more? Oh, and maybe dogs.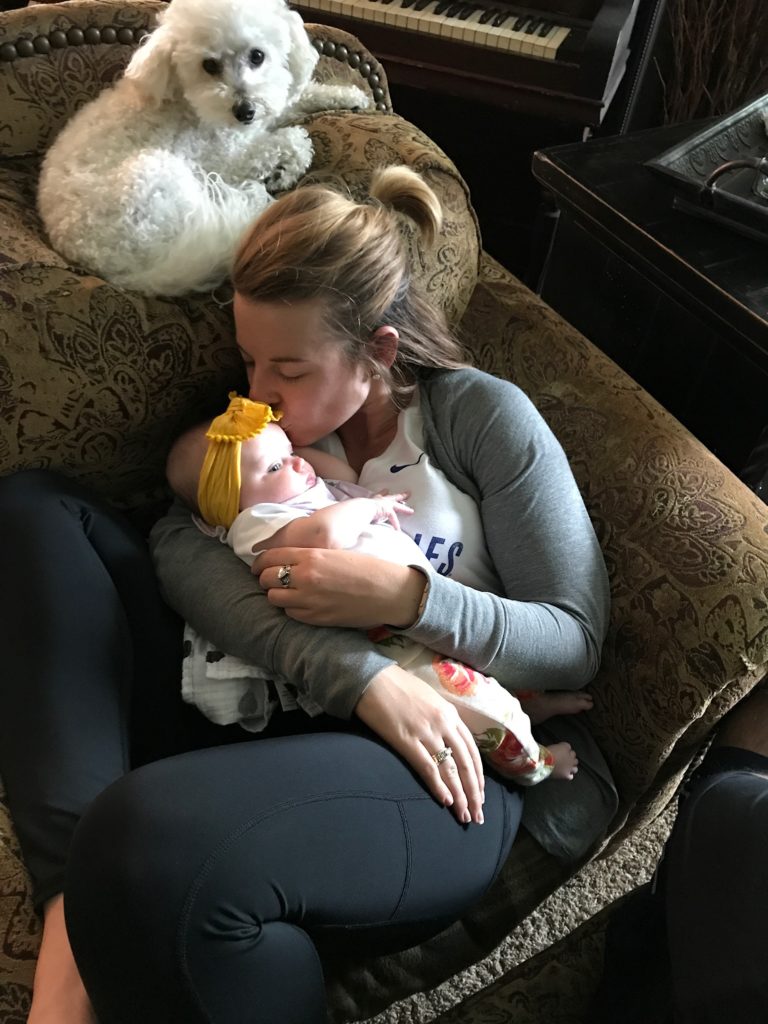 I love those cheeks!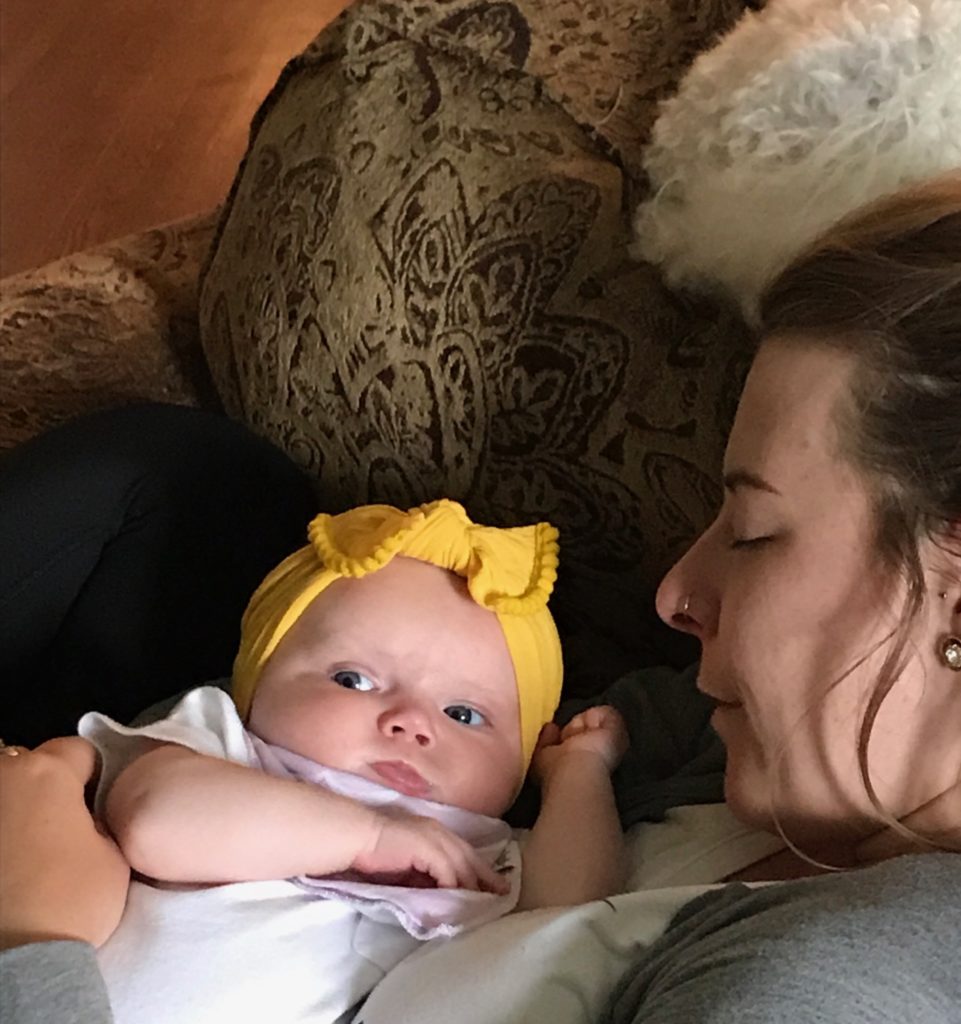 Such a proud Papa! So sweet to see Jake with his little girl.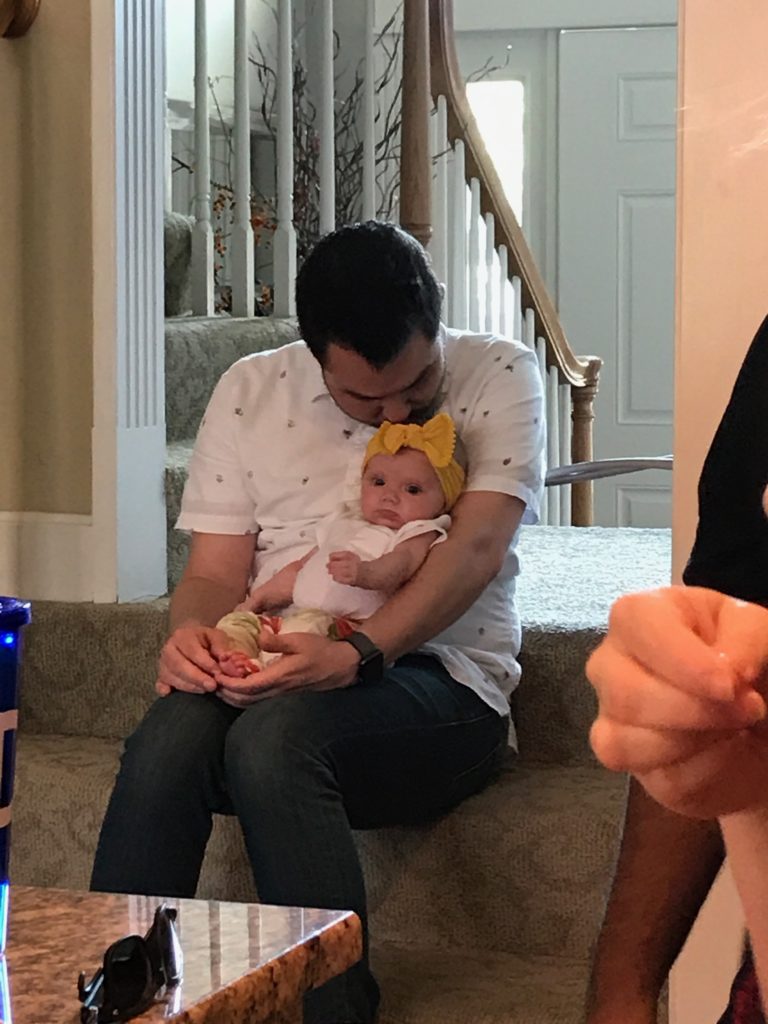 Uncle Jake meeting Sawyer for the first time.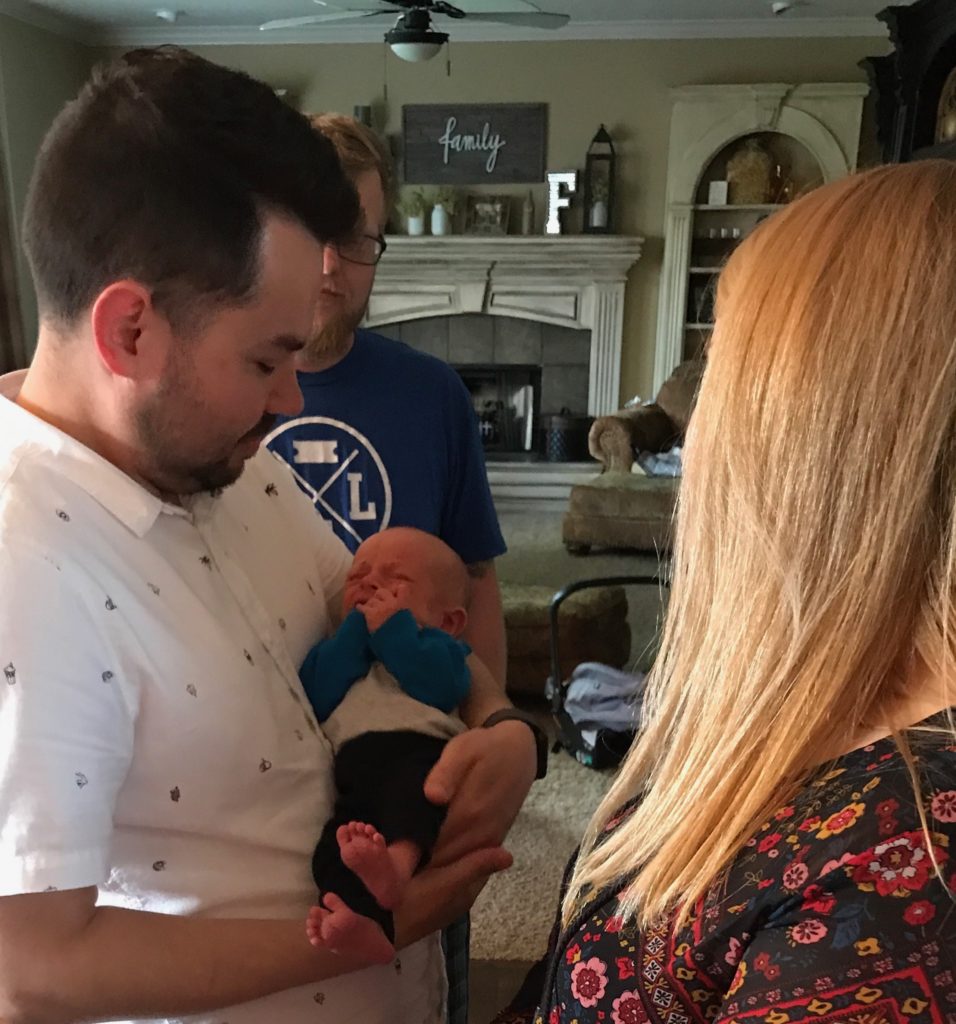 Sawyer Graye. So sweet.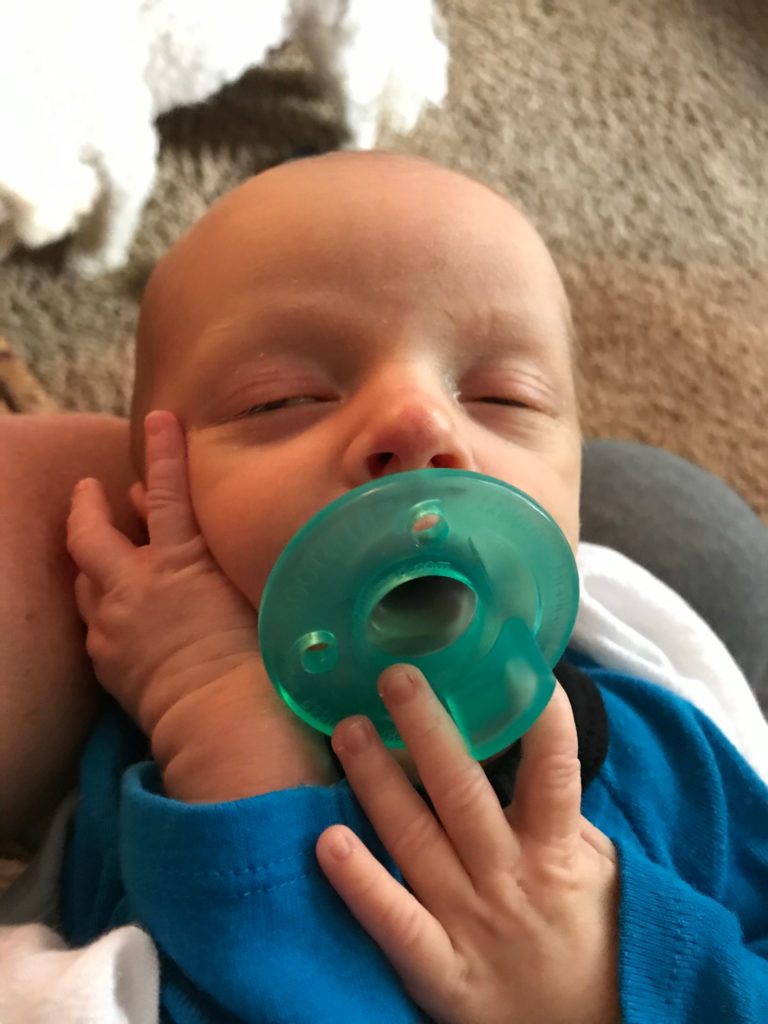 Manuel might be in love with Wrenley. I mean….she is adorable.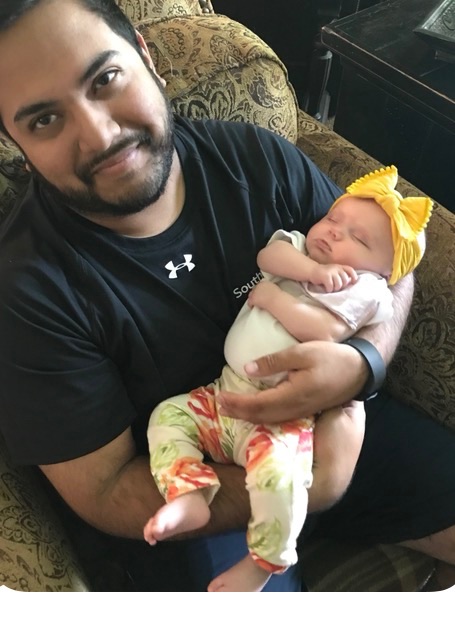 I don't have to say anything about this girl. You already know. My heart, my heart.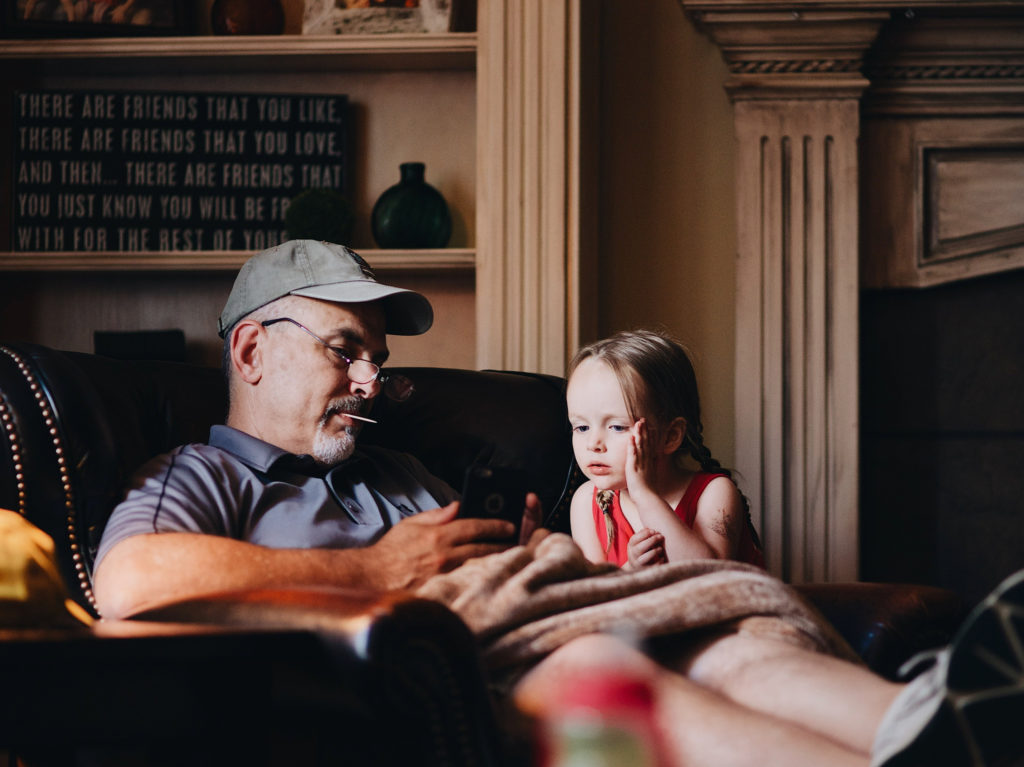 For our evening entertainment, Mike thought it would be fun to pull out some old home videos. This is just after our wedding as we pulled away from the church. My dad bought a 1938 Packard Limo in 1963 (three years before I was born) and through my lifetime I have been on many rides in this car.
He sold it about 5 years ago. It was kind of a sad day. I have a lot of childhood memories in this car from simple Sunday ice cream trips to my 9th Grade Farewell dance.
Anyhow, it was fun to be able to share this car with Mike and have my dad drive us away from the church on our wedding day.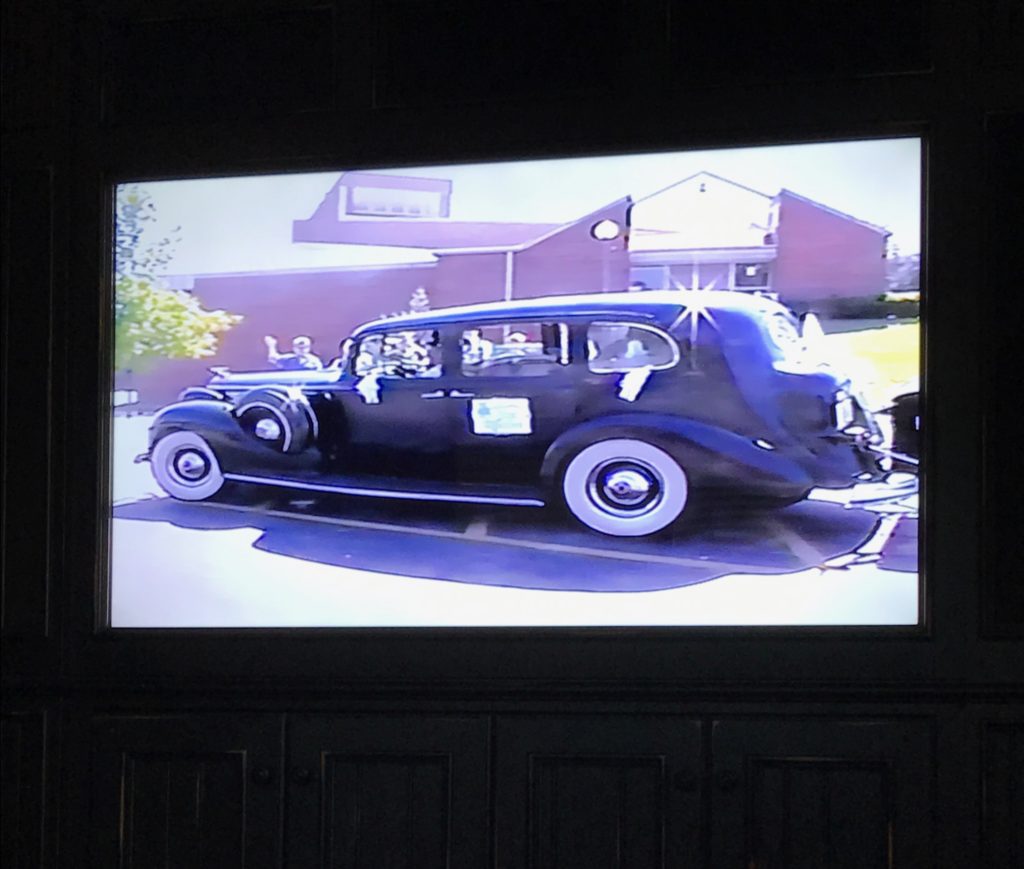 We also watched our home video of when Mike and I and our four kids moved into our house. It will be 18 years in just a few short days. The video was hilarious to watch with everyone. What a bunch of goofballs we all were.
Now we have these new goofballs that we call grand children. I have no idea what is going on here, but I'm sure its super important.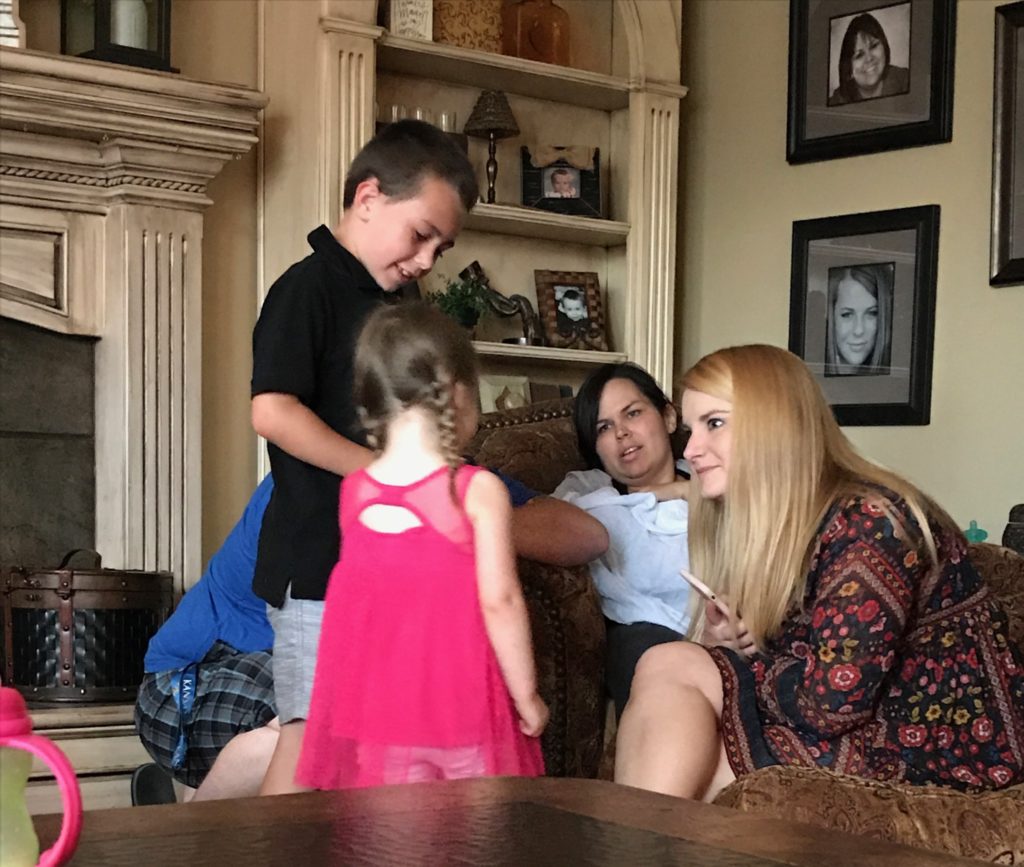 This I know for a fact is important. She is a very serious block builder and I can't seem to take my eyes off of her.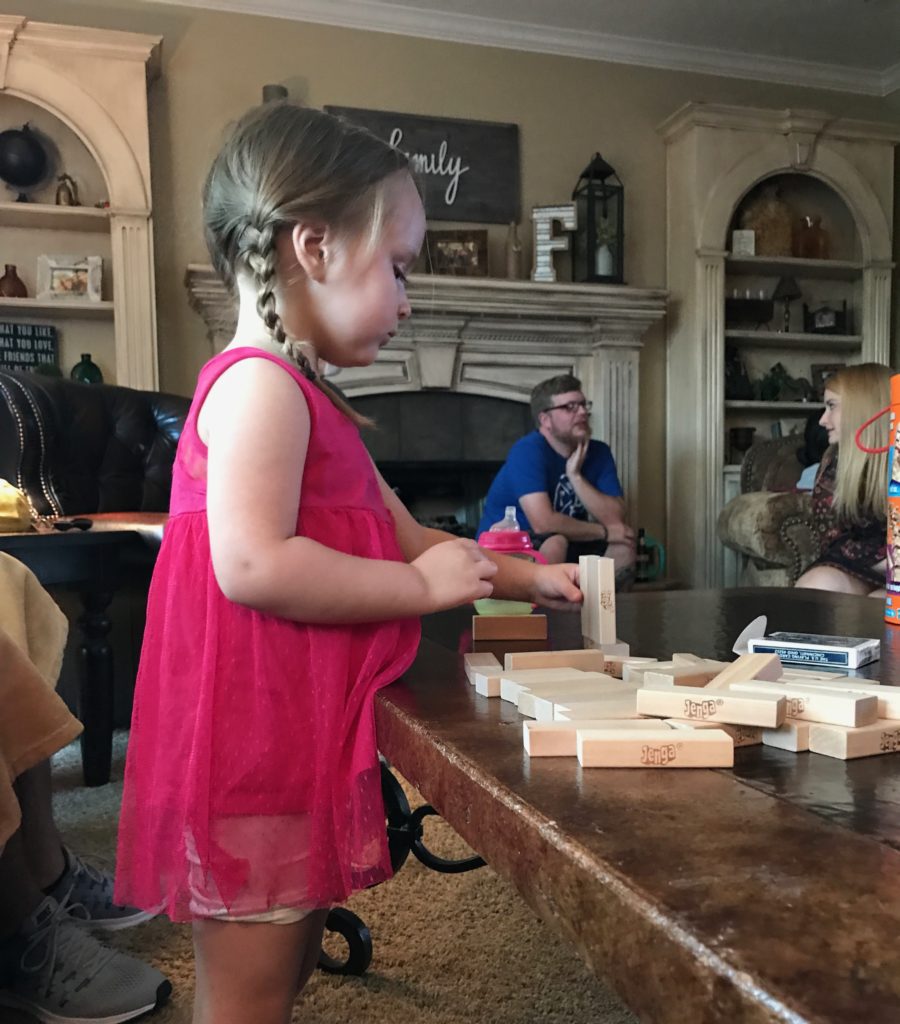 So many snuggles.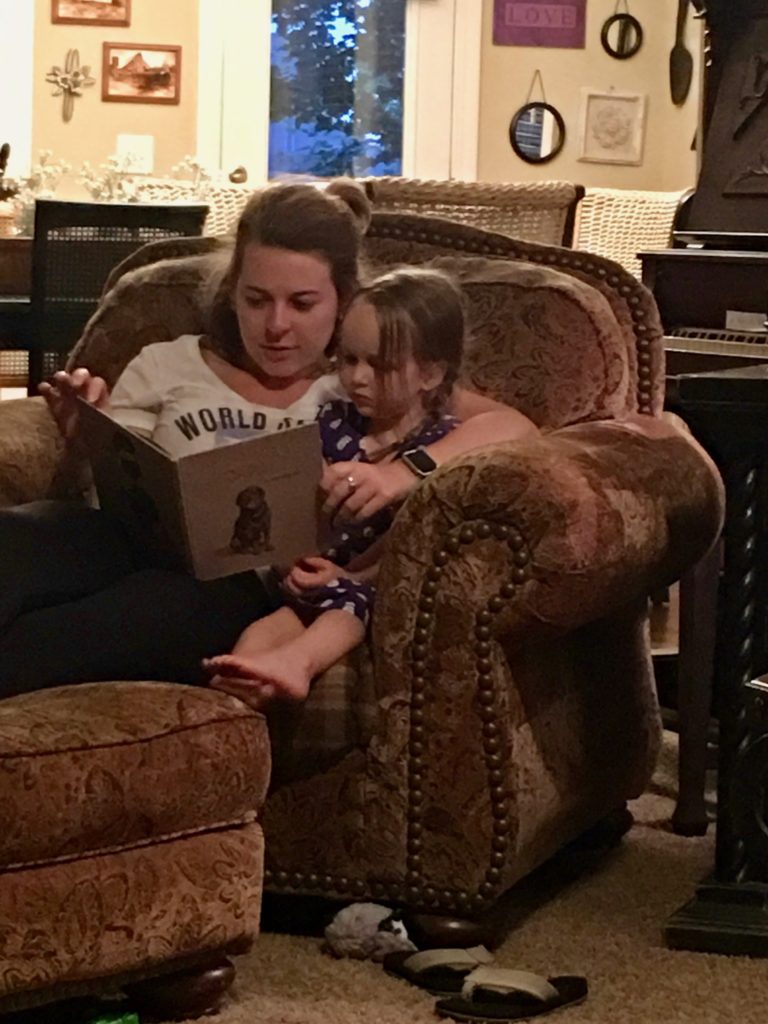 We grilled out…..Chicken Brats, Hot Dogs and Chicken Breast. Nothing fancy, but low in points and everyone seemed to be satisfied.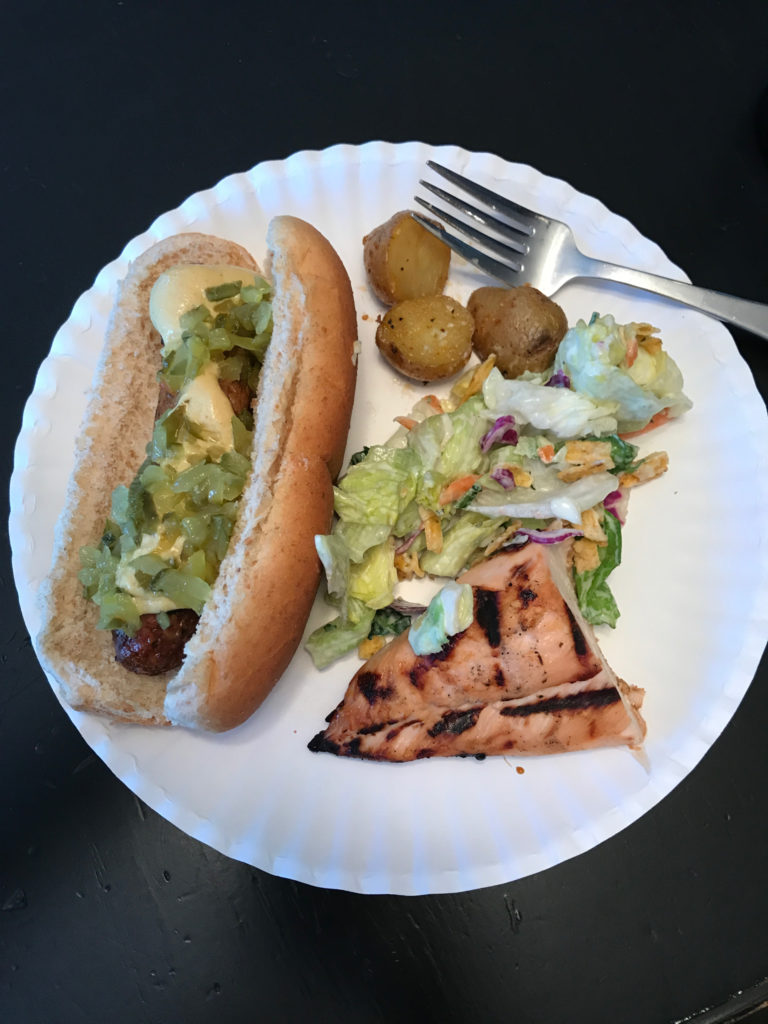 Eventually, everyone had to go home and we all went to bed, but it was such a great Friday night holding babies.
It was so great having Tess in town, but so odd having our daughter Anne and her family not here now that they have moved to Oklahoma. I'm all about change, but sometimes it does take some getting used to.
Saturday morning? Hot Yoga with Tess while Manuel went for a run.
I was so happy to be back at Yoga. I let my foot issues keep me away, and really while it didn't feel great on my foot, it did feel great to be at the Yoga studio.
After Yoga, a nice big breakfast of Sweet Potato Hash, Bacon and Eggs.
During Savasana (the last few minutes of Yoga where you lay flat on your back and think of nothing) I was dreaming of Sweet Potato Hash. My stomach was growling. I couldn't help it!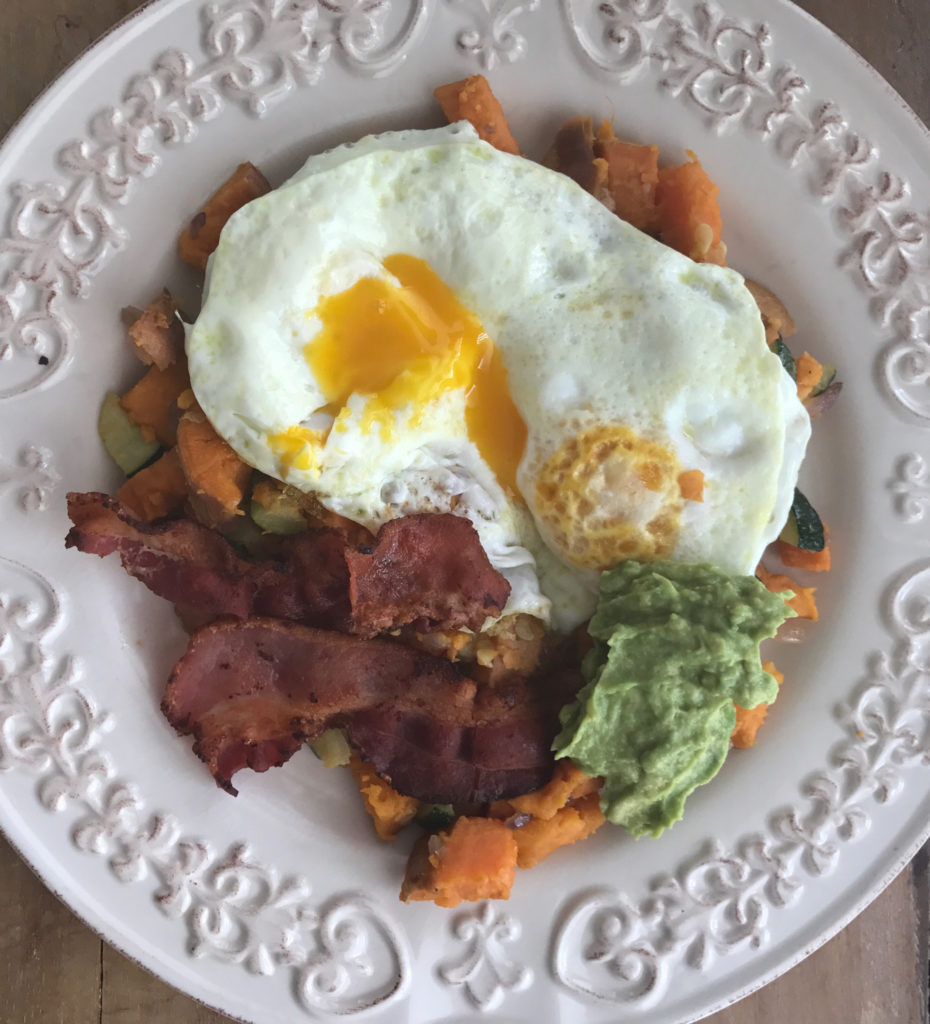 Lots of coffee on the deck after breakfast.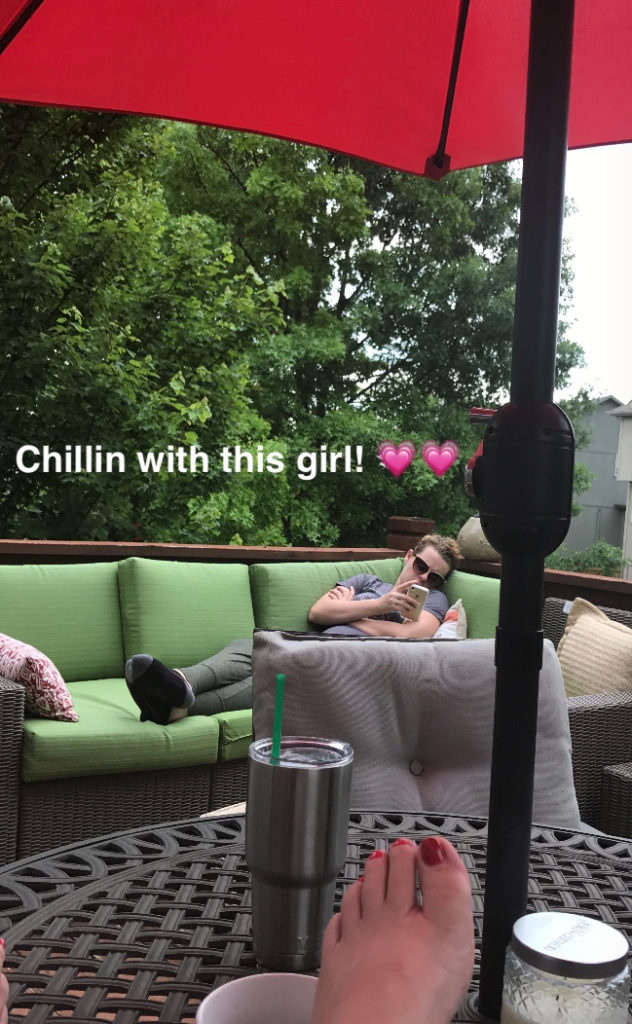 My mom came over and joined us. Then a crazy thunderstorm rolled in and it was just so dang cozy and dark!
After the storm, mom went home and Tess and Manuel had plans to go visit friends.
I took a bath and read. Mike worked. Seriously, this was an awesome day.
Yoga…coffee…yummy breakfast hash….thunderstorm….more coffee….and a bath!!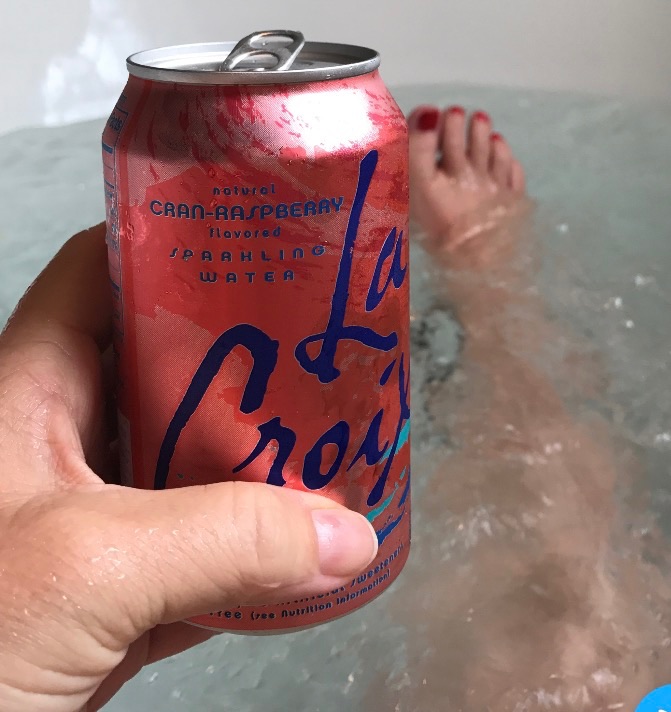 When Tess and Manuel got home, we all agreed that a movie night and frozen pizza sounded perfect.
We rented Hidden Figures. Loved the movie and I think we were all in bed by 10:00.
Sunday morning I was feeling waffles. We added cooked bacon and cinnamon chips to the batter. Uh…..YUMMMMM.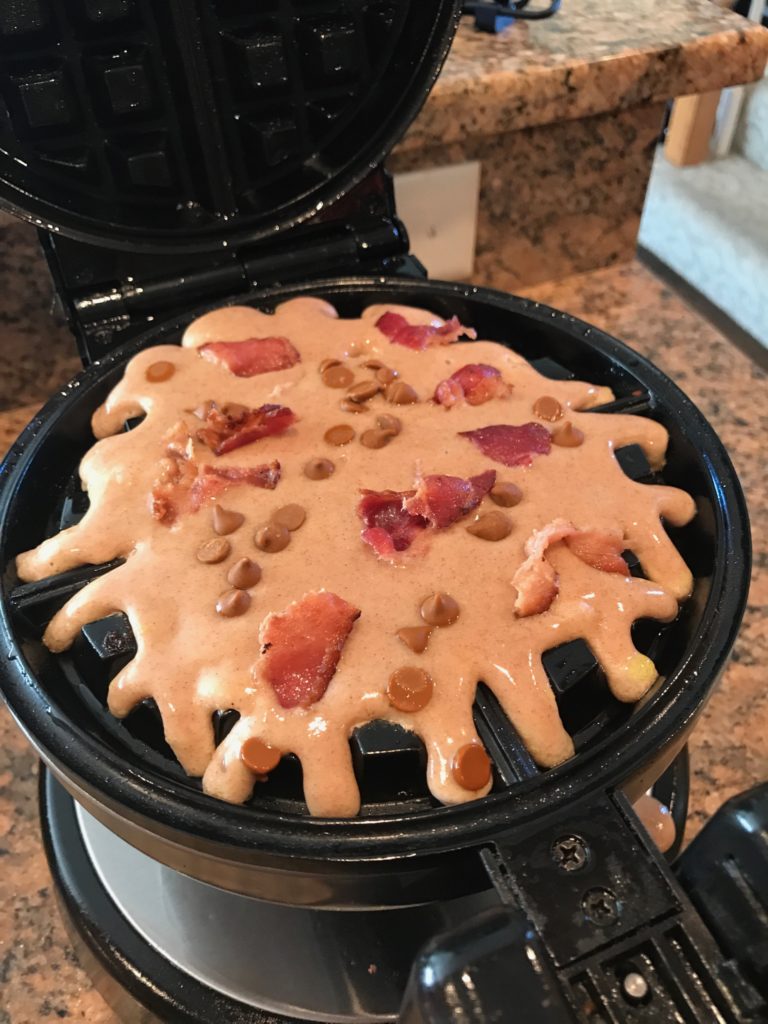 Waffle Egg Sandwich anybody?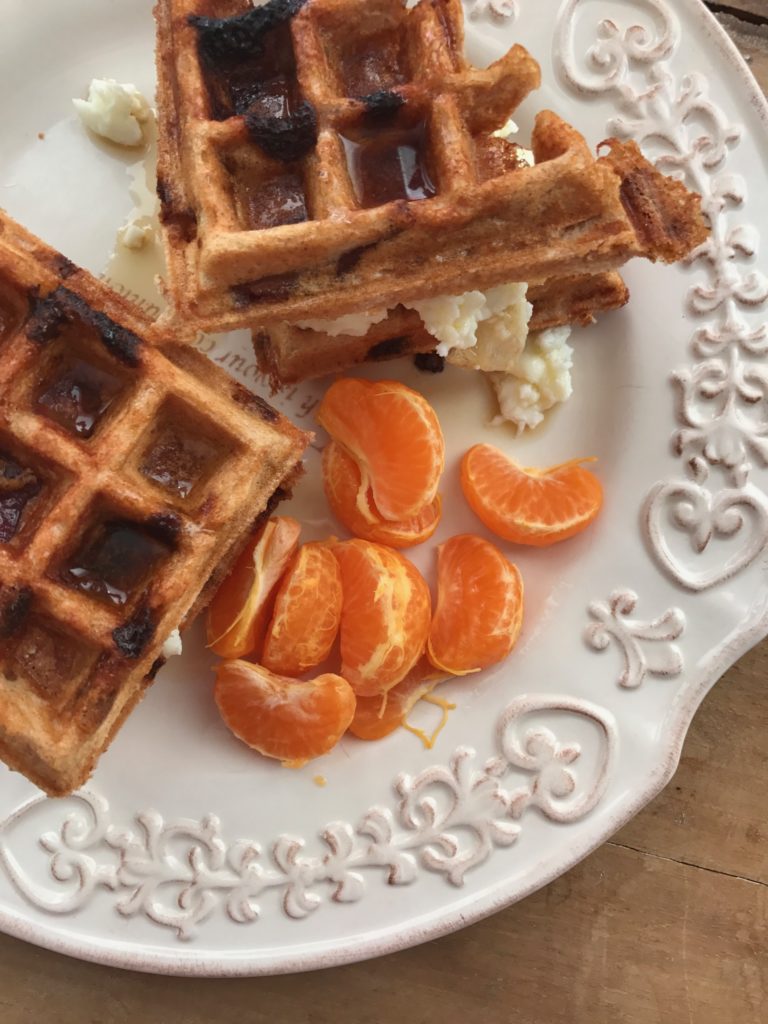 After breakfast, more deck time.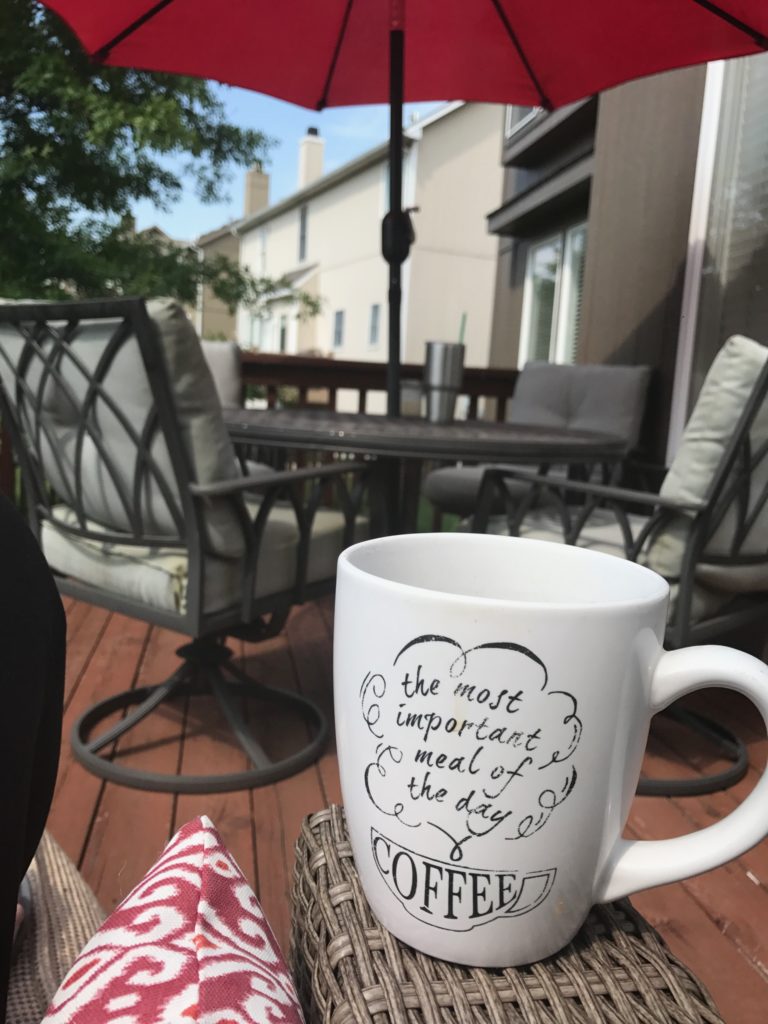 Eventually, coffee began to come out of our ears, so we decided to get on with our day.
The boys headed out for a ride in the Convertible, then to the driving range. Tess and I were undecided. Then we decided. Beers on a patio conveniently located by the driving range.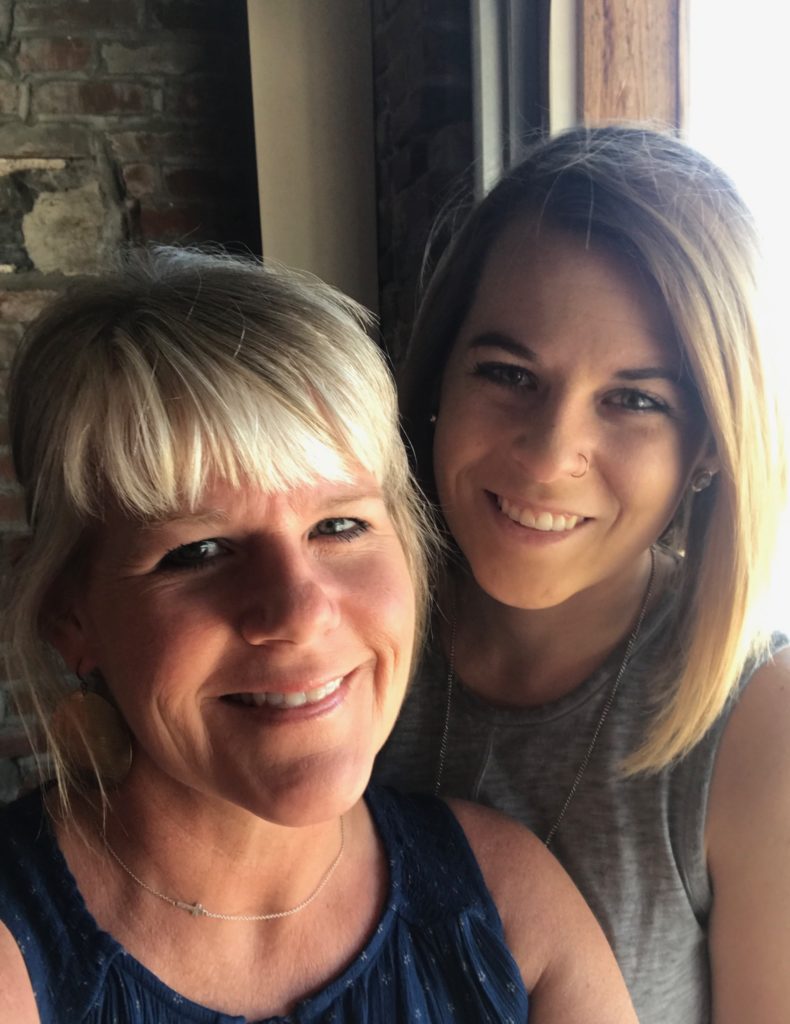 Tess was telling me all about her new workouts…..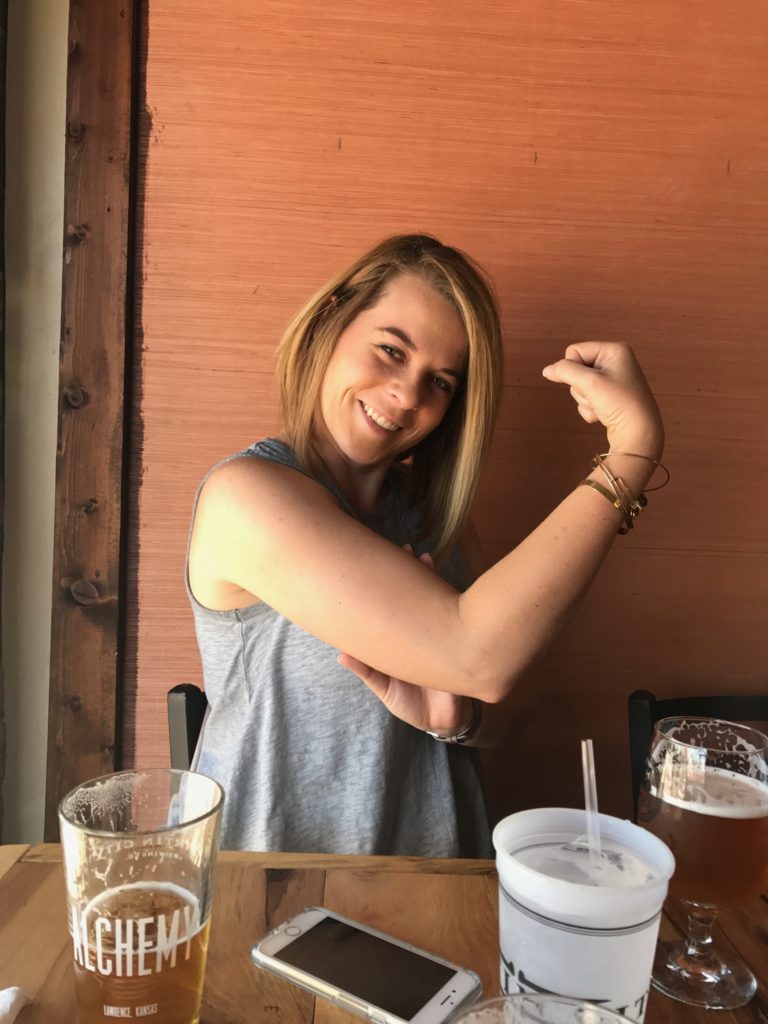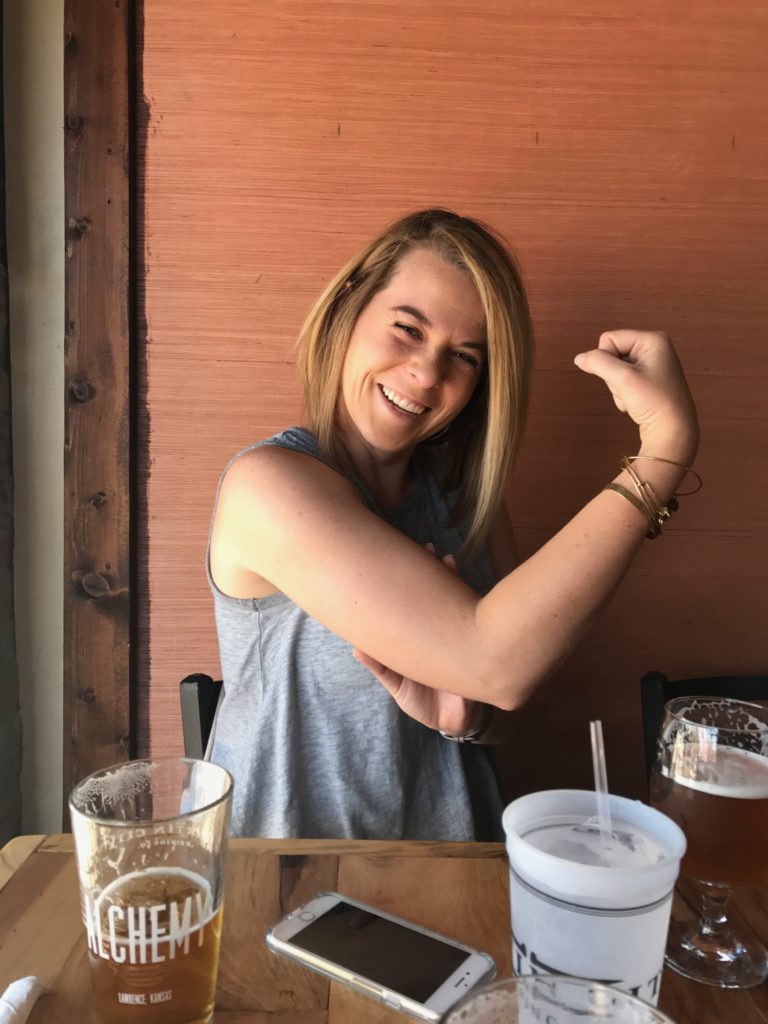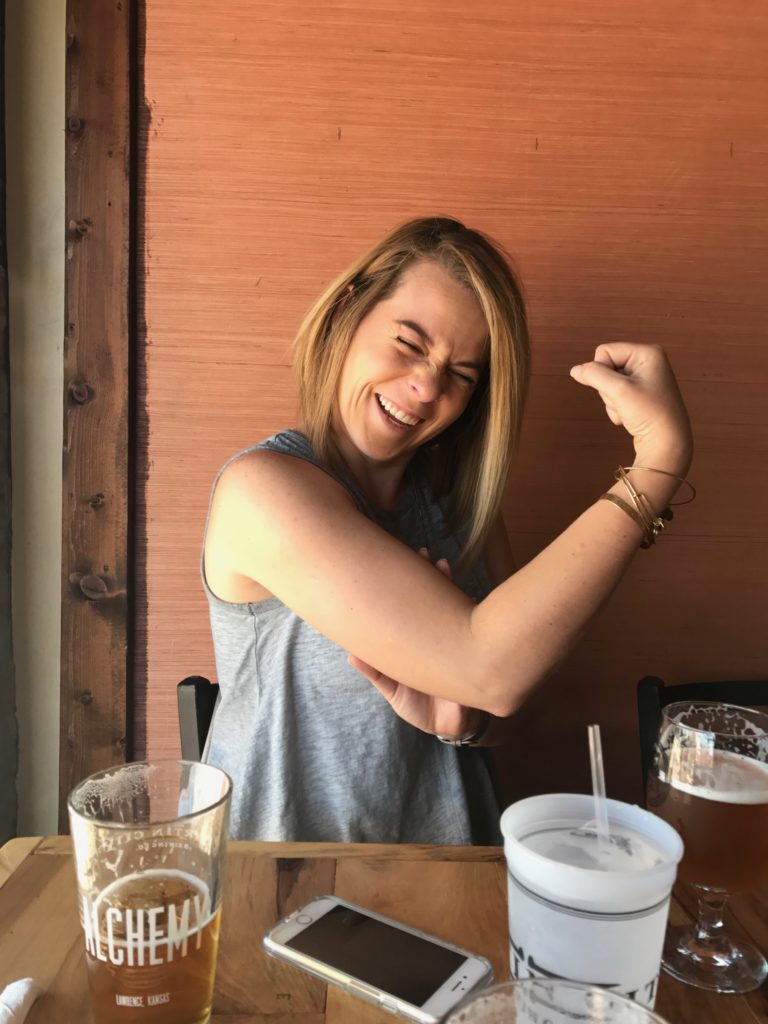 The boys eventually joined us!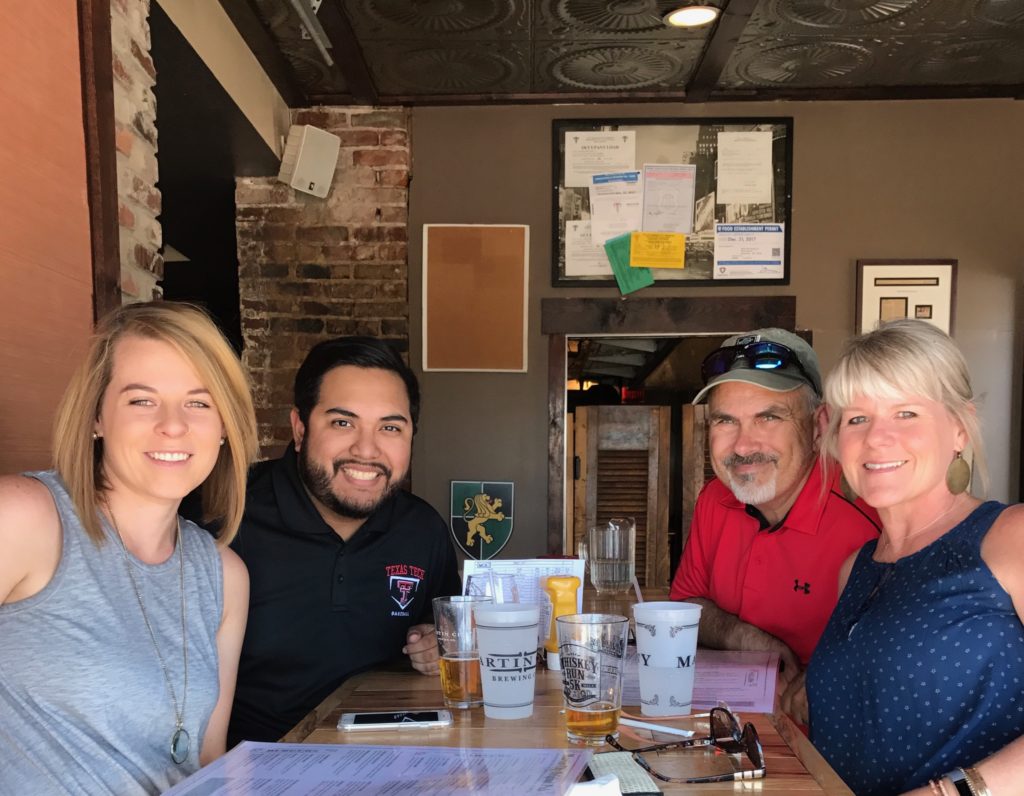 We shared an appetizer called the Rueben Roll. I would order that again in a heartbeat!!!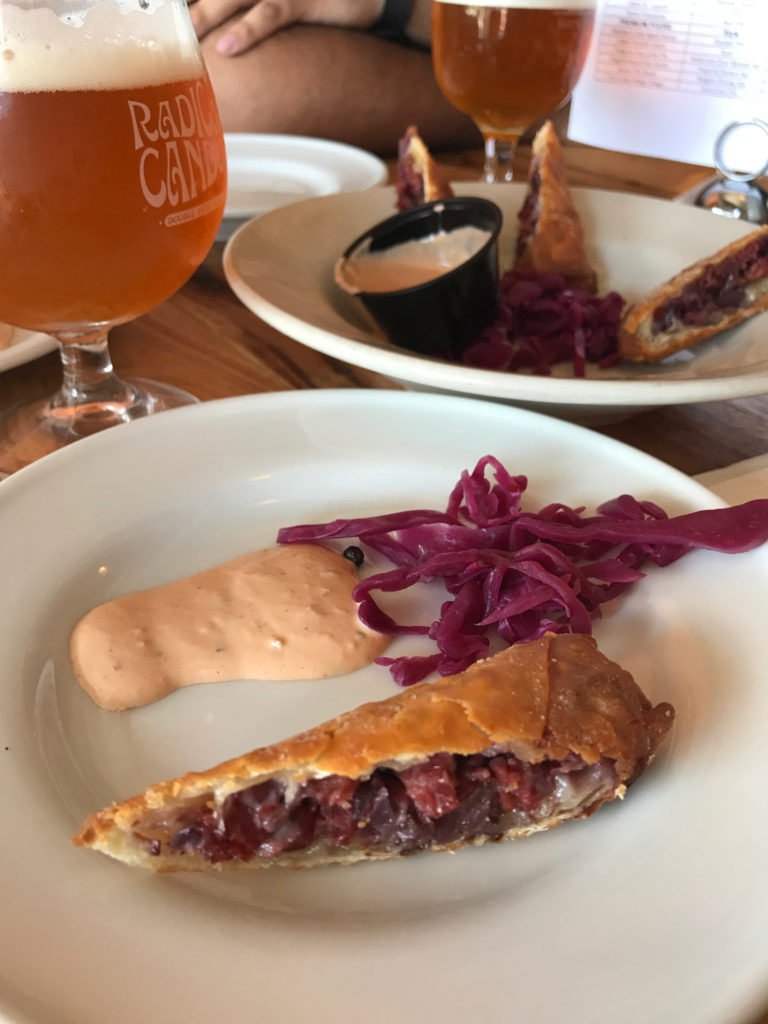 We decided to have BBQ for dinner, since you know, it is a Kansas City thing and we have not introduced Manuel to all of the BBQ that KC has to offer. We headed down the street from the pub to Jack Stack BBQ, where I ordered that delicious plate of Shrimp (swimming in BBQ Butter) with a Veggie Kabob. Someone else ate my bread and I ate everyone else's pickles!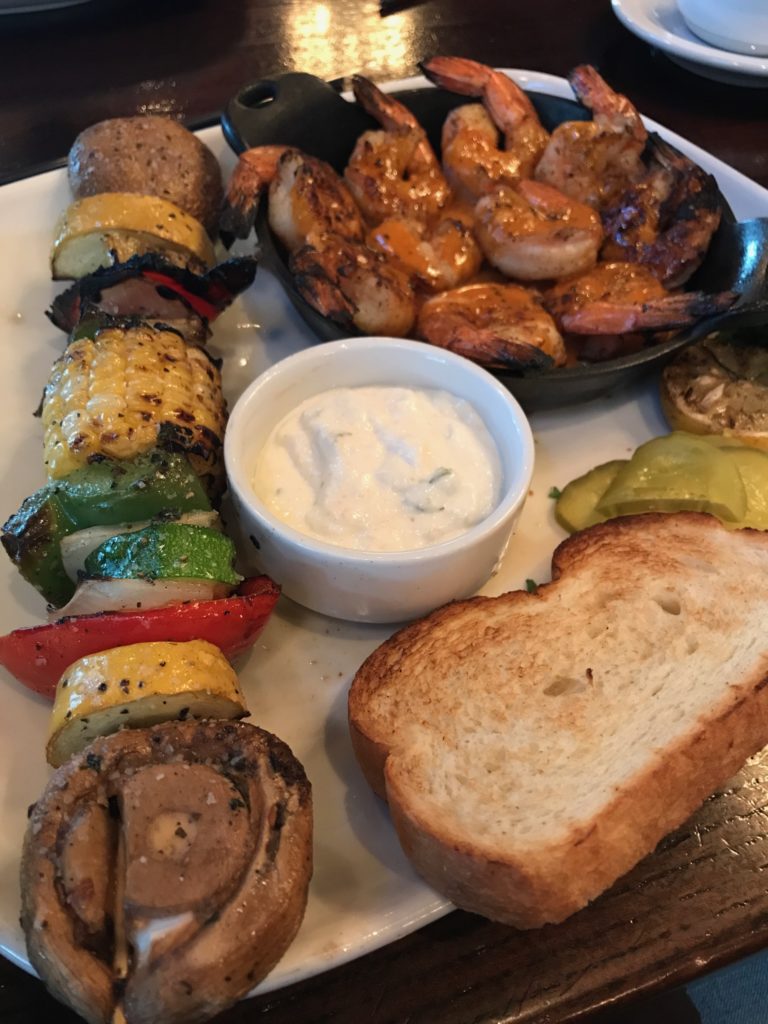 After our late lunch, a nap on the deck before heading to the airport.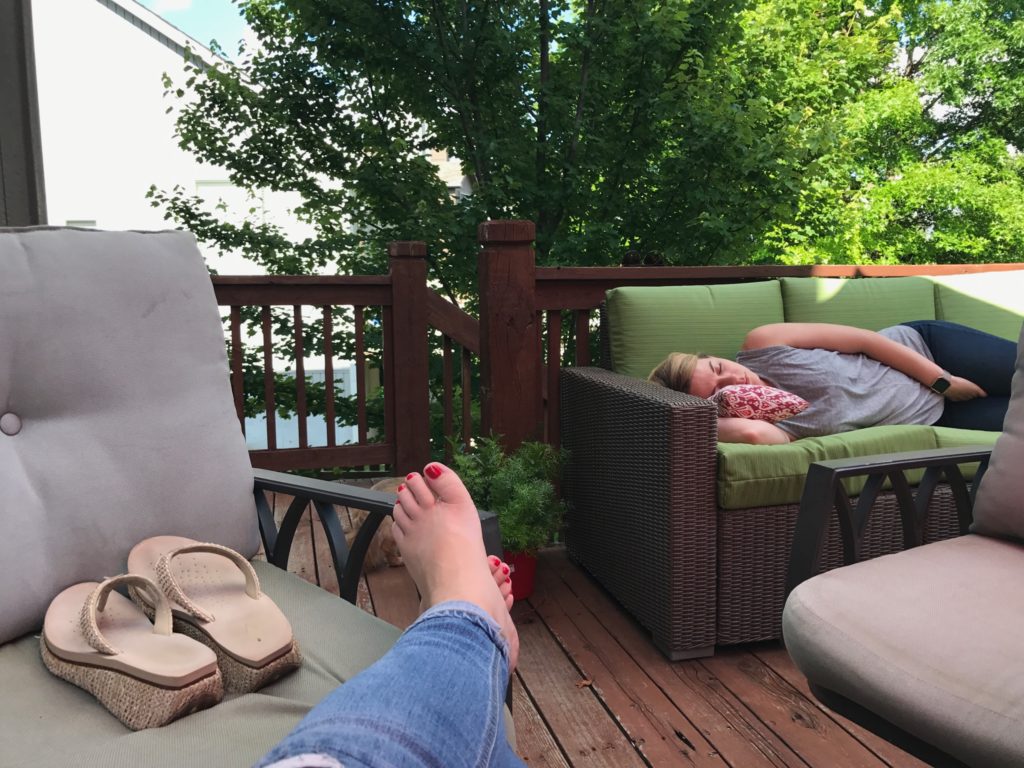 It was great spending time with family and relaxing. We packed in a lot of stuff but I never felt stressed or rushed. We planned nothing really and just let the weekend happen. Sometimes those are the best kind of weekends.
I tracked every bite of food and every drink of beer and wine.
We got in our Hot Yoga class on Saturday and I took a 3 mile walk when we got home from the airport Sunday night.
Monday morning I headed out for a 3 mile walk and I stopped at the high school on the way home and did four flights of stairs. I don't know where that came from but I am feeling it in my calves today. It was beautiful outside.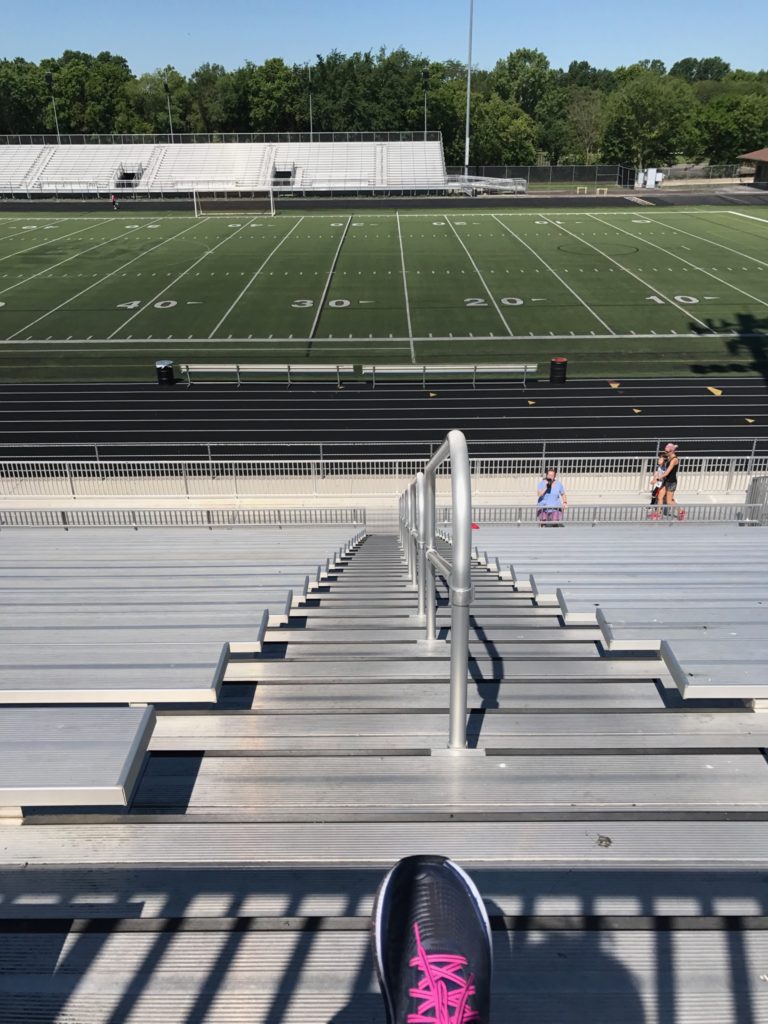 It was a relaxing day at home on Monday with nothing planned. That can be a really good thing sometimes. Mike had his own "to do" list while I read on the deck in between 25 loads of laundry. (Slight exaggeration here.)
For dinner, I decided to try grilled Cauliflower. Olive Oil and Sea Salt. Easy, different and good.
I also had a yummy bunless burger topped with tomato, red onion, Primal Kitchen Chipotle Mayo and Avocado. Dinner was great!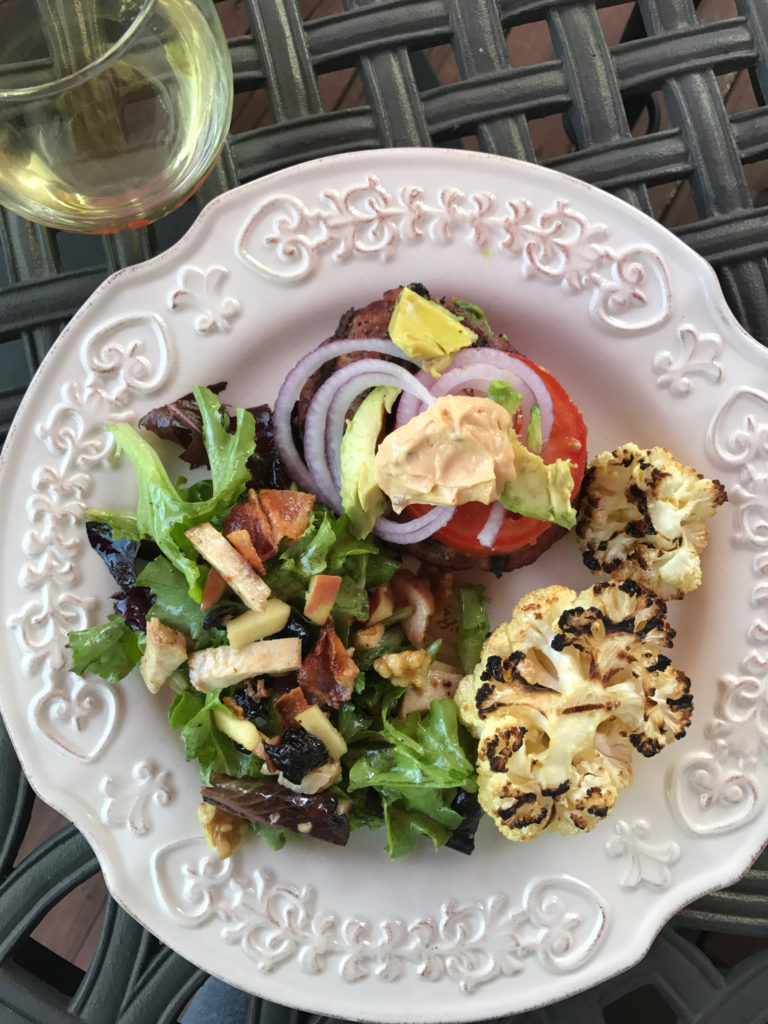 That sums up the long weekend here.
I hope that you all had a great weekend and that you were able to enjoy a few extra hours with family and friends.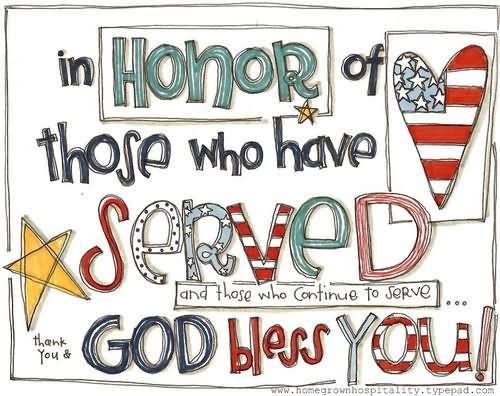 "love the life you live, live the life you love"