If you've been reading the blog for a while, then you know that I really prefer to blog daily for accountability, but when I miss a few days of blogging, I have this OCD thing where I feel the need to catch up on at least what is going on in life every single day. It just completes my brain.
I tried to do an update the other day, and I couldn't seem to log on to my site via my computer, but I could on my phone? Blogging from the phone takes forever and if you read, you saw all of the typo's. After a long chat with the tech guy and me feeling really really dumb, all I had to do was clear my cookies. It's a miracle that I even know what that means. Anyhow, problem solved.
Here goes an update with life, and a few pictures of what I've been eating.
Friday
We had a super busy day working the food truck. It was hot, we had a constant line from 11-1, the customers were great and we had fun, as usual.
The Pizza truck across the way from us sent us all home with a pizza to bake for later!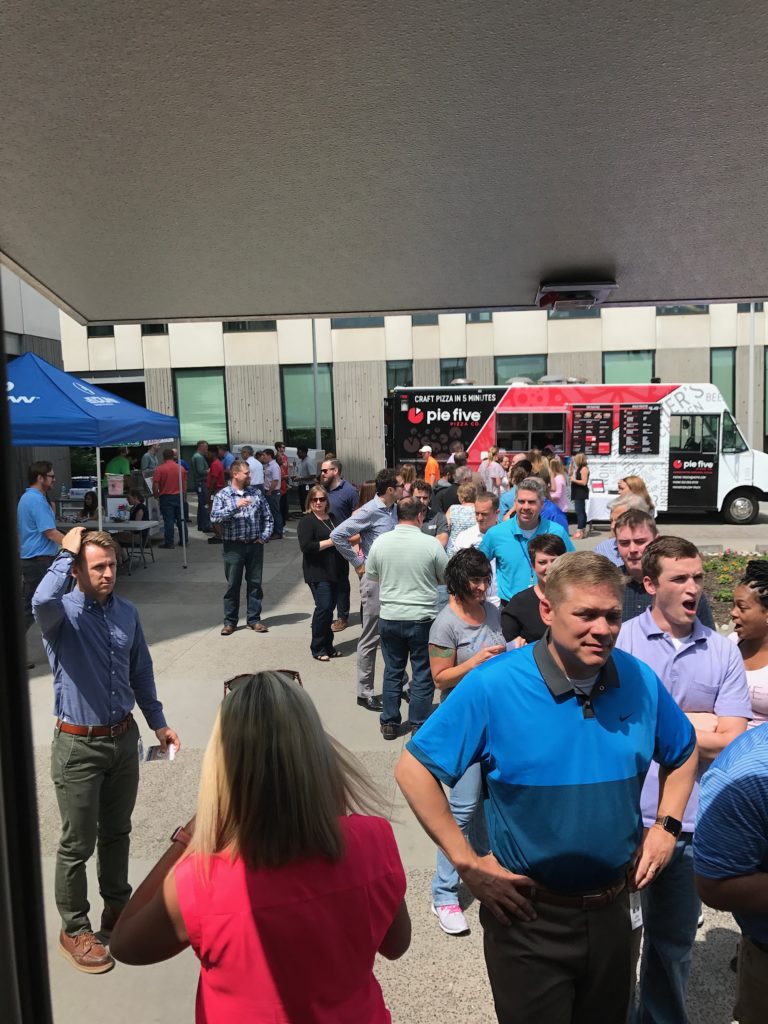 On the way home, I had an invite to Happy Hour. I declined because I knew I had some steps to get in and Mike and I were due for a date night. Turning down even a short Happy Hour to get my steps in was a big deal!!
I got in about three miles on the treadmill, then showered and we headed out for date night.
Our old downtown area of the suburb that we live in, has had Third Fridays for a while now and I've always wanted to go. It is like the big Kansas City First Friday's with art galleries welcoming customers in to browse, sip wine, have a snack, but just a much smaller scale with an old town feel. Most store fronts are open with live music playing, lots of food samples, and a few local wineries and breweries sampling also.
We stopped in my favorite Olive Oil store and they even had live music and food samples!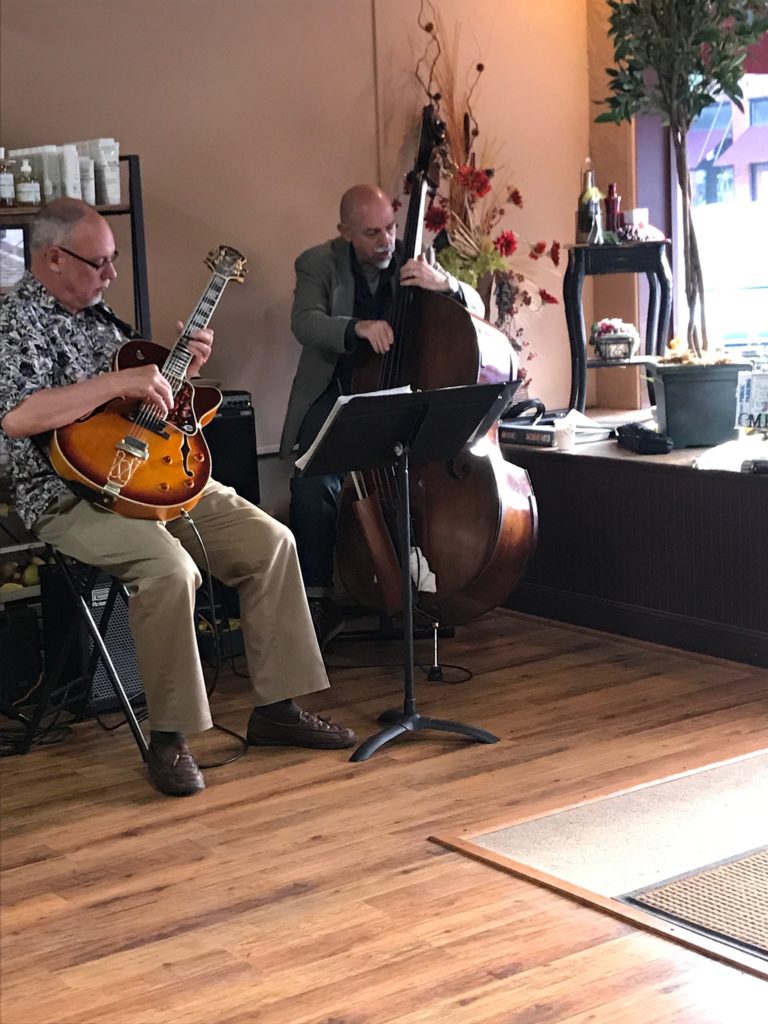 We had a great date night that ended with a beer and dinner on a patio just down the street from the Olive Oil Store.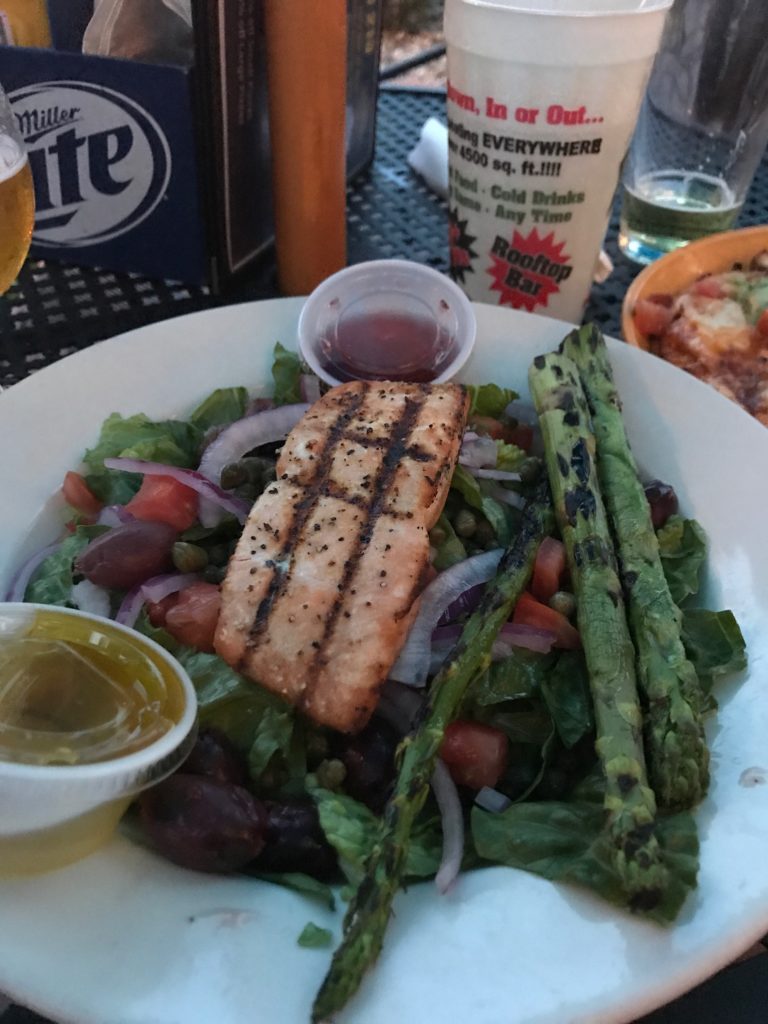 I ended my day with over 13,000 steps!
Saturday
At 4:30 in the morning, I received a phone call that my cousin (the one in the nursing home) had been taken by ambulance to the hospital. I knew that there was nothing I could do for her at the time and that I would figure it out later that morning.
I had to be at work at 6:15 am to sub as a Leader for two WW meetings. I loved being able to work at a traditional meeting in a store, but having to be there at 6:15 was not my favorite part of the day. That's early!!
After work, Mike and I headed to the hospital (about 45 minutes away) only to find out that Anna (my cousin) was sedated and would be for the rest of the day. I decided that I would wait and go back on Sunday, so we turned around and came home.
I headed out for a 4 mile walk. When I got home, I chugged a huge glass of ice water and sat down on the couch. I closed my eyes. I woke up two hours later.
I had a mound of paper work to tackle and some organizing to do (I'll explain later) so I did that well into the rest of the evening. It was a late night.
The spare bedroom closet is my WW storage room for product and office supplies needed for my At Work meetings. I received shipments that needed to be organized and I was preparing for my new meetings.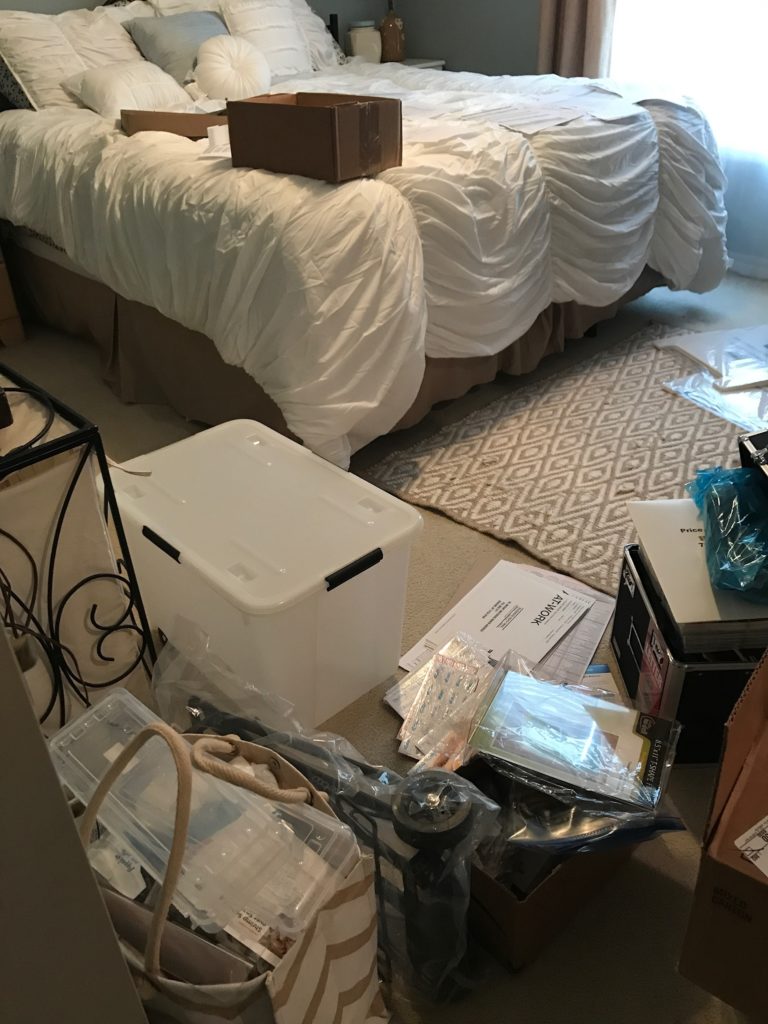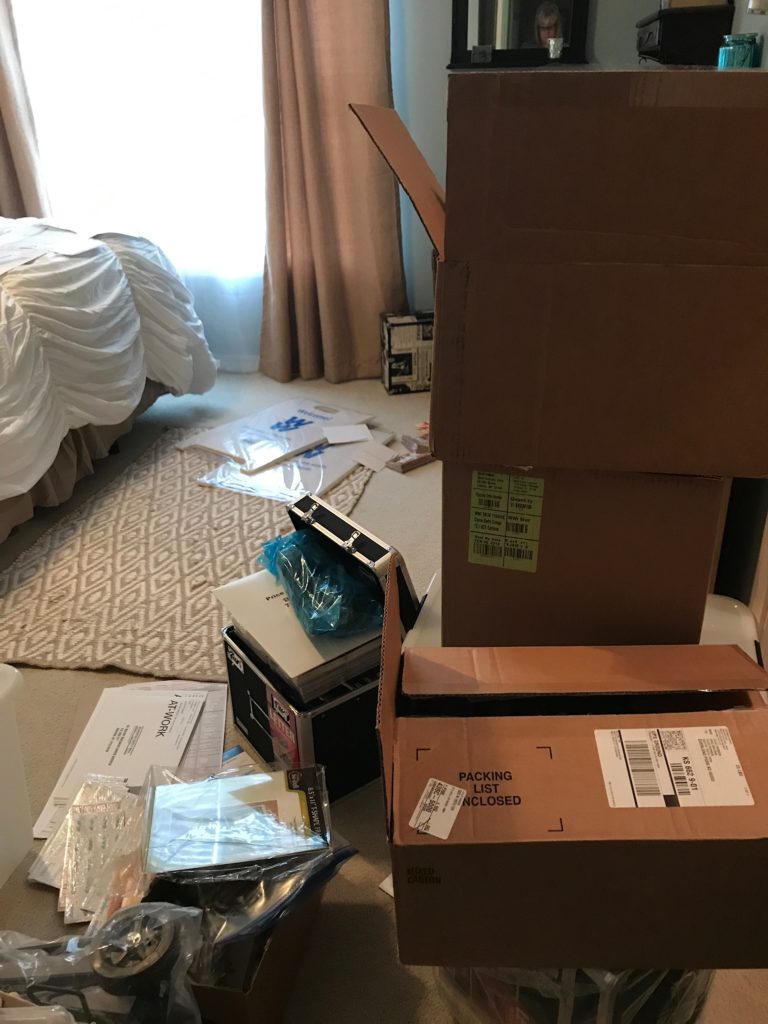 I had plenty of fixing for a salad, so I put the pizza in the oven that the Pizza Food Truck had sent home with us! Dinner was perfect!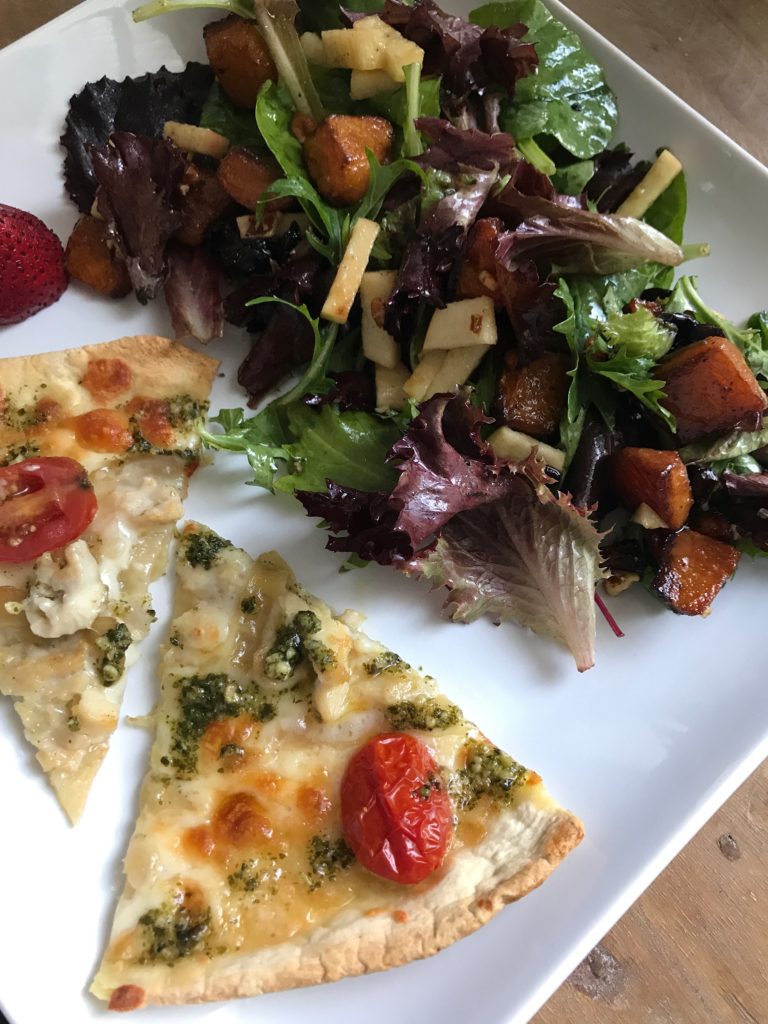 Sunday
Sunday morning I headed to the hospital. When I got there, I was informed that Anna would be under sedation for at least another day, so I sat with her for a few minutes, then headed to my dad's house to wish him Happy Father's Day. On the way to his house, I grabbed a Whole Foods Salad Bar lunch!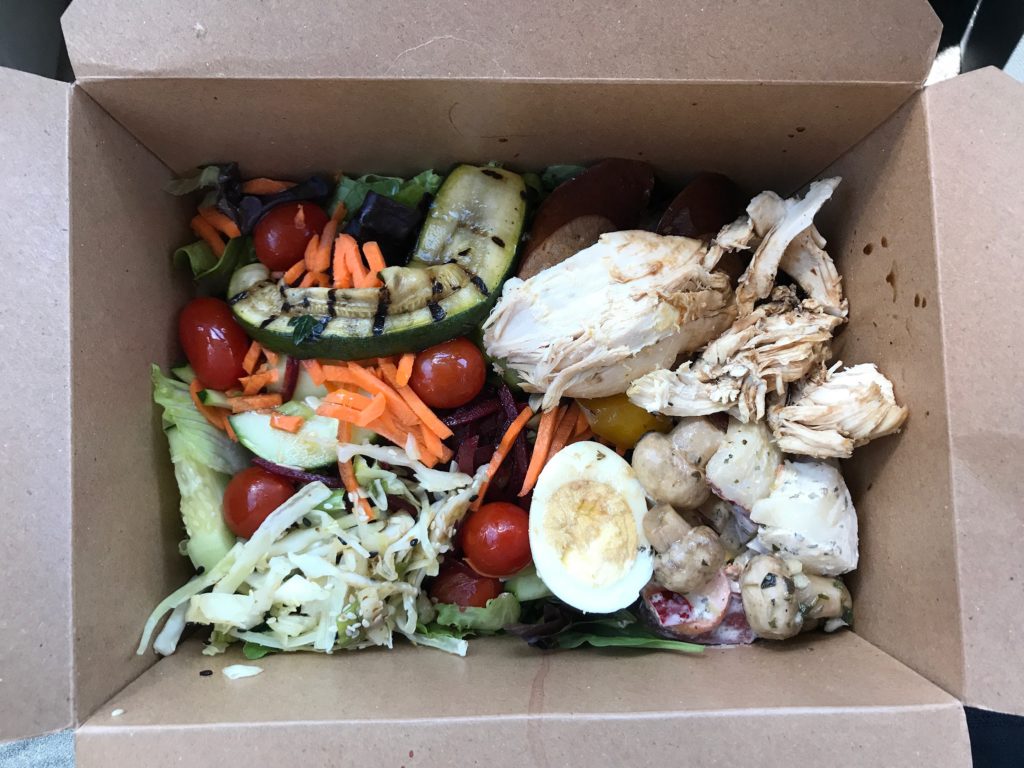 At my dads', we sat outside and chatted with Charlie, his pet duck.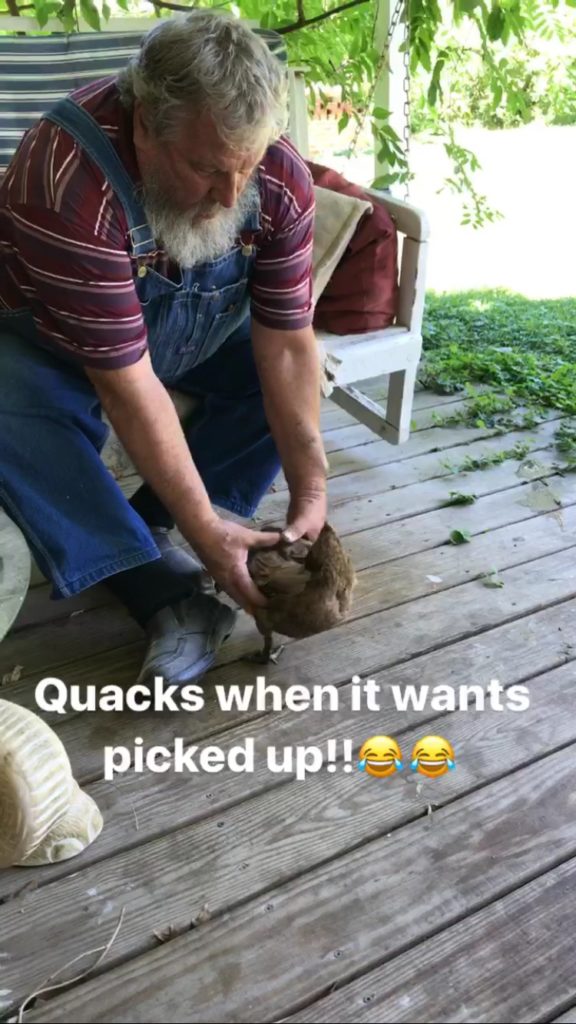 I headed home after a nice visit with Charlie and Dad. I had been home for a bit when this little angel and her mom and dad came by to tell Mike Happy Father's Day.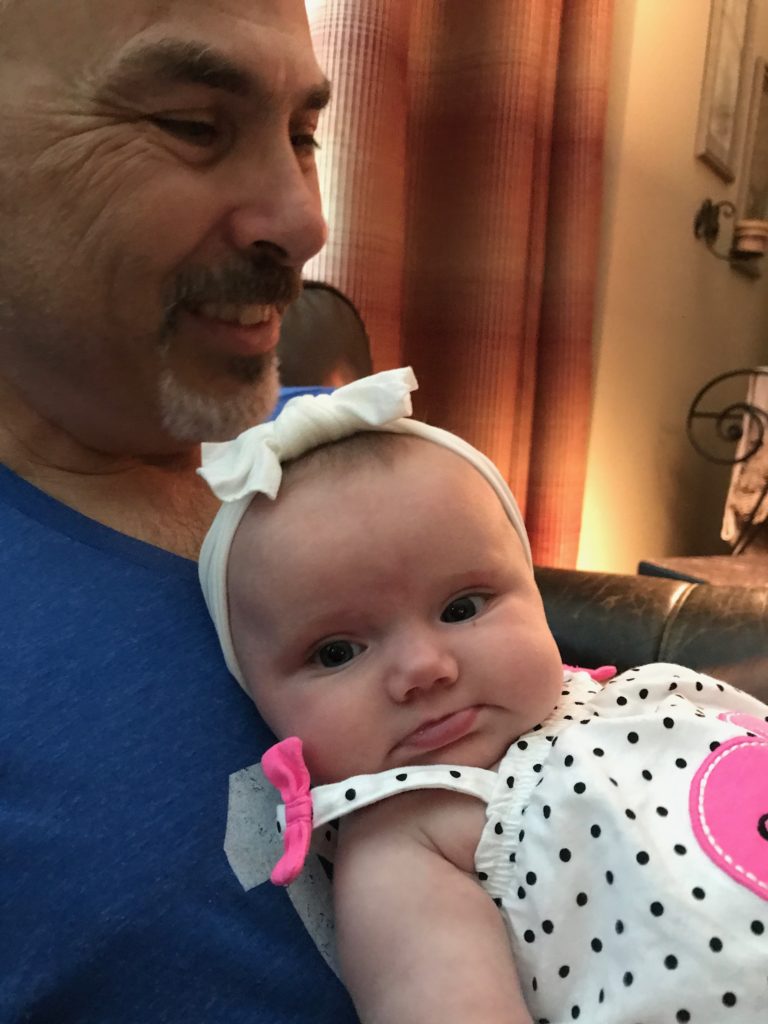 She really was smiling the whole time she was at our house, except for this moment.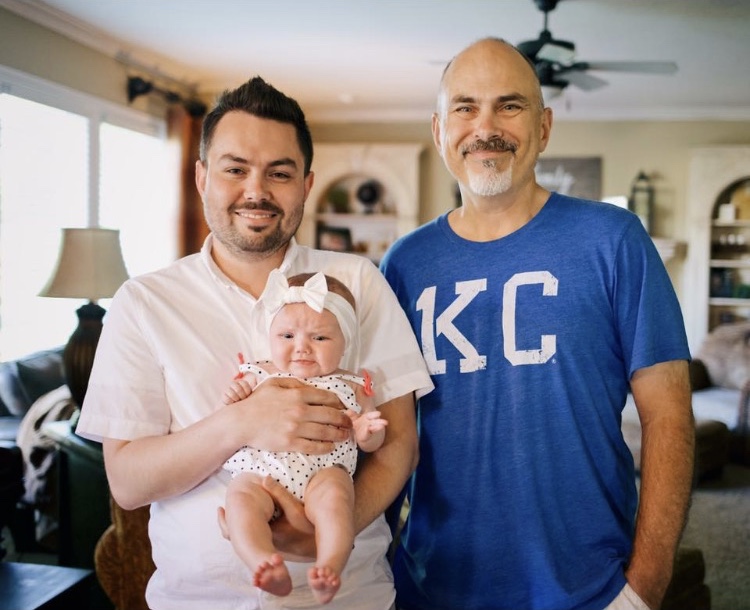 Jake was the only one of the four kids that Mike got to see for Father's Day, and I hadn't done or planned anything special, so I decided to make a yummy dinner to make up for it.
Fish Taco's with Homemade Tortilla's, Cilantro Lime Caulirice and Trader Joe's Roasted Plantains.
I forgot how much we love these tortilla's!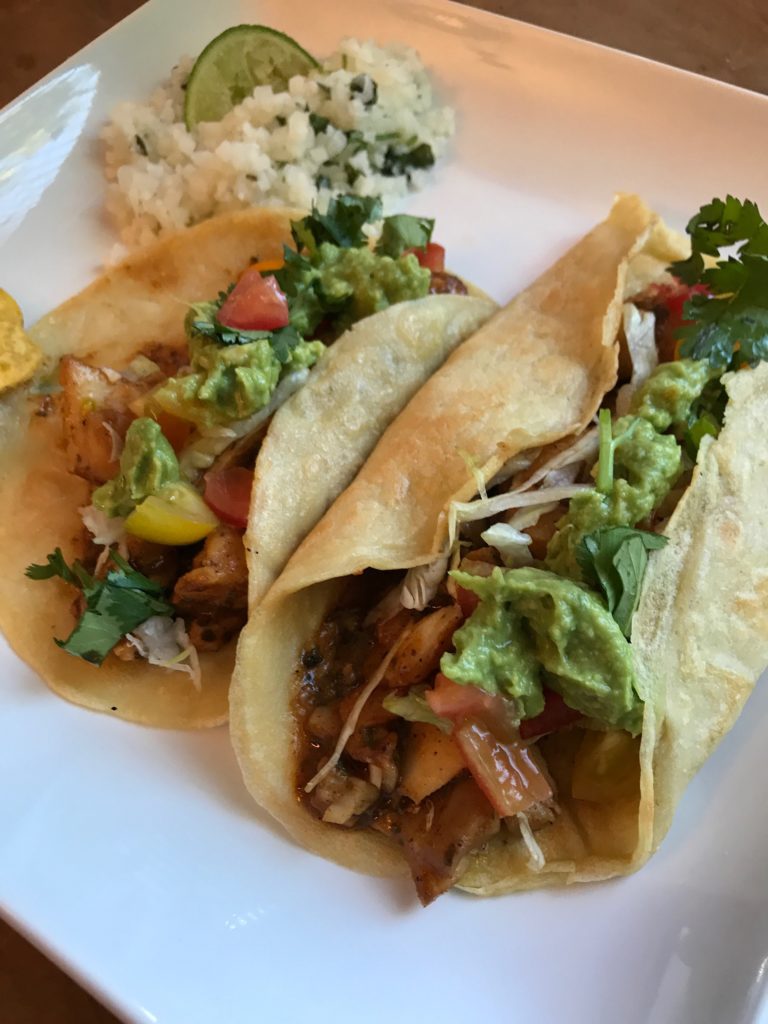 After dinner, it was close to 8:00 and I still needed 8,000 steps. Mike said, "Go get your shoes and lets go!"
He never walks with me, so I was happy that he wanted to go! The walk seemed to go so much quicker with him along.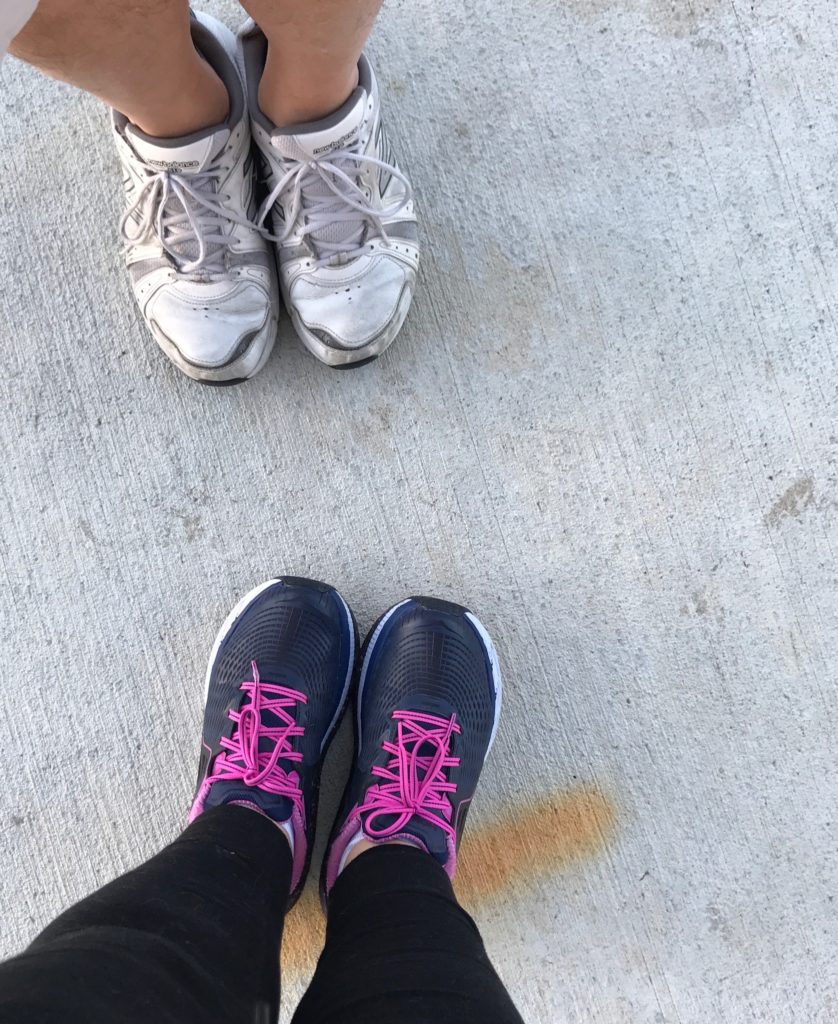 The StepBet that I am doing runs Monday through Sunday, so it was nice to know that I was completing week one successfully!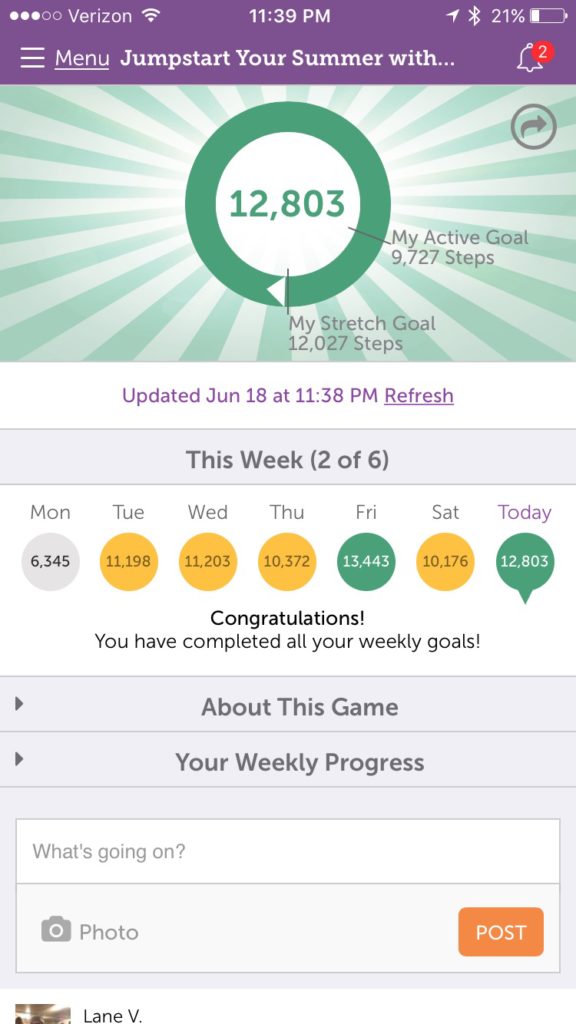 Monday
Before a full day, I made this Sweet Potato Avocado Toast and topped it with my new Trader Joe's Everything But the Bagel Seasoning! So Good!!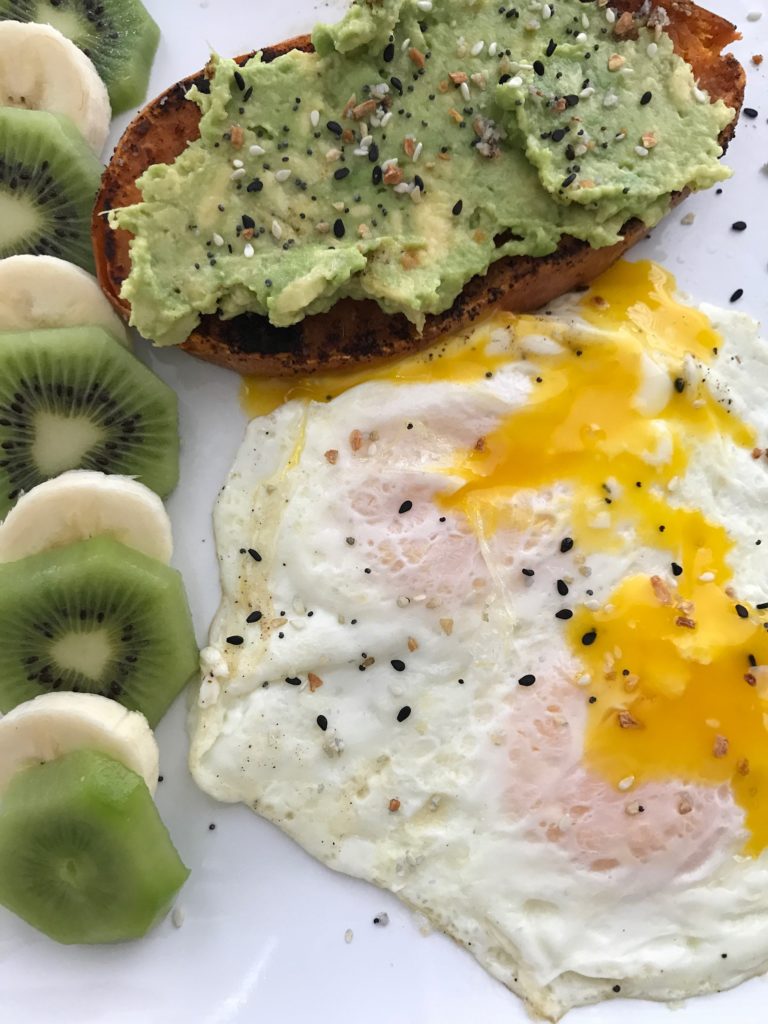 I have a new At Work meeting! Yay! I met with this group last Monday for an Information Meeting, then had to wait to make sure that enough members committed so that the meeting could happen. You have to have 15 members commit for an At Work to get started. Once you get the word that it is a "go", there is a to to get done as far as paperwork and ordering supplies. The few days before Monday were crazy insane! This is only my second time doing this too, so I'm still learning what I need and what paperwork needs to be filled out. The members were all great and I can tell that I am all set up for another awesome At Work Group!
I have an additional Information Meeting scheduled next week with a third company, so I'm on my way to having three meetings a week! Now if I could just get a meeting in a traditional store, that would be great! My goal has been to lead four meetings a week. I continue to practice patience.
(When I get four meetings, I'm buying a Vintage Trailer and plan to begin camping! I'm getting antsy to start my new hobby!)
I had planned to go visit my cousin Monday afternoon, but they still had her sedated and she wouldn't know that I was there, so I decided to wait.
I went to a WW training session on Monday night that I will share more about in a different post.
I was zonked when I got home and happy to have Fish Taco leftovers to throw in a bowl.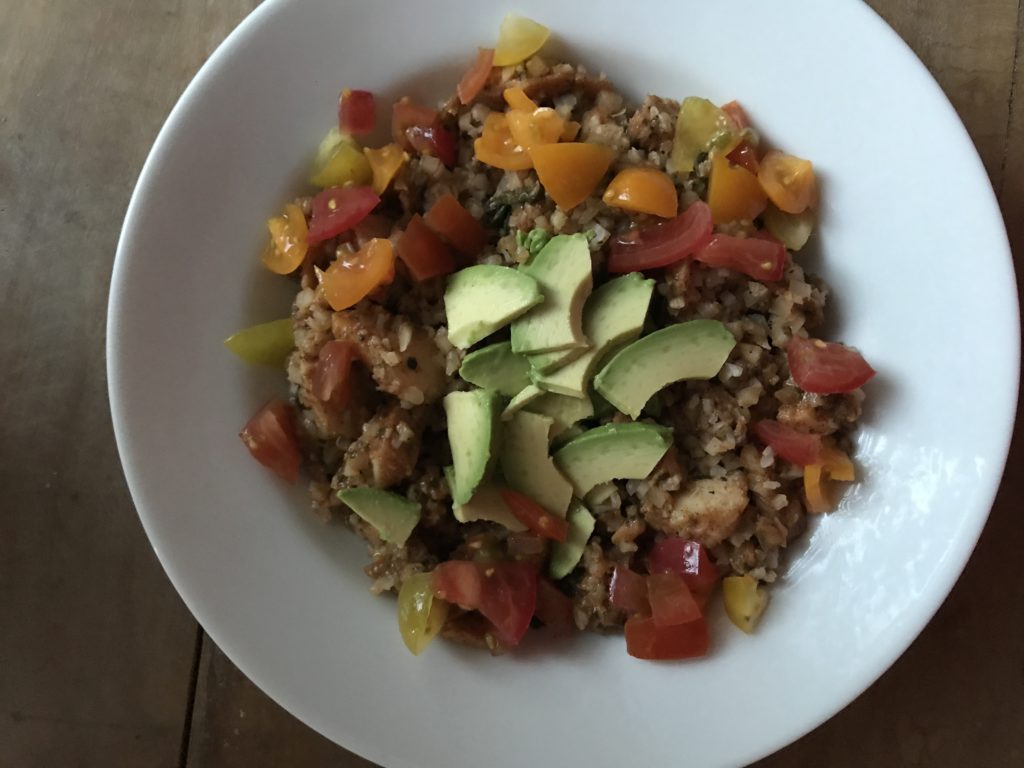 Tuesday
Mike and I had a health screening early Tuesday morning at his office. I left the house around 7;00 am. These late nights and early mornings are wearing on me and I'm ready for a few days where I don't have to do anything! Those days are coming shortly!
Mike's company is offering the screening as a way to reduce our health insurance. We now have the opportunity to earn points for good health, earn points for steps, and points for annual physicals. We have more to learn about the program, but my test came back great! HDL, LDL, Triglycerides, Glucose, Waist measurement and Blood Pressure all good. Because my weight is out of the BMI range, I had one bad mark. I shared my thoughts about that with the technician and she was very sweet. lol.
I had just enough time to run home and whip up this breakfast of Sweet Potato Ribbons from Trader Joe's topped with and Egg and Avocado and more of that wonder Trader Joe's Everything But the Bagel Seasoning! I am loving this stuff!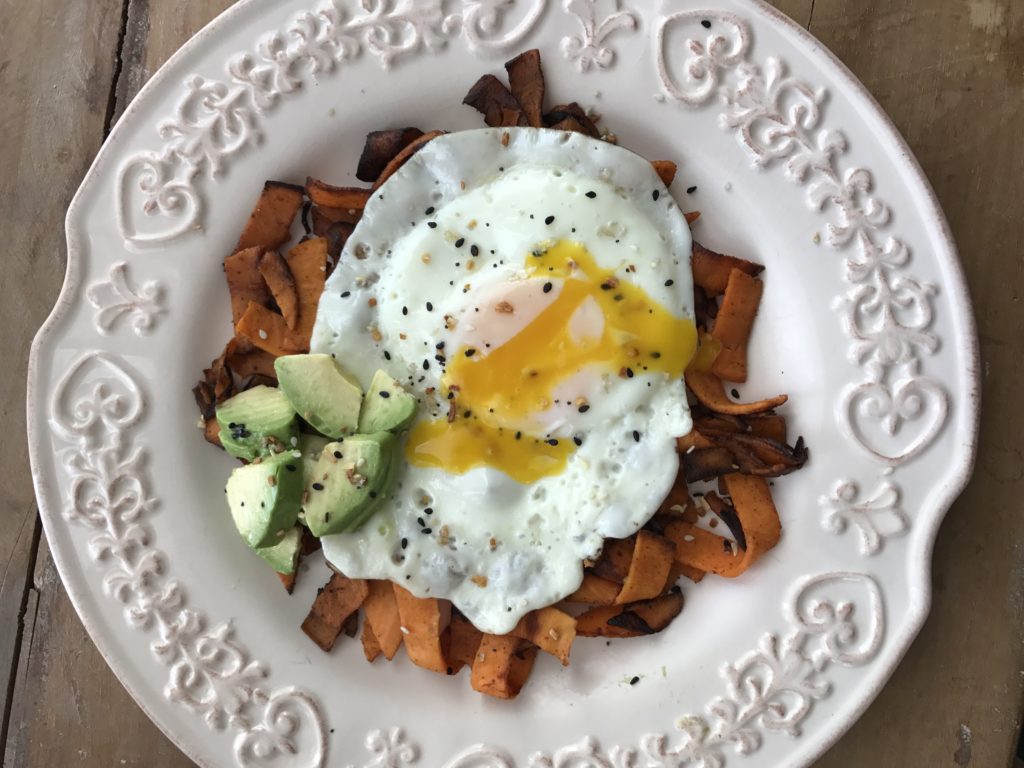 I finished up my first 17 week session with my At Work group and they have signed up for a second 17 week session! I love this group and they have been so successful. I'm looking forward to working with them for another 17 weeks! Some of them are really close to Goal!
After my meeting, errands then lunch!
Tuna Salad topped with it!! I know!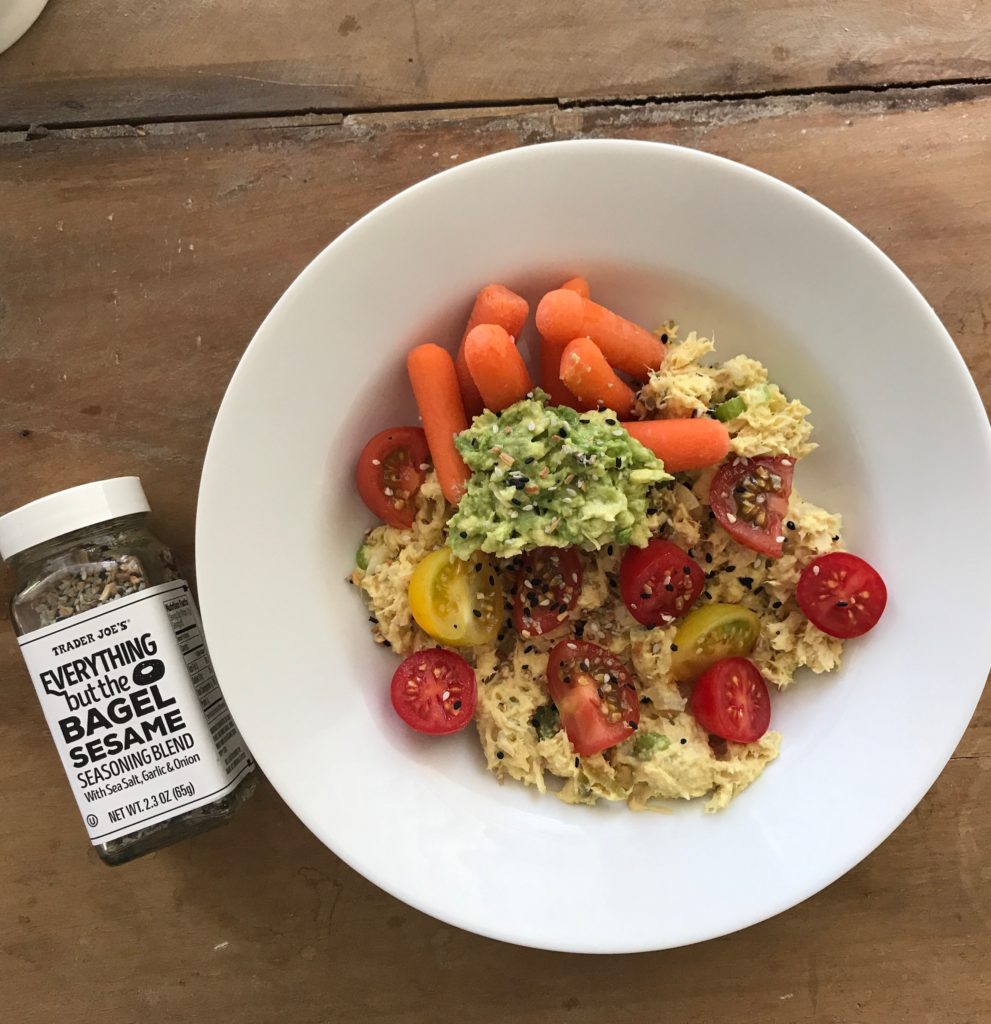 After lunch, I met up with a friend to start weight lifting. We chatted about it a couple of weeks ago and made a plan to get started yesterday. We just did arms yesterday and plan to meet up on Tuesday's for now. I think we need to lift twice a week, so we've got a schedule to figure out. Baby steps. We lifted for an hour yesterday and she led us on what exercises we were doing. I woke up with super sore Triceps!
I had the opportunity to sub as a Leader last night and it was another great meeting. I say it time and time again, but WW members are just some of the nicest people! We had three new members and I loved meeting with them afterwards to hear their stories and give them encouragement.
I came home to this in the mail.
More WW bling! This Weight Watcher Ambassador thing really is awesome! These great little bangles feel like leather. I love them!
I'll share more about why WW sent these to me in tomorrow's post.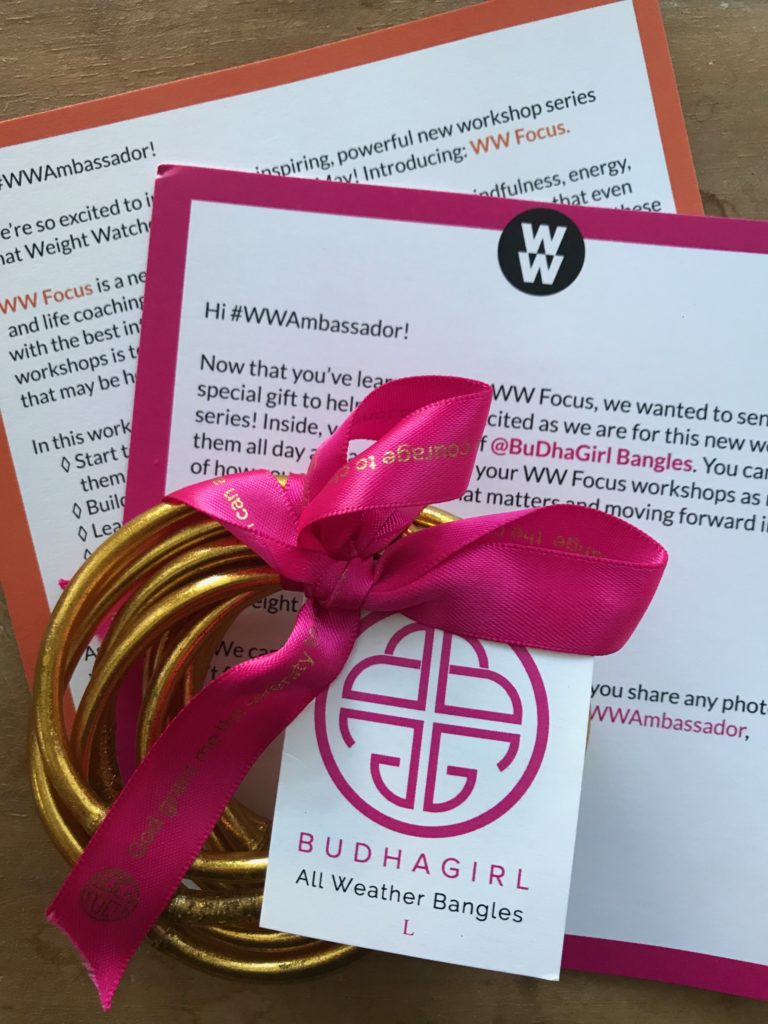 I am headed out to work the Food Truck, then to visit my cousin at the hospital. She is improving and no longer sedated, but still has a few days before she can go back to the nursing home.
I've been tracking, getting my steps in and trying to keep a variety of foods in my diet. I feel good. I feel healthy. I just feel a little too busy right now.
I am going to Dallas tomorrow to visit my daughter Tess. I'll stay until Sunday. She has been coming home regularly, but I haven't been to visit her in Dallas in several months. I'm looking forward to a relaxing weekend filled with walks, coffee and girl chats.
It feels good to get caught up!
Have a great day!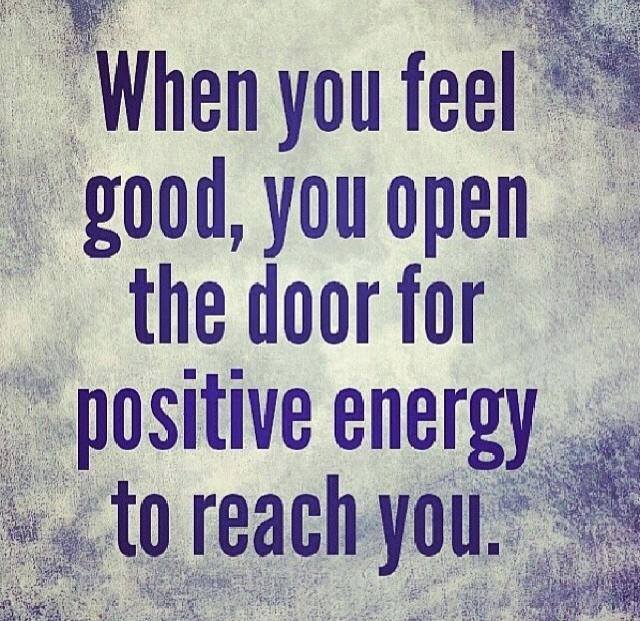 "love the life you live, live the life you love"