StepBet
Before I talk groceries, let me talk steps.
This week is ending my very first StepBet and I am so happy that I did it! My plan was to get in a Yoga class this week as well and I did that. I'm feeling really good about figuring out how to get more steps in and it has certainly become a more important part of my daily plan than it was before. When I have challenged myself in the past to Walk 100 Miles in a Month, that seemed to be more difficult because I was giving myself the whole month to complete the challenge and I would end up procrastinating, then having to walk 5 or 6 miles several days in a row to complete it. That's just dumb.
With the StepBet, you have a daily goal that you need to meet, and because I work better with short term goals anyhow, this has been the perfect way for me to make sure I am staying active on a daily basis. I love this!
I signed up for my second StepBet yesterday! Your steps are based on your overall activity with your tracker. Since I have been walking more, my step goal has increased a bit. This can only be a good thing, right?
Groceries
We have a HUGE new grocery store that just opened down the street. Literally down the street. Maybe 2 miles? They have this same store downtown in Kansas City and I've only been in there a few times, but I knew if it was going to be anything like the one downtown, I was going to love it! They opened this week!
I decided to get in a few steps in the AC and went grocery shopping with a friend. We found all sorts of fun things and the store is really pretty. They have a nice big salad bar, lots of sandwich options, Sushi shop, Bakery, Starbucks, Gelato Shop, and several places to sit inside and out They also have lots and lots of pre-made meals to take home and heat up. They even have several "meals for two" with all of the ingredients right in the bag!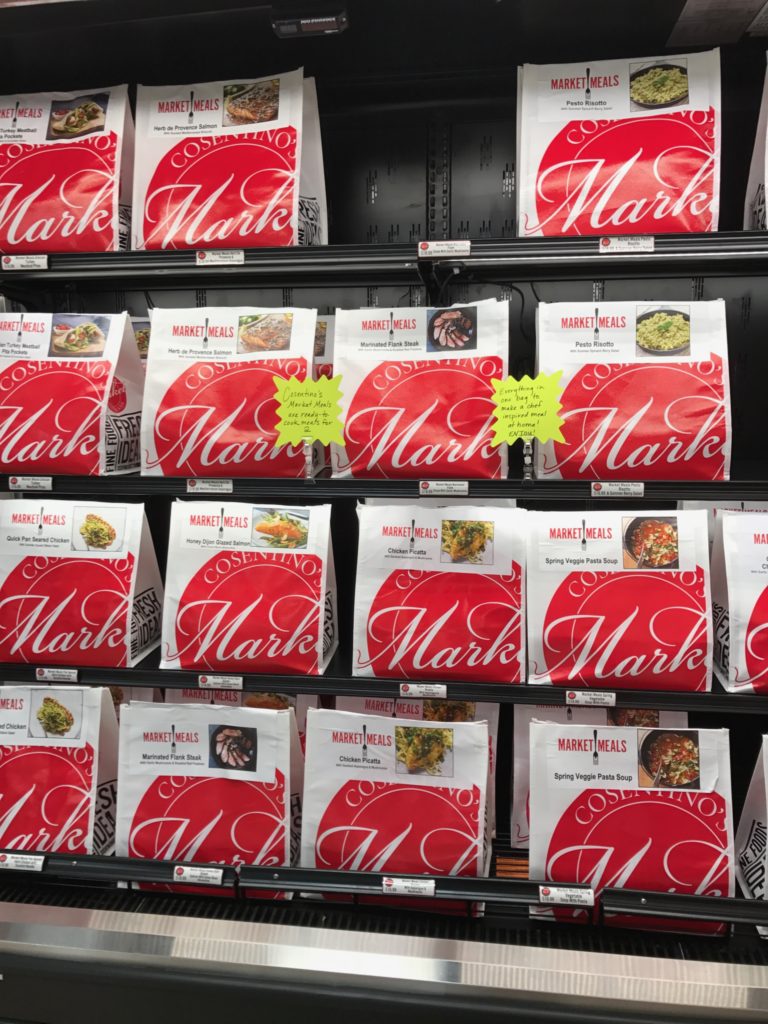 Tons of bulk options! I found some unsweetened Coconut and some Roasted Pumpkin Seeds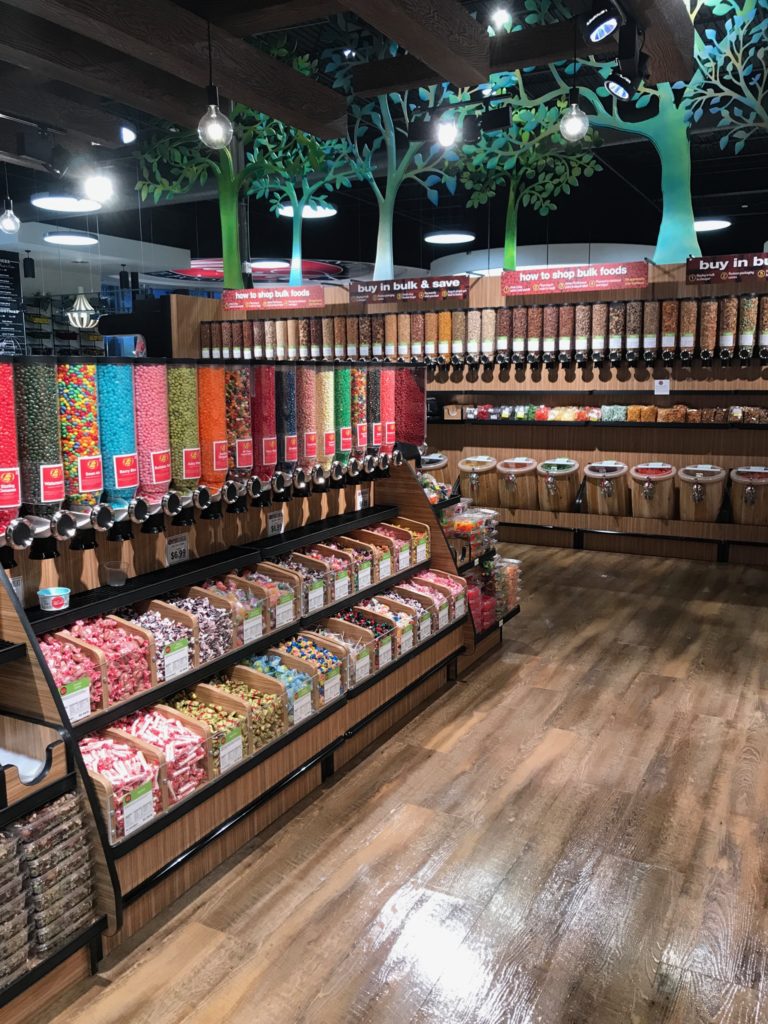 They even have their own Olive Oil and Vinegar mini store!!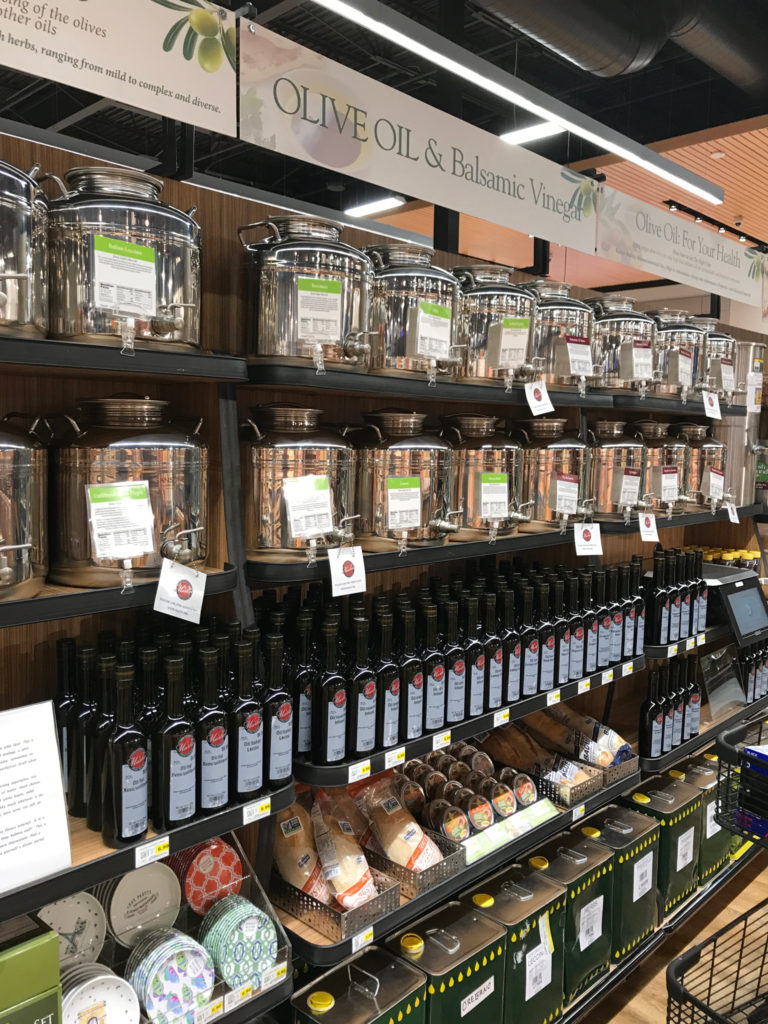 I was pleased and can't wait to shop there over the next few weeks and try some new things.
I really do like to try new things. One of the things that I love most about Instagram is discovering new foods that I see people eat or different ways to eat some of the foods that I already eat!
A few months ago I learned about Dragonfruit on Instagram, so I bought one and gave it a try. Do you remember? It was pink on the outside and white on the inside with what looked like little black dots in the white part. This is it in the middle here.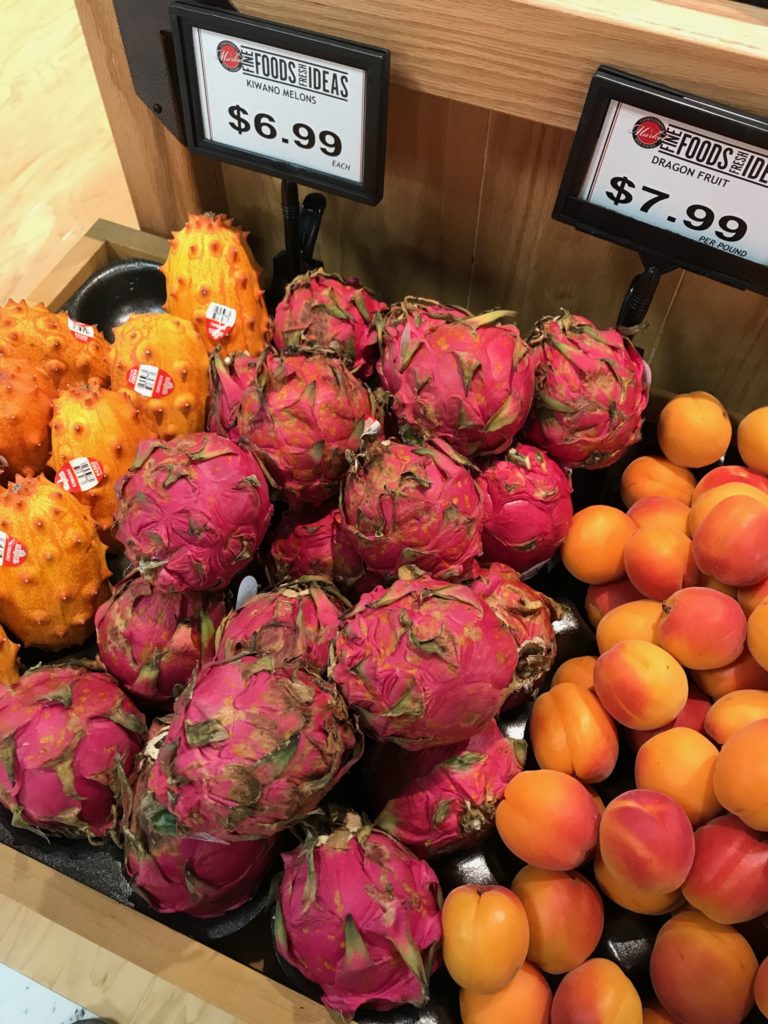 Well, this is a Kiwano? Have you ever heard of a Kiwano? I hadn't. It was $6.99, so I was certain that it was going to be delicious!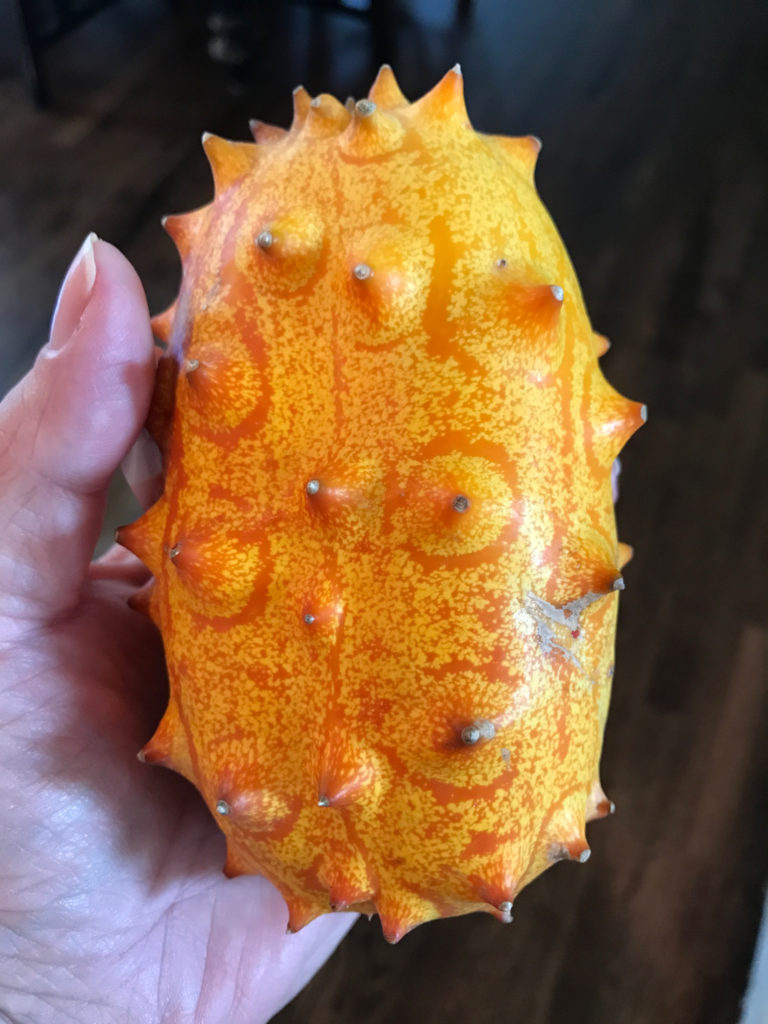 This is what the inside looks like. Completely different from the Dragonfruit. The texture did not look appealing to me.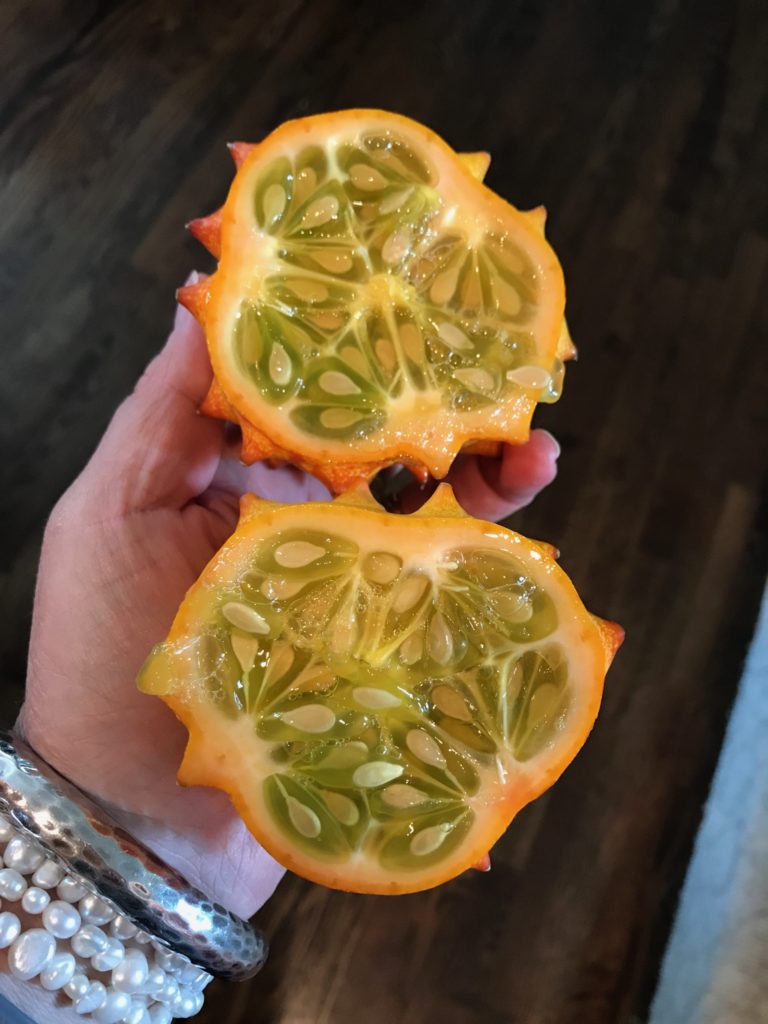 The sign by it said that it tasted like a combo of Bananas, Kiwi and Cucumber.
I tasted sweet slime with seeds. Ick.
Have you had one? Did you like it?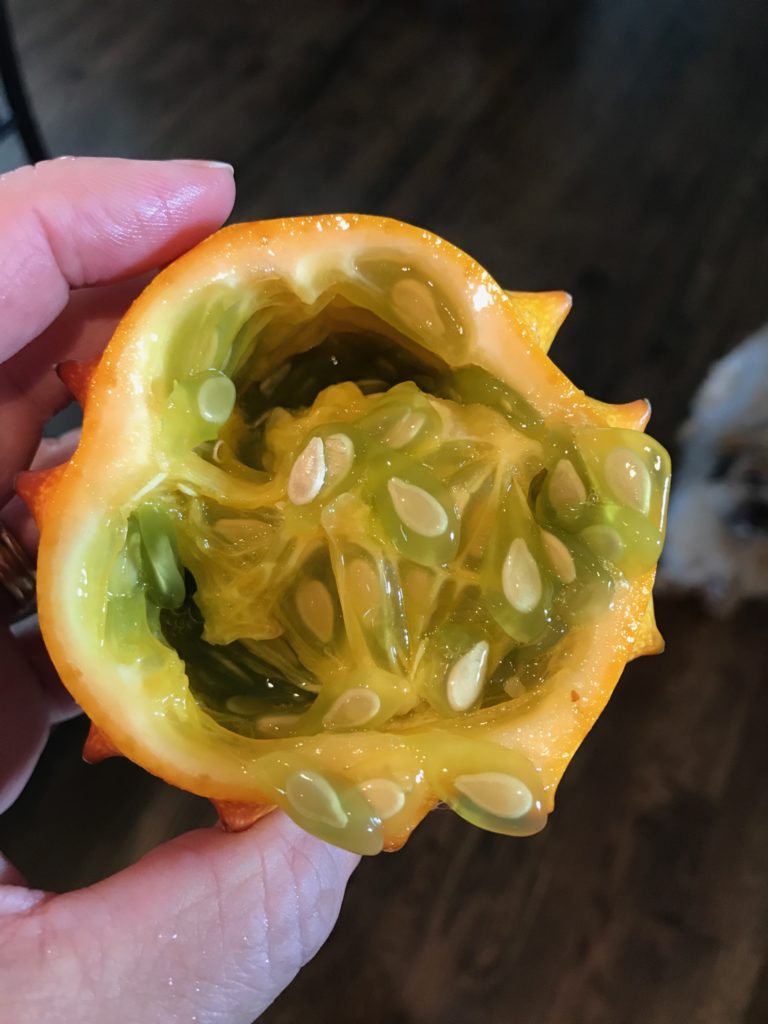 The produce section was huge, as was this Egg Plant! I didn't buy it, but just look at it! Made for a good snap chat!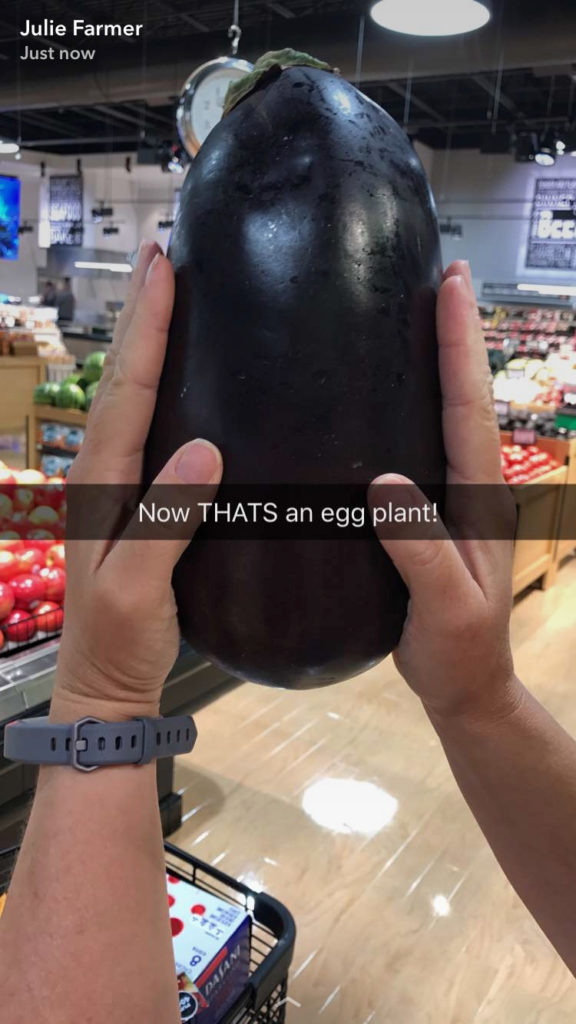 I had also hit up Costco and grabbed a few new food finds. Also a good place for AC steps. Slow steps, but steps.
I've never seen a Yellow Kiwi. Now THIS? I loved this and I'm glad I have several to eat!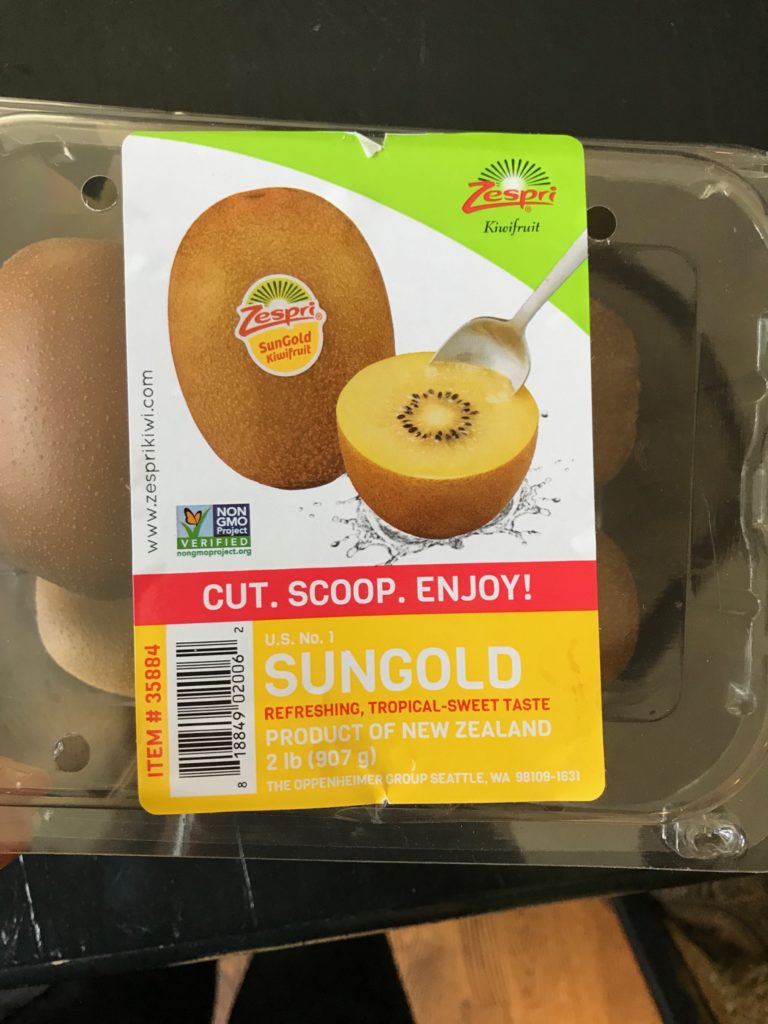 These are HUGE!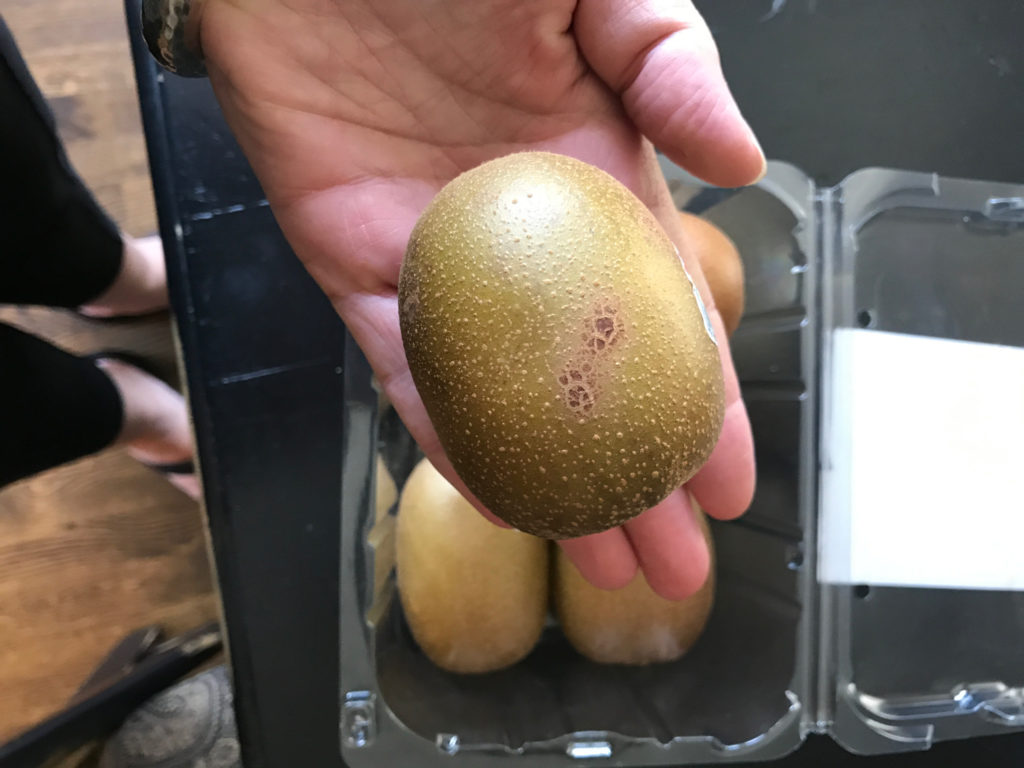 I also bought a large tray of fresh figs. Have you bough fresh figs before?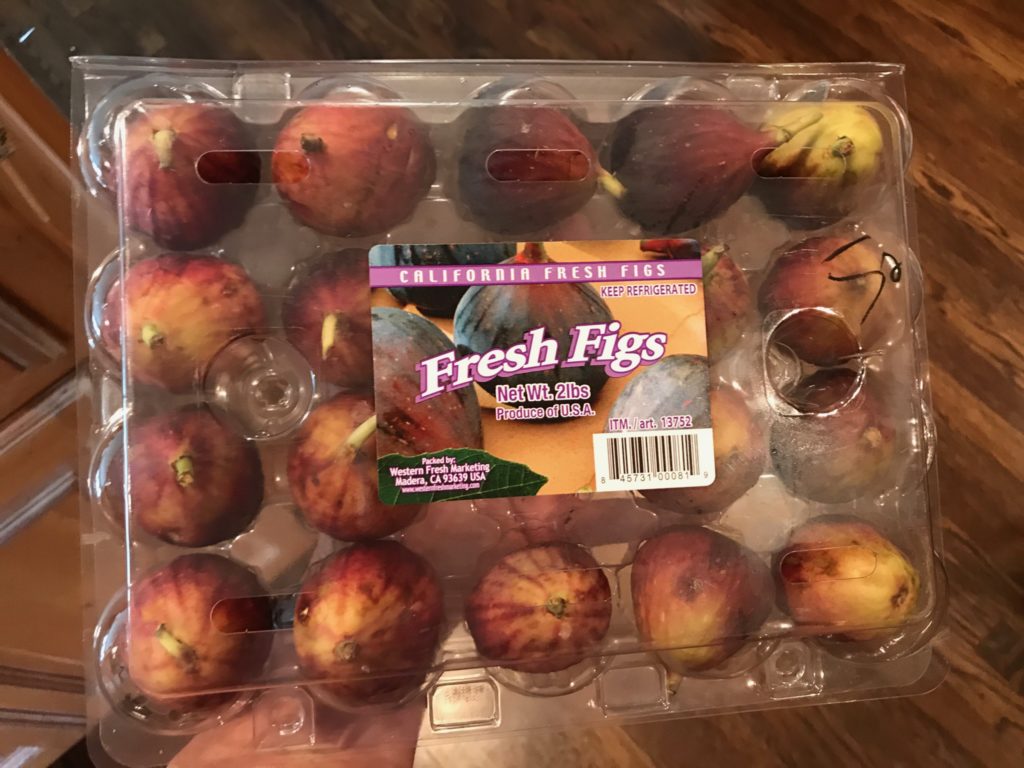 Look at this snack plate that I made up yesterday.
Roasted Pumpkin Seeds, Yellow Kiwi, Blueberries, Figs, Blackberries and Coconut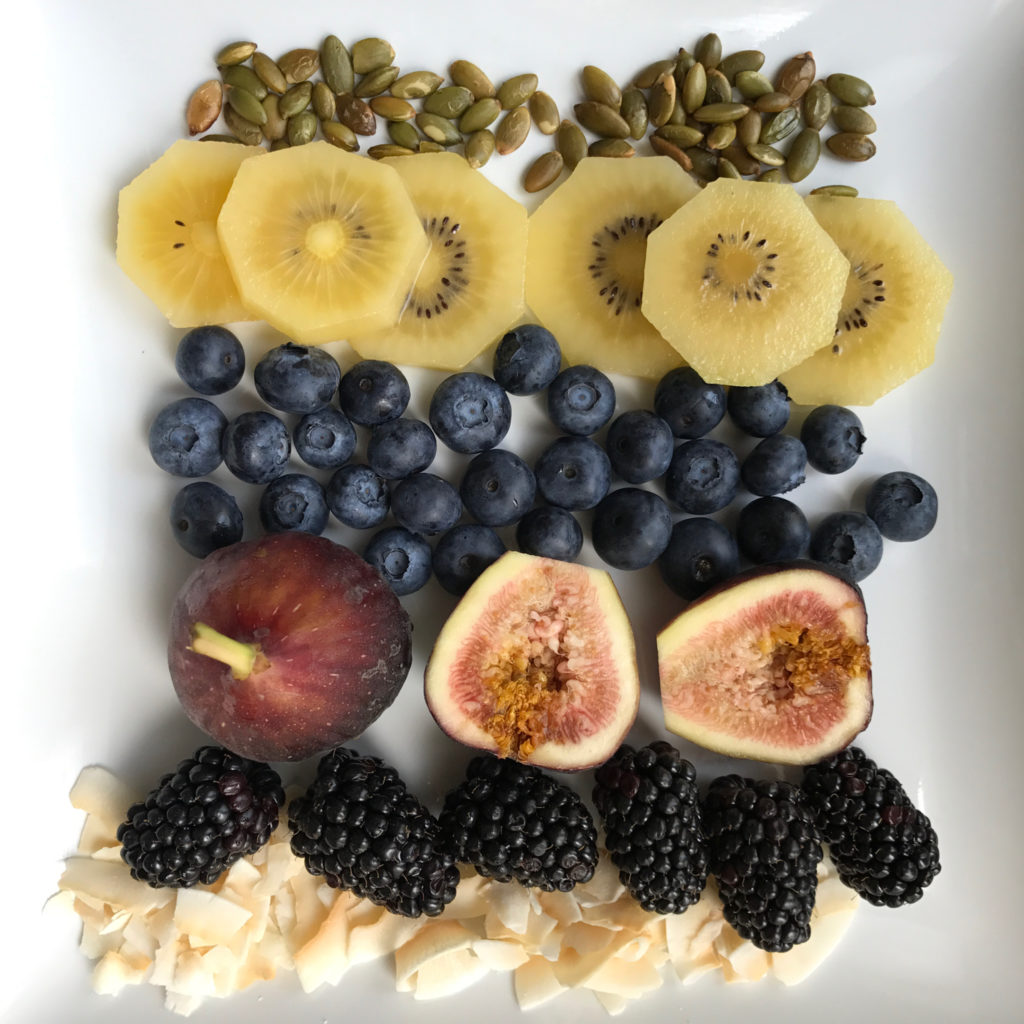 So the grocery shopping has been fun and I'm looking forward to more adventures at my new grocery store.
Okay, yesterday was more of a snack day than a meal day, and it wasn't a very balanced day, and I didn't eat all of my points, but here is what I ate.
Oh, and those dang WW Bars that are Chocolate and Caramel? Well, those happened again, but they are all gone now.
Breakfast – 7 SP
RXBar and Coffee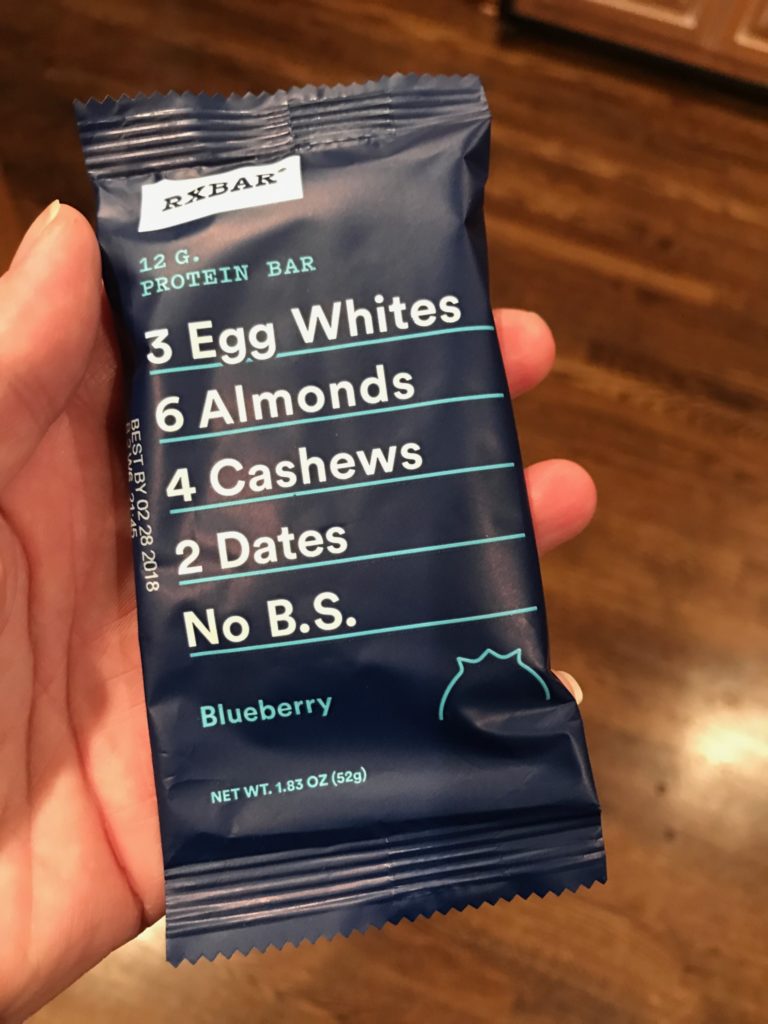 Snack – 3 SP
Banana and I kept dipping my spoon in the nut butter, so I had 1 T. of Nut Butter. Maybe a tad more?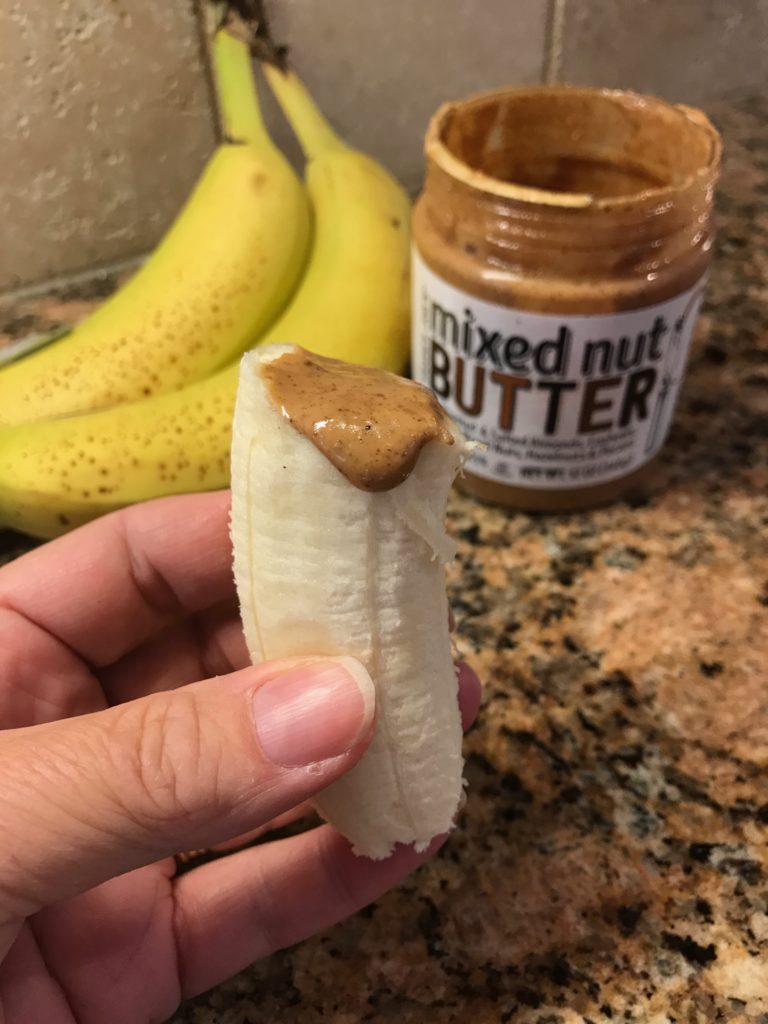 Lunch – 3 SP
Seeds, fruit and Coconut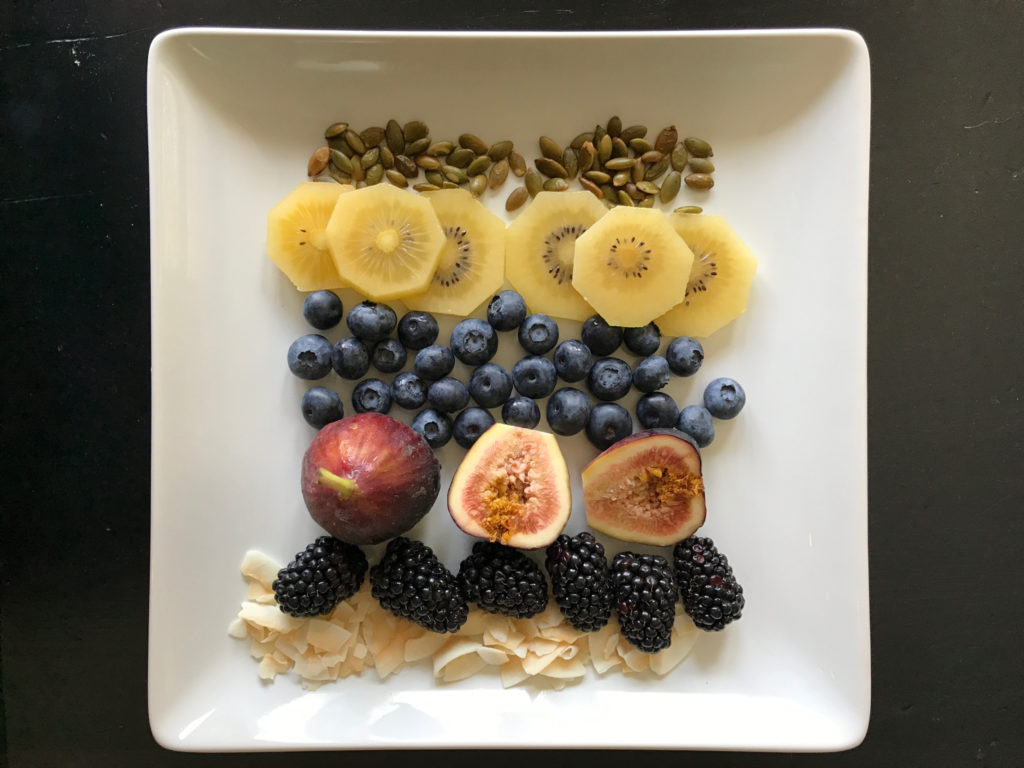 Dinner – 6 SP
This WW Fresh meal. These are coming soon to the KC area!
That's right. I had Weight Watcher meals delivered to my house. I'll do a post on these next week!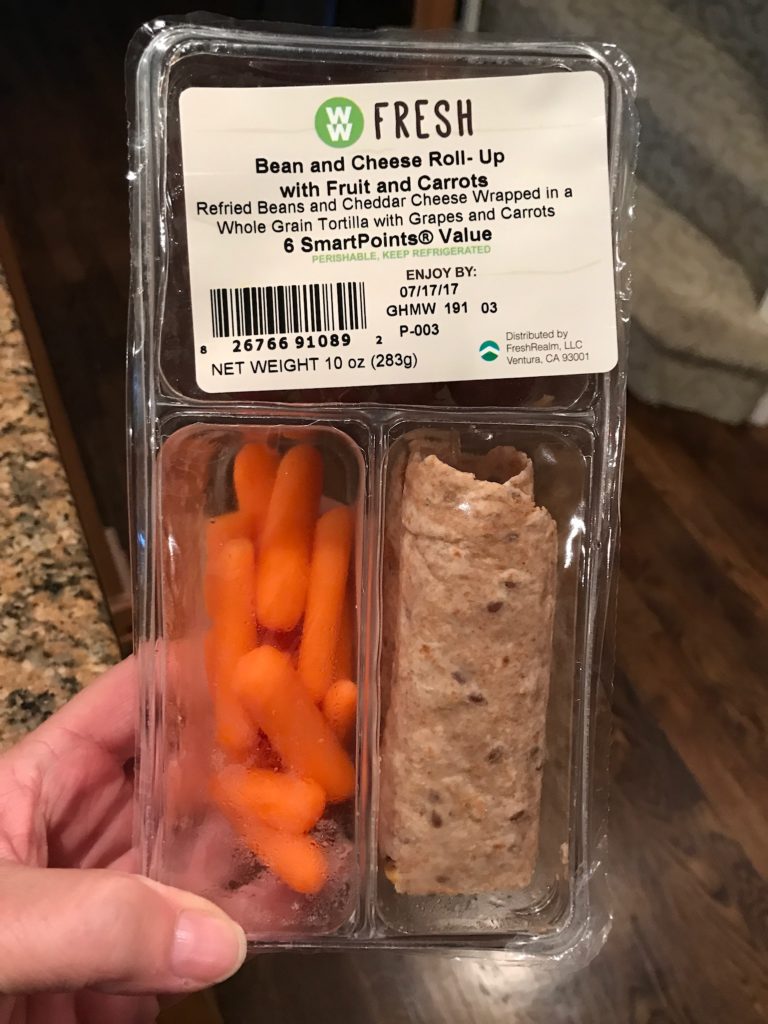 Snack – 4 SP
Two of these. They are all gone now. NO MORE WW SNACK BARS!!! TRIGGER…TRIGGER…TRIGGER!!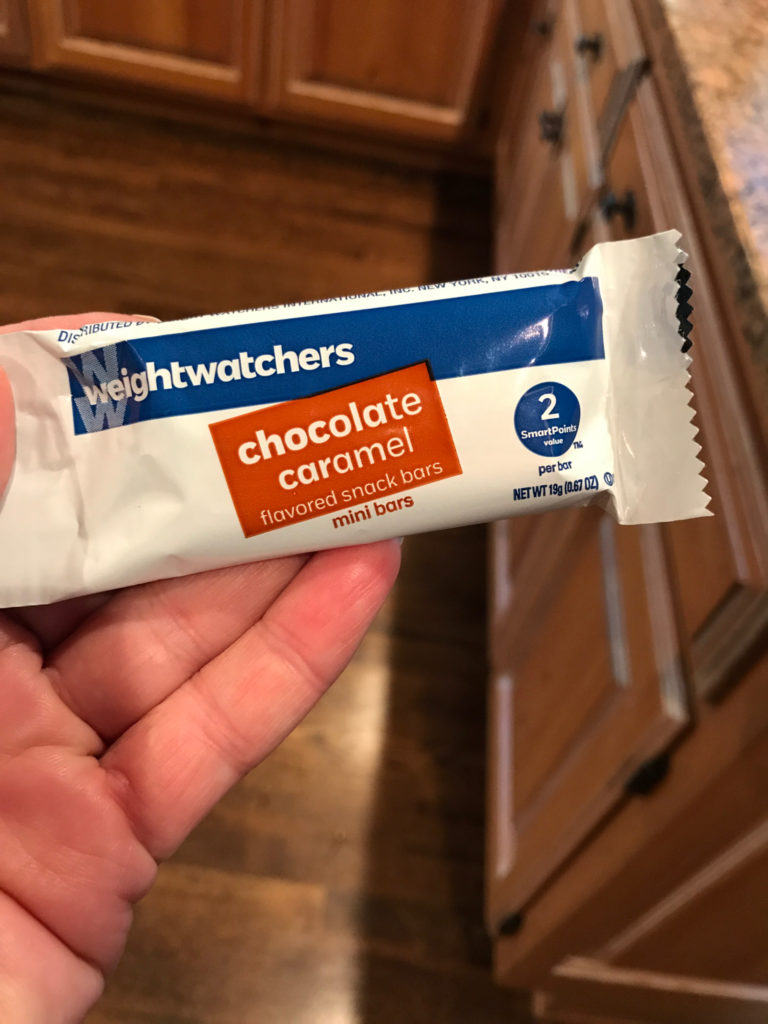 Daily SmartPoints Total = 23

2017 Goals
Make time each week to Meal Plan
Drink 100 ounces of water each day
Exercise 5 days a week
Eat three meals and one snack daily
FOUR 100 Mile Walking Challenges this year! (This goal has changed a little now that I have this fabulous Fitbit.)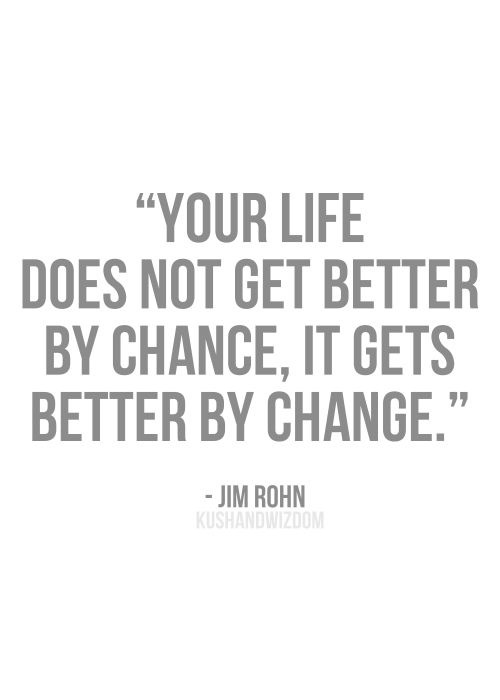 "love the life you live, live the life you love"