Life has been busy at our house these last few days.
I'll discuss the pouring rain in a sec. Here's a small update on life. Oh, and this blog post will likely be full of typo's and babbling.
Food Rut
The food rut continues and I have done a terrible job of tracking food and taking pictures. Period.
Master Bath Remodel
We had all of the tile picked out for the floor and shower and the wall around the tub, then changed our minds. Yep. Now the new materials are starting to come in, but the progress is slow. There's only so many hours in a day! This is my daily view.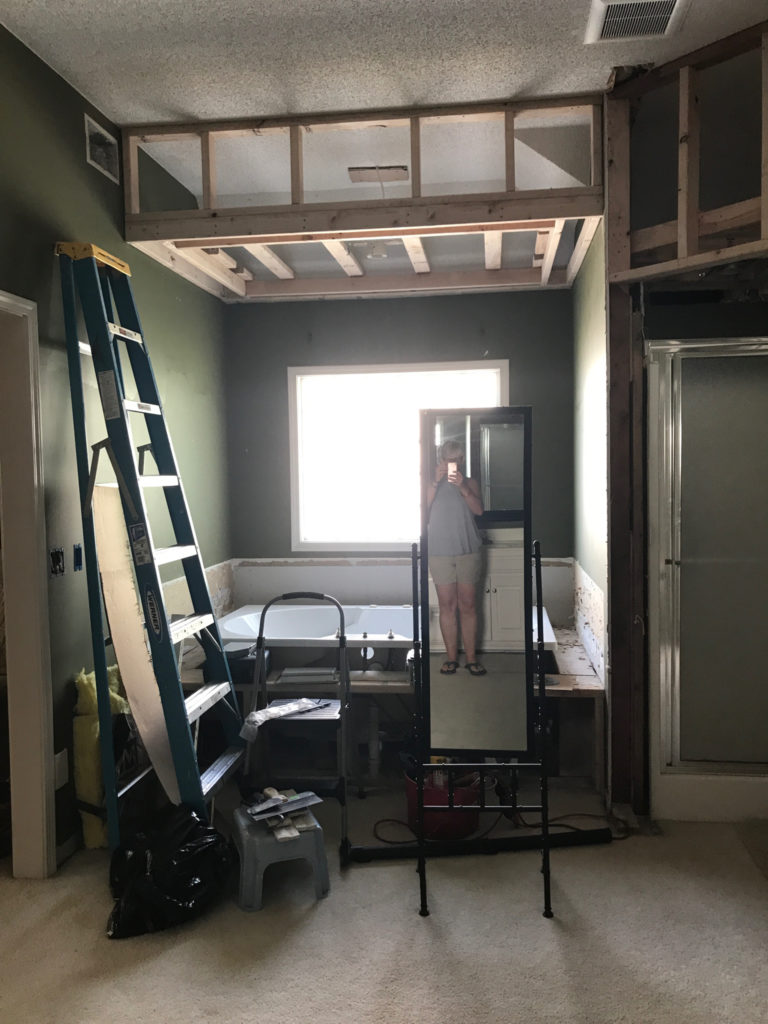 At first I had my own timeline of when I thought things would be done, but I can tell that Mike is a bit stressed that he hasn't been able to work on it as often as he thought he would, so I'm keeping my mouth shut. I mean, we do have other bathrooms in this empty nester house.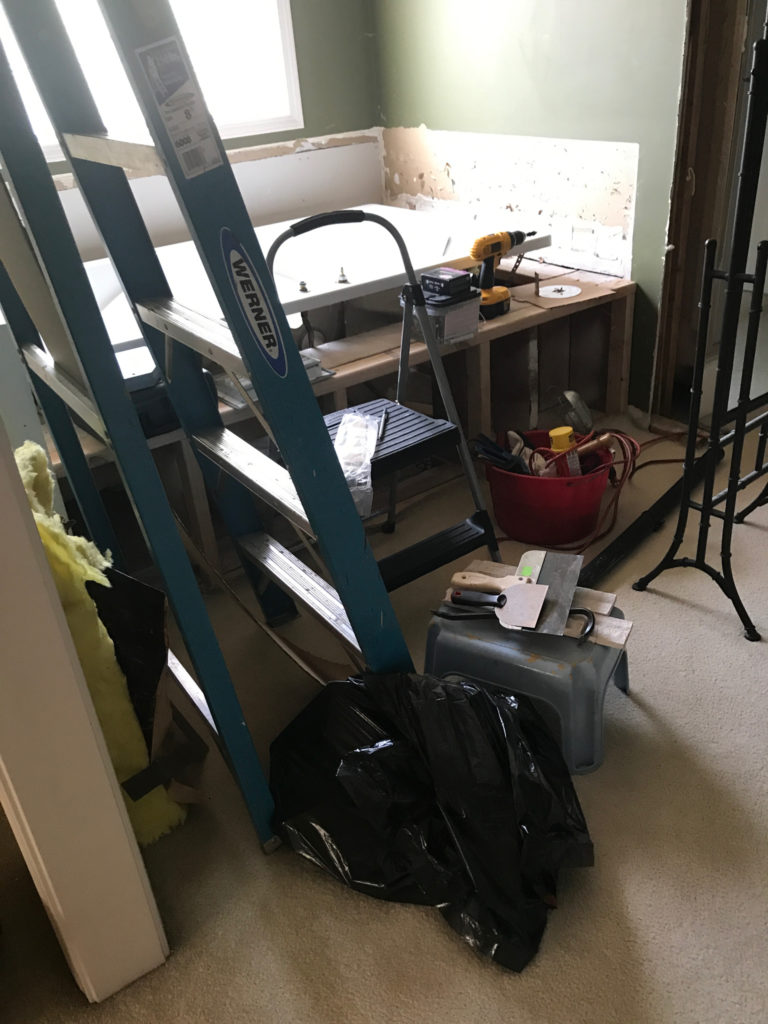 StepBet
What StepBet? Just kidding. Kinda. I loved the last StepBet and how it got me out the door each day to get my steps in. I realized that I was just busy enough throughout each day, that an average of a 2 mile walk each day would get me to my step goal. Well, this is week one of my second StepBet, and each week one is considered a warm-up week. If you don't complete your daily step goal, no biggie, you're still in the game. I have done a crap job of getting in that 2 mile walk. Monday starts week 2, so I gotta get back out there and get that easy walk in!
I did get in over 12,000 steps on Wednesday and it was HOT HOT HOT by the time I got home! (drama queen)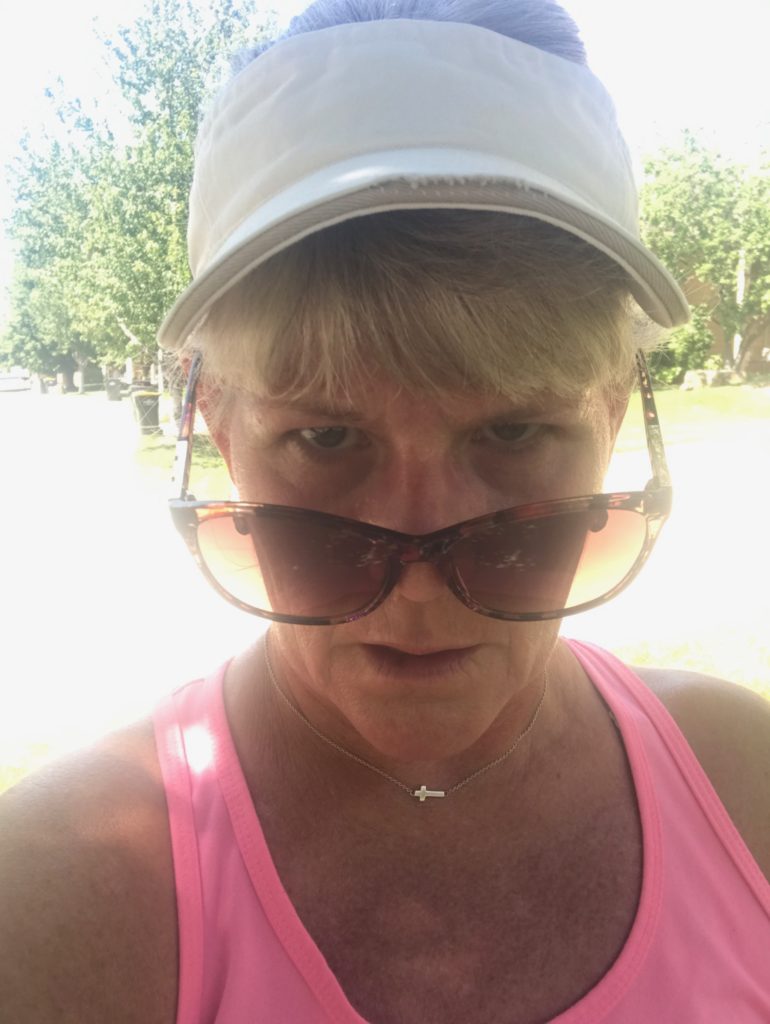 Kayak
I returned the first life jacket that I bought on Amazon and ordered a Paddling Life Jacket, which has a nice and simple flat back and over sized arm holes so no chaffing while paddling. The life jacket came yesterday, but of course Mike wasn't home with the jeep, so I have yet to get the kayak out on the water. It will happen soon!
Okay…the rain.
Yesterday morning I rolled out of bed at 5:30 because I leave just before 7:00 on Thursdays to work a WW meeting. As I walked downstairs to make coffee, my daughter Kate called. I was certain that she must be calling to say that our other daughter, Anne, had gone into labor (she is not due until Aug 25th), but that is not at all what she said. She had stepped out of bed into 4 inches of water in her house! It had been raining and storming all night long.
They water was deep in the front yard and there were emergency vehicles everywhere. They packed up the four kids and some clothes, only to open the front door to the fire department telling them that it wasn't safe to leave yet. Finally, the water went down enough for them to come to our house. I think they are going to be here for a while.
This is what they woke up to.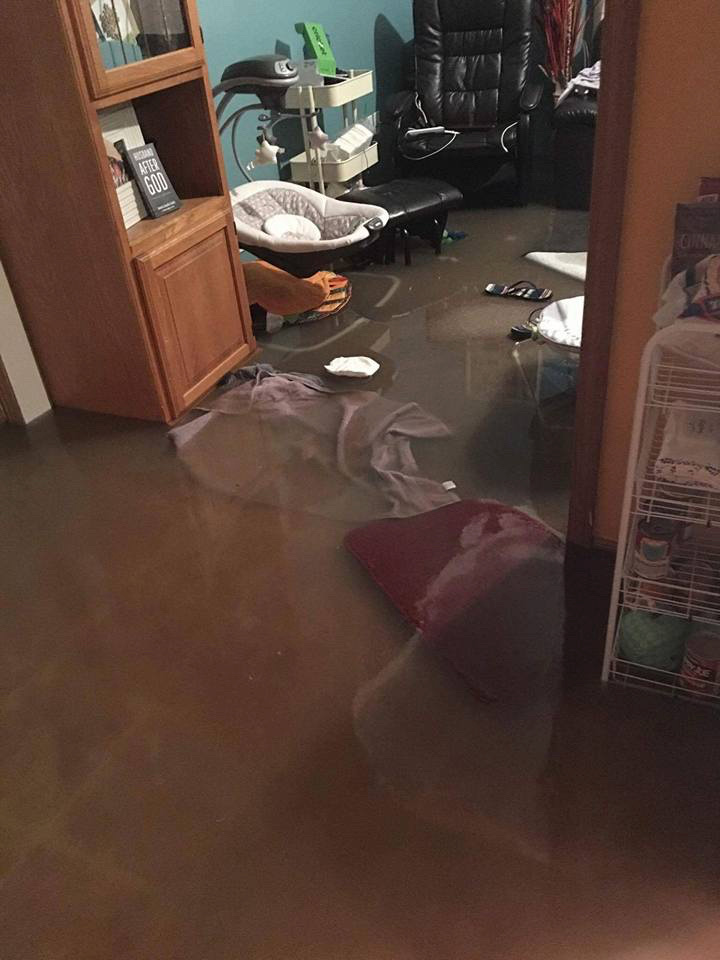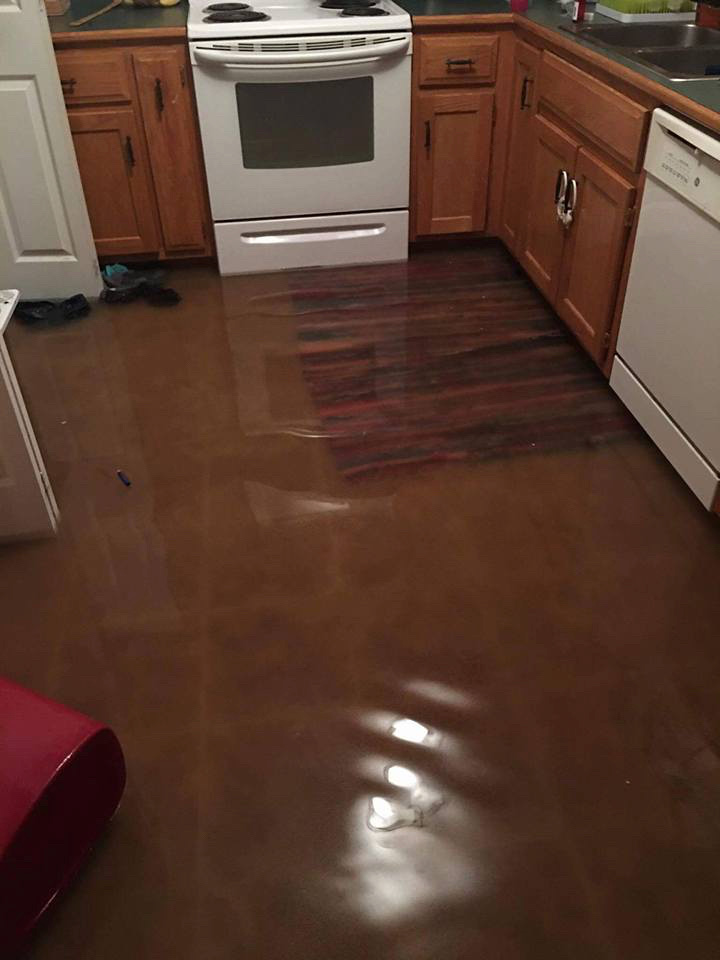 Shelby at the front door hold baby Sawyer. Look at his feet. Completely standing in water.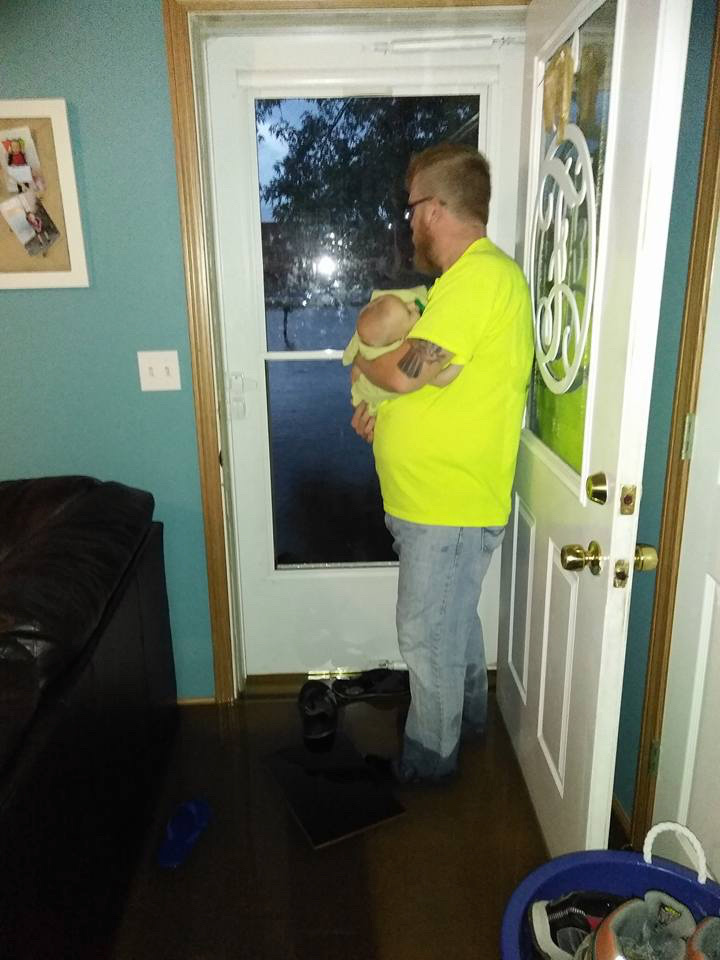 They have one car parked in the driveway and one in the street. Shelby going outside to realized that his van that is parked in the street is also full of water and possibly totaled.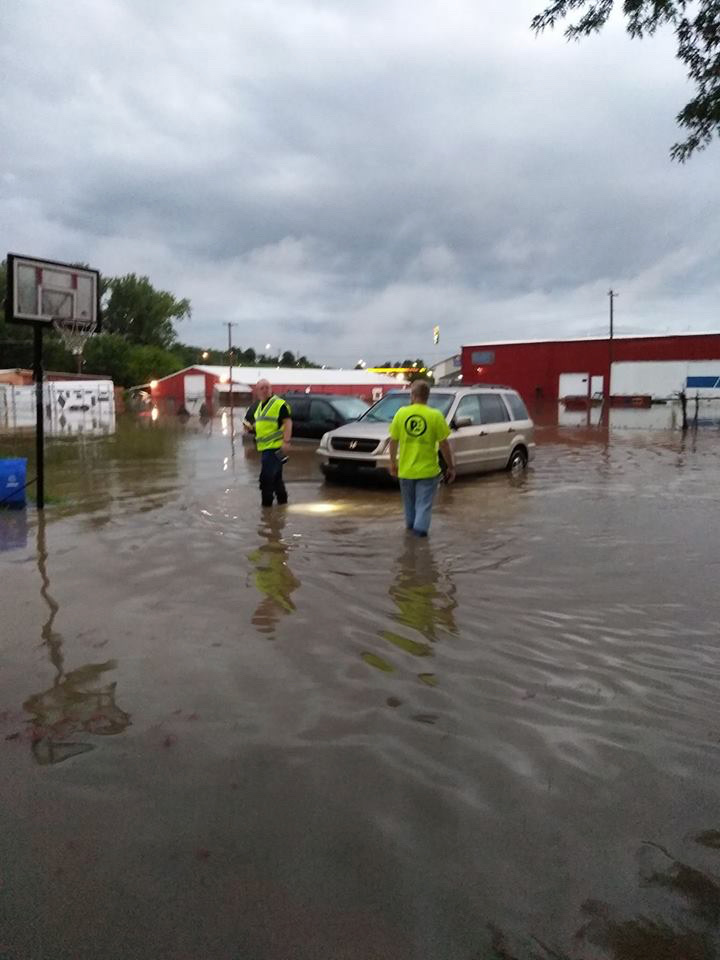 Kate and Shelby went back to the house and spent the day there pulling up all of the carpet. They were able to get a dumpster and had to end up throwing away a lot of furniture. Some things just couldn't be salvaged.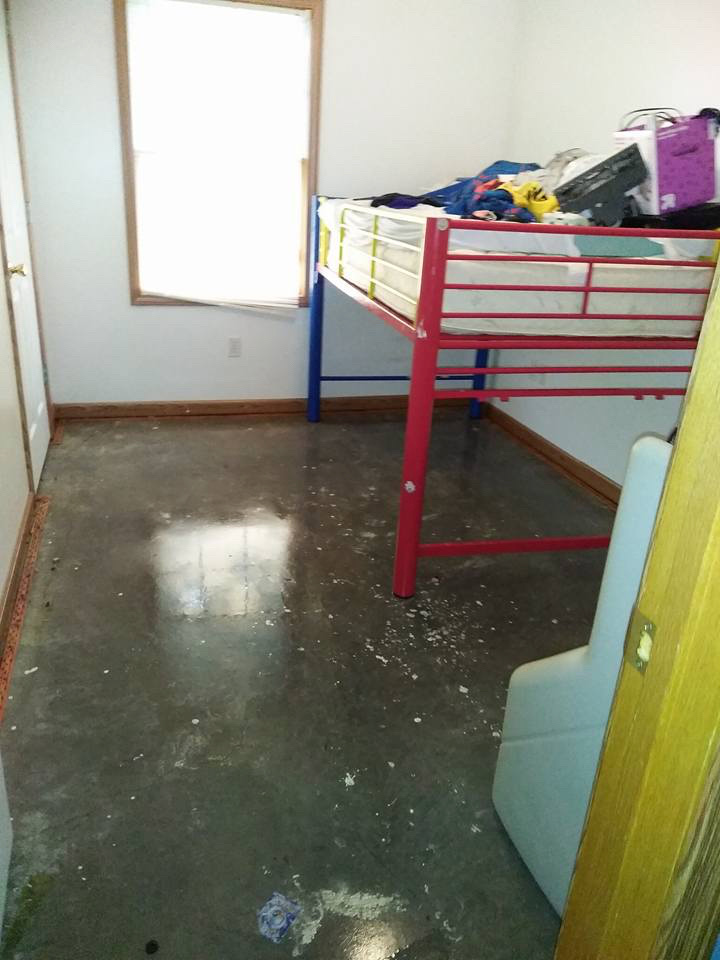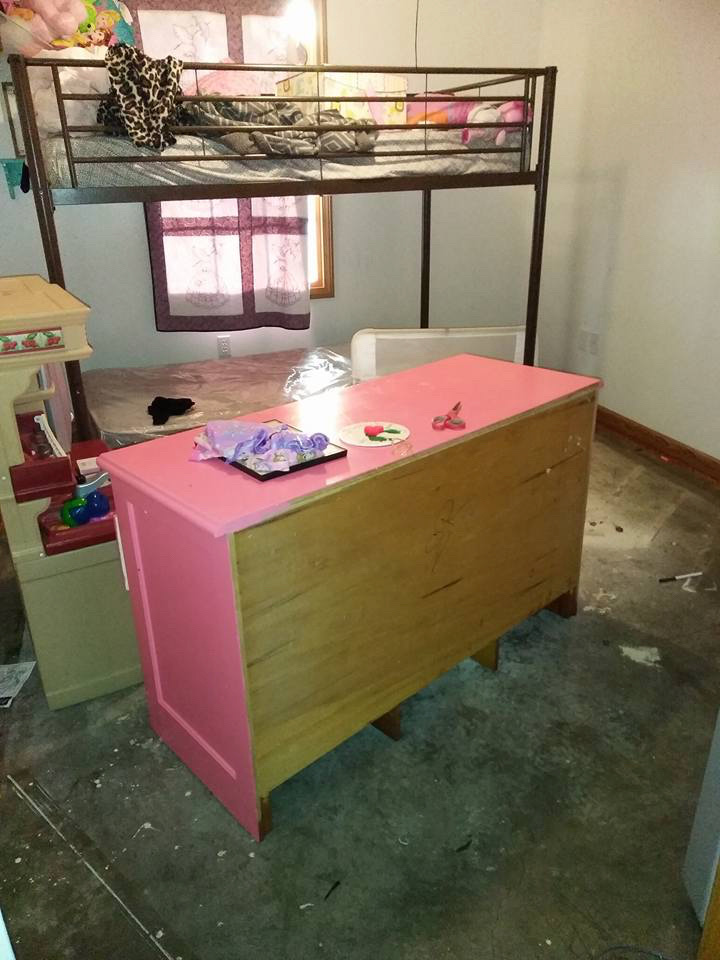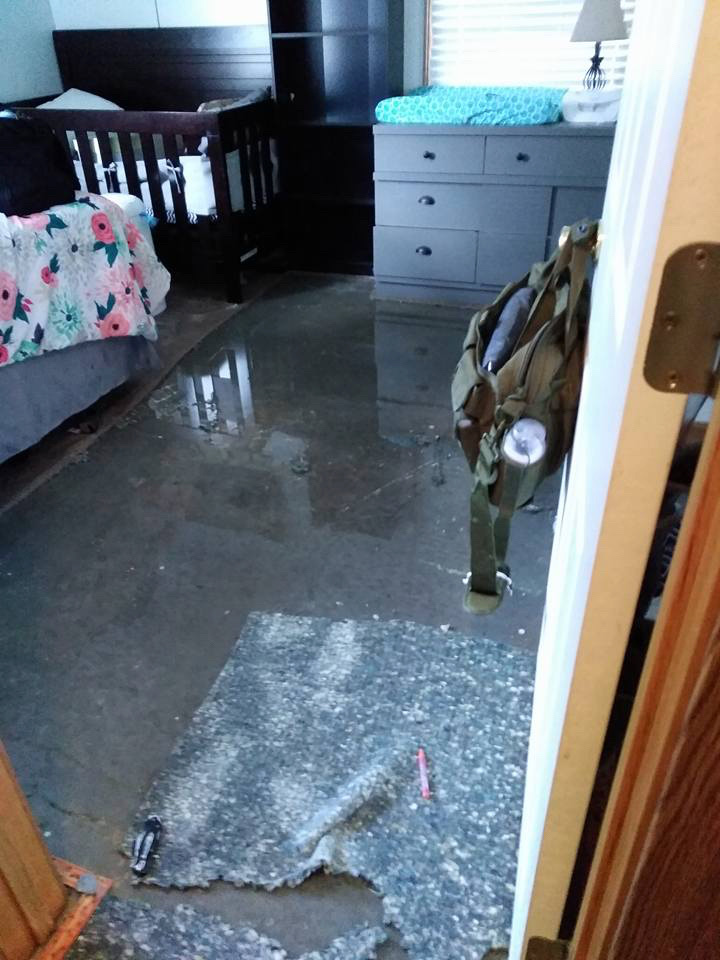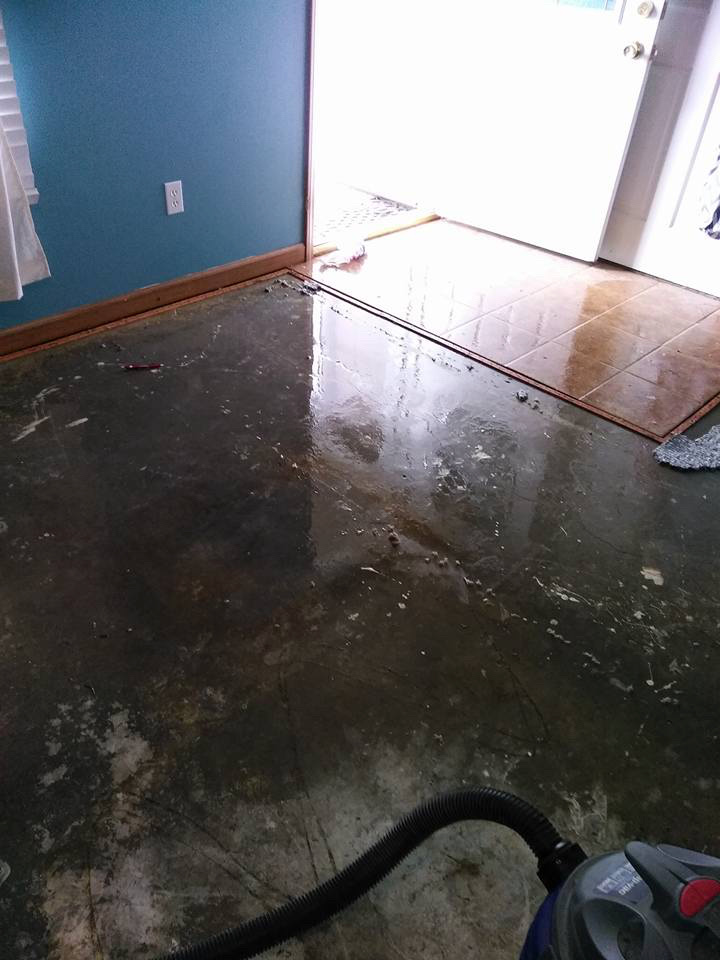 Not a great day for these kiddo's, but glad they are here with us and this too shall pass. These next several days will be full and I feel all out of whack with any kind of schedule.
I don't want my eating to get out of control and I don't want to let eating out become a habit. I really need to come up with a plan.
Tess is coming in this morning for the weekend and I'm leaving here in just a few minutes to pick her up from the airport. We will have lots of family time this weekend figuring out a plan of action to get Kate's house put back together.
Not that it even matters, but here are Tuesday and Wednesday's eats….
Thursday is all a blur and I just wanted a bottle of wine for dinner, but I settled for a few glasses of LaCroix Waters.
Tuesday
Brunch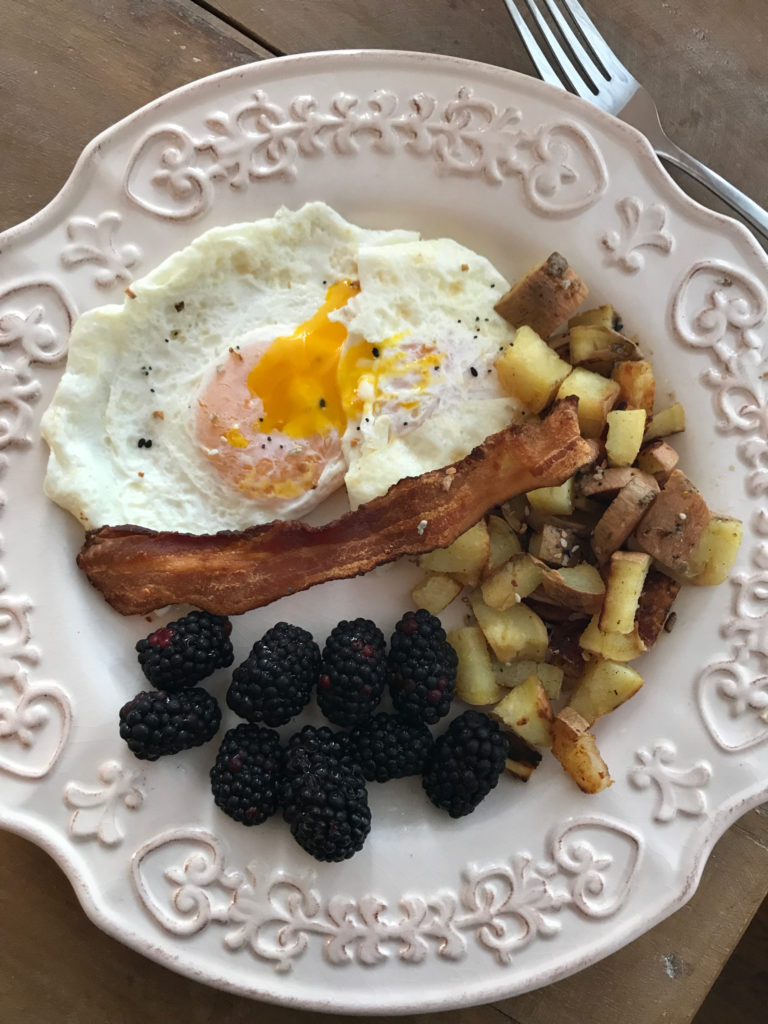 Late Late Lunch
Tuna Salad on a bed of Cabbage and Greens, tomatoes, Roasted Plantains, Avocado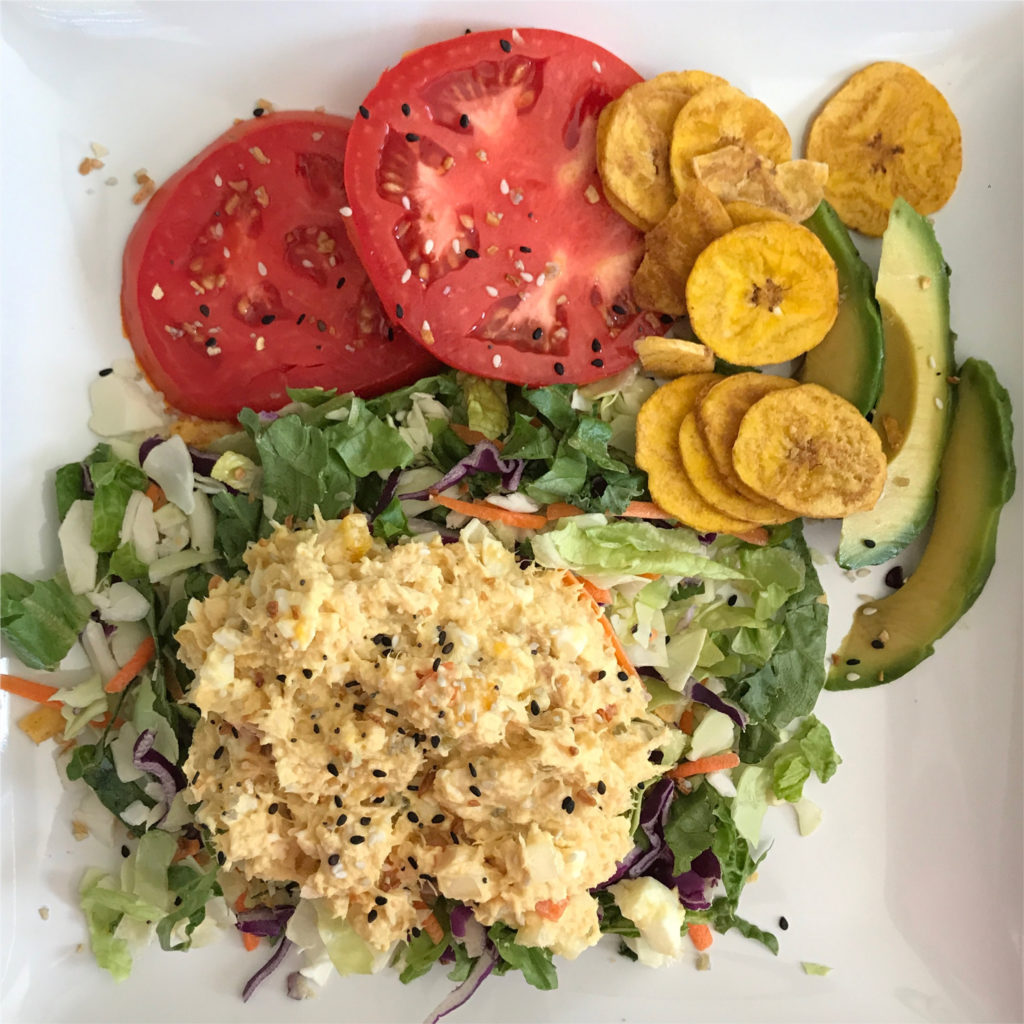 Wednesday
Breakfast
Un-Pictured Banana and Coffee
Lunch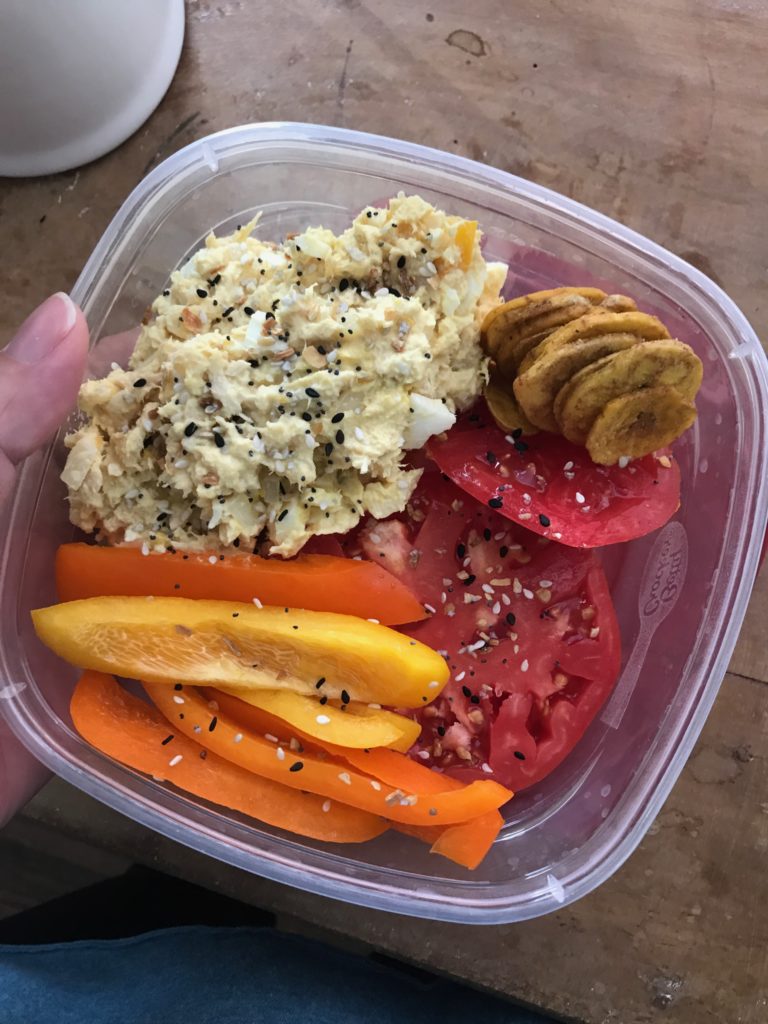 Dinner
Mike and I each had a little of this with Tuna Salad on top, again.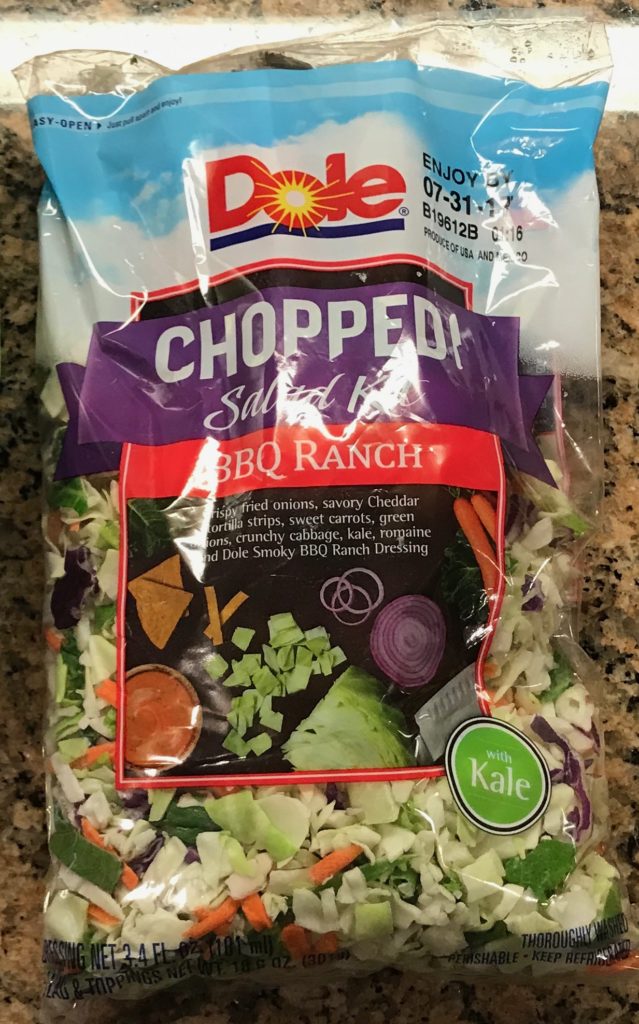 2017 Goals
Make time each week to Meal Plan
Drink 100 ounces of water each day
Exercise 5 days a week
Eat three meals and one snack daily
FOUR 100 Mile Walking Challenges this year! (This goal has changed a little now that I have this fabulous Fitbit.)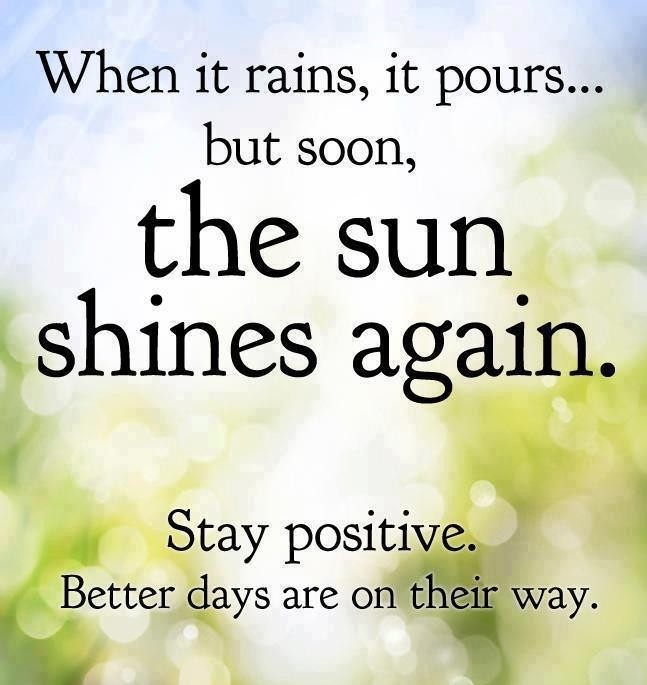 "love the life you live, live the life you love"