Thanks!
Thank you for all of your comments, text messages, emails of encouragement, prayers and for sharing your own stories. I know that so many women have been where I am at now and have come out of treatment feeling strong and healthy and I know that I will do the same. I am feeling extremely lucky that I found it so early.
I met with the oncologist for the first time today.
While Mike and I were waiting for the doc to come into the exam room, I told Mike that I thought that this appointment would be at a desk, having a conversation about my treatment post surgery. I didn't really think about an exam. Mike told me that if the doctor came in and was good looking, he might leave during the exam. Cracking up!
The oncologist (He wasn't un attractive, but Mike must have thought so. He stayed.) said that when women typically find a lump in their breast, it is much larger than the lump that I found. So YAY me for knowing my boobies!! He seemed very impressed. I was like….I know my body dude.
The appointment was extremely informative and I am learning a lot.
However….I am feeling extremely anxious about the fact that I have cancer and nobody seems to be in a big rush to get it out of me or do anything about it! A huge part of me is screaming…."What's the point of early detection if you people aren't in any big hurry to get this out of me???"
It is not necessary for me to have any chemo or radiation at this time, which is awesome. There is a very small chance that I may have some chemo after surgery, and as of right now, no radiation. This is great news.
I am being told that my tumor is slow growing, and that surgery at the end of this month will be just fine. I still have yet to be given a date, and that is what is giving me the most anxiety. I'm trying really hard to trust that they know what they are talking about, but it just seems like a really long time to have to wait!
I am having a double mastectomy with reconstructive surgery and apparently the breast surgeon that will do the mastectomy, and the plastic surgeon that will make my new boobs, are having a hard time finding a date for me that works for the both of them. So right now, I'm a scheduling issue.
Being optimistic is actually pretty easy right now, but I think mostly because I don't feel any different and it's all just talk. Nothing is actually happening. It kinda feels like I am talking about someone else. On occasion, I think to myself…Oh shit..I have cancer!
In other news….
Kate and Shelby and the kids were here for a week, then they left us. If you missed those post, Kate (our daughter) and Shelby and their four children experienced a flood in their house. A few things went to storage, a lot of things went to the garbage, and the house has been gutted.
Shelby's parents are out of town, so they went to stay at his parents house with the kids to dog sit.
They left on Friday? The will be back tomorrow night.
Mike and Shelby have been working on the their house like crazy. Those two boys have spent the last few days hanging dry wall. It is 11:30 pm and Mike still isn't home. I went down tonight for a few hours to do what I could. There is just so much still to do.
Mike was going to do the mudding and taping after hanging all of the dry wall, but Kate found someone today that can come tomorrow and do it! Mike was ecstatic! Mudding and taping tomorrow meant that all of the dry wall had to be completed tonight. There was quite a bit still left to do.
Next, we can paint! Then trim, then carpet. Then….they get to move back in! We are trying to get them back home by the end of the month.
More news…..
Tess and Manuel are coming in this weekend from Dallas! They have a wedding to go to here in town on Saturday, so they decided to come in on Thursday and have a little extra family time with us! Maybe we can put them to work!
The Job
So….at the very first appointment that Mike and I went to after being diagnosed, my phone rang during that appointment. It was my territory manager. Of course I didn't answer, but I saw that he was calling. I knew right away why he must be calling. I knew there was only one reason. I was right!
I called him later that afternoon. After all of this time…….he was calling me to tell me that I was finally going to get my own meeting. It was not an At Work (which I truly do love both of my At Work groups, but I really want a meeting outside of those) but a Weight Watcher meeting open to the public!
I got to pick my day of the week and the time and the meeting would be starting around the last week in August.
You know I had to decline. I told him what was going on and that I knew it wouldn't be fair to have another Leader get the meeting up and going, then I come in and take over. It's just not right. I had to decline.
He was very sweet and he did promise me that he is getting other meetings started before the end of the year and that I will get one. So again, I will be patient and optimistic, but really, that sucked.
Weight Watchers
I finally feel like I am back Weight Watchering. I really have not been eating terrible, but I haven't been paying a whole lot of attention either. No planning, no pictures, no tracking, no walking, no yoga.
These last three days, I did not track points, but I did take pictures and was very mindful about what I ate.
I need to make walking/yoga (at least one of these!) a priority. I think mentally I am just pooped. I really don't mean to make excuses, but I haven't felt like I had the time or energy. MUST WORK ON THAT!!
I know that Yoga will greatly help with the anxiety.
I'm off to work the food truck and forget about the rest of life for a few hours.
Food
Here are some eats from the last few days……
Veggie, Bacon (one slice) and White Sweet Potato Hash topped with that beautiful YOLK!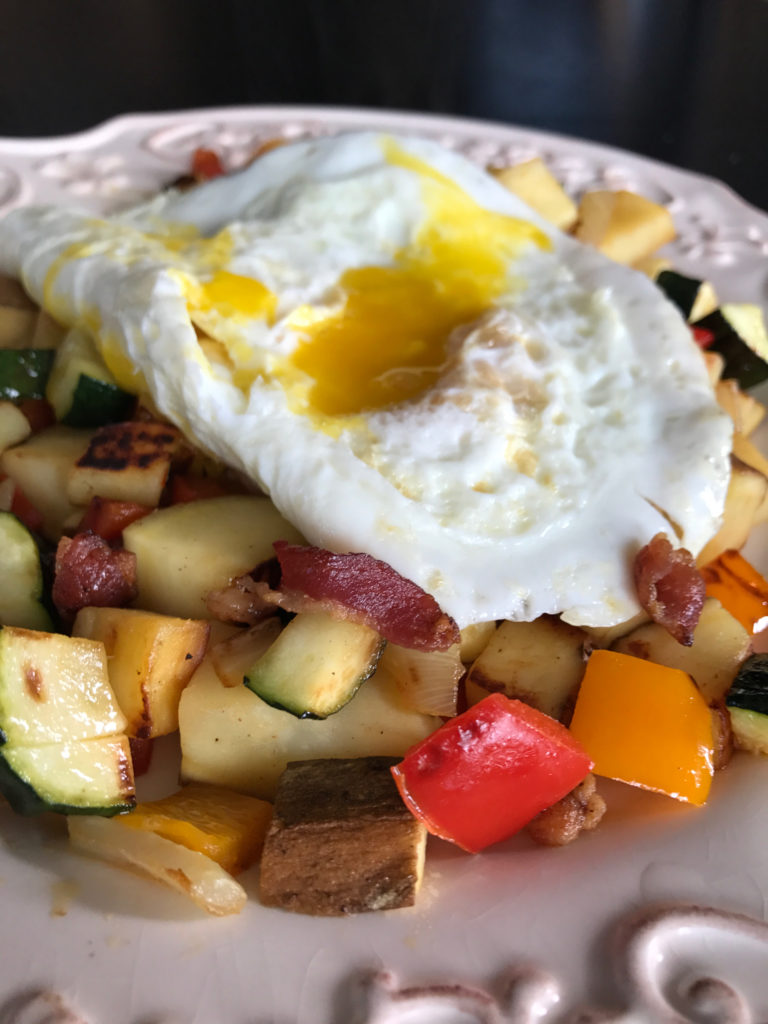 Tuna Salad, a few Roasted Plantains and lots of crunchy veggies.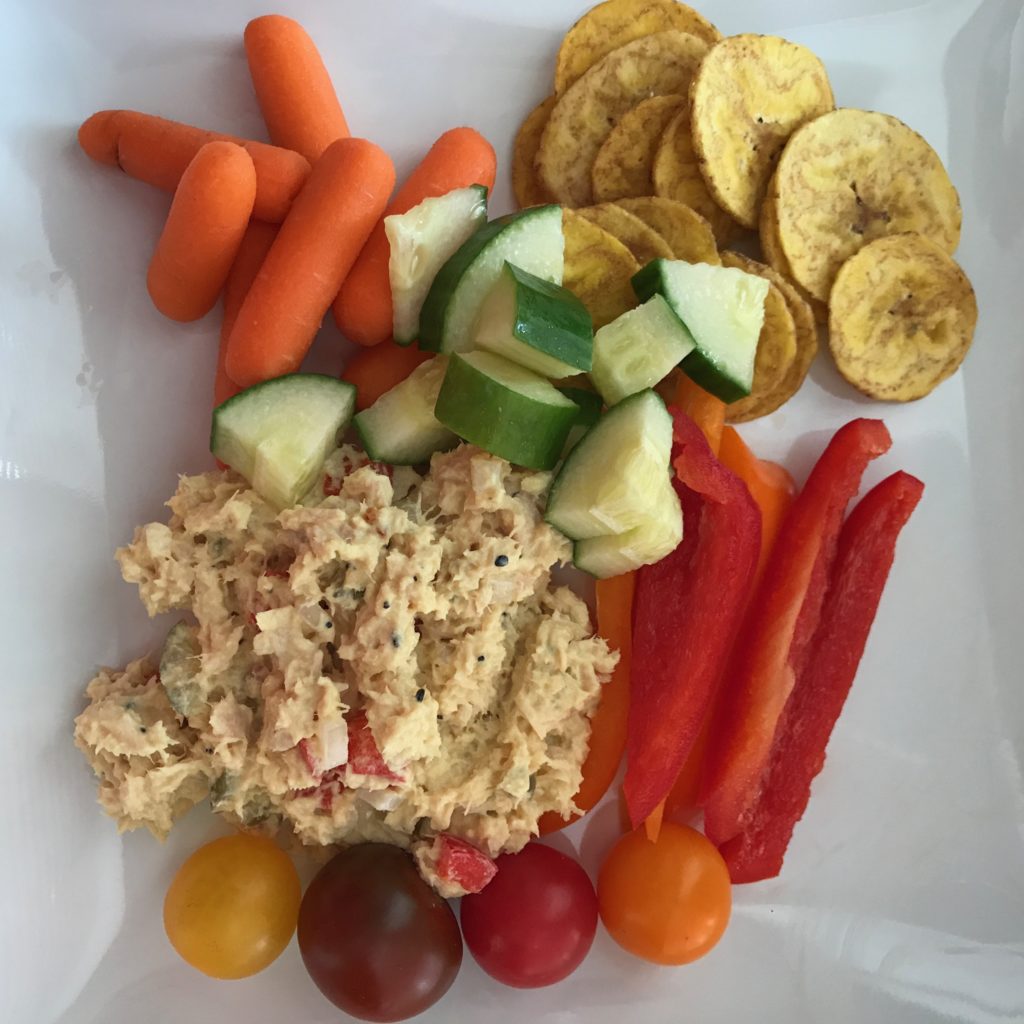 My favorite Salad!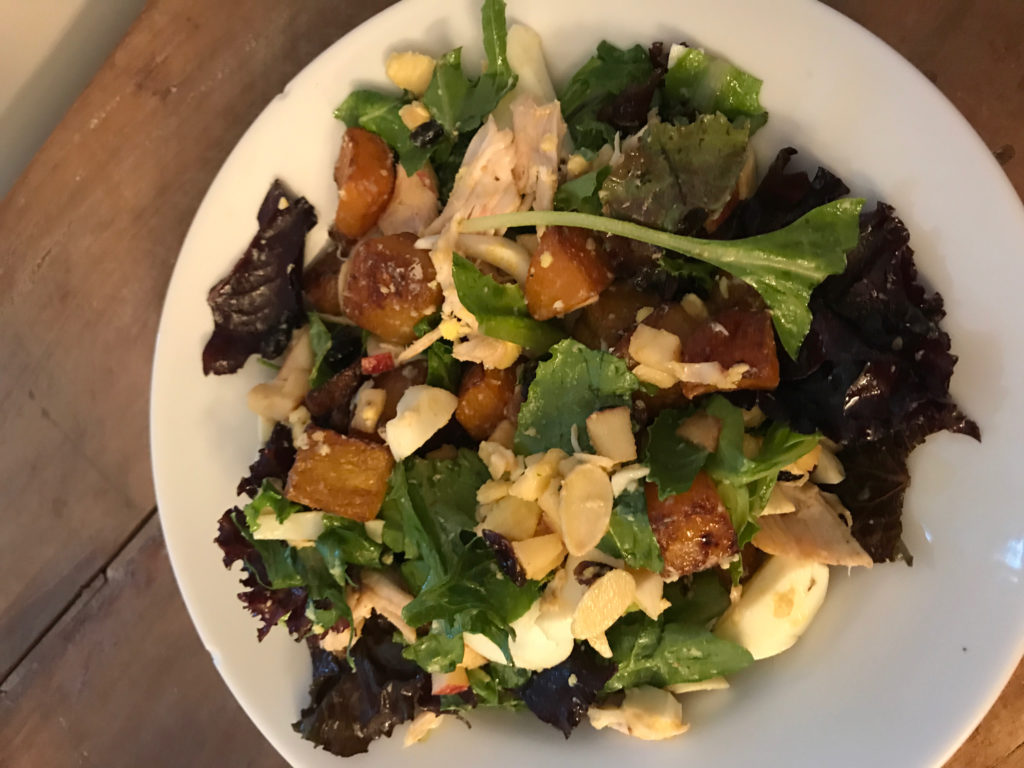 Toast with one Wedge of Laughing Cow sprinkled with Everything But the Bagel Seasoning (great combo!) with Egg Whites and Cherries.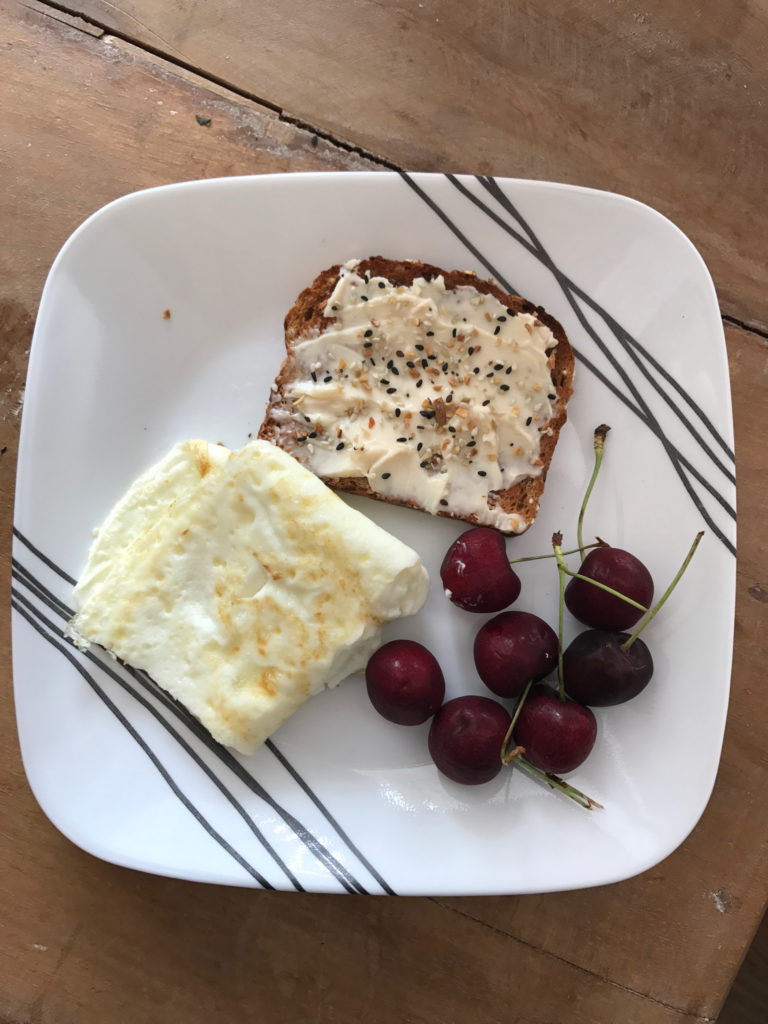 I used this bread for the toast and I really like it! One Slice = 2 SmartPoints.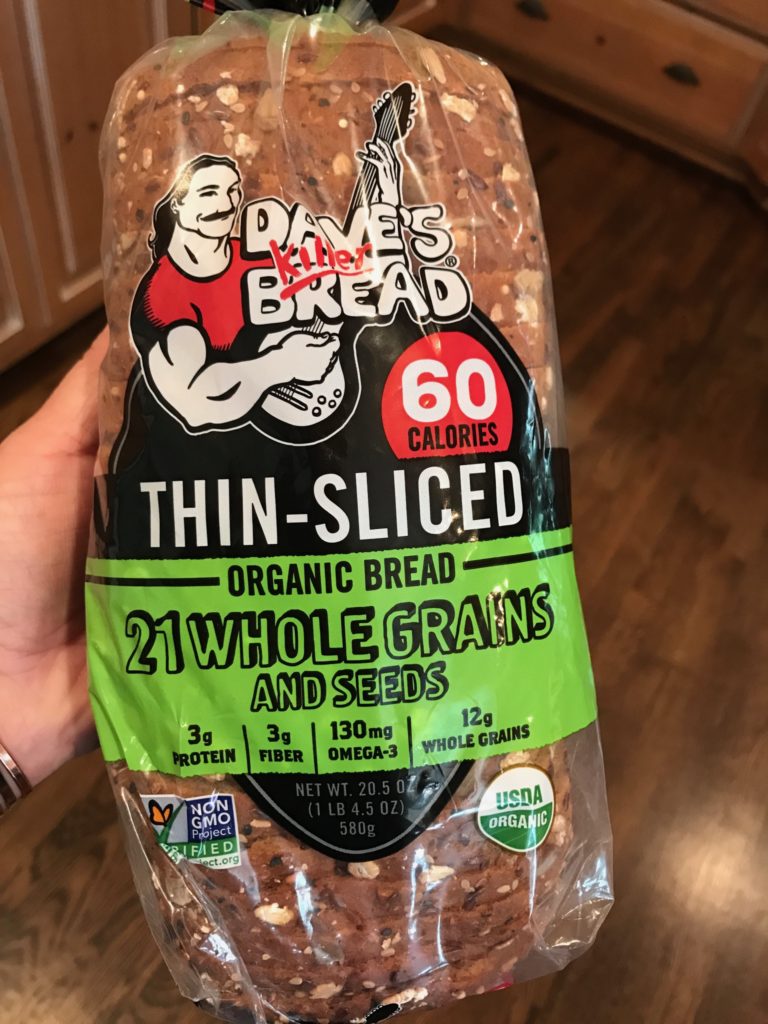 Again with the Tuna Salad and Veggies with some Apple Slices.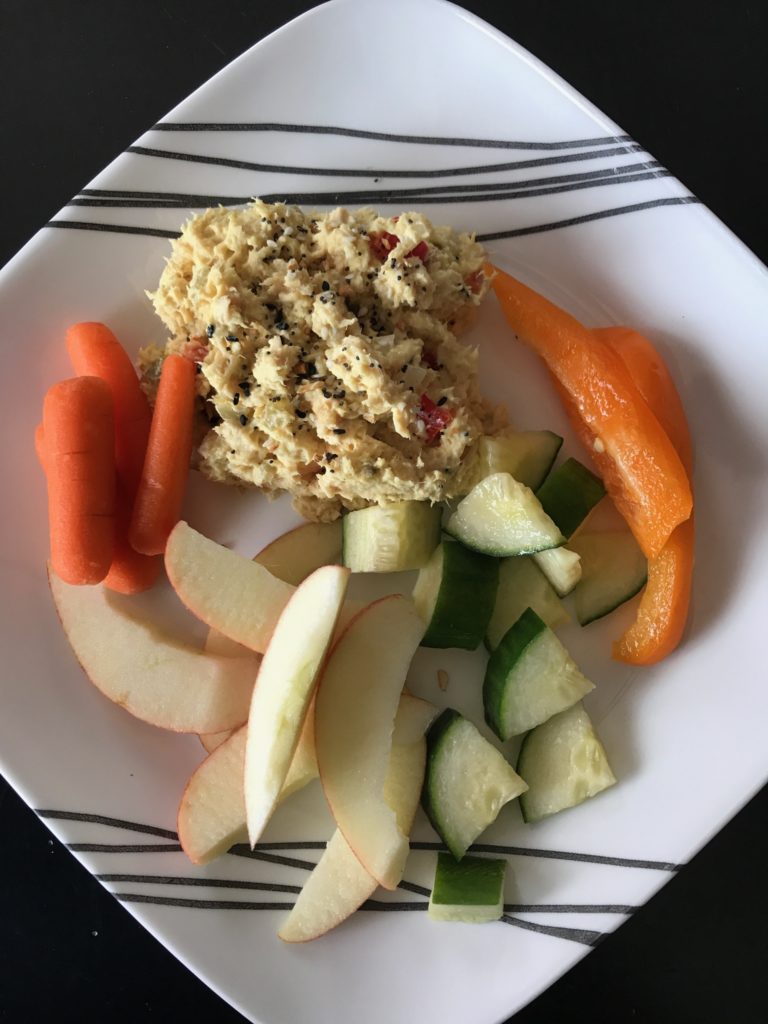 And…..again with the Salad. It's easy. It's delicious. Why not?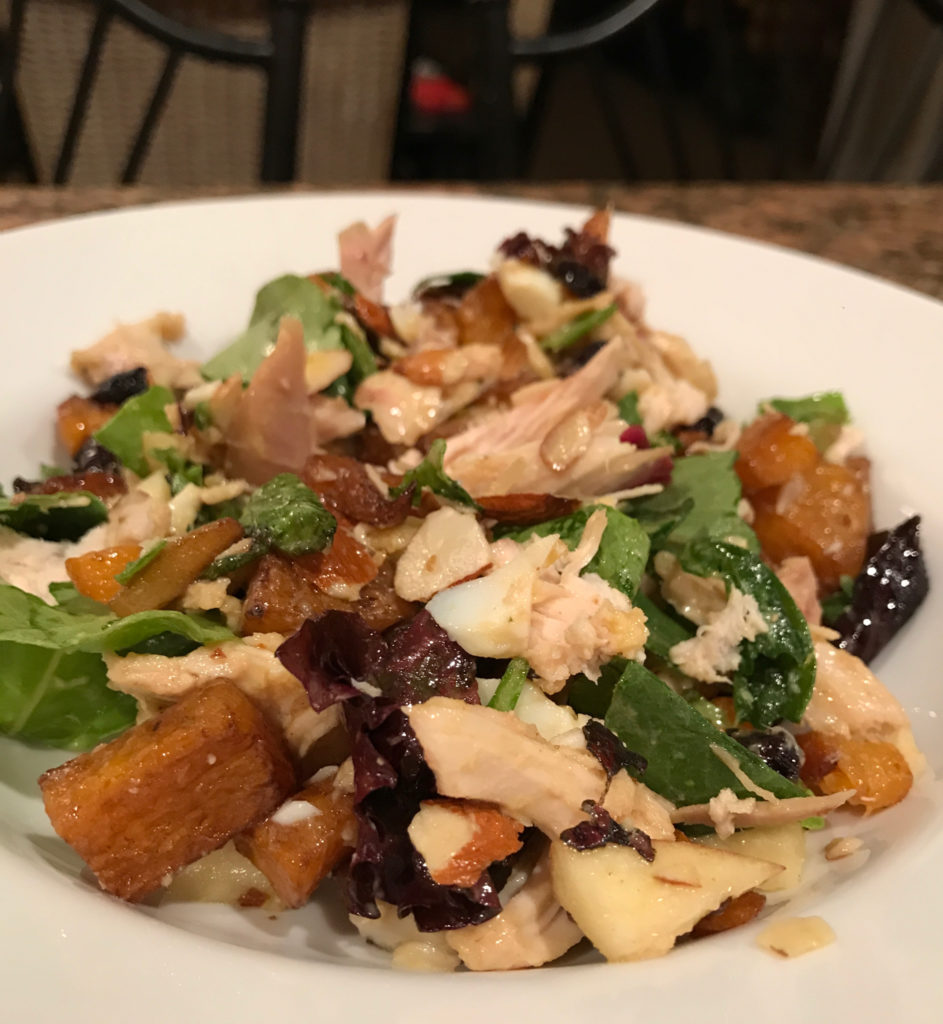 Wine with friends.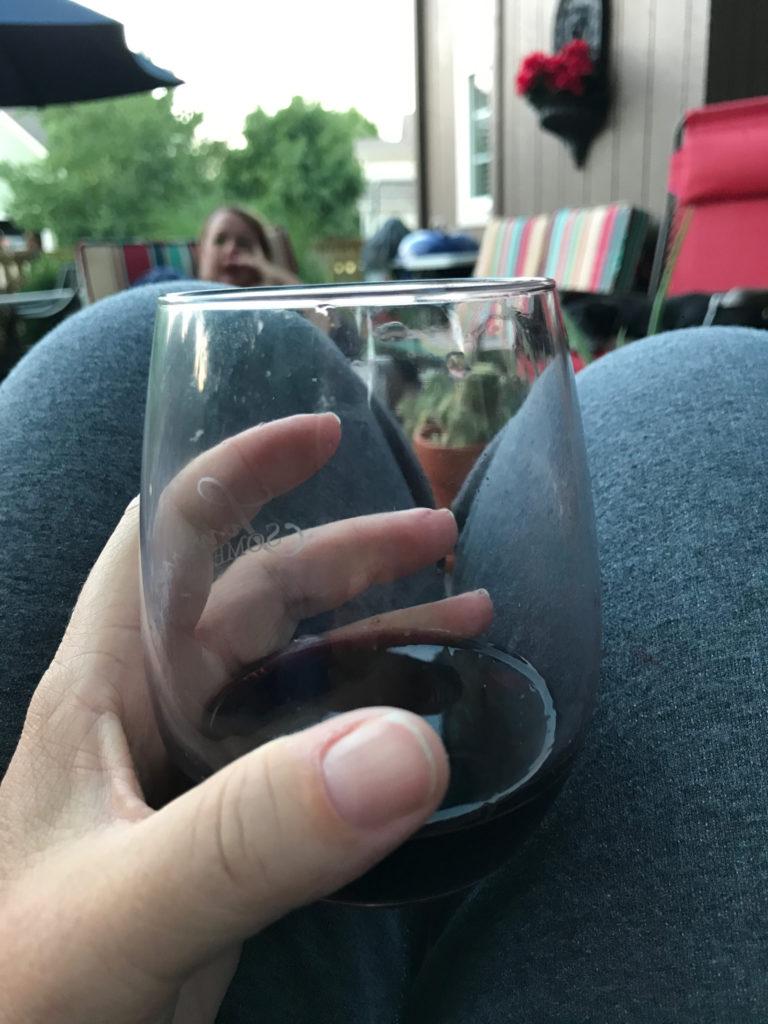 I needed just a little something before my appointment today, but had a nervous stomach, so I went with 1/2 of this Blueberry RX Bar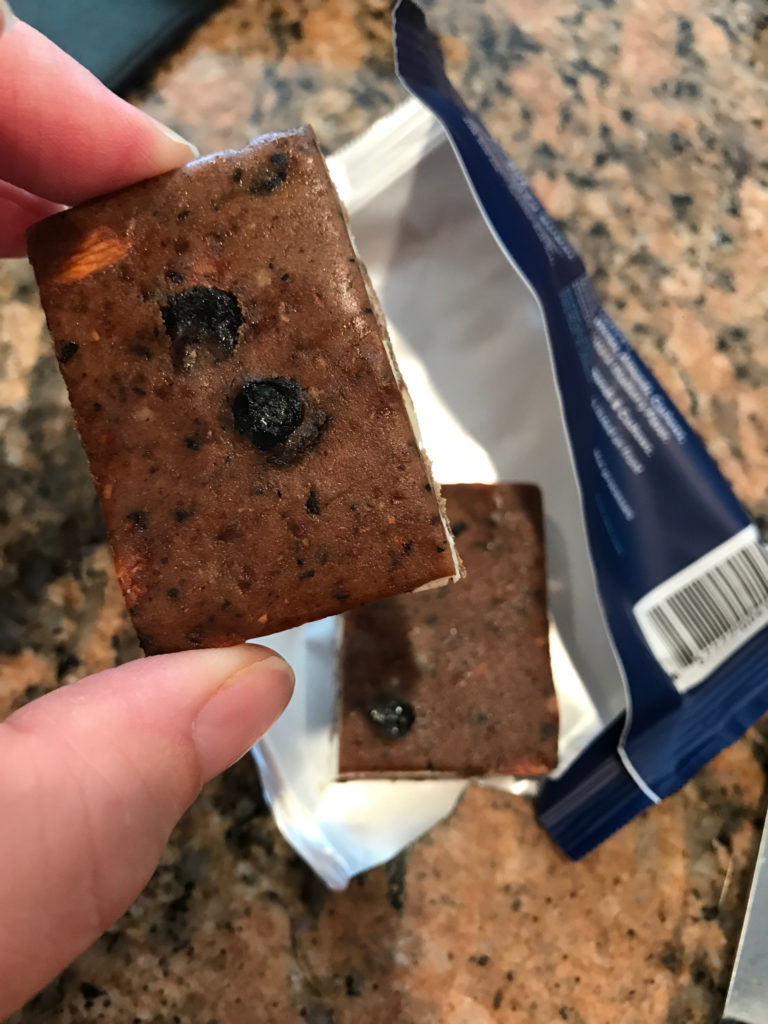 My Chicken Salad looked more like Grape Salad today, but those grapes were so juicy I couldn't help but add a lot to this salad!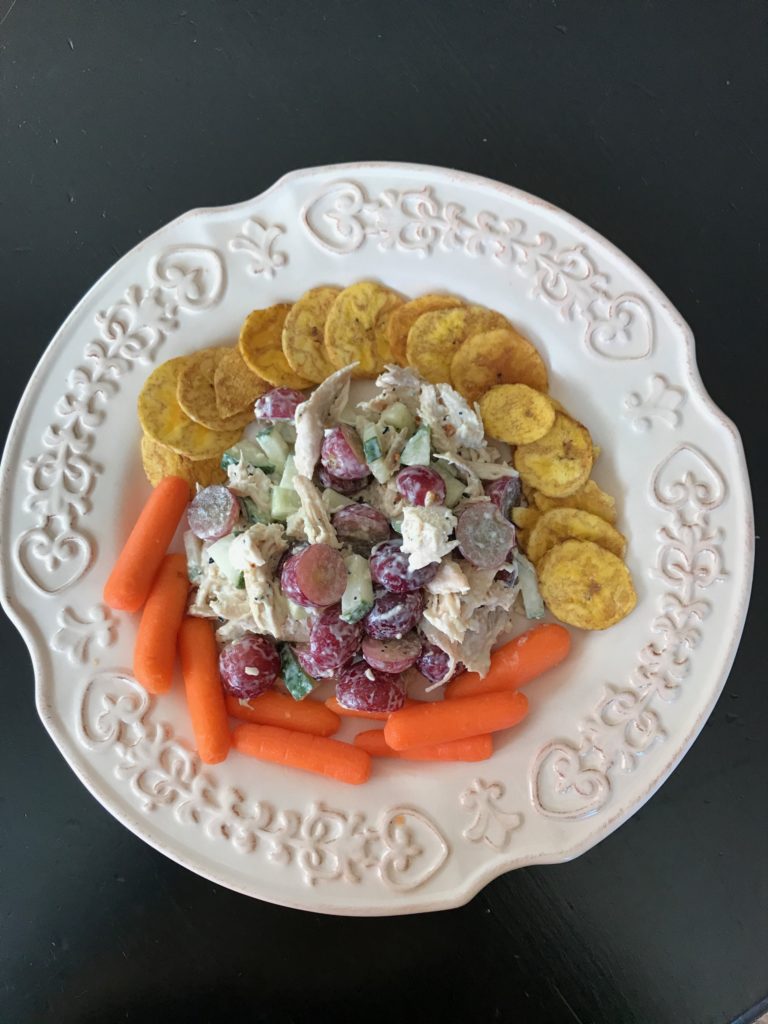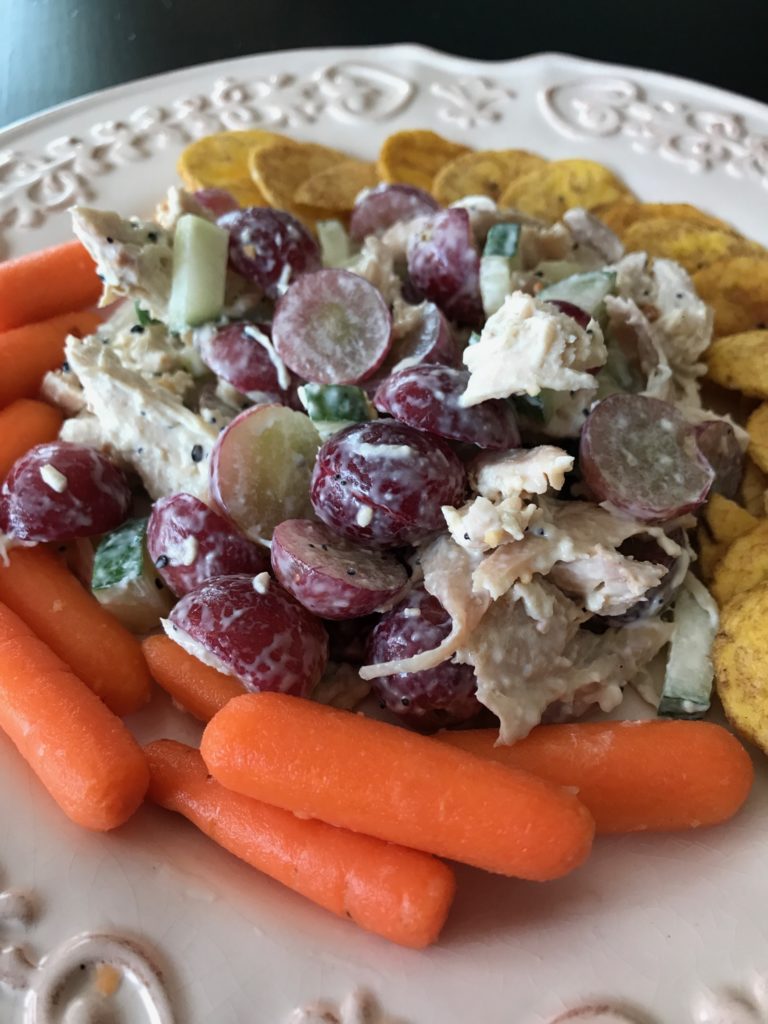 I use this mayo and I love it too!
I do love the Trader Joe Roasted Plantains, but I found these at Whole Foods and they taste just as good!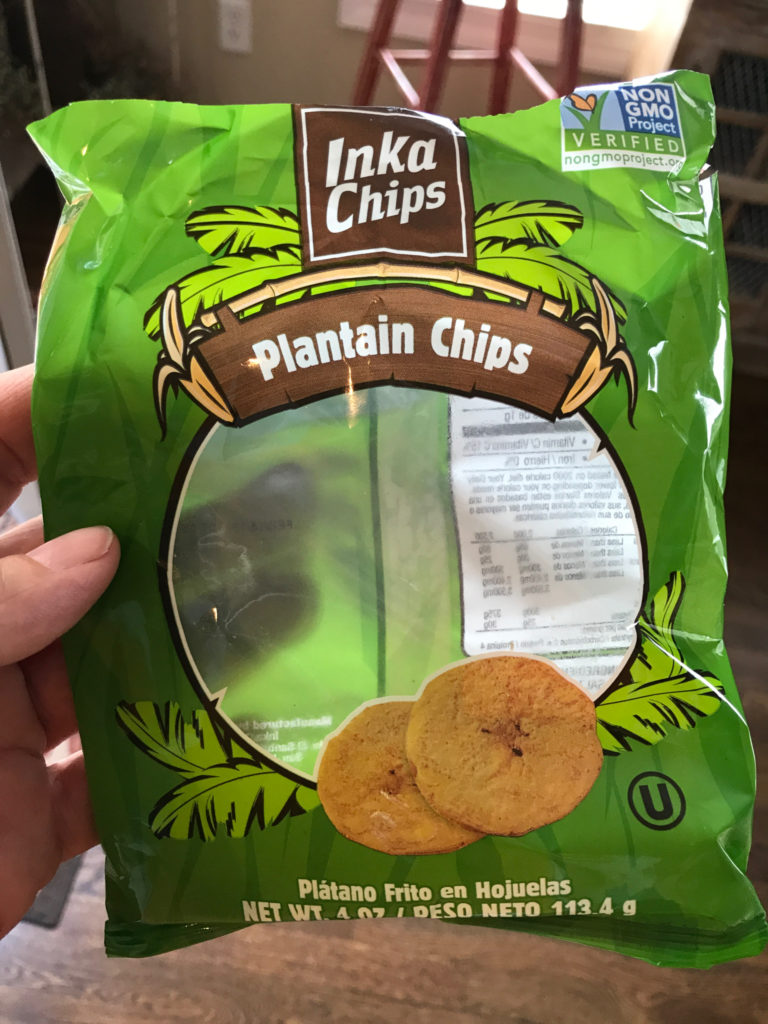 I got home at around 9:00, so I wanted something easy.
Sausages, Bell Peppers and a few Potatoes that were already cooked tossed in the skillet! Easy…..
I ate about half of this, saved the rest for the hubs.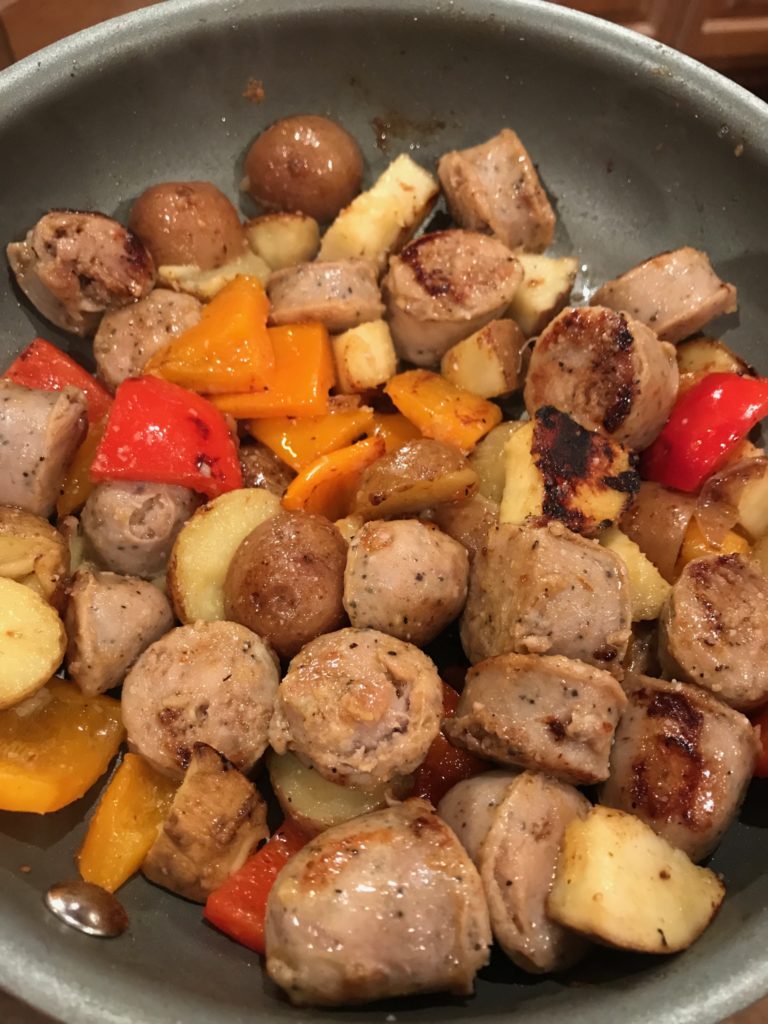 Loving these! I found these at Whole Foods.
One Sausage = 2 SmartPoints!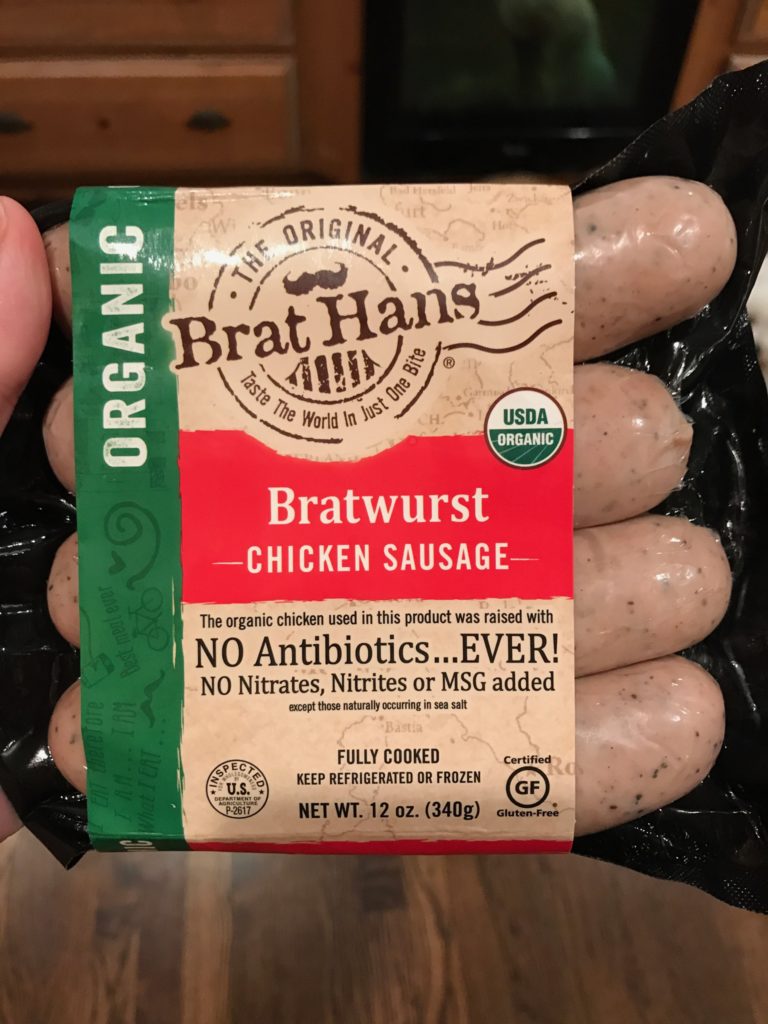 2017 Goals
Make time each week to Meal Plan
Drink 100 ounces of water each day
Exercise 5 days a week
Eat three meals and one snack daily
FOUR 100 Mile Walking Challenges this year! (This goal has changed a little now that I have this fabulous Fitbit.)
When I found this, I knew it was perfect for this post!
I totally feel like a turtle right now, moving so slow through this whole process, but at the same time, feeling positive and optimistic.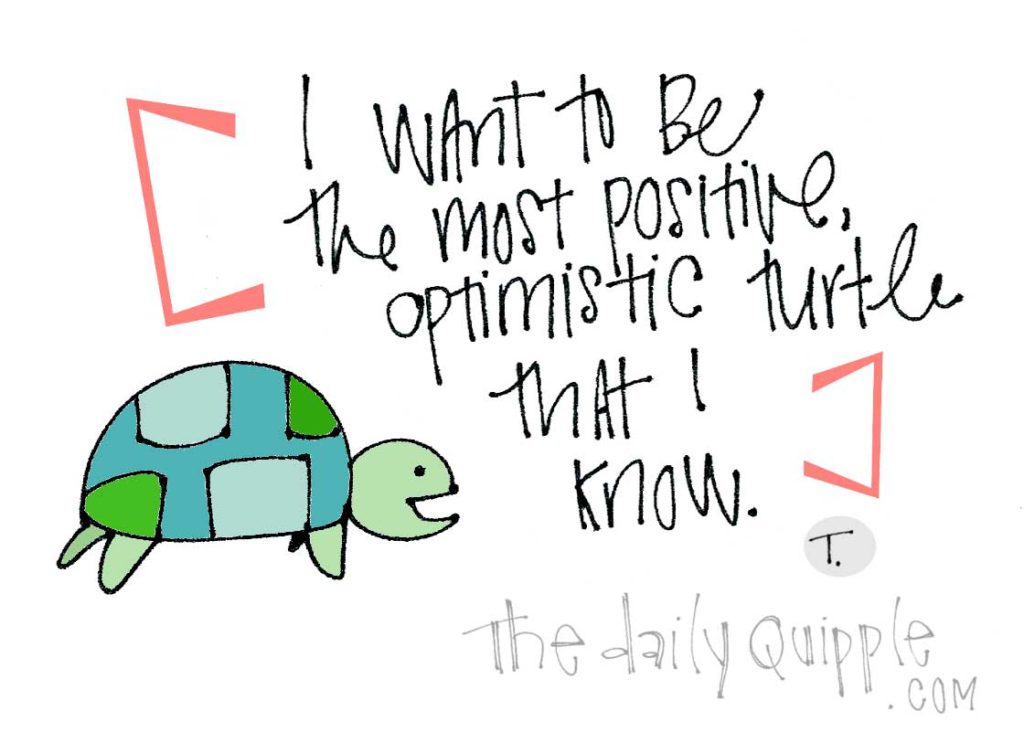 "love the life you live, live the life you love"