I crossed that line of "I feel like crap" to" I feel like myself and I think I got my spunk back!" in the last few days.
I'm four weeks post op of my double mastectomy and finally feeling like myself.
It has been a very busy five days, but I feel really good physically and mentally and I'm looking forward to these next two and a half months before my reconstruction surgery in December.
I went to my girlfriends farm Tuesday through Thursday. We sipped on coffee, sipped on wine, ate yummy food, hunted bittersweet, snuggled up around the fire outside, listened to music, shared stories and got a little sleep in there too. I'm never ready to come home when I go there.
This is the only picture that I took…..but it sums up my two days of peace and quiet and enjoying being outside.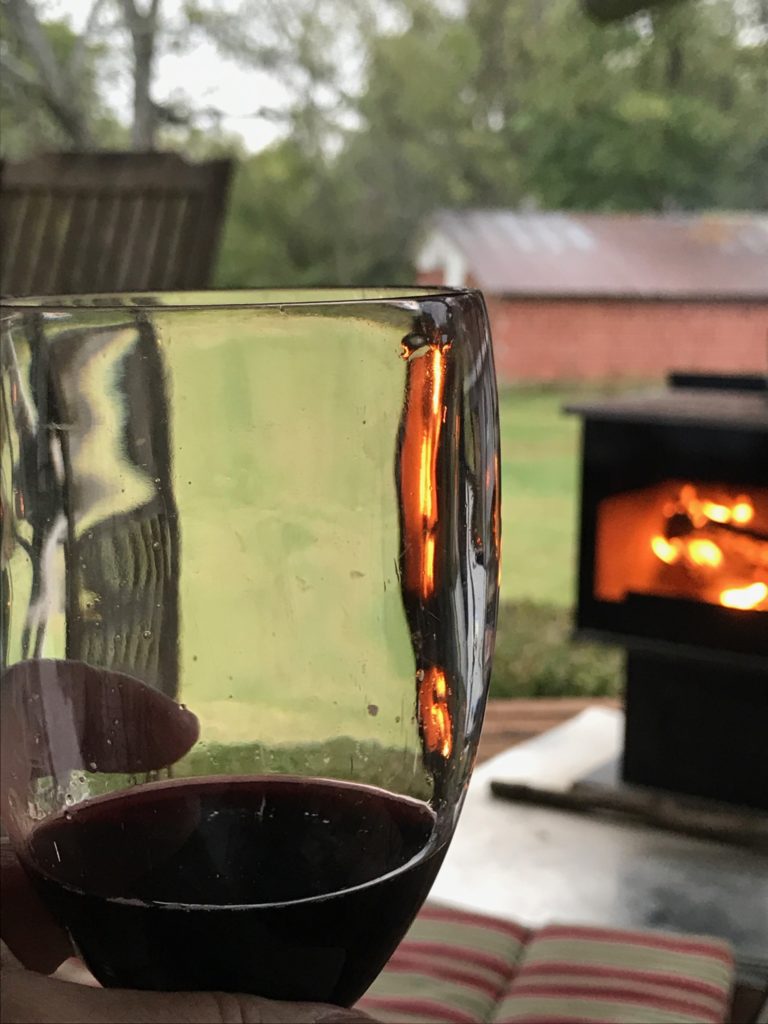 Chemo? Nope.
My oncologist called while I was at the farm to let me know that I do NOT need Chemo!!!!
YAY!! In the Cancer world, I really do feel like one of the lucky ones to not need any radiation or chemo.
The Hub's
Mike's test results came back and the bit of fascia that was removed from his shoulder last week did have some of the cancerous tumor in it, but the layer of muscle that was removed below the fascia DID NOT!! YAY!!
Taking that extra layer to test was a great decision by the doc. Thanks Doc!! Mike will do follow up in one year. So happy that the doc could sew him up and not have to do the skin graft!
So much happy news!!
On Friday I attended an all day conference called L.I.V. This was their 20th year. My therapist (I think everyone should have a therapist. Her name is Hope. No Joke! I love this woman!) told me about the conference several months ago and she thought that I might enjoy it. I didn't hesitate and bought a ticket.
I plan to attend next year and every year after that! I loved it! If you are local, I strongly encourage you to go too! So much great health and wellness info for women of all ages. The event sells out, so think about it and buy your tickets early!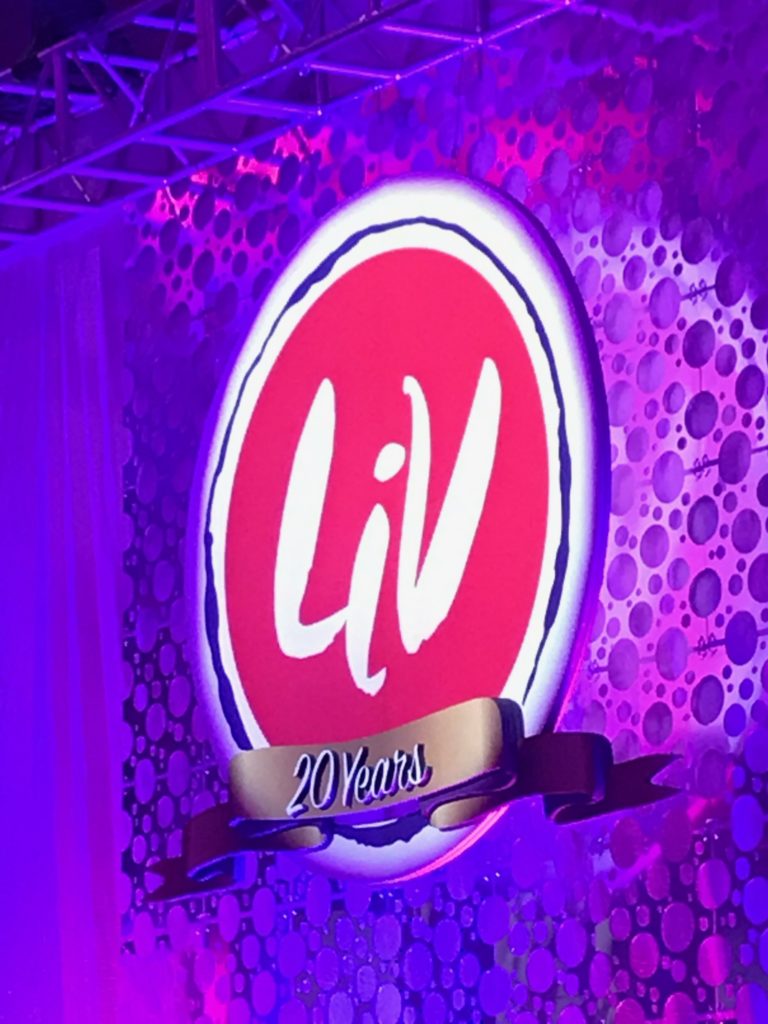 The day included…
Breakfast with Key Note Speaker, Heidi Hanna, PhD. Topic – Optimism – Stress & Recharge. She was awesome!
Breakout sessions to choose from…I went to the Meditation one with Tom Jacobs. Loved it. I plan to visit his Retreat House soon!
Lunch with a Key Note Speaker, Karyn Ruth White, Humorist and Motivational Speaker. The importance of finding humor in all things. Loved!!
Breakout Sessions to choose from….I went to the Essential Oil one. Loved it. So much info!!
Afternoon Keynote Speaker, Glennon Doyle, Author, Truth Teller, Hope Spreader. Loved them all, but she was my favorite!!
Tickets were $50. Not only did that include breakfast, lunch, coffee, water and tea throughout the day, there were also little surprises on the chairs and tables and I came home with a great big bag full of goodies!!!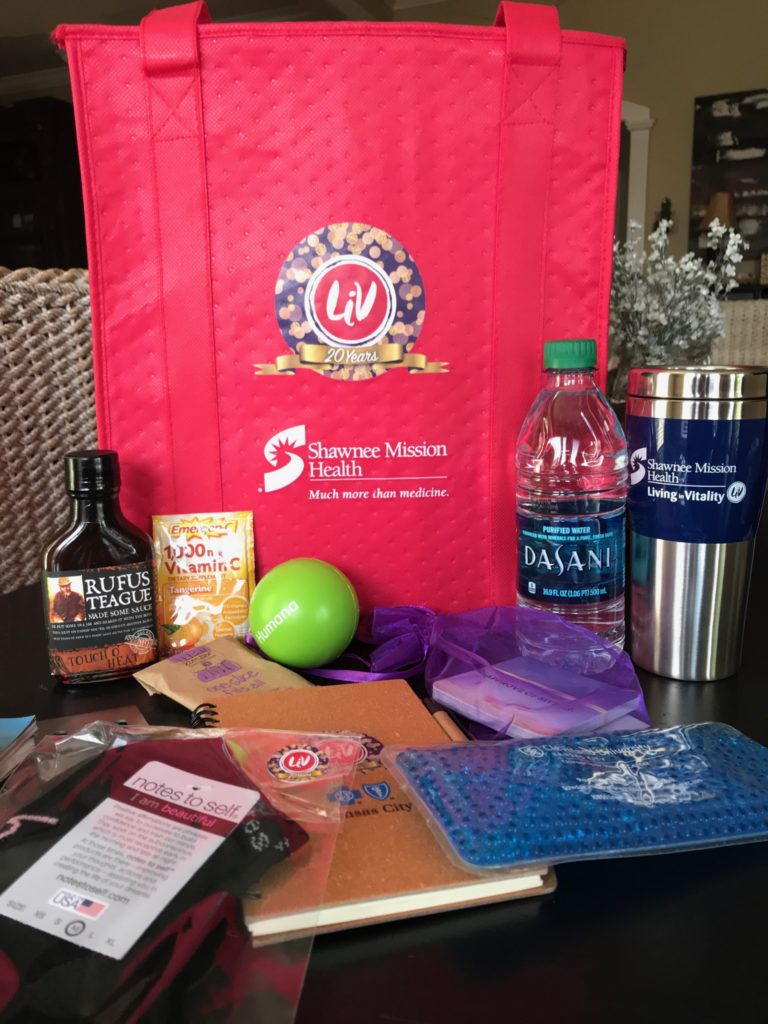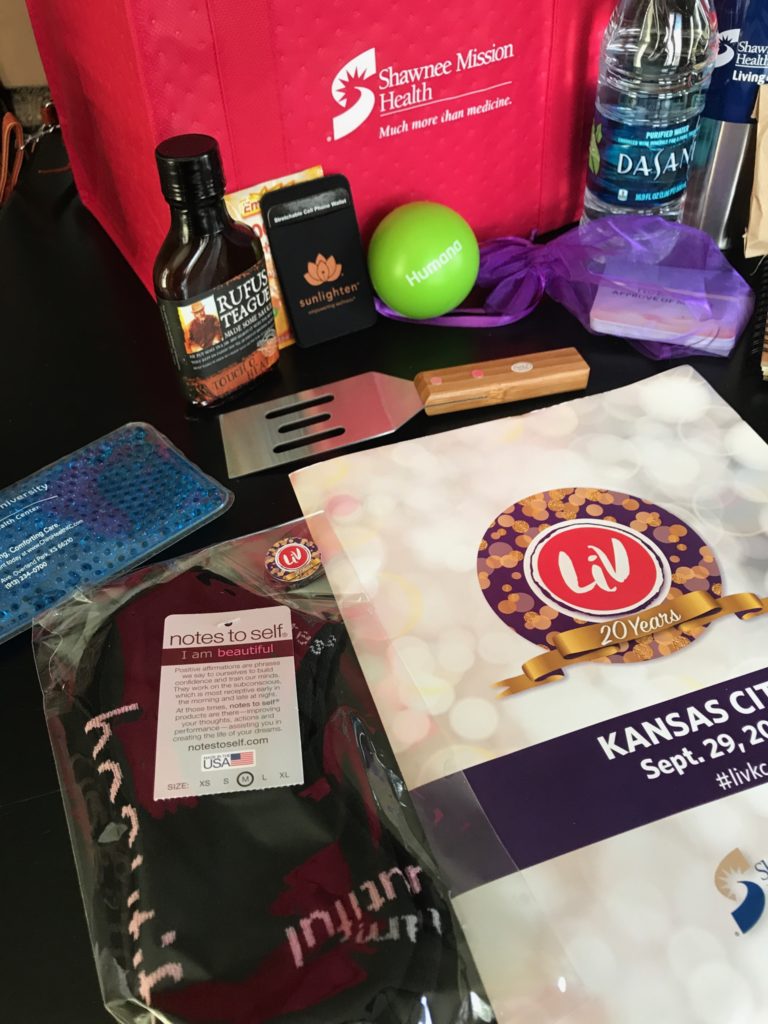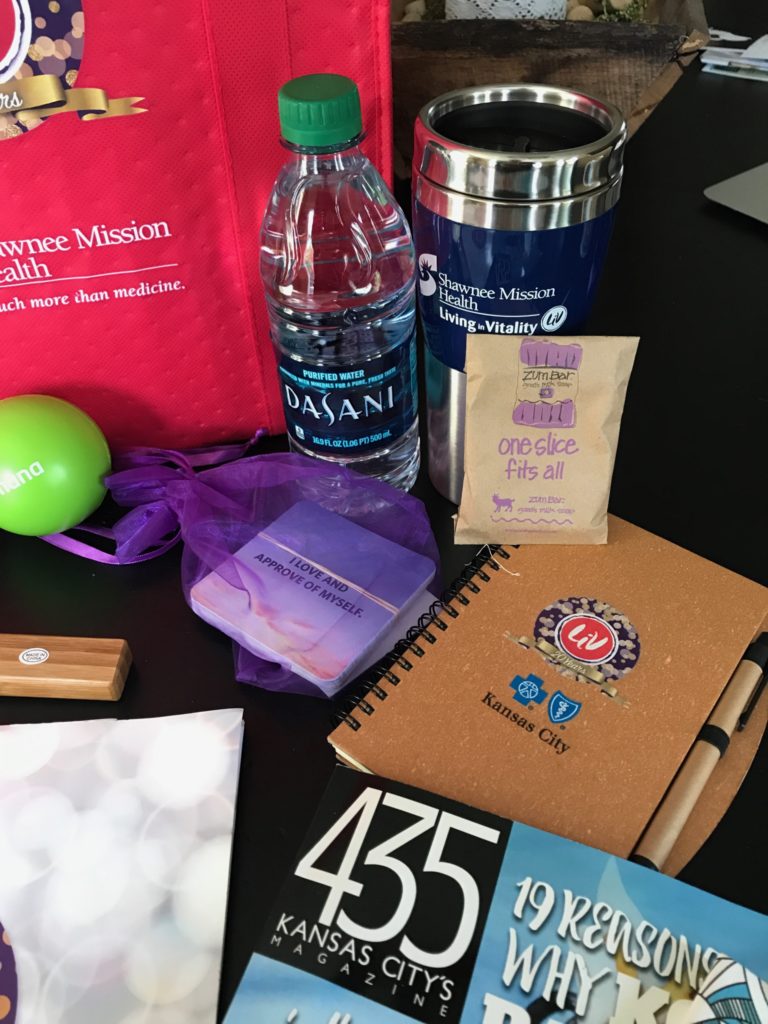 I wasn't sure how I'd feel after a few days away from home, then an all day conference, but I felt great! Tired, but happy.
Mike and I relaxed on the deck with a cold beer when I got home and caught each other up on our day. It felt good for both of us to feel normal.
Back to Work
I won't be back in the WW meeting room this week, but I will spend a lot of time this week preparing to go back next week. I'm going to hold off on going back to the food truck just yet. There is a lot of stretching and moving around in that little truck and it's a fast pace that I'm not sure my body is ready for.
Breast Cancer Awareness Month
I can not think of a better month for me to be able to go back to work! I am eager to get back into the WW meeting room to encourage my members to continue down the road of healthy living and share the importance of annual mammograms and self breast exams. Early detection can make a big difference and being strong mentally and physically can make for an easier recovery if surgery is required.
As a Weight Watcher Ambassador, we receive lots of great freebies! While I was away at the farm, my Breast Cancer Month freebies were delivered!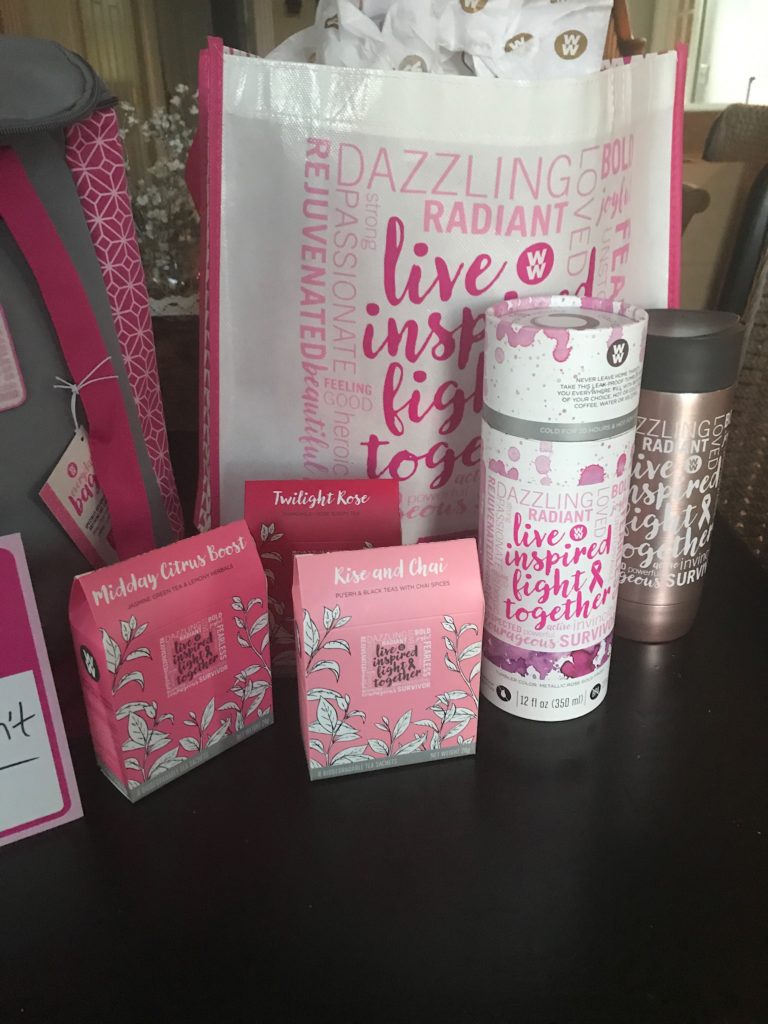 As an Ambassador, I received this great shirt! My pretend boobs don't look too shabby in this shirt!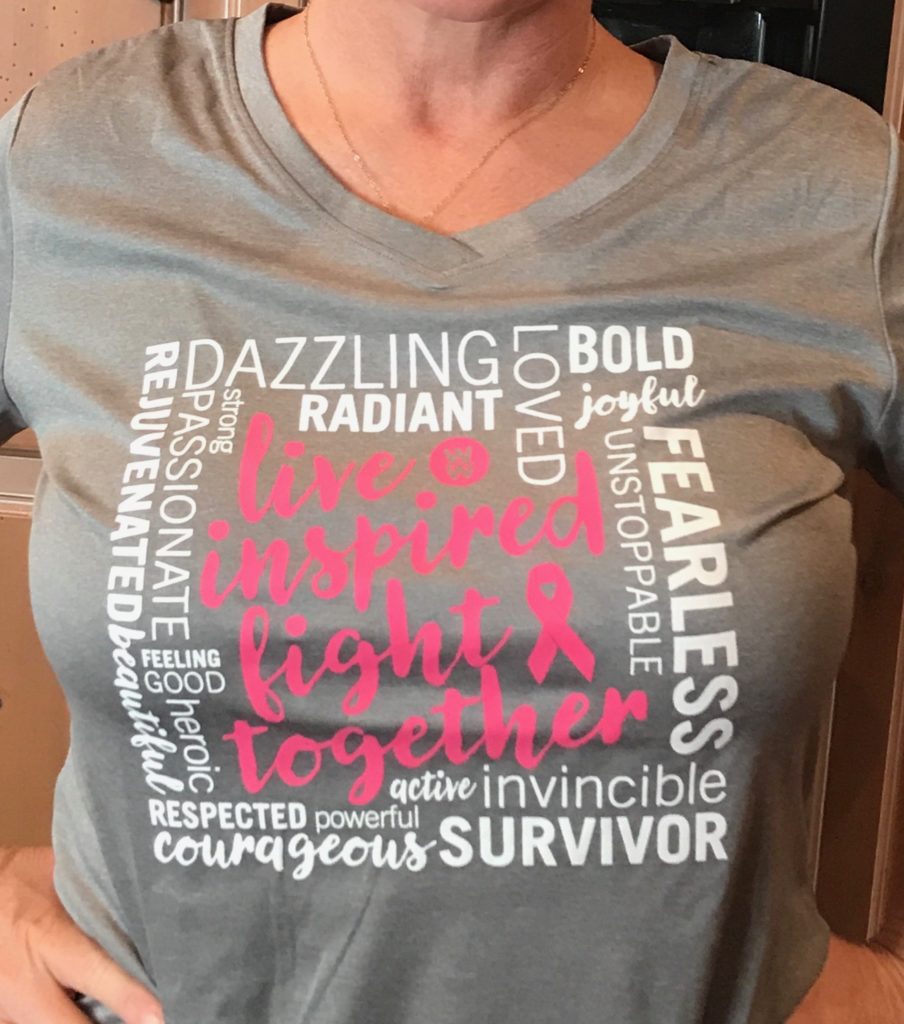 The Tea Tumbler, Tea and the Everyday Bag are available while supplies last in the meeting room and online at Weight Watchers.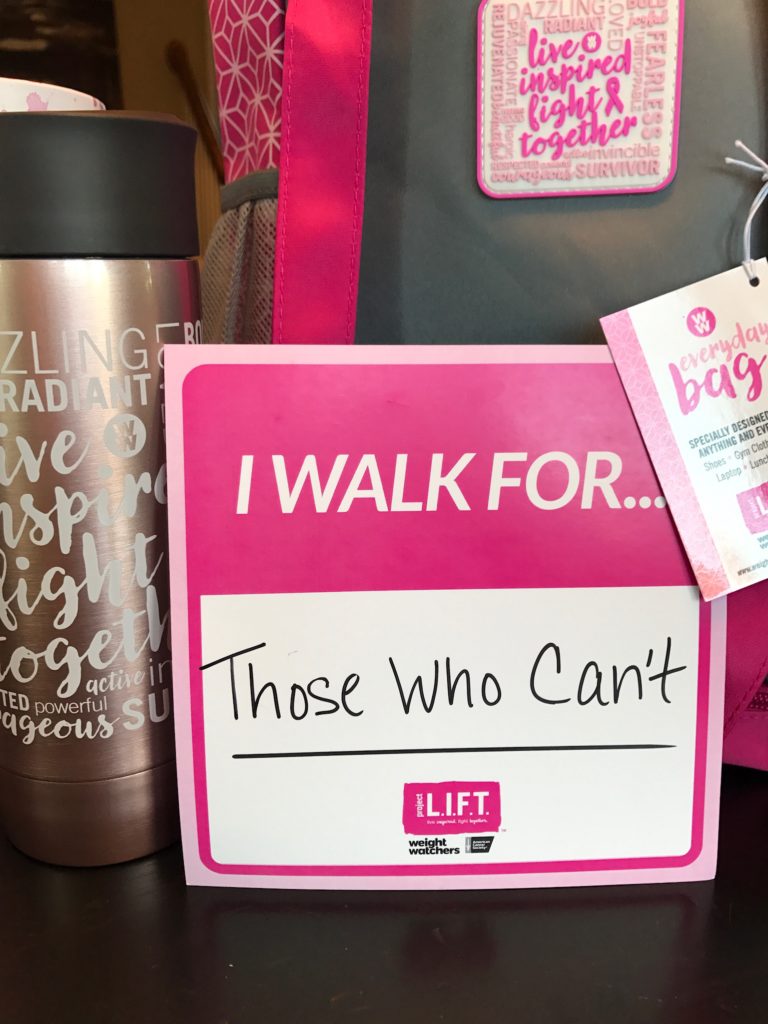 I love my hot tea every night, so I'm looking forward to trying these flavors! Love the Tea Tumbler!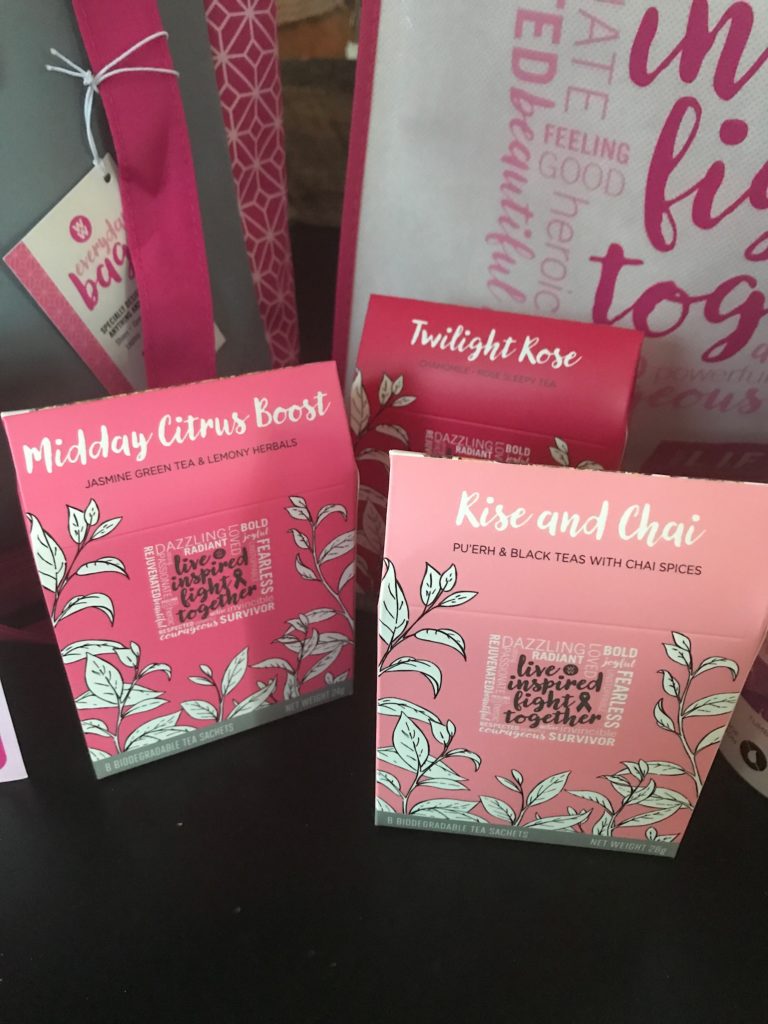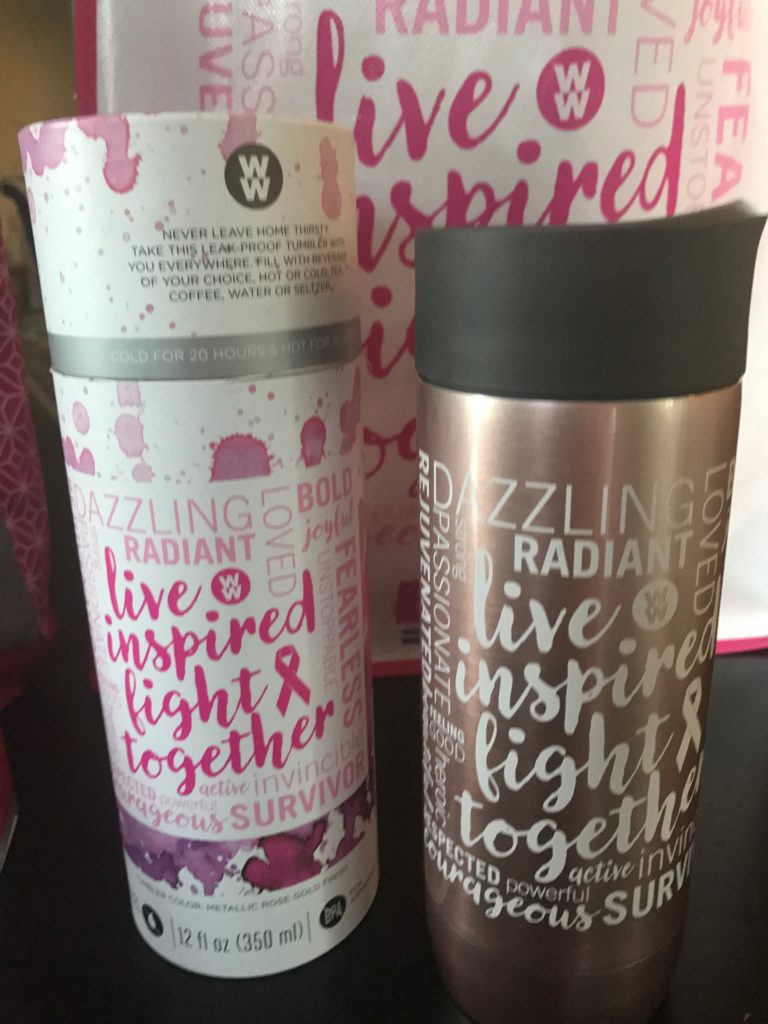 I can think of a gazillion uses for this bag!!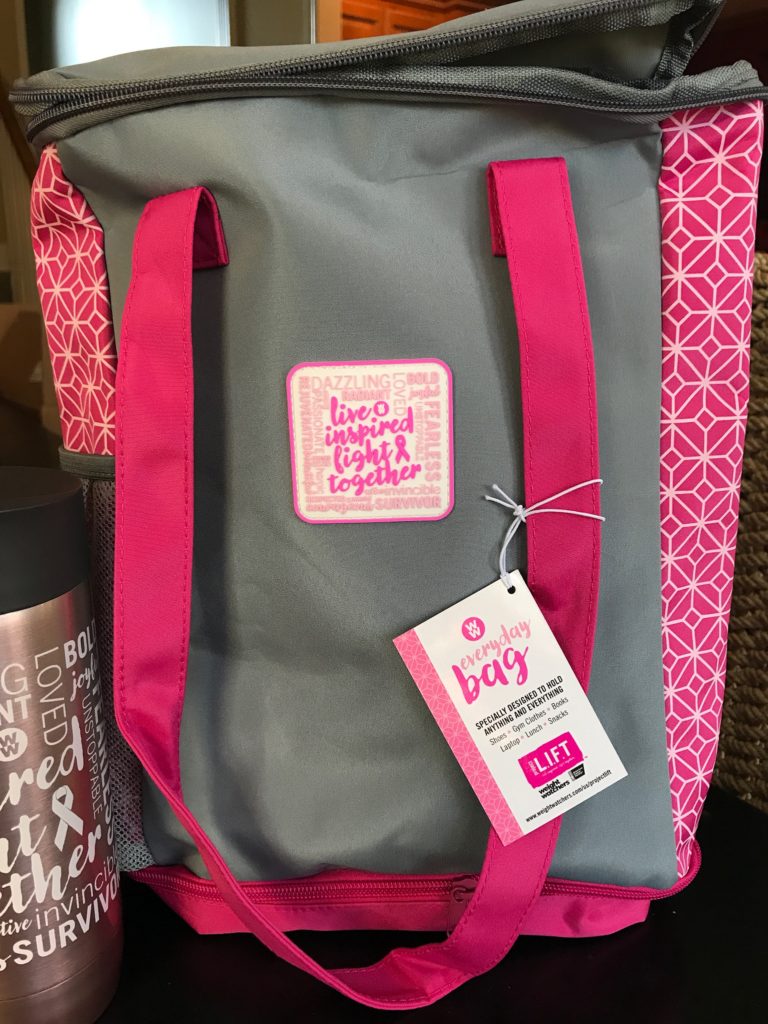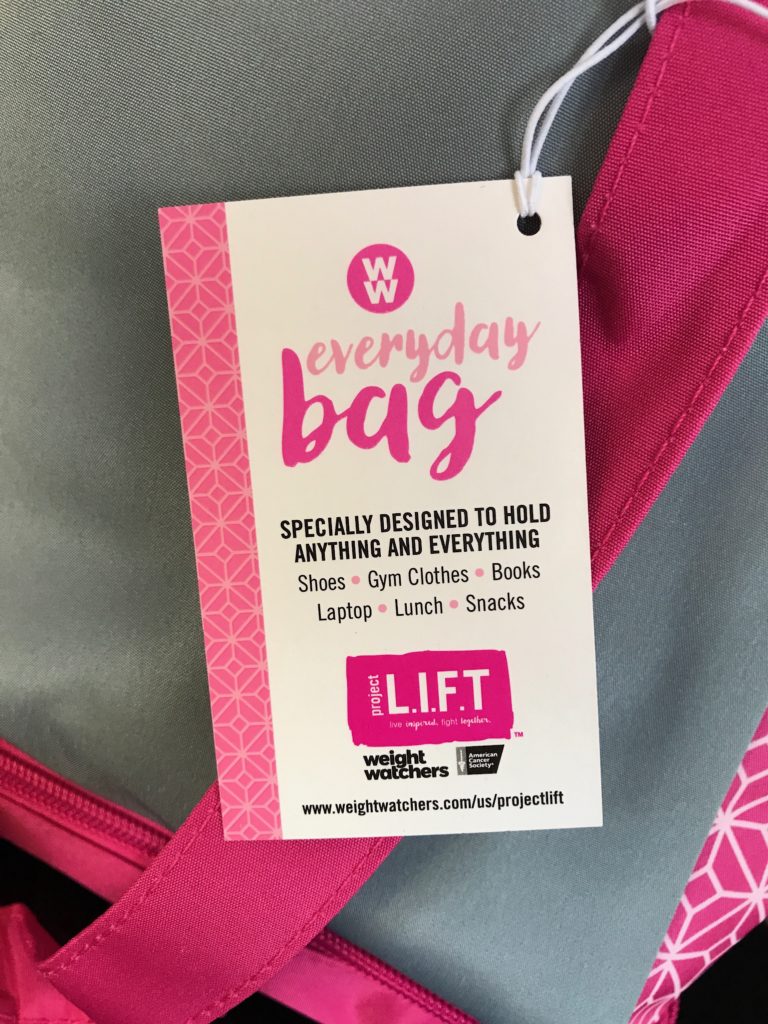 Breast Cancer Walks
I will be participating in the Making Strides Agains Breast Cancer, Walk in Kansas City on October 28, 2017 with my Weight Watcher Family.
If you are local, and you would like to join me, click HERE! I would love to have you walk with me! You do not need to be a Weight Watcher member to participate on my team. Men and women are all welcome!
Walk with me for Those Who Can't.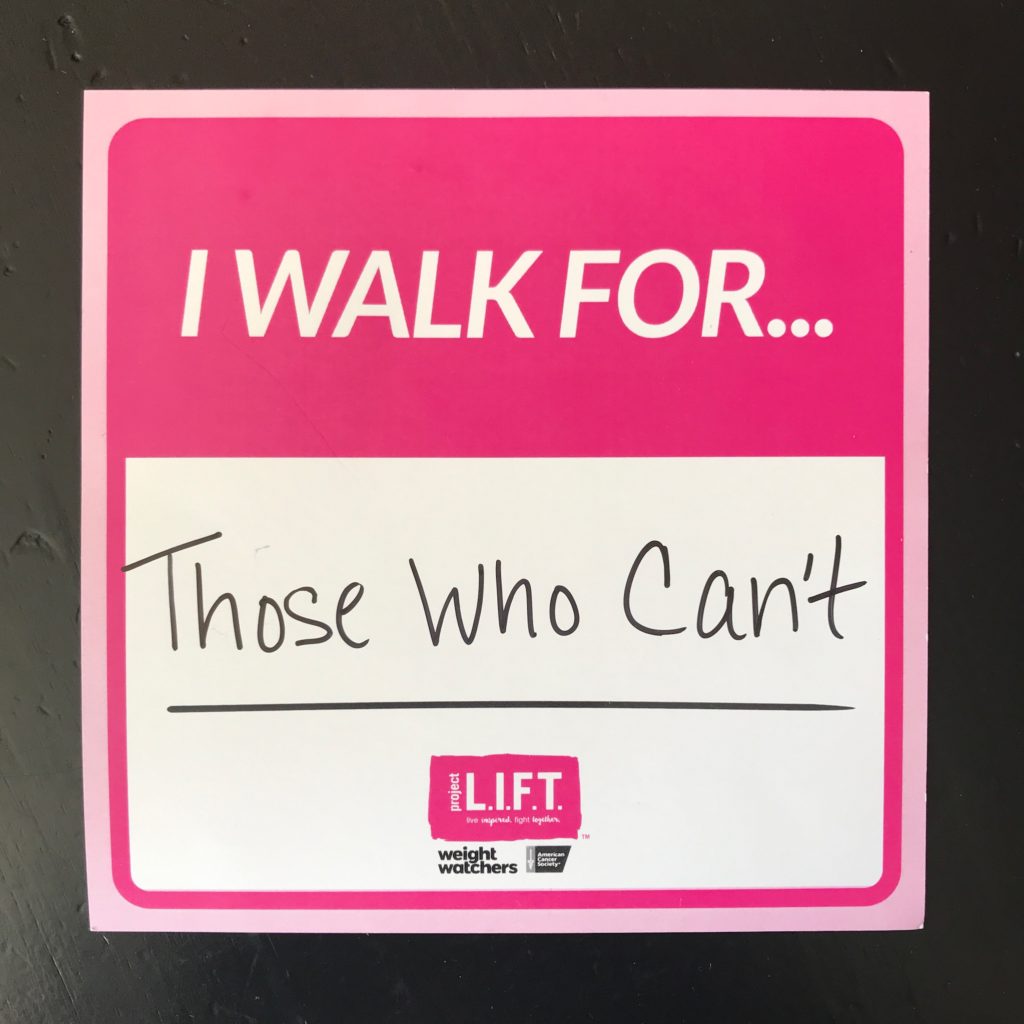 Friends
I felt so energized, I even went with a few girlfriends out to the vineyard yesterday afternoon. Yes, we have a few of those in Kansas.
It was the perfect day to sit outside with the girls.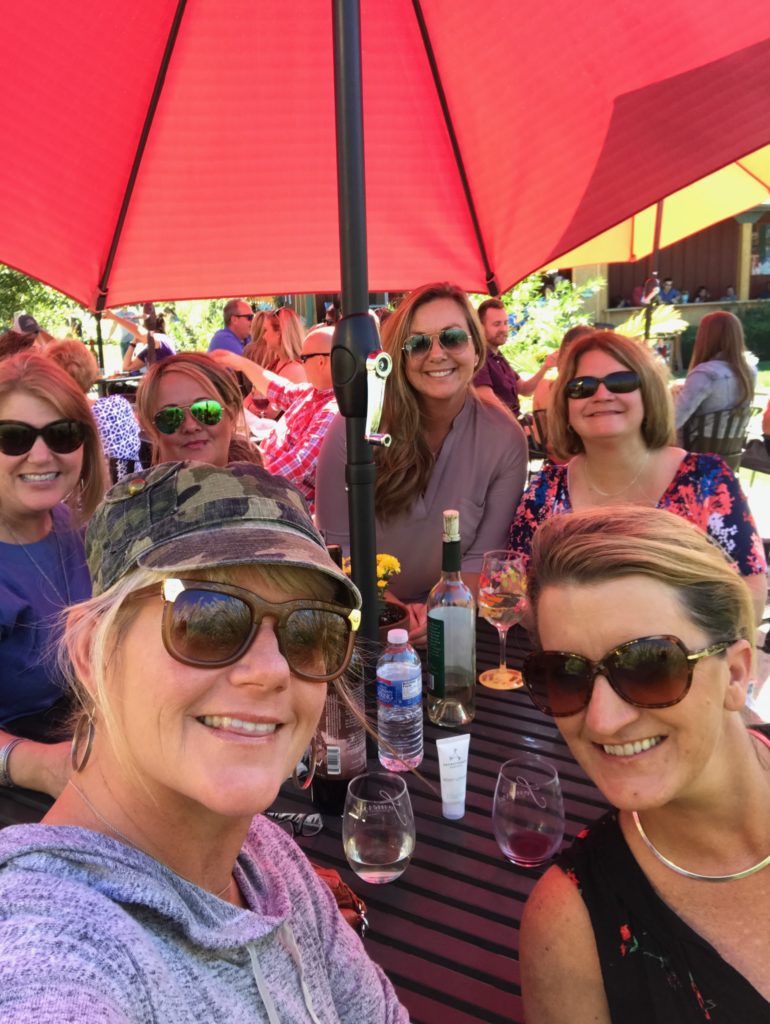 So there you have it.
I feel really great right now. I'm preparing to go back to work. Mike and I both got great news this week. I got a lotta free stuff!!
It's Breast Cancer Awareness month and I want you all to feel your boobs and tell your family and friends to do the same!!
I counted SmartPoints today and I'll share with you what I ate in tomorrows post!
Happy Sunday!!
2017 Goals
Make time each week to Meal Plan
Drink 100 ounces of water each day
Exercise 5 days a week
Eat three meals and one snack daily
FOUR 100 Mile Walking Challenges this year! (This goal has changed a little now that I have this fabulous Fitbit.)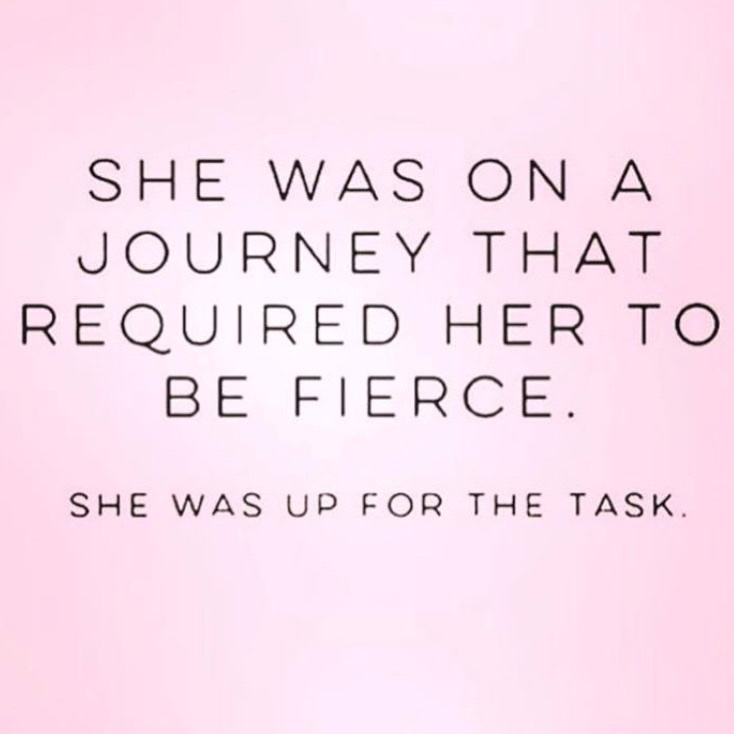 "love the life you live, live the life you love"