Obviously my Daily Blog has turned into a…..Every Few Days I Blog….kinda thing.
Last week in the Weight Watcher Meeting room we talked about Time Management. I've been trying to practice my own time management by spending less time on my computer and less time on my phone.
I feel like I'm at a place right now in my life where the computer and the phone need to occupy less of my time.
I really enjoyed spending time in the kitchen on Sunday with the windows open and I've worked at spending more time outside these last few days soaking up that fresh air and enjoying these 70 degree days. There is just something about that 70 degree temperature that heightens my mood. Always has.
This weather also has me craving soups, stews and big bowls of comfort food.
I made Meatloaf on Sunday, and while that was baking, I also made a big pot of soup for the rest of the week.
Do you ever just start throwing things together and it ends up being one of the best meals that you think you've ever made and you know you'll never be able to re-create it? Well, that's what happened with this soup. Mike gave it 5 stars!
I'll give you the basics then you can give it a try. I really don't think you can mess up a simple soup, and really that's all that this is.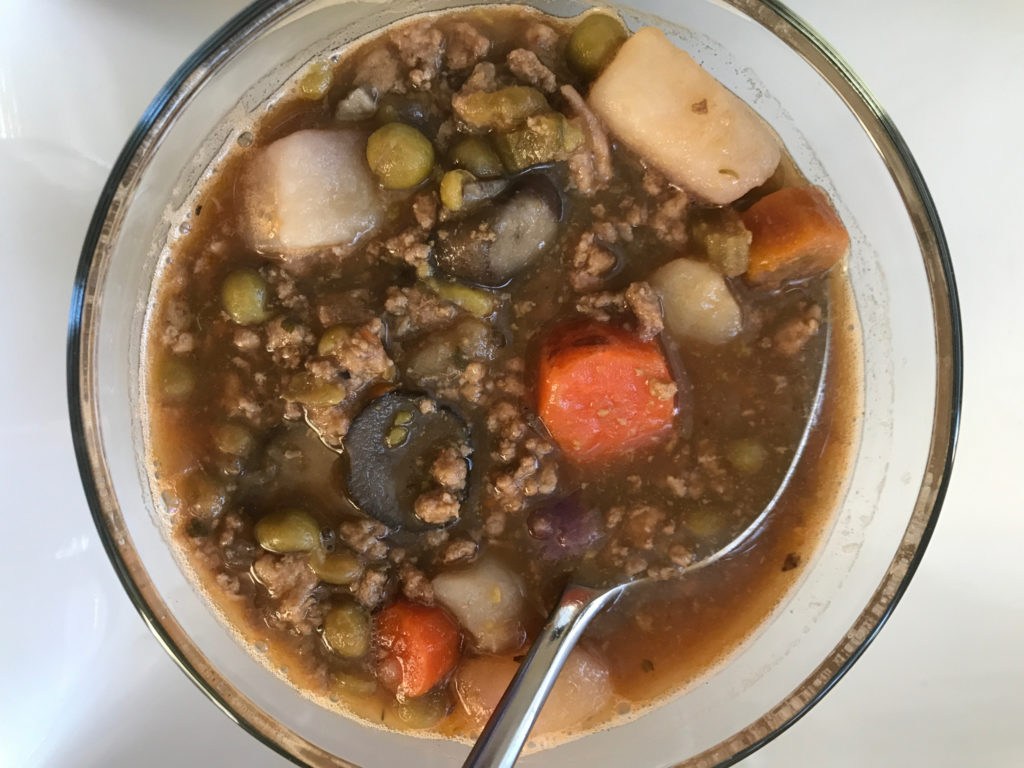 Cook ground turkey (or beef) with diced onion, celery and garlic. Add broth of your choice (I used beef), lots of veggies and season as desired.
I used carrots, mushrooms, potatoes and canned peas as my veggies.
I seasoned it with thyme, oregano, a bay leaf, salt and pepper. I added a little bit of tomato paste.
I wanted to thicken my soup up, so I cooked about 1 cup of diced potatoes covered in broth, then used an emersion blender to puree it.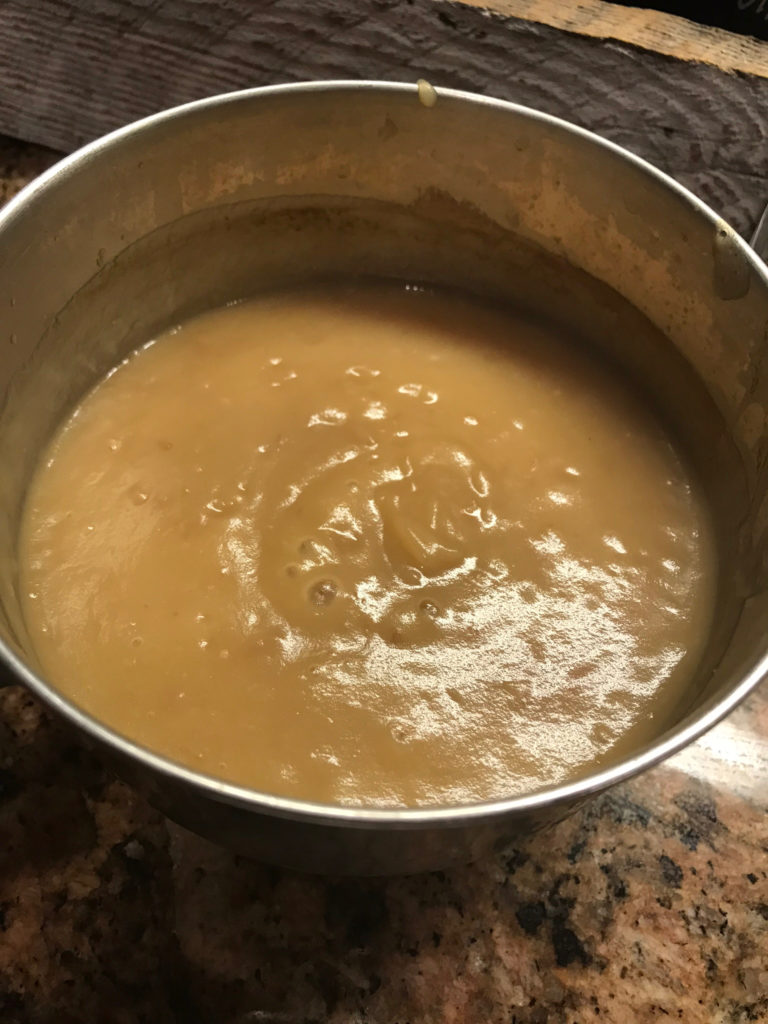 I added that to my big pot of soup and it really did the trick!
Tada!! Simple soup that will last through the week. I'm guessing it's about 4 SmartPoints for 1 Cup.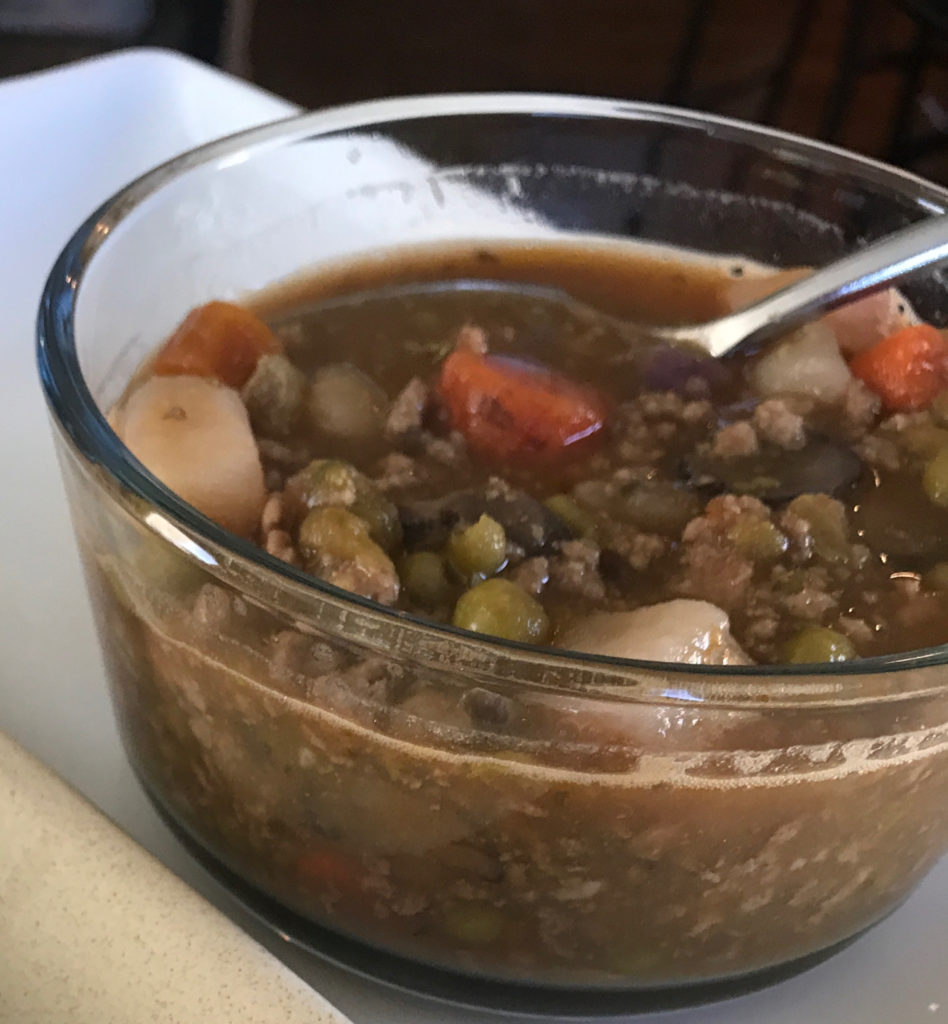 I added a Banana with 1 tsp Almond Butter, Chia Seeds and 1 tsp Honey for dessert.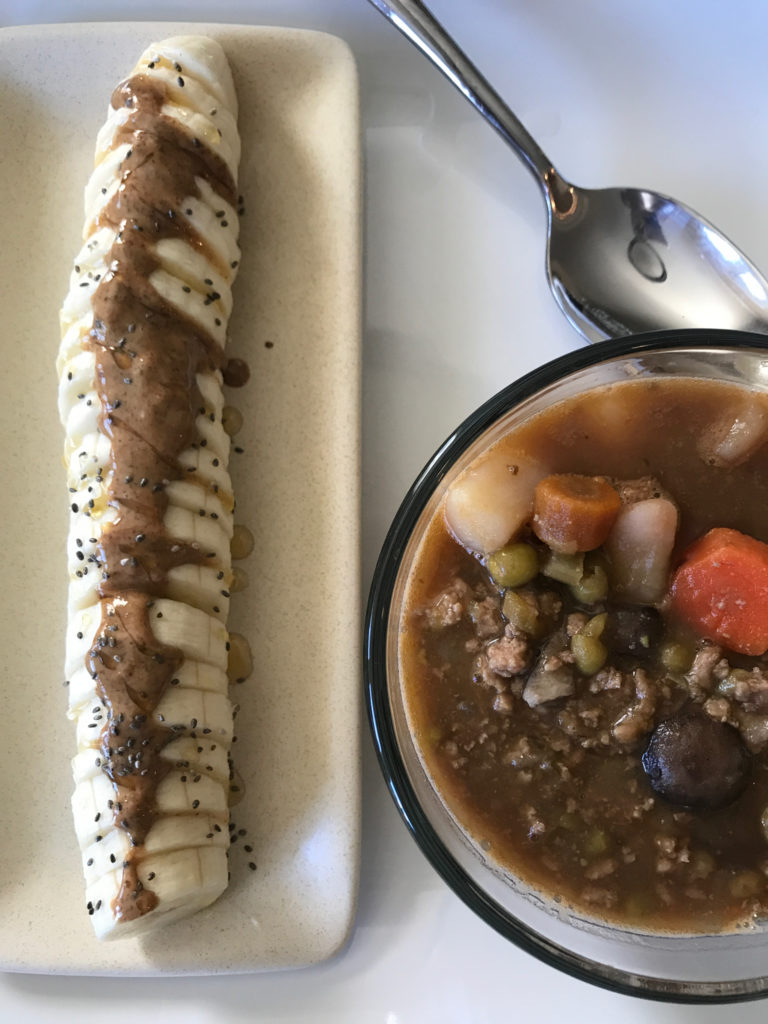 I put the Waffle Iron to use yesterday and made Mike and I waffles.
Breakfast – 8 SmartPoints
Big Ass Waffle recipe (3 SP) topped with 1 tsp Cocoa Nibs (1 SP), 1 T Pumpkin Butter (1 SP) and 1 T Pure Maple Syrup (3 SP)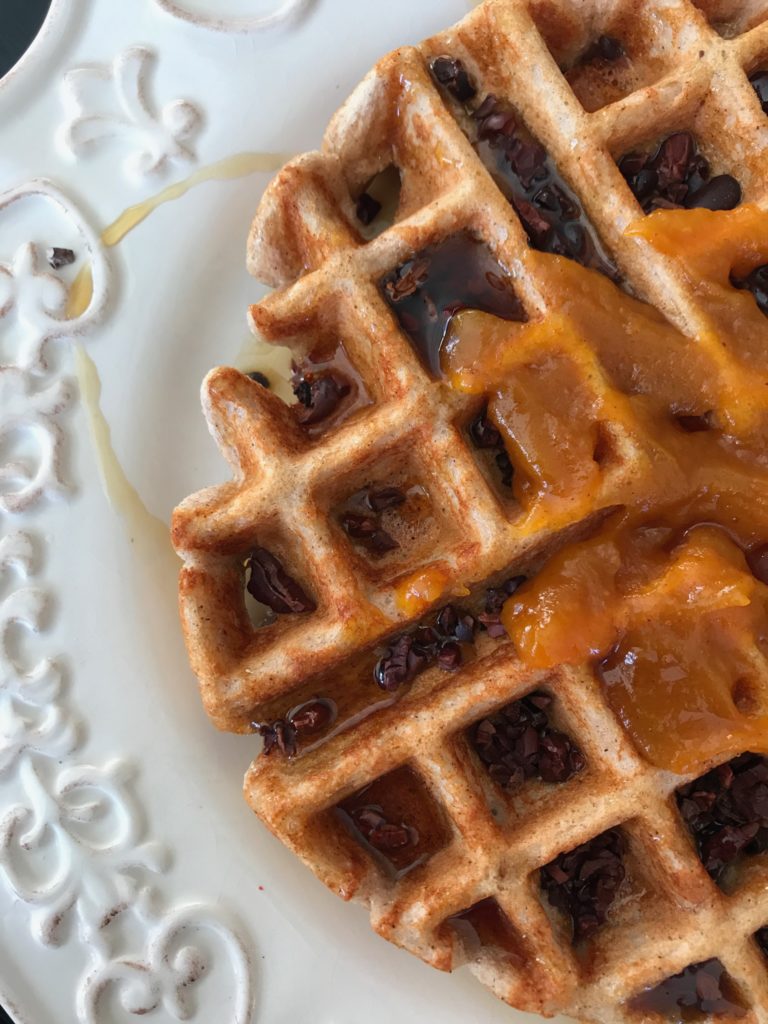 I met with the oncologist yesterday and I still have some decisions to make.
Menopause in the middle of everything that is happening with my body has changed up a few things.
I love the team of doctors and nurses that I am working with at KU. They really do put all of the options out there for you, but ultimately, they leave a lot of decisions up to you. A huge part of me loves that I am in charge of my health and the decisions that determine my future. Another part of me just wants the professionals to tell me what to do.
Some days feel extremely overwhelming. Yesterday was one of those days.
Yesterday also happened to be our son Jakes birthday. We were looking forward to having dinner with him, his wife and daughter. Mike and I took the convertible to dinner and I left my overwhelming thoughts at home for the evening.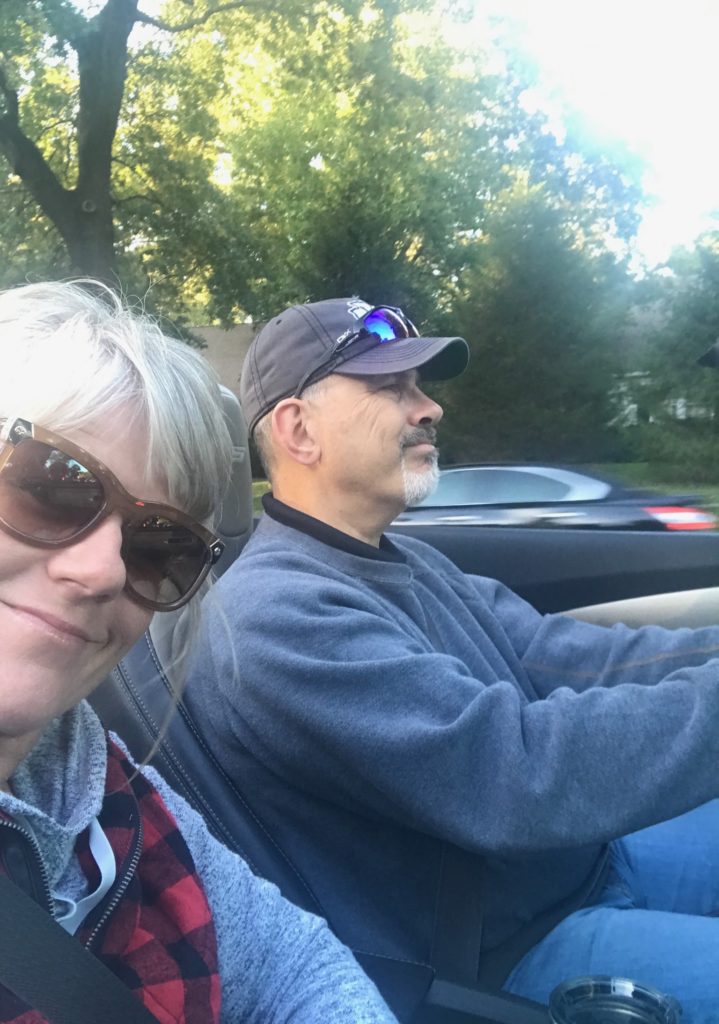 I'm going to Dallas tomorrow after working my WW meetings to visit Tucker (and my daughter Tess and her fiancé Manuel). Tucker went to live with them before my mastectomy. Tess found Tucker when she was in college, and Tucker living with Tess someday has always been the plan. Tess decided the timing was right and I agreed.
Tucker lived a very neglected first year and a half of his life before Tess found him almost 6 years ago. Due to the neglect, he has been a challenge with house training, but also such a joy. I've never met a sweeter dog.
Loves all people. Loves all dogs. Loves to snuggle.
He even posted on his own Instagram page for a while.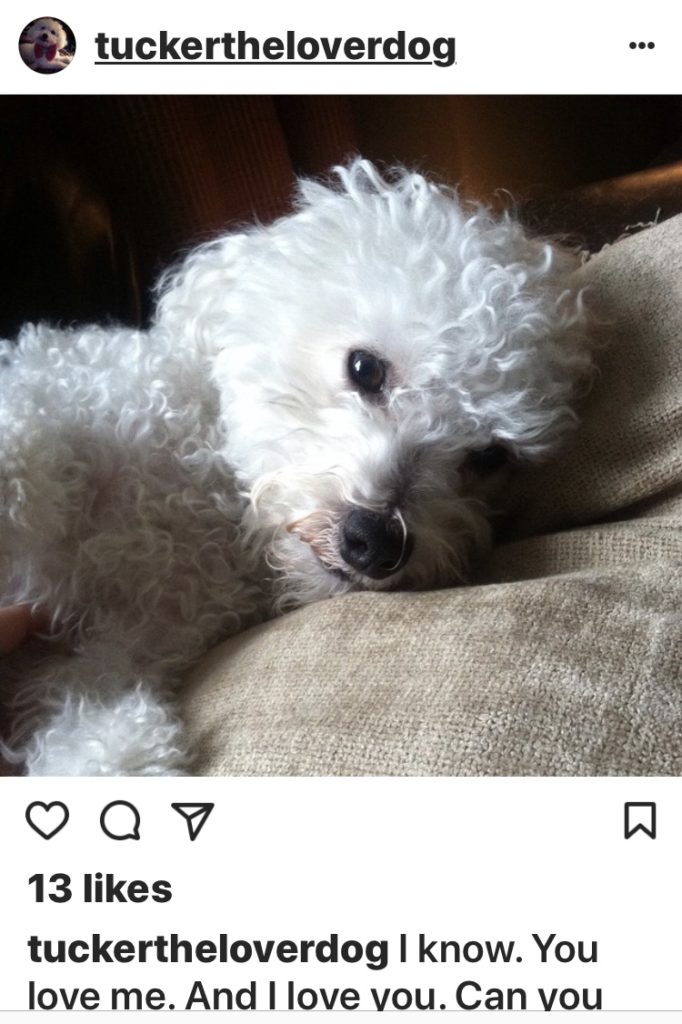 This summer, Tucker was having some tummy issues, but I assumed he had gotten into something in the backyard. It never seemed to last more than a couple of days, so I didn't pursue having him checked out. Long story short, Tucker has really been having some tummy issues since moving to Dallas and has now been diagnosed with a intestinal disease. I'm going to visit him because he isn't doing so well. Welcome to 2017.
I'll be back next week.
I hope you all are having a great week and that the weather where you are is just as great as it is here in KC!!
I'm going for a walk and leaving my phone at home.
Wait. I could trip and fall, get bit by a dog, attacked by a bird. It is 2017 ya know. I'll take my phone.
2017 Goals
Make time each week to Meal Plan
Drink 100 ounces of water each day
Exercise 5 days a week
Eat three meals and one snack daily
FOUR 100 Mile Walking Challenges this year! (This goal has changed a little now that I have this fabulous Fitbit.)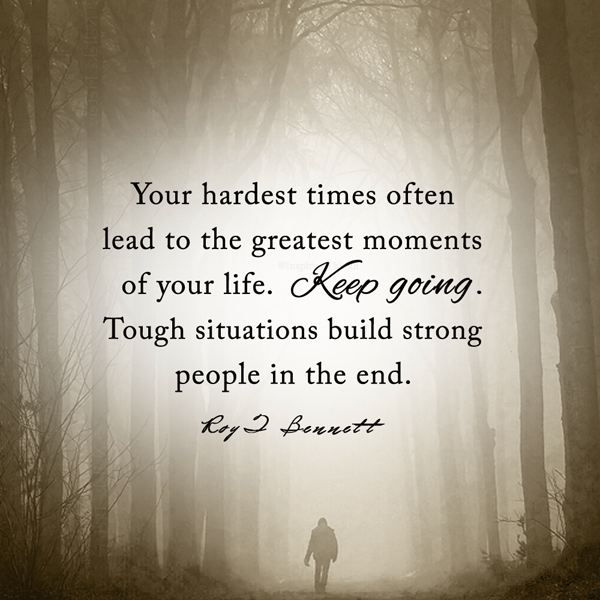 "love the life you live, live the life you love"