I am including before and after pictures of my breast cancer in this post, along with a few recent post op pictures.
If you think that this post might bother you, you may want to skip this one.
Tomorrow I'll post about soup. You can come back then!
The biggest Thank You ever to Dr. David Chandler with Kansas University Plastic Surgeons.
Do you think that he has any idea at all of what he is doing for women with breast cancer? Maybe. I'm gonna tell him at my appointment on Friday.
I plan to hug him so tight, he explodes. You know what? I'm still tender. I'll have Mike hug him. Mike did say that he wants to hug him too.
My goal in this post is to be as informative as I can be in a tasteful manner. I want people to know what their options are if diagnosed with breast cancer.
I feel compelled to share my story.
I found a lot of comfort in being able to view photo's online and in my doctors office. It gave me clear expectations and it helped me to know what questions to ask.
I hope that my pictures are helpful if you are faced with making similar decisions that I have had to make over the last several months.
That being said….
Wow. What a two weeks it has been. I'm 17 days post op and I really wasn't sure what to expect post surgery. I can say that I have felt much better than I expected to feel and that I have experienced much less pain than I was expecting. Yay!
Ironically, the most discomfort that I have had has been in my lower back, and that is simply because standing up straight after a tummy tuck is a slow process, but in another week or so, I should be upright!
I'll write yet another post on just how awesome my husband and daughter have been over the last few weeks, and what an important role they have both played in my recovery. I have no idea how I would have gotten through all of this without them. It has been so sweet to watch them work together to care for me. So much love happening here right now.
Okay…
On July 21st I was diagnosed with breast cancer in my left breast. Invasive Ductal Carcinoma (IDC) , Grade 1 Stage 1. Estrogen Receptor Positive.
On August 31st, I had a Skin Sparing Bilateral Mastectomy. Based on my diagnosis, I was able to keep my breast skin, but not my nipples.
After my mastectomy, my pathology report showed precancerous cells in my right breast. A different type of breast cancer. Lobular Carcinoma in situ (LCIS).
For me, the decision to have a double mastectomy was a really good choice.
Now what?
Getting the news that I had cancer was scary as hell.
Knowing that I would forever lose my breast has been extremely emotional. (They were too large and unattractive, but they were a part of me and they were mine.)
Discovering the possibility of having new breast made from my bodies own tissue was fascinating.
My DIEP Flap surgery was on December 14th and lasted 10.5 hours.
If you read my blog regularly, then you may already know what a DIEP Flap surgery is, but if you are new to the blog, DIEP Flap surgery is breast reconstruction surgery for breast cancer patients who have had a mastectomy. To be a candidate for the DIEP flap surgery, you must have large enough blood vessels to do the tissue transfer and you must have enough belly fat that will allow a genius plastic surgeon to give you a tummy tuck, then transfer your tummy tissue to your chest and make breast for you! Seriously, its GENIUS!! Click HERE for an awesome and short, but more detailed description of what DIEP Flat surgery is.
A CT Scan is required prior to surgery to make sure you have blood vessels large enough that the surgeon can use them to make the tissue transfer a success. Since I had my CT several weeks ago, and never heard that I may not be a candidate for the surgery, I had no concerns. Well, actually, I did have one concern. Even if the surgery is performed successfully, there is a slight chance that over the first 72 hours, the blood will not flow properly and the tissue can die. This is rare, but it can happen. I really wasn't concerned about this.
Just a week prior to my surgery, my surgeon told me that he was not sure if my surgery was going to be a success or not based on looking at my blood vessels in the CT Scan. He said that one side might work, and the other side was really quesrionable.
Since I really did not want implants, this news came as a bit of a shock to me. Now I had new decisions that I had to make going into surgery in case the surgery didn't work.
I decided that if neither side worked, that he could then use implants. I knew that if I didn't like them after several months, then they could be removed.
I had also decided that if only one side would work, then I wanted him to do the one side and give me an implant in the other side. This was a difficult decision and for some reason, super emotional for me. I wanted my breast to match. It seemed strange to do one breast DIEP Flap and the other breast be an implant. But, the more I thought about things, I put myself at age 60, 65, 70 and older. I thought about how I might feel about my body years down the road. I knew that if an implant needed to be removed for some reason at the age of say 70, then I might be okay with being flat on one side at that age knowing that my breast on the other side was all me.
It's a very personal choice, and one that I thought long and hard about (one evening while standing in the shower sobbing for over an hour). I needed clarity on my decision, and once I made up my mind about what my options were and what I would be happy with, I felt good about moving forward.
I did not like knowing that I wouldn't know anything until I woke up from surgery, but I did go into surgery feeling at ease with the decisions that I had made.
The week before surgery, I was a little more emotional than I had expected. Knowing you are going into a 10 hour surgery, and the risk involved, is a tad scary. I didn't want to vocalize my fears with my family because I didn't want them to have those fears if they didn't already have them. It was a rough few days.
I know for my husband and daughter, those hours spent in the waiting room made for one of the longest days ever. They were given updates as surgery moved along. At one point, they were told that one side was a success and that they were moving forward with trying to do the other side. Then they were eventually updated that both sides were a success and they were finishing up. Ten and a half hours later, surgery was complete.
The picture below is of a single breast DIEP Flap. I could NOT find an illustration of a double DIEP Flap, so while this is a great picture to show what this procedure entails, keep in mind that I had both breast done and they used all of my belly tissue. No muscle is removed in this procedure.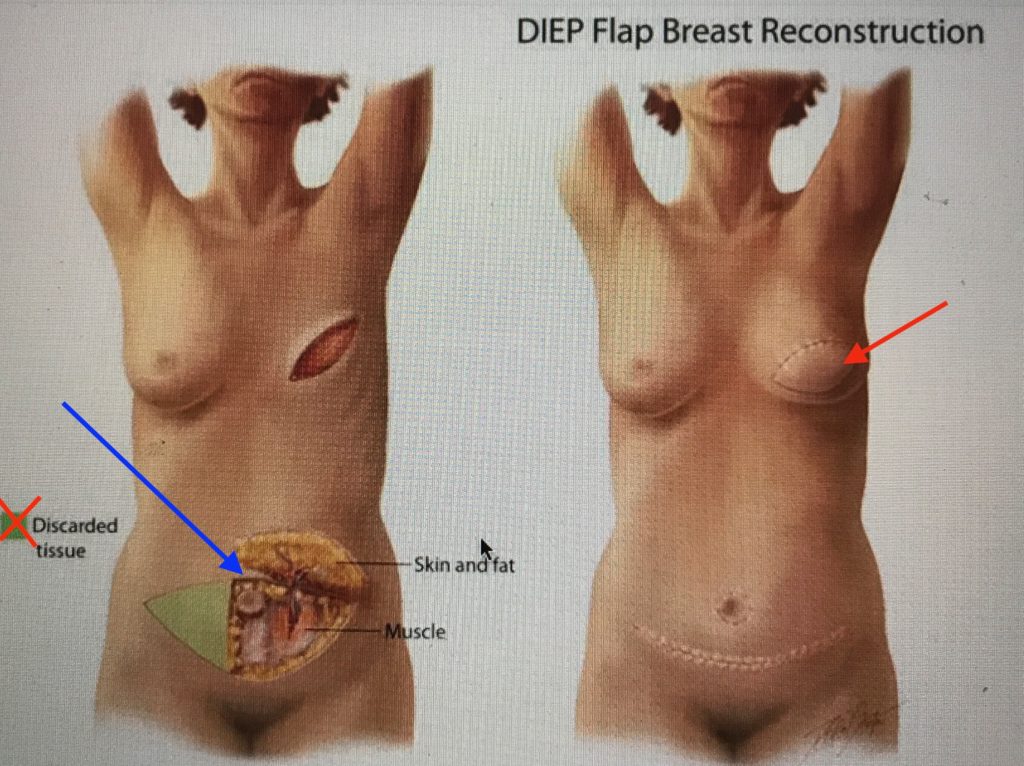 The picture on the right with the red arrow, shows a football shaped skin paddle. (That's what they call it, a skin paddle.) The skin paddle is the belly skin on the breast after the DIEP flap has been completed.
The skin paddle is monitored for 72 hours in the ICU after surgery to make sure that the blood vessels are pumping blood and that the tissue transfer is a success. With the skin paddle visible, they are able to look for any discoloring in the skin. The skin starts to turn dark if the tissue is dying. Not good.
Prior to surgery, I asked Dr. Chandler to show me exactly on my body where I would see the belly skin on my breast. I had looked at several pictures on the internet and in his office of a completed DIEP flap, and I wasn't crazy about the way that my breast would look post surgery. Don't get me wrong. VERY happy to possibly have new breast made with my own tissue, but I wanted as little scaring as possible, if it was an option. It never hurts to ask!
I asked Dr. Chandler if we could make my skin paddle a circle instead of a football shape. The final stage of a DIEP flap is nipple reconstruction or a nipple tattoo. I wanted to know if my "skin paddle" could be the shape of a circle so that everything would look as good as it could for the final phase. I had seem some pictures of "skin paddles" that looked more like circles than footballs, and other skin paddles that really had no shape at all, so it seemed like an appropriate question. Right?
He then proceeded to tell me that he might be able to do the surgery on me without using the "skin paddle".
What?
He said that he could put the belly tissue under my breast skin and possibly not use the belly skin at all. He said that there was a way that he could attach a very small wire to my belly tissue under my existing breast skin and that wire would be connected to doplar ultra sound machine that would monitor my transferred tissue.
If he could do this, then he wouldn't need to visibly see the "skin paddle" at all.
Really??
This would make a huge difference for my scars and how I would forever view my new breast!
Oh, I also had asked my breast surgeon (different doctor) for a vertical incision with my mastectomy. I had looked at several pictures of vertical and horizontal incisions on mastectomies and I liked the look of the vertical incisions. She agreed to do as I had asked and my plastic surgeon agreed that my results would be visibly better after my DIEP flap with a vertical incision. Seriously, It never hurts to ask!
Not only did I wake up from surgery to discover that I had two new breast made from my own tissue, but Dr. Chandler was able to do my surgery without visible skin paddles! I was a happy mess.
The first 72 hours after surgery are the most critical. This is when the tissue transfer is monitored hourly in the ICU to be certain that the transfer is a success.
I had little wires going in my new breast and every hour a nurse would come in and do an ultra sound on each breast and we would listen for the blood pumping. Every hour, my nurse and I would look at each other after hearing that sound and say "Yay!"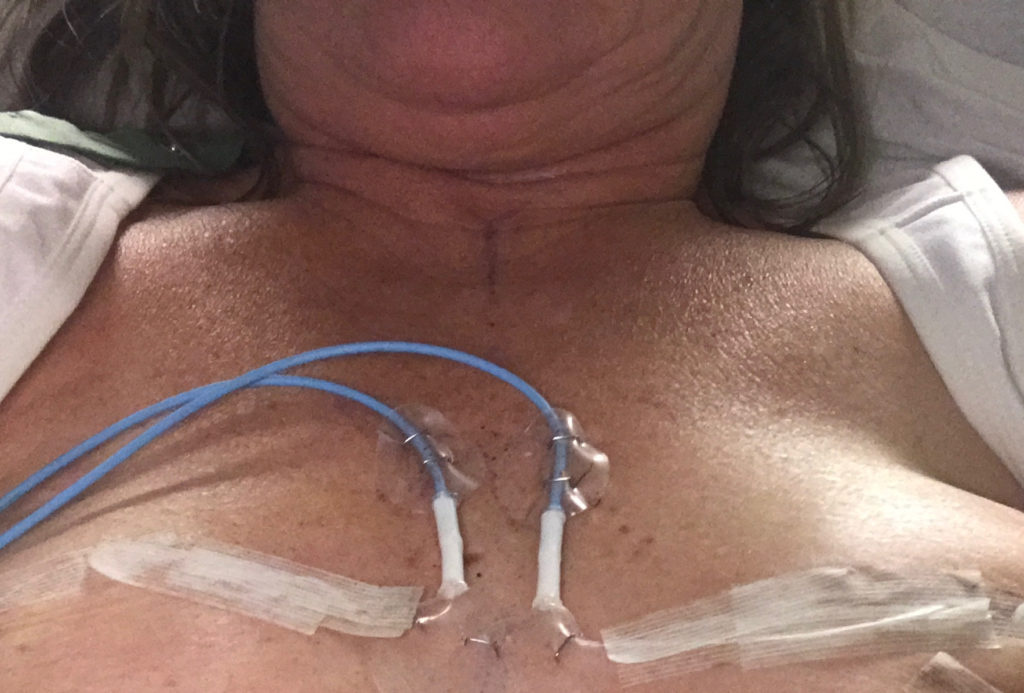 The first day after surgery, the goal is to sit up on the side of the bed, then work your way to sitting in the chair. Did it. While sitting in the chair, I asked what day two goals were. I was anxious. The day two goal was to take a walk down the hall. Did it day one. It was short, but I did it. I was needing to continue to feel good about things.
Another post surgery goal is to poop. That's right. Gotta make sure everything is working before you go home.
Goals people.
So, there I was, in the bathroom, hooked up to four body drains, one at each breast and one at each hip. I had two IV's, I had an oxygen monitor on, I had oxygen coming out of my nose (I think that went to the bathroom with me?) and I had little wires going into my chest that were hooked up to an ultra sound machine. And, I was trying to hold up my hospital gown. Can you imagine all of this going on and trying to take care of "things" yourself. Oh, and my arms were really sore. Apparently they have your arms in a really strange position during the surgery. So, a successful trip to the bathroom was a lot to ask of a girl!
As I flushed the toilet and stood up, the toilet overflowed. Yep. It did. I pulled the red cord.
Nurse… "Can I help you?"
Me…"Um, yes. I was very successful in the bathroom and now the toilet has overflowed and I'm just standing in it ."
There are other stories, but that is the best one. You're welcome.
After four successful nights in the ICU, I came home.
One of my nurses at my plastic surgeons office told me at a recent post op appointment that she had never seen the DIEP flap done without the belly skin being visible after surgery. SUCCESS!
One of the interns told me that I may be the Poster Patient for DIEP Flap Breast Reconstruction! YIPPEE!!!
Now for some pictures.
Here is what I looked like before mastectomy and obviously, above my goal weight.
That black dot is where I first felt my lump while putting on lotion after a shower.
Please do self breast exams!
I had large breast (DD) and obviously, one larger than the other. lol
The white oval is the area to be removed to make my new breast. Note that the white line is above my navel. My navel was removed and then reattached.
The blue line represents the scar that I now have on my belly.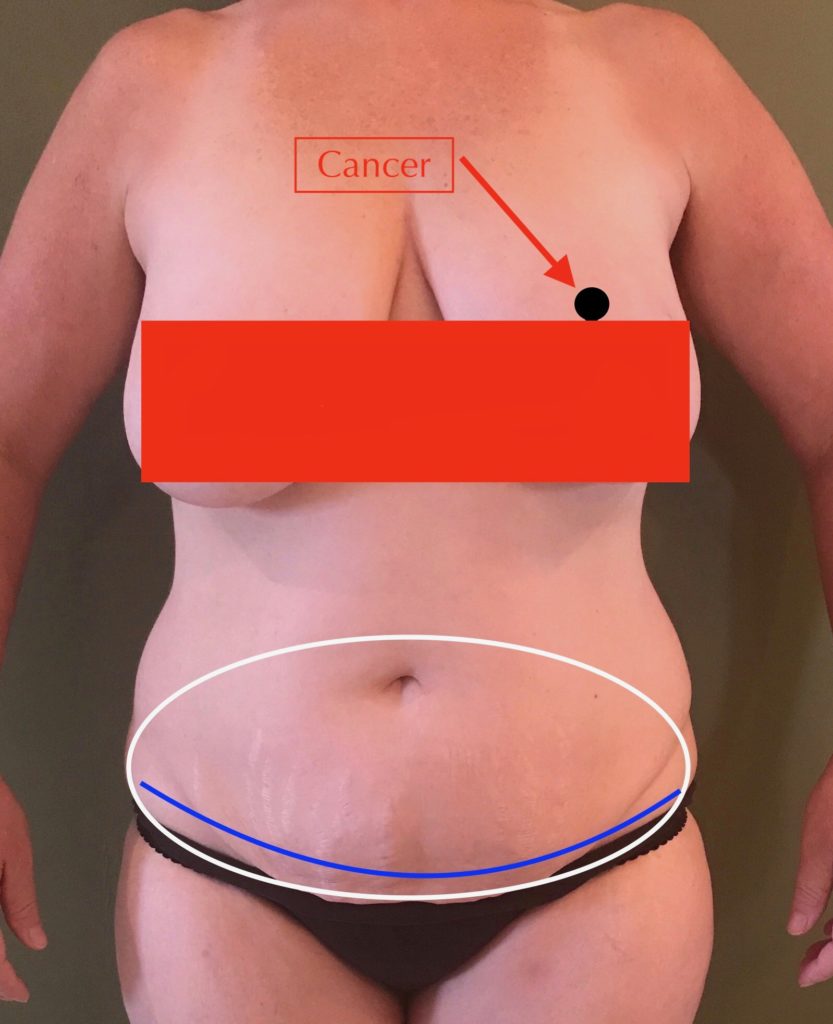 This is a tissue expander. They are inserted following the mastectomy to expand the breast skin so that the skin is large enough to hold the new breast, whether it be an implant or a DIEP flap breast. I'm actually unclear why I needed these since I had plenty of skin, but I think it is standard procedure during a mastectomy with reconstruction, no matter how much skin you have.
The smaller circle on the tissue expander is a magnetic port where the saline is inserted at intervals.
These are miserable.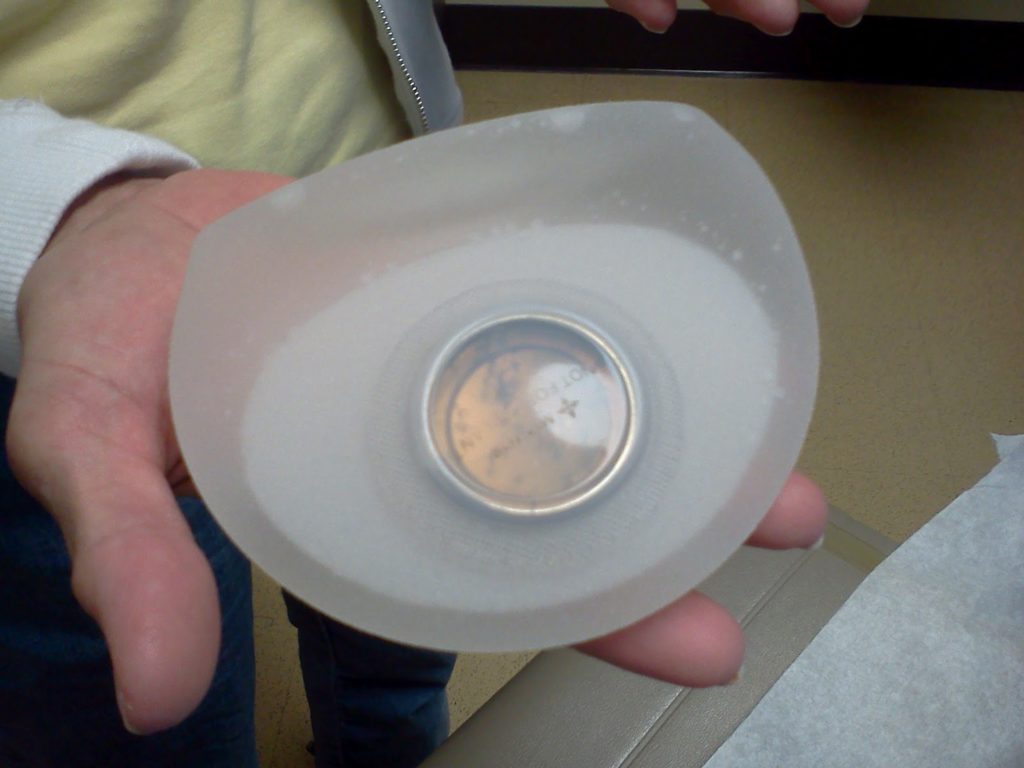 This is me post mastectomy with tissue expanders in and just a little bit of saline in them. My nipples were removed. I only put the red marks there so you don't have to look at the gray tape over the incisions. I'm trying to be considerate here.
The gray tape in my arm pit is covering the incision were the lymph nodes were removed.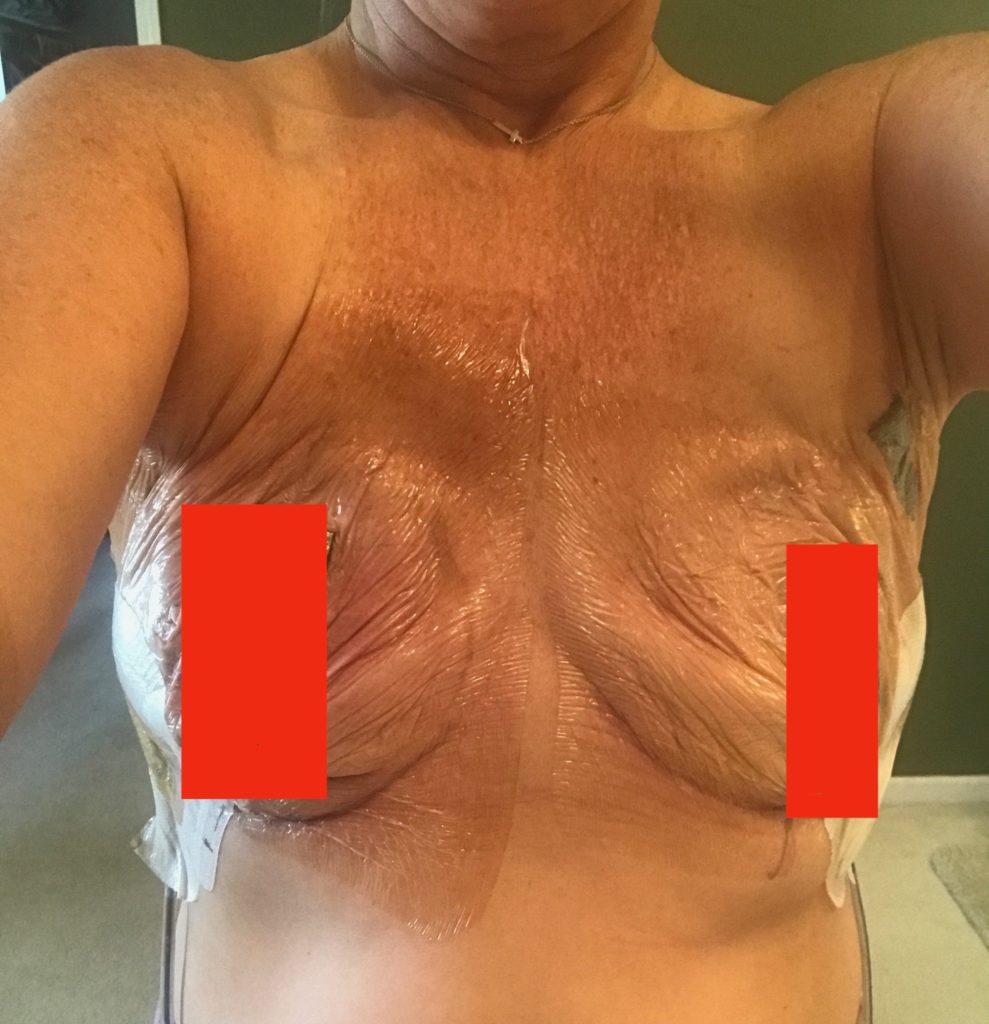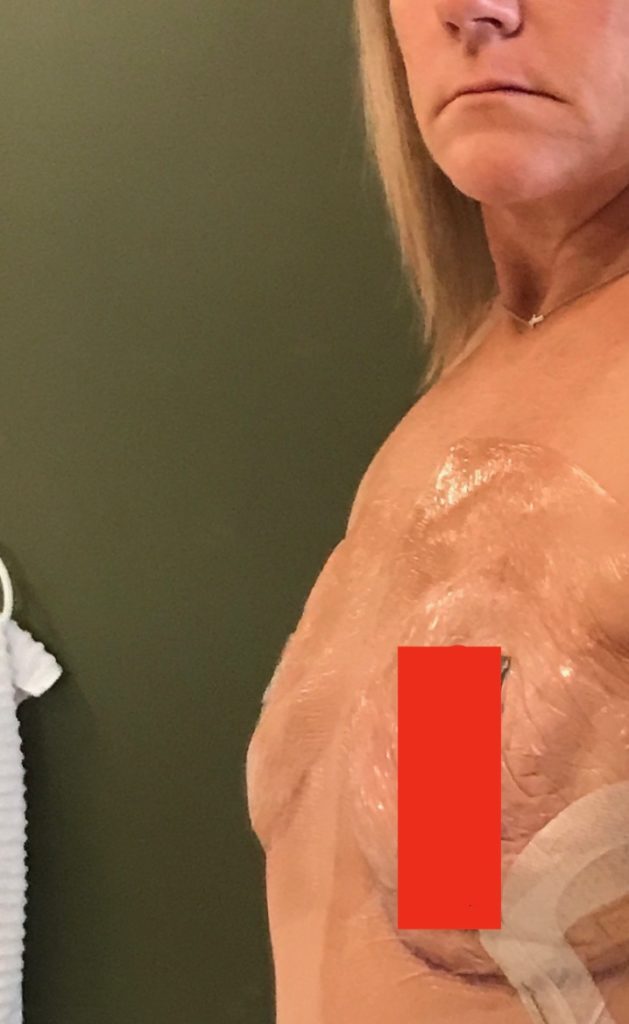 More saline was then added at my 2 week post op appointment through the port in the tissue expander.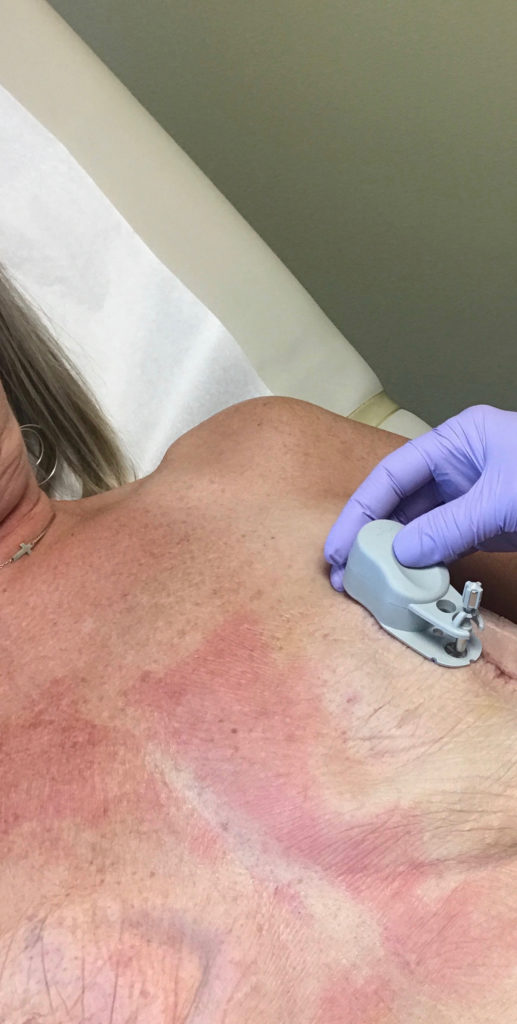 Each week a little more saline was added until the desired size was reached that the plastic surgeon thought that my new breast would be. Then we stopped. The tissue expanders were miserable (did I mention that?) and I hated them. I am so happy to have those out of my body.
Some plastic surgeons will perform a DIEP Flap at the time of mastectomy if they can coordinate that with the breast surgeon. I don't believe that my surgeon does that,
This picture is about half way through getting fills. This was as uncomfortable as it looks! Not painful, but uncomfortable.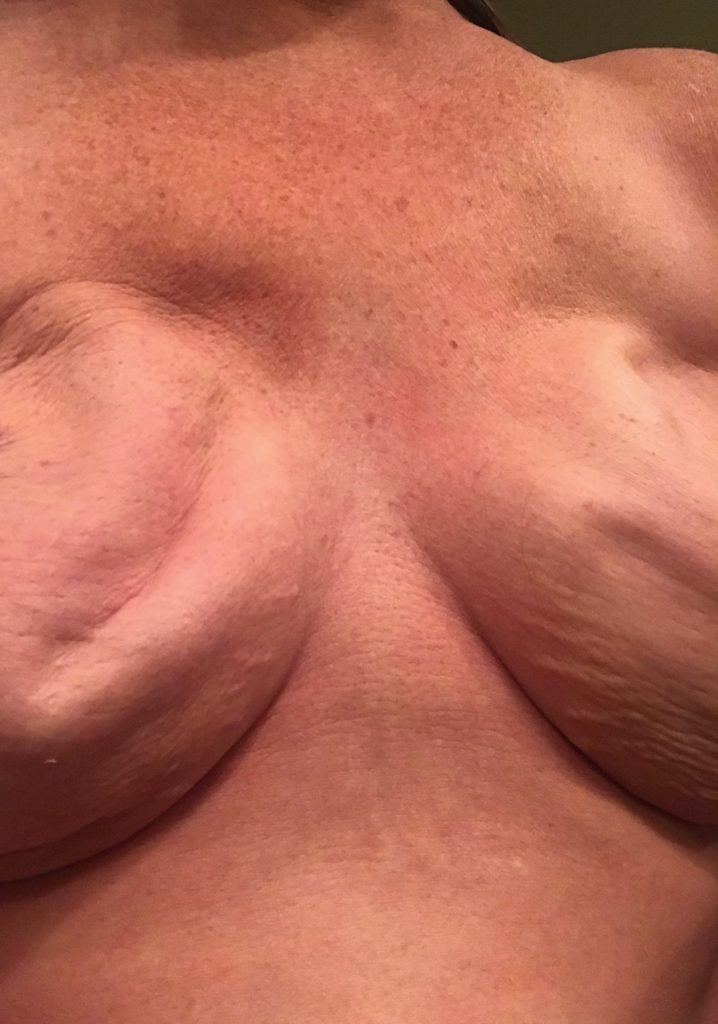 This part was hard for me to look at.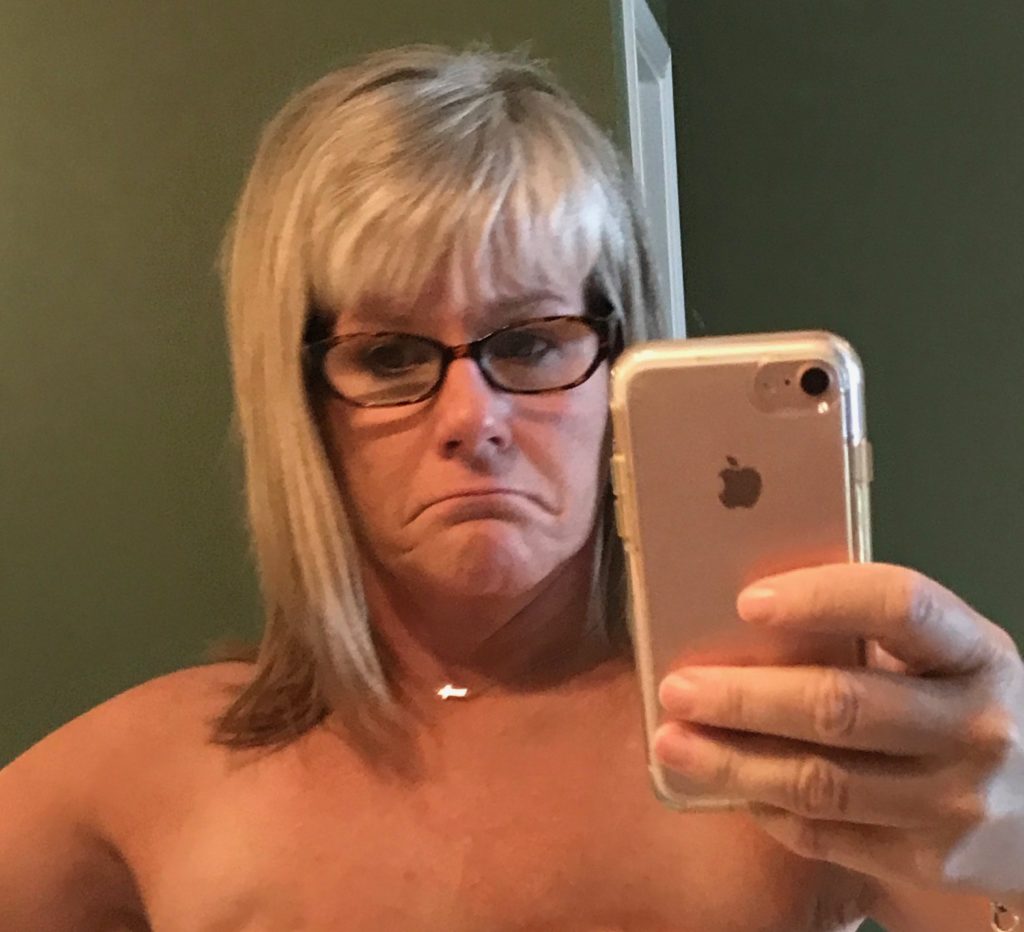 This picture below is the day before my DIEP flap surgery.
The tissue expanders had been filled to the plastic surgeons satisfaction. He actually wanted to fill them just a little more to fill my breast skin out so I would be pleased with the way that they looked temporarily, but I was miserable after each fill and really wanted no part of it. We agreed that even though I had a nice sized belly, he didn't think my breast would be as big as they are in this picture, so there was no need to stretch my skin beyond what I naturally had.
The white arrows show dimples where the tissue expanders were not completely full. It was weird, but I knew it was temporary.
The blue arrows show how awesome my scars are. Of course, I'm starting over there now, but I think they will barely show!
The red dot is just me trying to be polite. I don't even have nipples!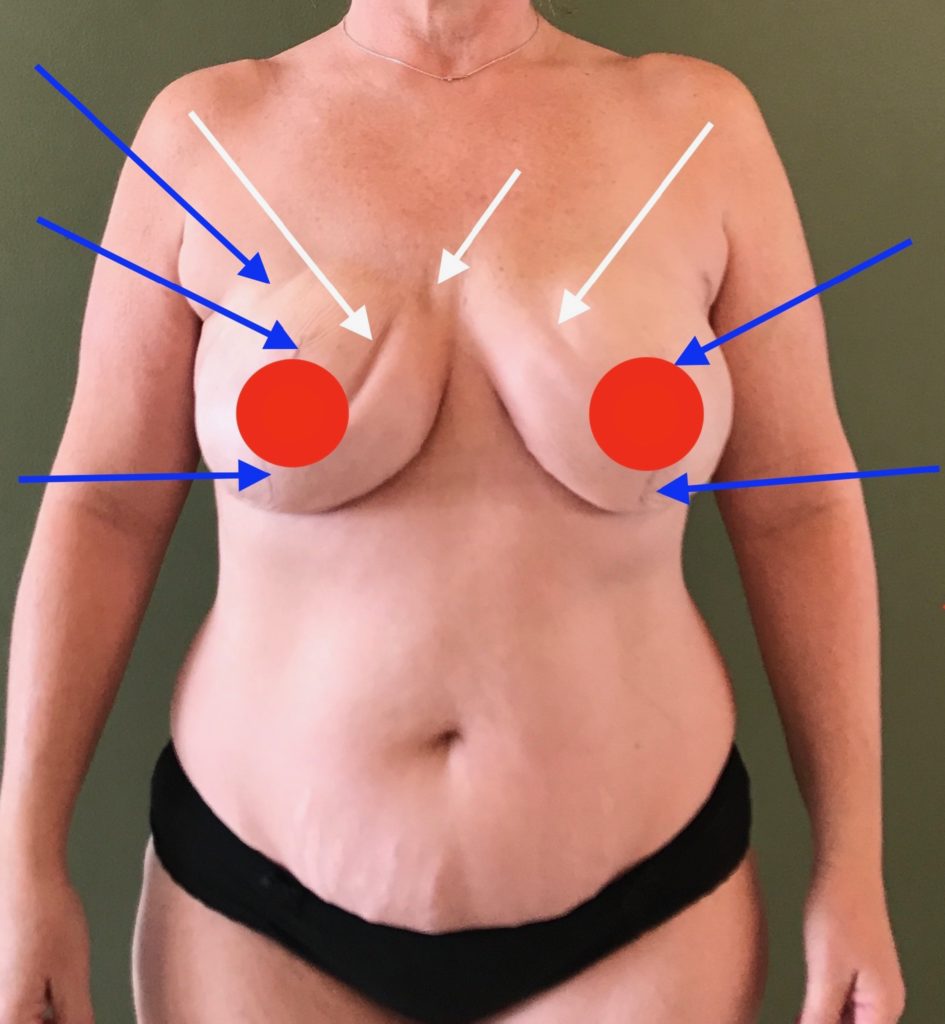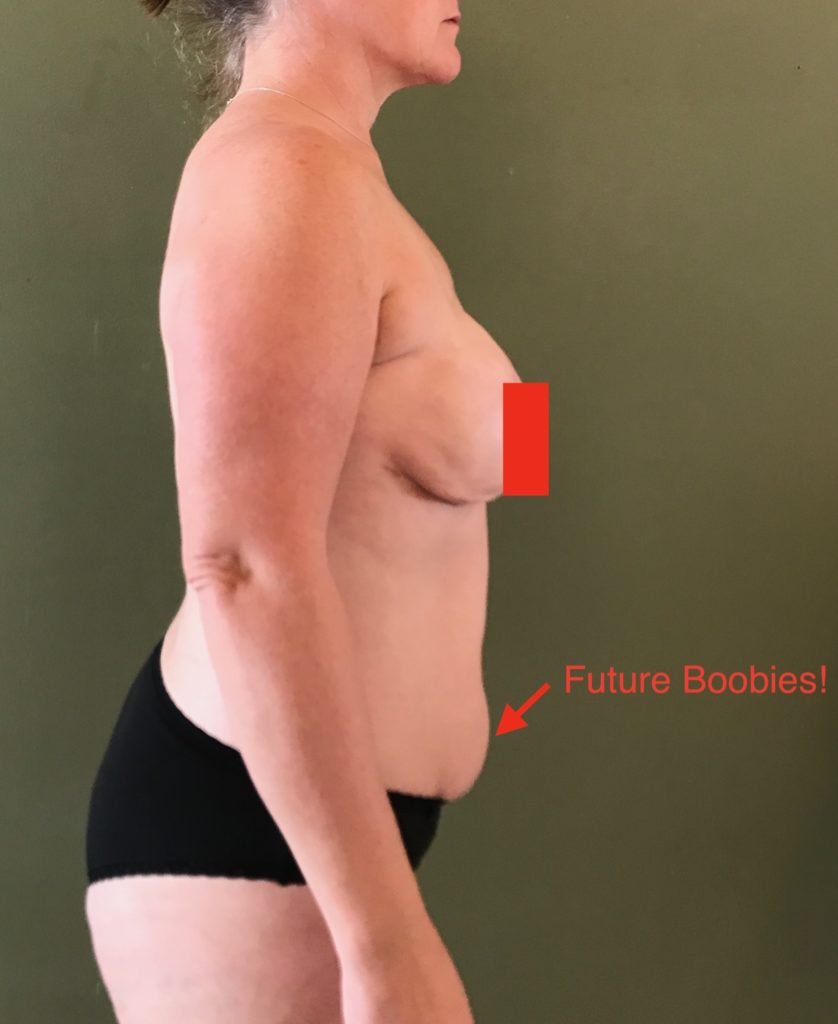 This picture is about 6 days post op the DIEP flap surgery. I guess my tummy was bigger than I realized!
These are much larger than I was expecting! I also have incisions all the way across the very bottom of each breast. These scars will never show!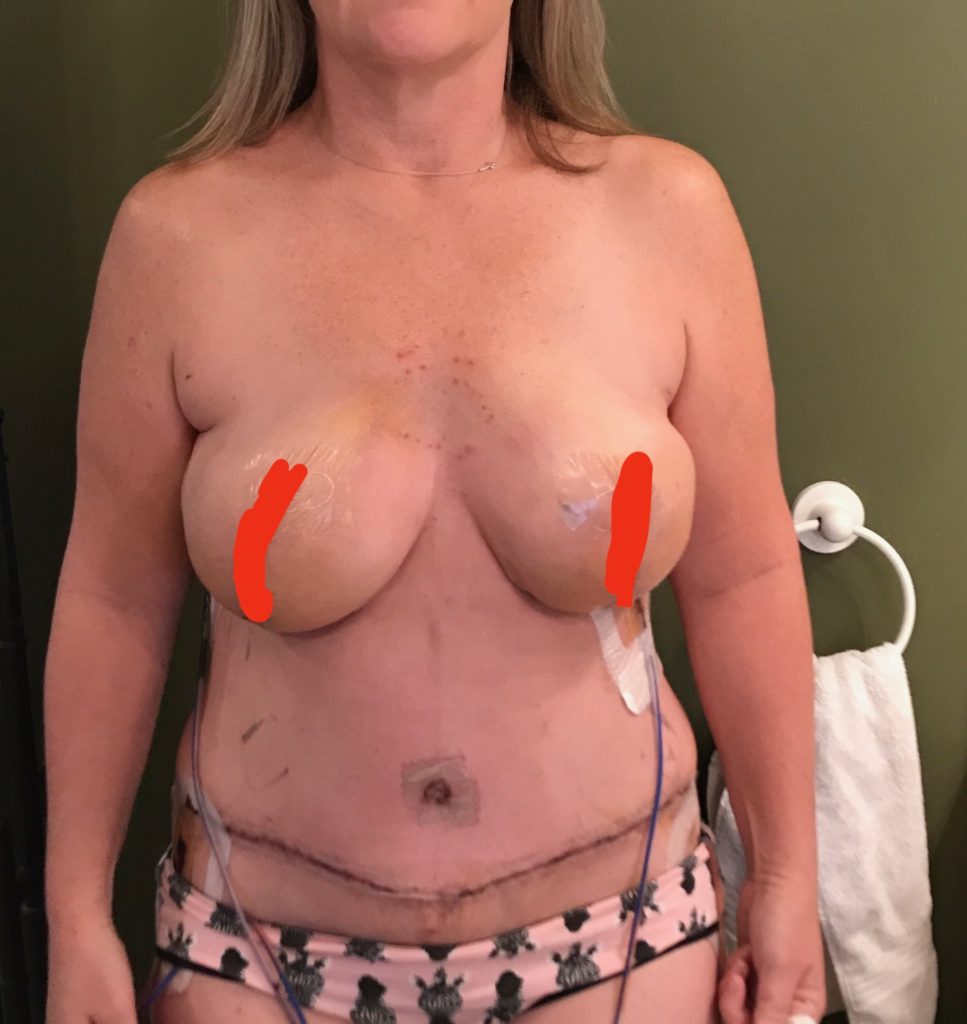 They are very flat.
It will take a while before my posture is 100%! My back is killing me! lol
That blue arrow is like….Look! No Belly!! (Hey, there's a first time for everything.) It's actually a bit swollen here. It will go down.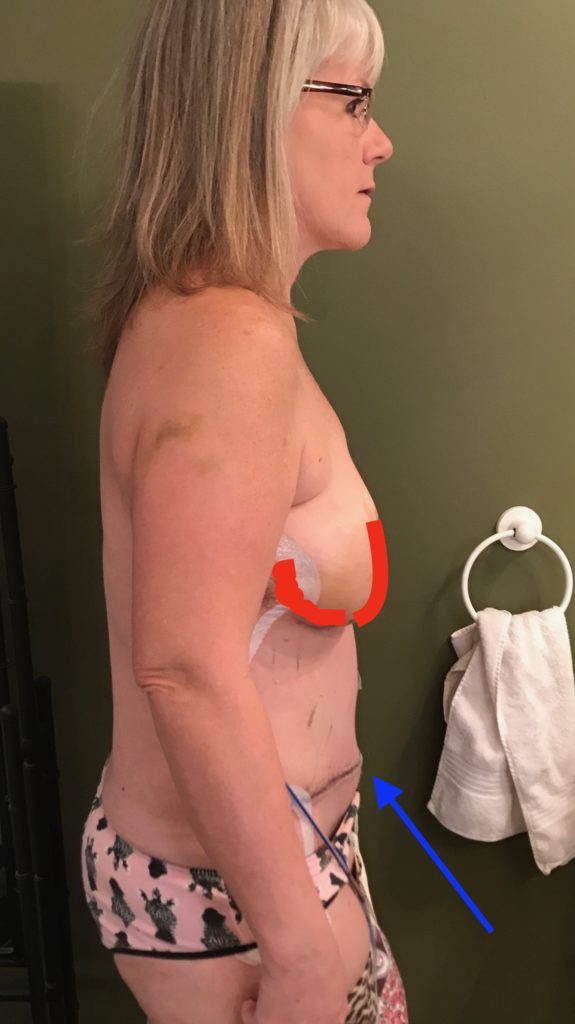 This is me today. These are really bad photo's, but Tess took all of my other pictures.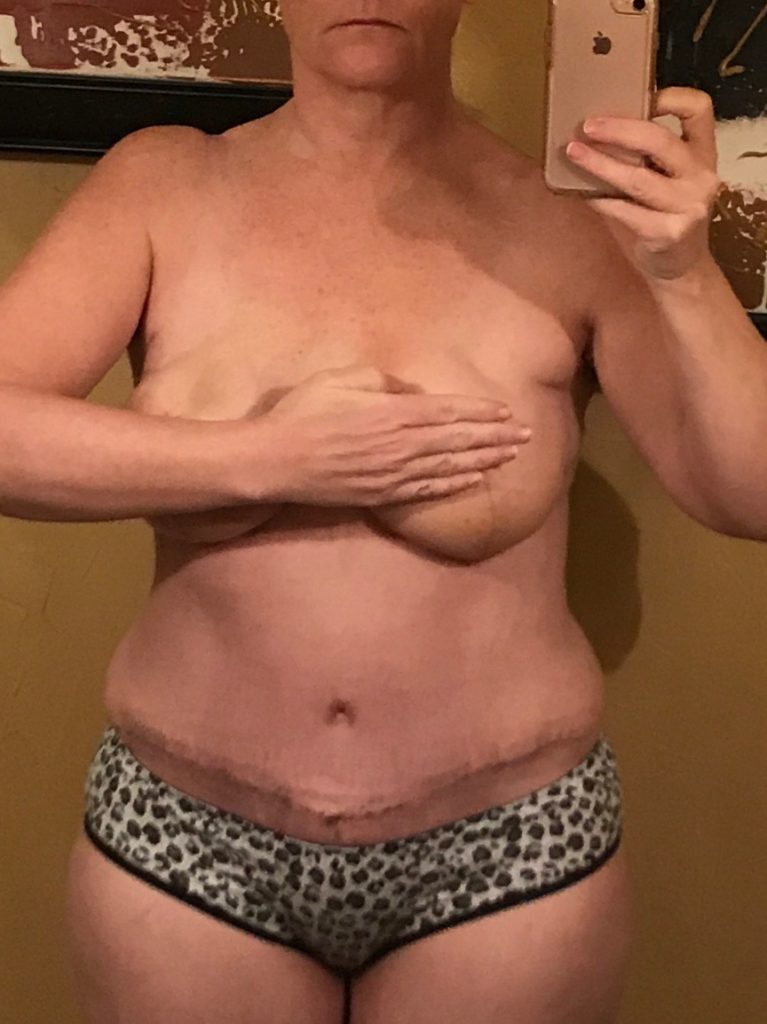 With my underwear up where they belong, my scar won't even be visible!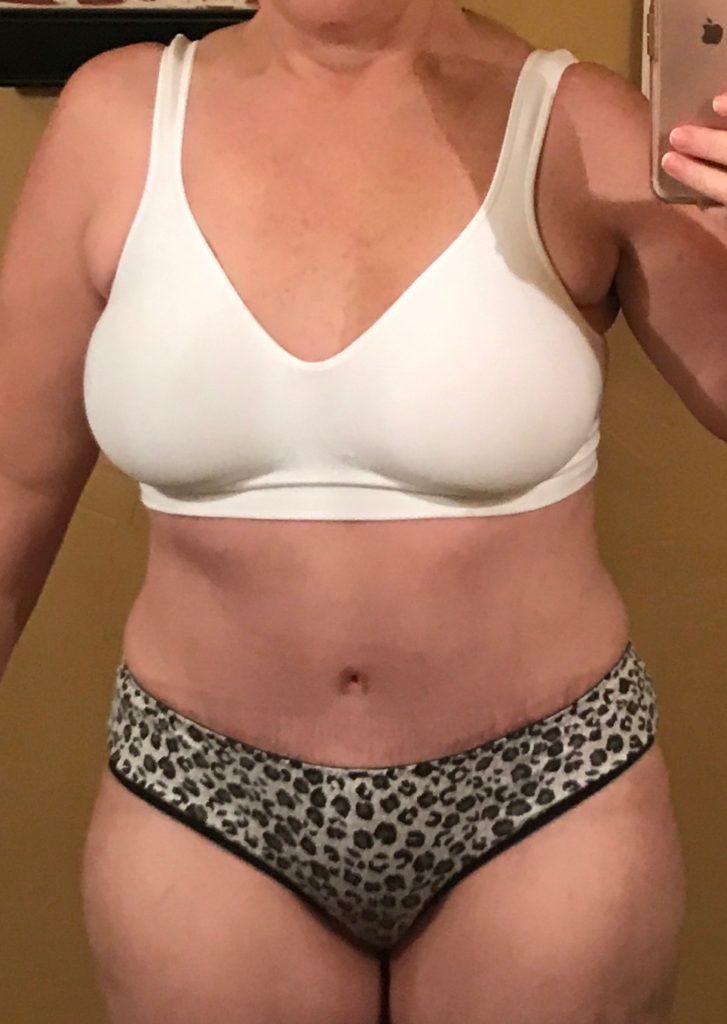 Now, I've got some work to do so my ass and my thighs match this flat tummy I got going on!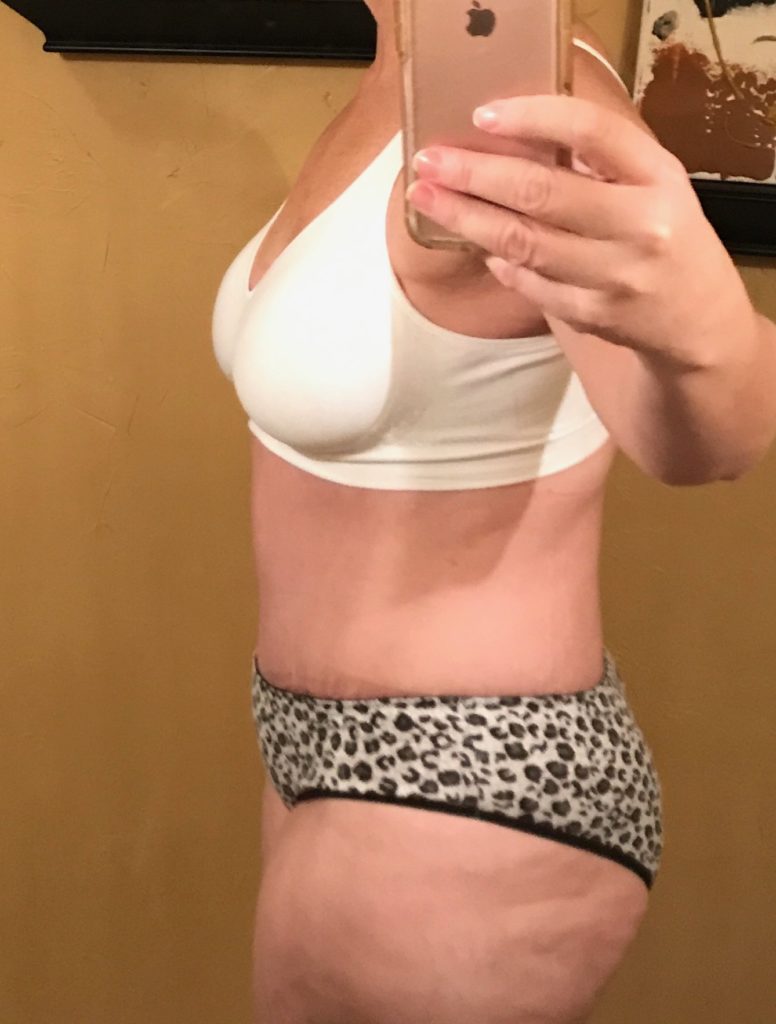 All drains are now out. All tape is now off.
I have an appoint next Friday.
My appointment on Friday will complete Phase I of DIEP Flap.
Now, I wait three months before beginning Phase II.
Phase II consist of fat grafting. That means after everything settles for the next three three months, the plastic surgeon will take a look and see where any indentions are visible. Common areas are at the top of the breast where the breast tissue was removed during the mastectomy to the chest wall. It is common to see dents in that area and on the sides of the breast. In that case, fat is graphted from different parts of the body and used to fill in any areas needing to be filled. Fat grafting can also be used to fill in the breast so they do not appear to be flat. Cool, huh?
Phase III, the final phase, is the nipple Phase. We can discuss that later
Now, I wlll start taking Tamoxifen. This is the pill commonly prescribed for my type of breast cancer. I will take this pill daily for five years to reduce the risk of reoccurrence.
Because I am premenopausal, and my breast cancer is estrogen driven, I have decided to have a hysterectomy. That will likely be scheduled before Phase II of this surgery, so maybe late February.
Then, I look forward to moving on.
I'll continue to keep you posted on my progress.
I am beyond grateful that I was introduced to Dr. David Chandler.
I truly think that what he was able to do for me is amazing. I had prepared myself to not like what I saw in the mirror post mastectomy, and I now know that I will be very pleased.
I hope that through my Breast Cancer experience, I have been able to inform you, inspire you to schedule your mammogram, have open conversations about breast cancer with your family and friends, encouraged you to ask questios about your own health, and most of all, encouraged you to share your own story.
You just never know who might benefit from it!
Thank you ALL for your continued support, your prayers, your good vibes and your kind words. I have read every comment and will reply to them all within the next few days. You are all so appreciated! I wish I knew you all in person! You really know how to make a girl feel great!! Big Hug to you all.
What a post to end the year!
Happy New Year!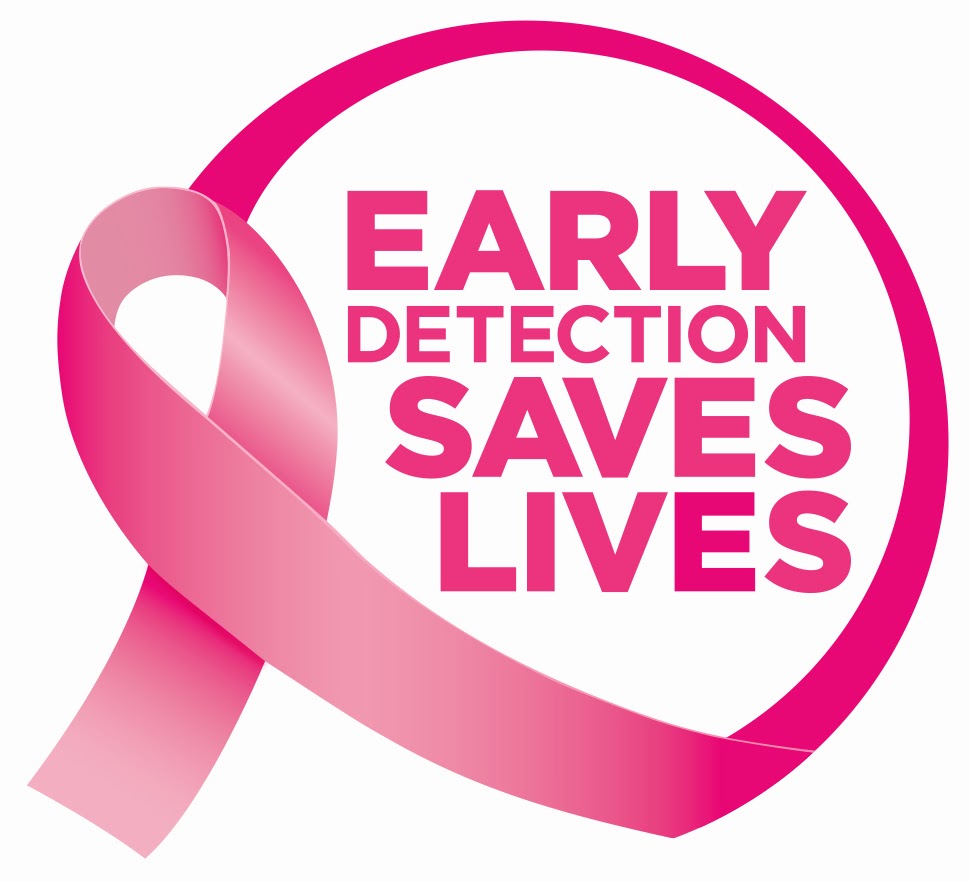 "love the life you live, live the life you love"