Hi All. It's Julie. Remember me?
Oh my gosh, so much to talk about!
Post op updates,
2018 Goals,
2017 in Review,
Tracking my food and WW Freestyle
I'll save "2017 in Review" and "Tracking my food and WW Freestyle" for my next post, otherwise I could be here ALL day……..and you would be really bored. Heck, that might happen anyhow!
Post Op
My daughter Tess came in town December 6th and ended up staying through surgery and didn't go back to Dallas until December 28th. I loved having her here and so did Mike. Recovery would have been so difficult without her here.
She actually came back this past weekend and organized an un decorating afternoon for me with our son and daughter-in-law. Everything is put away and organized just like mom likes it. They all did a great job!
I'm now 4 Weeks Post-op! I can not believe that surgery was 4 weeks ago! I was finally able to get all of the surgical tape off of my body! I'm still trying to get used to this flat stomach. I gotta tell ya, it's really weird. I had spent so much time wondering what my new breast would look like, I just hadn't put much thought into having a flat tummy. It's very tight, it's completely numb to the touch and it is still super uncomfortable. But it's flat and I don't hate it!
Mike and I went in for my 3 week post op last Friday with my plastic surgeon and he said that everything is healing nicely. When Dr. Chandler walked into the room, I asked him if I could give him a hug. When I hugged him, I gave him a really tight hug and he hugged back just as tight. He was smiling and I asked him if he had any idea what he was doing for women who had lost their breast to cancer. I told him that I felt like he had put me back together again and made me feel like, although they look very different, I had my breast back!
He told me that he didn't hear it very often, but that he really appreciated hearing it from me.
All smiles.
I go back to see him in 6 weeks, then we make plans to move forward with Phase II. More on Phase II when the time comes.
On Monday I had a post surgery appointment with my oncologist to discuss my next steps.
There are commonly prescribed medications for pre menopausal women with estrogen positive breast cancer and different medications prescribed for post menopausal women with estrogen positive breast cancer. These medications are to reduce the risk of cancer reoccurrence.
Tuesday I began taking Tamoxifen (typically taken daily for 5 years), the one prescribed for premenopausal women.
I will be having a full hysterectomy in March. After that, I will be taking the postmenopausal medication.
I've had a lot to learn over the last several months and the months to come will bring more questions. There are a lot of possible side effects with the medications so I'm crossing my fingers that I experience little or none of them. I'm trying to keep an open mind about it all while also telling myself that the important thing is that it is reducing the risk of reoccurance.
The first two weeks of healing after surgery were quiet and and relaxed with short visits from family and friends.
The last two weeks I have begun to feel super antsy. I am not good at sitting still and my brain is full of things that I want to do.
I've tried really hard to take advantage of the coloring books (so cute!) that my friend Ashli brought to me. I've had several long phone conversations with family and friends. Several friends have stopped by for coffee and long chats. I've scoured Instagram accounts for yummy meals to make when I'm back in the kitchen 100%. I've caught up with lots of friends via text messages and phone calls, and I've thought about things that I'd like to accomplish this year.
My physical restrictions are….
No lifting anything over 10 pounds for 8 weeks (4 weeks to go!)
No strenuous activity to elevate my heart rate
Don't do anything to break a sweat
I can however stretch, so I have been doing a lot of that!
Sleeping sucks right now because I simply can not get comfortable. Waking up kind of sucks too simply because getting out of bed doesn't feel so great.
Once I'm up and on my feet, I'm good. Walking around the house is actually when I feel the best. Sitting isn't so comfortable.
That being said…..I am ready to move forward and I've been thinking a lot about what I'd like to accomplish in 2018
2018 Goals
I'm always all about January. It may be my favorite month. I always feel like January is a fresh start and things feel new. I think if you read the blog regularly, then you might understand why I would be anxious to get 2017 over with and move into 2018 with excitement and curiously as to what the year will bring for me and my family.
One of my friends that came by for a visit after my surgery brought her new 2018 planner. She knows I'm a planner too so she showed it to me. I loved it!
Have you heard of Commit30?
It's a great little planner that helps you to break down some of the steps that you can take to achieve your goals. Each month, you can focus on that 30 days to commit to achieving a goal. You decide what you'd like to achieve, and the planner helps you to break it down.
Next month, work on a new goal, or improve on the previous month. Your book. Your goals. You decide!
I stopped making New Years Resolutions a long time ago, and started looking at the year as a whole and thinking about what it is that I would like to accomplish. Some things I succeed in and some things get put on the back burner. I don't let those back burner things get the best of me, I just move them into the next year and try to make a better plan for them to happen.
I think I am going to love this planner! It comes in different colors, but I loved the Gold. My daughter Tess bought one too!
It's the perfect size to toss in my purse or carry in the car.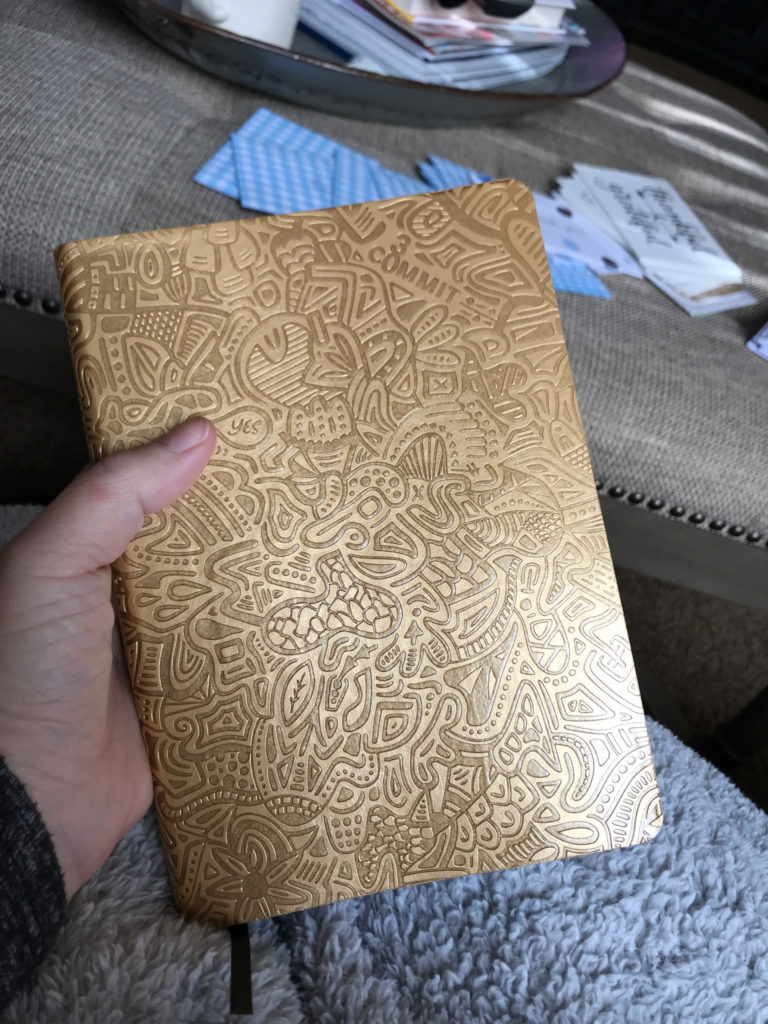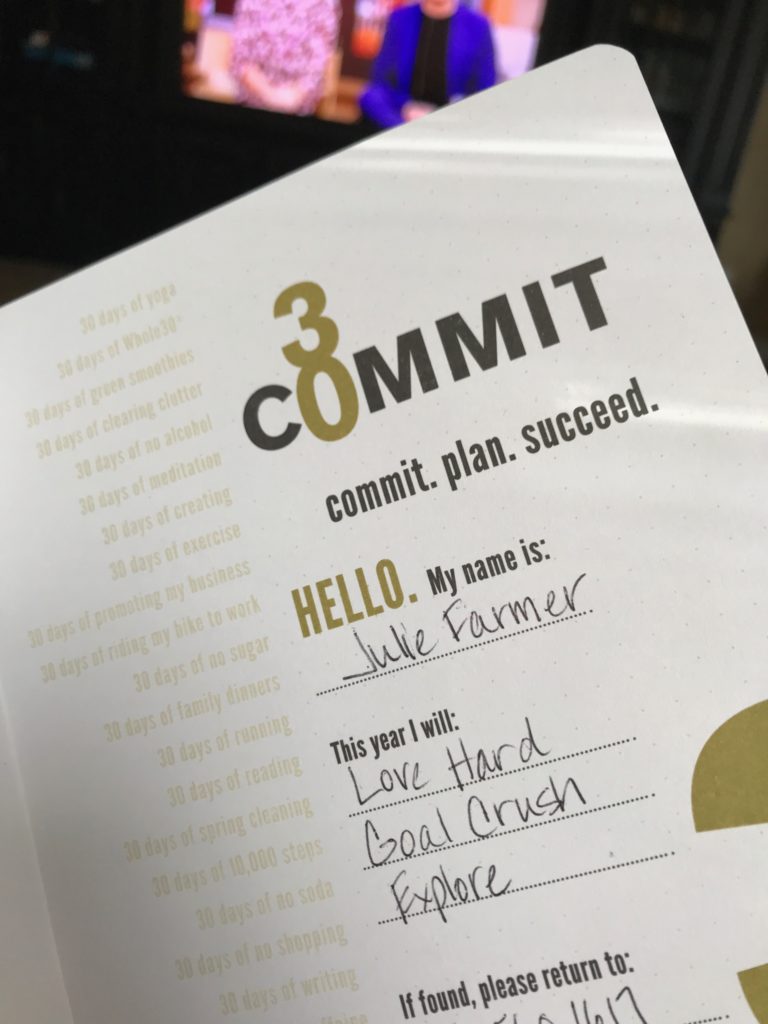 It also helps you to break down different areas of your life.
These are just a few of the things that I would like to work on this year. I'm sure I'll think of more as January rolls by.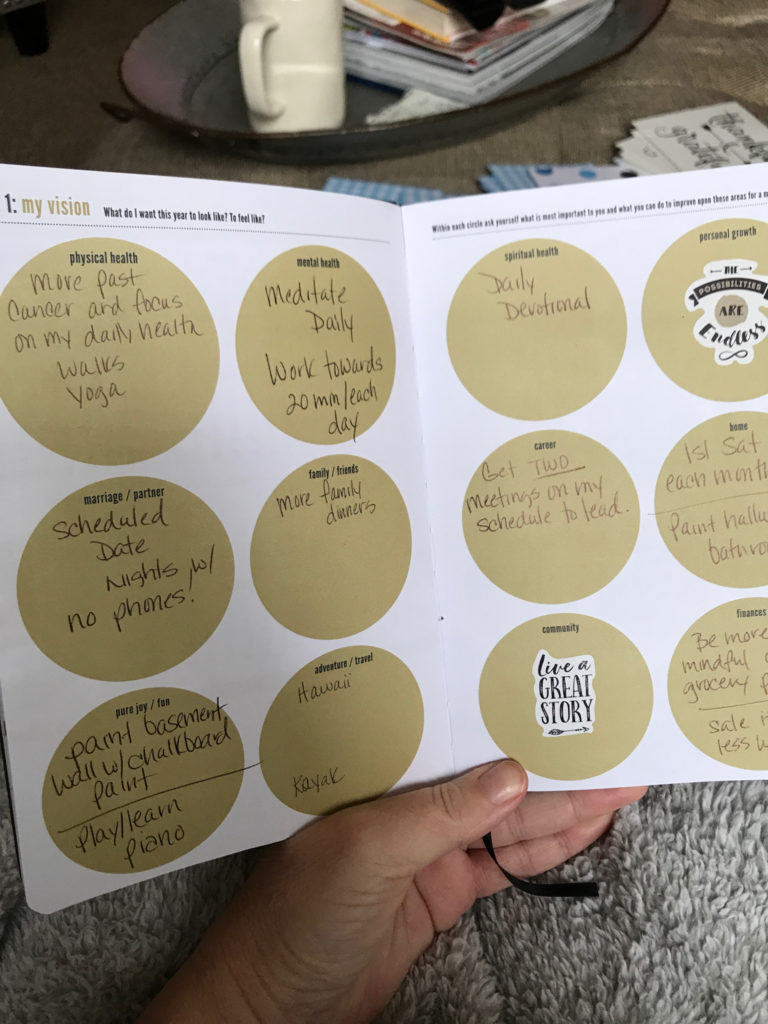 Each month starts with this page. I need a little practice in my action steps, but so far I am doing well on these two goals.
Since my January is really about recovery, I kept my goals simple.
You decide how to reward yourself for achieving your goals at the end of the month.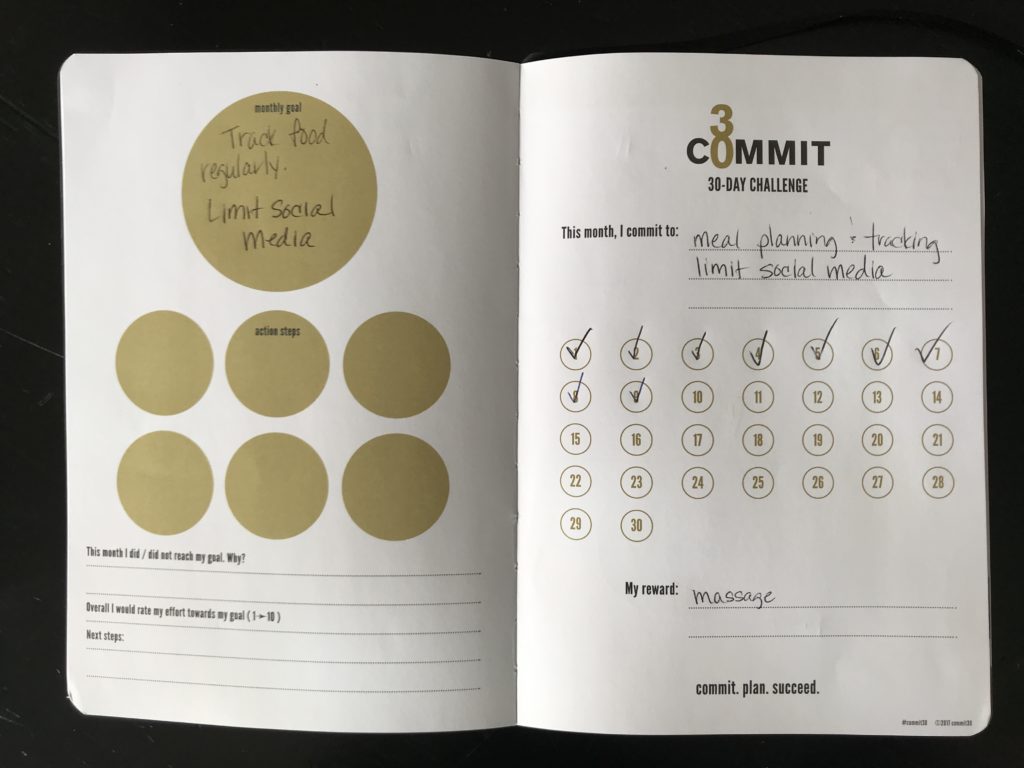 Each month starts out with a great quote!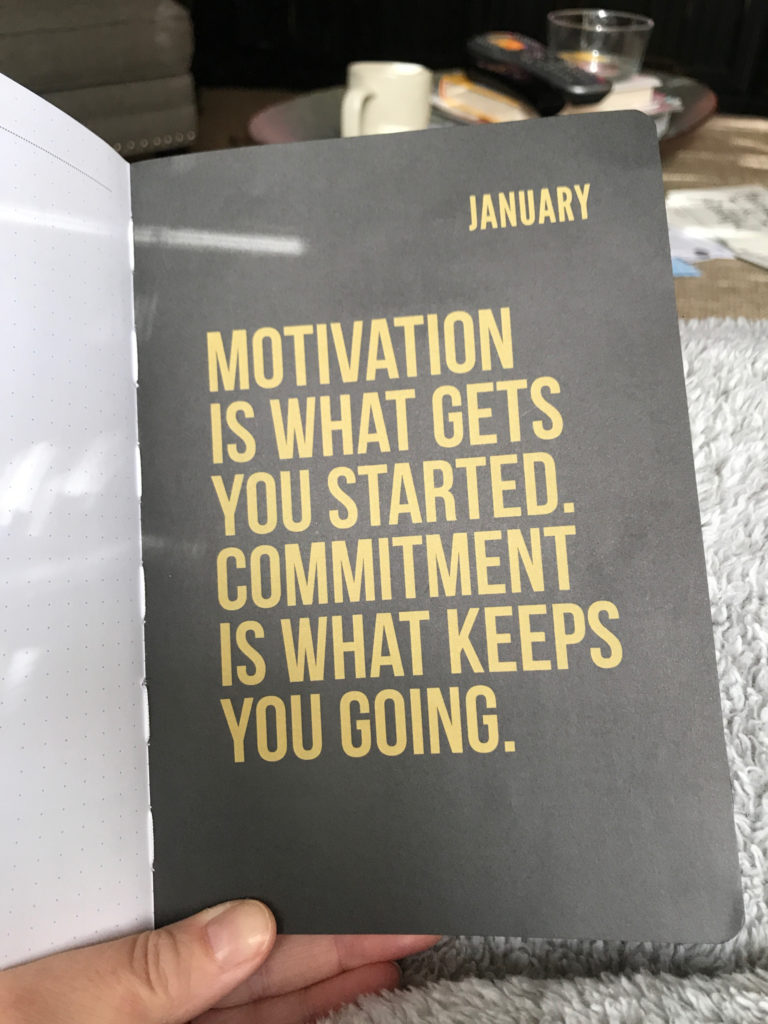 Each week is broken down with plenty of room for morning, afternoon and evening plans. Plenty of room at the bottom of the page for notes (or even a grocery list if you plan to carry this in your purse!).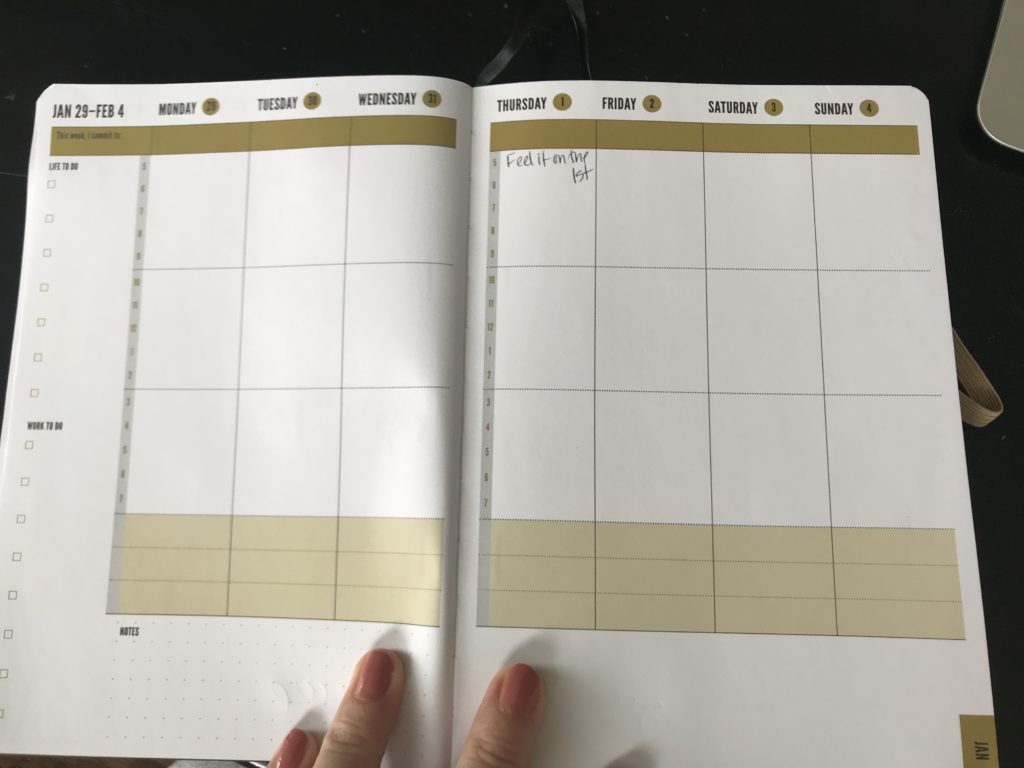 This year is for sure starting off slower than years past, but I am looking forward to goal setting and crushing those goals!
I met with one of my WW Co-workers yesterday and it was good to talk "work" and WW Freestyle and get caught up on a few of my favorite members, but it was hard to know I'm still a few weeks out on being able to go back to work.
I'll talk Weight Watcher Freestyle in my next post!
I hope that 2018 has started off well for all of you!
Have you set Goals for 2018? I'd love to know what they are?
Hugs!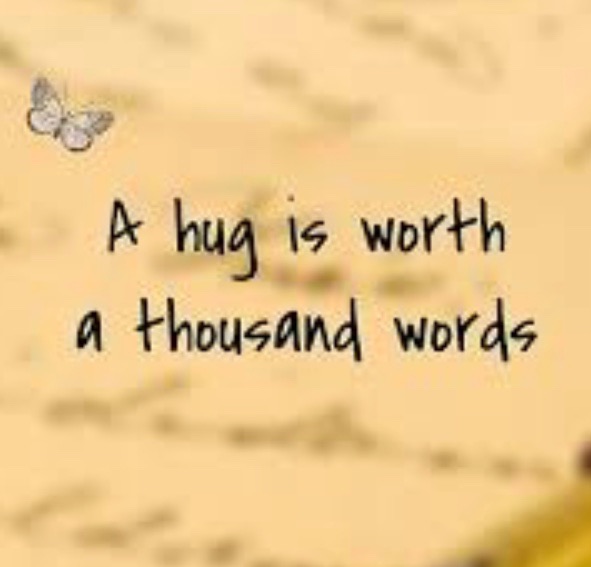 "love the live you live, live the life you love"