I'm happy to be back at Weight Watchering! (it's a word.)
A VERY sweet friend of mine (Thank you Niki!) organized a Meal Train for my surgery in August and for this most recent surgery. I so appreciate my friends singing up and bringing us meals. One less thing to worry about and so very kind!
The Meal Train was organized through the month of January, but since I've felt pretty good these last two weeks, I decided to cancel the remainder of the Meal Train. I love that friends want to help, but I feel bad having someone bring us a meal when I now feel good enough to throw something simple together.
That being said, I got back to tracking and making a few simple things in the kitchen. Basically, soup, tuna salad and any kind of breakfast food that you can think of that is easy.
If you are a WW member, you are a few weeks in now on WW Freestyle!
How is it going?
Do you like the plan?
Do you hate the plan?
What new Zero SmartPoints foods do you love?
What foods are making Freestyle easy for you?
I would love to know your thoughts!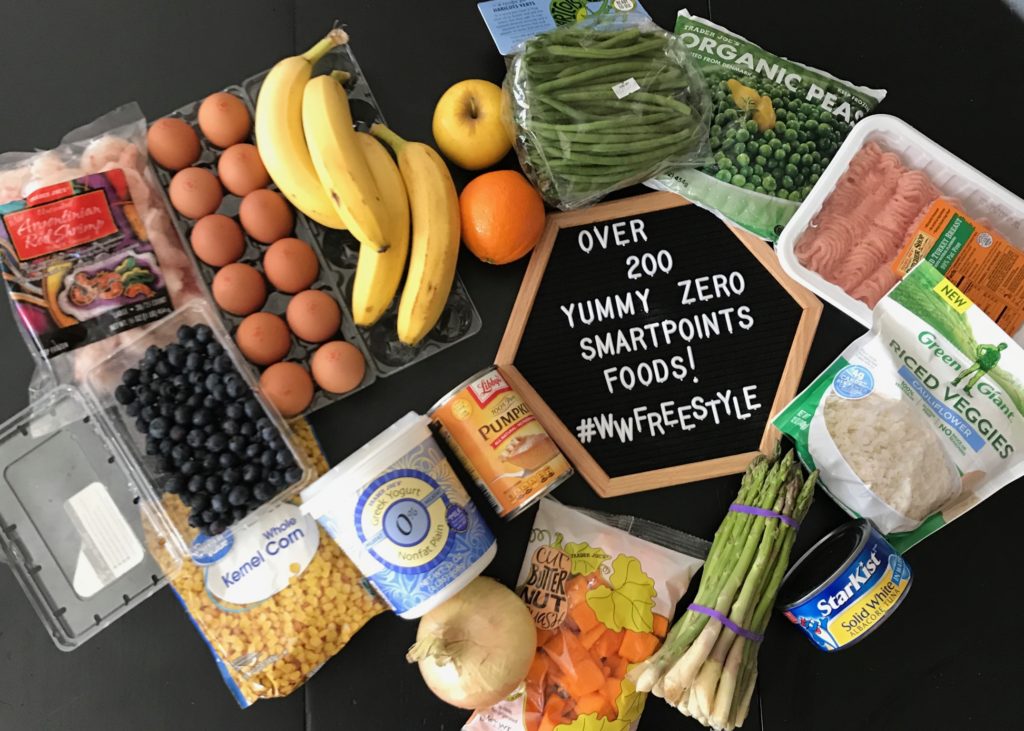 My weigh in day as a member was always friday, so on Friday December 29th, I began to track again and it feels really good.
Before my recent surgery, my weight had gone up about 10 pounds from what I had maintained for about three years. I wasn't crazy about the way that I was feeling, but my plastic surgeon did tell me to try to maintain where I was so that he had enough belly tissue to work with for my surgery. I did that.
Leading meetings, feeling uncomfortable in my own skin, and two major surgeries ahead of me, I wasn't feeling like a very good Weight Watcher role model.
Now that surgery is over, I can work on getting back to a weight that I feel much more comfortable with.
I am super excited to get back to blogging in my Julie form, whatever that means.
I really like to post a daily blog (I rarely miss one) of what I ate, how many SmartPoints it was, and what activity I got in for the day. I also like to throw in any recent shenanigans. There always seems to be something going on!
Blogging daily is a great accountability tool for me and it has become such a routine, I miss it!
Hopefully, I will be able to give you all some easy ideas for meals, whether you are a WW member or just trying to come up with easy and health meal ideas.
I like to just throw things together and I hope that you do too!
I'm terrible at actually creating recipes and posting them here on the blog, but I do have a few and I do try to do that.
I have yet to go in and update any more than a few recipes to Freestyle, but I am adding it to my goals for the year. Forgive me for being terrible about that!
I havne't been really busy in the kitchen and we haven't had anything fancy, but I've made lots of soups, we've had simple proteins with salads, we've done taco meat and I'm now back into enjoying the non fat greek yogurt. Of course, I always love my eggs.
Here are a few of my favorite things lately!
Nonfat Plain Greek Yogurt and Nonfat Plain Yogurt are both now Zero SmartPoints
Nonfat Plain Greek Yogurt with a few drops of liquid Stevia (I like Vanilla and Cinnamon flavored) and a generous sprinkle of cinnamon makes a great meal or snack!
I typically buy this brand.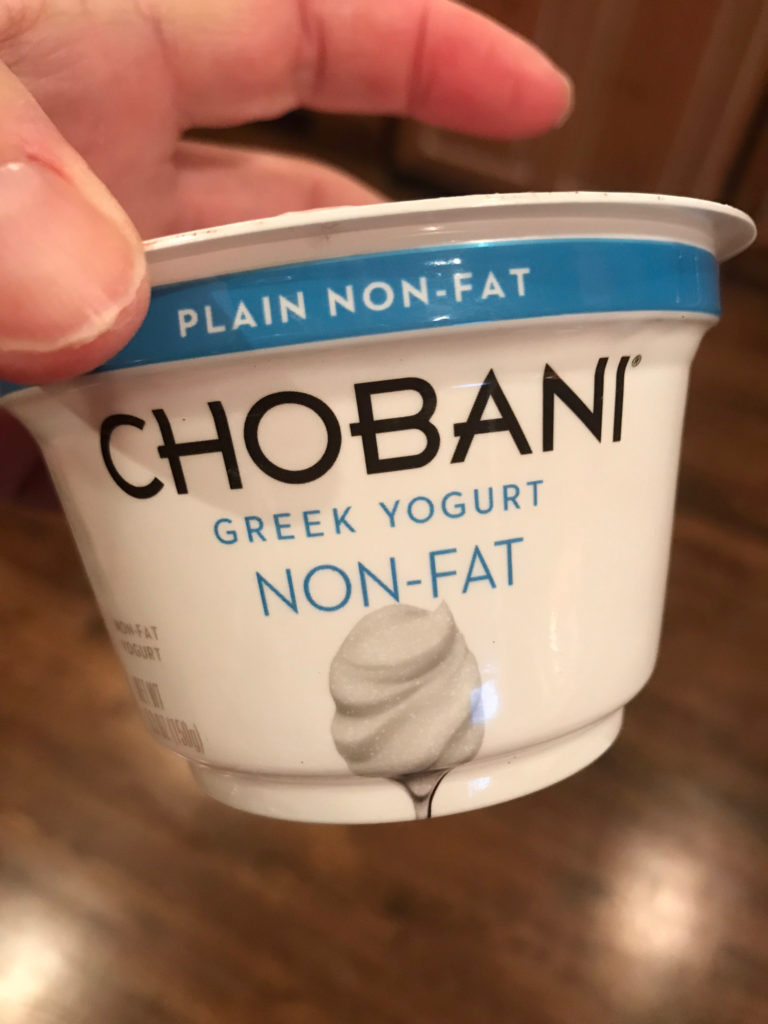 I tried this recently and it is amazing! It is much thicker! They taste the same to me, but I do like the thickness of this one better! I found this at Whole Foods.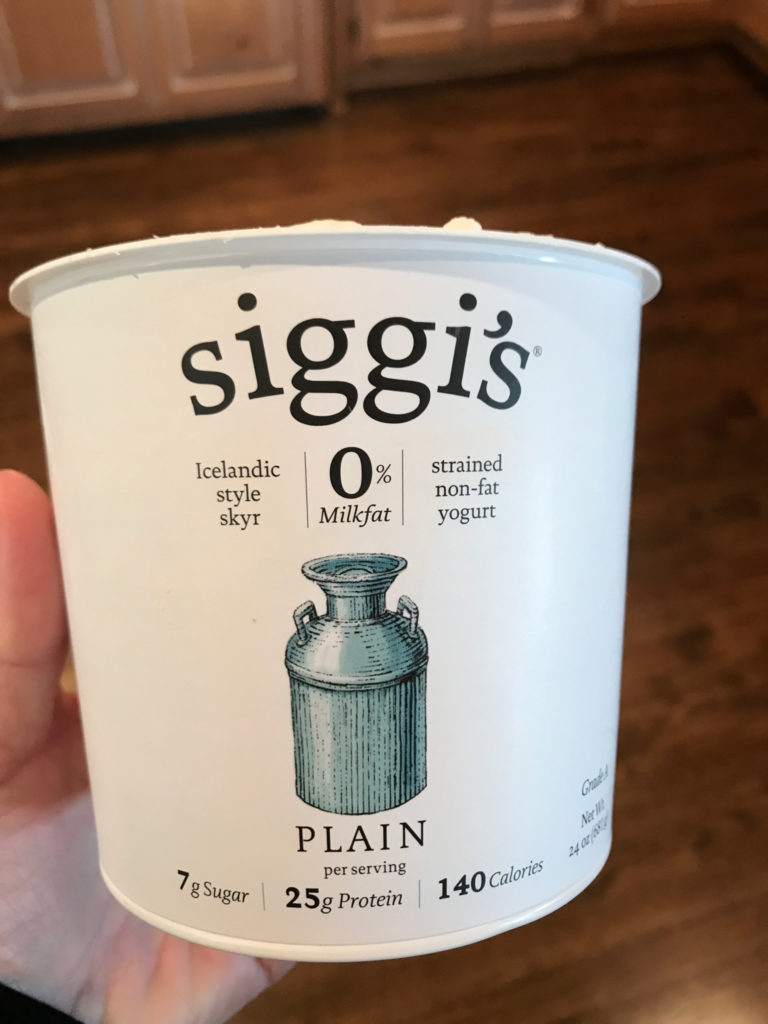 I like to add a little additional cinnamon to the top!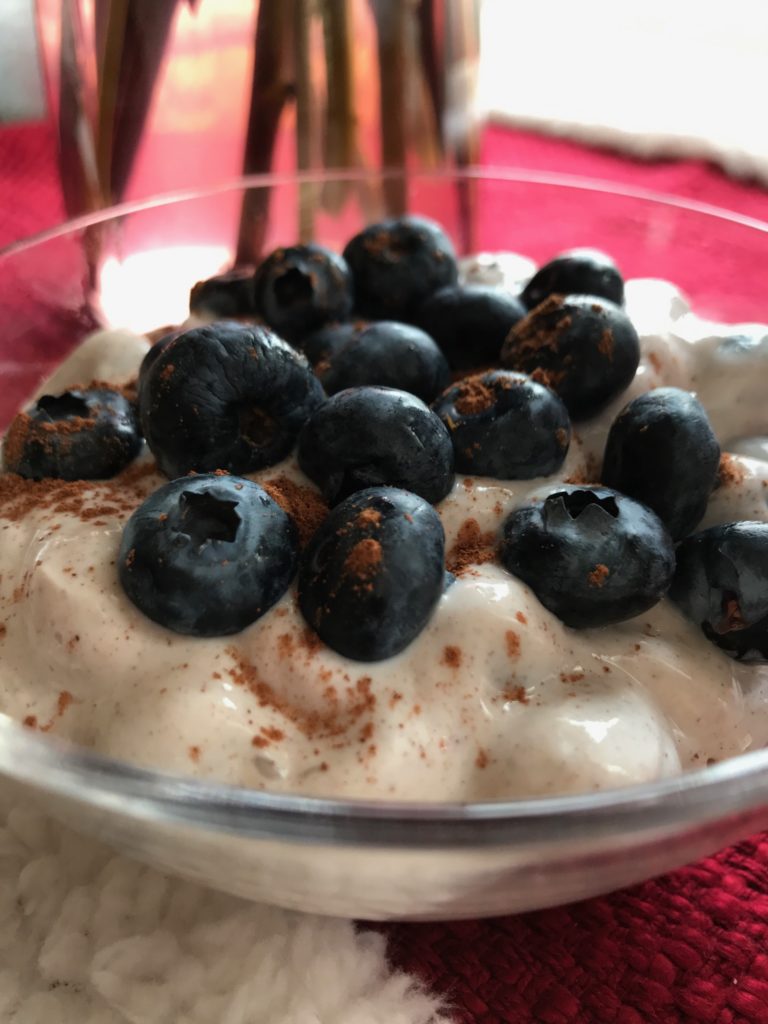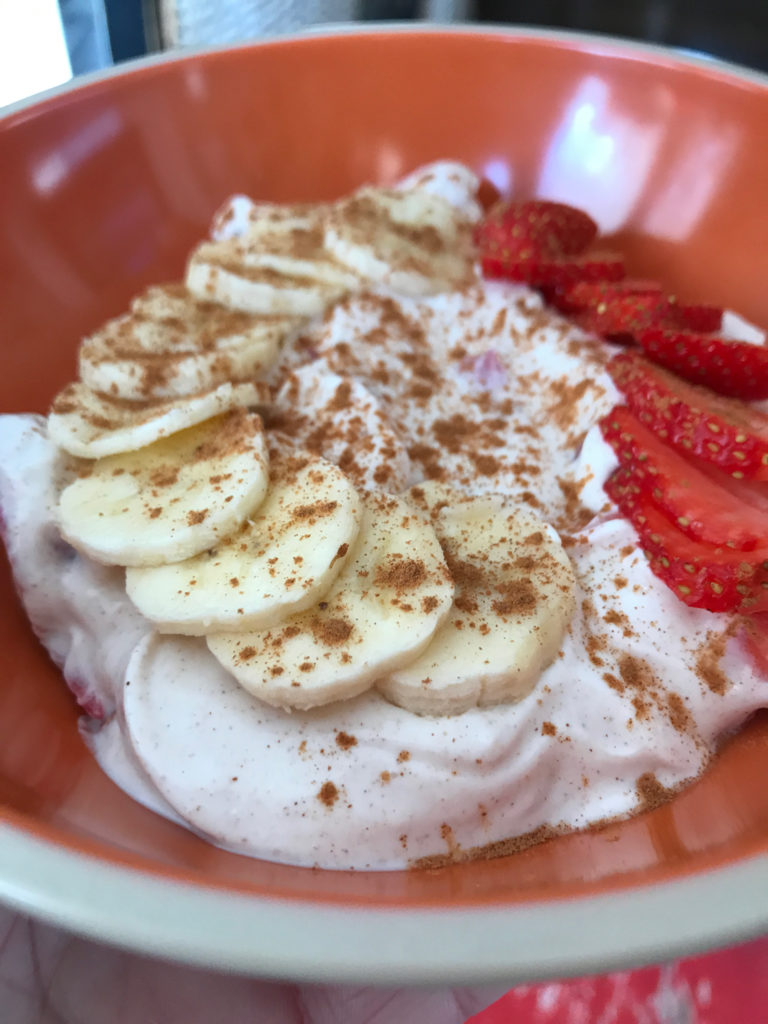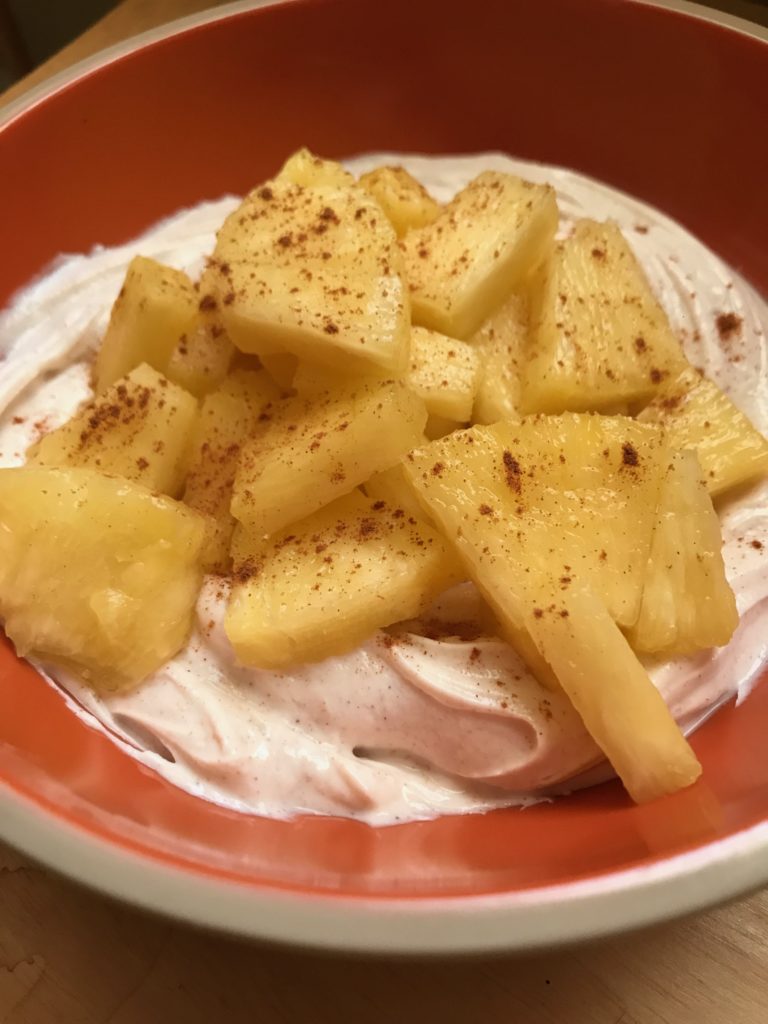 I added a 1/2 T. of Almond Butter to this bowl and it was delicious!
2 SmartPoints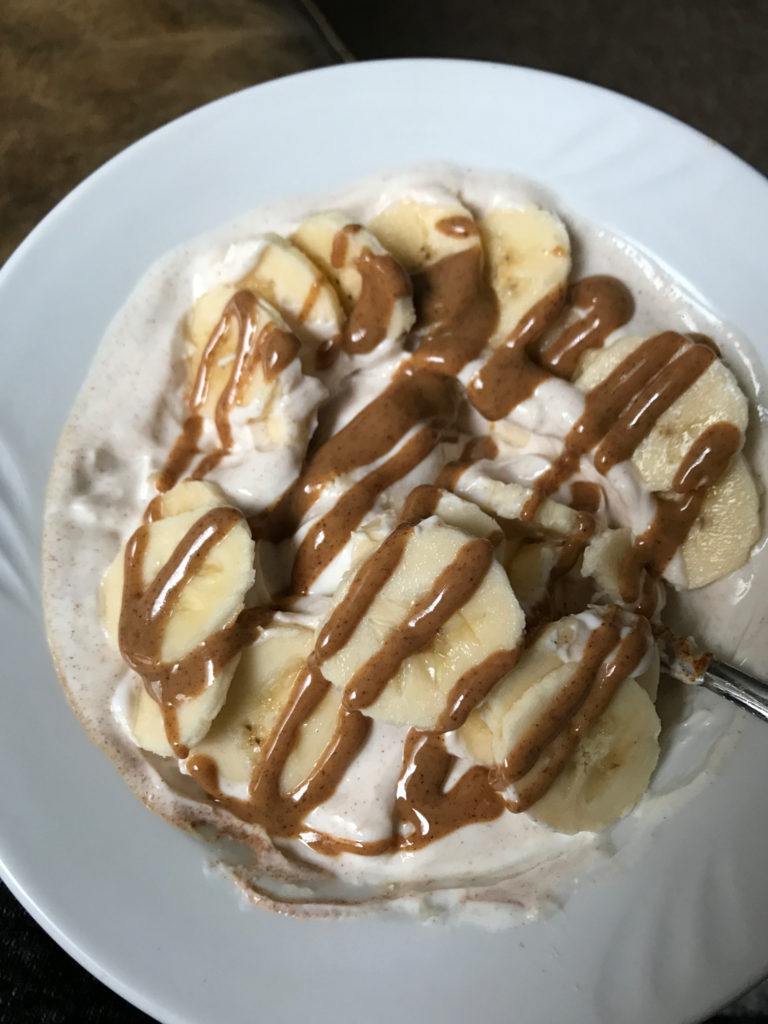 Eggs are Zero SmartPoints
Sweet Potato Hash topped with Eggs and Avocado! So many flavors in here.
7 SmartPoints for this breakfast.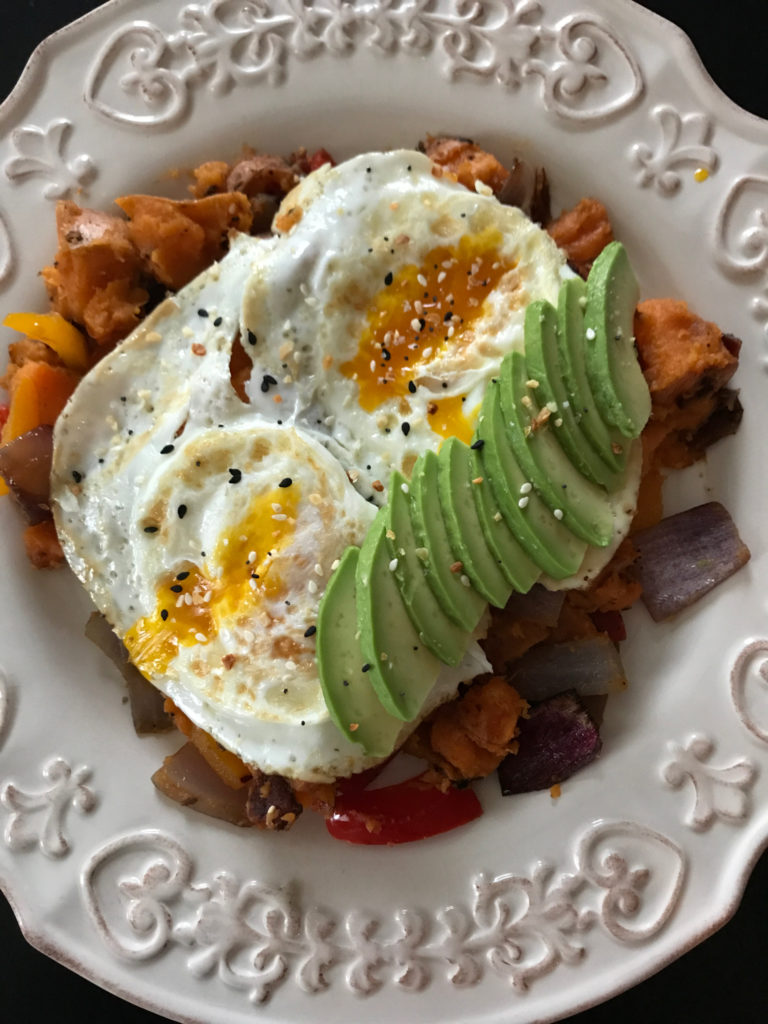 Soft Boiled Eggs!
Place Eggs in Boiling Water and boil for 6 minutes. With a slotted spoon, remove the eggs and place them in a bowl of ice water for 2 minutes. Peel under running water. Perfect every time!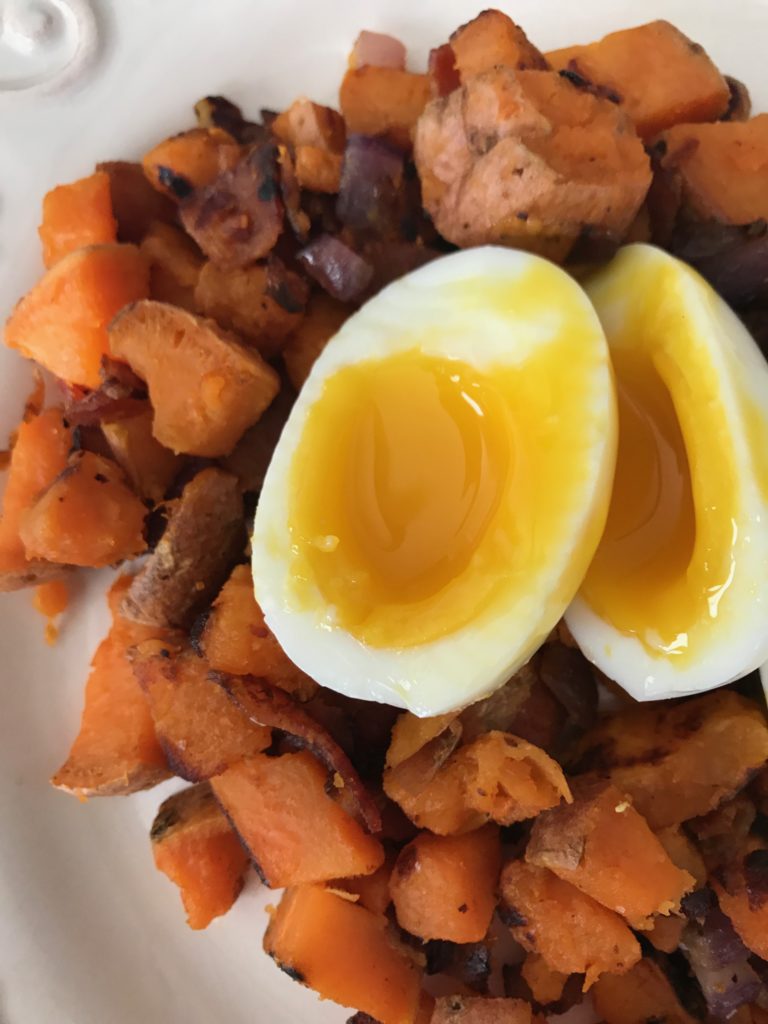 Fruit is Zero SmartPoints
Some mornings, I don't mind a slice of toast all dressed up!
This piece of bread is 2 SmartPoints, then I topped this with 2 tsp of Almond Butter, 1/2 Banana, Blueberries, 1/4 drizzle of Honey and a sprinkle of Cinnamon.
4 SmartPoints. Perfect with my black Coffee!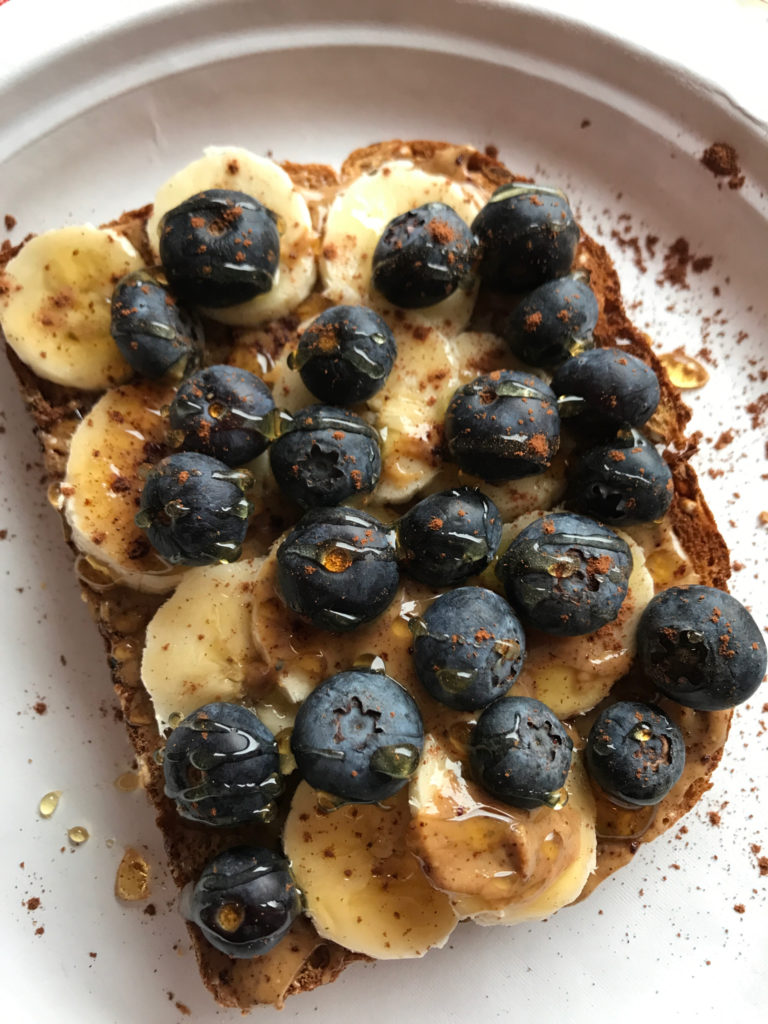 I could do Pancakes for Breakfast, Lunch or Dinner.
Maybe you prefer Waffles? This is the Big Ass Waffle recipe, in pancake form.
Sometimes I just don't want to get out the waffle iron. These cakes are about 3″ in diameter.
3 SmartPoints for just the Pancakes.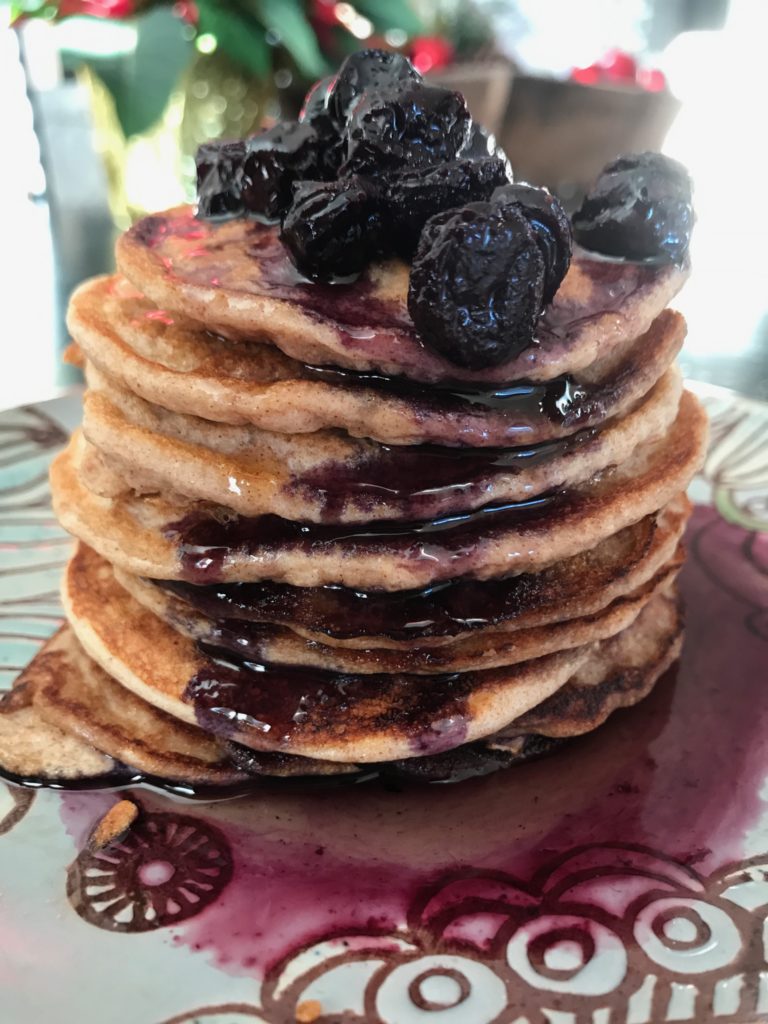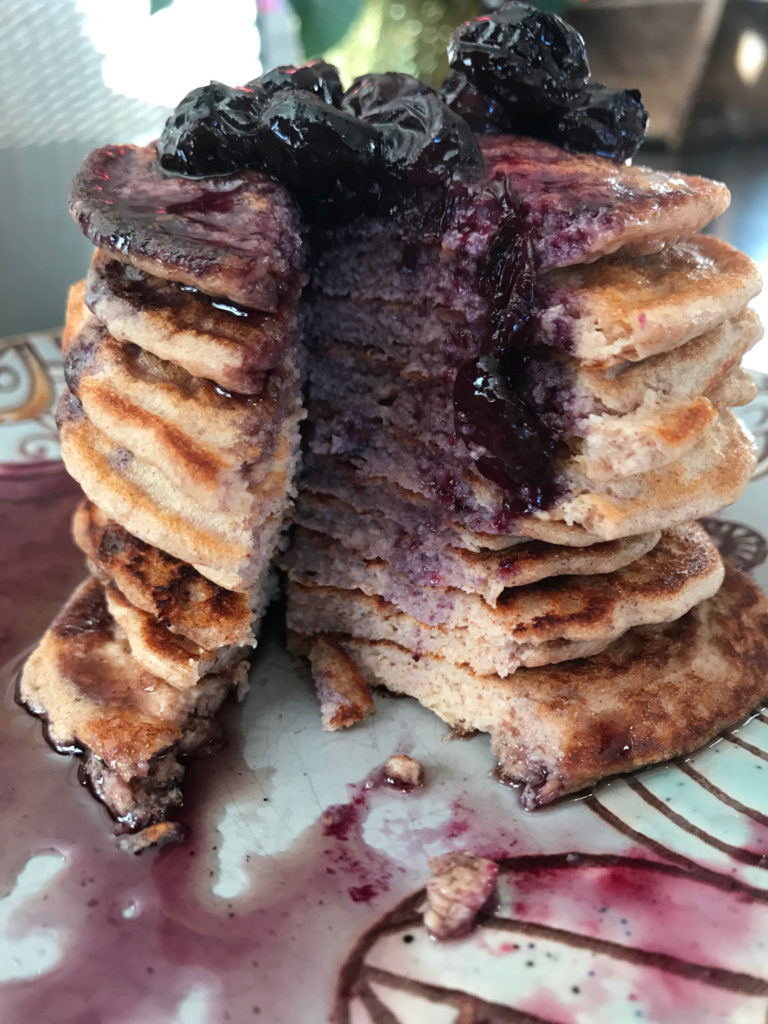 Same recipe, but two large cakes.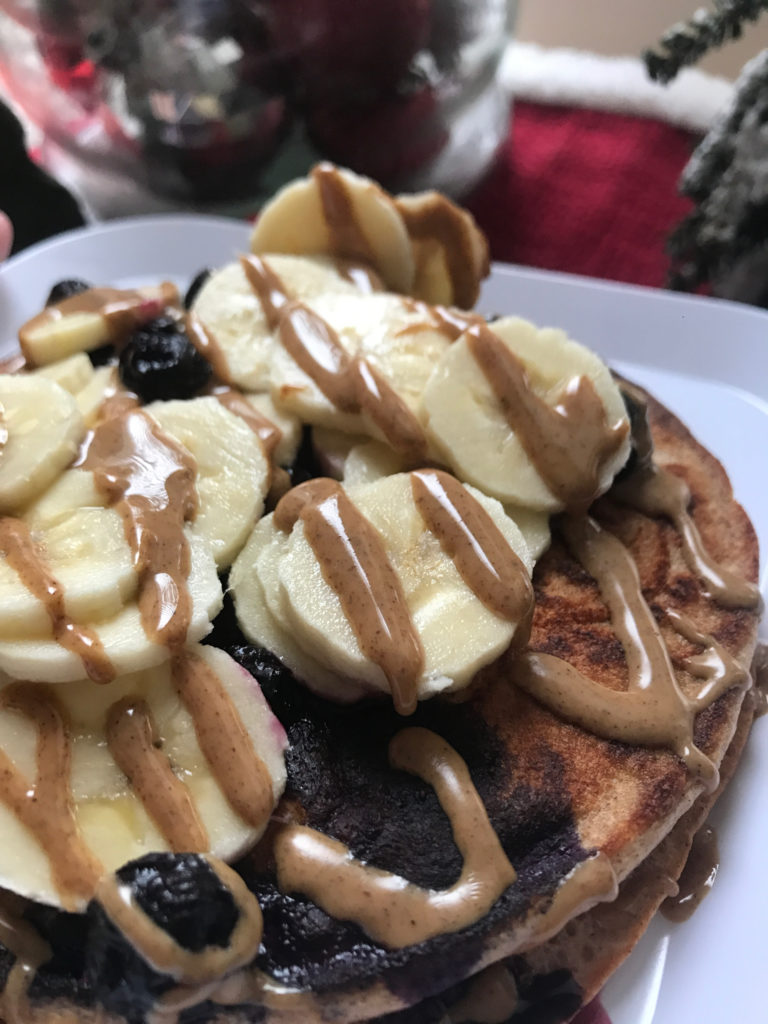 Tuna is Zero Smartpoints
3 SmartPoints for lunch.
The mayo is 3 SmartPoints, everything else, Zero SmartPoints.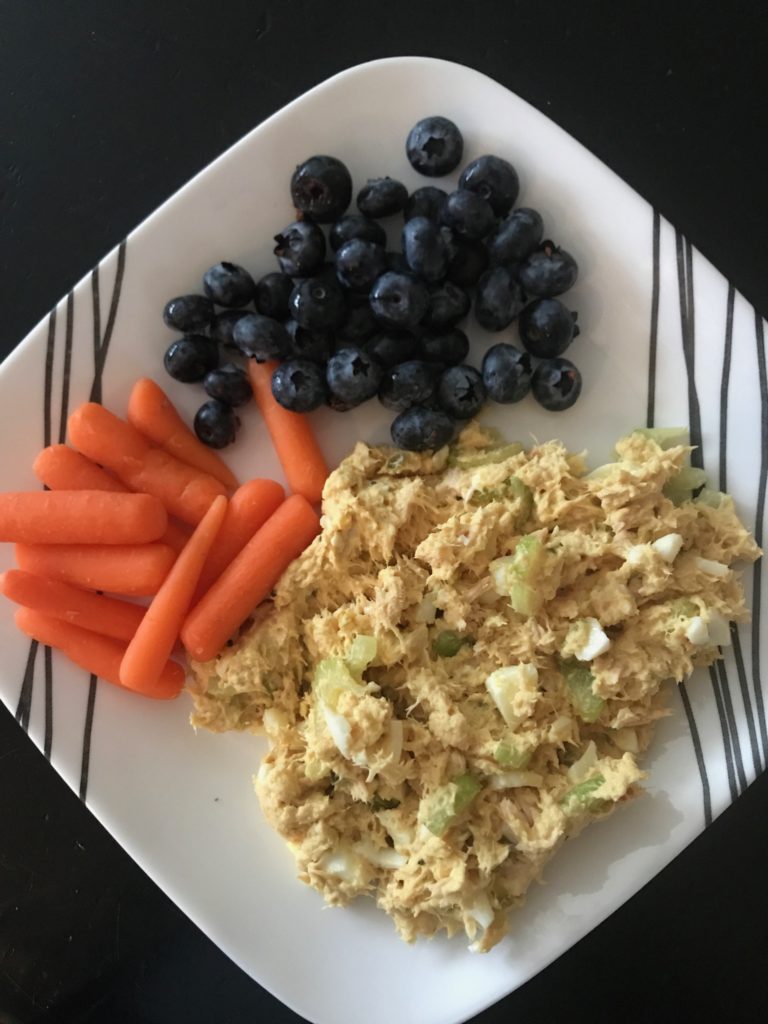 Did I mention the fun that I've been having with the letter/chalk board that WW gave all of the WW Ambassadors??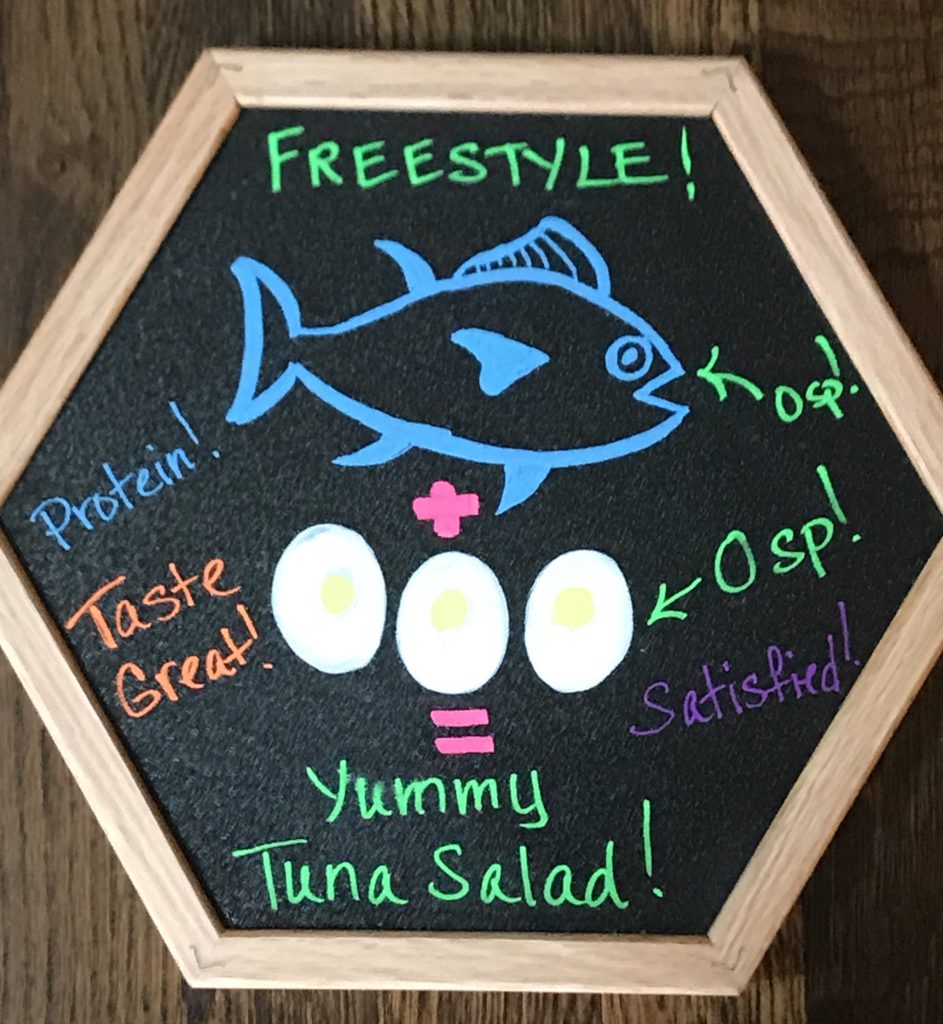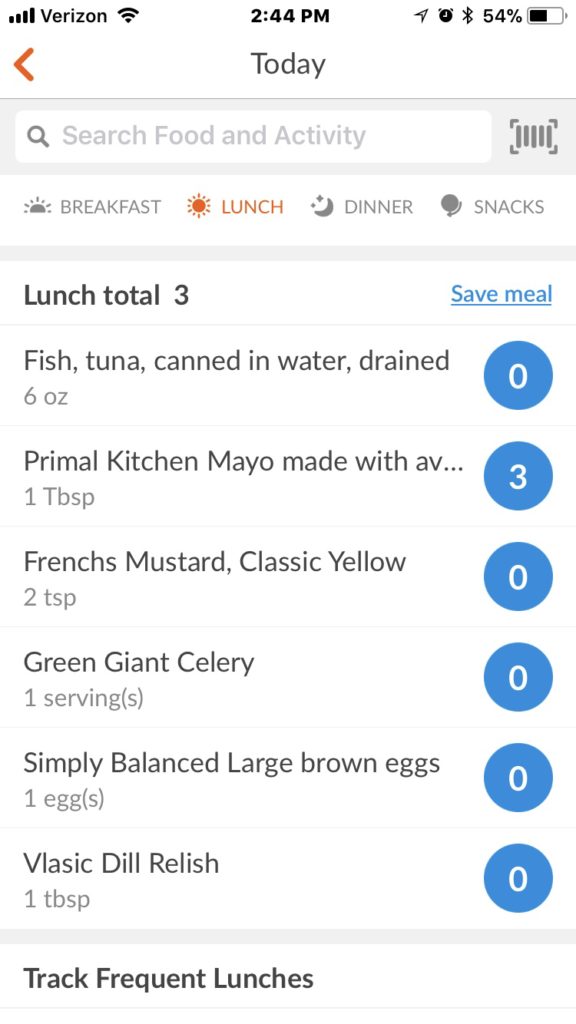 I started driving last week, so I met a friend for coffee and lunch at Whole Foods.. I always love their salad bar. This is all Zero SmartPoint Veggies and Hard Boiled Eggs topped with a drizzle of Balsamic Vinegar and Olive Oil.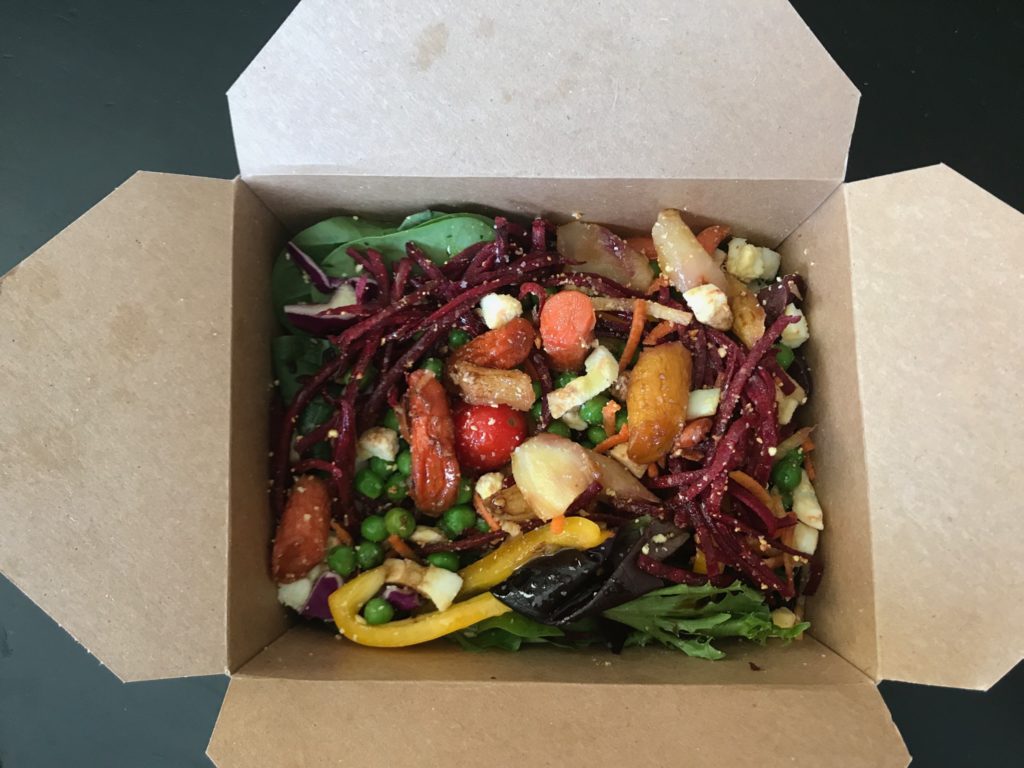 I picked up a few Pre-made Salads at Trader Joe's for a quick lunch or dinner.
The dressing on this was pricy as far as SmartPoints go, so I used my own mix of Vinegar and Oil. This was one of those meals you just have to guess on.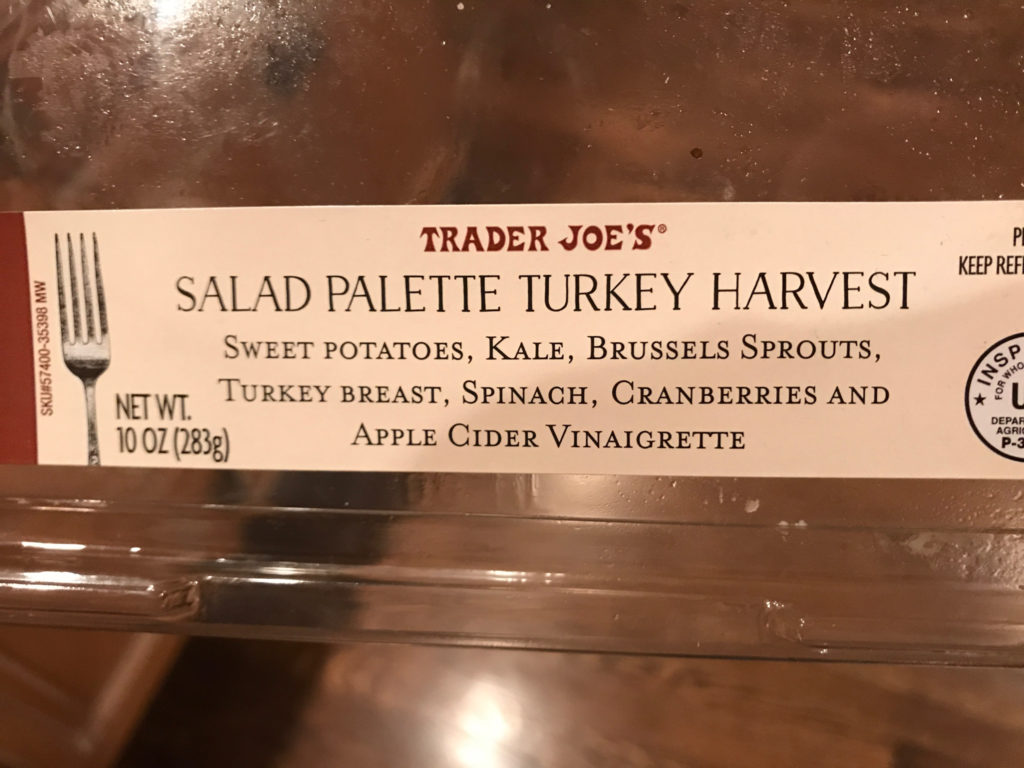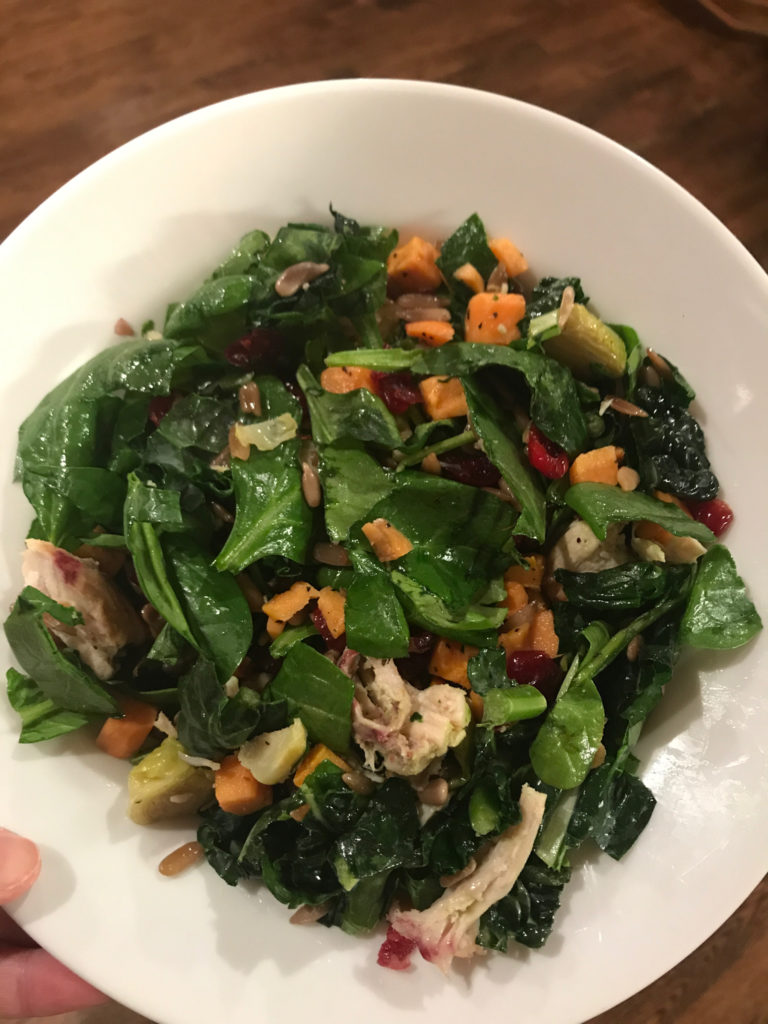 Want easy? These are Bird Balls. A Weight Watcher member created these and they are easy and freeze nicely! I asked his permission to write a blog about them, and he said Yes! You can click HERE to read that post and get the recipe!
On Freestyle, these are now only 1 SmartPoint each and they are about 2″ in diameter!
You could eat these with sauce and Zoodles or Spaghetti Squash for a very low SmartPoint meal!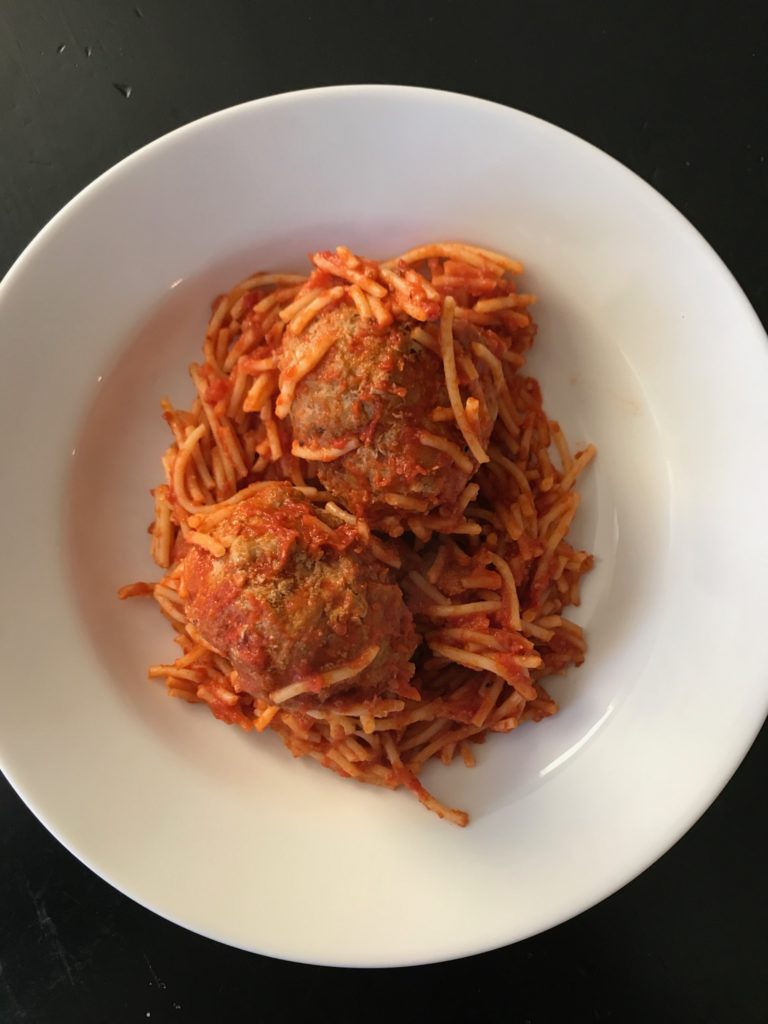 l
Chicken Breast and Corn are Zero SmatPoints
I think I ate this Zucchini Soup (with Chicken Breast and corn in it) for at least three days. I love this soup and without any toppings, it is Zero SmattPoints!
Drizzle a Banana with 2 tsp of your favorite Nut Butter and 1/4 tsp Honey. Sprinkle with 1/4 tsp Chia Seeds for a 2 SmartPoint Dessert!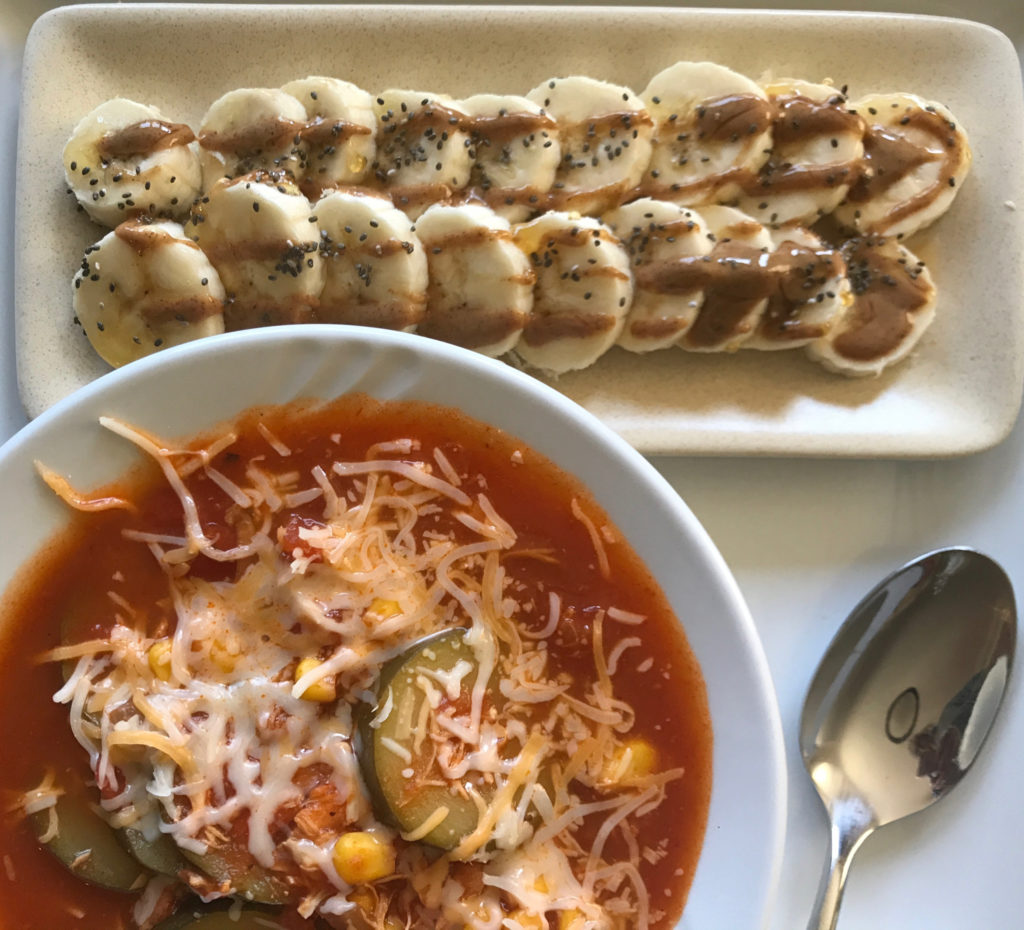 Same Zucchini Soup the next day. Some soup just taste better AND looks better the next day!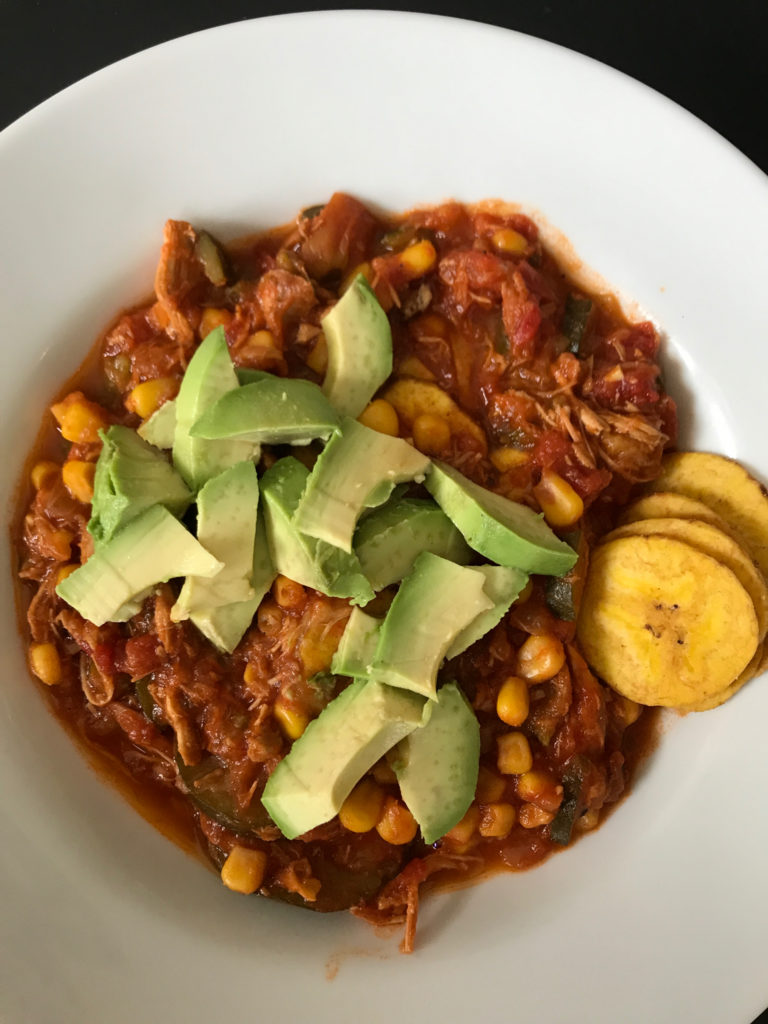 99% Ground Turkey and 99% Ground Chicken are Zero SmartPoints
I made Taco meat using the 99% Lean Ground Turkey! I ate this over a bed of Caulirice and with my few extra toppings, this was a great meal!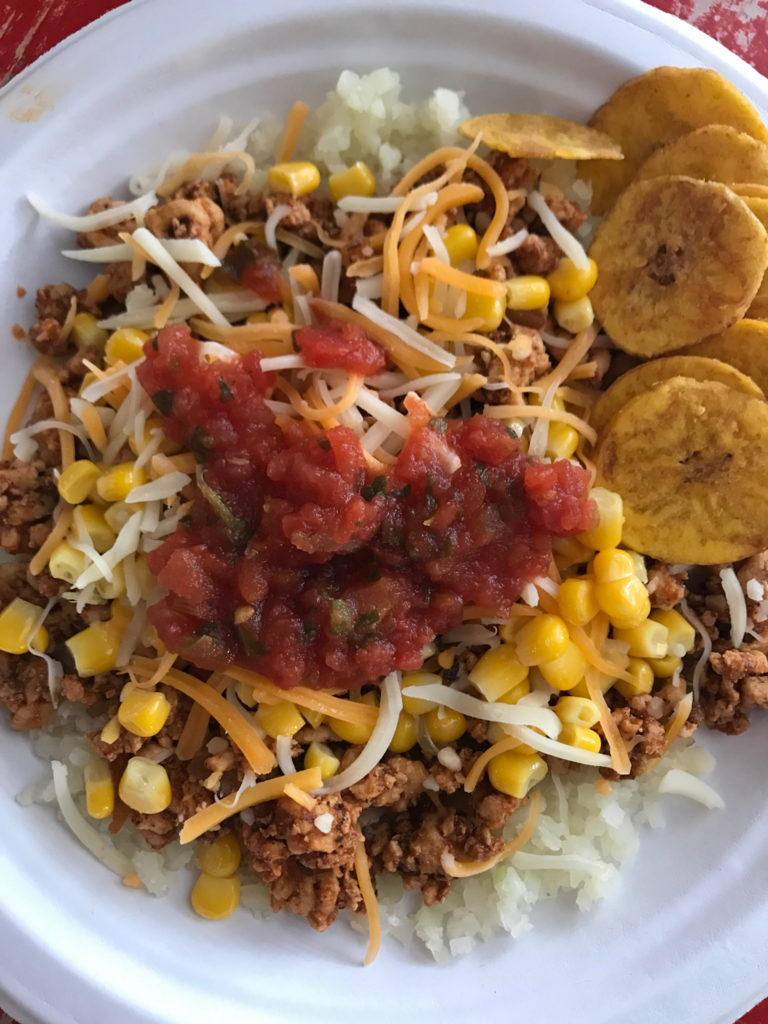 We also ate this Steak Soup for about three days. I could eat a bowl right now!
1 Cup = 3 SmartPoints.
You could make it with 99% Lean Turkey and the only SmartPoints would be the potatoes!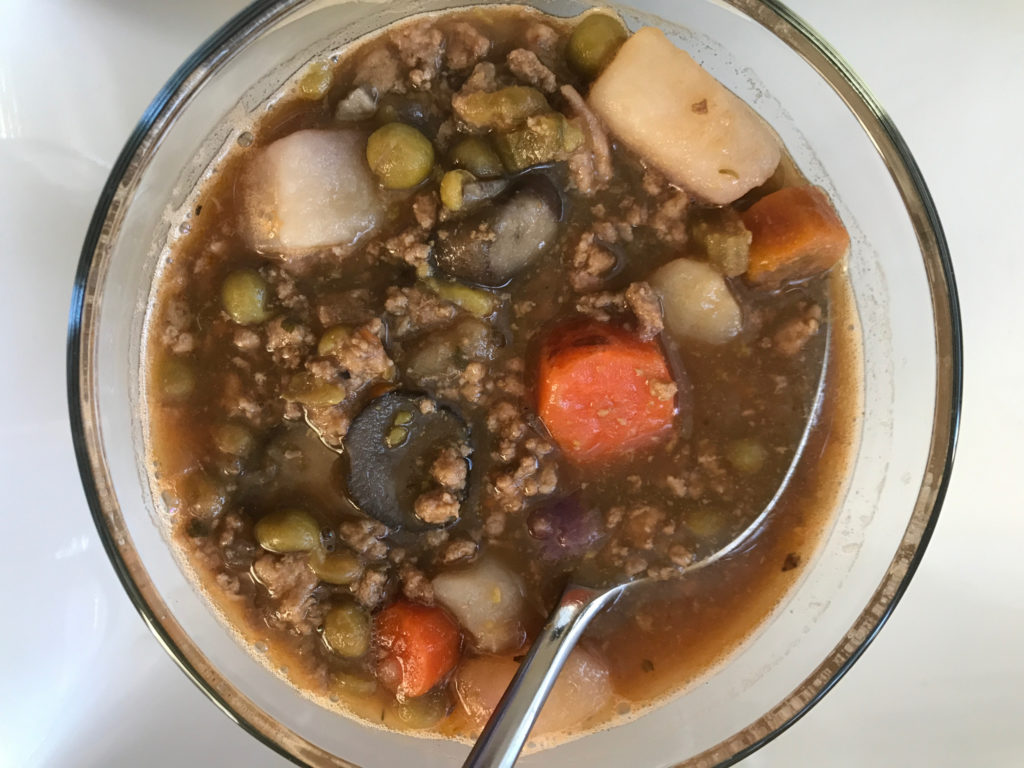 So few SmartPoints in this soup, there's room for Wine!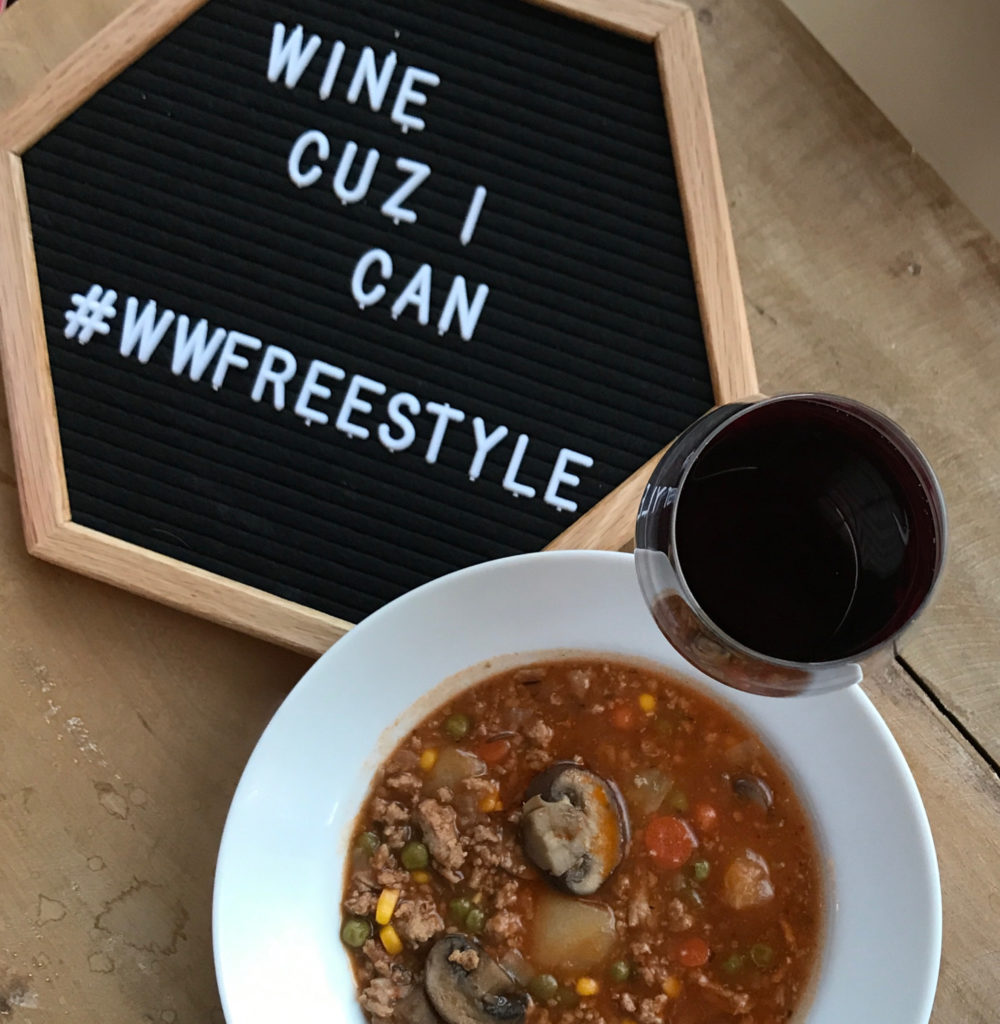 Okay, those are just a few of the simple things that we have been eating over here for the last two weeks.
What are you eating on WW Freestyle?
2018 Goals
Make time each week to Meal Plan
Drink 100 ounces of water each day
Exercise 5 days a week
Eat three meals and one snack daily
Ftibit 10,000 Daily Steps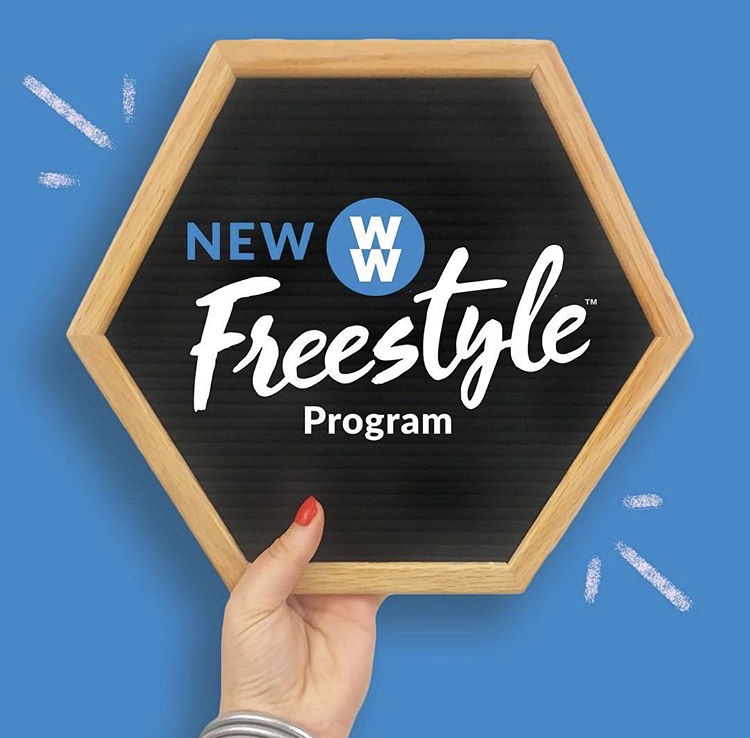 "love the life you live, live the life you love"