These last few days have been filled with coffee/lunch dates with family and friends. Today is 6 weeks post op and I am ready to go back to work at WW February 1st. I had so many people that I wanted to meet up with over the last two or three weeks and it's been nice to catch up with everyone.
I'm behind a few days in a blog post with what I've been eating so I'll fill this post with food.
I feel so in control right now with my eating and it is such a good feeling!
Having meals out has felt easy to me with the new Freestyle. I have guessed on Smartpoints with a few things, but I know that I've made good choices and everything I've ordered has tasted great!
Do you find it easier to eat out on Weight Watcher Freestyle?
If so, tell me what you're eating. I seem to order the same things most of the time.
I'll post this Baked Egg Cup recipe later today!
Breakfast – 3 SP
Baked Egg Cups (2 SP) and 1 tsp Almond Butter drizzle (1 SP) on my Banana.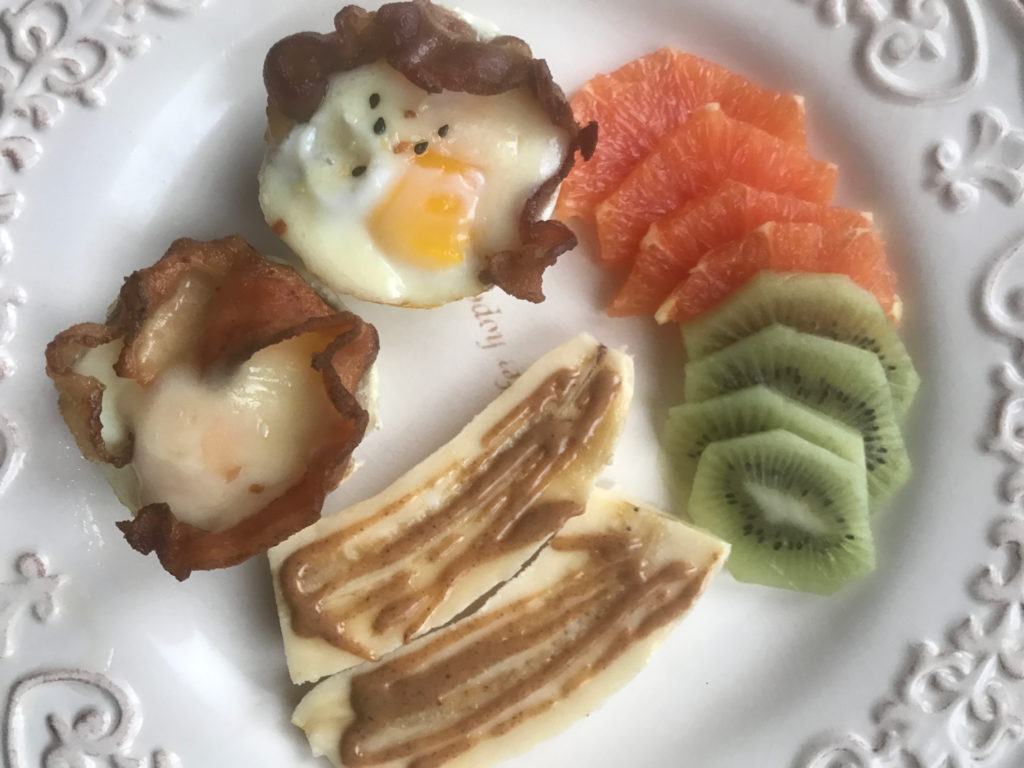 Lunch – 9 SP
Breakfast Chicken Taco's at First Watch.
I always order these with Egg Whites and No Cheese. They come with black beans. Depending on my mood, I like to sub potatoes or fruit.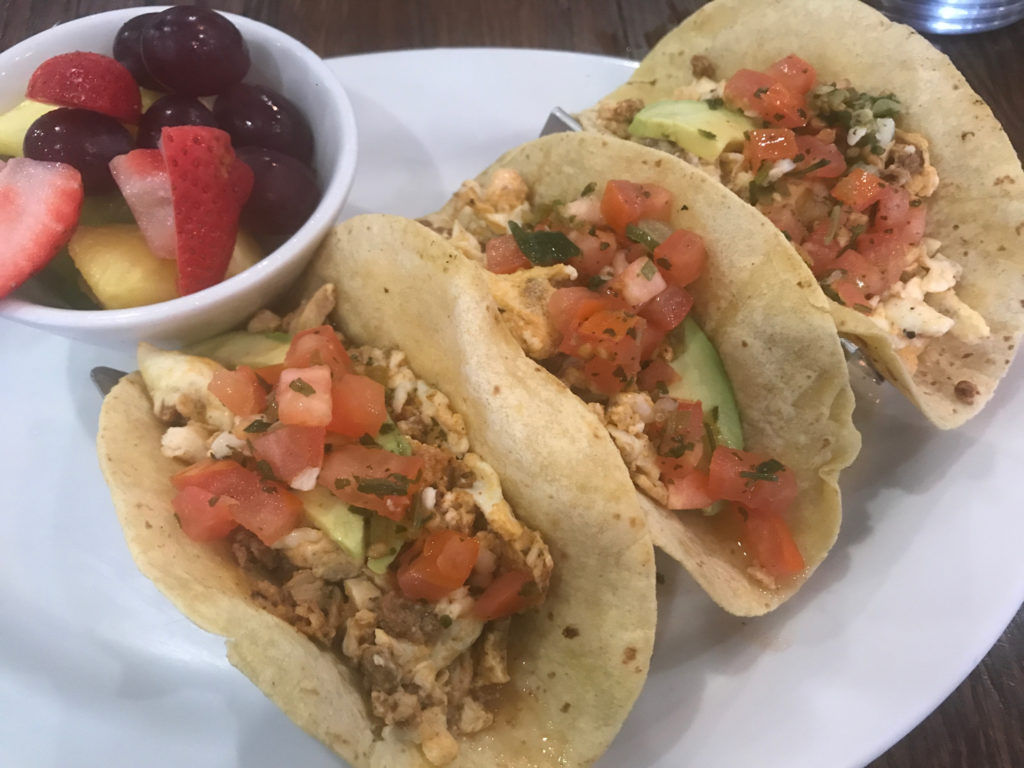 Dinner – 9 SP
Shrimp Scampi (kinda…my version anyhow) over 1/2 pasta, 1/2 Spaghetti Squash, with Asparagus and a little Light Ragu Alfredo Sauce.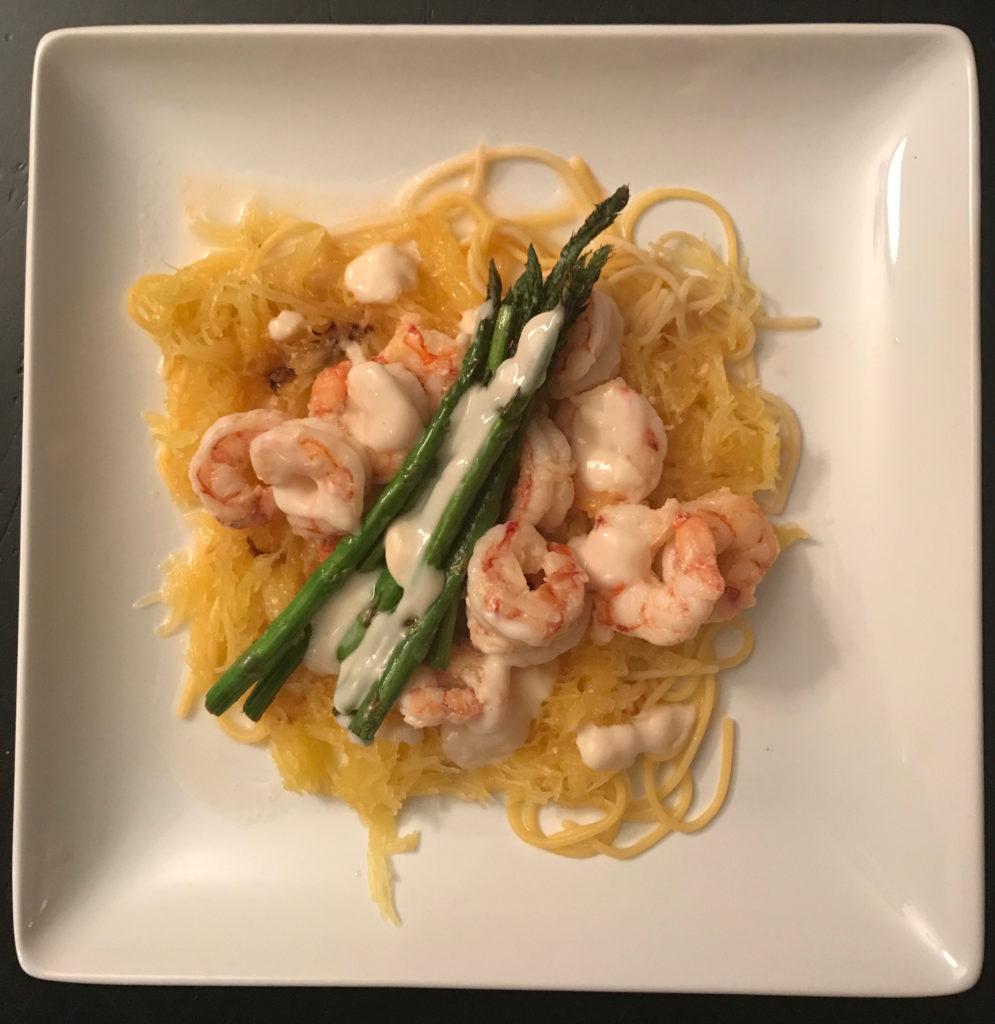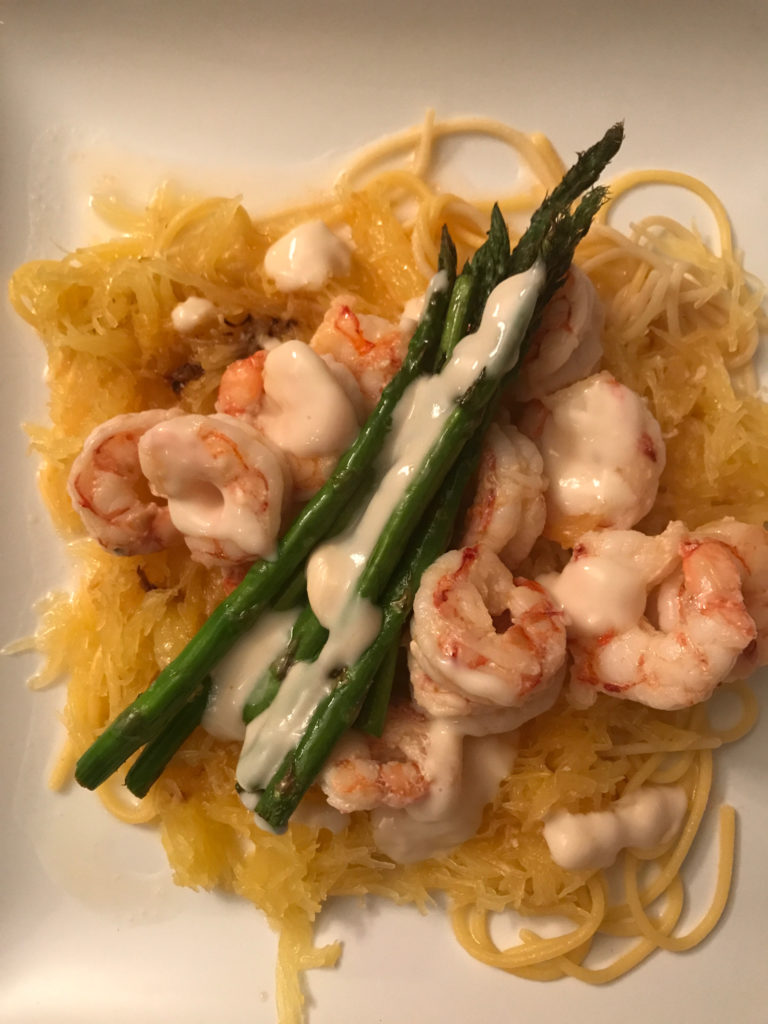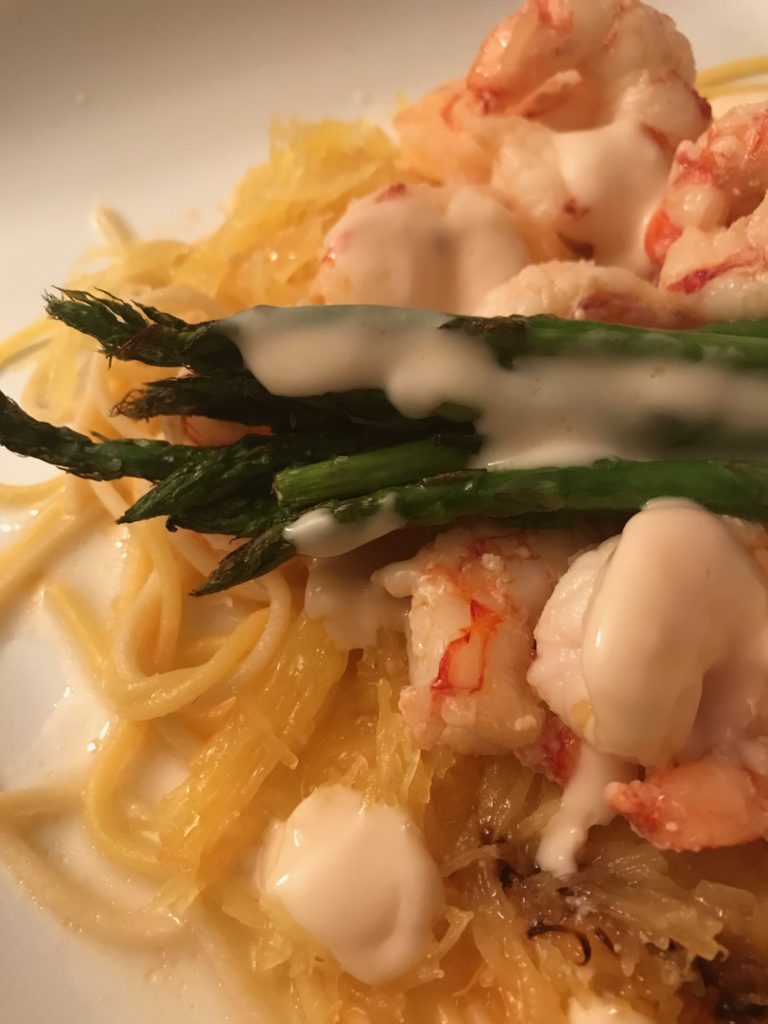 Monday Daily Smartpoints = 21
Breakfast – 0 SP
I tried something different with my yogurt.
6 oz Plain Nonfat Greek Yogurt with 8 drops of Vanilla Creme Stevia and 1/2 T of unsweetened Cocoa powder.
Chocolate Yogurt!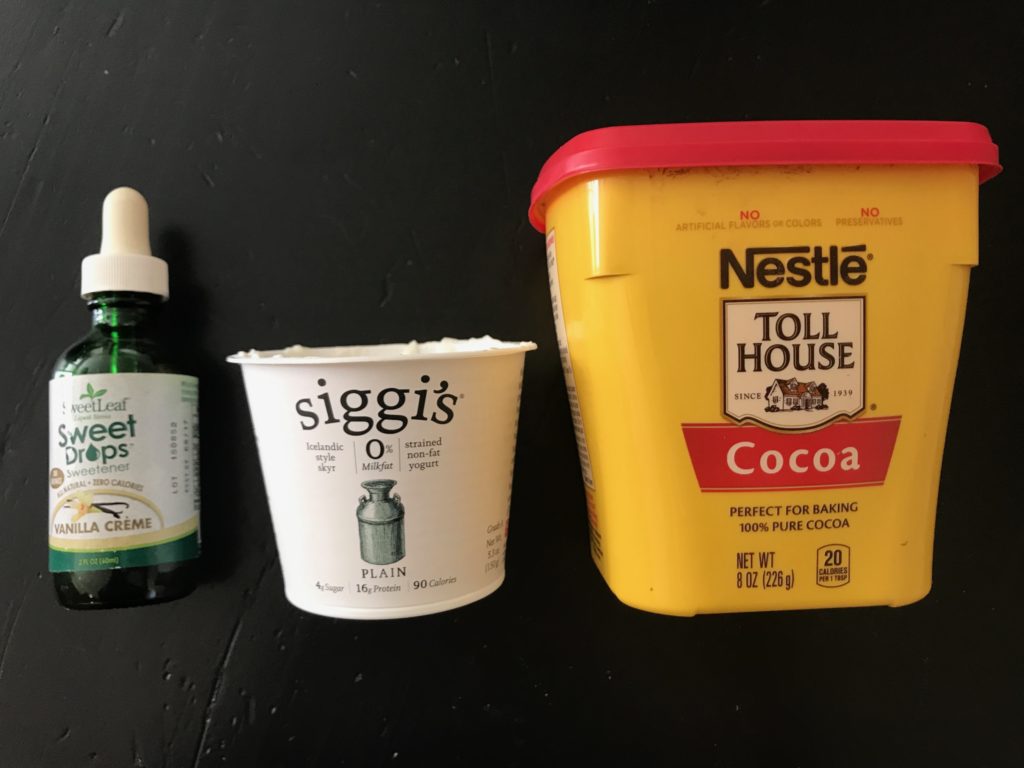 I topped it with a 1/2 banana……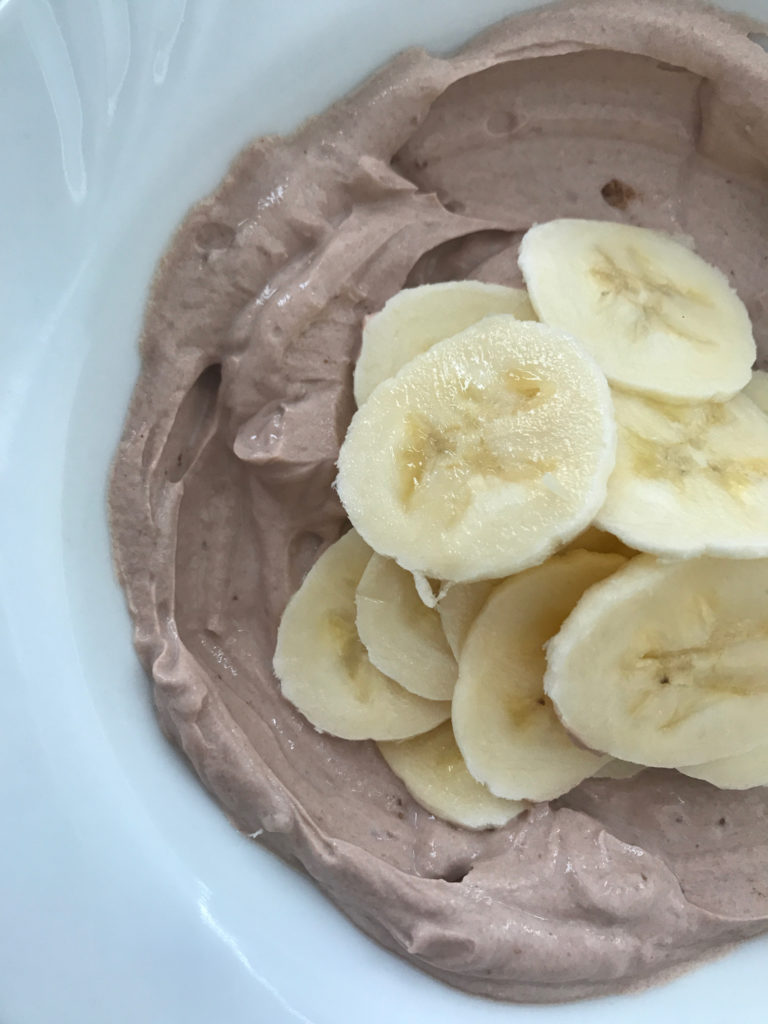 Then I decided…….add the rest of the banana and blueberries too! I loved it!
Sometimes you have to try new things.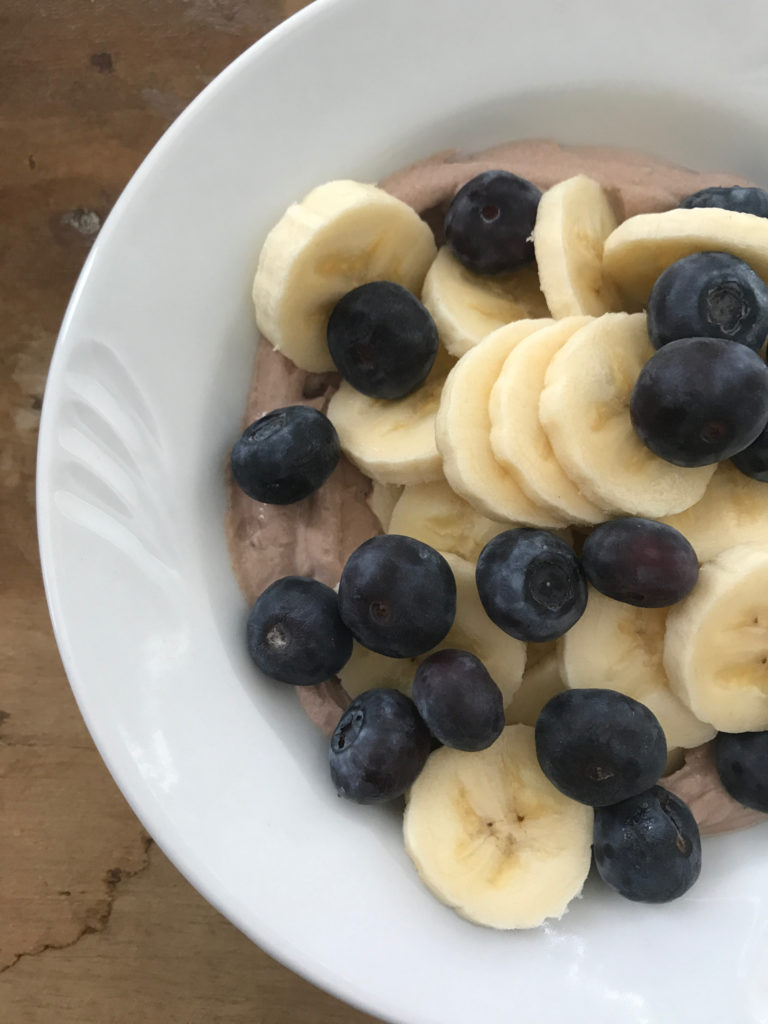 Lunch – 16 SP
Two Mahi-Mahi Tacos on Corn Tortillas at a Mexican Restaurant. I also had chips and Salsa.
I guessed high on this meal. Not sure how many chips I had and these taco's have a little cream sauce on them. SO GOOD!!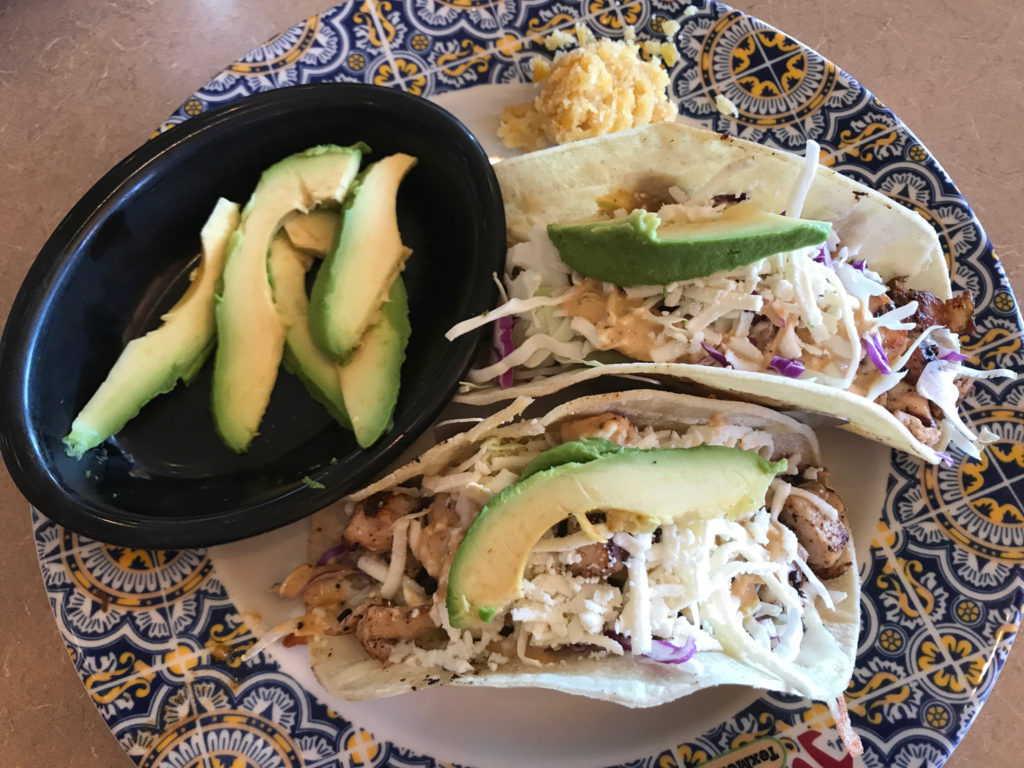 Snack – 4 SP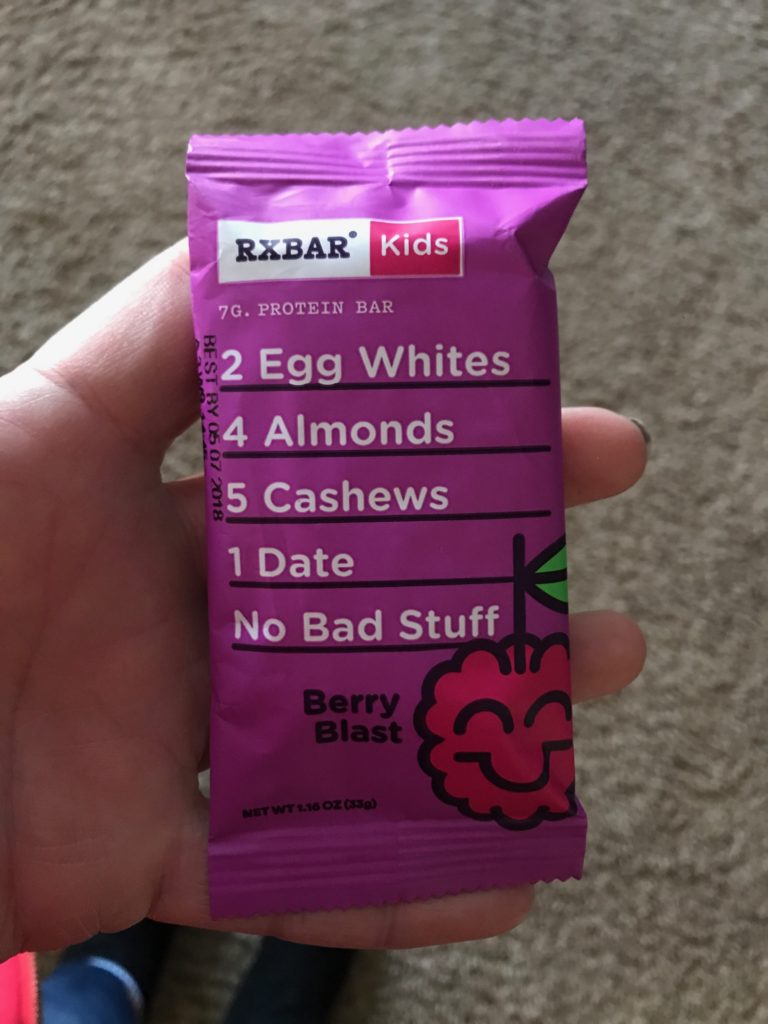 Dinner – 9 SP
Leftover Pasta/Spaghetti Squash (although mostly pasta!!) topped with Salmon that I cooked in a skillet in Olive Oil.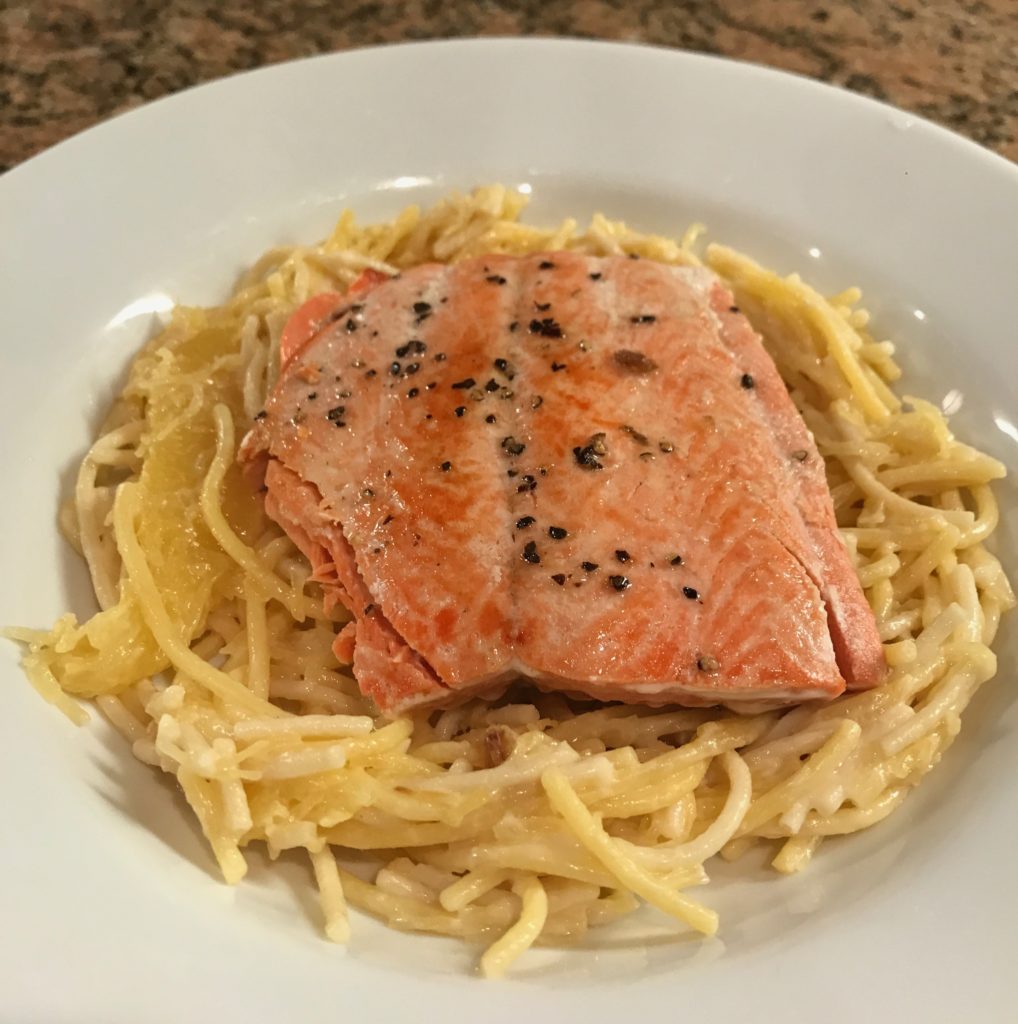 Tuesday Daily SmartPoints = 29
Breakfast – 2 SP
Leftover Egg Cups (Recipe to come!)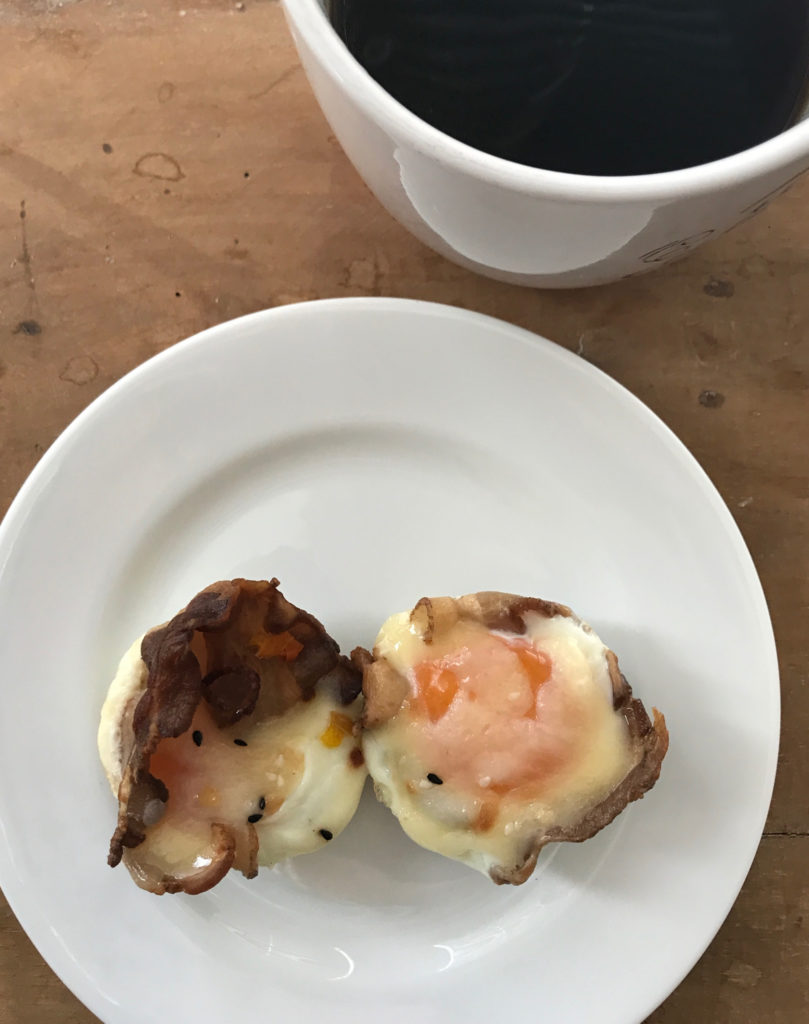 Lunch – 7 SP
Salmon Salad with Balsamic. Coffee and Water.
This Salmon was cooked to perfection! I like it pink inside. When it is cooked like that, not only do I love the flavor of it but I don't use my salad dressing. I skipped on the chips that came with this and with the yummy fresh guac on top, who needs dressing anyhow??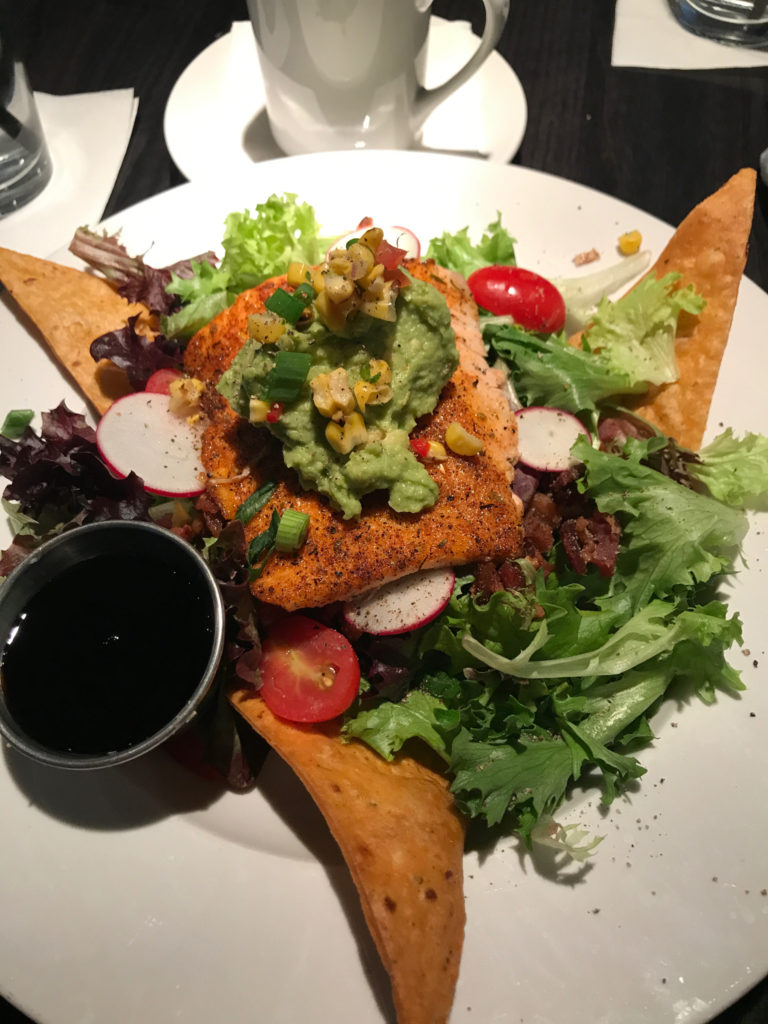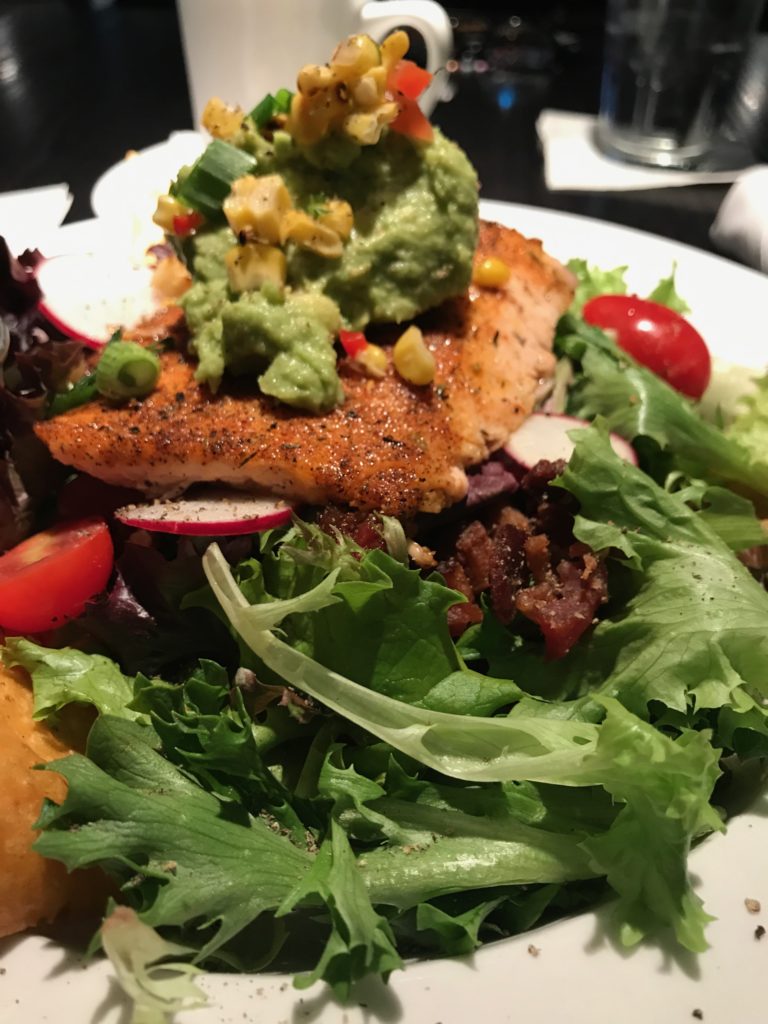 Dinner – 16 SP
Easy. I ate more Plantains than pictured here.
Two Chicken Salad (Rotisserie Chicken, Dry Roasted Almonds, Dried Cranberries, Celery, Green Onions and Mayo) Wraps and Trader Joe's Roasted Plantain.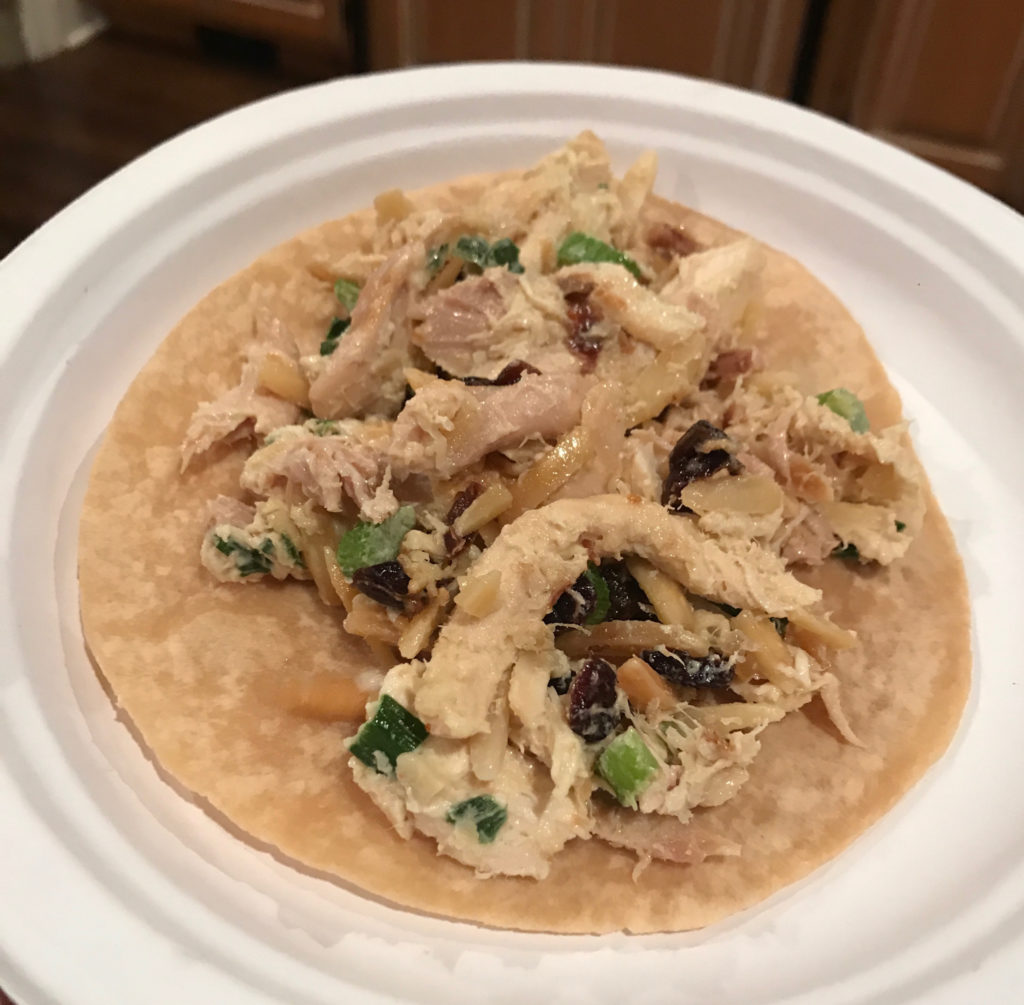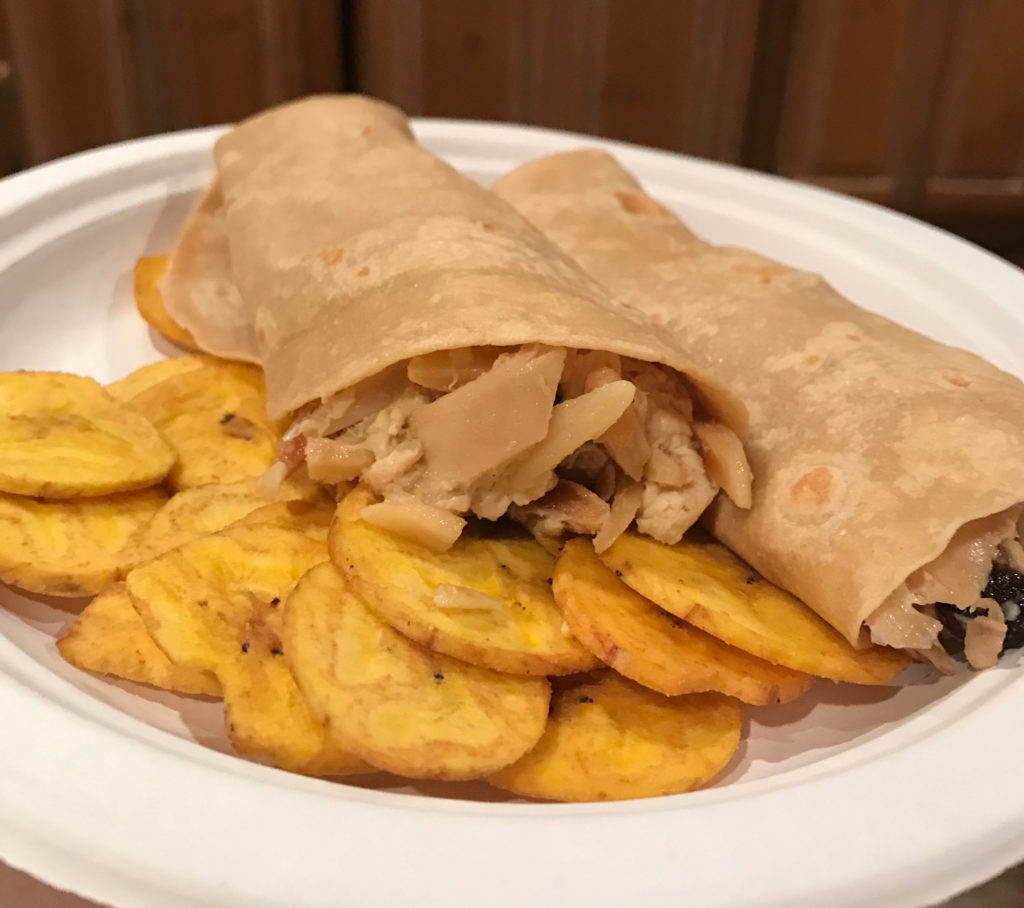 Wednesday Daily SmartPoints Total = 25
My Daily Points are 23. My Weekly Points are 35.
I have been trying to only use half of my weeklies and I am going into day 7 of my week with 19 out of 35 left, so I'm feeling good about my week and I like what the scale is doing.
Yay!
Have a happy and healthy day!!
2018 Goals
Make time each week to Meal Plan
Drink 100 ounces of water each day
Exercise 5 days a week
Eat three meals and one snack daily
Fitbit 10,000 Daily Steps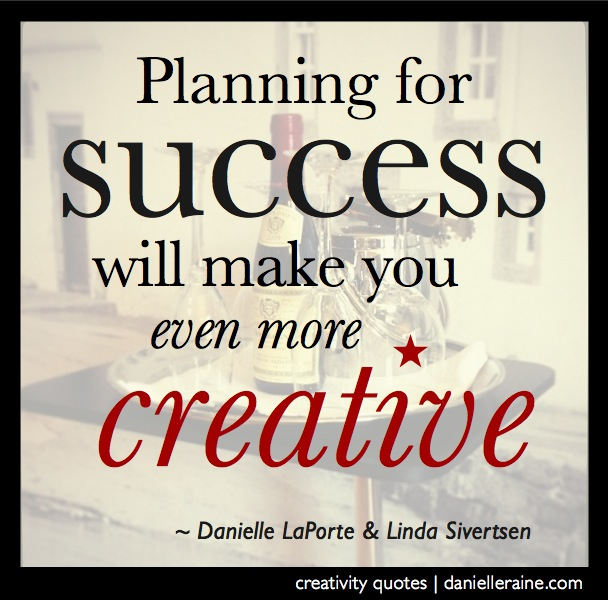 "love the life you live, live the life you love"