I hope you all are having a great Sunday! It is snowing just a little here in Kansas City and I think that it is beautiful!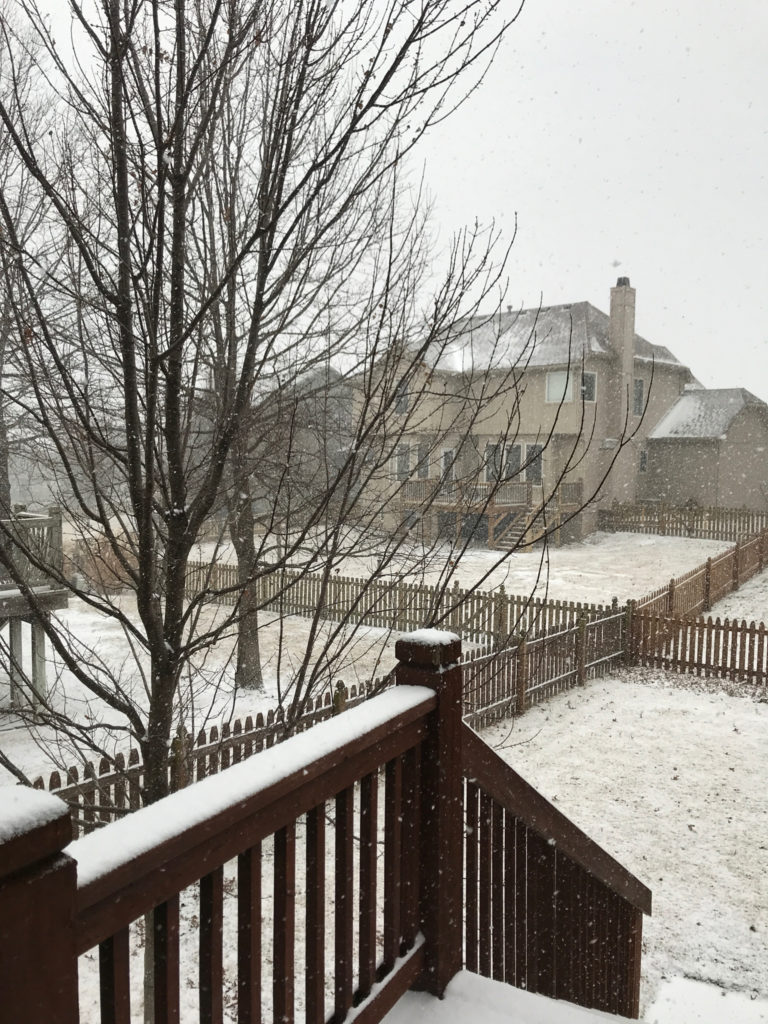 It's looking like a good day for some Turkey Sweet Potato Chili and a fire. We are watching the Super Bowl here at home and then I'm all ready for This Is Us! I have a feeling it's going to be tear jerker!
Are you watching This is Us?
I went to my WW meeting on Friday and it feels so good to have that worked back into my schedule for now.
I loved being back at work Thursday morning, and this week I will be working at meetings on Monday, Tuesday and Thursday, so a routine is going to feel great!
I didn't blog daily this week like I wanted to either due to lack of time, or internet issues, so I thought I'd fill you in on some of my favorite things that I ate over the past week. If I have Internet today, I might even get to post this blog!
Now, let me talk Eggs.
I never tire of eggs. Fixing them in a variety of ways helps and I like that they keep me full.
They even make a great snack!
0 SmartPoints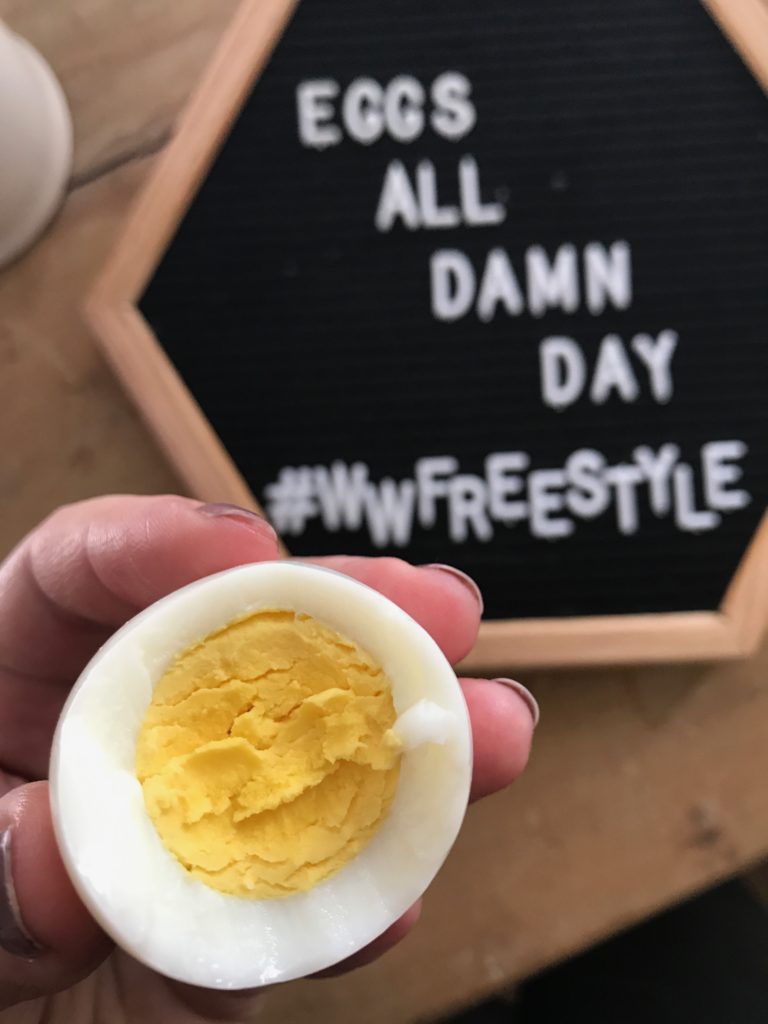 I was all about the Omelets over the last several days. Things that make these a quick meal? (Eggs are NOT just for breakfast!)
Keep a variety of veggies in the fridge diced and ready to go.
Cook up some bacon or sausage (or both!) and store it in the freezer. Take out what you want when you need it!
Keep a few cooked potatoes in the fridge to dice up and toss in your omelet.
Look for any leftovers in the fridge that might taste great in your omelet for a nice variety. (Taco meat is great in an omelet!)
This is a 5 Egg White Omelet. One Egg has 6 grams of Protein. One Egg White has 4 Grams of Protein. Sometimes I like to just skip the yolk and go all Egg White for 20 grams of Protein to keep me full if I know my next meal will be much later in the day.
For this omelet, I sautéed a few Peppers, Onions and Asparagus in 1 tsp of Olive Oil and then I tossed in the skillet some leftover Broccoli and one leftover boiled New Potato, all diced up. I topped this Omelet with Everything But the Bagel Seasoning from Trader Joe's. I added a Banana (because I am bananas for bananas!!) and 1 tsp Trader Joe's Mixed Nut Butter.
3 SmartPoints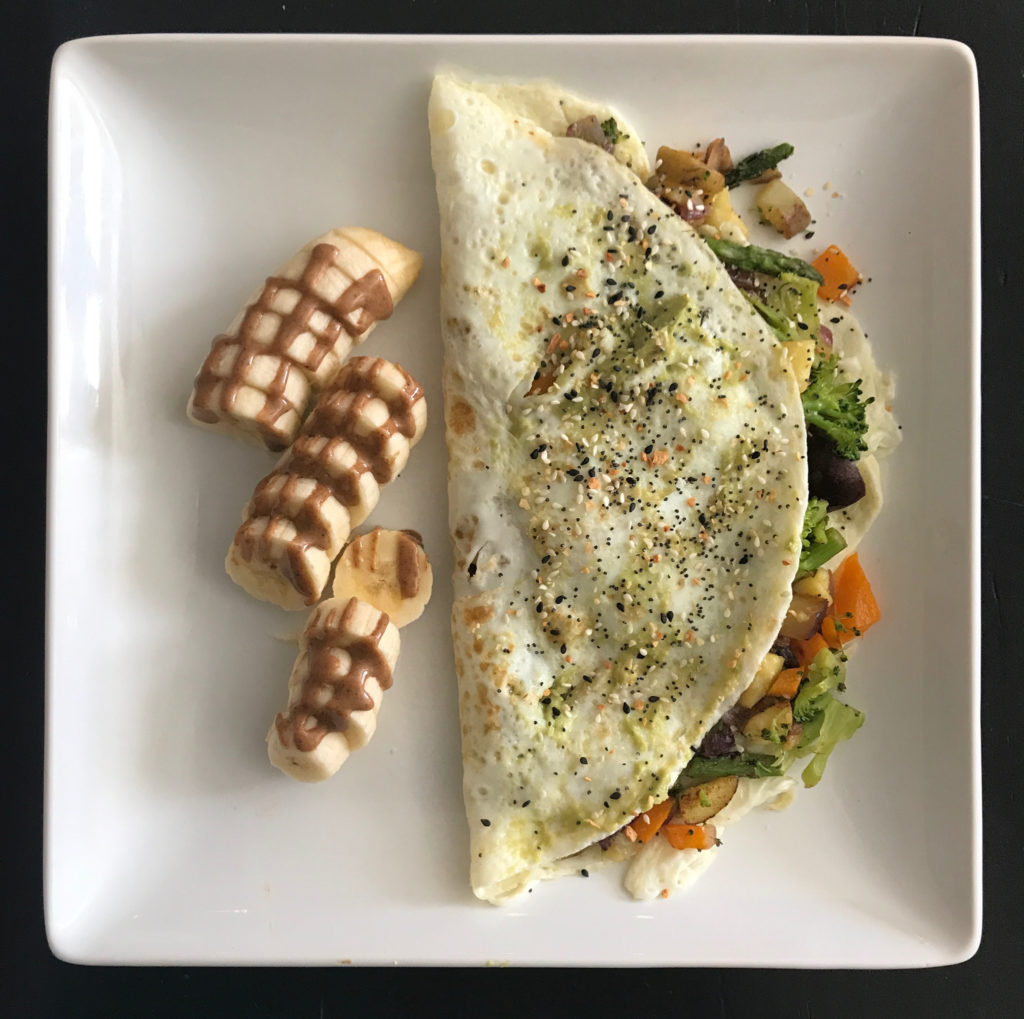 Skillet Scramble. I do love a one dish meal.
This is easy and comes together quick if you keep those diced veggies ready to go and have some cooked meat in the freezer!!
I used Peppers, Onions and Asparagus and a leftover boiled new potato and sautéed those in 1 tsp of Olive Oil. I set those aside and scrambled Two Eggs. Combine with the Veggies and crumbled in one slice of cooked bacon.
Top with Avocado
5 Smartpoints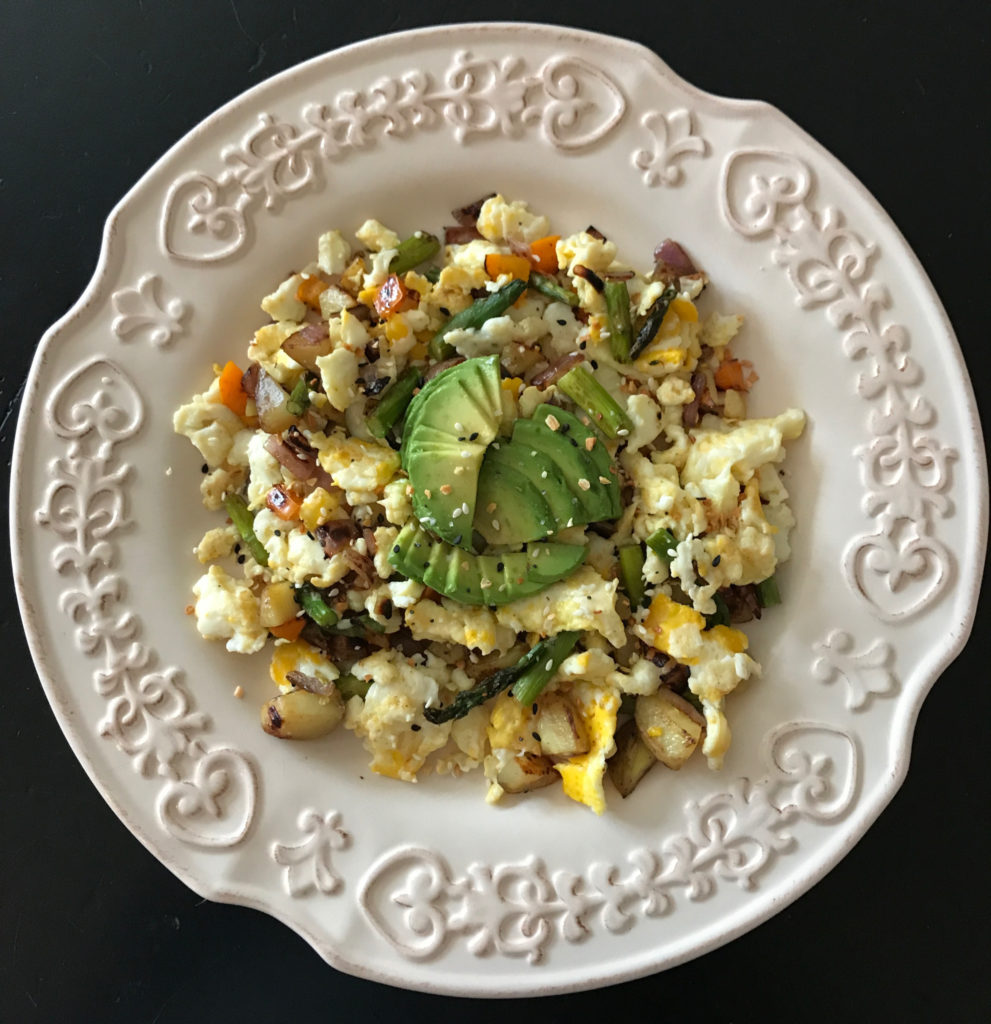 Sometimes just changing up my fruit choice is all the variety I need.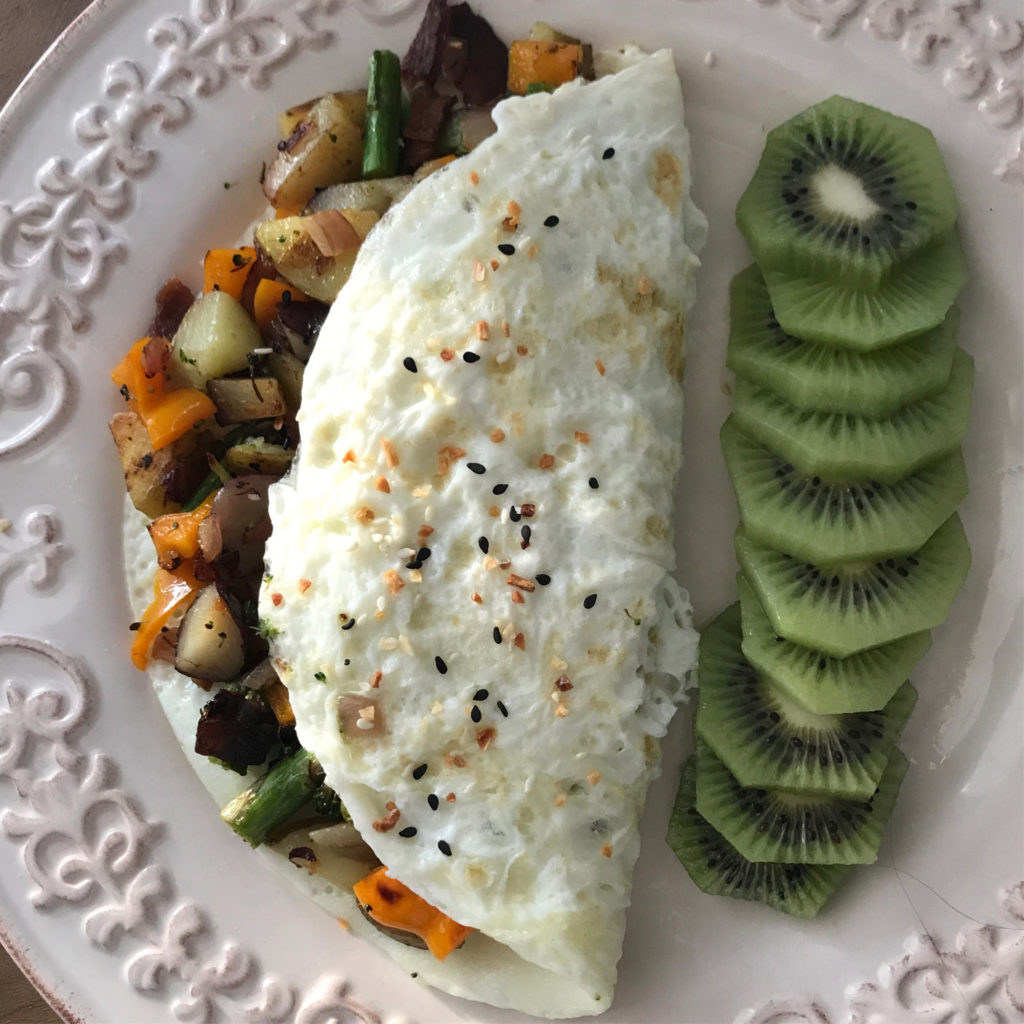 Here's a Two Egg Omelet. Sometimes, I want the yolk!
I filled this with lots of veggies and some Pork Sausage Crumbles. I follow the recipe for Apple Breakfast Sausages, but I don't make the patties like the recipe says to do. I like to just cook it all up in the skillet so I can just toss in a small amount.
This Omelet has 2 SmartPoints of Sausage in it and that is plenty to get a taste in every bite!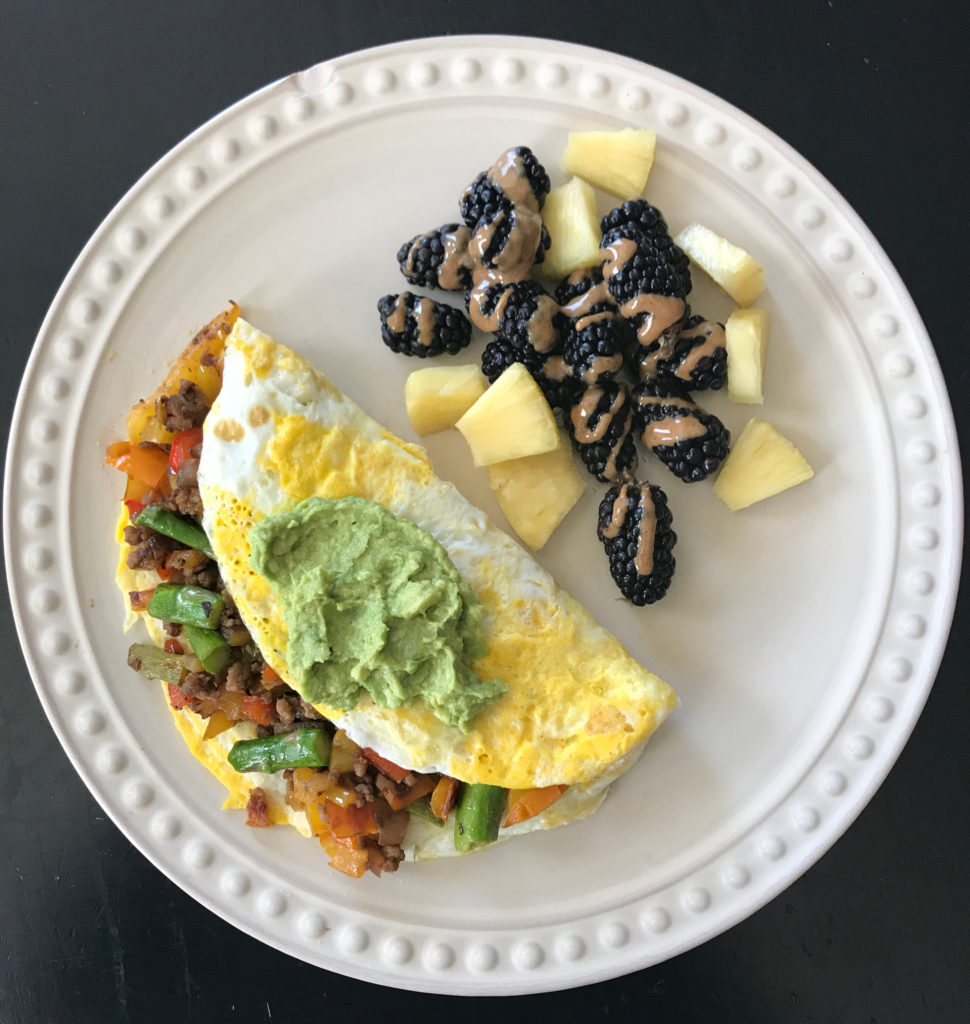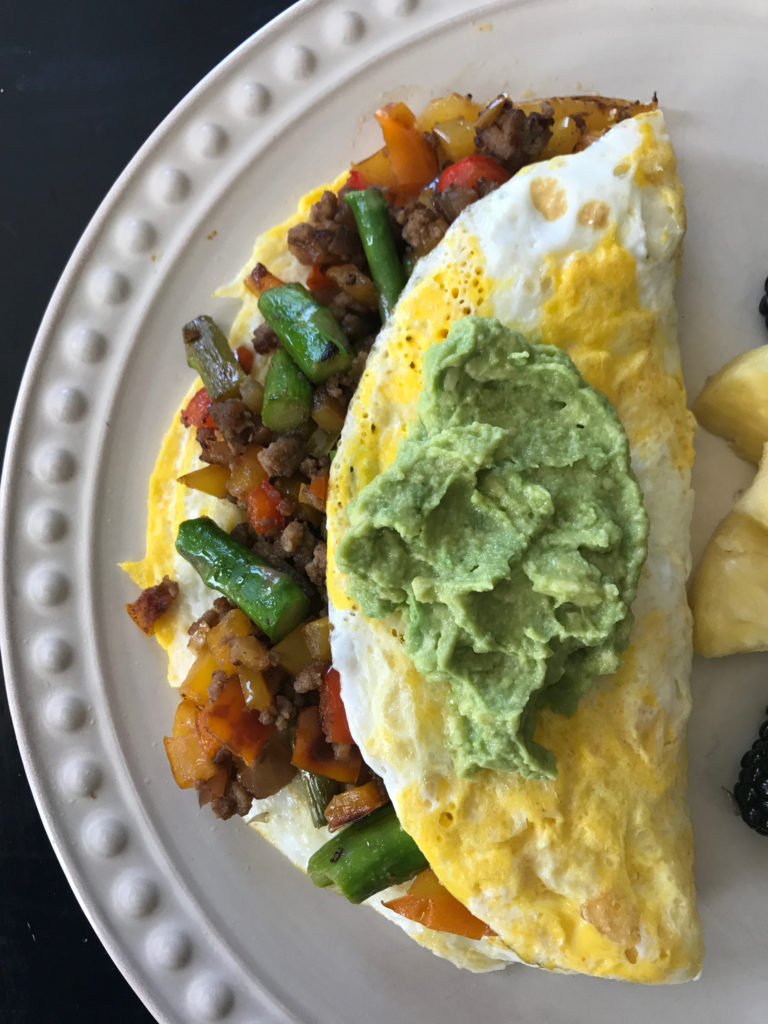 Don't you want to fill an Omelet with all of this yumminess??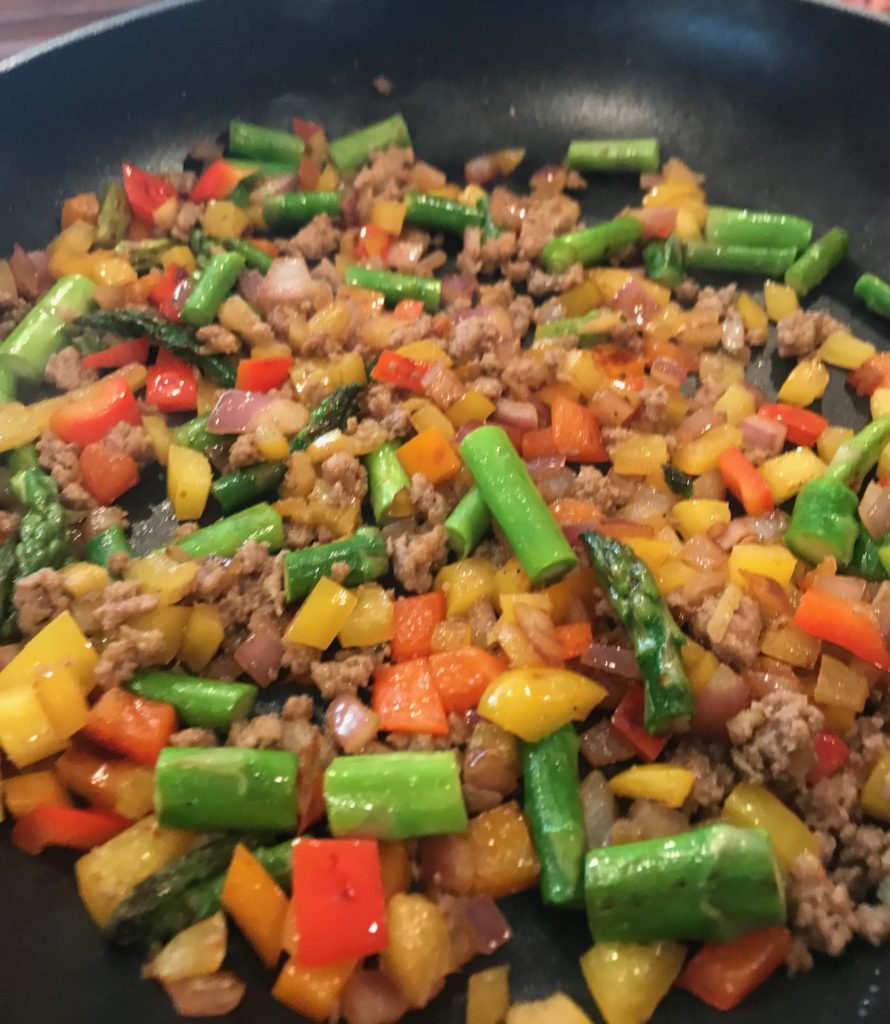 Look at these tiny Avocados. I think they are just so cute. I found these at Trader Joe's.
Eggs and Avocados should get married.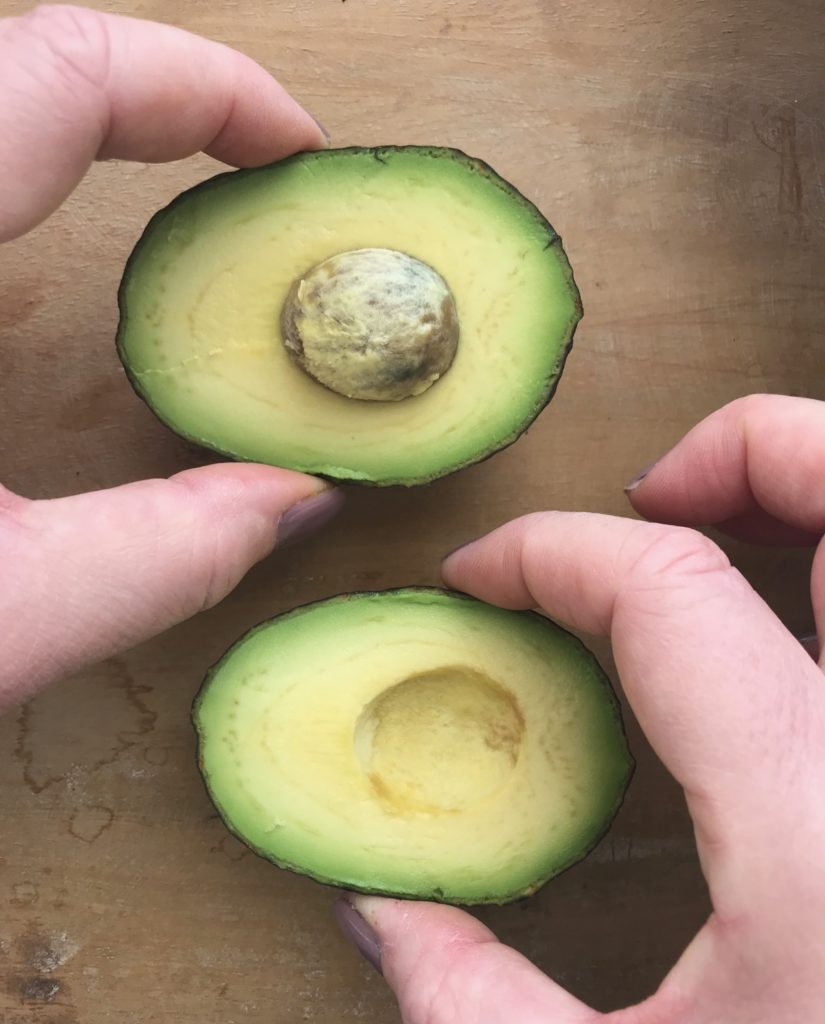 That about covers my Eggs for the week. These are a few of the other meals that we enjoyed.
Lunch two days this week was an RXBar.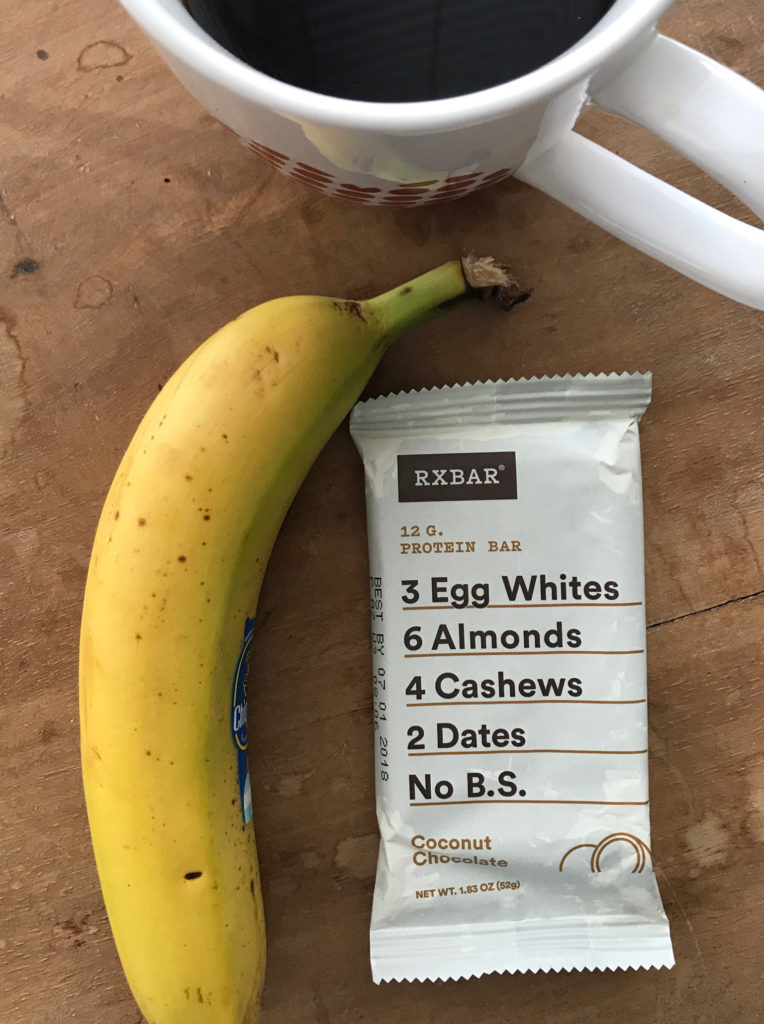 This Chocolate Sea Salt is one of my favorites. Makes me think of a brownie.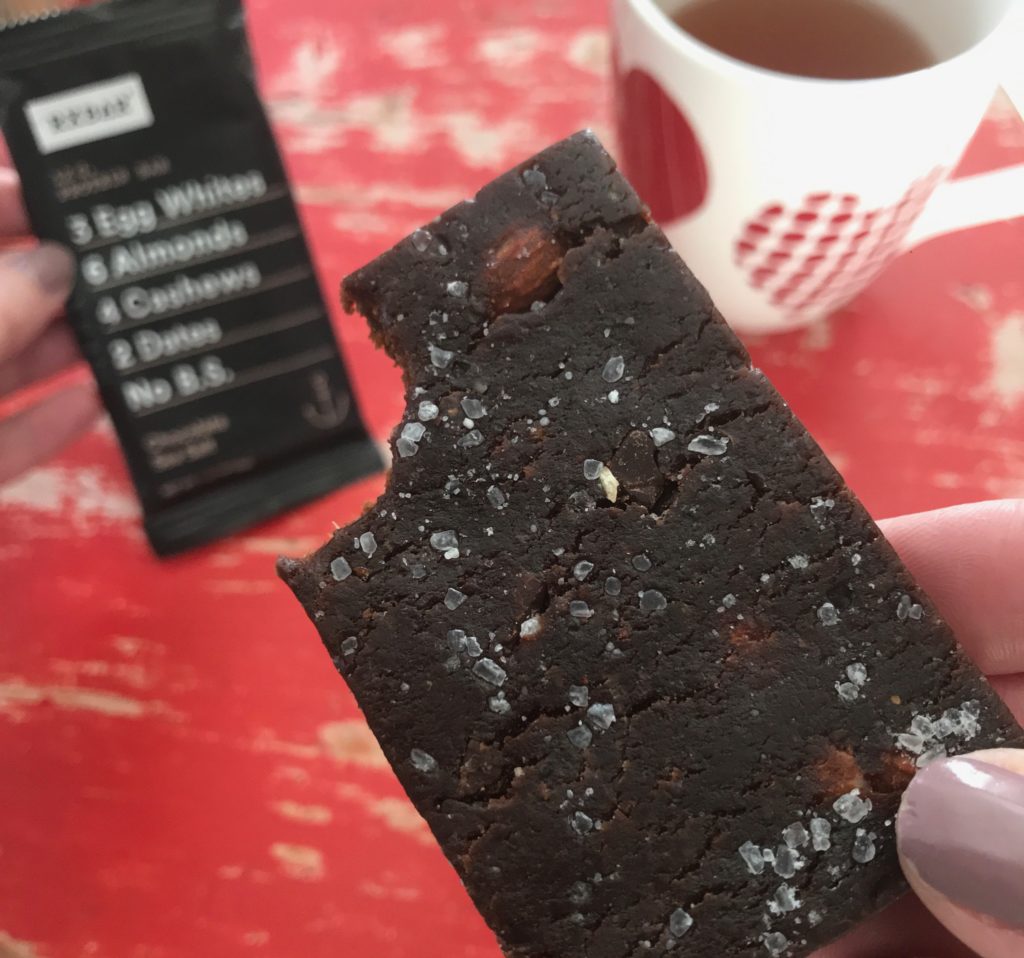 I always love an errand day that ends at Whole Foods for a salad bar.
Veggies, Salmon, Olive Oil and Balsamic Vinegar.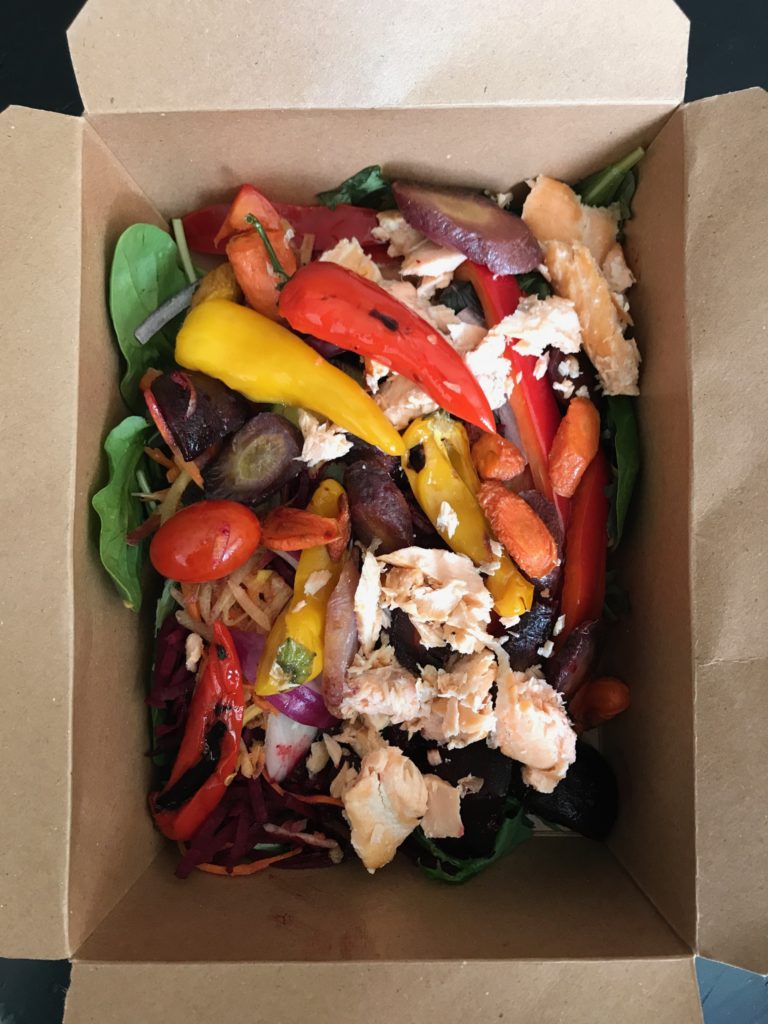 Have you seen this Chicken Crust Pizza going around on Social Media? If made with 99% Lean Ground Chicken, the Crust is 15 SmartPoints for the whole pizza!
I decided to give it a try. It's pretty simple and we both liked it! It's ground chicken, cheese and seasonings. Just mix and bake on Parchment paper, then top with your toppings of choice and bake another 10-15 minutes.
Weird, right?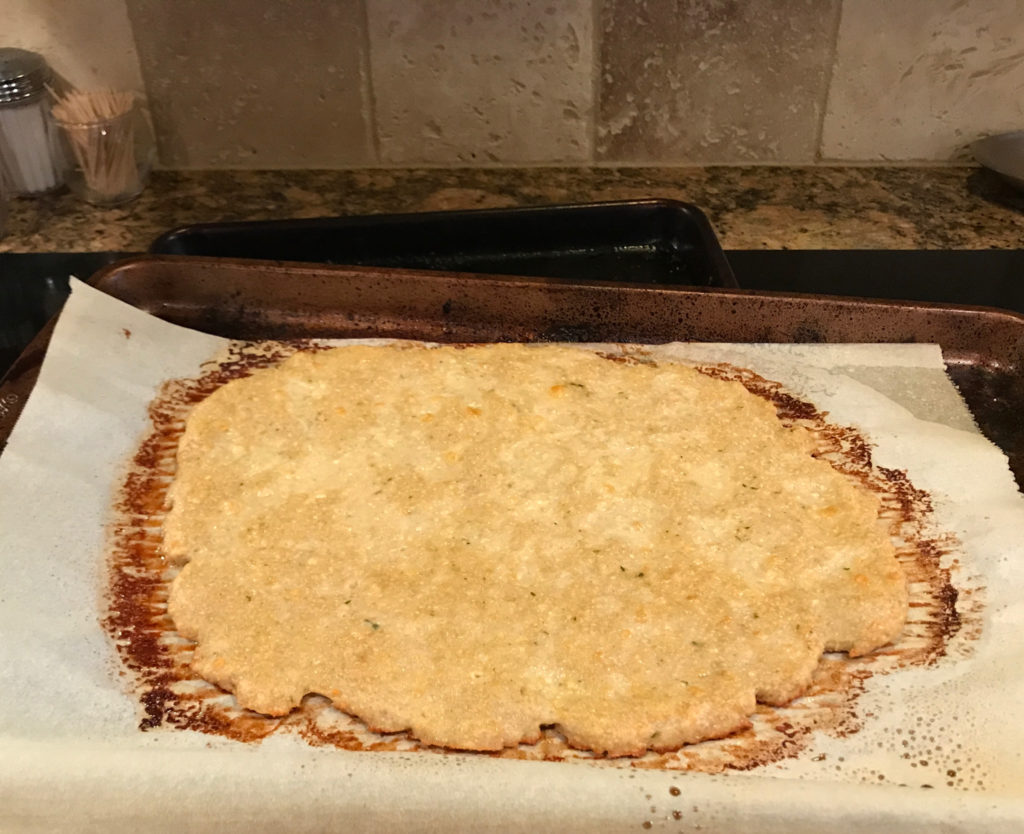 I topped ours with Rotisserie Chicken, Bacon, BBQ Sauce, Mozzarella and Cilantro, as the recipe suggested, but this has all sorts of possibilities!.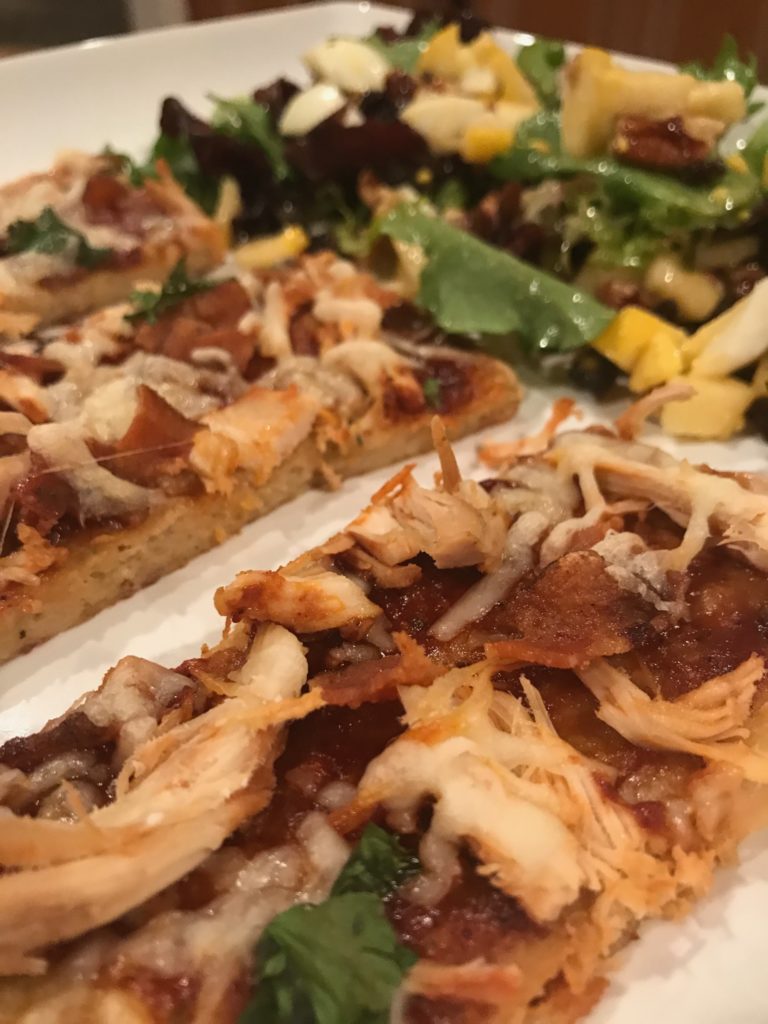 This picture is not pretty at all and the meal looks really boring but dinner was great! This is the Skinny Taste Turkey Meatloaf. Mike loves a meatloaf and since he gave me such a great weekend, I wanted to make one of his favorite meals.
We had this two nights for dinner with different side dishes and Mike also had it for lunch on a sandwich.
I like to boil a few potatoes and season with Olive Oil and Sea Salt. (These are great to have for your morning Omelet!)
One Slice of Meatloaf = 3 SmartPoints.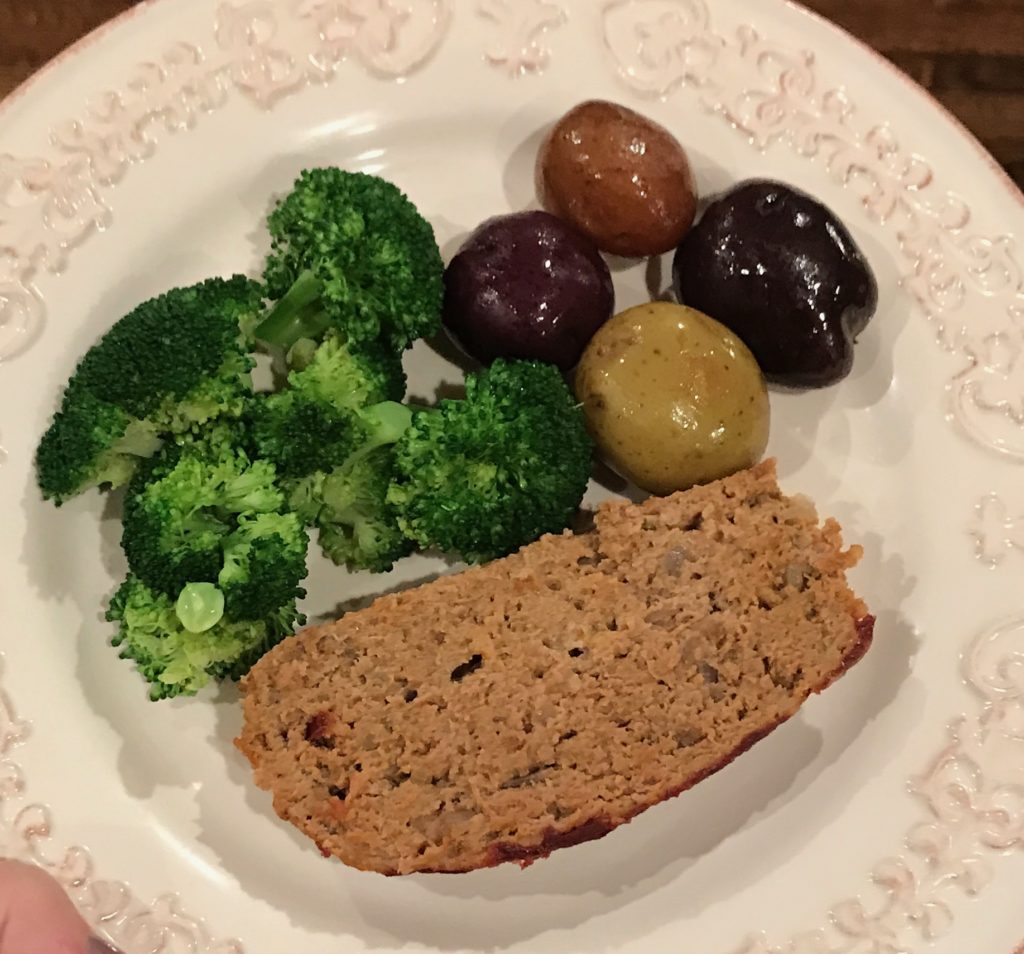 That about covers our meals for the last week.
I hope that you are able to find something that sounds good, or at least be inspired to try something new.
Happy Sunday!
Now I want an Omelet!
2018 Goals
Make time each week to Meal Plan
Drink 100 ounces of water each day
Exercise 5 days a week
Eat three meals and one snack daily
Fitbit 10,000 Daily Steps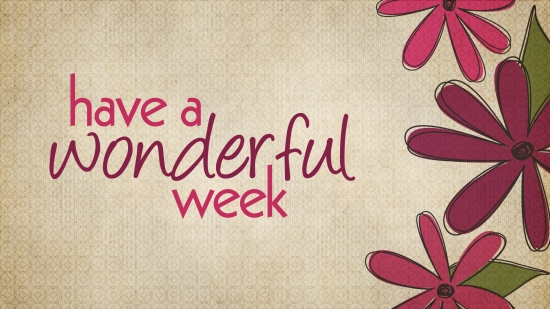 "love the life you live, live the life you love"