I have been a fan of Target Stores for a long time. I kind of joke sometimes about how I didn't know other stores existed. I like Target for a lot of reasons. I REALLY like the Target Super Stores! I like to get a Starbuck's and wander through the store. If you live in Kansas, you know that we can't buy liquor in our stores, but being so close to the Missouri state line, I like to hop over to the Missouri Target store on occasion where I can pick up a few bottles of wine too! I find myself looking through the clothes, the shoes, the accessories, the home items. I can pick up socks, batteries, mascara, and dinner. What's NOT to love???
Oh, and my mom works there, and through all of her health issues and the time that she has had to take off these past few years, they have been amazing to her!!
I also love the fact that when I need to return something, and I don't have my receipt, they can locate my purchase with the credit card I used and refund my money!
I recently went in to return my coffee frother that I love and use daily. I'd had it for over six months. It was heating, but not frothing. Not good. I didn't have my receipt and they didn't see it on my credit card, but I did have the box that came with it. With your drivers license, they will return up to $70 dollars on an item, once a year! I got my money back and bought a new frother!! Easy peasy…….
I recently redecorated a bedroom and went to Target looking for the bedding that I had seen on Pinterest! A couple of friends had told me that they knew they sold it at Target! An employee happened to be standing close by as I hunted down the bedding. She asked me if she could help me find anything, so I showed her the picture that I had and she led me right to it. She then asked me if I had the Target "Cartwheel" app on my phone. Huh? Cart? Wheel What?? What's that???
She then had me search for the app as she explained how I could get extra savings if I used it, and she thought that particular bedding had an additional discount if I used the app that day. She also had me use Targets Wifi, which I did NOT know that I could do, so the app would load faster. After loading the App, and many many thanks to this little gal, I headed to the front of the store to fill out a Customer Service form to say what an awesome employee they had and how much I already loved Target stores anyhow!
Wait. It gets better. Now I use the app regularly. I recently bought some boots at Target. Okay, like three pair. The day after I bought the boots, I receive an email via my "Cartwheel" app saying that some of their boots were 40% off that day only!! I got in the car and headed to Target, forgetting the boots AND my phone. You have to have your phone with you and show them the app in order to get the discount. I did have my receipt. When I got there and realized that I didn't have my phone with me, I decided to give it a try anyhow. When I stepped up to the customer service area, there were two employee's at the counter. I told them my situation. Without hesitation, one of them said I could use the app on HER phone. They refunded my money, then charged me for the boots at the 40% discount! Done Deal!!!
Why would you NOT shop there?????
You like my boots??? I do!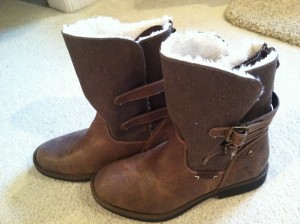 Moving onto Food!!
I'm thinking Football, I'm thinking Chief's, I'm thinking Chief's Red, I'm thinking Big Breakfast, I'm thinking a Big Red Omelet!!
(I made this before the game. Sad the Chiefs lost, soooo happy the Bronco's Lost!! Can't wait until next Sunday! Bring it!!!)
Breakfast Idea No. 12
"Big Red Omelet"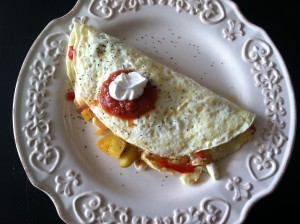 5 Egg Whites (2 PPV)
2 oz. Red Potatoes, Cooked and chopped (1 PPV)
Chopped Red Onion, about 1/4 C. (0 PPV)
Chopped Red Bell Pepper, about 1/4 C. (0 PPV)
1/8 Cup Reduced Fat Feta (1 PPV)
1 Tablespoon Light Sour Cream (1 PPV)
1 Tablespoon Salsa. It's RED!! (0 PPV)
Total = 5 PPV
Sauté the potatoes (I pierced my potatoes with a fork, then cooked them in the microwave for 1 minute, then chopped them up!), bell pepper and onion in a skillet coated with cooking spray until the veggies are tender. Remove from skillet and set aside.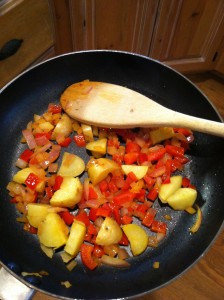 Cook egg whites in skillet until set.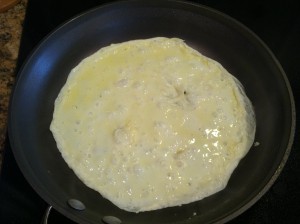 Using a large spatula, flip.
Cook your eggs on medium, make sure they are set, flip. No mess!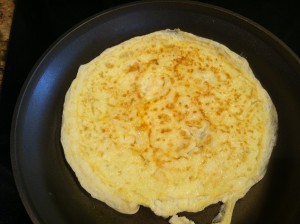 Add cooked veggies and feta to the omelet.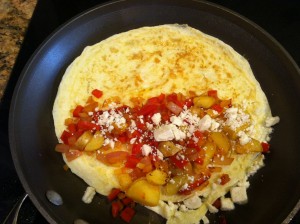 Fold.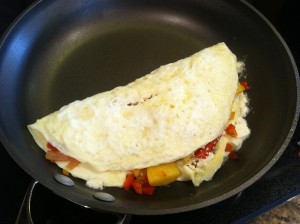 Now slide that baby onto a plate, top with salsa and sour cream (or not) and enjoy!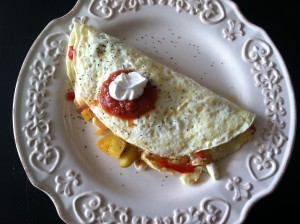 Lunch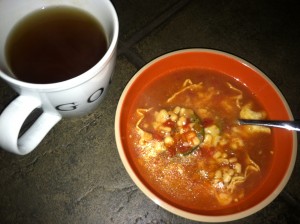 Football Snack's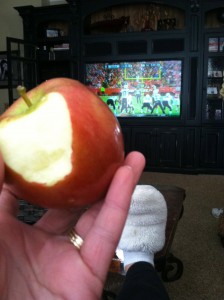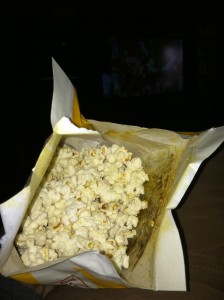 Dinner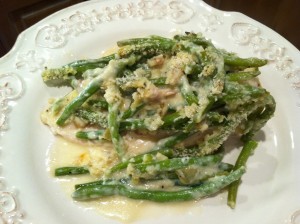 Occasionally, I will make up dinner as I go with whatever we happen to have in the fridge, which allows me to avoid a trip to the grocery store. Occasionally, it turns out pretty darn tasty, and I feel proud. Mike however, would eat just about anything, and actually, so would I. Sometimes I'll make up something as I go with what's on hand, and we both choke it down, all the while Mike telling me that it really IS good. (I've got him trained like crazy!)
For dinner last night, I had some frozen chicken breast from Costco and a bag of frozen green beans from Trader Joe's. I knew that somehow, the combo of those two would become dinner. So here's what I made, and here's what I will be making again for sure!
I'm really not a great cook and don't claim to be, so when I give you an idea for a meal, it's not really a recipe, it's more of an….."Hey, I put these things together like this, and this is how many Weight Watcher Points Plus it is, and I liked it!"
So here goes….
This recipe makes Four Servings
1 Serving = 11 PPV
Chicken & Green Bean Casserole
Ingredients
4 Chicken Breast (I used 5 oz. breast)
4-6 Cups of cooked Green Beans (Or More! They're Zero Points!)
1/4 C. onion, chopped
2 garlic cloves, diced
2 slices bacon, cooked and chopped into pieces
1 tsp Olive Oil
2 T. Butter
2 T. Flour
1 1/2 Cups Skim Milk
5 Wedges of Laughing Cow Cheese, Light Creamy Swiss Flavor
1/2 Cup Reduced Fat Cheddar Cheese
Kosher Salt and Cracked Black Pepper, to taste
1/4 Panko Bread Crumbs
Saute Onion and Garlic in Olive Oil until tender. Add bacon and cook for about a minute or so. You just want the bacon to take on some of the garlic and onion flavor, and vice versa! Remove from skillet and set aside.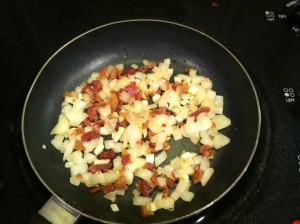 Saute cooked green beans in a little cooking spray, then add the bacon and onions and garlic. Let them all soak up each others flavors. Remove from heat and set aside. You might want to put the green beans in a larger bowl for their next step. I did.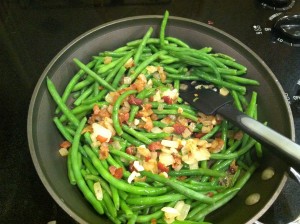 Melt 2 tablespoons of butter. Add 2 Tablespoons of flour to the melted butter and stir until smooth. Now add the milk and stir over medium high heat until nice and thick and smooth. Add Salt and Pepper to taste. At this point, I decided it just looked like breakfast gravy???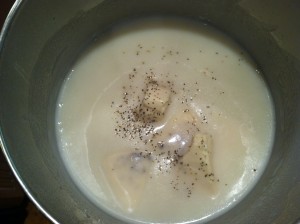 Add the cheese wedges and the cheddar cheese and stir until the cheese is melted. Still just looks like gravy, but taste good!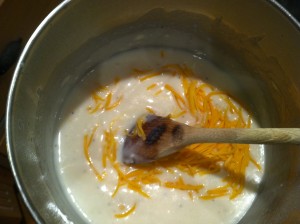 Add the cheese mixture to the green beans and stir. This is where that bigger bowl came in handy.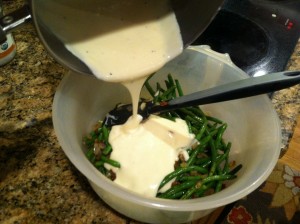 Spray a 9×13 baking dish with cooking spray. Lay the chicken breast in the baking dish. You might want to salt and pepper the chicken now. I didn't and the only thing missing when this was all done, was a little salt and pepper. Pour the green bean mixture over the chicken.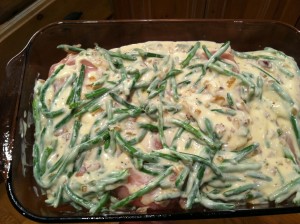 Sprinkle the bread crumbs over the casserole.
Bake in a 350 degree oven for 45 minutes, or until chicken is cooked through!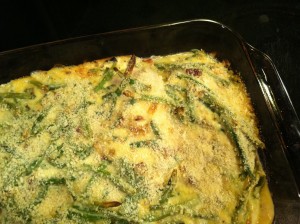 Not too shabby!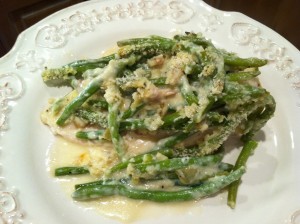 Refresh…I can eat 26 points a day.
I can earn Activity Points by doing exercise, and eat them if I choose.
I have an allowance of 49 points that I can dip into if I chose.
I should drink a minimum of 6 (8 oz) glasses of water each day.
The food I ate and it's PPV
Breakfast = Big Red Omelet, Coffee with skim milk (6)
Lunch = Betsy's zucchini Soup, 10 Baked tostito chips, 1/4 cup reduced fat cheese (5)
Snack = apple, popcorn (3)
Dinner = Chicken & Green Bean Casserole (11)
Total = 25
Exercise = walked 2 miles on treadmill, stretches and a few weights
How many glasses of water I drank = 12
Activity Points Earned for the Day = 3
Activity Points Earned This Week = 3
Remaining points from my 49 Points Allowance = 0
Alcohol consumption = none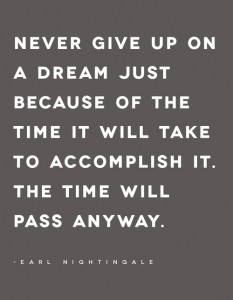 "love the life you live, live the life you love"