This is Tess! If you're one of the newer readers, I'm Julie's 26-year-old daughter who lives in Dallas. Mom wanted me to share a post surgery update with y'all from my point-of-view. Want to know more about me? Check out my blog here. Yes, we're a mother-daughter blogging duo, adorable, huh? This really isn't how I saw out first guest post going, but life had other plans.
Thursday
Surgery was fast. Mom was all done and in recovery in less than 4 hours! Lymph nodes came back negative, GREAT NEWS! Still TBD on if she'll need chemo or not. When we got to see her I joked that she looked like she always does (something she tells me whenever I say I look like crap and she's trying to be sweet and say that I look fine, except mom really did look great, perfect hair and all). Mike and I went and got lunch while she napped. She originally told us to go to Top Golf, hit a round and have some beers. We settled on lunch instead. I spent the night in the hospital with her after convincing Mike that I would fit on the cot better and his sleep would be crappier than mine. We had a blast with the night nurse, Kim. She was so much like us, we filled her in on our super weird life and bonded. All of mom's nurses have been amazing.
Friday
Mom was discharged from the hospital and home before noon. She was in great spirits, impressing herself and us at how well she felt. Pain meds are miracle workers. 😉
She even had a couple of friends stop by to say hi. What. A. Stud.
Mike spent the first night in the living room with her to be there if she needed anything and keep up on her meds.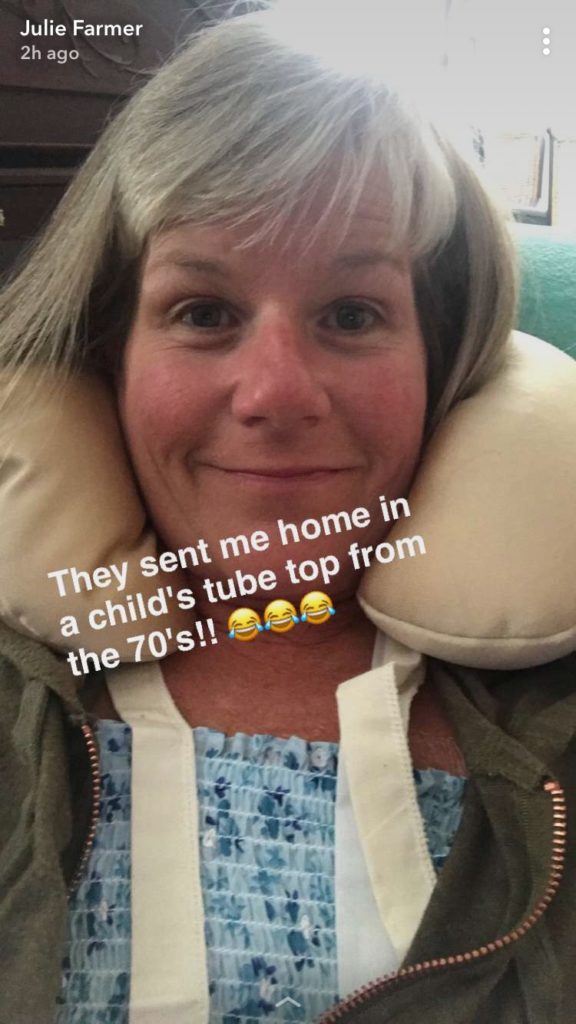 Saturday
Since Kate's house is still recovering from the second flood, Mike went down to check on Shelby and help a little. The patient and I hung out in between her naps, still impressed with how good she was feeling. We even had a successful body shower for her! My brother Jake, his wife Jordan and their daughter Wren came by to bring us dinner and check on Gigi. We laughed at mom's sleep talking and watched Moana. I had a slumber party with mom in the living room to give Mike some relief until I go back to Dallas.
Sunday
Mike's dad's 80th birthday party was Sunday. I stayed with mom so Mike could attend. I was a little bummed to not see all the babies, but since I was up off and on all night giving mom her meds and laughing at her sleep talking, I also wasn't in the mood to shower/put on real clothes, so it all worked out. My grandma (mom's mom) came over to check on mom. She also knocked out some chores I hadn't had time to get to, like watering the flowers and rubbing mom's feet (I LOVE my mom. I HATE feet. All feet.).
Mom's friend Ashli brought us a breakfast casserole for dinner. It was topped with tater tots. *insert heart eyes emoji* I regretably did not take a picture (was a tad preoccupied with the patient). We ended the day with another slumber party.
Monday
Mom's friend Rachel brought us a breakfast casserole for breakfast. It was also delicious, we love breakfast casseroles. We also love meal delivery, thank you to all of her friends who have so graciously offered to feed us while we take care of mom. We love you. Mom definitely hurt a little more and was a bit out of it for most of the day. My grandpa (mom's dad) came over for a bit and mom napped through most of his visit. Seemed like it was starting to hit her a bit more on Day 3.
Here's mom's attempt to post a blog:
"I tought we'd have all sorts o tyim4 t oblige and filly o in, but we're really spent al lo of ur tim rewtin and making a c===scheduel for th 4m4w"
Mom really misses you guys. All she's talked about was how she wanted me to write a blog post, I kept having to remind her that there really wasn't much time with her taking medicine every couple of hours and wanting water, coffee, and tea almost always (all of which I was happy to do, because you know, she's my favorite person in the whole world, but I couldn't keep up with all of that and write a blog post for her). It's nerve wracking taking care of your parent for the first time. The person I love more than anyone (sorry, Manuel) had to be taken apart and put back together, all I want is to fix it and I can't. The last 6 weeks we knew she had cancer, but she still looked the same, acted the same, did the same things. Everything was the same (except for literally everything bad and good that can ever happen happening within a month and a half time frame). Now it's not. There's a part of her missing that has to be replaced, there's sutures, wrap, drains and medicine. I thought the scary part would be over because the cancer was out. It's all still scary. Monday I cried at the neighbors, at the grocery store and when I hugged Mike. Monday was tough for me and mom.
Mom's friend Ashli stopped by Monday night and gave us all a bit of comedic relief. It was also nice to interact with someone that wasn't the three of us. I'm so greatful that my parents are surrounded by so many loving people during this season of WTF.
Tuesday
Mom was really really drugged up. I had her on a strict regimen and like clock work had her taking every single one of her meds at the exact time it said. None of us wanted her to hurt. Well, we learned today that mom doesn't really do well on narcotics. She was super nauseous and lightheaded, and super super tired. Too tired. I called the nurse around noon and after me rattling off every detail of the medicine she's been taking and how her drains are doing, they asked me to bring her in so they could re-evaluate her medicine and check her drains. I cried to the nurse on the phone. I was scared that I had done something wrong. I was home alone with mom and was terrified to take her to the doctor alone. The nurse was so sweet and told me I was doing everything right, that it wasn't a bad thing that they wanted to see her, that they just get a better idea of how she's doing if they see her in person and it sounded like her medicine needed to be adjusted. Mike came home and we took her to the doctor. They adjusted her medicine and removed two of her drains. Getting two drains out early, what a rockstar! We brought her home and she napped her way off the strong ass drugs. She's doing much better. She says she's much more aware that she's been through a major surgery, but that the pain is still tolerable. She's much less loopy and not lightheaded any more. Thank goodness. Today we had a talk about when should I go back to Dallas. The three of us agreed that my original plan to go back Wednesday is still a go. I'm not ready to leave, but I don't think I'll ever be. I like being here and actually seeing how she's doing and being able to do something to help. I hate that I don't live here for this. Mom keeps telling me to not think that way, but I can't help it.
Thank you everyone for your prayers, they mean the world and we can certainly feel them. My mom is the strongest person I know, but we've all agreed God is fueling all of our strength right now, because how else do you handle all of this shit at once? The journey isn't over, her next surgery will be a big one, but if anyone can tackle it, it's her.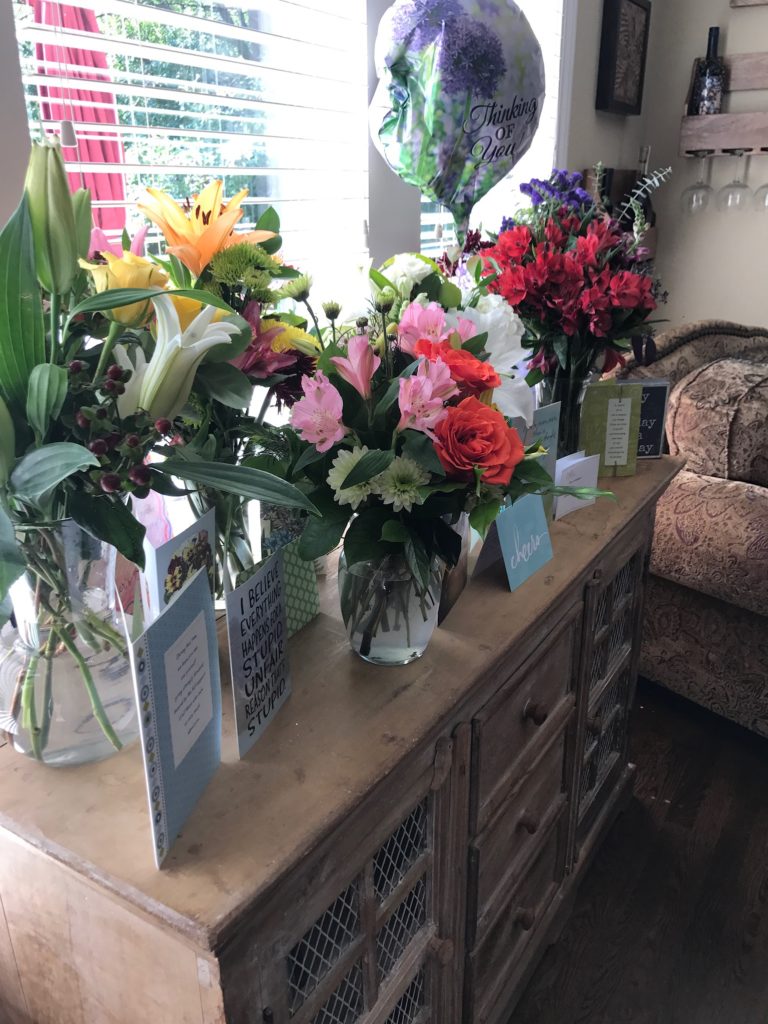 Ending this post with a shout-out to The Healing Chair:
What a phenomenal idea. After mom told me about The Healing Chair, my first thoughts were "this has to be everywhere" and "how else are you supposed to recover from this surgery?!". Surprisingly, The Healing Chair only has active chapters in St. Louis and Kansas City, with new chapters starting in Wisconsin and NW Arkansas. This chair has already been incredible for my mom's comfort after coming home, allowing her to actually get the rest she needs to recover.
If you feel compelled to help or contribute to the fight against breast cancer, please consider volunteering or donating to this amazing organization. Research and knowledge are critical, but so is helping those who are currently fighting recover with comfort and peace of mind. I'd love to get a chapter going in Dallas. I know my mom has readers all over, please know how much this chair has helped her, think about how many people it could help if there were chapters across the country.
"love the life you live, live the life you love"