My "coach" and I met for the first time in a few weeks on Sunday morning to catch up and see how my plan was going. We talk and/or text daily, but getting together in person has been a part of our "coaching" plan too, and I'm always happy to get together with her so we can catch up a bit. Knowing that it was going to get hot QUICK on Sunday morning, we decided to meet early at a park before the heat was too much to take! I'm so glad we did too, because it DID get hot!! We had a great meeting discussing some of our challenges over the last several weeks while also discussing some ideas for our future. "Coach" came up with this idea that I challenge myself to come up with some sort of "30 days of chicken" recipes"????? That's a LOT of chicken!! But I liked the idea of a new challenge and honestly, she eats a lot of chicken and is looking for some new ways to eat it! Chicken is a great source of lean protein, and I do eat a lot of it too, and it can be easy to eat it the same way all the time, and then get bored. We chatted about a few different recipes and different ways we like to cook and eat chicken and I agreed to take on the challenge. At the end of our meeting, "Coach" headed off down the trails on her bike, and I headed in the opposite direction for a four mile walk. This path was CRAZY BUSY with all sorts of walkers, runners and cyclist all getting in a workout before the tripple digits hit!!
While on my walk, I pondered how difficult it would be to come up with "30 days of chicken"!!!!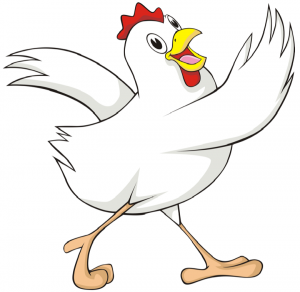 After thinking for a bit (and now craving chicken!), I decided "30 days of chicken" could get a little old. I get bored quick! I decided four weeks of chicken, Monday thru Friday sounded very doable!!
My plan is to come up with 20 Chicken Meals that are……
1. Healthy
2. Full of Flavor
3. EASY!!
I've decided that if I make something that I really like, I will post it under my "Food" tab at the top of this page. If I'm not crazy about it, I will just blog about it in that days post and give you my honest opinion. Some meals will most likely be something "quick and easy" that I throw together, and other meals will be recipes that I have pinned on "Pinterest"! It will be great to finally make some of those pinned recipes!! I do have to admit, after looking over my Pinterest Food Board yesterday, I have actually made a LOT of the recipes I have pinned, but it will be fun to actually make them a second time!!
While looking over my Pinterest boards, Mike and I cheered on the KC Chiefs to victory!!
Go Chiefs!!
Touchdown! Kannnnnsaaaaas City!!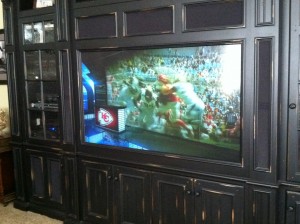 I never seem to have a problem getting my water in, but yesterday, I decided to fill up a pitcher and have it nice and cold in the fridge and ready to go. I added a little lemon, which I never do, but plan to do on a regular basis now. It was really refreshing just to look at! It tasted great too!
Refreshment!!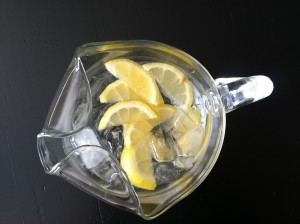 Breakfast
(un-pictured Nonfat Latte)
Lunch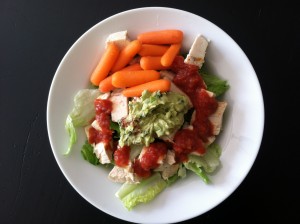 Snack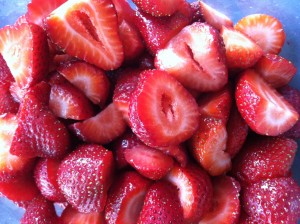 Dinner
Smashed avocado with a little kosher salt and lime juice…
not fancy, not complicated, but oh so tasty and fresh!
(bulk up your taco salad with lots of veggies!)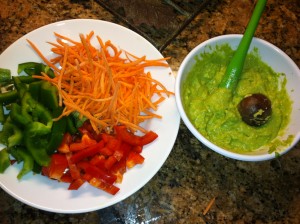 Corn tortillas are lower in PPV than most Flour Tortilla's and I love the taste!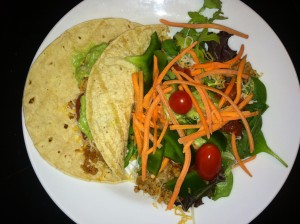 Refresh…I can eat 26 points a day.
I can earn Activity Points by doing exercise, and eat them if I choose.
I have an allowance of 49 points that I can dip into if I chose.
I should drink a minimum of 6 (8 oz) glasses of water each day.
The food I ate and it's PPV
Breakfast = Nonfat Latte (2)
Lunch = Lettuce, Chicken, Greek Yogurt Guacamole, Carrots (7)
Snack = Strawberries (0)
Dinner = Turkey Taco Salad and a Taco, and then one more taco! (17)
Total = 26
Today's Exercise = Walked 4 Miles
How many glasses of water I drank = 15
Activity Points Earned Today = 4
Activity Points Earned This Week = 11
Remaining Points from my 49 Points Allowance = 39
ALCOHOL consumption = none
I gotta go! I need to go buy some chicken!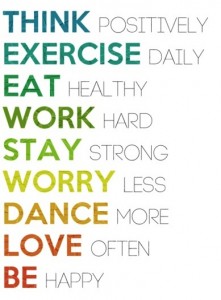 "love the life you live, live the life you love"