Monday was a really nice and unexpected day spent with Tess! She came in town on Friday evening and Mike picked her up at the airport, then dropped her off at a friends, who then took her to Pitt State for the Football Home Opener!! Pitt State Wins!! She came back here late Sunday, and then I took her to the airport on Monday! She had decided to take the day off on Monday and catch a late flight, so we took advantage of her day off and enjoyed some Mother/Daughter time!
We headed to one of our long time favorite breakfast spots!
Succotash!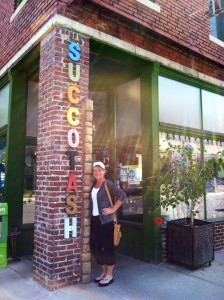 Tess ordered the Kitchen Sink! It literally has just about EVERY breakfast food in it that you would want, and then it's topped with gravy!!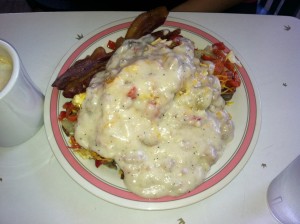 I ordered the Smoked Salmon and Caper Egg White Omelete…..it was served with the nicest, biggest piece of Pumpernickel Toast!
I do NOT like Pumpernickel bread, but the omelet and fruit were delicious!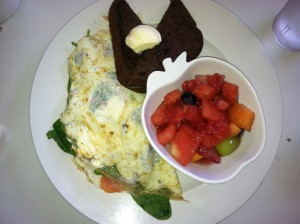 We both enjoyed a Latte while we got caught up, and it was great to hear about her weekend with her college friends and to see her so happy about her trip back to Pitt State!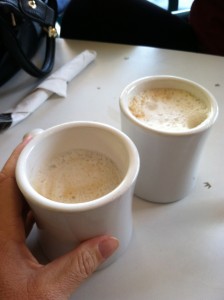 After breakfast, we came home and went through her closet making three piles….
1. Donate it
2. Keep it
3. Can't Decide
We ended up with FIVE trash bags of donations!!! I was feeling awesome!! I LOVE getting rid of stuff!!
Then to the airport. I think this was our first non-emotional "good-bye". Mike and I are going to visit Tess in October, and knowing we have a planned visit, just made good-bye easier.
On the way home, I remembered that it was Day One of my Chicken Challenge, and I really had NO IDEA what I was going to make for dinner. Oh sure, I had made a list of idea's, but I hadn't actually shopped for anything in particular, and I didn't have any chicken in the house!!
FYI….I have no idea what I am making tonight either!! Probably should work in some planning today!
I knew I had lots of veggies and plenty of things for a salad if I wanted to throw one together, but I had NO chicken! I grabbed a Rotisserie chicken on the way home. Not the most cost efficient meal, and probably a little more sodium than this girl needs, but I knew it could be a quick dinner.
Tess and I had a conversation about Philly Cheese Steak sandwiches, and I couldn't seem to get that off my mind.
I took some breast meat off of the chicken and started cutting up bell peppers and onions, and then decided to throw in some mushrooms too!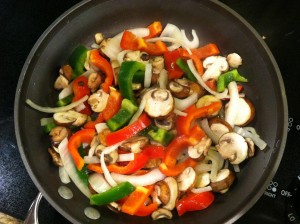 I let those sautee in some Garlic flavored Olive Oil for a bit with a little garlic powder (I was out of actual garlic).
Then I added the chicken, some cracked black pepper and a little worcestershire sauce and let it all blend together.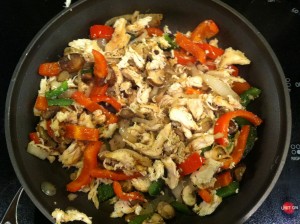 I then broke up Two Laughing Cow Cheese Wedges and placed them on top.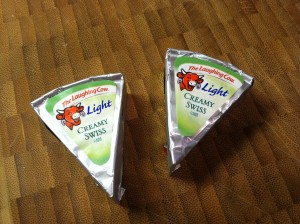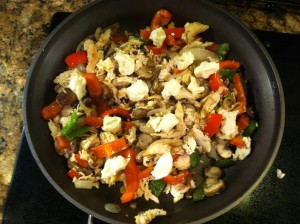 I put the lid on for a few minutes to let the cheese melt.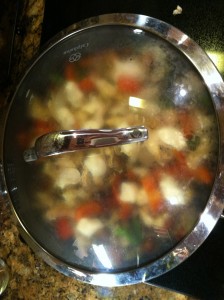 After the cheese had a chance to melt, I gave it all a good stir and put it in my bowl!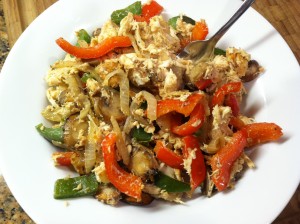 It had great flavor and it is a meal I will experiment with again, but it was just a tad dry. I won't list this under my "Food" tab until I make it again and see if I can't improve it a little.
The important thing is….it was Healthy, Full of Flavor and Easy.
It was low in points, high in protein, had lots of veggies, and was very filling!
Chicken Philly Skillet for ONE!
Ingredients
6 oz Chicken Breast, shredded
1/4 Red Bell Pepper, chopped
1/4 Green Bell Pepper, chopped
1/4 Sweet Yellow Onion, chopped
1/2 Cup Sliced Mushrooms
2 tsp Olive Oil
1/4 tsp Garlic Powder
1/4 tsp Cracked Black Pepper
1/2 tsp Worcestershire Sauce
2 Wedges Laughing Cow Cheese, Light Creamy Swiss Flavor
Sautee veggies in Olive Oil with garlic powder until tender. Add chicken, pepper and worcestershire sauce and heat through. Break up cheese wedges and sprinkle on top. Cover skillet with a lid and let set for 2 to 3 minutes. Remove lid and stir in melted cheese. Enjoy!
9 PPV!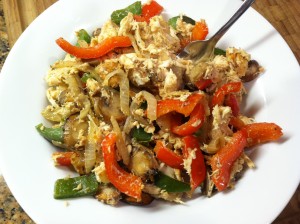 If any of you have a recipe for a Healthy Philly Cheese Steak (Chicken), I'd love to share it on my blog!
When meeting with my "coach" on Sunday, she had suggested that I ask readers if they would like to send me "Chicken" recipes of their own, and I agreed that was a GREAT idea! Then I completely forgot to ask!!
Yes! I would LOVE your healthy Chicken Recipes!
My new blog should be much easier for you to comment on, so I encourage you to give it a try!
You can also send me an email.
My email address is under a tab at the top of this page!
Here are the day's eats…….
Breakfast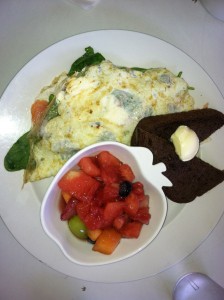 Lunch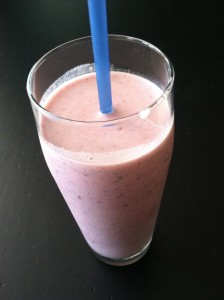 Dinner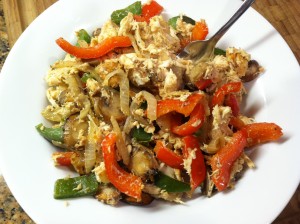 Refresh…I can eat 26 points a day.
I can earn Activity Points by doing exercise, and eat them if I choose.
I have an allowance of 49 points that I can dip into if I chose.
I should drink a minimum of 6 (8 oz) glasses of water each day.
The food I ate and it's PPV
Breakfast = Smoked Salmon, Capers, Spinach, Goat Cheese, Nonfat Latte, Fruit (10)
Snack = Nonfat Latte (2)
Lunch = Whey Protein Shake, 1 T Chia Seeds, 1 C Frozen Strawberries, 1 C Water, 1 C Ice (4)
Dinner = 6 oz Chicken Breast, 2 tsp Olive Oil, veggies, 2 Laughing Cow Cheese Wedges (9)
Snack = Coffee with skim milk (2)
Total = 27
Today's Exercise = didn't happen…  🙁
How many glasses of water I drank today = 12
Activity Points Earned Today = 0
Activity Points Earned This Week = 11
Remaining points from my 49 Points Allowance = 38
ALCOHOL consumption = none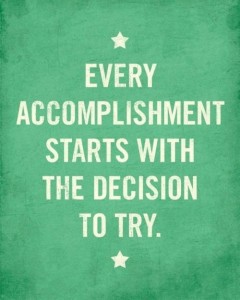 "love the life you live, live the life you love"