About yesterday's eats……I'd like to plead the fifth.
But…..I can't keep my mouth shut, so I'll tell you all about it.
It all started so innocently too. I had sent my "coach" a text about what an awesome day it was going to be, and how great I was going to eat, and how hard I was going to workout and how awesome I was. True story. That was my text to her.
I worked at The Food Truck, went to my mom's in the afternoon to take her birthday present to her and ran a couple of errands. Now it was about 4:00 pm. Mike had called late in the afternoon to let me know he was going to golf, and for some reason, I got all excited about a 4:00 pm shower, P.J.'s and a Movie! So I sat down (still dirty from working at the Food Truck) and looked through the new movies to see if there was some kinda "Chick Flick" that looked good. I saw a movie called "Touch Feely" with Ellen Paige (I LOVE her), so I watched the trailer and was hooked. It was exactly the kind of movie I was in the mood for. I started it just to get a vibe on the mood of the movie before I took my shower. Then I couldn't walk away. Then, for some reason, it seemed like I should sip on a glass of wine with my "Chick Flick" and my dirty clothes. I really enjoyed the movie. It was all deep and emotional and a little twisted, and two glasses of wine turned into three. Oh, wait. One glass innocently turned into two, THEN two turned into three. Then, the movie was over and there I sat, still in my dirty clothes, on the couch, relaxed as ever and in the BEST mood! Not that I was in any kind of a bad mood to start with. I was having an awesome day, but a movie and a bunch of wine was about as opposite from a hard core workout and a high protein diet as I could get!
Then I saw my neighbors out on their deck with a glass of wine, so I invited myself over to finish off my bottle!! I KNOW!!! What the……?????? Then Mike came home and he joined us, and we just had the best time!!! I never ate dinner and I never took a picture of anything to send to my coach, whom I have NOT heard from yet today. I have been sending her a picture of everything that goes into my mouth for about three weeks now. Sometimes I take the picture, but forget to send it to her. I am guessing at this point, she knows I screwed something up and is letting me confess to her on my own time. She's VERY patient with me like that.
Anyhow, after going to the neighbors, I think I made some popcorn, and I KNOW I woke up with a headache, but I DID MAKE CHICKEN!!!!
This is a recipe I took off of a Parmesan Cheese Container a LONG time ago! Its super easy (YOU CAN EVEN MAKE IT AFTER THREE GLASSES OF WINE, BUT NOT ACTUALLY RECOMMENDED!) and tasty! I literally taped the label into my cookbook years ago.
I like to eat this…….
1. Chopped up into bite size pieces on a Caesar Salad.
2. Over a bed of Whole Wheat pasta with Marinara Sauce
3. Along side a big serving of fresh green beans.
If you are looking for a good Kid Friendly recipe, I almost guarantee the kiddos will love these dipped in marinara sauce!
Easy Parmesan Garlic Chicken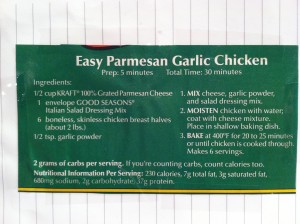 These Three Items and some Chicken!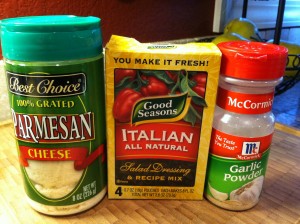 Chicken, Cheese Mixture, Baking Sheet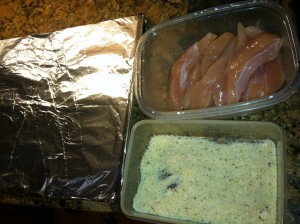 So easy…….and good!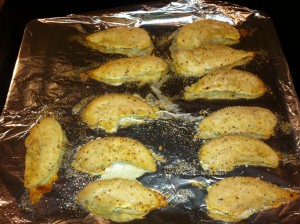 Parmesan Garlic Chicken
2017-02-10 15:26:39
Serves 6
Ingredients
2 lbs Chicken Breast, cut into tenders
1/2 C Grated Parmesan Cheese
1 packet Good Seasonings Italian Salad Dressing Mix
1/2 tsp Garlic Powder
Instructions
Mix cheese, garlic powder, and salad dressing mix.
Moisten chicken with water, coat with cheese mixture. Place in shallow baking dish. (I use a baking sheet, covered with foil and sprayed with cooking spray.....easy clean up!)
Bake at 400 degrees for 20 to 25 minutes or until chicken is cooked through.
Notes
5 SmartPoints Per Serving
The Weight of My Weight http://theweightofmyweight.com/

Yesterday's Eats……
I didn't write it down. I didn't count it. I did drink it.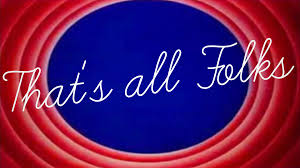 "love the life you live, live the life you love"