I originally found this on Pinterest! This is an awesome recipe for Roasted Veggies. Click HERE for the original recipe. I like to make these to go along with anything I throw on the grill, but they're also great tossed into the skillet with some roasted chicken or diced chicken sausages. I started eating them like that after working on the food truck, Beauty of the Bistro. Sidney, (the owner) makes an awesome Cowboy Skillet during the Fall that I tried to repeat, and although this really doesn't taste anything like her Cowboy Skillet, it's pretty darn tasty. Last Fall, I took these veggies as a side dish to a party, and they were a hit! Today, I'm roasting these veggies, (not exactly the veggies that the original recipe calls for, but the ones that I had in the fridge) then throwing them in the skillet with some shredded chicken for an easy dinner full of flavor!
Since I am making so many chicken meals this month, I prepared several chicken breast, shredded them, then froze them. I'm so glad I did. It's going to make this Four Weeks of chicken a heck of a lot easier!
Mix the oil and seasonings.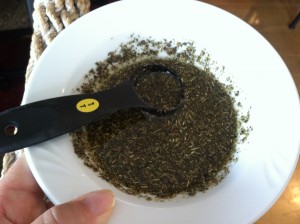 I used onions, sweet potatoes, brussel sprouts and carrots.
Roast on a baking sheet at 400 for 35-40 minutes.
Roasted Veggies
2016-11-07 10:57:36
Ingredients
1/3 C. Olive Oil
2 Tablespoons Italian Seasonings
1 teaspoon freshly ground black pepper
1 1/2 teaspoons sea salt
1 onion, quartered
1 sweet potato, cut into large chunks
3 large carrots, cut into large chunks
10-15 brussels sprouts, halved
Instructions
Heat oven to 400.
Line a baking sheet with parchment paper.
Combine Olive Oil and Seasonings in a large bowl.
Add vegetables and stir well to coat.
Spread vegetable evenly on baking sheet.
Bake 35-40 minutes.
The Weight of My Weight http://theweightofmyweight.com/
Now that the veggies are cooked, I took my chicken out of the freezer, thawed it in the microwave, then tossed it into the skillet that I had sprayed with a little Olive Oil cooking spray. Then I added the veggies, gave them a good stir, and let all those flavors blend together for a bit.
Mike and I like to top this with a little Grey Poupon. I cant remember why we started adding this to the top, but we both really like it.
If your counting SmartPointsPoints, your Point Values will obviously depend on the size of your potatoes and how much chicken you use. To make sure you're counting points correctly, it's best to weigh those items.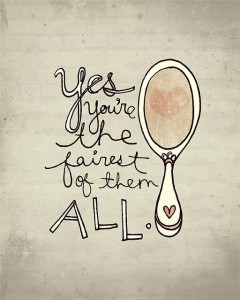 "love the life you live, live the life you love"