I love everything about going to the Farmer's Market. The people, the live music, the samples and all the fresh food!
I was headed to my dad's house to work on our Parade project for the upcoming Overland Park Fall Festival on September 28th, when I drove through Downtown Overland Park. It was hopping and I hadn't been to the Farmer's Market in a while, so I HAD to stop!
I started out with a coffee after entering through this door to a little bakery………So Cute!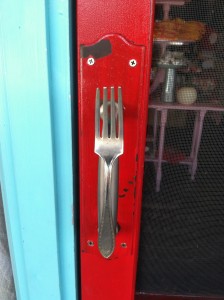 Then I headed down the aisle with the hustle and bustle of all the Saturday morning shoppers! The weather could NOT have been more beautiful.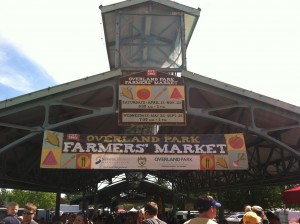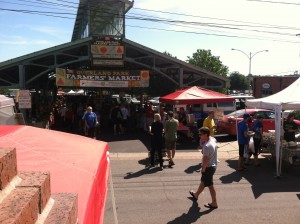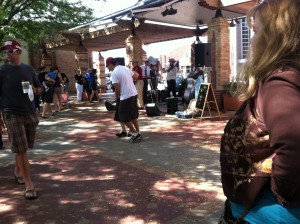 After finding the perfect pasta, zucchini and cantaloupe, I found an ear of roasted corn to snack on. It was delicious! I couldn't have been the only customer that requested that my roasted ear of corn NOT be dipped in the big butter tub, but they did act surprised. I sprinkled a little Sea Salt on it and it was perfect!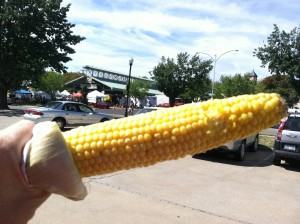 Breakfast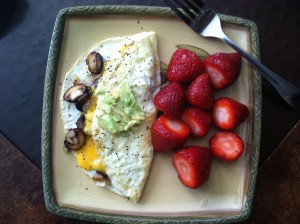 Snack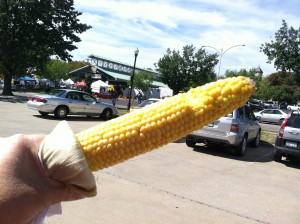 Lunch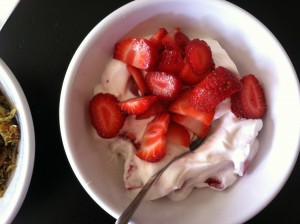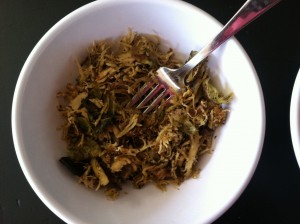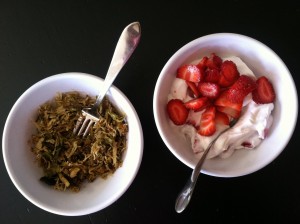 Snack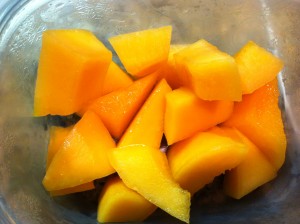 Dinner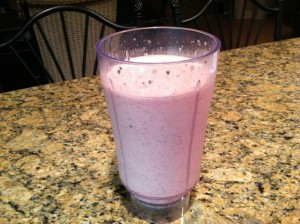 I didn't feel so great most of the late afternoon. I went to the Doctor Saturday morning, (I didn't even know my Doctor's office was open on Saturday mornings for emergencies!) and apparently have some sort of an UTI, or something bladdery or in my kidneys. Now I am praying that it isn't kidney stones or something!! Late last night, my back started hurting so bad, I could hardly walk. After virtually no sleep and really just a lot of pacing, I called the Doctor at 4:00 am, (my personal doctor happened to be on call) and he confirmed the combination of drugs I wanted to pour into my body! I don't really like to take medicine, and if I am on a prescription, then I'm always nervous about the over the counter things that are "okay" to take along with it!! I loaded up and finally got about three hours of sleep. Here's to hoping the antibiotic kicks it into HIGH gear today!
Go Chiefs!!
Refresh…I can eat 26 points a day.
I can earn Activity Points by doing exercise, and eat them if I choose.
I have an allowance of 49 points that I can dip into if I chose.
I should drink a minimum of 6 (8 oz) glasses of water each day.
The food I ate and it's PPV
Breakfast = Egg Whites, Onions, Mushrooms, Cheese, Avocado, Strawberries, Coffee with Milk (5)
Snack = Roasted Ear of Corn (2)
Lunch = Leftover Chicken Skillet, Greek Yogurt with Strawberries (7)
Snack = Cantaloupe (0)
Dinner = Whey Protein Shake with 1 T. Chia Seeds and 1 C. Frozen Strawberries (4)
Total = 18
Today's Exercise = none
How many glasses of water I drank today = 18?
Activity Points Earned Today = 0
Activity Points Earned This Week = 0
Remaining points from my 49 Points Allowance = 0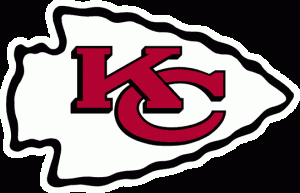 "love the life you live, live the life you love"