Chicken Taco Stew?
I've been a WW member for a really long time. There have always been different versions of Weight Watcher Taco Soup floating around over the years, and really, I like them all. One of my favorites, includes one packet of taco seasoning and one packet of Hidden Valley Ranch Dressing. My WW leader suggested putting a can of fat free refried beans in it, so I gave it a try. It really thickened things up a bit, and I loved it!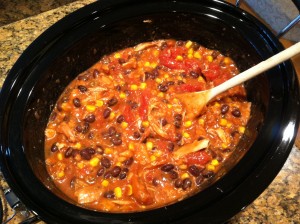 Ingredients
1 Pound, Cooked Shredded Chicken Breast (Click HERE for a recipe to boil and shred chicken breast)
(You could replace the shredded chicken breast with the meat from one Rotisserie Chicken if you'd like a little dark meat too! You would need to adjust the points for the dark meat.)
2 Cans Black Beans, drained and rinsed
1 C. Frozen Corn
2 Cans Stewed Tomatoes
1 Can Fat Free Refried Beans (you can leave this out for a thinner soup, but this is why I'm calling it stew)
1 Packet of Hidden Valley Dry Ranch Dressing
1 Package of Taco Seasoning (or click HERE) for a homemade Taco Seasoning Recipe that is tasty and MUCH lower in sodium.
1 1/2 C. Water
Makes approximately 10 (1 Cup) servings. 1 serving = 5 PPV
Put all of the ingredients in a crockpot or a large pot. I like to use the crockpot and put it on low so it can simmer all day and I don't have to worry about stirring it. If it's evening time, and you want dinner soon, then simply put it all in a big pot, stir and let it simmer a bit!
I usually put the meat in first.
(You can totally make this with 1 pound of cooked ground lean beef, or 1 pound of cooked ground lean turkey)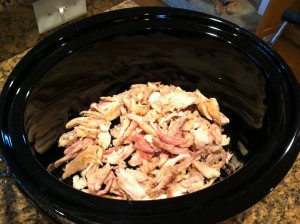 Top off the meat with the rest of the ingredients!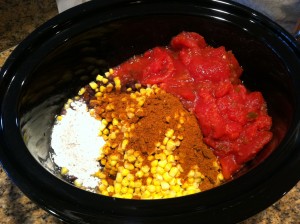 Give it all a good stir and let simmer!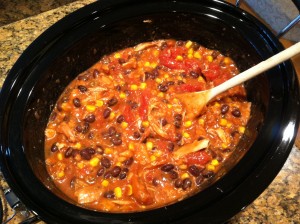 This taste great topped with Baked Tortilla Chips, Cheese, Avocado or Sour Cream! Top it with ALL of those toppings. If you're counting points, just be sure to add your points!
My day yesterday was pretty much a mess. I seem to be fighting some sort of UTI, with new symptoms each day. Yesterday included a fever, chills, terrible back pain, them vomiting after lunch and taking my new antibiotic! You think that's negative points??? Let's hope! It was unclear if the vomiting was a result of my new medication or the salad I made at the Price Chopper Salad bar. Last night, I again took the new antibiotic with toast and Sprite, as advised by my doctor. I kept all that down, then slept for 10 hours. Not uninterrupted of course. Still up about every 90 minutes to PEE!!! Hopefully the drugs kick in today, and life resumes some normalcy.
Mike said my Taco Stew tasted great! Today I'm making a new recipe I found on Pinterest. Italian Chicken! It looks delicious! Go check it out!
Breakfast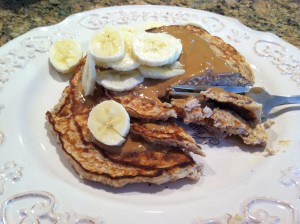 Lunch, and then Un-Lunch!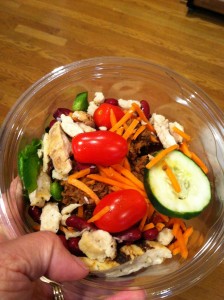 Dinner…..Yum! (sarcasm, gotta love it)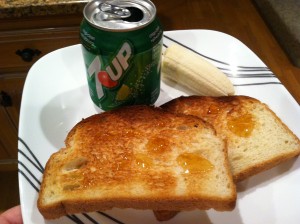 Refresh…I can eat 26 points a day.
I can earn Activity Points by doing exercise, and eat them if I choose.
I have an allowance of 49 points that I can dip into if I chose.
I should drink a minimum of 6 (8 oz) glasses of water each day.
The food I ate and it's PPV
Breakfast = Banana Bread Protein Pancakes
Lunch = Salad Bar, UN-Salad Bar
Dinner = Toast, honey, banana
Total = Who knows?????
Today's Exercise = none
How many glasses of water I drank today = ?
Activity Points Earned Today = 0
Activity Points Earned This Week = 0
Remaining points from my 49 Points Allowance = 0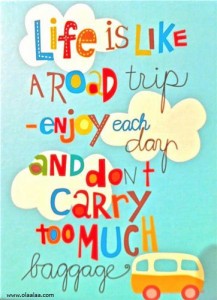 "love the life you live, live the life you love"