(This post was modified on March 30, 2014.)
How many of you grew up eating your mom's Taco Salad made with….
1. Ground Beef Taco Meat
2. Shredded Cheddar
3. Crushed Nacho Cheese Doritos
4. Catalina Dressing
5. Kidney Beans
6. Ice Berg Lettuce
Lots of you, right?
It was always one of my favorite dinners! And….it was healthy, because it was a salad!!
I honestly still love a taco salad topped with Nacho Cheese Doritos and Catalina Dressing. I'm not gonna lie. I did learn to eventually start making it with lean ground turkey, the "100 Calorie" pack Nacho Cheese Doritos and Fat Free Catalina Dressing. Still absolutely delicious!
However, in my quest for trying to eat "cleaner", here is the list of ingredients for….
Not Your Mama's Taco Salad
Ingredients
1 lb of cooked Chicken Breast OR….1 lb of Ground Turkey or Ground Chicken
Homemade Taco Seasoning or 1 packet of Store Bought Taco Seasoning
Romaine Lettuce, Spinach, or Mixed Greens. You pick your favorite!
Canned Black Beans, drained and rinsed
Largely Chopped Cucumbers
Largely Chopped Bell Peppers
Largely Chopped Tomatoes
Largely Chopped Avocados
Shredded Carrots
Salsa
Sour Cream. Or, if you're brave and you like it…..Nonfat Plain Greek Yogurt!
Your PPV for this salad will obviously depend on how many ounces of chicken you eat, and what toppings you decide to use. I highly recommend a scale in your kitchen. I use mine everyday. I estimated on a lot of foods for a long time, but if you are questioning your portion sizes, it's a great kitchen tool to have!
(Would you believe, I really enjoy this salad without cheese or chips? If I decide to add cheese, I go for the full fat cheddar, but I use it sparingly. If I decide to add crushed chips, I crush a few baked tortilla chips and enjoy!)
Directions
There is really no science to this dish. Cook your chicken, shred it, chop it, however you like it best in a Taco Salad, (or your meat of choice) then season it with the taco seasoning. Add a little water and let it simmer for a bit.
When you're ready to assemble, fill a nice big bowl with your lettuce choice, top it with the seasoned taco meat, throw in some yummy black beans, then just go bat shit crazy topping it with all of those fresh, yummy, largely chopped up veggies. Top it off with your favorite salsa! I typically love a chopped salad with everything chopped up all tiny. But I like to eat this salad with all of the ingredients in big chunks, except those carrots. I love shredded carrots in a salad. I think it's the crunch! I can't explain it. Just try it! The taco seasoned chicken and the fresh avocado are probably my favorite parts of this salad! I don't think you will be disappointed leaving out some of the traditional ingredients, and then you'll realize, you might just be able to eat your Taco Salad like this EVERY time! Unless of course, you're at your mother's.
Breakfast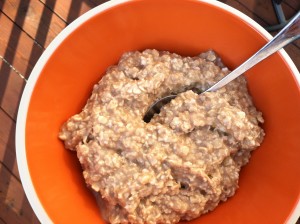 Lunch
Leftovers again, and still just as tasty!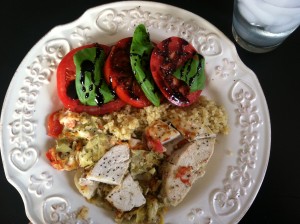 Dinner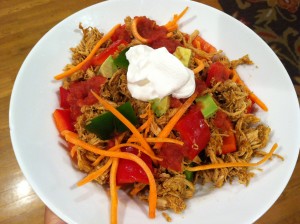 Dinner was delicious!!
I like a little bit of everything in every bite, so I mixed it all up really good!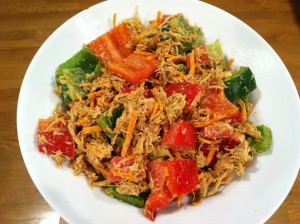 Refresh…I can eat 26 points a day.
I can earn Activity Points by doing exercise, and eat them if I choose.
I have an allowance of 49 points that I can dip into if I chose.
I should drink a minimum of 6 (8 oz) glasses of water each day.
The food I ate and it's PPV
Breakfast = Oatmeal with PB2, Coffee with Skim Milk (6)
Lunch = Left Over Italian Chicken with Fresh Tomatoes and Fresh Basil (8)
Dinner = Not Your Mama's Taco Salad, 6 oz. Chicken, 1/2 Avocado, 2 T. Light Sour Cream, Veggies (12)
Total = 26
Today's Exercise = Walked 7 Miles, Strength Training
How many glasses of water I drank today = 15+
Activity Points Earned Today = 8
Activity Points Earned This Week = ?
Remaining points from my 49 Points Allowance = 0
Go Chiefs!!!!!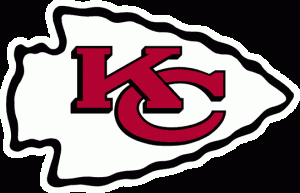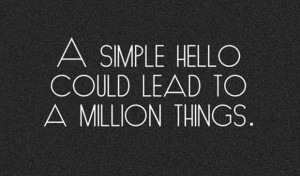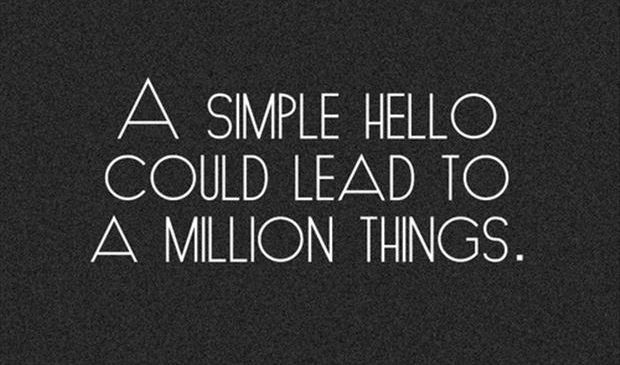 "love the life you live, live the life you love"