Fall begins today, and I couldn't be happier! Jeans, Sweatshirts, Football, Bonfires, Crisp morning air, and yes, Pumpkins Spice Lattes. I was one of those people that went absolutely crazy last year with Pumpkin everything, and I have no plans to do anything different this Fall!!
My Saturday was everything I was hoping it would be and then some! Mike and I witnessed an AWESOME Football game Saturday morning! The pictures I took were not so great, so I am stealing this one that is from last weeks game, but do you see the really cool kid carrying the football? He just happens to be our grandson! He also just happened to score TWO, that's right, TWO touchdowns in yesterdays game, leading his team to a victory of 13-0!!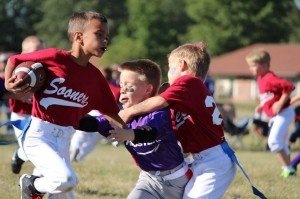 It was great to watch the parents and all of their enthusiasm! I always loved the parent tunnel!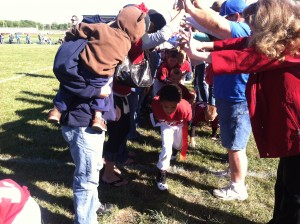 Even his sister sat on the bench at watched intently……well, for like three minutes.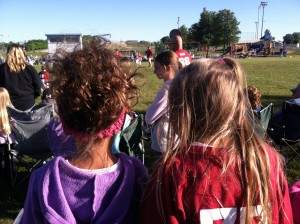 The weather was perfect, my coffee tasted so good, it was great to drag Mike out of the office for a few hours, and BONUS, they won!
Then I headed over to my dad's house. We have been working on our parade entry for the Downtown Overland Park Parade that takes place next weekend, for a few months now!
My dad loves to play and he loves his toys. When he gets an idea, he goes with it!
His idea for the parade this year, involved him building an oversized Radio Flyer Wagon, which he did!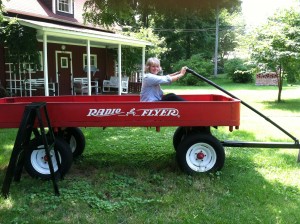 The oversized wagon would be the STAR of our entry, but what to do with it exactly, was still up in the air. He knew it would somehow involve ME riding in the wagon, and possibly pulling an "actual size" wagon. I love that he is always coming up with silly ideas. Gives me a good reason to shake my head at him and roll my eyes, all the while enjoying every second of his silliness!
Here's what we came up with!
He is pulling the oversized wagon with his 1954 Farmall Tractor. Behind the oversized wagon, will be an actual size wagon, and behind that will be a miniature wagon. I will be riding in the oversized wagon, Penelope Sue (thanks to my neighbor, Andie, for providing the doll after I posted on Facebook that I was needing a Child Sized Doll) will be riding in the actual size wagon, and then Linda Lou (I found her at Salvation Army, along with Penelope Sue's outfit) will be riding in the miniature wagon at the end. Each wagon will have a sign (my dad insisted on signage!).
Here's my pops…..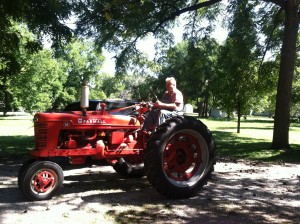 We decided with our childish ideas and the fun we have, we needed a Name for our Parade entry that reflected that.
Here's what we came up with….
"ALWAYS DREAM BIG, NEVER GROW UP!"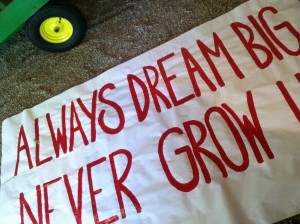 While Pop's got the hitches all figured out, I pained signs.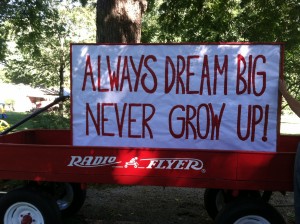 Here's Penelope Sue's sign for her wagon…….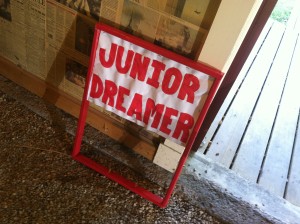 Yes, this is for Linda Lou and her wagon……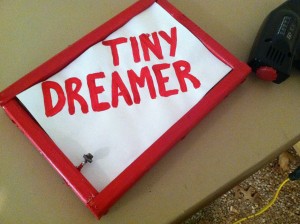 We spent well into the early evening making sure everything would all come together for Parade day.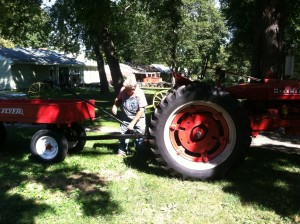 Oh, my dad and myself AND Penelope Sue AND Linda Lou will all be wearing Red shirts and Overalls. I knew that if I kept my Overalls, they would come in useful one day!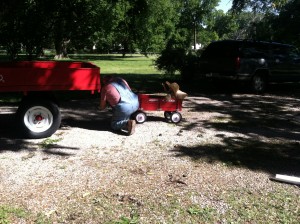 Can you see Penelope Sue? We're gonna make her wave through the entire parade! Here, she is practicing. She said her arm was getting tired. I didn't hear her say that, but Pop's insisted that he did.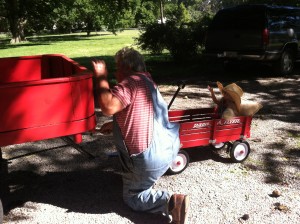 He hopped on the tractor and started it up, and drove down the driveway just a bit, making sure eveyone was pulling everyone without any trouble. So far, success! Next week, we will have about a 10 block drive from his house to our parade line up destination. In the years past, that always gets a lot of fun stares. I'll be riding in the big wagon, in my overalls, with the big 4'x7′ sign that my pop's made me make. Should be fairly entertaining.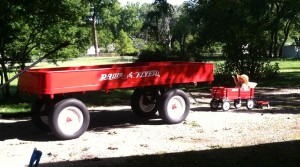 Okay, moving on to Chicken! My friend Rachael, who writes a blog, Running with Racheal, sent me an awesome recipe for this marinade! I made it up Friday night and let the chicken marinade for 24 hours. I was really looking forward to coming home, sitting on the deck with the tunes on and a cold drink, and grilling up this chicken!

Mike got home just in time to sit on the deck with me while dinner cooked…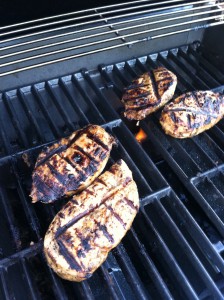 This skillet dish turned out WAY better than I was even expecting, and apparently I now like Quinoa! I sauteed some onions, mushrooms and asparagus in a little Garlic Infused Olive Oil.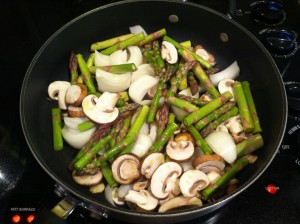 Meanwhile, I had Quinoa cooking in chicken broth (I guess the chicken broth is the secret to delicious tasting Quinoa!). When the veggies became nice and tender, I added the cooked quinoa to the veggie mix. We both loved this along side our grilled chicken!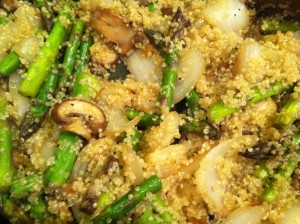 We had dinner on the deck! I loved this day!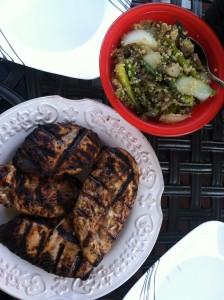 I'll be making this again for sure!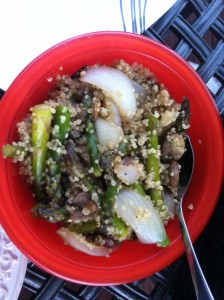 Dinner was awesome and super healthy!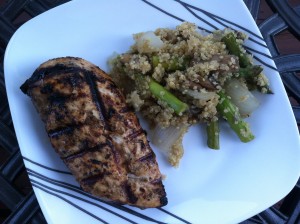 The only planned thing that didn't happen on Saturday was my walk, so with absolutely nothing planned for today, I'll get in an extra long one!
Breakfast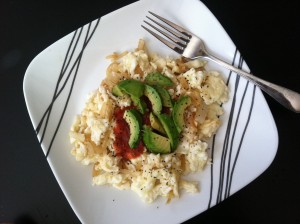 Snack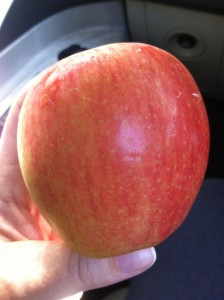 Dinner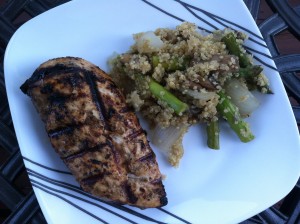 Refresh…I can eat 26 points a day.
I can earn Activity Points by doing exercise, and eat them if I choose.
I have an allowance of 49 points that I can dip into if I chose.
I should drink a minimum of 6 (8 oz) glasses of water each day.
The food I ate and it's PPV
Breakfast = 5 Egg Whites, Laughing Cow Cheese Wedge, Onions, Avocado, Coffee with Milk (6)
Snack = Apple, Latte (2)
Snack = Un-pictured Almonds (4)
Dinner = Chicken Breast, Quinoa, Mushrooms, Onions, Asparagus (12)
Total = 24
Today's Exercise = none  🙁
How many glasses of water I drank today = 12
Activity Points Earned Today = 0
Activity Points Earned This Week = 0
Remaining points from my 49 Points Allowance = 45
Get outside and enjoy this beautiful first day of Fall!

"love the life you live, live the life you love"