I started making turkey burgers and baked sweet potato fries about three years ago. I started making that meal based on a favorite meal I would order at The Blue Moose. They have the best Turkey Burgers and Sweet Potato Fries!! The turkey burger is topped with goat cheese and caramelized onions, and it….is……delicious!!
When I started making the turkey burgers at home, I wanted them to taste as close to The Blue Moose as possible, so I would always make the caramelized red onions and goat (usually feta) cheese to serve on top. We rarely eat them with buns, simply because they taste fantastic without the bun!
The last couple of times that I made my turkey burgers, I decided to make 8 patties out of one pound of meat instead of 4 patties. I made them the same diameter, I just made them really flat. I have tried to cook them outside on the grill, but I prefer these made inside on the grill pan. I think because the meat is so lean, when cooked outside, what fat they do have drips out and they get a little dry. But if you cook them on a grill pan with some cooking spray or some Olive Oil (my favorite method), they seem to soak up a bit of the oil, and the oil makes them just a little crispy on the outside.
The last couple of times that I have made the turkey burgers, I have topped them with this Tzatziki Sauce that I buy at Costco. I love this stuff!! I still love the caramelized onions and feta cheese, but its also nice to have options.
In my quest for "Chicken", I decided to try Chicken Burgers!
Ingredients
1 lb ground chicken
1 egg
1 1/2 tsp Cavender's Greek Seasoning (I but the Salt Free at Price Chopper. I have seen it at several grocery stores)
12 chopped Kalamata Olives
1/4 C. Reduced Fat Feta Cheese
Topping…..Tzatziki Sauce (I buy this at Costco, but there are a lot of recipes out there for making your own, I've just not attempted that yet)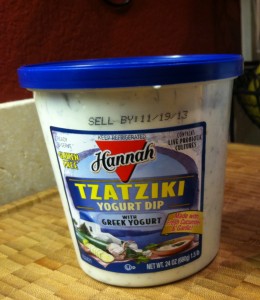 Mix all ingredients.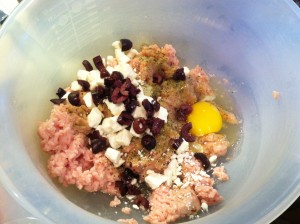 Form into 8 flat patties. Drizzle a little Olive Oil into a heated grill pan. Cook 4 burgers for about 5 minutes on one side, then flip and cook for about 4 more minutes.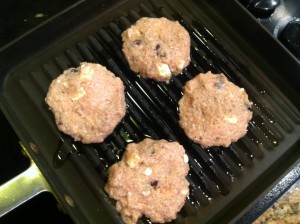 Repeat with the next 4 patties.
I decided to skip the Baked Sweet Potato Fries and go with a green vegetable. I had bought some green beans, but I wasn't sure how I was going to prepare them. I decided to follow the directions on the packaging and blanch them, then stir fry them in a skillet. I cook green beans with white or yellow onions all the time, but I had never made them with red onion, but in keeping with my theme of my Greek Burgers, I decided to give it a try. So, I added red onion to the skillet and seasoned them with the Cavender's Seasoning that I used in the burgers. Mike and I both loved the way the beans tasted a little sweet mixed with the red onion. I will be making green beans this away again for certain!!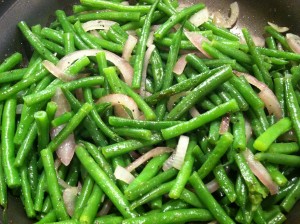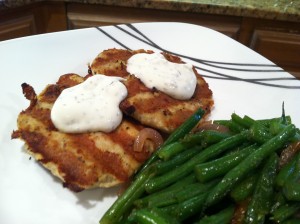 One Chicken Burger = 2 PPV
Dinner was a hit!
Here are yesterday's eats…..
Breakfast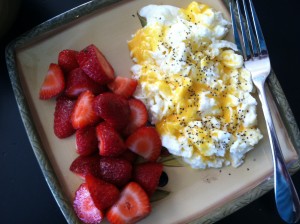 Lunch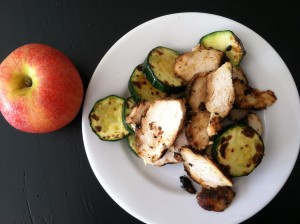 Dinner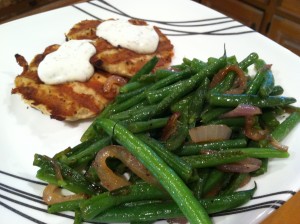 Refresh…I can eat 26 points a day.
I can earn Activity Points by doing exercise, and eat them if I choose.
I have an allowance of 49 points that I can dip into if I chose.
I should drink a minimum of 6 (8 oz) glasses of water each day.
The food I ate and it's PPV
Breakfast = 5 Egg Whites, Cheese, Strawberries, Coffee with Skim Milk (4)
Snack = 24 Almonds (4)
Lunch = Zucchini and Chicken, Apple (4)
Un-Pictured Costco Samples….. (6?)
Dinner = Greek Chicken Burgers, Tzatziki Sauce,  Green Beans with Red Onions and Olive Oil  (8)
Total = 26
Today's Exercise = Walked 4.5 Miles, Strength Training
How many glasses of water I drank today = 15+
Activity Points Earned Today = 6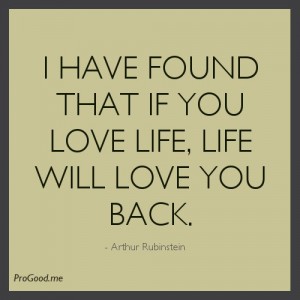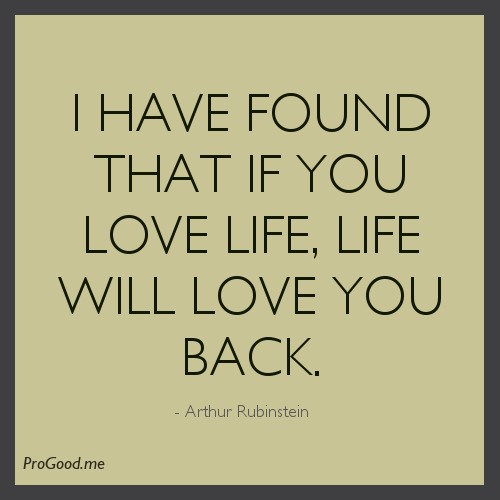 "love the life you live, live the life you love"