Tuesday was full of the unexpected and I loved it! I have been working on redecorating a spare bedroom for several weeks now. By redecorating, I mean….planning what I am going to eventually do. Pinning ideas on Pinterest, jotting down notes of things I want for the room, and eventually, picking a paint color for the walls and buying it. Since I finally did buy the paint, I had planned to spend all day Tuesday painting the room, painting the bed (that was mine in high school), and painting a small chest (that was also mine in high school). Late Monday, a friend suggested a movie at 11:00 am on Tuesday. I'm a sucker for going to the movies. I LOVE going to the movies. I like to wear comfy clothes, sneak in a coffee under my sweatshirt, and grab that front row seat with the bar in front of it so I can plop my feet up there and relax. That's exactly what happened! We saw "We are the Miller's" and I thought it was hilarious. Raunchy in parts, but to me, hilarious.
Then…….home to paint. I had planned on spending a couple of hours painting, then taking the dogs for a walk, then exercising.  Except for making dinner, I spent the rest of the day painting! Right up until about 10:00 pm, I was painting away, with the tunes playing, reminding the dogs to keep their noses out of the paint can. I can hardly wait to get back in there today! Curtains are bought, new bedding is bought, I picked out a few new accessories for the bathroom, now I just need to finish painting the furniture, and get it all put back together!
I'm painting light blue over this…….and that's my headboard from high school that I passed onto Tess. She moved and left it here!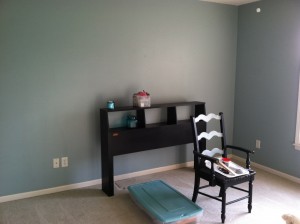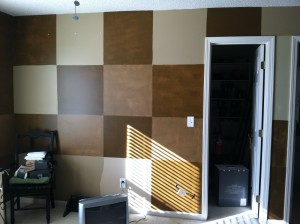 Dinner was quick and easy, but really good.
I found this Tikka Masala sauce at World Market awhile back, and we both really liked it, so I went back for more.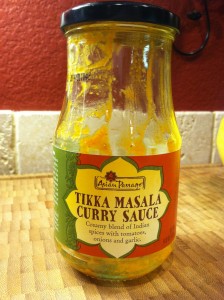 The only thing you have to do is cut up chicken breast in bite sized cubes, cook in Olive Oil, then add the sauce and simmer. One serving of sauce = 3 PPV. Since we're kinda digging the Quinoa, I served it over Quinoa that I cooked in Chicken broth. I was in a hurry, so a can of peas accompanied our dinner.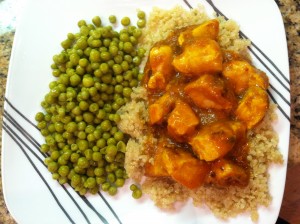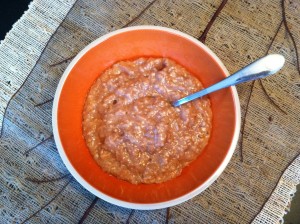 Snack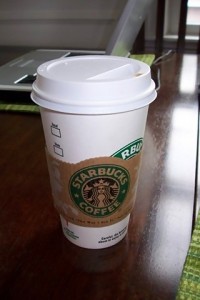 Lunch

Snack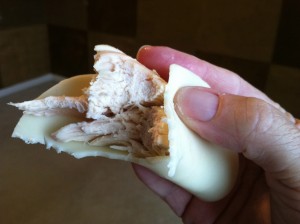 Dinner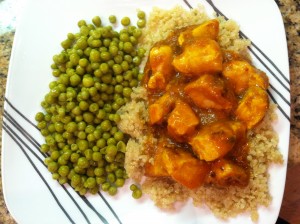 Refresh…I can eat 26 points a day.
I can earn Activity Points by doing exercise, and eat them if I choose.
I have an allowance of 49 points that I can dip into if I chose.
I should drink a minimum of 6 (8 oz) glasses of water each day.
The food I ate and it's PPV
Breakfast = Crockpot Apple Cinnamon Steel Cut Oats (4)
Snack = Nonfat Latte (3)
Lunch = Greek Nonfat Plain Yogurt, Strawberries (3)
Snack = 2 oz. of Chicken, 1 Slice of Provolone (4)
Snack =  Un-Pictured 12 Almonds (2)
Dinner = 6 oz. of Chicken, Tiki Marsala Sauce, 1/2 C. Quinoa, 1/2 Cup Peas  (14)
Total = 30
Today's Exercise = 6 Hours of Painting?
How many glasses of water I drank today = 15+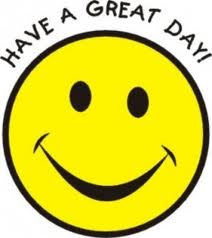 "love the life you live, live the life you love"